This week's Foto Friday Fun includes 11 images chosen by readers featuring a lot of Grand Canyon and wildlife in South Africa.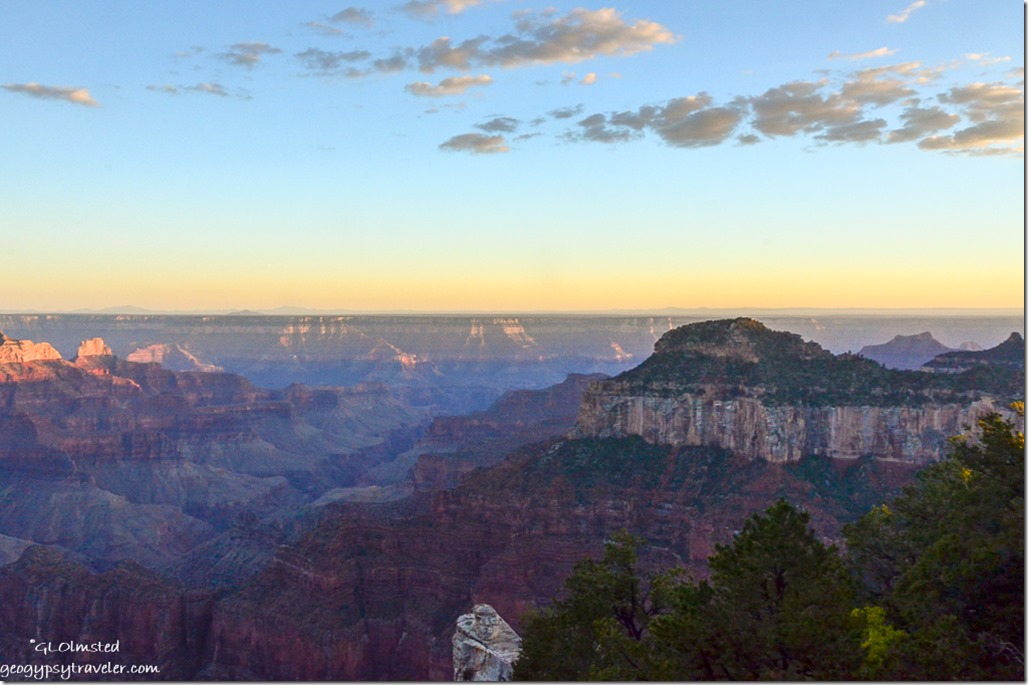 Diane and Nigel chose #2601, one of five in a panorama.  If sunsets aren't special enough how about at Grand Canyon.  This taken from the North Rim lodge the end of June, 2014.  Rangers get paid in sunsets.
Rita chose #9500.  A Painted Lady butterfly on Desert Broom at Augrabies Falls National Park, South Africa taken the day I celebrated 60.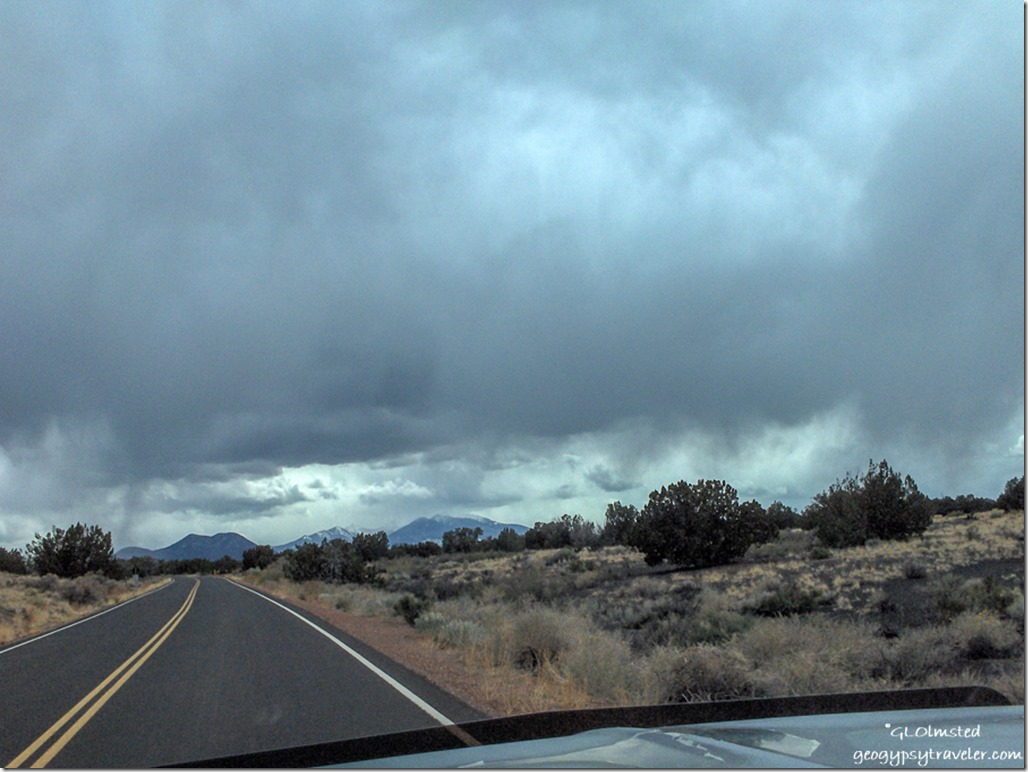 Jodee and Bill chose #590.  A stormy sky hung over the San Francisco Peaks while touring Wupatki National Monument in Arizona during April 2009.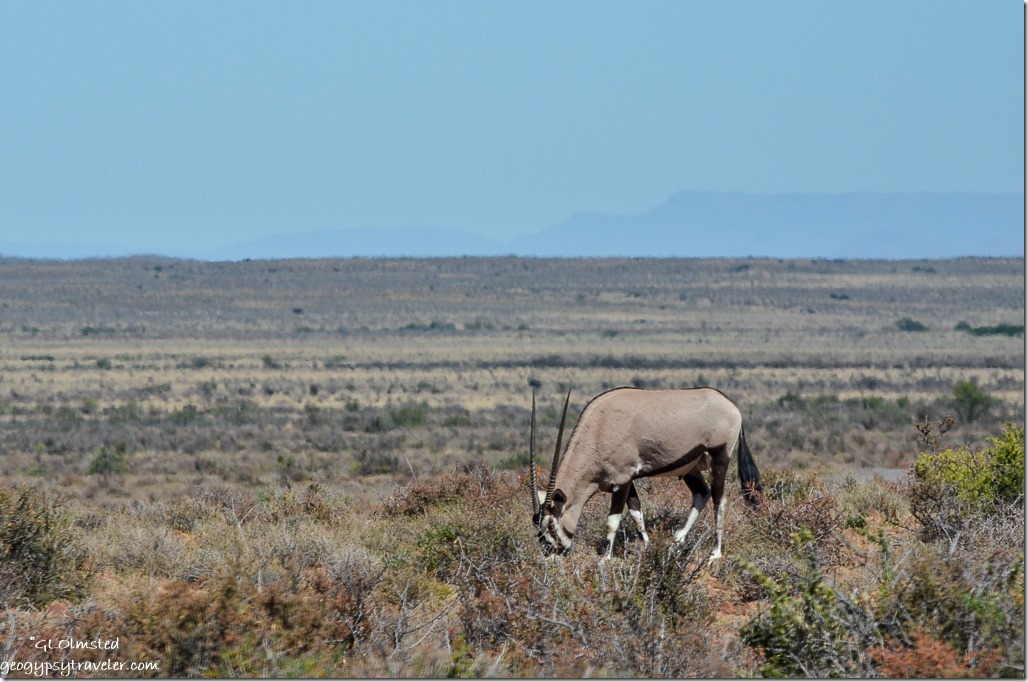 Sherry and David chose #7159.  A Gemsbok grazing in Karoo National Park which is interesting for both its wildlife and geology.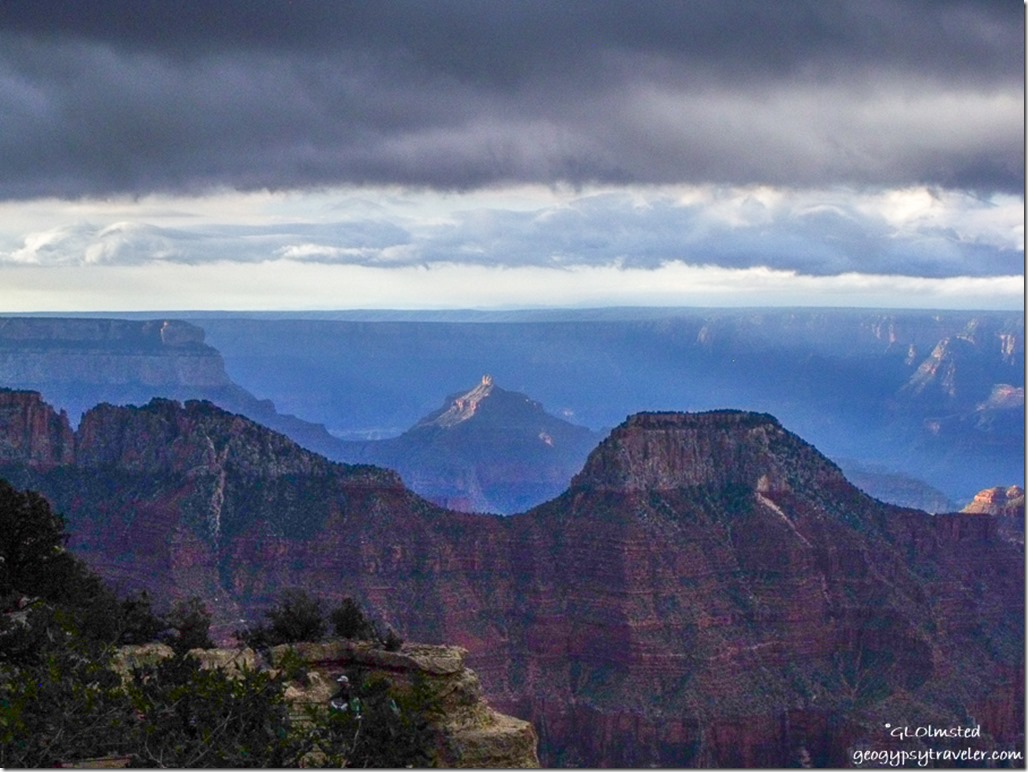 Sue chose #1945, "the year I was born."  This shot was taken at the birth of a new day in 2010 from the North Rim lodge Grand Canyon National Park. Of course it might have meant the death of the touron on the rocks.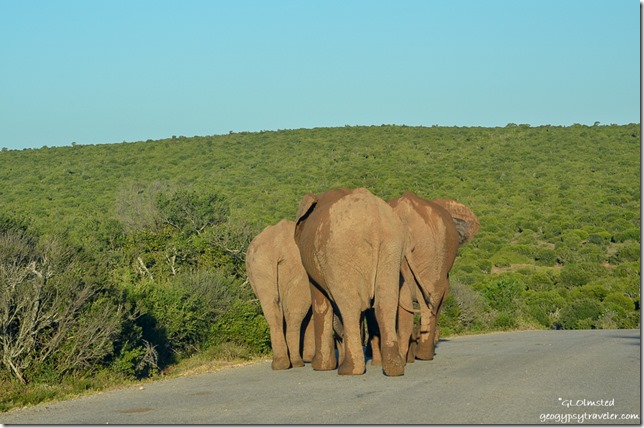 Jeff chose #7642, "the high and low temperature in San Felipe last trip." 3212 would be the high and low temperature in Celsius during a March summer day in 2014 at Addo Elephant National Park.  This is my second favorite South African National Park as there are so many elephants.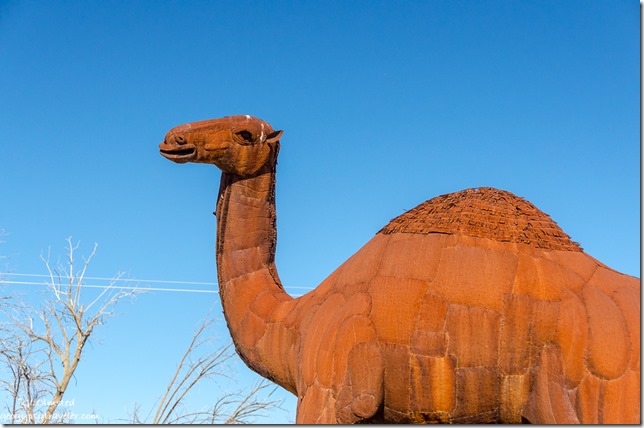 Sallie and Bill chose #2218, "for the new month we'll be celebrating."  I was celebrating the day after Christmas in 2014 when I took this shot at Galleta Meadows in Borrego Springs, California.  There are more awesome metal sculptures by Ricardo Breceda in the area.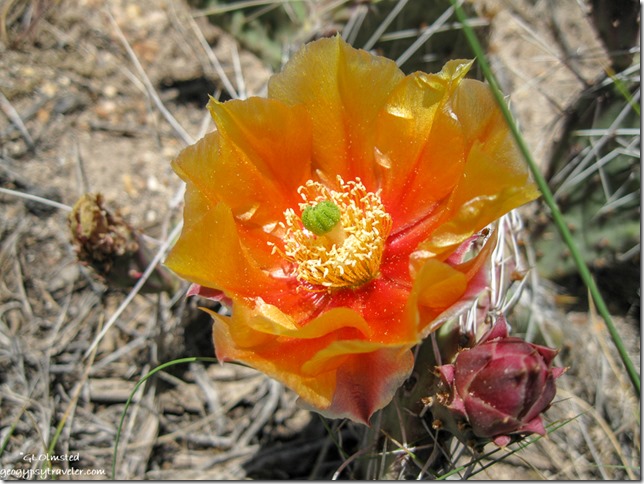 Donna chose #887.  A flowering Prickly Pear Cactus seen at Cape Royal on the North Rim Grand Canyon National Park the end of June, 2009.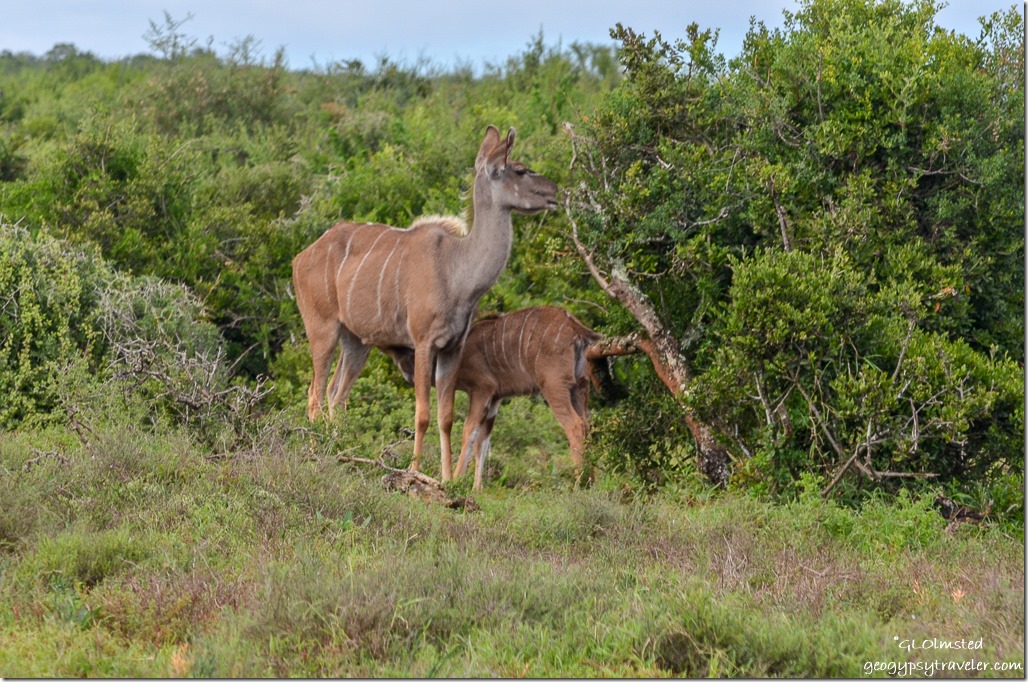 Pam and John chose #8172.  There are more than elephants at Addo Elephant National Park.  The young Kudu is getting fed.
Yogi and random dot org chose #2589.  Yet another sunset at the North Rim Grand Canyon National Park taken the same night as the first photo.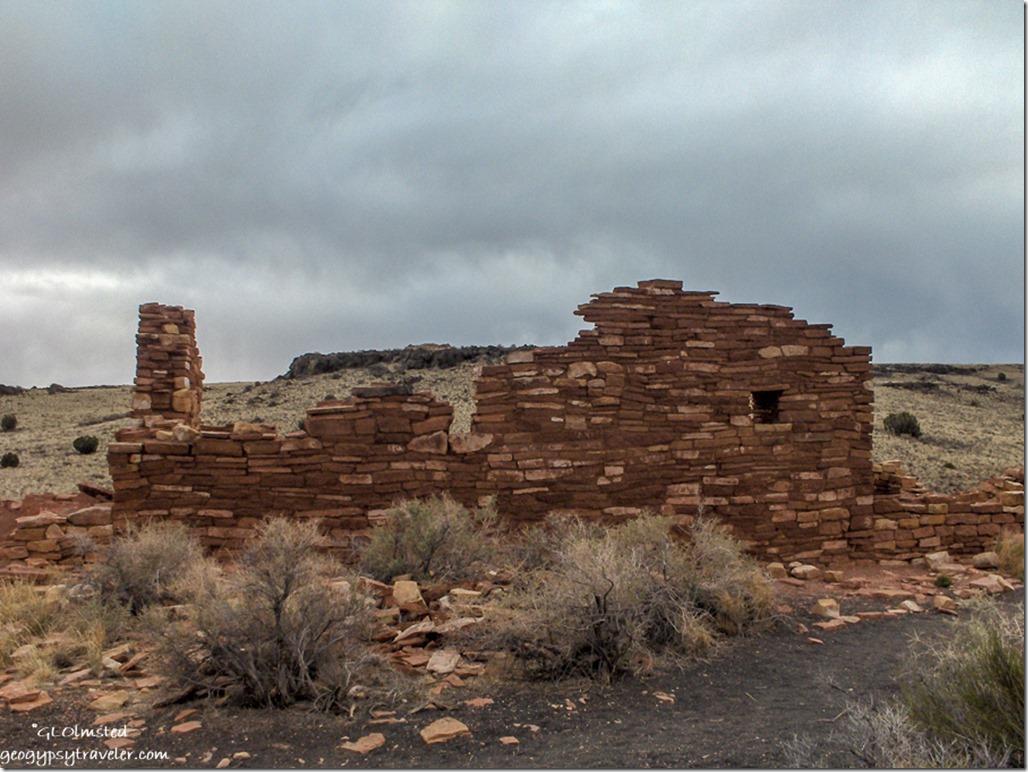 Patti and Abi chose #620.  Box Canyon Dwelling in Wupatki National Monument on the same day as the third photo above.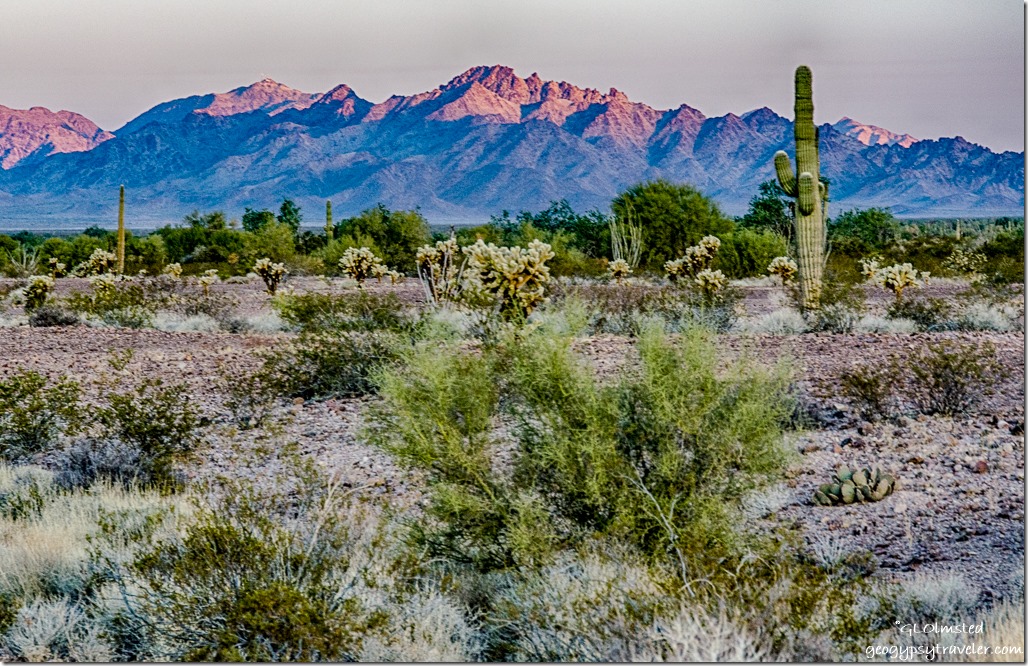 My choice this week is first light on the first day of February from my desert camp at Kofa National Wildlife Refuge.
Thank you for playing along with Foto Friday Fun which allows me to share these photographs and memories.  Please join in next week by leaving a number between 1 and 9999 in your comment below.
Do you have a favorite this week?
If you shop at Amazon please consider clicking below for the Amazon website. As an Amazon Associate I'll make a few cents on your purchase(s) at no extra cost to you. Put a few pennies in the winter travel kitty. Thanks for helping out.

Geogypsy is a participant in the Amazon Services LLC Associates Program, an affiliate advertising program designed to provide a means for sites to earn advertising fees by advertising and linking to amazon.com