This week's Foto Friday Fun includes ten images chosen by readers featuring Smokey Bear and public lands.  Unless noted, almost all this week's photos are from 2014.  It was a very good year.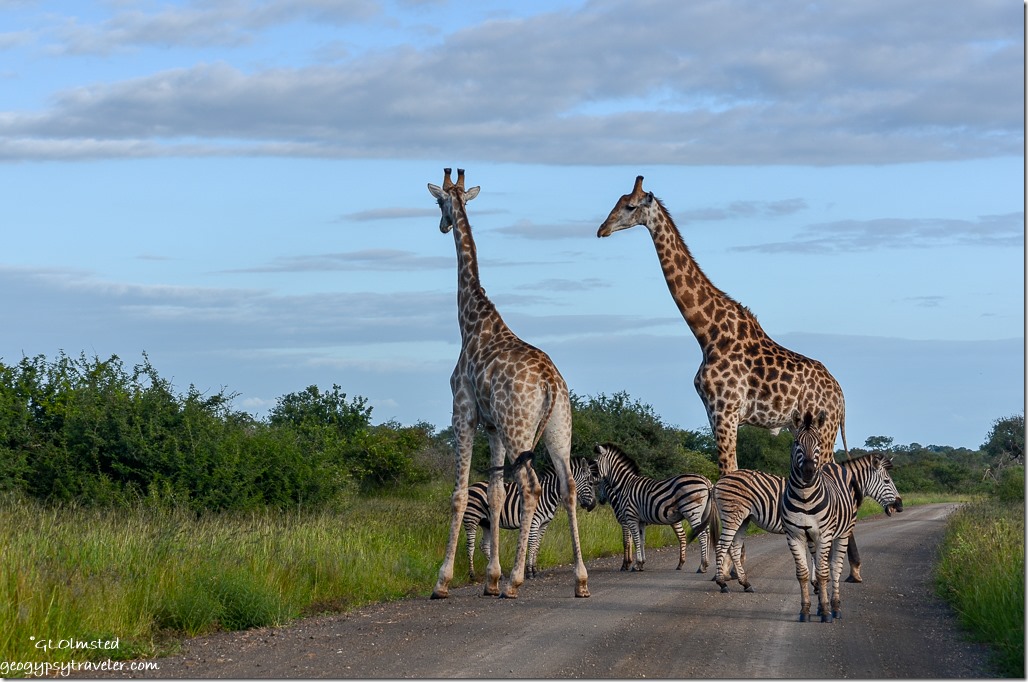 Rita chose #4649.  While on safari in Kruger National Park, South Africa, I expected to see mixed species like this hanging out together but that's not always true.  They eat different things, or in this case at different heights, so don't regularly hang out together.  Vegetarians don't typically dine with meat eaters.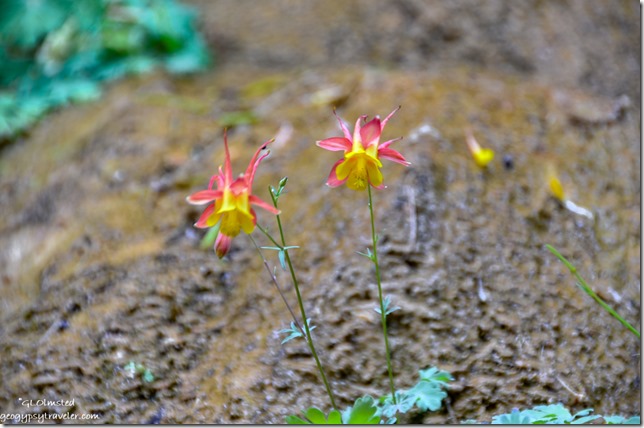 Diane and Nigel chose #1901.  They've been sick so I'm sending Columbine flowers that were seen along the River Walk trail in Zion National Park.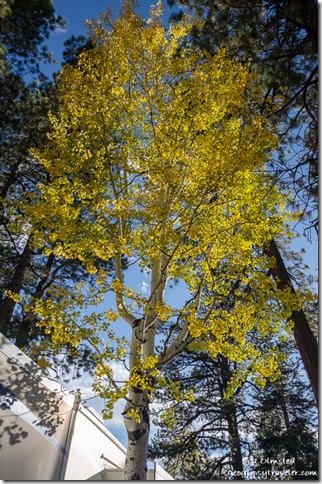 Pam and John chose #9110.  As I'm sure they know, parking an RV next to trees can be tricky especially with slide-outs.  An Aspen branch had to be trimmed from my North Rim Grand Canyon site.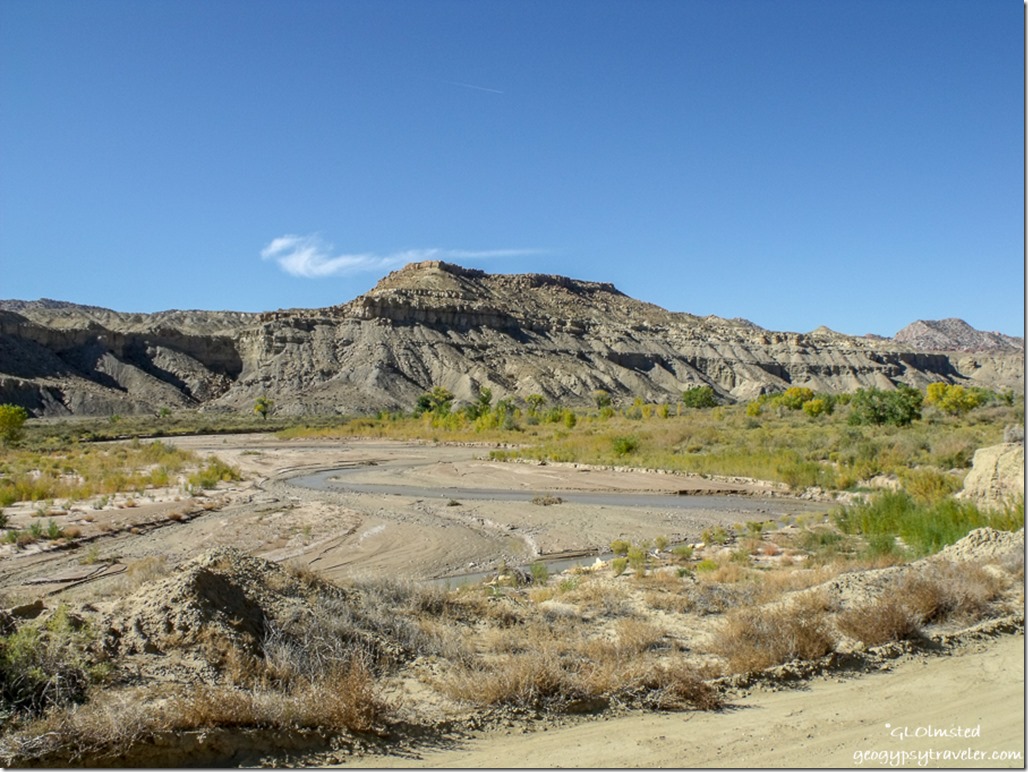 Sherry and David chose #1212, "since that's what time it is."  This shot from 2011, so it might be time for another drive in Cottonwood Canyon Grand Staircase-Escalante National Monument, Utah.  But it will have to wait until at least spring for the road to dry out.  Then I can only hope Cottonwood Creek isn't destroyed by some mine because this might not be protected land in the future.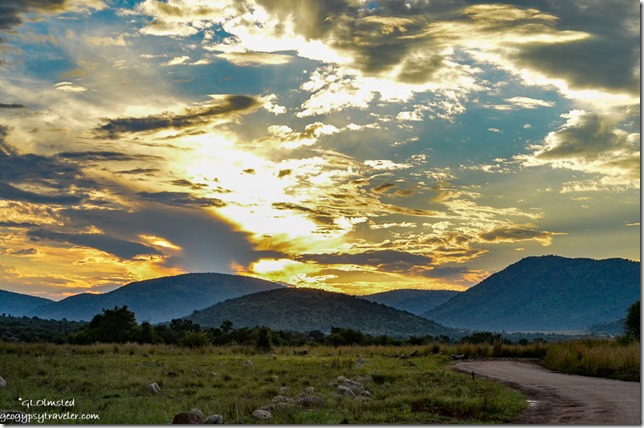 Sallie and Bill chose #9879.  Late safari drives often yield more than wildlife.  Being inside a volcanic crater with a lake at Pilanesberg Game Reserve provides for a lot of South African diversity.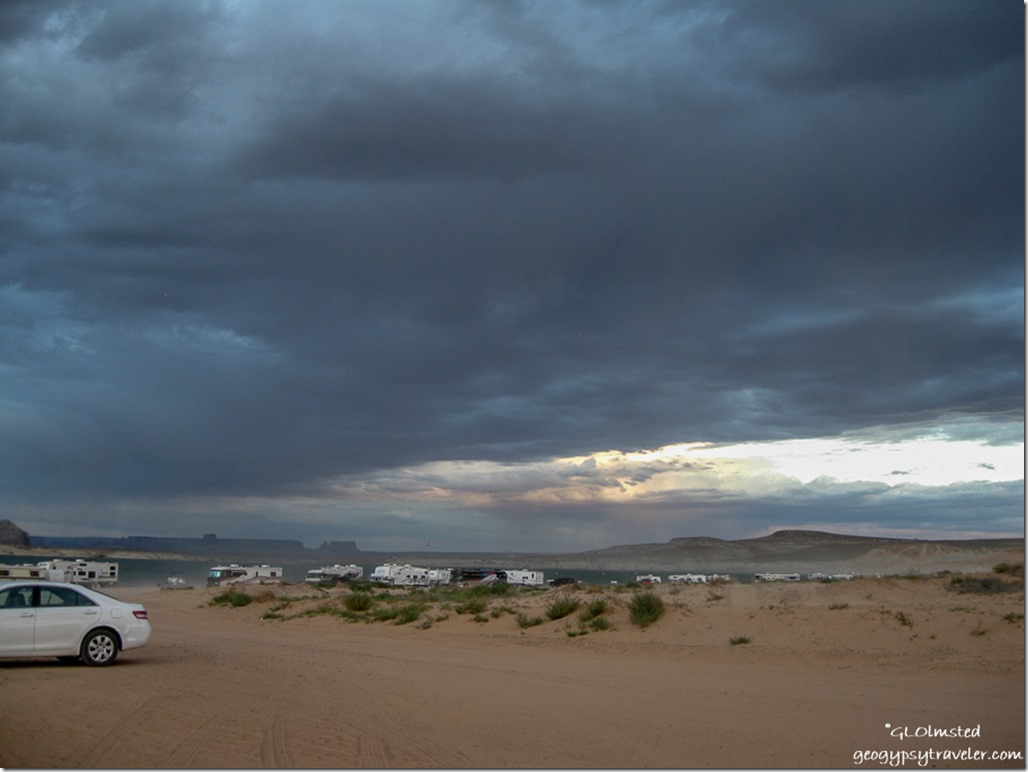 Donna chose #877.  A dramatic stormy sky above Lake Powell seen from my Lone Rock Beach camp back in 2009.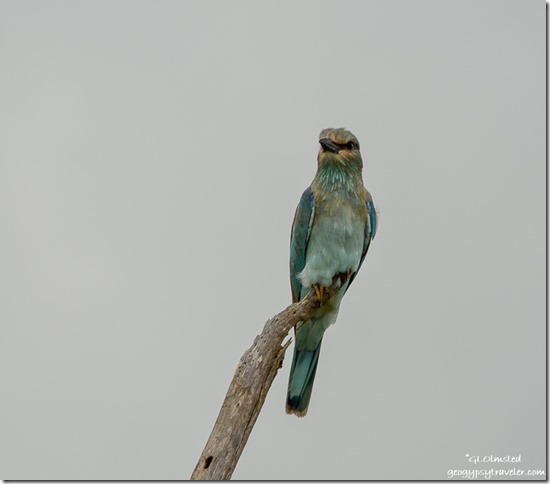 Yogi, and random dot org, chose #3624.  South African safari in Kruger National Park is great for birding.  The colorful European Roller is seen frequently.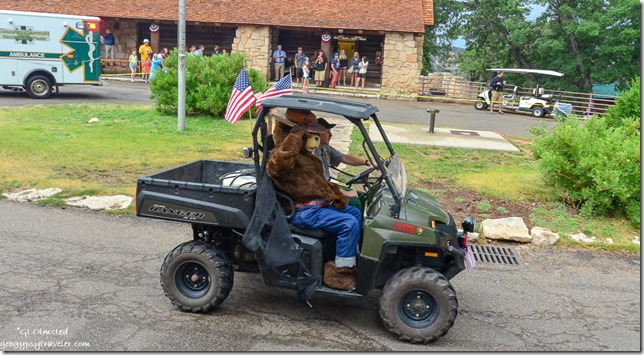 Jodee and Bill chose #3020.  4th of July water parade at the North Rim Grand Canyon wouldn't be complete without Smokey Bear.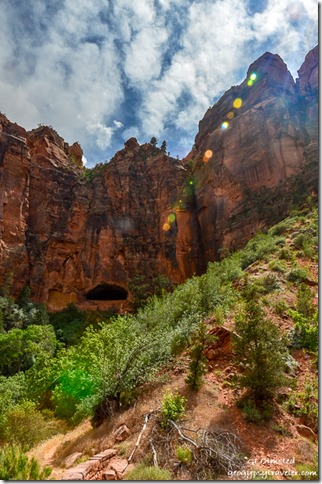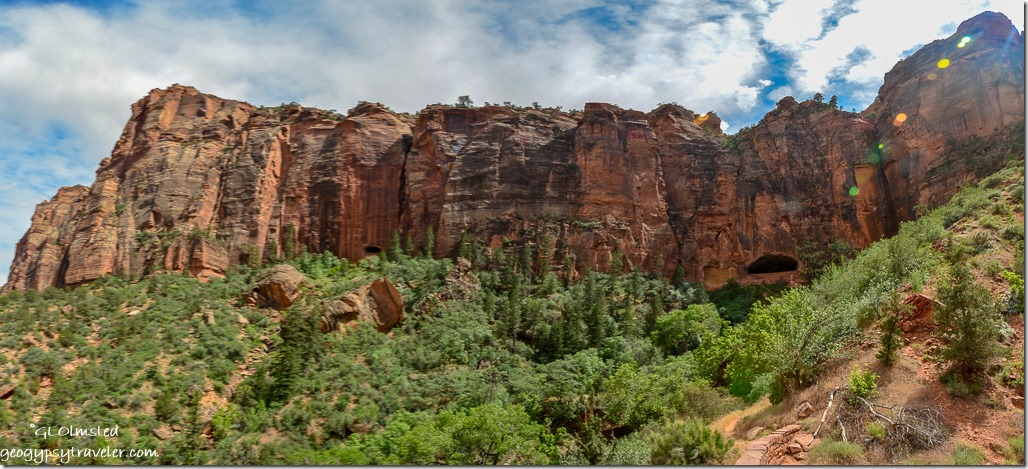 Jeff chose #1829, "the year Jumal Rancho was granted to Pio Pico."  One of six in a panorama.  2014 was the year I actually took photos of the Zion tunnels from inside and below because I wasn't driving for a change.  From the same visit where Diane and Nigel's flowers came from, Pat drove her rental car for that trip.  Look closely for two windows in that giant rock.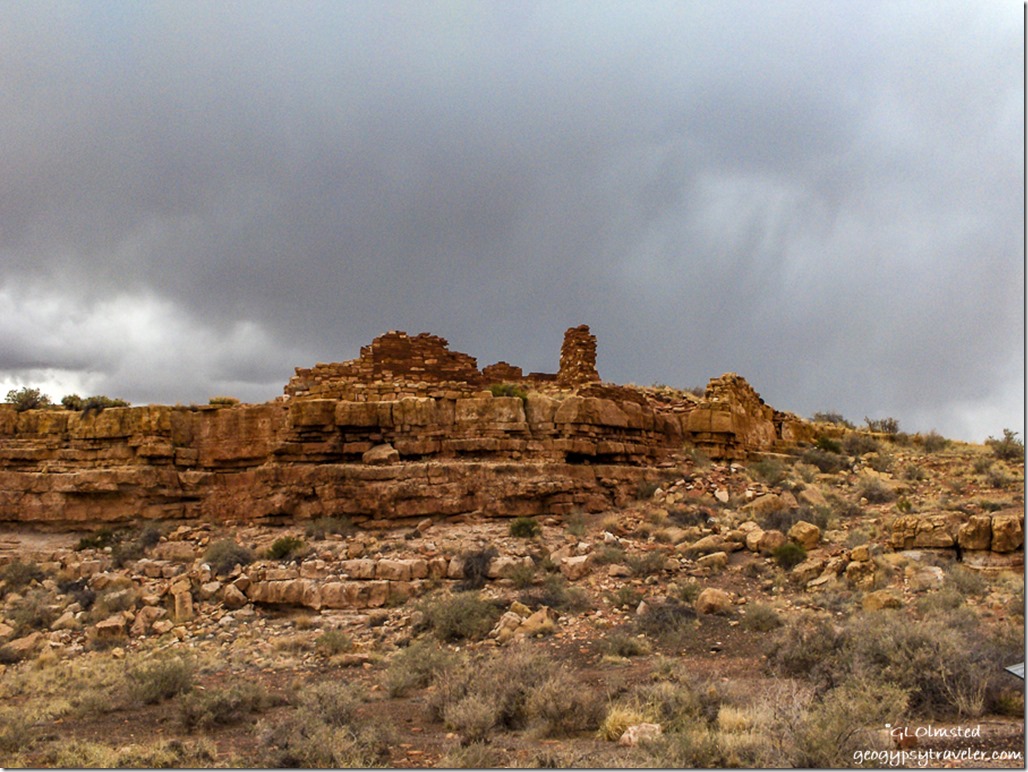 Patti and Abi chose #610 in their continuing leaps of 10.  These ruins in Wupatki National Monument, Arizona, blend in quite well on the rock cliffs of Box Canyon taken in 2009.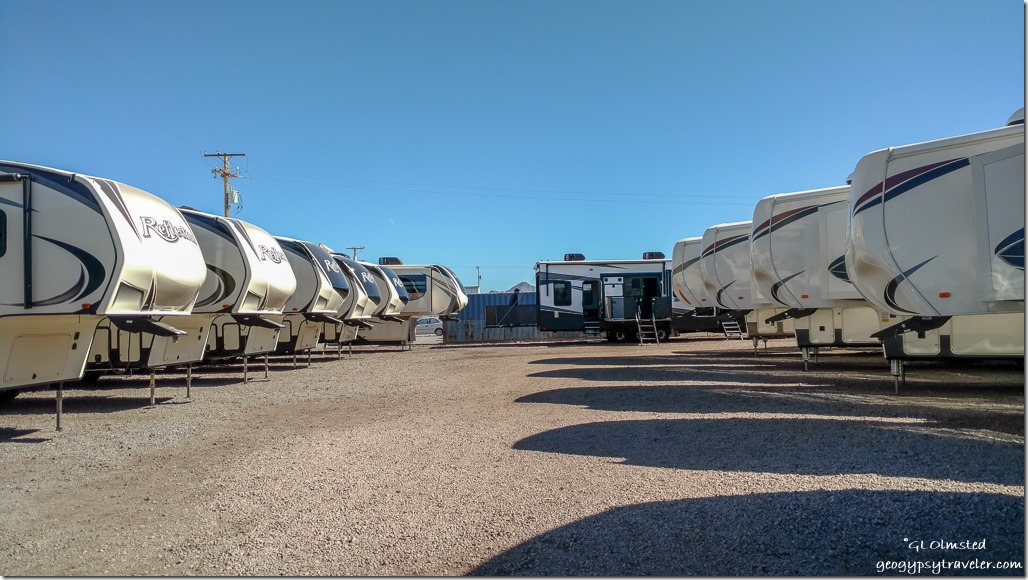 My choice from just one tiny row out of many choices at the RV Show in Quartzsite, Arizona.  Note the porches on the end one with the double doors.  At least 45 feet long 5th-wheel toyhauler.  Loaded.  I didn't ask the price.
Thank you for playing along with Foto Friday Fun which allows me to share these photographs and memories.  Please join in next week by leaving a number between 1 and 9999 in your comment below.
Do you have a favorite this week?
If you shop at Amazon please consider clicking below for the Amazon website. As an Amazon Associate I'll make a few cents on your purchase(s) at no extra cost to you. Put a few pennies in the winter travel kitty. Thanks for helping out.

Geogypsy is a participant in the Amazon Services LLC Associates Program, an affiliate advertising program designed to provide a means for sites to earn advertising fees by advertising and linking to amazon.com