March 28-29, 2017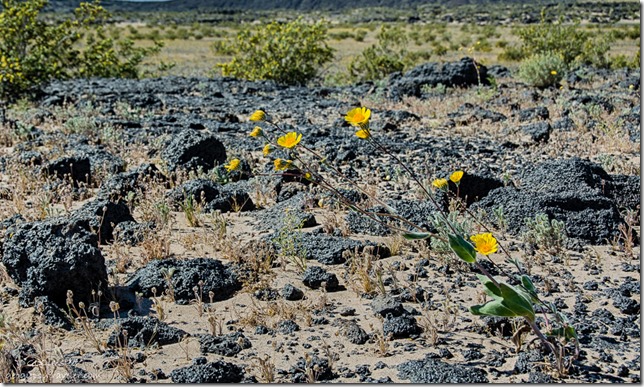 The Southwest spring wind blew me from one lava flow at Fossil Falls to another at Amboy Crater in Mojave Trails National Monument.  Although I'd driven in the area before this was my first actual visit to one of our newest national monuments thanks to President Obama.  But there was no way I had time to visit the entire 2,500 square miles so I chose the easy to access Amboy Crater and hoped for flowers.
Started with a nice tail wind south on US395 but then the darn road turned eastward and the camper really caught it on the side.  Carpets of pepper-grass blanketing the ground between scrub reminded me of the 70s when I decorated my bedroom in harvest gold and avocado green.  BLM signs for places called Spangler Hills and Trona Pinnnacles beckoned for future explorations.
Towns—if you can call the crumbling remains of buildings that time forgot—barely slowed down for.  Red Canyon, Johannesburg, and Randsburg made me wonder if I'd switched countries to South Africa.  At one time mining occurred in these parts and this was a major route.  Now it is littered with living ghost towns and only a few hold outs.

As I drove along a huge golf ball-shape stood out on a hillside and I whizzed past a stone entrance sign covered with wood.  Strange things occur in the remote desert so I did some homework later.  Not far from Kramer Junction (US395 & SR58) the ball-shape turns out to be a radar antennae operated by the Federal Aviation Administration (FAA) but originally built by the US Military as part of an air defense network that provided detection and early warning of non-friendly (enemy) aircraft.  The original Boron Air Force Station was converted to the Boron Federal Prison in 1978 as a minimum security prison meant for white collar non-violent offenders.  Closed in 2000, the facility sits abandoned and falling apart with the assistance of vandals.
Stopped in Barstow for supplies and when coming out of the store noticed something hanging down from under the back end of the camper.  Thank goodness it wasn't a holding tank but a protective plastic cover with about half the 100 screws in it pulled out.  Now what did I bump?  Crawled underneath to assess the situation and decided to bungee it up rather than take it off and not have a place to put it.  I'm talking a slightly flexible, 4×8, molded chunk of plastic.  All I could do to hold it up with my head while stretching the bungees.  No photos.

Finally headed east on I40 and looked longingly at the Mother Road, Route 66, running parallel to the go-fast freeway.  I like to lollygag along the old "blue line" highways and saw several tempting exits yet continued to Ludlow before cruising the crumbling, deteriorating, and mega-patched pavement from the past called the National Trails Highway.
I could have pulled off on a dirt two-track anywhere on the BLM but I really didn't want to do a whole lot of bouncing with this bungee thing going on.
And finally, late afternoon, I drove to the end of the newly paved .5 mile road at Amboy Crater then turned back half way to an empty paved lot for the night.  There were a couple RVs in the end lot and I was joined by two others.  Sore and tired I watched the sunset.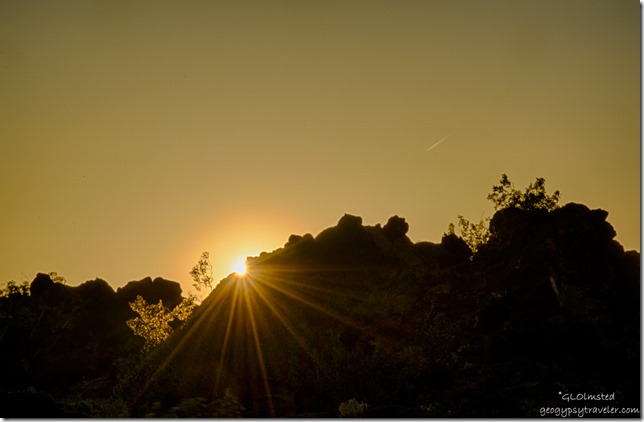 Except for the incessant wind and many trains, it was a quiet night.  Fridge wouldn't light and I don't get that because it was downside from the wind and plenty of propane.  The stove worked.  This has happened a few times before.  I ate the last of the ice cream.  A sure sign to head home soon.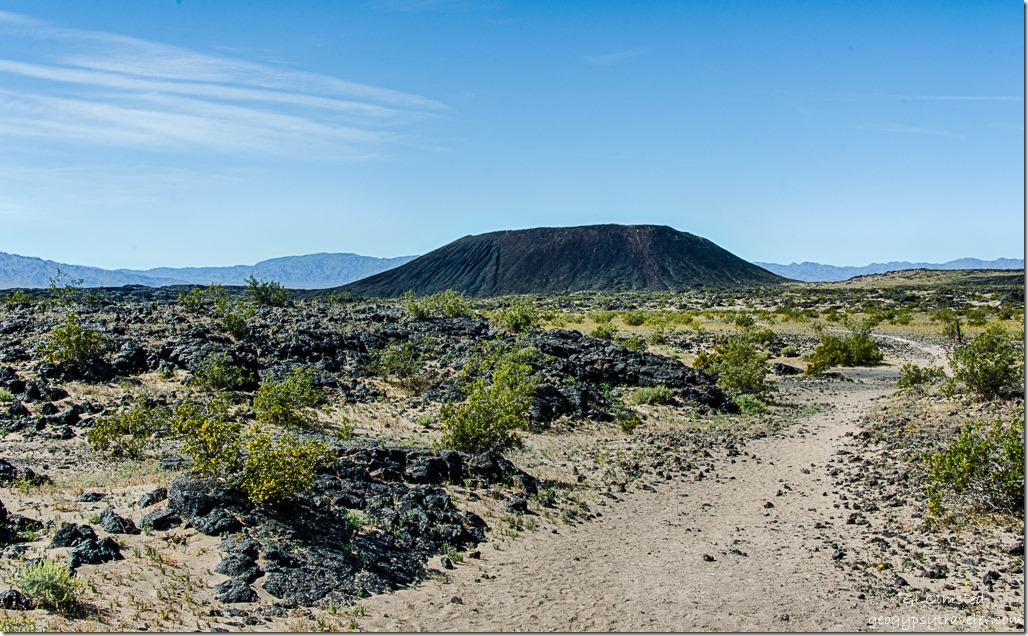 With barely any wind the fridge lit in the morning and I went back down to the trail head parking.  A 1.5 mile trail leads to the west and open side of the cinder cone, then an 80 foot incline and additional .5 mile rim walk.  Which I guess is not really at the top rim of the 250-foot high cinder cone.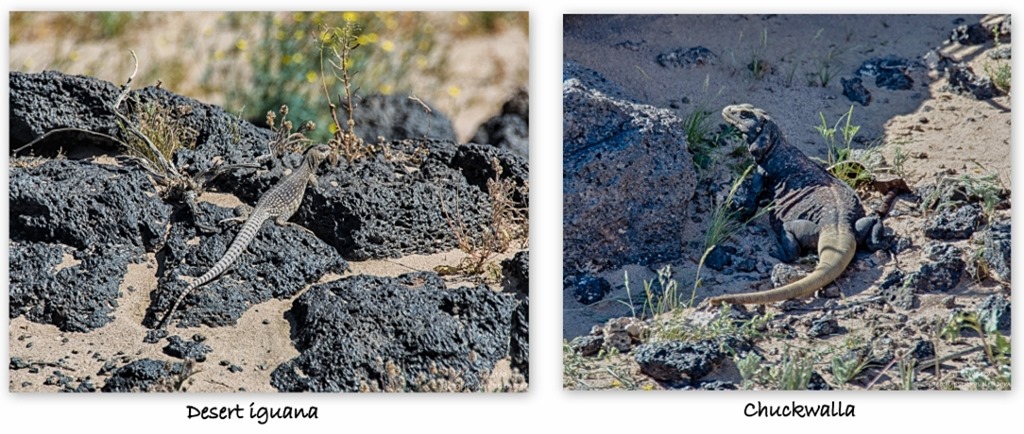 Being I still had a long drive ahead of me to get back to Arizona that day I just wandered around the lava a bit looking at the pretty flowers and being startled by the skittering lizards.  These two measured over a foot long.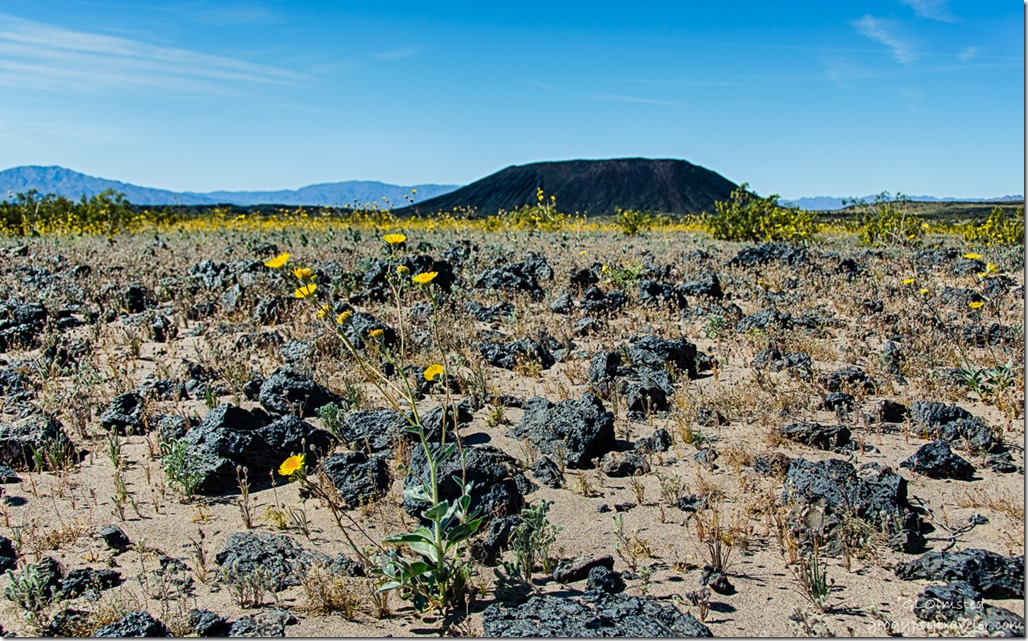 Amboy Crater stands alone in the desert and is a dominant landmark seen for many miles.  A rather young cinder cone last erupting about 10,000 years ago.  It breached on one side and lava flowed for 24 square miles.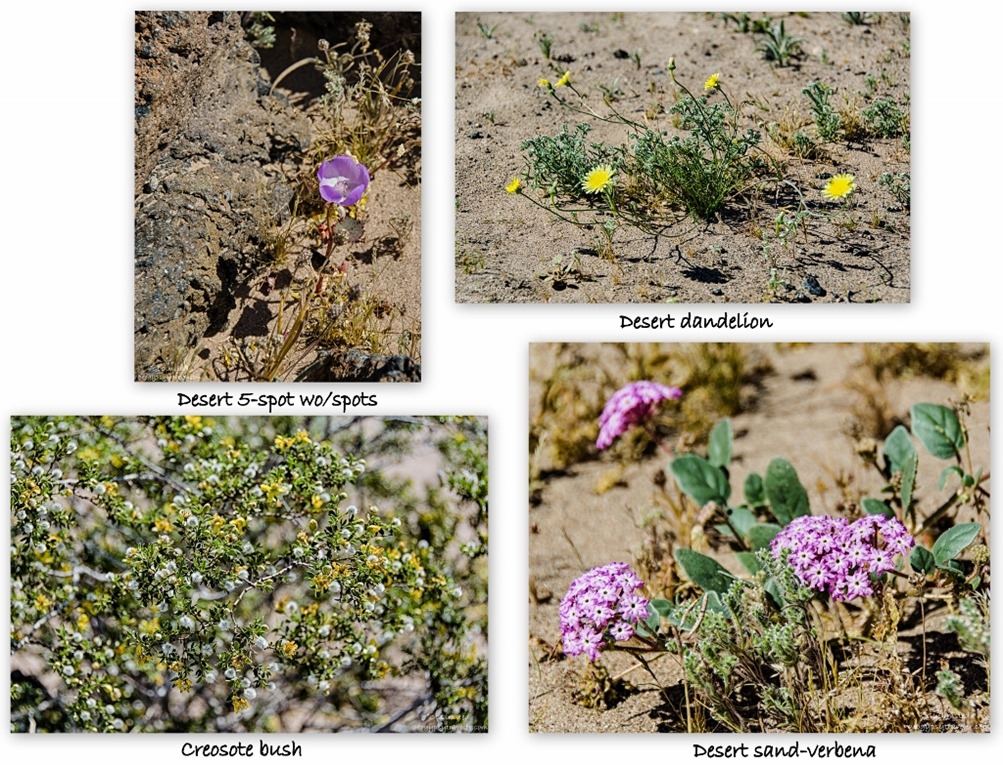 Due to the cone's youth and lack of mature soil, plant life is limited.  Yet I still found flowers in some pockets of sand captured within the lava flow.
Mojave Trails National Monument at 1.6 million acres is the second largest desert preserve in the world—Namib-Naukluft National Park in Namibia is larger—and creates wildlife corridor link with Joshua Tree National Park, Mojave National Preserve and several wilderness areas.  The monument's diverse features include lava fields and cinder cones at Amboy Crater, primitive 4×4 camping at a desert wetland at the Bonanza Spring Watchable Wildlife Area, rock-hounding at the Chambless and Trilobite Mountain sites, and sand dunes in the Cadiz Wilderness.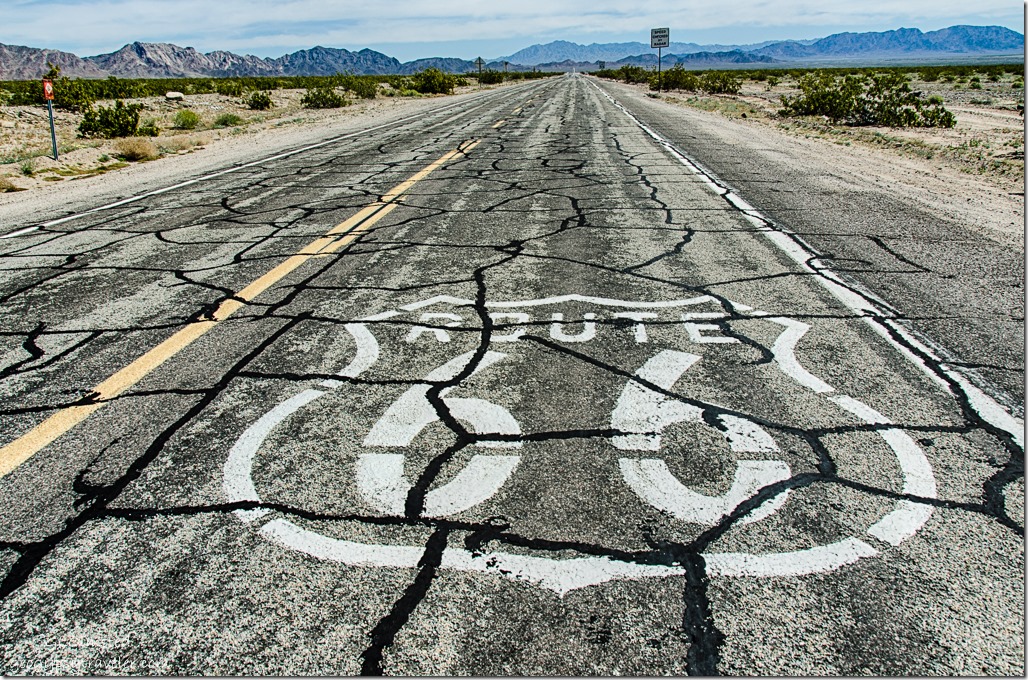 Plus there's a long stretch of Route 66 which I'd hoped to drive more of to the east when I left but knew the road was closed (and will be until mid-September) just beyond Amboy at the Kelbaker Road north back to I40.  So there I was standing on the side of the road along Route 66 just before the road block and two different vehicles stopped to ask me directions like I would know.  One how to get to Cadiz the other to I40.  And I did know, because I read a map and do my homework.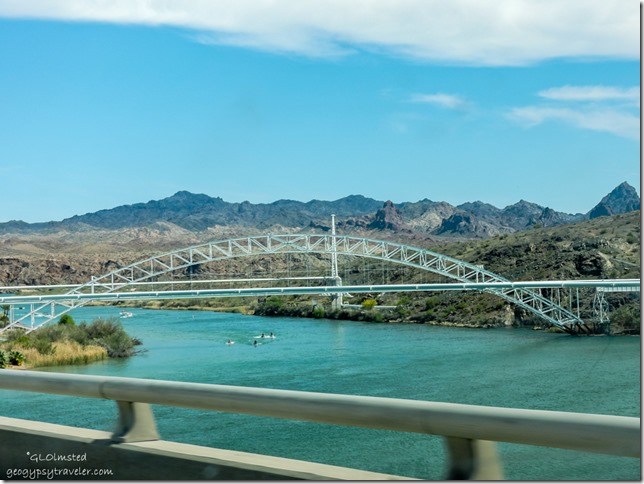 Yet even planning isn't often enough.  Google told me four hours to home.  What does Google know about my slow rate of pace.  Even though once I crossed the Colorado River into Arizona it felt like home I had miles yet to go.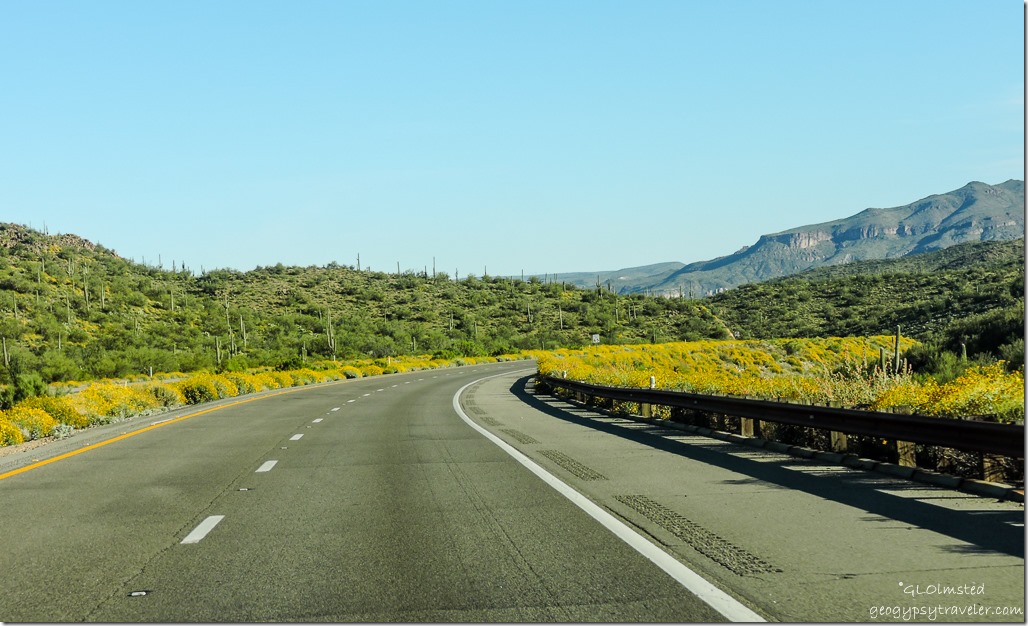 US93 South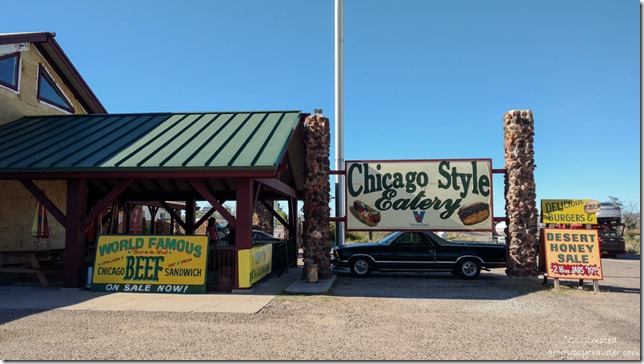 Four hours turned into seven because of all the stops I just had to make for flowers, fuel, and to pick up dinner for Berta and I at Dazzos Chicago Style Eatery in Wikeup, Arizona US93 for their world famous Italian Beef sandwich. (BTW there's an RV Park there too.)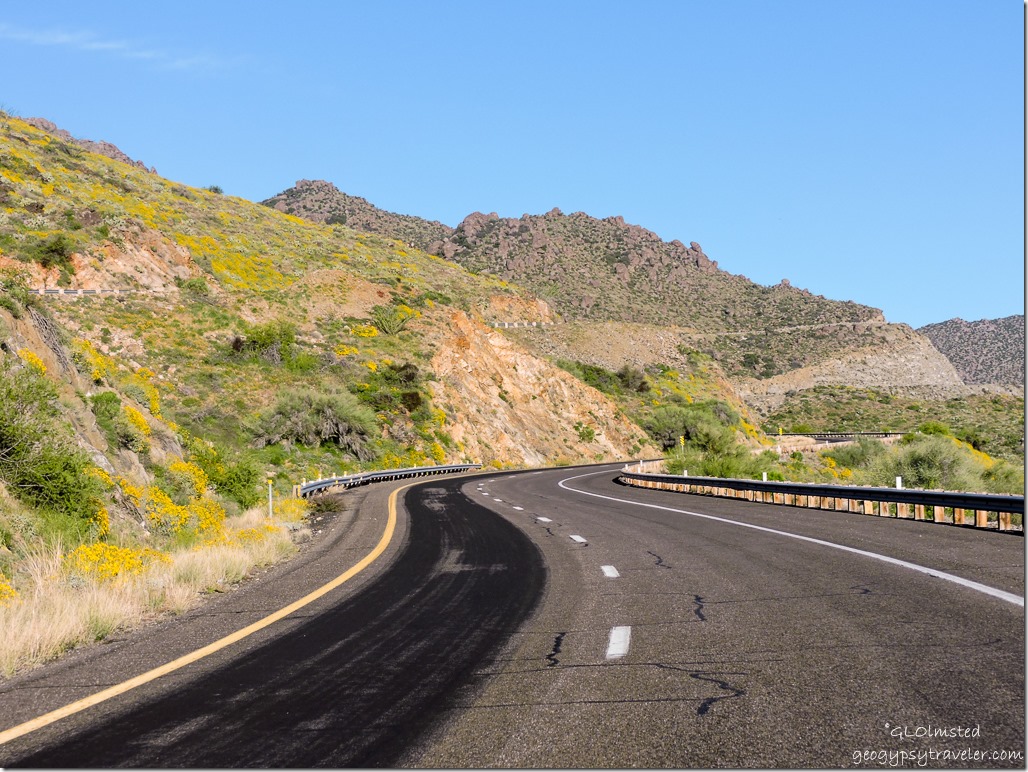 SR89 North Yarnell Hill
Then because it was late I parked in Berta's drive for the night after we enjoyed a couple hours of catching up.  Much easier than getting home late and wanting to unpack at least the necessities.  So I returned home four weeks and a day after leaving for Valley of Fire.  Been living with wind for almost two weeks and it seems to have followed me home.  Hello Spring in the Southwest.    Ah….chooooooo!
Know before you Go
Carry a paper map in case you have no signal.  Check the monument's website and road conditions/closures.  Be aware of weather conditions as summer temperatures exceed 110°F and winter nights drop to 36°F.  Heavy rain during summer monsoon can make roads impassible.  Carry, and drink plenty of water.  Fuel up your vehicle because it's a long ways between services.  Watch for snakes, spiders, and scorpions.  This is a leave no trace landscape so pack it in, pack it out.  Because the US Armed Forces has and still does use the desert for bombing ranges there may be unexploded devices.  Need I say leave them alone.  People have also reported feeling the ground vibrate during "war games" within the nearby military base.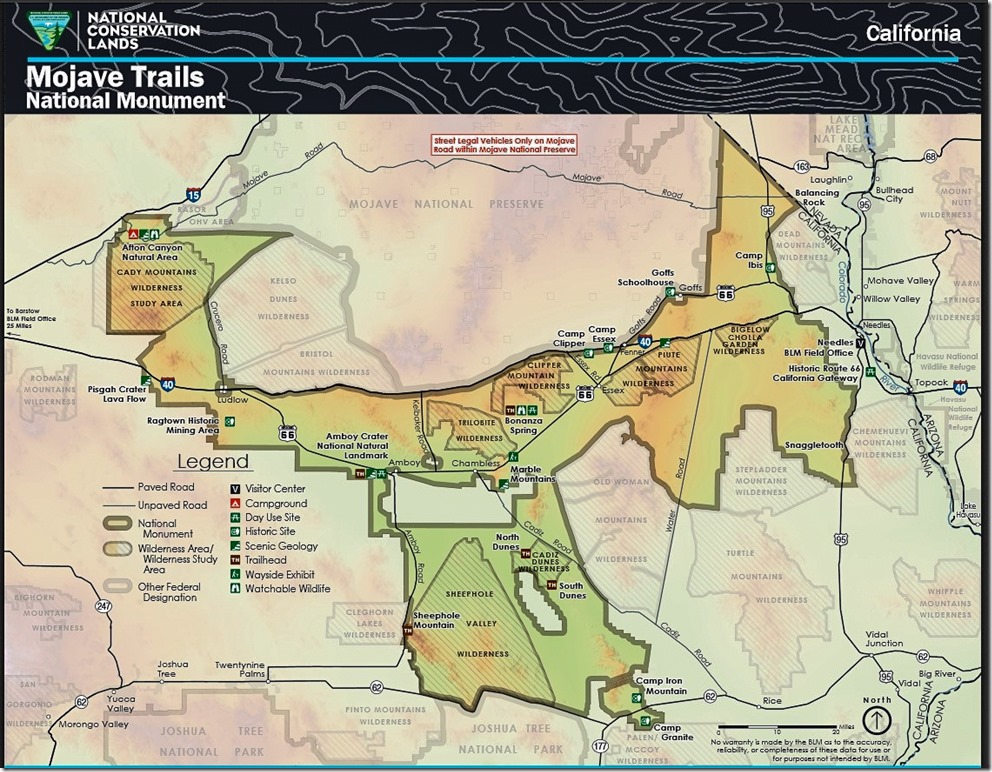 Save
Save
Save
If you shop at Amazon please consider clicking below for the Amazon website. As an Amazon Associate I'll make a few cents on your purchase(s) at no extra cost to you. Put a few pennies in the winter travel kitty. Thanks for helping out.

Geogypsy is a participant in the Amazon Services LLC Associates Program, an affiliate advertising program designed to provide a means for sites to earn advertising fees by advertising and linking to amazon.com