March 9-15, 2017
A time machine set for March 9, 2017 took me to the Alabama Hills.  Yet I also traveled further back in time and to other places filled with memories.
Have you ever visited a place you've never been before yet it feels familiar?  That's how I felt at Alabama Hills.  The round eroded boulders reminded me of many visits to Joshua Tree.  The stretched out, snowy range of the High Sierras made me think of the North Cascades in Washington state were I once lived.  The entire landscape, so vast I couldn't take it all in.  Plus a nagging feeling I'd seen this place before.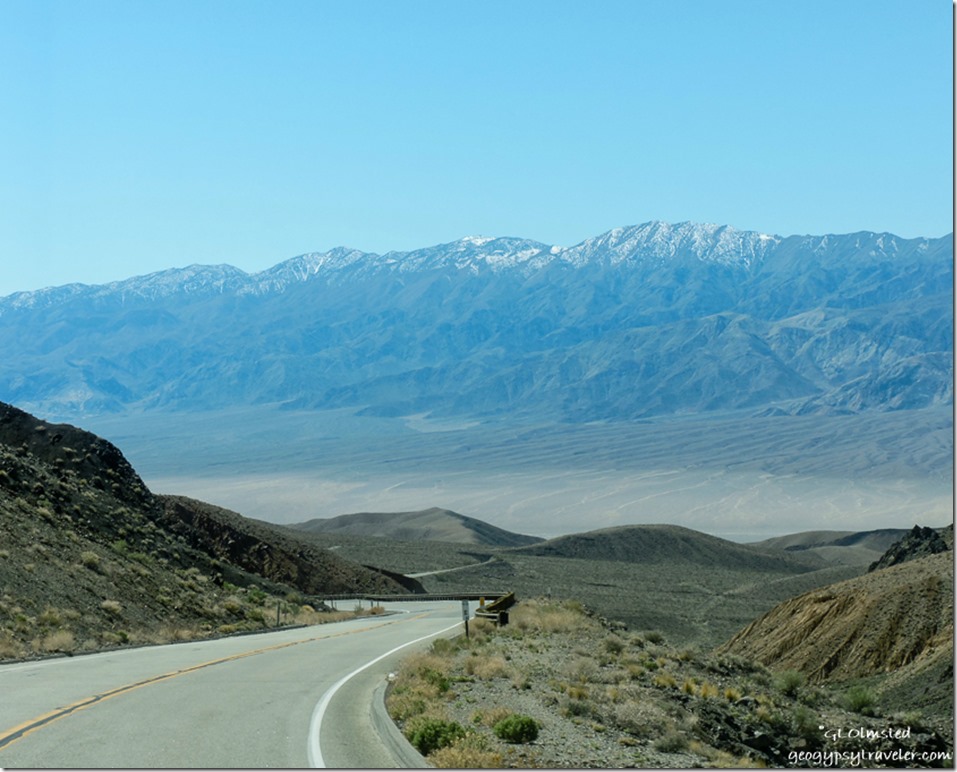 I left Death Valley on SR190 heading west.  The twisty climb over the Panamint Mountains may not be for the fainthearted or long vehicles.  Having said that, Dave met at Alabama Hills towed a 40 foot 5th-wheel, and I did see a tour bus stopped at an overlook along the equally curvy road over the Inyo Mountains.  Even saw some potential boondocking to the north before dropping into the Owens Valley.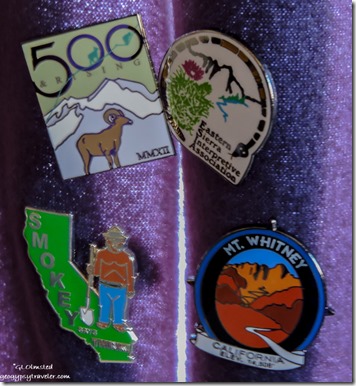 Stopped at the Eastern Sierra visitor center, bought a few pins for my curtain collection, and got my Inyo National Forest Junior Ranger book, plus lots of information on the area.  Wow, there's a lot to see an do: museums, drives, hikes, and Manzanar National Historic Site.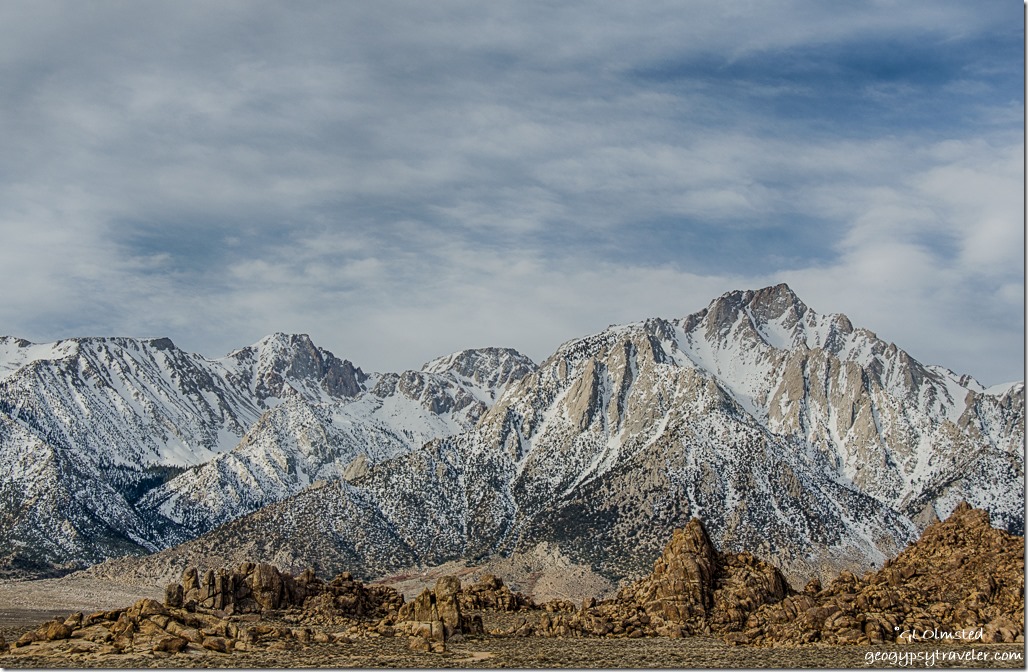 Turned west at the only stop light in Lone Pine, California.  Even with maps and what I thought was a false turn I kept on driving up Whitney Portal Road somehow drawn to the snowy Eastern Sierras.  Yea I know, me who hates cold and snow.  Yet these jagged peaks are mystifying.  I can understand why the volunteer in the visitor center moved here after retirement because he'd hiked these mountains for decades.  I so respect people who have a sense of place, wherever their place may be.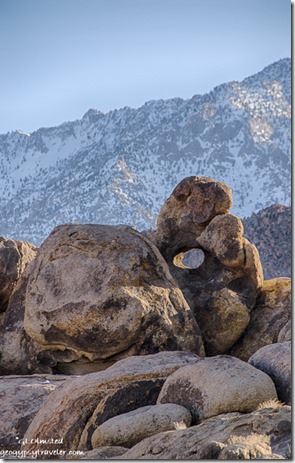 A plethora of gravel roads wind in, around, and between the monoliths of eroded granite.  No signal anywhere.  I drove very slowly for an hour looking for that just right campsite.  Not too close to others, not tucked too tightly into the boulders.  When I'd find a place where I liked the view, it was a road.  Can't park in the road.  Found a place between two roads looking up at an arch and the High Sierras but even with three boards stacked for the front tires to level couldn't climb the boards only scooching them in from of the tires.  Finally parked on high ground with a 360° view of sandy colored boulders backed by snow topped mountains both east and west.
I understood why the granite fractures allowing water to break it further apart and round the edges.  In contrast, the towering granite mountains are carved by glaciers, cold, and ice.  But why did this place look so familiar?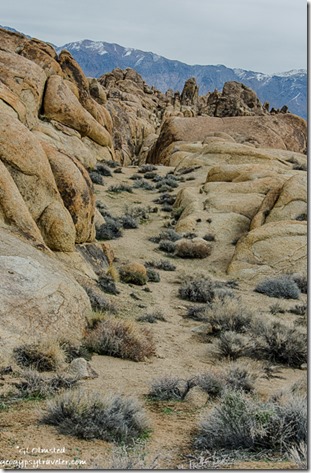 If you grew up during the 1950s like I did, this landscape may take you back a bit.  During the 1920s Hollywood filmmakers began making westerns in the Alabama Hills.  Tom Mix, Hopalong Cassidy, Gene Autry, and the Lone Ranger all shot it out with outlaws among the boulders.  Classics such as Gunga Din, Yellow Sky, and How the West Was Won were filmed at sites now known as Movie Flat.  In 1990, Tremors was filmed almost entirely on location in the Alabama Hills.  (Yes, I stayed on the rock.)  And more recently, Star Trek Generations, Gladiator, and Iron Man among others were filmed here as well.  Today, mostly car commercials are filmed here.  The Museum of Western Film History is located in Lone Pine and offers a map to film locations.  However, I never made it to the museum and instead waited patiently for that masked man to ride up on Silver.  Instead I saw RVs of every description, jeeps, ATVs and dirt bikes.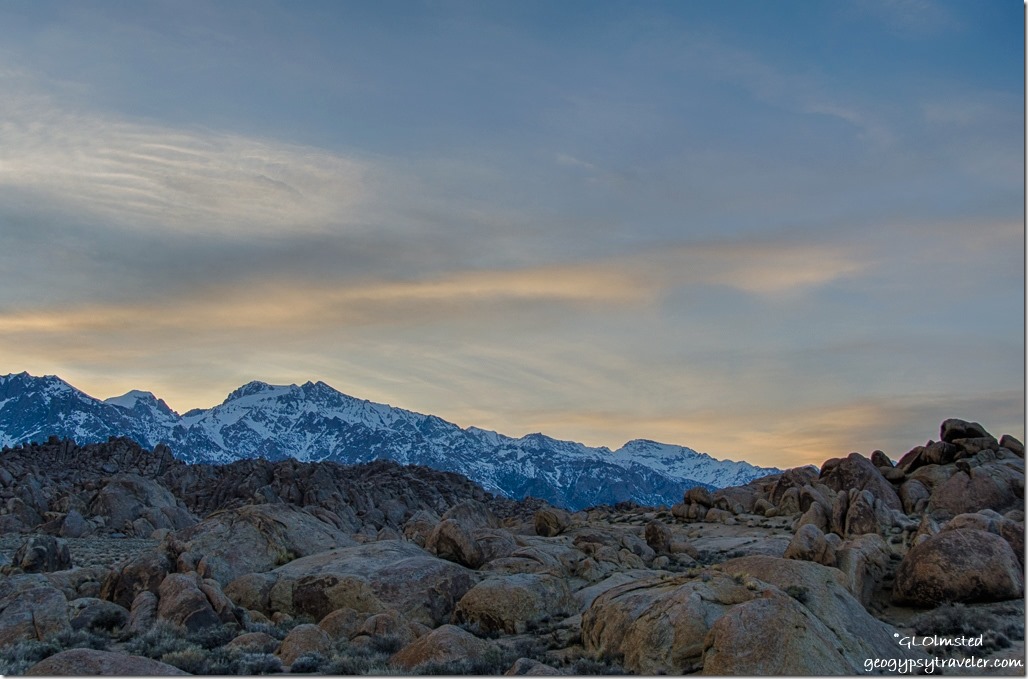 Most of the time I enjoyed peace and quiet with an occasional dusty vehicle slowly cruising past probably looking for film sites.  No wonder, because it turns out I was camped at Lone Ranger Canyon.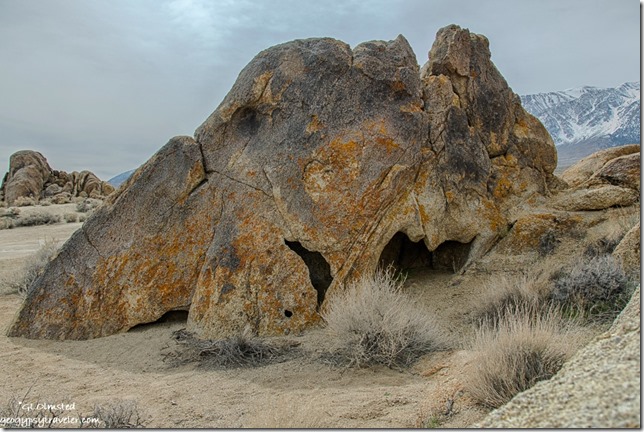 My first full day after breakfast, and an unexpected almost two hour Windows update—how does that happen in the middle of nowhere with no connection—I wandered northward up sandy paths, over boulders, turning around to unending rugged views.
Under an overcast sky even this rough landscape looked rather dull and flat.  The topography is so complicated, it's overwhelming to photograph and capture the enormity, kind of like grand canyon.  I could see for miles north and south in Owens Valley, or up 13-14000 feet to Lone Pine Peak and Mount Whitney.  While at the same time hide in pockets and corridors among the boulders.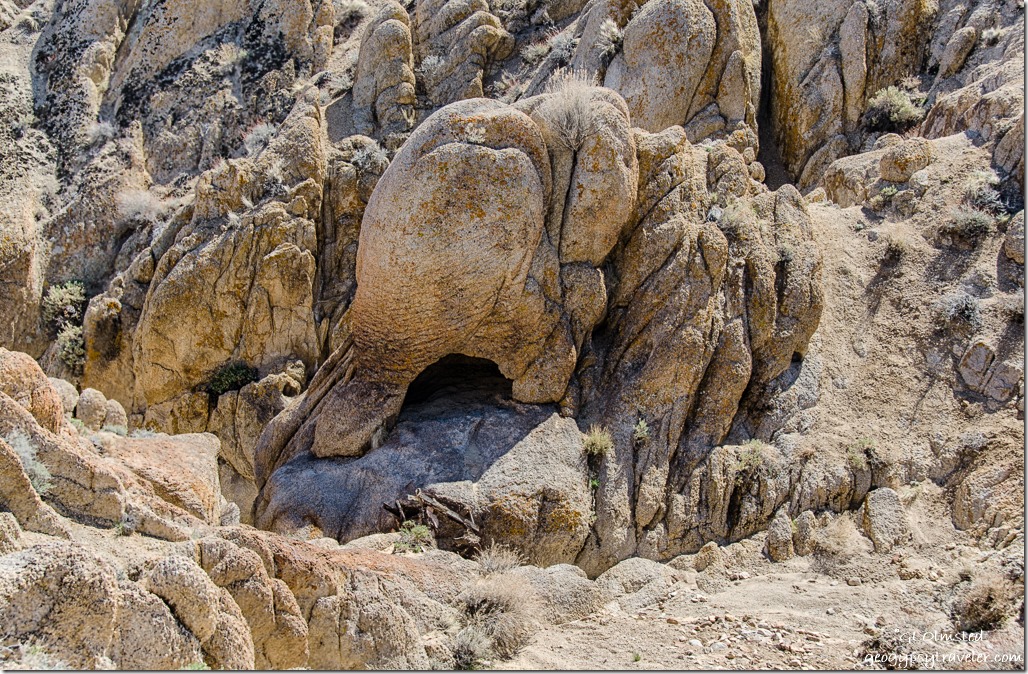 I found myself looking at individual shapes and felt transported back to South Africa.  There were elephants everywhere.  Or at least rocks shaped like elephants.  Maybe you'll see some other bizarre shapes sculpted by wind and water.  How I admire the power of nature's art.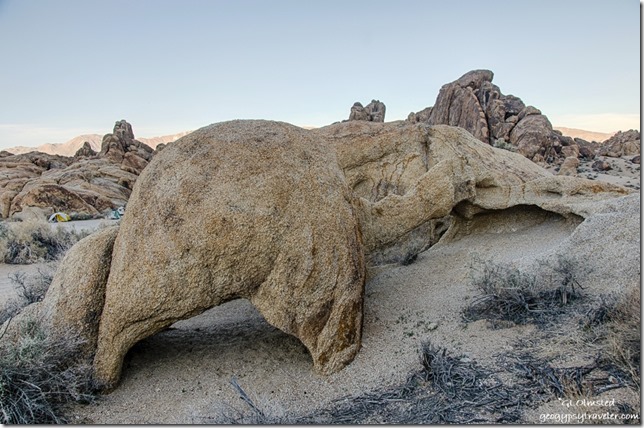 This place is a paredolia's dream if  you use your imagination.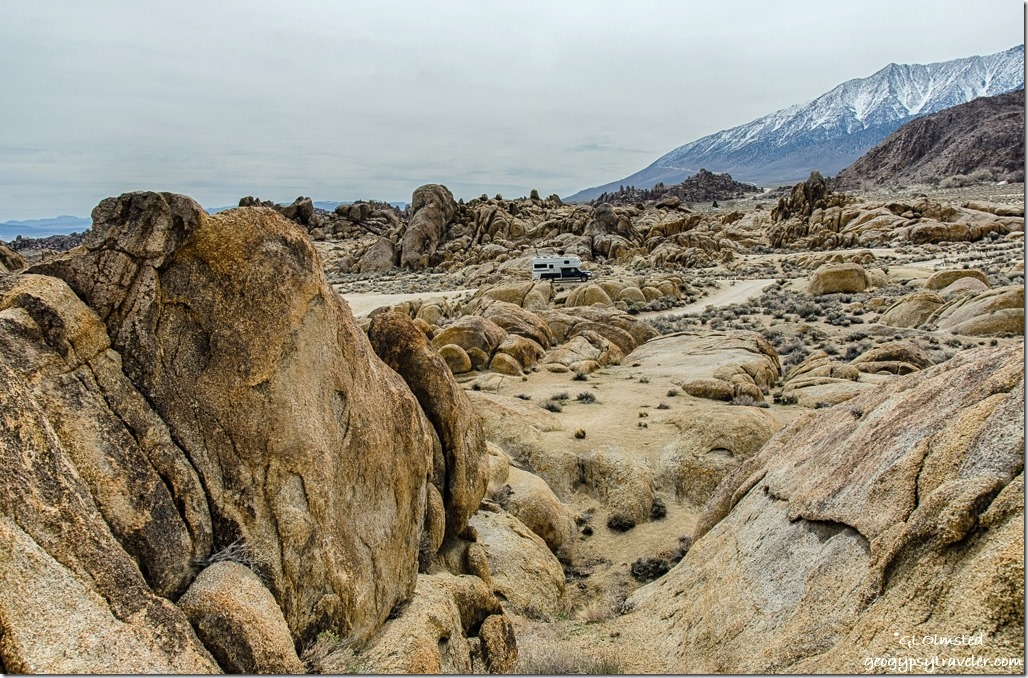 In two hours of scrambling over rock and sand I never lost sight on the camper.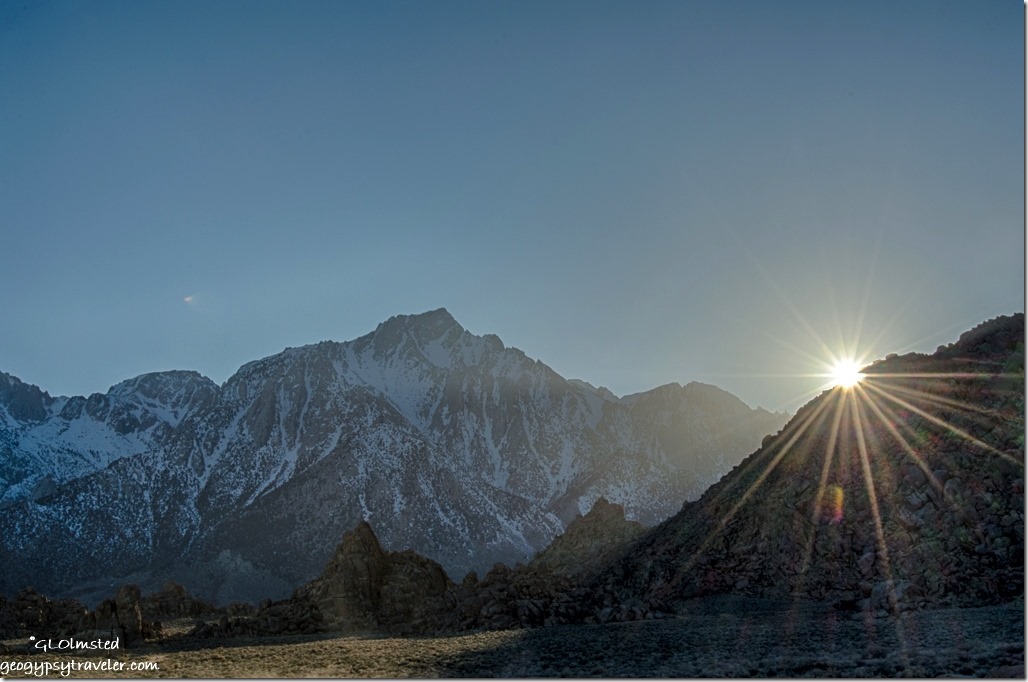 Saturday is different.  The crystal clear blue sky of morning gave way to wispy clouds.  I turned the rig around for a different view, sitting outside wearing shorts and looking at the snowy Sierras.  Way more people around.  What looks like an adult led boys group of five in a Suburban towing an old truck-bed trailer full of camp gear park 50 feet from my door then noisily hike off into the hills for an hour and thankfully move on.  Dirt bikes scream past sending up dust plumes, popping wheelies, and buzz like bees around the landscape.  Fast traffic on the main dirt road left a cloud of sand drifting across the land.  A lone person sits atop a high boulder contemplating who knows what.  All within sight of my camp.  And suddenly quiet, only me and the wind as I sat inside working on posts and photos.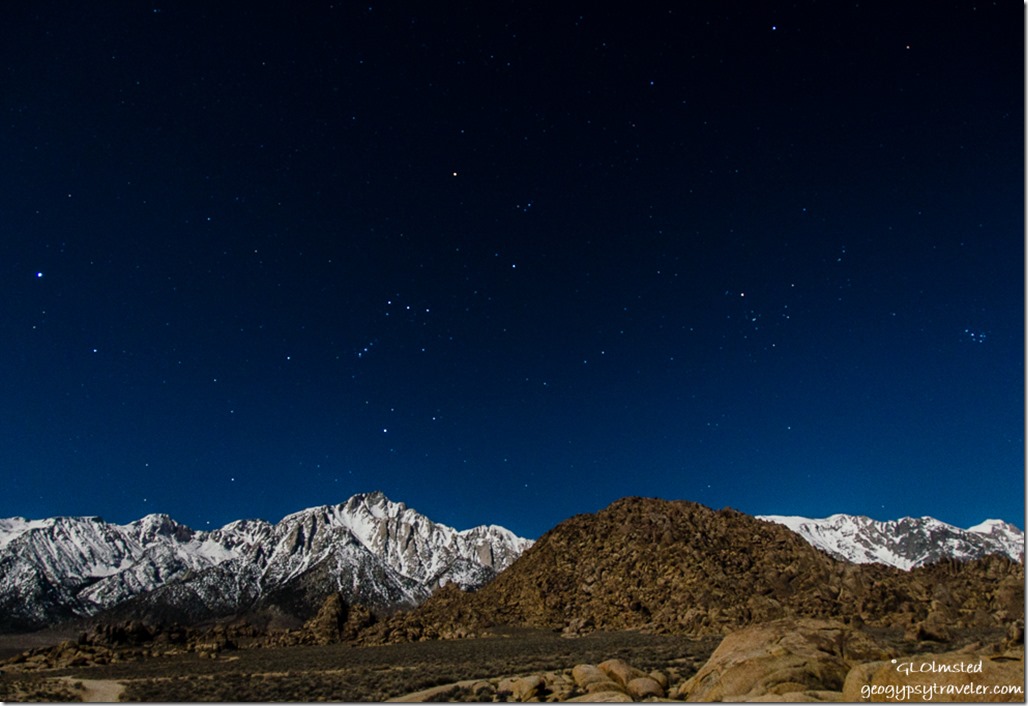 Not only a glorious sunset, but with an almost full moon lighting up the snowy Sierras I saw Orion running overhead.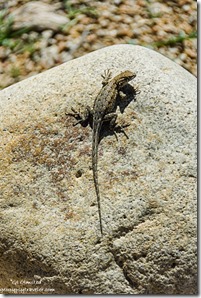 Sunday I went to town, did laundry and enjoyed half a huge cinnamon roll at the Alabama Hills Café & Bakery.  I also found a strong signal at a nice little city park next to the Carl's Jr where I spent hours catching up and posting to the blog.  I feel a little lost when cut off from the world too long even in such a fantastic landscape.  Fueled up at an unbelievable, for California, $2.79/gal diesel then headed back to the Hills.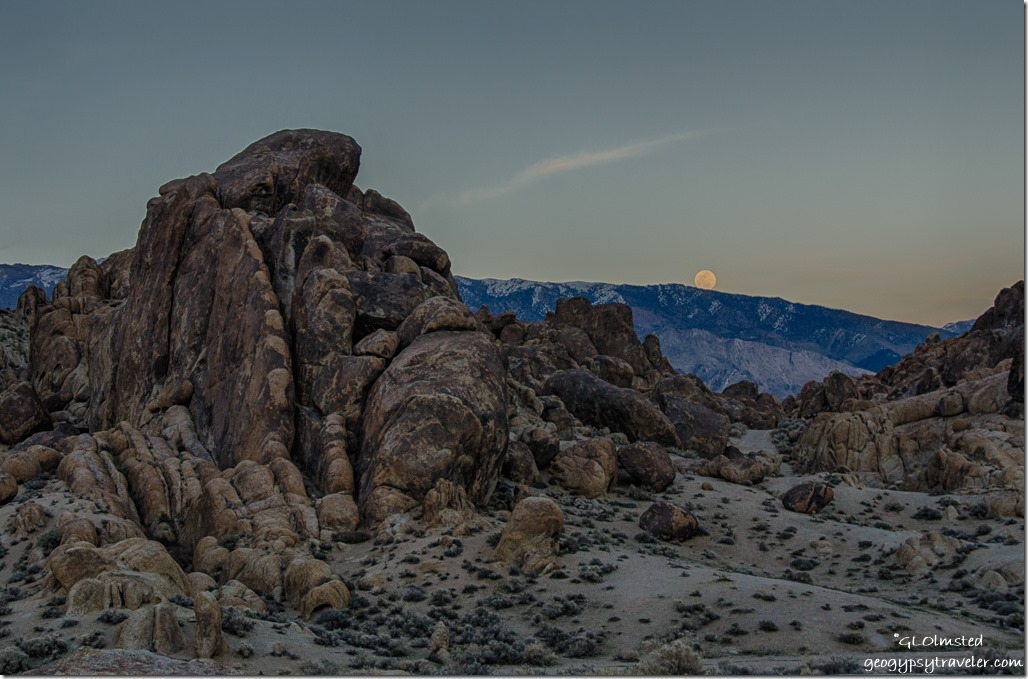 Thought I'd park in a different place but didn't want to be too buried in the boulders and difficult to find semi-level, so ended up back where I was.  No color at sunset yet the full moon rising above the Inyo Mountains more than made up for that.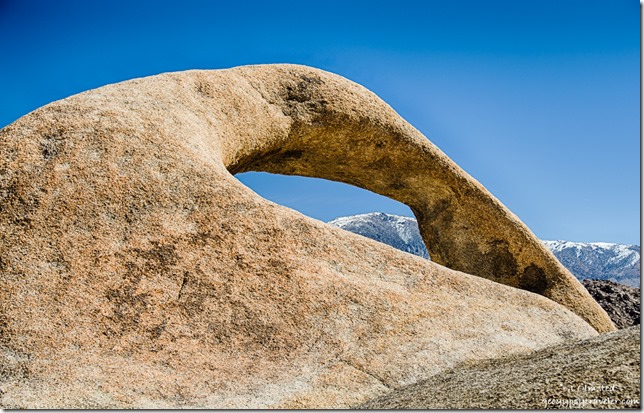 The next day I explored a little beyond my visual camp space and hiked the less than a mile, moderately easy Arch Trail.  Of course it took me three hours as I was distracted by more than arches.  Leaving the parking area I descended into a wash and was surprised to see small pools of water with tiny black wormy things.  Life in the desert is precious and tenacious taking advantage of this water that will not last.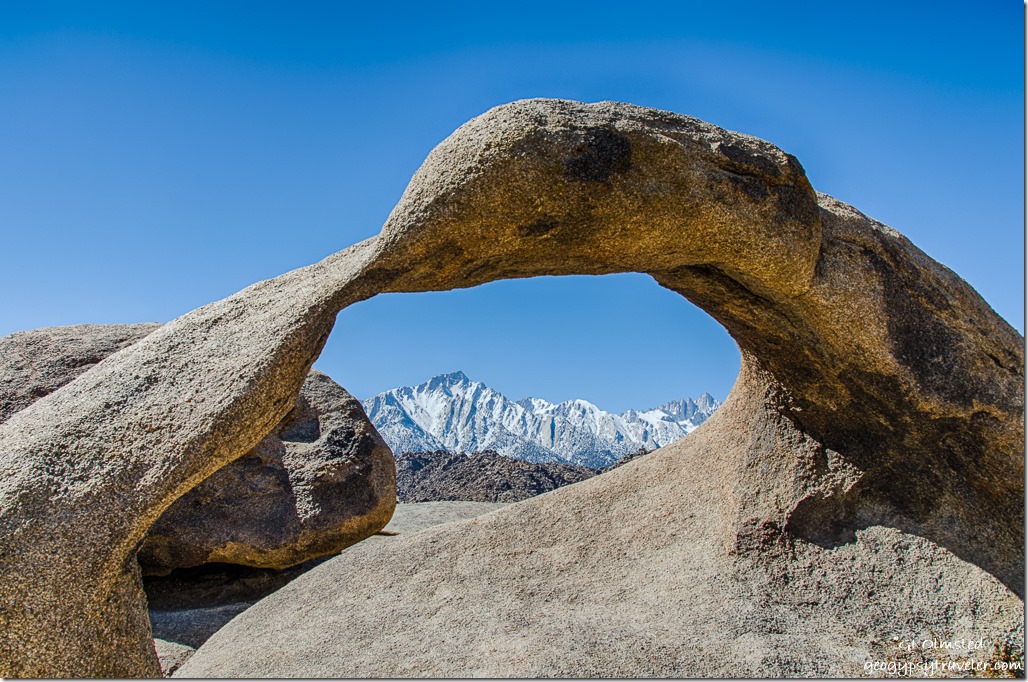 A young boy with a drone strapped to his backpack passed me on the trail.  I commented that it looked like a nice drone and that I had a question about the legality of using it on these public lands.  He paused and spoke very politely explaining that it couldn't be used in national parks but that here was OK.  Later his mom and I spoke about the mixed feelings on drones.  Like the images dislike the noise.  Not in my backyard please.
I worked my way around Mobius Arch looking at this sinuous curve from as many angles I could safely get.  The arch seems to change shape as it frames each different view.  The few people around politely stayed out of each others way for photos.  Except for the drone kid who I waited to move off the boulders for my parting shot.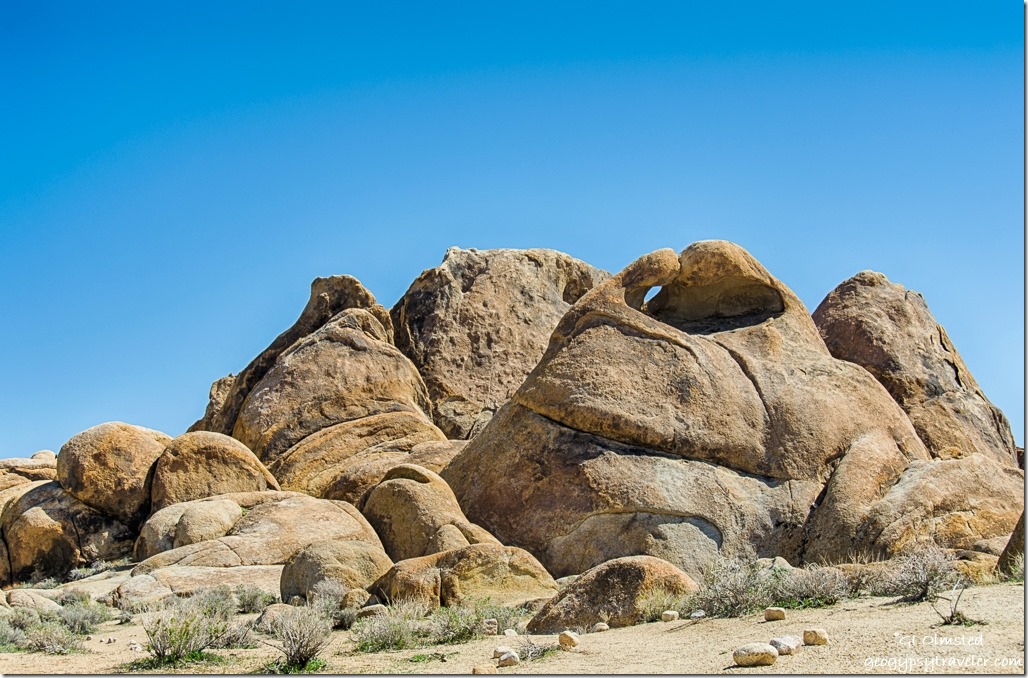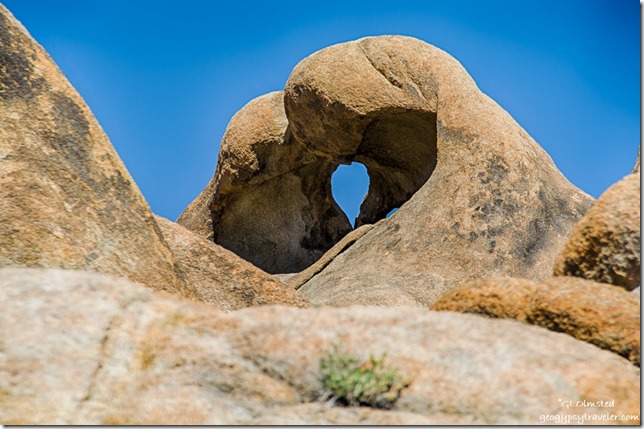 As I continued the loop, Heart Arch came into view and with every twist in the trail showed a different perspective.  The west side opening is like a large horizontal heart.  From the east it's small and vertical.  Almost back to the parking lot I turn around and see the heart once more.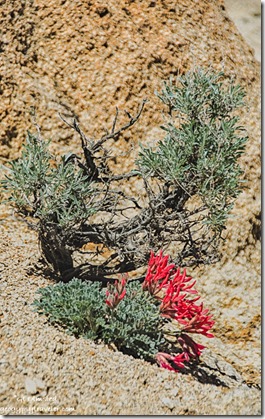 And then just before dropping back into the wash, bright red draws my eye down the slope.  I walked down stream to see the Scarlet milk-vetch standing out brilliantly in this otherwise dusty environment.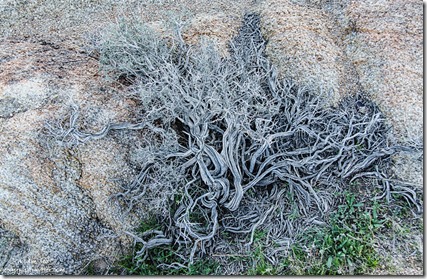 I took three hours exploring and saw less than a dozen people the entire time.  Plus there are many more arches scattered about that I missed.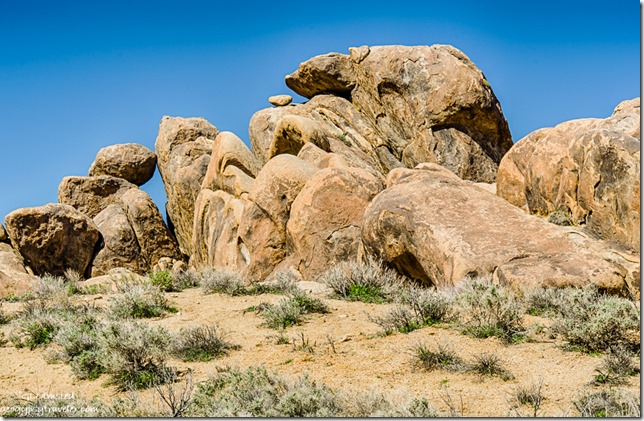 From there I continued to drive following the BLM movie map past where Tremors was filmed and to the Gunga Din bridge site.  The entire place looks like Graboids could pop up any time.  All these sites are within a few miles of each other with totally different backdrops.  Neither would be particularly recognizable to me.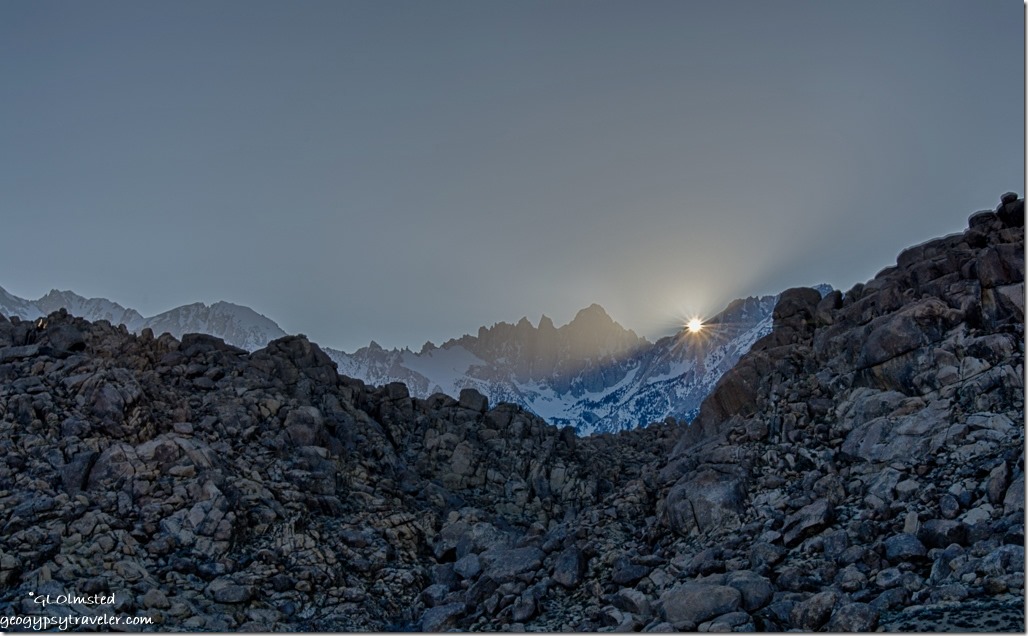 When I stopped to check out the wash that presumably ran under the now non-existent bridge a couple of gals told me they were packing to leave if I wanted their premo campsite.  So I wandered for a bit, entertaining their friendly dogs, and ended up with a slightly different view for my new camp.  A few boulders nearby, more in the distance, and still far views.  Perfect.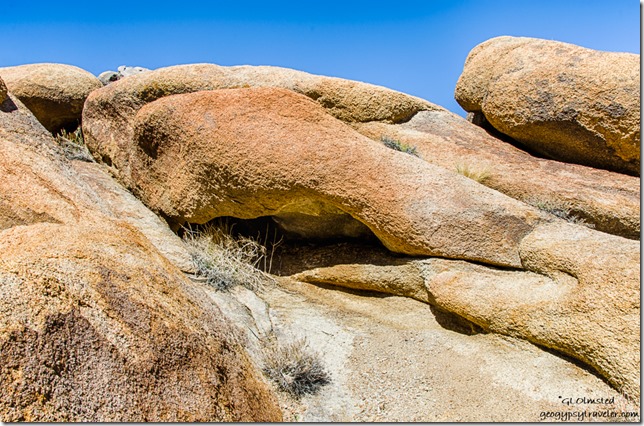 I had thought about returning to town the next day but when I find a place I really like, I just want to stay for a while.  The disadvantage to having one unit, instead of a trailer to unhitch from or a towed behind a motorhome is when I leave, I'm actually gone and don't feel comfortable leaving a chair behind to claim my space, especially in a place like this.  It would probably be OK, but…the gals who left said someone pulled in to tell them, "you have my site."  This is definitely a first come type of place and there's plenty of space, some just being a little nicer than others, IMHO.  But we're all different.  A group of folks within sight but probably 1/4 mile away are backed up into a hole in the western rocks and had very early shade.  That wouldn't be my preference.

Tuesday dawned clear with temperatures promising to rise into the high 70s.  I took a wander up the not quite so dry wash to the only tree in sight.  How exciting to find water in pools, even flowing with mini-falls, enough to make a soft noise.  And lush tiny carpets of thick moss, an oasis in the surrounding dry environment.  I considered a dip but the water was too cool for my preference and I wouldn't want to disturb the plants, and whatever those tiny worm things are.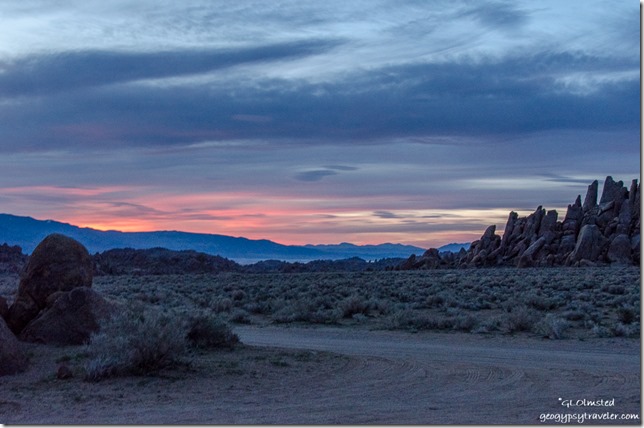 The next morning I felt a need to move again.  Went to town for a signal, and muffin at the bakery.  Then headed north on US395 a short ways to visit Manzanar National Historic Site.
Things to know
These Alabama Hills are not in Alabama.  They were named by prospectors for the CSS Alabama warship during the American Civil War.
Nearly 30,000 acres of public lands located west of Lone Pine, California off the Whitney Portal Road are managed by the Bureau of Land Management (BLM) to preserve the hills and provide recreation.  Dispersed camping is allowed for up to 14 days with a pack it in pack it out policy.  There's a dumpster in the city park.  Nearby Tuttle Creek Campground offers affordable sites with potable water, toilets, and a dump station available.
Save
Save
Save
Save
If you shop at Amazon please consider clicking below for the Amazon website. As an Amazon Associate I'll make a few cents on your purchase(s) at no extra cost to you. Put a few pennies in the winter travel kitty. Thanks for helping out.

Geogypsy is a participant in the Amazon Services LLC Associates Program, an affiliate advertising program designed to provide a means for sites to earn advertising fees by advertising and linking to amazon.com