March 4-7 , 2017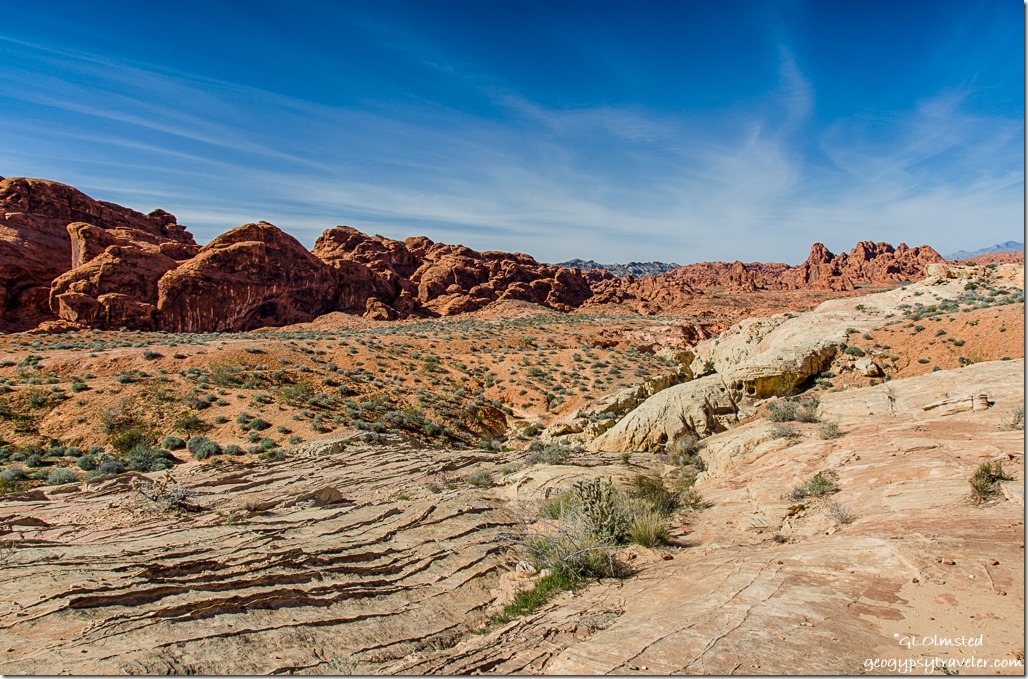 Valley of Fire State Park, Nevada
If I'd left on Saturday I would have been blown to Death Valley by the strong southeast wind gusting up to 35mph.  But instead I waited a few days and took a detour to Ash Meadows National Wildlife Refuge and included an overnight in Area 51, where I thankfully wasn't abducted.
I actually did leave Valley of Fire on Saturday in desperate need of propane so drove 25 minutes to Overton.  I usually fill as soon as convenient once one of the two tanks empties but had forgotten when returning from the last road trip.  Didn't see any signs along the main drag so stopped at Fun 'N Sun RV Park and asked if they had propane.  Nope.  One place in town had closed an hour earlier and the other place was out, "as usual".  So it was a drive further north to I15 then south one exit to Glendale's AM/PM.  Then I drove back south past Overton to boondock at Snowbird Mesa.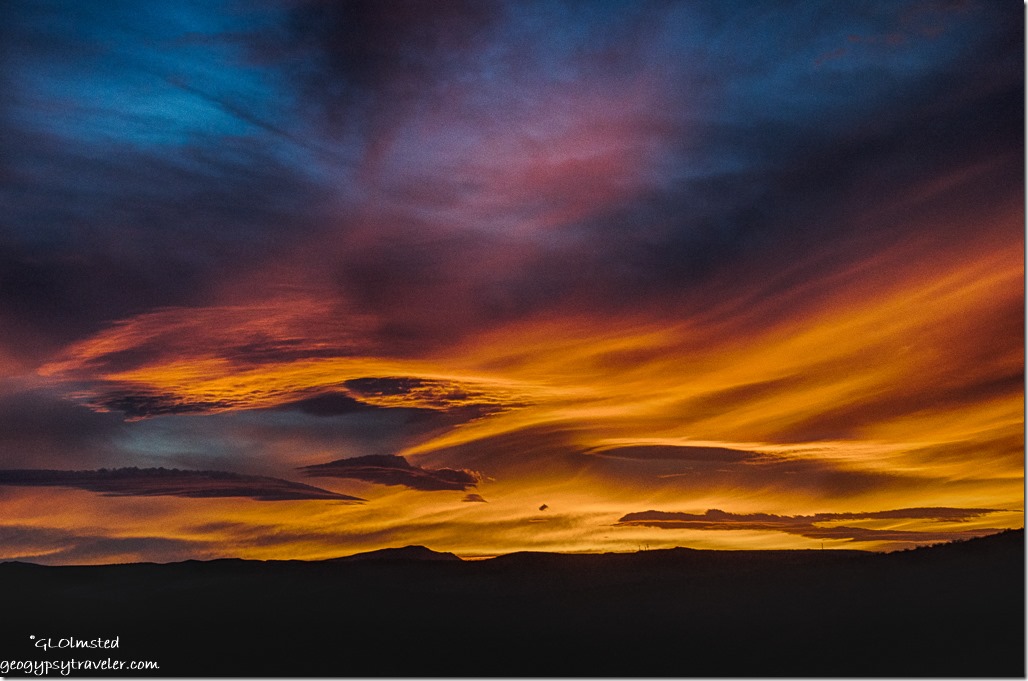 By then the wind had picked up considerably so I parked with the tail/door to the SE wind to keep the fridge pilot from blowing out and not present such a wide profile.  It kept getting stronger.  Hung on very tight to the camper door barely getting it shut.  I was in for the night, rockin' and rollin', all night long.  Not sure I could have opened the door if I'd wanted to.  I watched through windows as the wind driven sunset clouds streaked across the sky.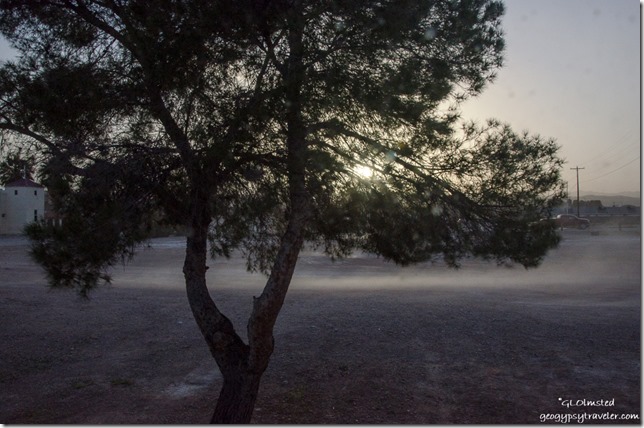 Window view at RV park
By morning I'd had enough.  Then Berta called to see how I was and tell me the winds would be increasing.  That' it, I headed into town early and even though the office isn't open on Sunday a phone call netted me the last camp site at Fun 'N Sun for only $24.31/night.  Nice level gravel site with a cement slab and hookups plus I was somewhat sheltered.  My biggest concern was the new solar control panel quit working along with the solar charging the battery which meant low to no lights.  But worse of all the fridge could not light.  Can't melt the ice cream.  So being plugged in charged the house battery.  I put in a call to Solar Johnny and he helped me trouble shoot the problem suggesting a blown fuse.  Turned out a wire disconnected from the control panel to the battery.  Once I wired that back together it began to work.  Thank goodness, saved me a 4.5 hour drive to Quartzsite.  Other than that, didn't poke my nose out all day as the wind increased.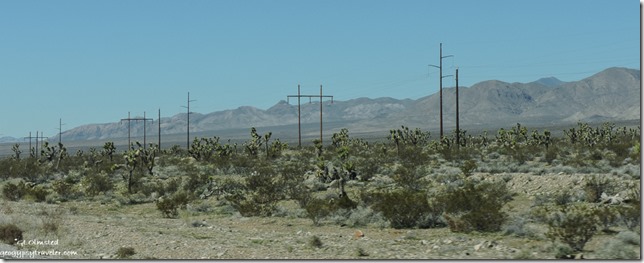 Morning dawned calm so my plan D went on, Death Valley with a detour first to Ash Meadows National Wildlife Refuge.  And, unfortunately through Las Vegas on the freeway instead of taking the more northern route US95 that would have required a reroute due to road work.  Hadn't been that route before, but instead took NV160/Blue Diamond Road out of the south side of Vegas.  Made it past that concrete jungle without a backward glance.  Over the Spring Mountains National Recreation Area where I saw some interesting side roads for possible exploration, just not that day.  Instead, I was headed to Pahrump, Nevada through a whole lot of flat and past some Joshua trees.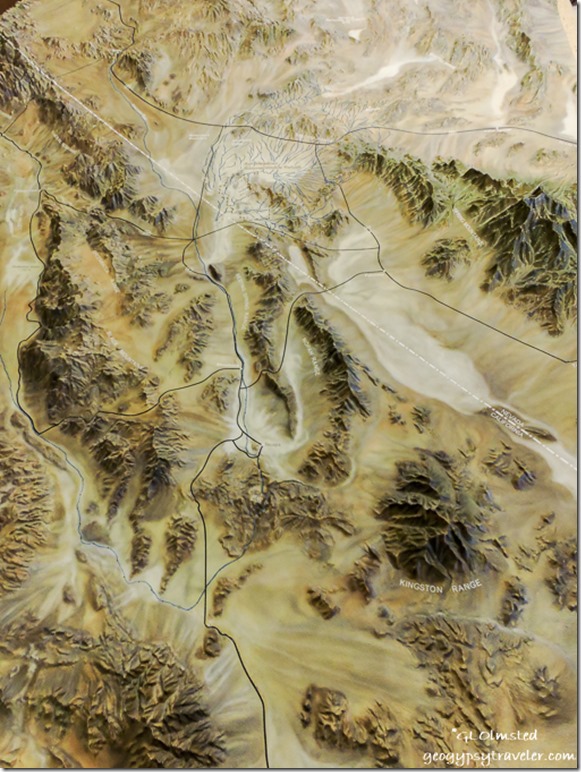 Trapezoid of roads top center Ash Meadows
Ash Meadows National Wildlife Refuge was established in 1984 to protect unique spring-fed wetlands in the dry Mojave Desert.  The greatest concentration of endemic species in the US are found here with some listed as threatened and endangered.  Native Americans used this landscape for thousands of years with limited impacts.  Even the turn of the century settlers were few with some mining and farming.  Then in the early 1960s, Carson Slough, once the largest wetland in Southern Nevada, was drained and mined for peat.  Development continued into the early 1980s as streams were diverted, wetlands drained, and roads established.  Ash Meadows was named after the leatherleaf ash tree that once flourished in the area and is slowly coming back.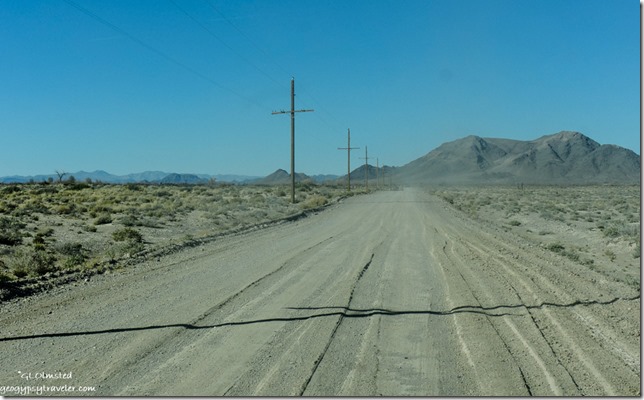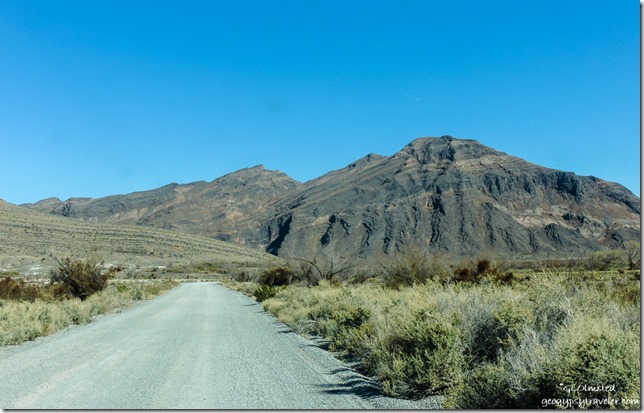 It was well after noon when I turned into the refuge's southern entrance.  Unfortunately the roads were in terrible condition from rain a couple weeks before.  Dry rutted and washboard clay required extremely slow driving which is OK time-wise plus the scenery sure was pretty.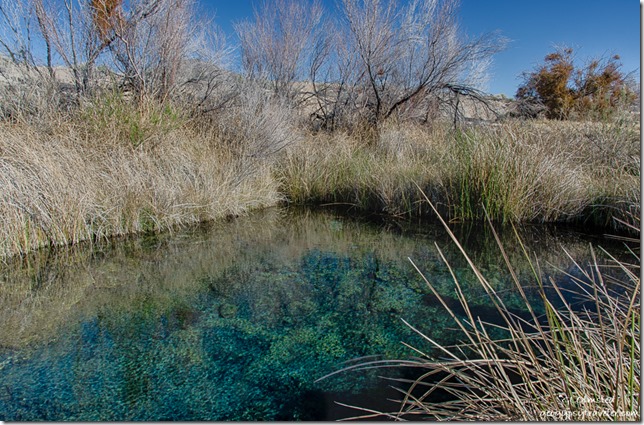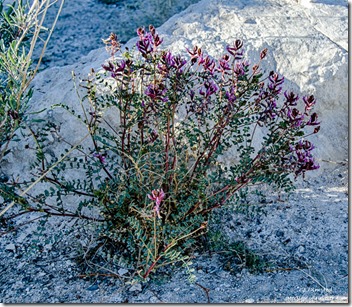 I stopped at Point of Rocks with a boardwalk over a spring-fed stream and at Kings Spring saw the two inch pupfish, brilliant blue males and green stripped females.  Referred to as "living fossils", they have survived thousands of years by adapting to increasingly harsh conditions such as heat, salt, and poorly oxygenated water.  Unfortunately the photos into the crystal clear water are completely fuzzy.  The spring looks inviting but is off limits to humans in an effort to protect the endangered fish and other wildlife.  I didn't hang around nearly long enough as I was kind of in a rush to get to the visitor center four bouncy miles away before it closed to get my Junior Ranger book.  And because the refuge is only open from sunrise to set with no camping I figured to return in the morning.  The gal at the visitor center told me about a dark, quiet, boondock place off Bell Vista Road on the way back to Pahrump.  A long drive.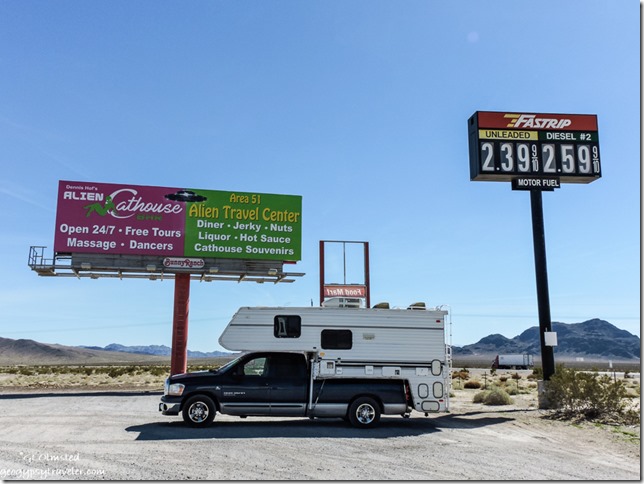 This is not where I camped
Instead, I left the refuge via the west entrance and headed north on NV373 to Lathrop Wells.  Located in Area 51, famous for the Alien Cathouse, this free camp in a "rest area" was just a wide gravel parking area at the junction with US95.  Rather noisy with trucks in and out all night.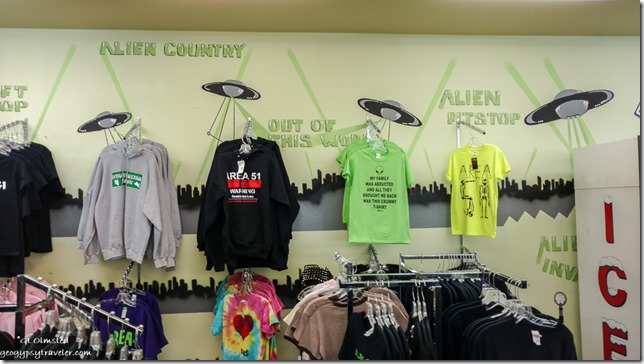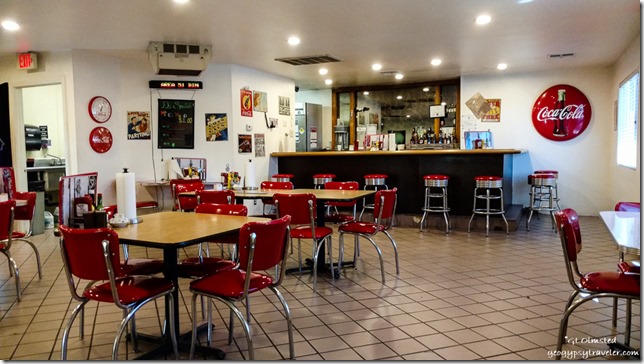 In the morning I planned to return to the refuge but after visiting the Alien Center, breakfast at Daddy D's Rocket Diner, and bypassing the Alien Cathouse tour, I decided to pass on the rough refuge roads.  I'd like to devote several days to Ash Meadows in the future.  So after fueling up at $1 less/gal than California I just drove to Death Valley wanting to get a campsite for the night.
Save
Save
If you shop at Amazon please consider clicking below for the Amazon website. As an Amazon Associate I'll make a few cents on your purchase(s) at no extra cost to you. Put a few pennies in the winter travel kitty. Thanks for helping out.

Geogypsy is a participant in the Amazon Services LLC Associates Program, an affiliate advertising program designed to provide a means for sites to earn advertising fees by advertising and linking to amazon.com