December 28, 2016 – January 8, 2017
Sunrise sunset, sunrise, sunset!
Swiftly fly the years,
One season following another,
Laden with happiness and tears…
–Written in 1964 by Sheldon Harnick with music by Jerry Bock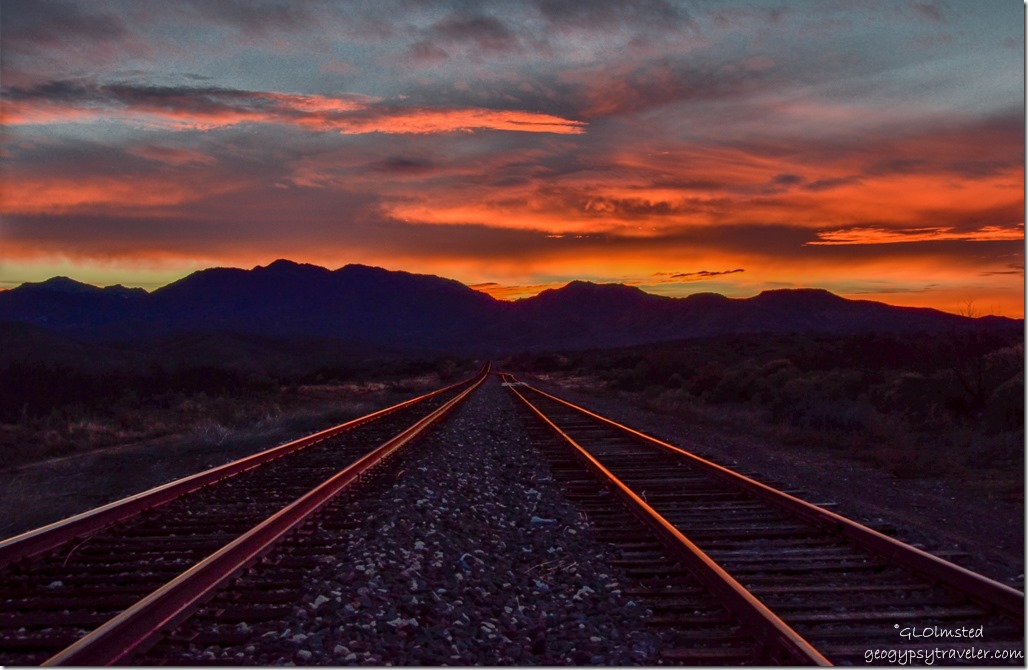 This song doesn't have quite the same meaning for me as sung in Fiddler on the Roof and many wedding ceremonies today.  In fact Sheldon Harnick rewrote some of the verses in 2011 to make the song suitable for same-sex weddings.  Yet it's a beautifully sentimental song and I like to sing the chorus.  Don't worry, I don't sing around others and I'm not getting married.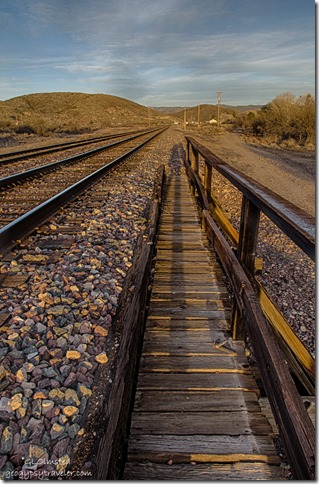 Shadow fun along the tracks
Since returning home from Christmas in Utah I've spent several evenings watching the sunsets.  I'm not usually awake for sunrises.  Then comes a new year.  And much like the last one I'm sure it will come laden with both happiness and tears because such is the way of life.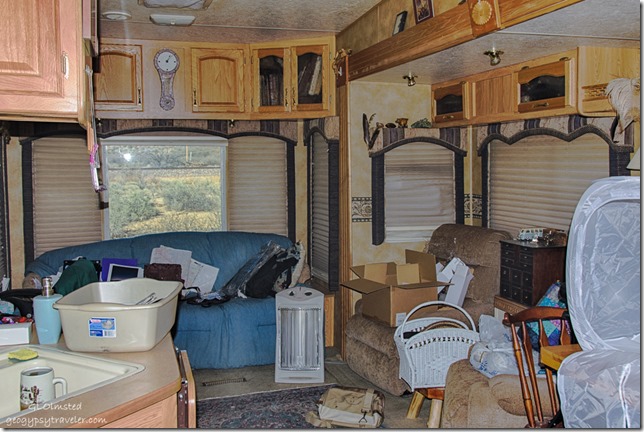 Notice railroad tracks out window
But right now, my house is a mess.  Barely unpacked from holiday travels with projects spread out on every available seat including my butt at the desk.  Where it has spent an inordinate amount of time lately.  I start mornings over coffee, checking social media and emails, working on blog posts, processing and labeling photos (not all are processed until used).  And suddenly I notice it's late in the afternoon and I've barely moved.  Swiftly fly the days.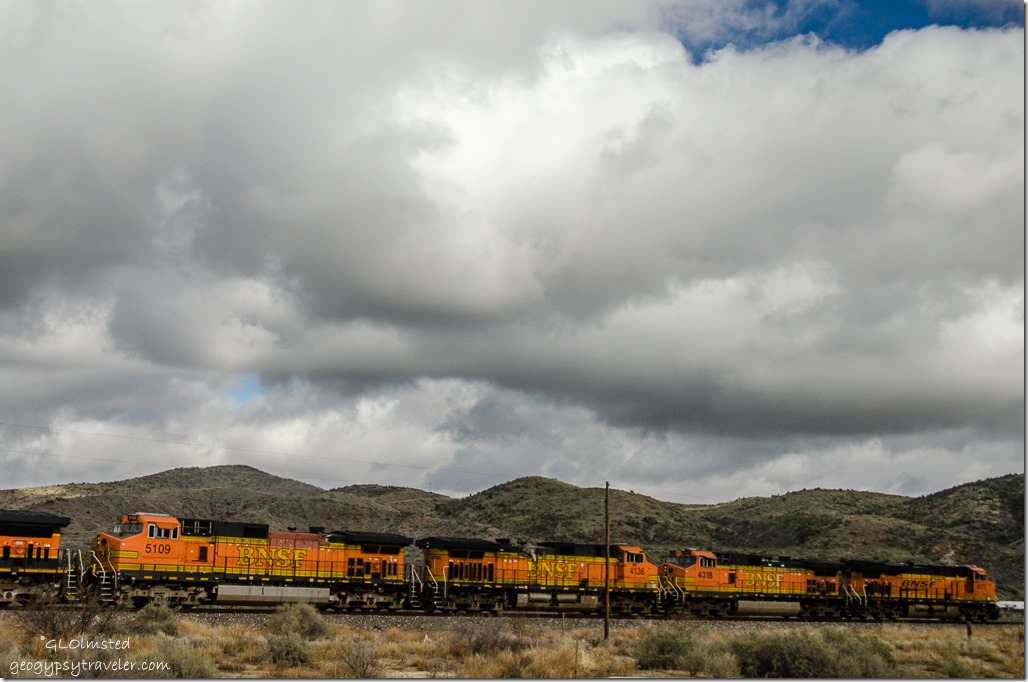 Through the window
Berta is now able to drive herself to PT.  I had concerns yet am confident she wouldn't drive if she couldn't drive safely.  So I get to stay home and I am secretly happy about that.  Warm and snug.  Watching the trains go by.  I think my house marks the honking point for the eastbound.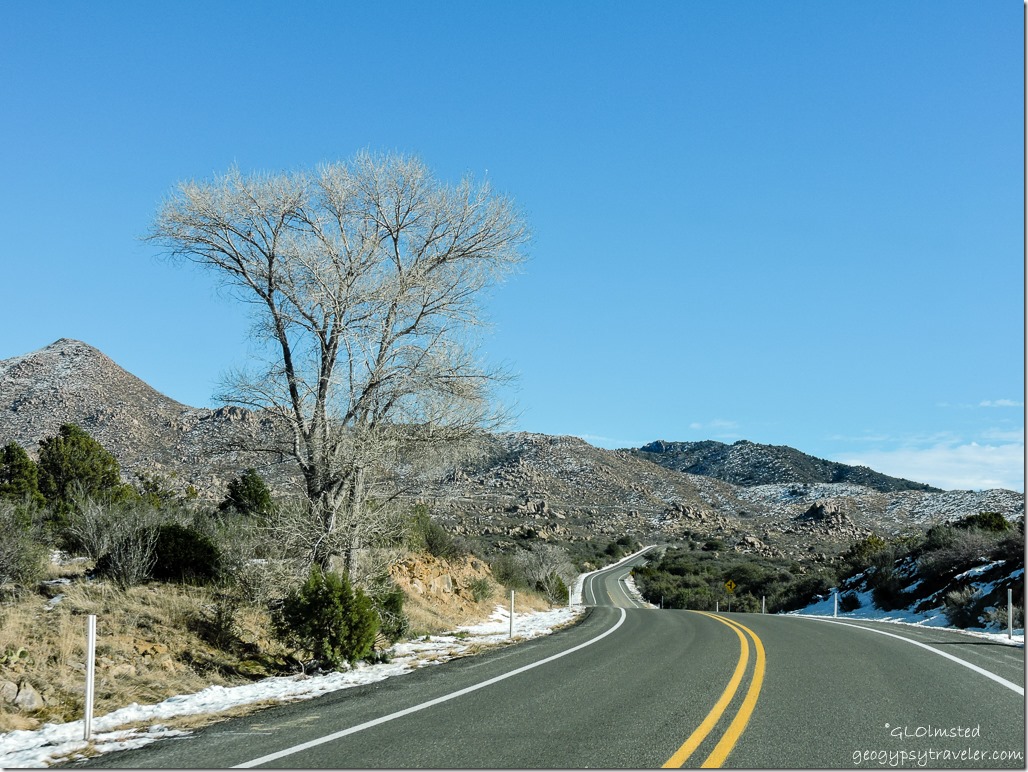 Over the Bradshaw Mountains to Prescott
Thursday I had a lunch date with two ladies that work at the North Rim and winter in and around Prescott, 1pm at Applebees.  And best surprise was our 4th arrival after getting a late FB message.  What a delight.  We chattered away over an excellent and reasonably priced lunch.  I promised them not to share the photo of us all taken by our entertaining waiter.
Friday I had two dates.  I went with Berta to Wickenburg for her PT, and she drove only one month since having a knee replacement.  That evening I joined friends at the local pizza joint in Peeples Valley.  The T-Bird Cafe offers marvelous food and the company was divine.  However it was a terrible 12 mile drive home in the rainy dark.
Don't believe I've become a social butterfly, but it's a good thing I had so many dates that week as I didn't go out for New Year's Eve.  That's nothing new.  New Year's Eve proved to be another rainy night so didn't catch any colorful sunset.  But I did manage to stay awake until midnight so no surprise I missed the cloudy New Year morning.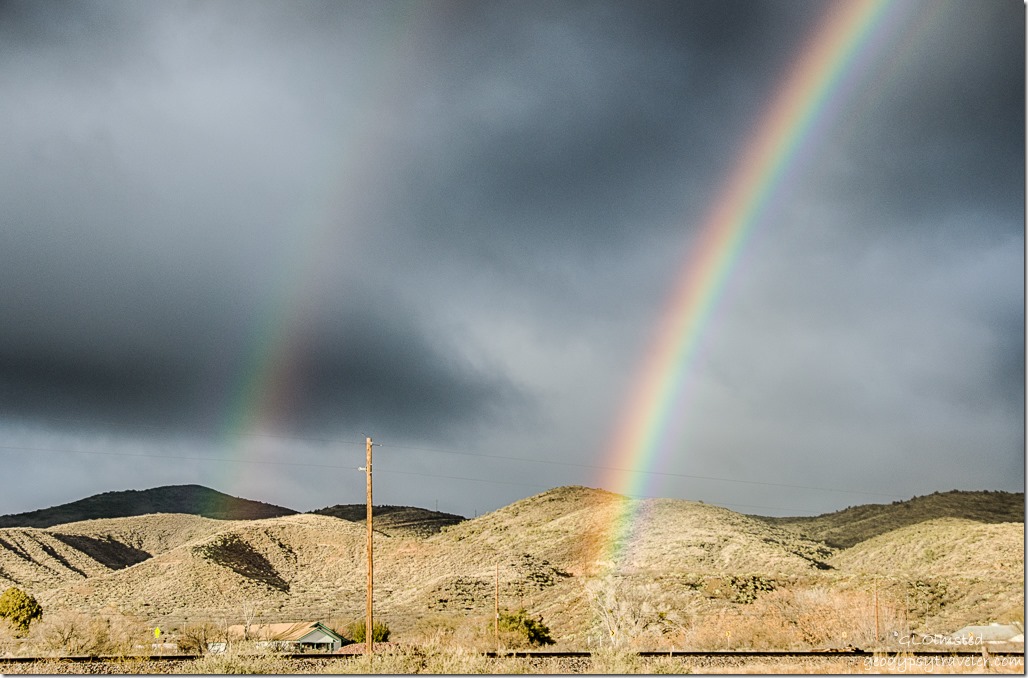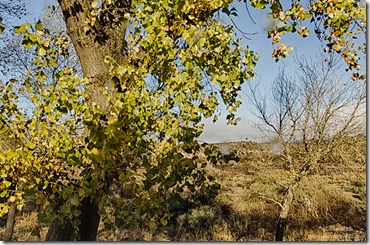 The first day of the year progressed through marvelous cloud formations to clear and sunny but also included rain and wind.  I am amazed the cottonwood outside my desk window still has leaves.  Looked like a promising sunset so I went out and glad I did because I saw my first rainbow this year and it was a double.  Good thing I'm not a drinking woman.  Or a gambler, as the clouds were too thick for a colorful sunset.
Monday I drove Berta to Prescott to visit a mutual friend of ours in the hospital.  Then spent the rest of the day, and way too late into the night, looking into websites to sell my photos on.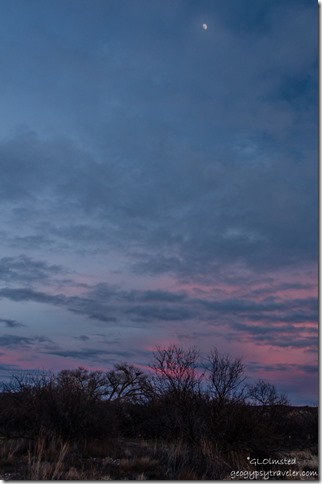 Sunrise sunset, sunrise, sunset,
Swiftly flow the days,
Seedlings turn overnight to sunflowers,
Blossoming even as they gaze…
After 18 hours of reading and learning I joined Pixels.com/Fine Art America.  And since then I've planted the seeds by opening a new website specifically for selling my photos.  More coming on that.
About the only time I left the house was for promising sunsets.  Or just a shot from the door.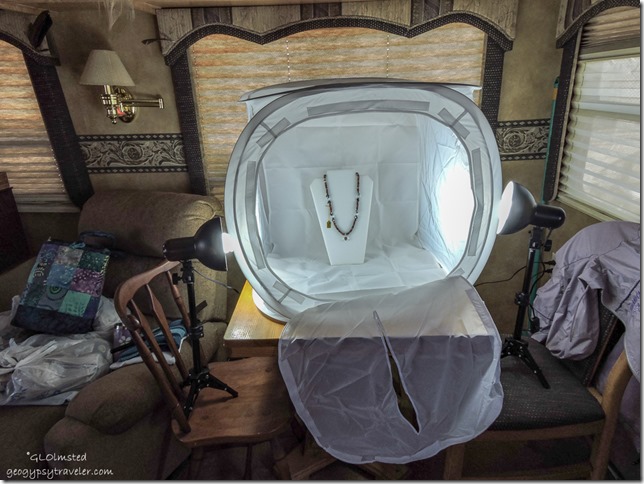 I also set up the portable light box I recently bought which turns out to be a little bigger than I expected.  The Fovitec studioPRO I ordered has more parts than my truck.  Had to refer to their video to get the box open.  It's sort of like one of those windshield screens that you twist and shout because it won't go back the way it came packaged.  Actually I haven't tried putting it away yet and will probably have to refer to the video again.   Everything came well packed which means mass packaging.  And I'll keep it to eventually pack away.  Plan to continue photographing jewelry I want to eventually sell.  And then there's that darn knitting project of a sweater that I'd like to finish before summer.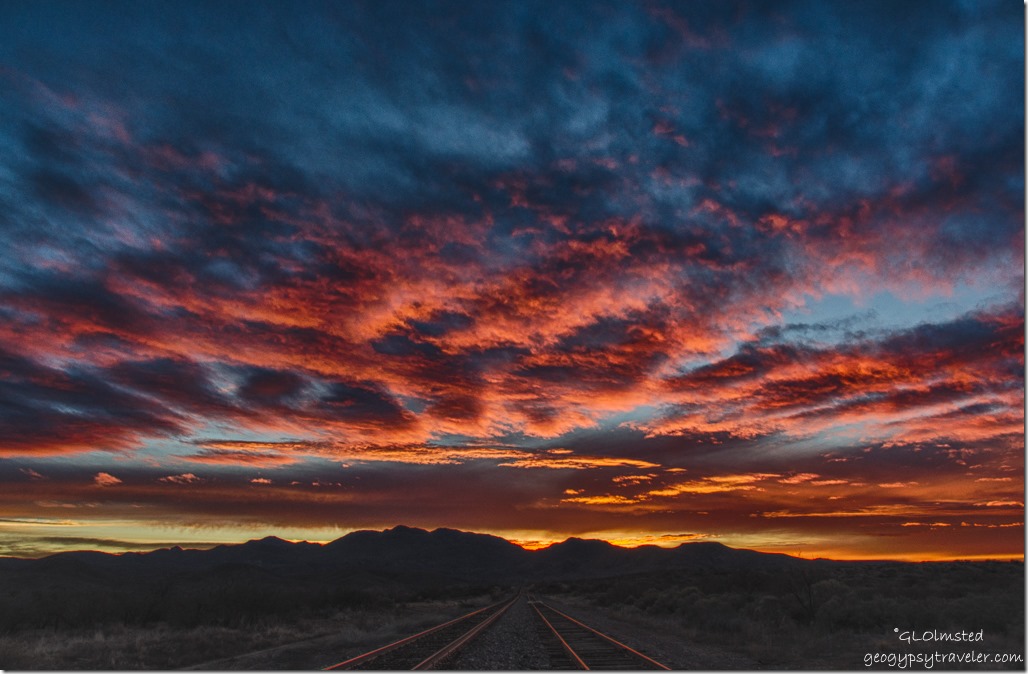 Ya know, I always saw myself as being focused on one project at a time, not a multi-tasker.  But after writing this I've reevaluated that opinion.  Oops, time to go catch another sunset.  I'm loving these railroad tracks.
And of course I'm dreaming of the next road trip which will take me into the southern Arizona desert to Quartzsite in just a couple weeks.
BTW, I don't remember growing older.  What they hey?

Sunrise, Sunset sung by Perry Como who I grew up loving to listen to.
Is this the little girl I carried?
Is this the little boy at play?
I don't remember growing older,
When did they?
When did she get to be a beauty?
When did he grow to be so tall?
Wasn't it yesterday when they were small?
Sunrise sunset, sunrise, sunset,
Swiftly flow the days,
Seedlings turn overnight to sunflowers,
Blossoming even as they gaze…
Sunrise sunset, sunrise, sunset!
Swiftly fly the years,
One season following another,
Laden with happiness and tears…
One season following another,
Laden with happiness and tears…
Save
Save
Save
If you shop at Amazon please consider clicking below for the Amazon website. As an Amazon Associate I'll make a few cents on your purchase(s) at no extra cost to you. Put a few pennies in the winter travel kitty. Thanks for helping out.

Geogypsy is a participant in the Amazon Services LLC Associates Program, an affiliate advertising program designed to provide a means for sites to earn advertising fees by advertising and linking to amazon.com