This week's Foto Friday Fun features images chosen by nine readers from my photo files including lots of grand vistas and a sweet little place too.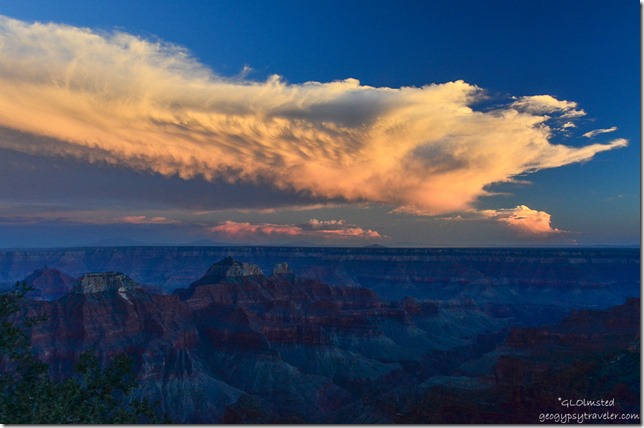 Pam and John chose #6372.  I know they are enjoying sunsets in Florida so shouldn't mind a little western sunset tease from the North Rim Grand Canyon taken 8-17-14.  Rangers get paid in sunsets ya know.
Jodee and Bill chose #4180.  Just one of many places explored in the magic of Hogsback South Africa where I walked a labyrinth after this Bluff Scenic trail, also walked in the arboretum with waterfall, visited a quaint church, and was entertained by a monkey at my accommodations.
Mary Lou chose #1111.  The return of Turkey Vultures is a welcome sign of spring in Yarnell, Arizona.  As I walked in the nearby Weaver Mountains during March 2012 I spent a bit of time watching the vultures soar.  Some may call them ugly, but I'd live with that if I could fly like that.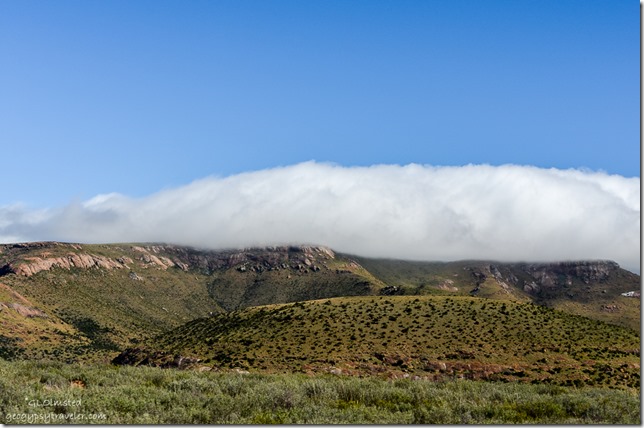 Bibi chose #2500, "the number of Indian rupees leftover from my last trip."  That equals $36.76USD which is about what it cost to camp for several days at Mountain Zebra National Park in South Africa where I saw way more than zebras.  Cloud cover like this is referred to locally as a table cloth.  Her choice is one of three in the panorama.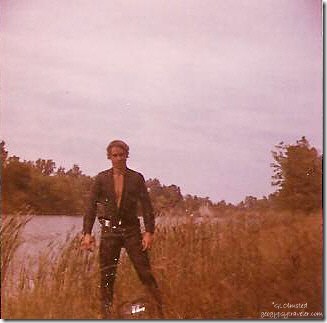 Patti chose #30, to "see what else the 70s brought!"  She's really lovin' the oldies and this was scanned from a thumbnail print so won't go any bigger. My first true love from high school in the early 70s, Cletus (aka Arthur Dwight if anybody knows him), was scuba diving in an abandoned quarry in Braidwood, Illinois.  I remember he said it was pretty murky.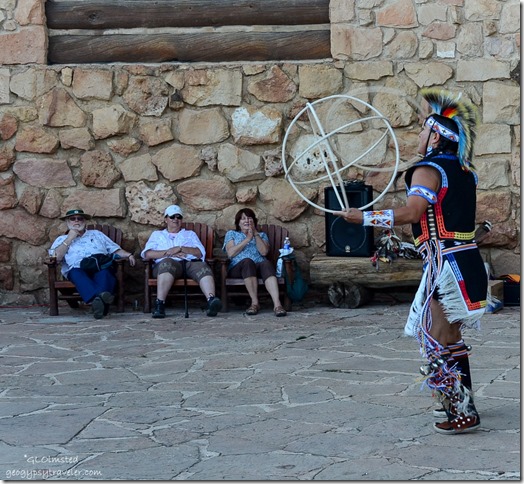 Diane and Nigel chose #5559.  They've seen so many photos of Derek hoop dancing it's almost like they've been to Heritage Days on the North Rim Grand Canyon.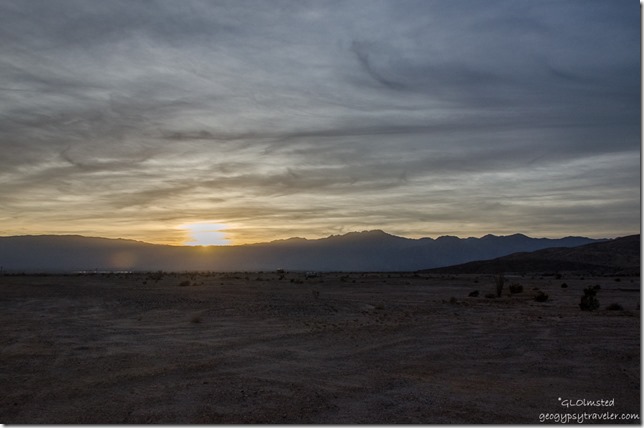 Sherry and David chose #1777, one of many marvelous sunsets I saw over the Vallecito Mountains while camping in December 2014 at Anza-Borrego Desert State Park, California.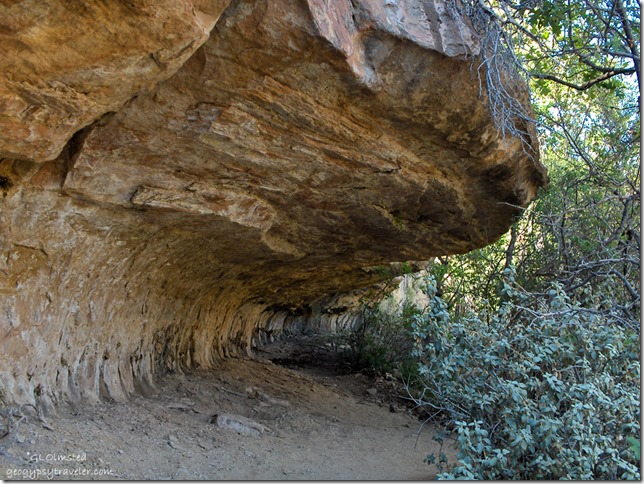 Donna chose #317.  This seep-spring grotto is at the end of a sweet little one mile round trip hike.  Cliff Spring offers different vegetation than what is usually seen around most of Grand Canyon's North Rim and because of the water also draws in wildlife.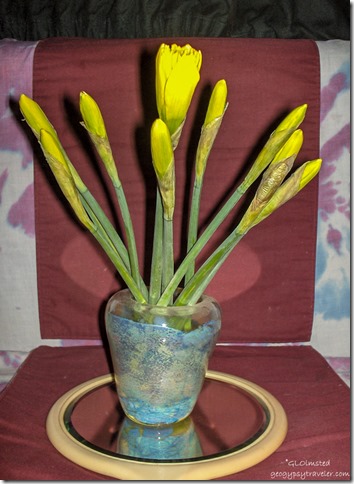 My dear friend Berta gave me this lovely bouquet of daffodils for my birthday back in 2009 and I'm re-gifting them to Sallie who broke her little finger last week.  And because she couldn't type a number, I gave her #325 for the number of characters in her always appreciated comment.  Hope you heal quickly.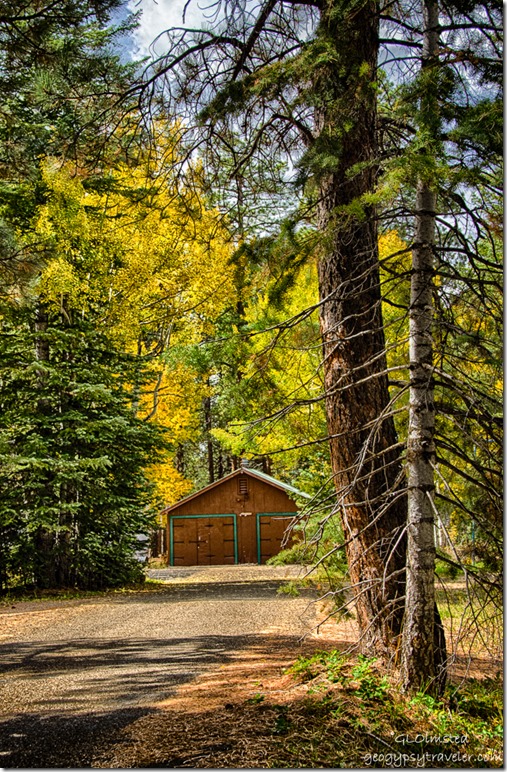 My choice popped up while looking through photos of trees for Arizona Highways Friday Fotos theme.  I struggled to chose, only two allowed, for submission out of a final whittled down to five.  You may have seen this fall shot taken of a maintenance barn on the North Rim Grand Canyon, beyond the average visitor scene.  One of my favorite photos in 2016.  Yet it didn't make the AZ Hwy cut partially because of the portrait orientation.
Please join in next week by leaving a number between 1 and 9999 in your comment below.  Thank you very much to all ye faithful commenters and for playing along with Foto Friday Fun which allows me to share these photographs and memories.  You keep me blogging.
Do you have a favorite this week?
If you're still having problems commenting please know that Chrome seems to be part of the issue.  Otherwise, I sincerely appologise for the inconvenience.  I am open to suggestions.
Save
If you shop at Amazon please consider clicking below for the Amazon website. As an Amazon Associate I'll make a few cents on your purchase(s) at no extra cost to you. Put a few pennies in the winter travel kitty. Thanks for helping out.

Geogypsy is a participant in the Amazon Services LLC Associates Program, an affiliate advertising program designed to provide a means for sites to earn advertising fees by advertising and linking to amazon.com