June 13, 2016
This was our second visit to Snake Gulch with these nasty grasses that stick to everything, especially in Sasha's thick fur.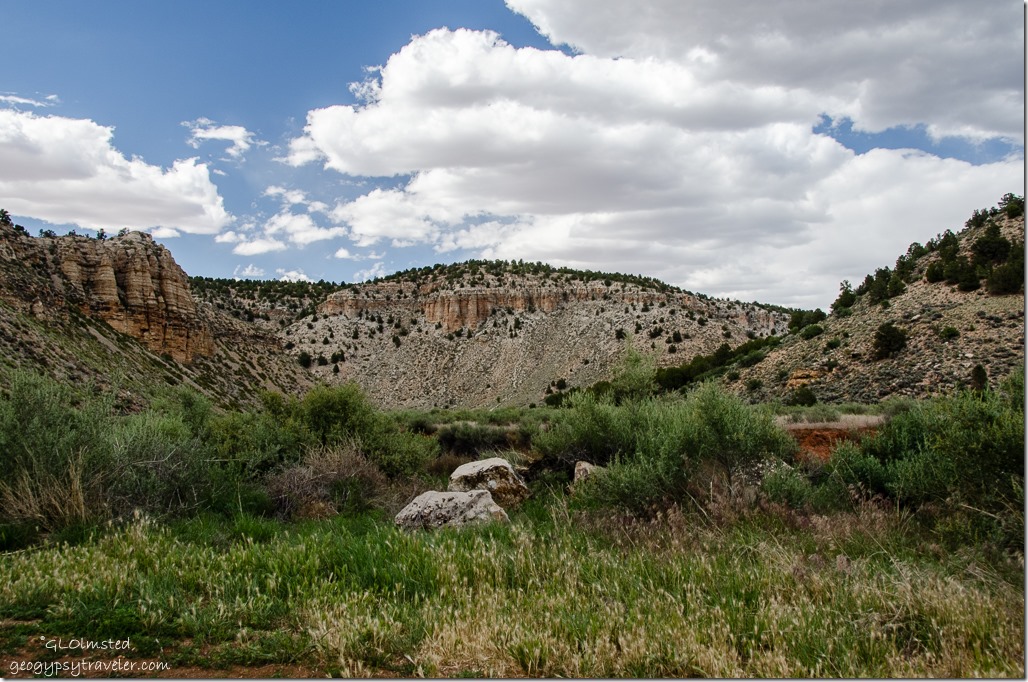 I love the canyon, flat and easy to walk, open bottom, with a gully about 15 feet deep.  But one of the many grasses is terrible.  We've run into this sock burrowing grass-head before.
Because it's getting kind of hot in southern Utah where Bill lives but still nice on the Kaibab Plateau meeting part way seemed like the plan for my three days off last week.  We'd actually talked about several options before deciding to return to Snake Gulch and hike farther than before trying to get to more of the pictographs.  Was no rush on Monday as we'd camp at the trailhead and take off in the morning.
I was in no hurry on the drive, first SR67 North to Jacob Lake, had to pick up some cookies, then FR461 to FR22 to FR426 and FR642.  Didn't arrive until about 3pm and Bill and Sasha hadn't been there long.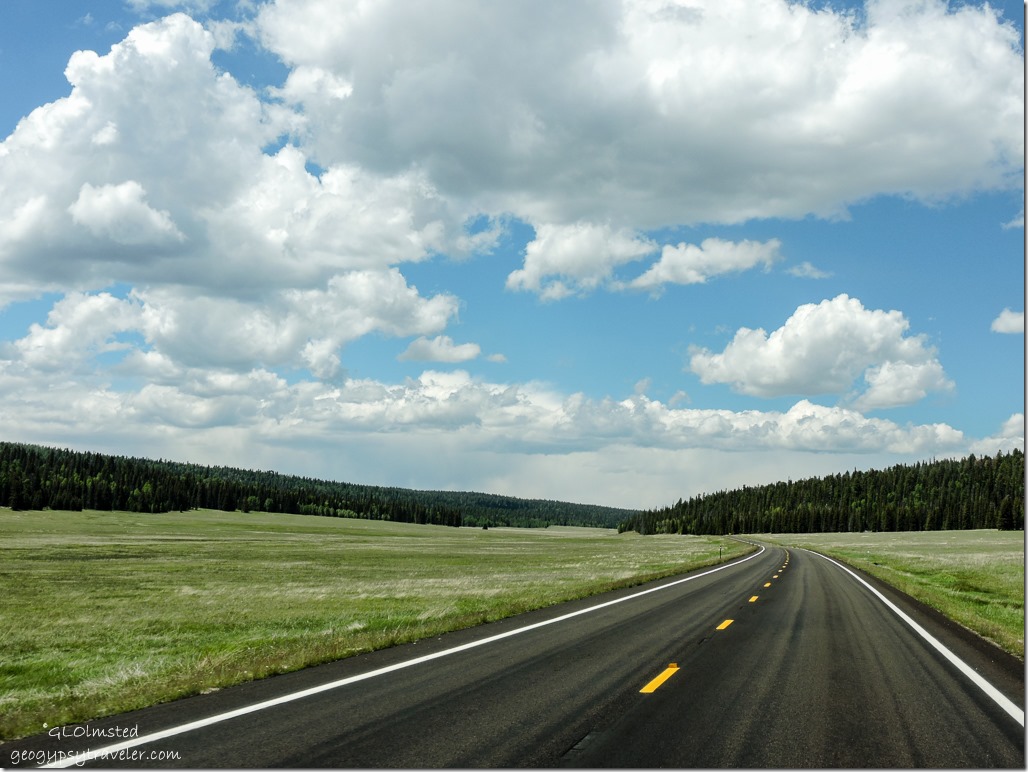 I love driving through the forest and meadows.  The grass in the meadows is mostly green, tall and blowing in the wind.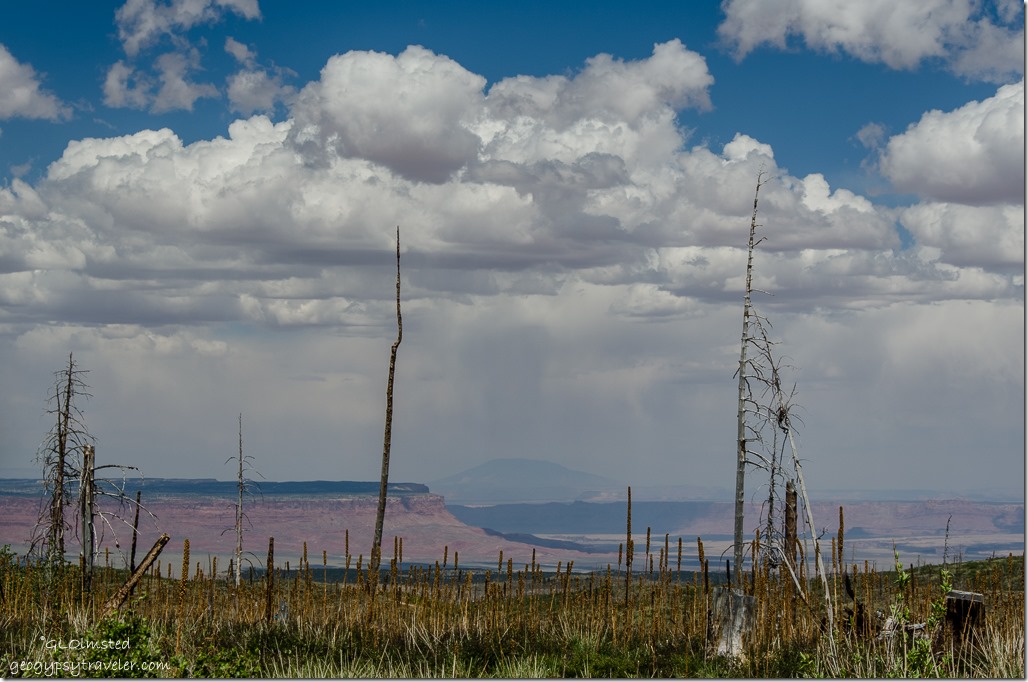 Particulates fade out a favorite view through the 2006 Warm Fire almost obscuring Navajo Mountain beyond the Paria Plateau and Echo Cliffs.  Here I see a variety of beautiful grasses.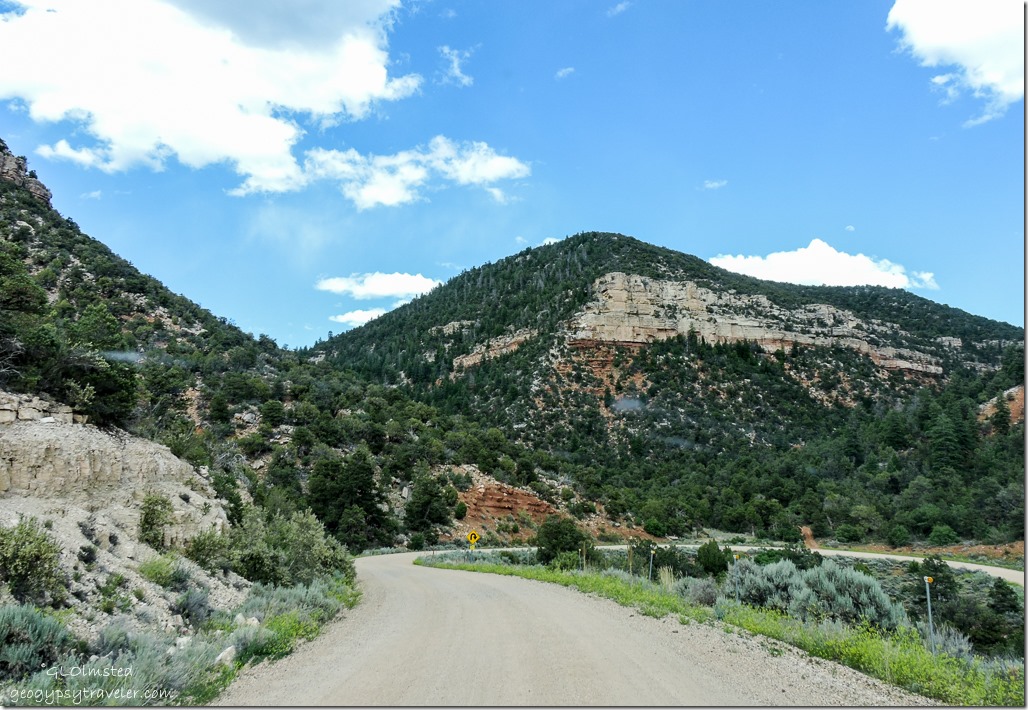 Dropped about 3,000 feet from the shadow covered Ponderosa Pine into Juniper and Pinyon in its sparse woodland, drier with more scrubby growth but not much grass.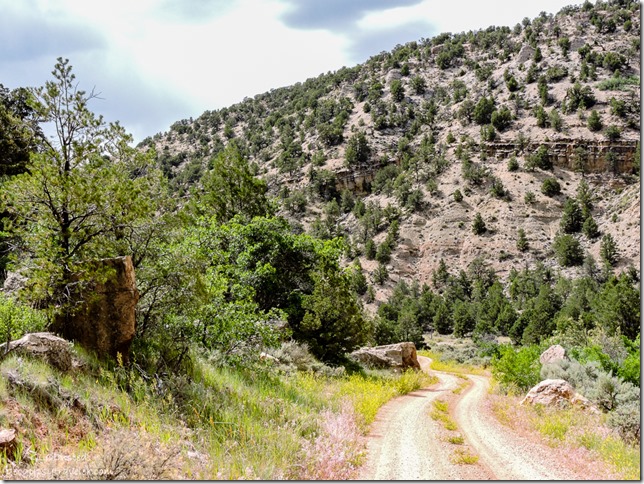 Turn at the old coral and head into the canyon where the road weaves past boulders and follows the coarse of a dry gully that could be exciting in flash.  Not today, even with a 30% chance of rain just providing lovely patterned clouds and shadows across the land.  Once again a variety of grasses, mostly looking verdant.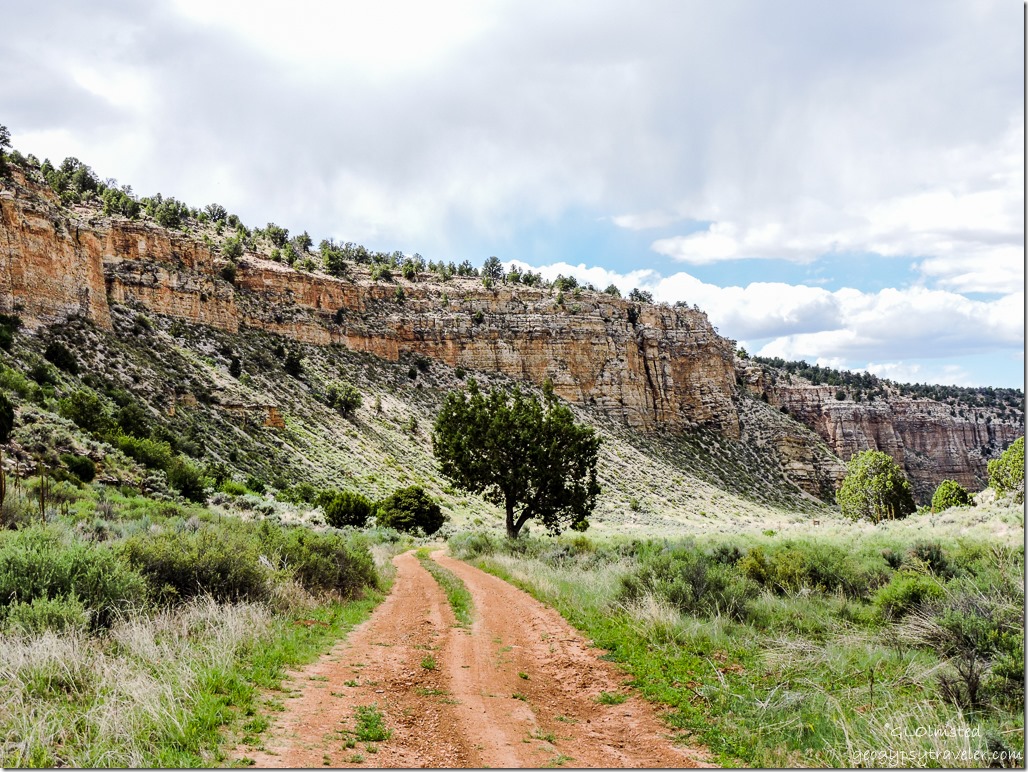 The last turn then three miles of a little bit narrower lane.  Heavy grazing could have something to do with the variety of grasses.
Snake Gulch is where Bill and I met just over a year ago.  Then we returned to hike to some petroglyph panels and the dry grasses were so bad I actually threw away a pair of boots.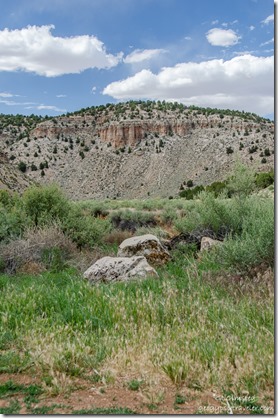 Unfortunately, the entire area is full of the nasty brown grass.  Sasha was covered with them and they burrow their way into her fur so we are both picking away.  I quickly put on my leather hiking boots so not to destroy another pair of socks.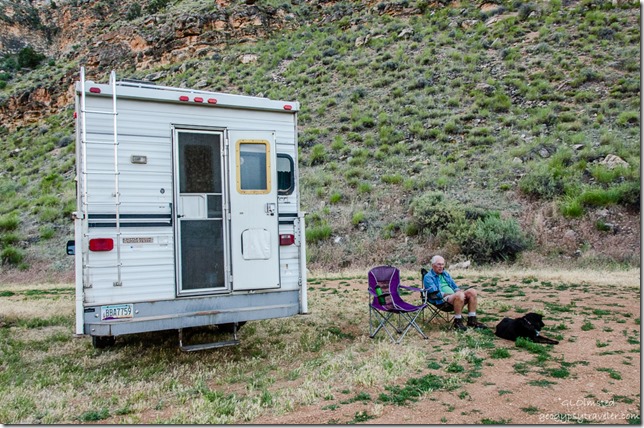 We did set up camp but have already decided not to hike the next day.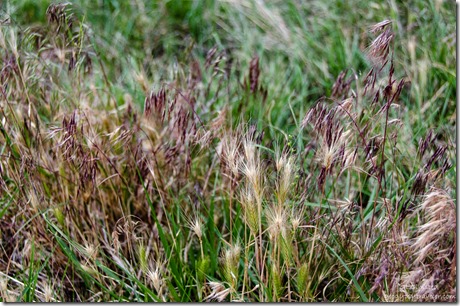 I don't know my grasses for identification but it seems this light brown grass is some sort of Foxtail weed according to Google.  And it can be very bad for dogs getting into their ears and nose, burrowing its way in deeper.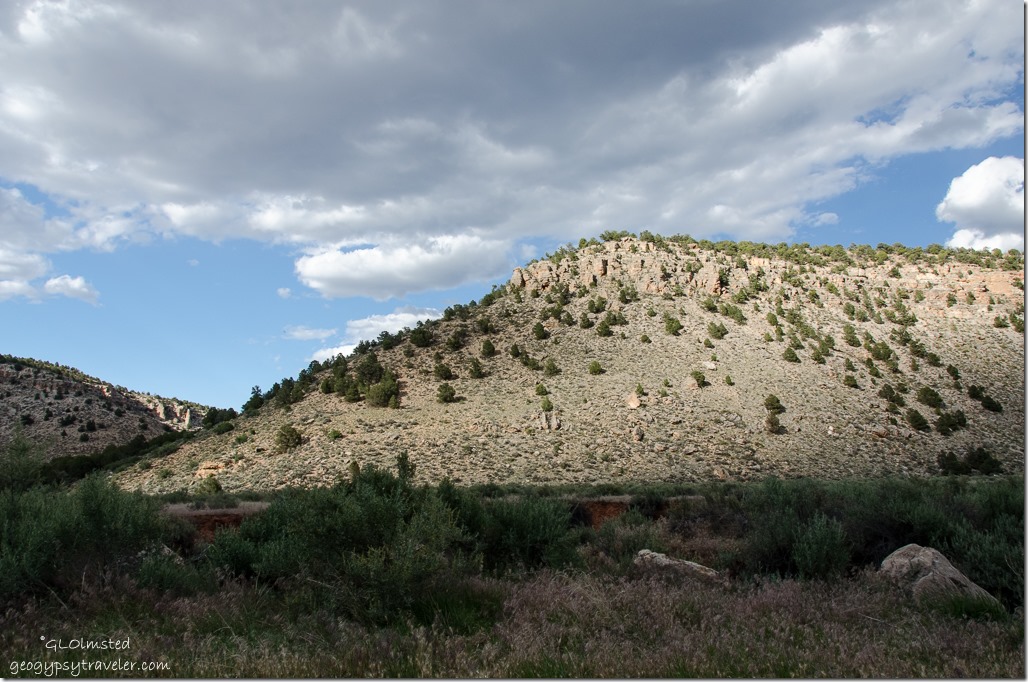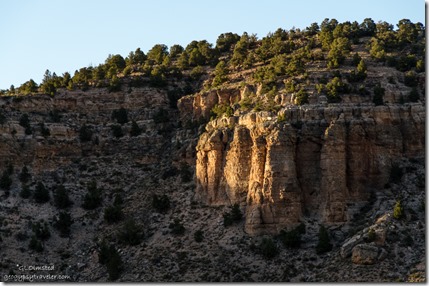 So we set our chairs on the gravel road and kept Sasha out of the weeds while watching the shadows creep up the cliff faces and enjoyed a marvelous sunset including a slip of the moon.  Then back out in the morning and headed up into the forest for the next night.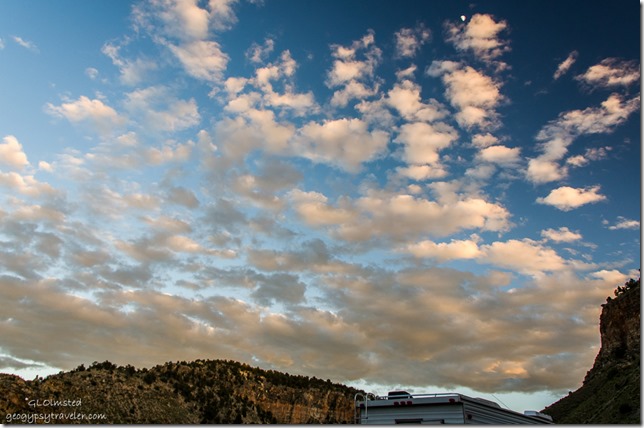 If you shop at Amazon please consider clicking below for the Amazon website. As an Amazon Associate I'll make a few cents on your purchase(s) at no extra cost to you. Put a few pennies in the winter travel kitty. Thanks for helping out.

Geogypsy is a participant in the Amazon Services LLC Associates Program, an affiliate advertising program designed to provide a means for sites to earn advertising fees by advertising and linking to amazon.com