May 14, 2016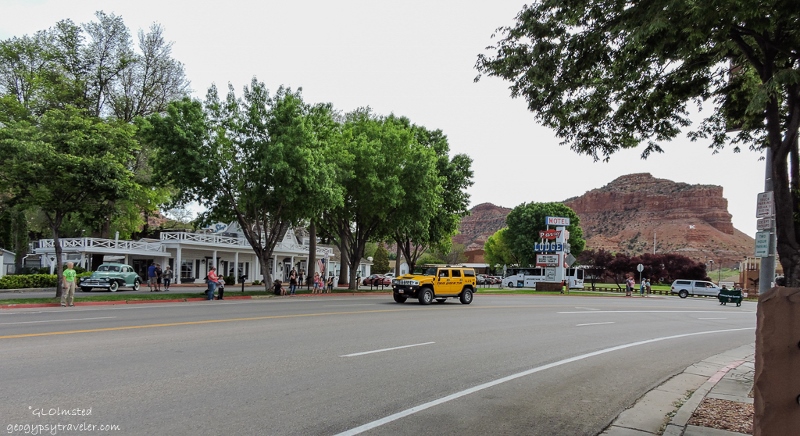 Who doesn't love a parade?  The National Park Service at Grand Canyon was invited to march in the Earthfest Dancing with Dogs Parade in Kanab, Utah.  So seven Park Rangers from the North and South Rims walked in the number three position.  Couldn't have been more than 12 positions in the parade.
It had been a very long time since I participated in a parade.  I marched as a Girl Scout more years ago than I want to remember.  When I lived in Tonasket, Washington I roller skated in a fall Mardi Gras parade.  Yea, wrong time of year but that's the way we rolled.  And I also rode a horse in Tonasket's Founder's Day parade held during the rodeo.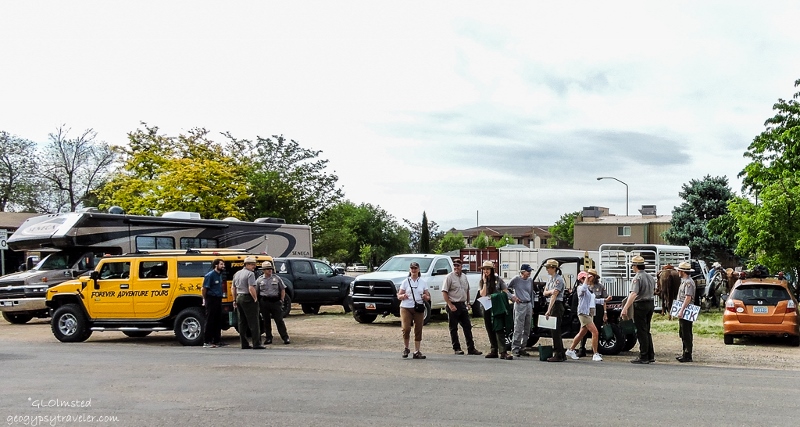 We left the North Rim Saturday at 6:30 am for the hour and a half drive to Kanab, Utah where it was already an hour later.  Confused?  Me all the time.  As are many visitors who come to the North Rim from Utah.  Six of us in the car, three from the South Rim.  One other Ranger met us in town at the Visitor Center staging area.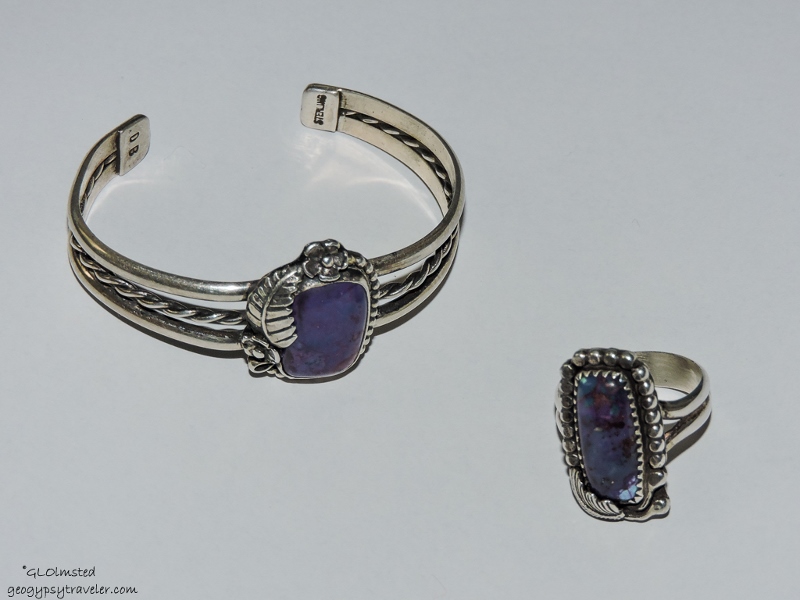 The Saturday Market had several booths set up selling jewelry and plants.  So you know where I headed.  In fact friends Dan and Cindy were selling and of course I saw something I liked, a cuff to match the ring I'd already bought from them.  The purplish color is a dyed Kingman turquoise which matches many of my favorite colored outfits.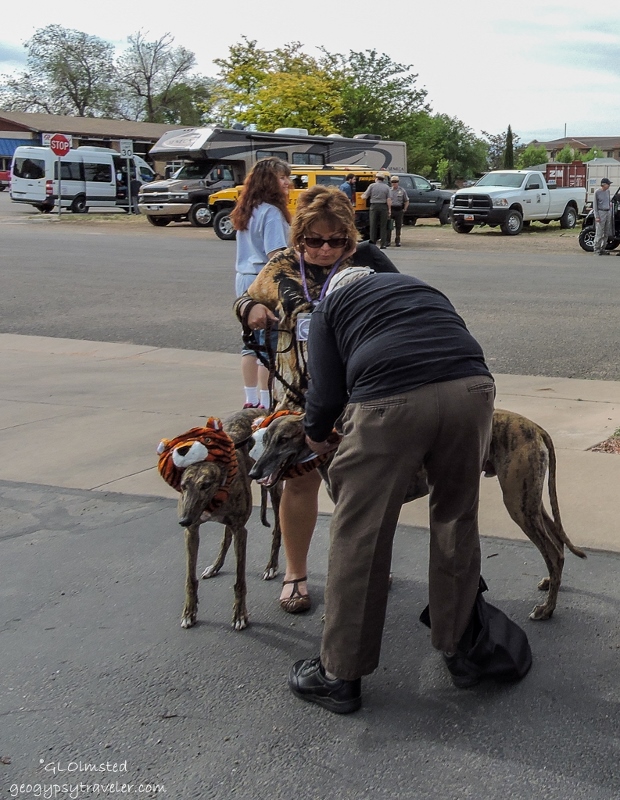 Many parade participants mingled in the parking lot including countless costumed Greyhounds, rescue dogs, many of whom matched their owners.  About 10:05 the Honor Guard lead us onto State Route 89 into downtown.  We followed the Forever Adventure Tours jeep.  There were BLM horse mounted Rangers, A Utah State DNR Ranger in an OHV, people dressed like trees, and did I mention LOTS of Greyhounds.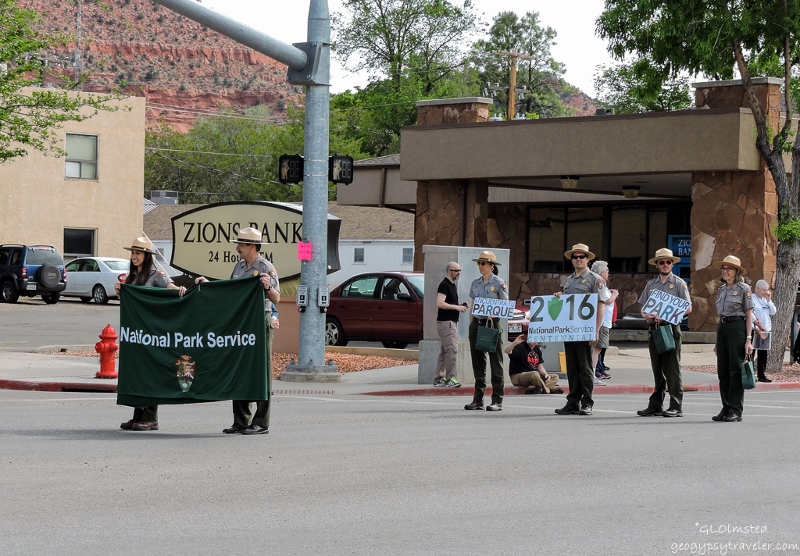 One of our Rangers was the Grand Marshall.  Two carried a NPS banner, which is really a green table cloth with NPS on it.  Two more carried small signs with "FindYourPark", one in Spanish.  And we all carried green NPS paper bags filled with mixed candy and Condor stickers to give to the kids watching the parade.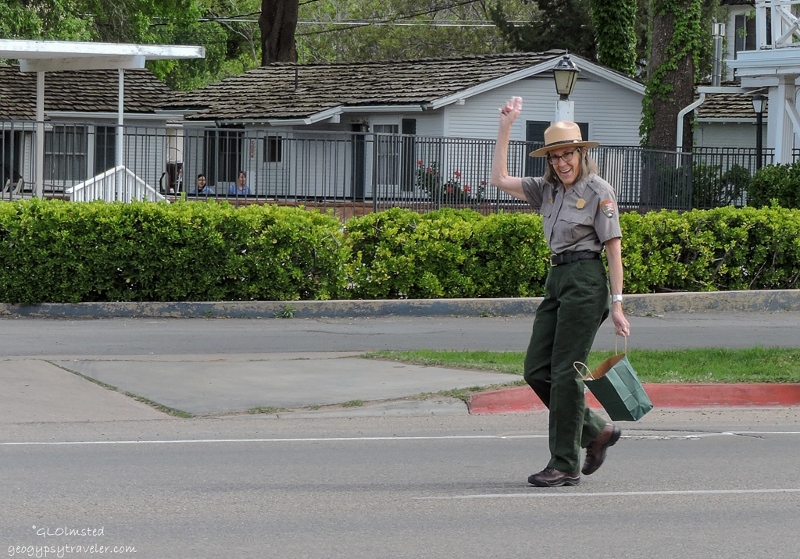 There may have been more participants than onlookers along the four block route.  Yet in all fairness this was a first time event celebrating Earthfest, NPS 100th, and Greyhounds.  Interesting combination wouldn't you say.  Yet it was a well received parade.  People clapped and cheered for the National Park Service.  We handed out candy and invited them to visit the North Rim.  Then turned around and walked back, minus the Honor Guard who dispersed at the turning point.
Afterwards the newly appointed tourism director took all us Rangers to brunch at Parry's.  Then we made a quick stop for groceries which always needs to be done living so far from town.  And four of us headed back to the NR.
It's possible Grand Canyon National Park will get more involved in future Kanab events.
All parade photos were taken by Bill who I asked to use my camera for this event.
Sorry I haven't been visiting blogs lately but still having issues with a limited signal and time.  Looking into a stronger booster and open to suggestions.
If you shop at Amazon please consider clicking below for the Amazon website. As an Amazon Associate I'll make a few cents on your purchase(s) at no extra cost to you. Put a few pennies in the winter travel kitty. Thanks for helping out.

Geogypsy is a participant in the Amazon Services LLC Associates Program, an affiliate advertising program designed to provide a means for sites to earn advertising fees by advertising and linking to amazon.com