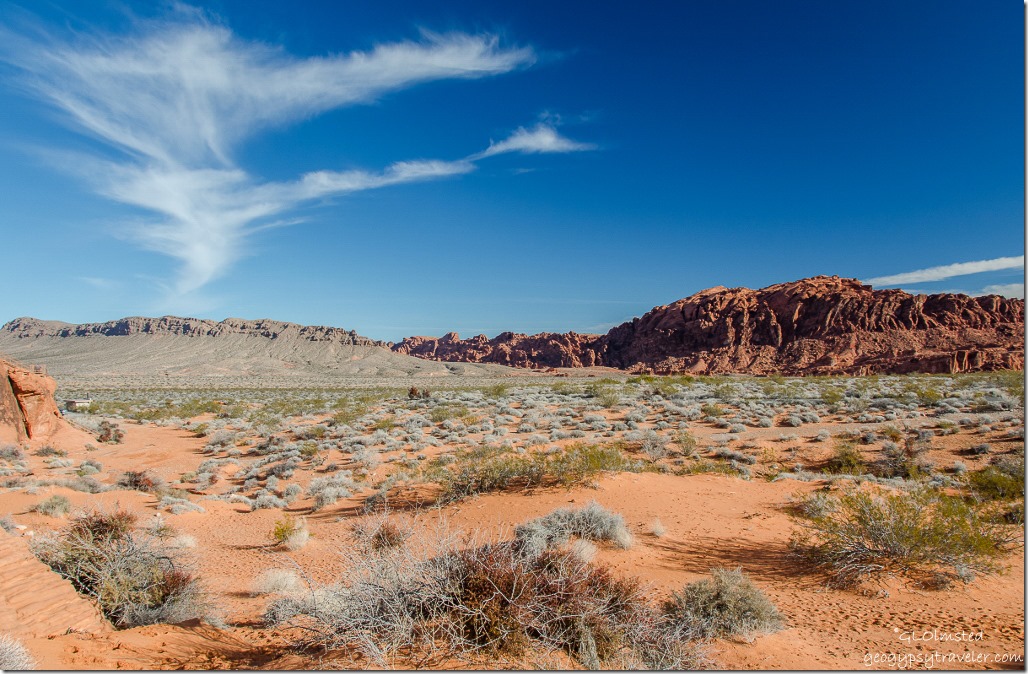 The day after hiking the White Domes loop and Fire Wave trails at Valley of Fire we started the morning with a short walk from camp to see the 4,000 year-old petroglyphs at Atlatl Rock.  A big landscape spreads out from the rock cliffs where the petroglyphs are prevalent.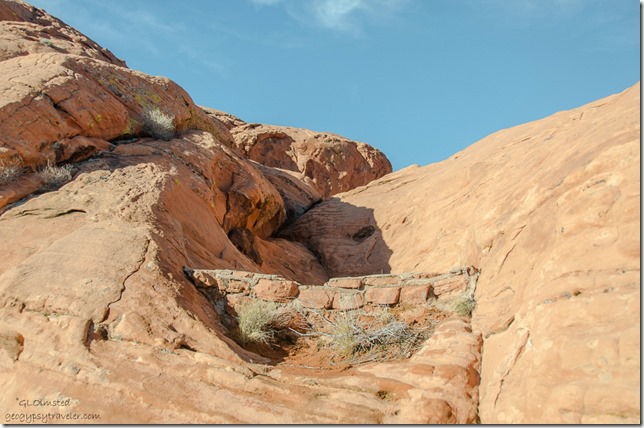 I'd read to look in a tiny side canyon littered with boulders just to the left of the actual "feature".  So off we went to explore.  First we saw what looked like an improved check dam once built to hold back water in a natural dip, or tank, in the rocks.  Of course we had to climb up about 10 feet to discover water, a rare and exciting find in this dry environment.  We saw another shrinking pool hidden behind the cliffs.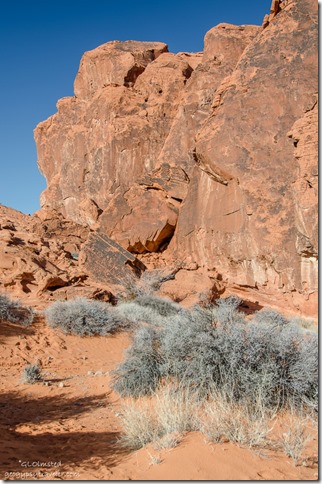 I took hundreds of photos so will try not to share them all.  Yet I am fascinated by the stories told here so long ago.  The earliest people here included the nomadic Fremont and later the Ancestral Puebloan farmers from the nearby Moapa Valley who came here to hunt and gather plants.  Yet the scarcity of water probably limited their stay.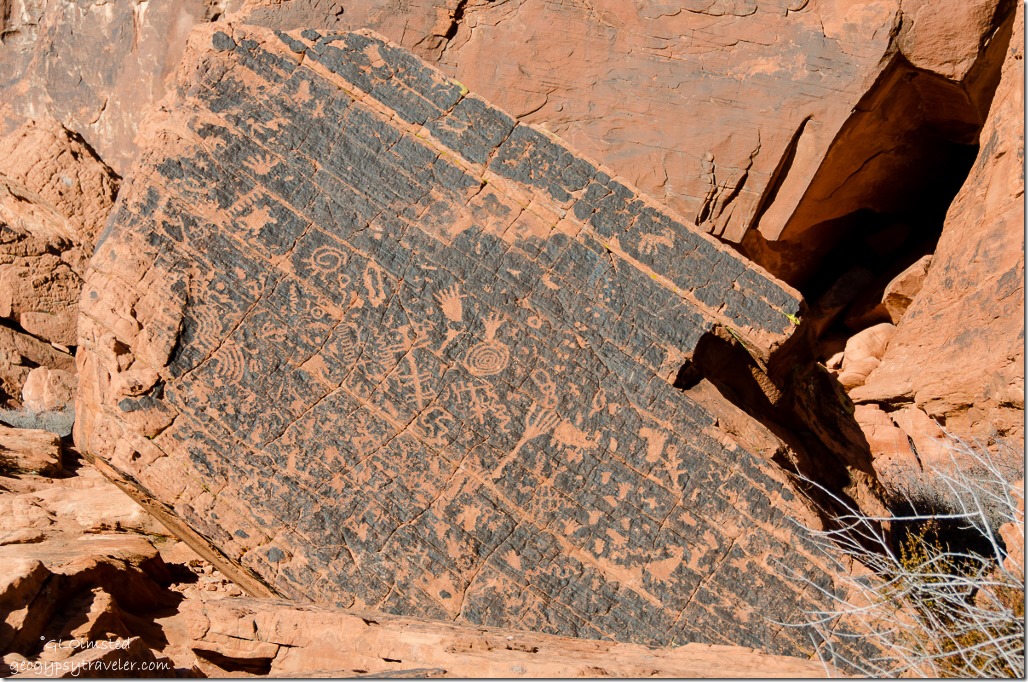 Some boulders have fallen from the cliff faces as parts of the story are buried in the sand where they landed.  Seeing footprints in a row makes me think someone took a journey.  I think I see water signs, dragonfly and yucca plant.  It's a busy panel.  What story do you see.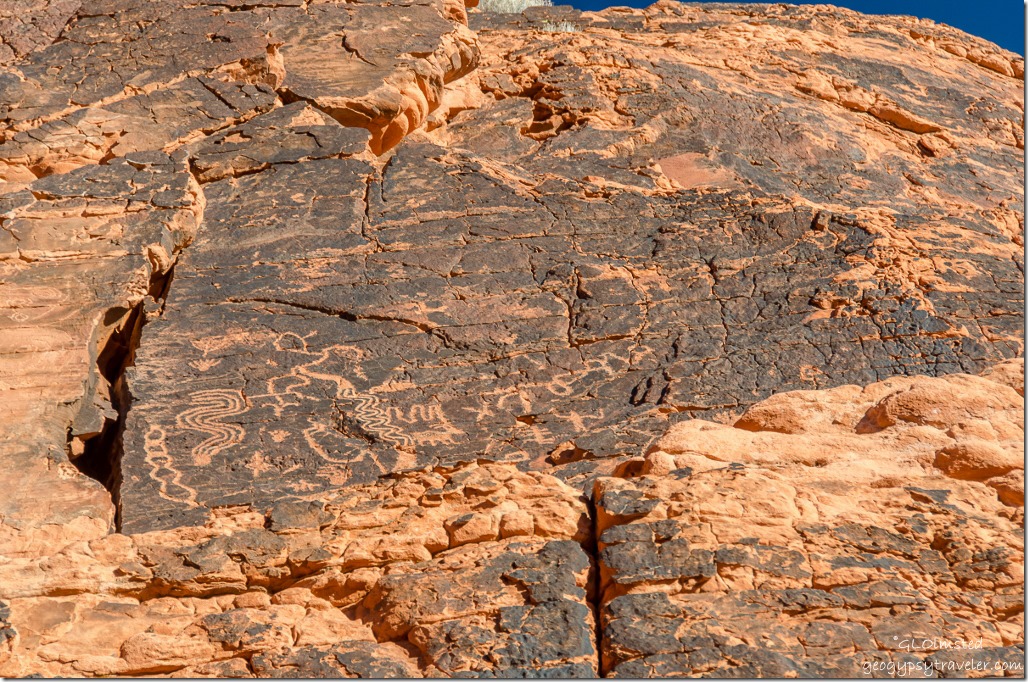 Some panels are way up high making me wonder why there, although there is usually a ledge or sloped face making it possible for these expert rock climbers to reach their pallet.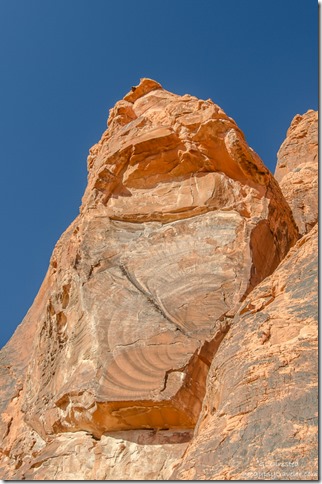 Plus of course there's natures art as well where spalling and mineral leaching creates interesting patterns.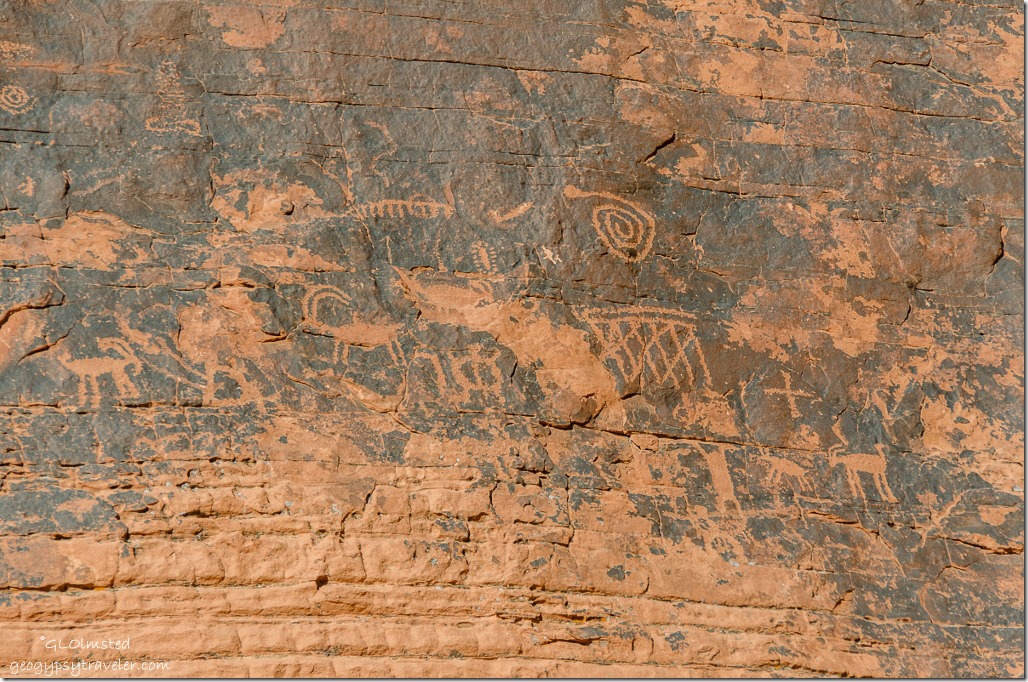 In fact natural processes have removed the mineral varnish and taken away some of the petroglyphs so some of the story is missing.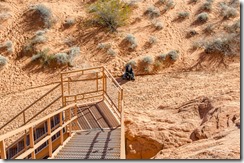 To access the "featured" and unique atlatl petroglyph requires climbing a steep set of stairs put in I'm sure to keep people off the rock and destroying the multiple panels.  In fact the barrier at the top makes it difficult to photograph the entire panel.  The grid on the stairs isn't particularly dog friendly, or Sasha friendly anyway, but we did see a guy descending with his dog.  I've never seen an atlatl petroglyph before.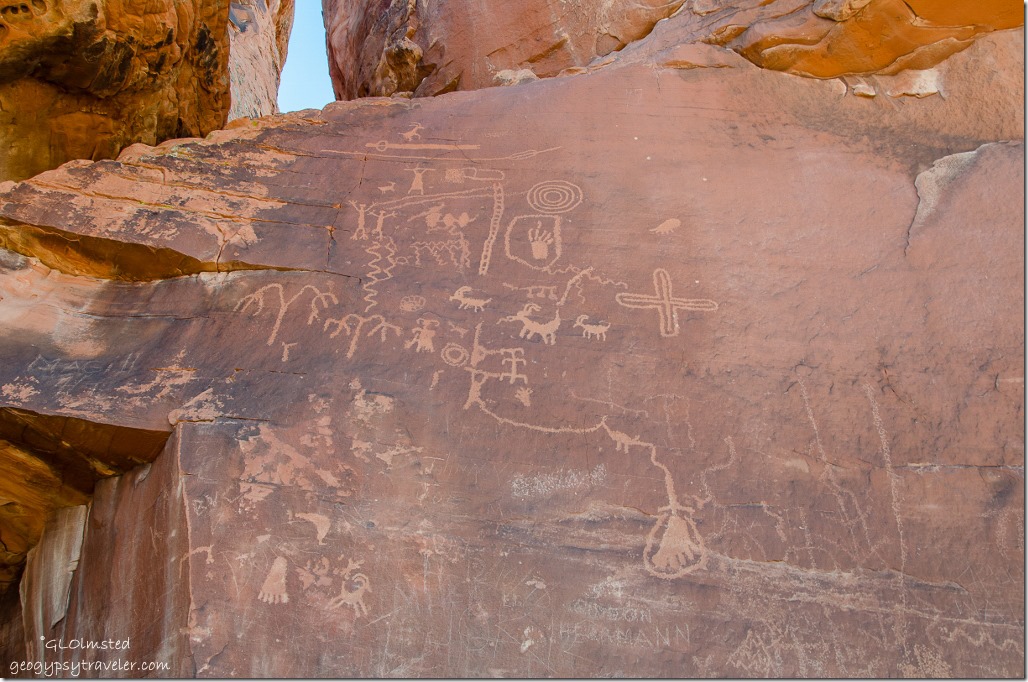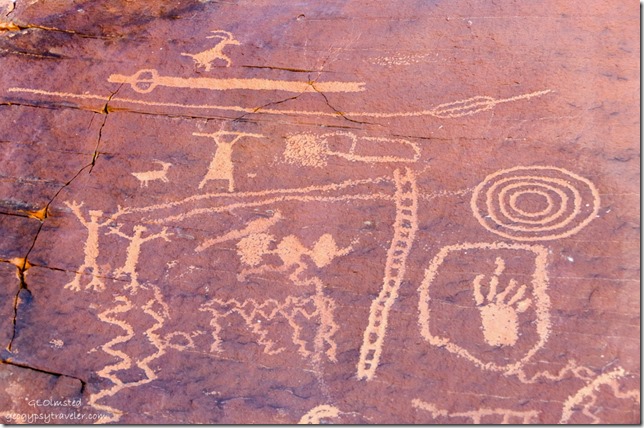 The second figure from the top under the big-horn sheep is suppose to be an atlatl which is a spear thrower used before the bow and arrow for hunting by native people.  Do you think they climbed a ladder to this particular rock?  It is unfortunate that modern people felt the need to add to these mysterious stories.
Archeologists try to figure out what the petroglyphs mean.  Row 1 left to right:  Tortoise/turtle clan, Big-horn sheep, personal signature/death, Shaman/strong medicine/powerful.  Row 2: general upward motion, sun, mystical bat woman, going up/water tank/spring.  Row 3: broad downward motion, gone/empty, four directions/crossing, coming down.  Row 4: rain, (can't read), atlatl, four directions/friendship.
Next stop Mouse's Tank hike where we'd see more petroglyphs.
If you shop at Amazon please consider clicking below for the Amazon website. As an Amazon Associate I'll make a few cents on your purchase(s) at no extra cost to you. Put a few pennies in the winter travel kitty. Thanks for helping out.

Geogypsy is a participant in the Amazon Services LLC Associates Program, an affiliate advertising program designed to provide a means for sites to earn advertising fees by advertising and linking to amazon.com