Our Grand Staircase-Escalante National Monument loop drive began just east of Kanab, Utah off State Route 89 north on the paved Johnson Canyon Road, northeast on the gravel Skutumpah Road, a side trip to the Cannonville BLM Visitor Center, and south on the gravel Cottonwood Road back to State Route 89.

First stop was at the Kanab BLM Visitor Center to find out what the Skutumpah Road conditions were, and no body really knew.  But they did tell us the Cottonwood Road was closed beyond Grosvenor Arch.  So we told them we'd bring back a road report.  This is a very nice visitor center and I just love the big mural of the Grand Staircase.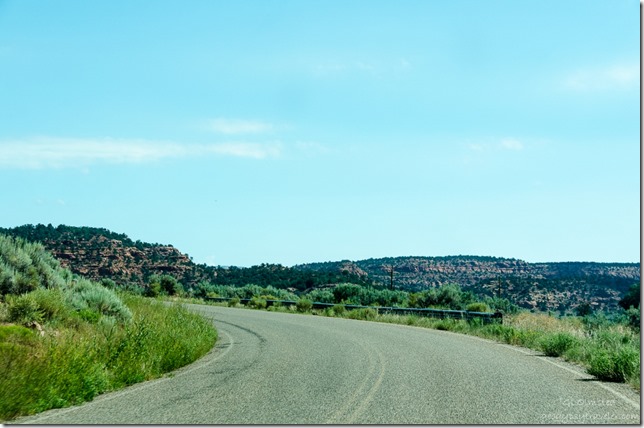 Being we'd driven the Johnson Canyon Road a few weeks back, and I've posted about it before, I didn't take many new photos.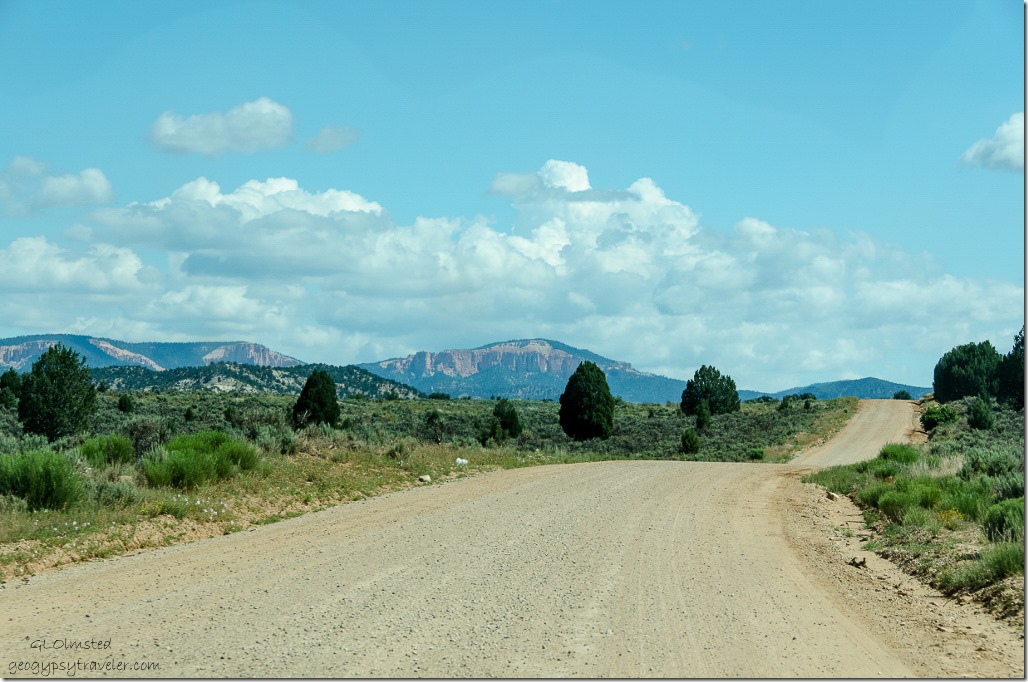 Yet once we got onto the Skutumpah Road there were many worthy sights, vistas and stops for reconnaissance for future hikes.  A far view can be seen from this beautiful drive through rugged high desert of the Paunsaugunt Plateau at 7,000-9,300 feet (2133 m-2834m) where the weirdly eroded spires and hoodoos of Bryce Canyon are cut into.  The unusual looking names are derived from the Paiute language.  Skutumpah (scoot-um-paw) means "the place where rabbitbrush grows and squirrels are found."  Saw lots of brush and a few squirrels.  Paunsaugunt (PAWN-suh-gant) is the name for "home of the beavers."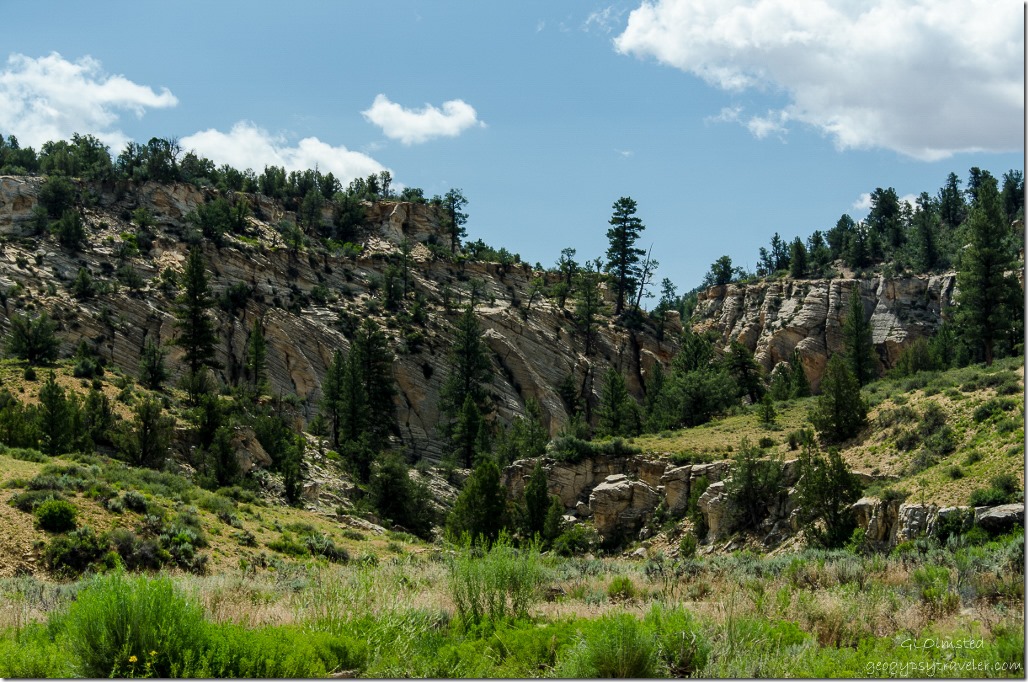 A quick stop at Lick Wash where the Navajo Sandstone walls carved by eons of water beckoned for a future hike of possibly 4 miles (6.4) each way to the junction with Park Wash.  Actually, all the side canyons looked like promising places to hike, trail or not.
Powell Point was a constant landmark being the highest point in the Grand Staircase at 10,188 feet (3105 m).  Named in 1879 by geologist Clarence Dutton in honor of John Wesley Powell the point is held up by the white and pink limey cliffs of the 55 million-year old Claron Formation deposited by freshwater shallow lakes and streams.  These are the same deposits seen eroded into spires, badlands and hoodoos at Bryce Canyon and Cedar Breaks.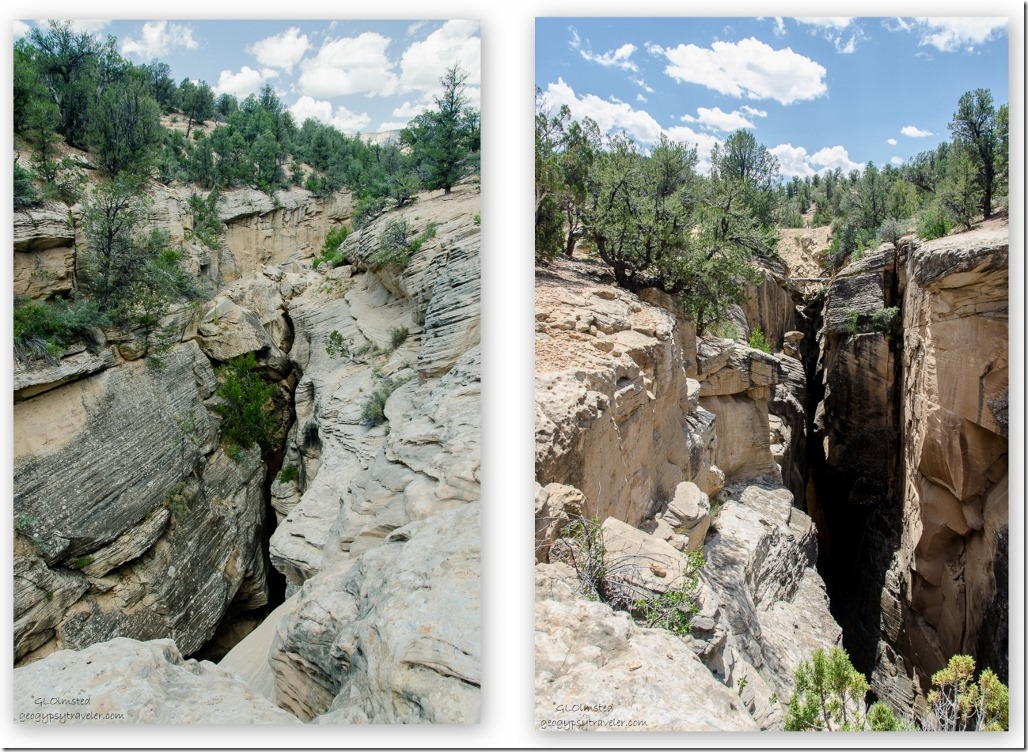 Down canyon                                                                                                                                  Up canyon
Next stop, Bull Valley Gorge a nearly 200 foot (60 m) drop into this narrow slot canyon.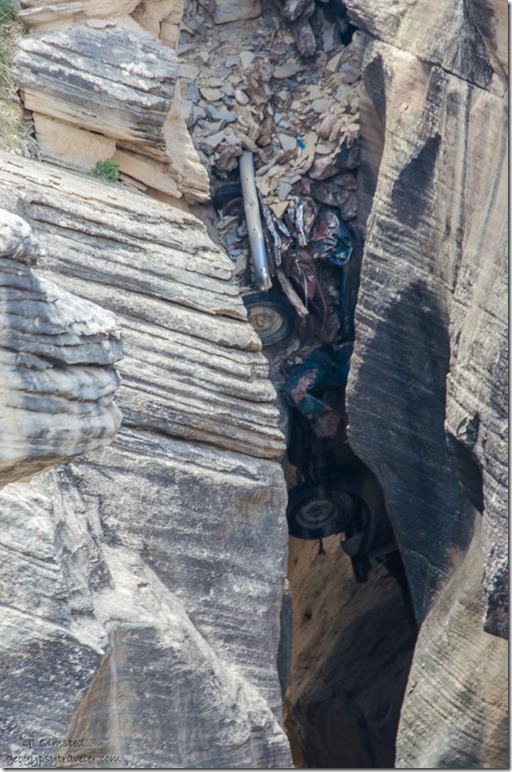 In 1954 three drunks in a pick-up truck died when they tumbled off the road into the gorge where their truck remains.  Boulders were then wedged on top where the road crosses.  A definite reminder of being careful on twisty gravel roads.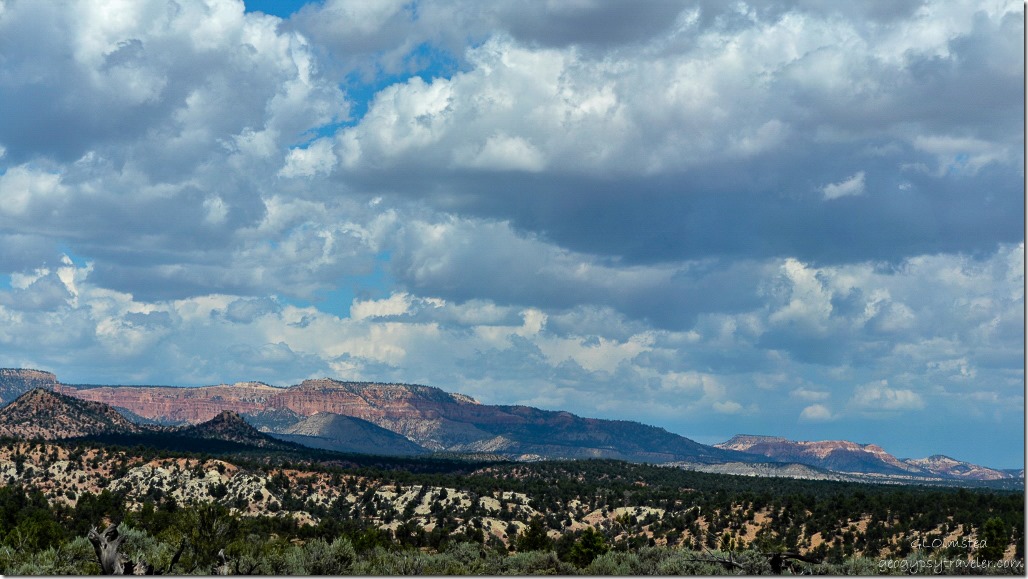 This drive gave a whole new perspective looking up at Bryce Canyon National Park.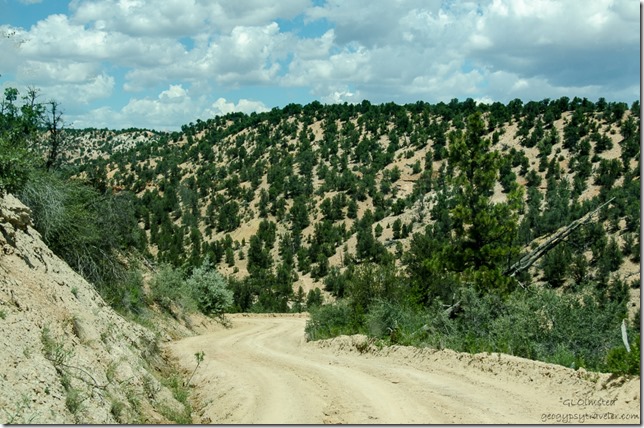 But it's very important to watch the road.  Sure glad I get to be a passenger when Bill shares his backyard.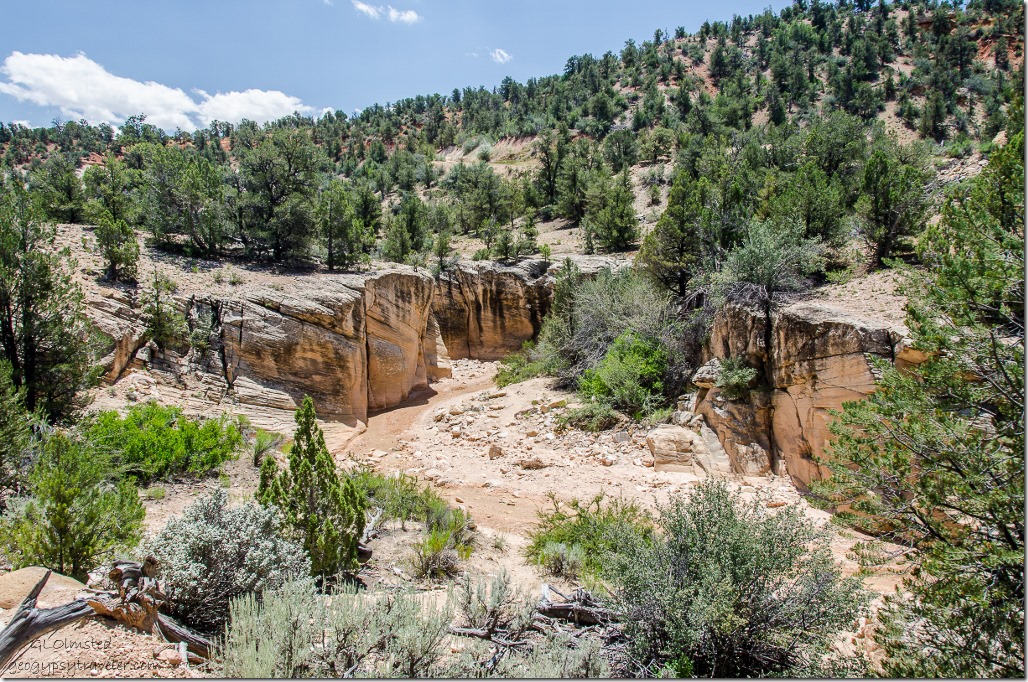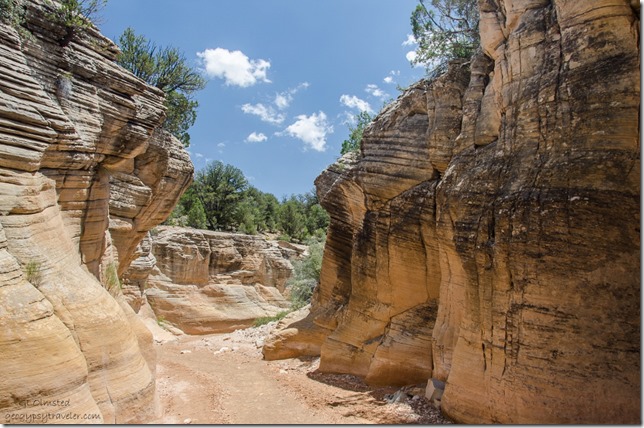 Another stop for future hiking at Willis Creek, one of only two creeks with perennial water.  This 2.2 mile (3.5 km) one-way hike to the junction with Sheep Creek is described as easy with several stretches of narrows in the sand and gravel wash bottom.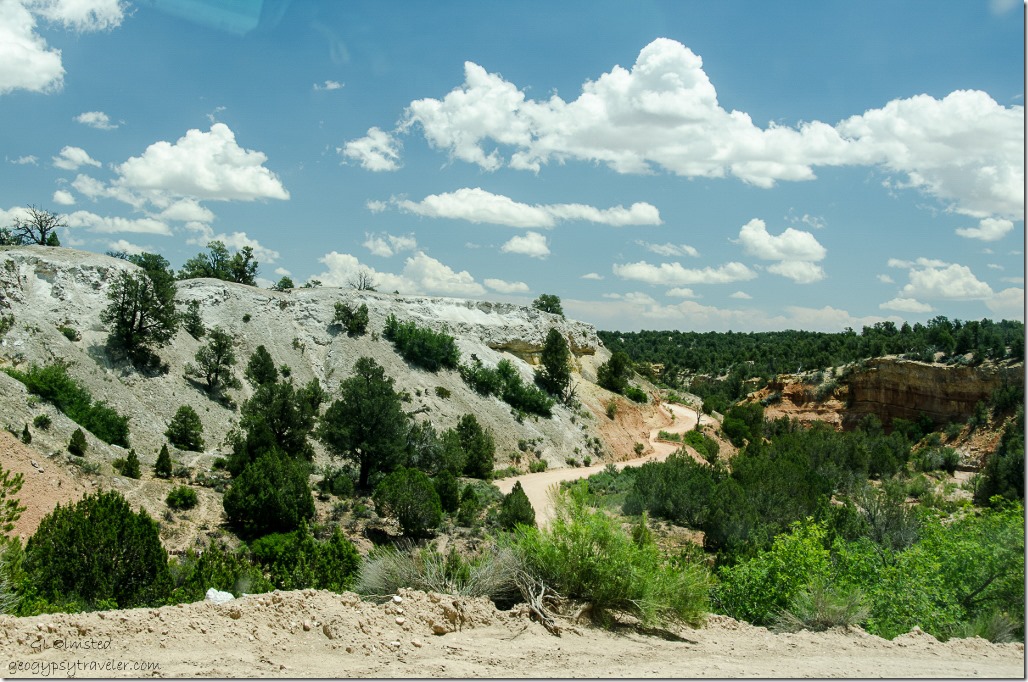 I absolutely love these kinds of drives on gravel roads through the gorgeous desert country of southern Utah.  The more I see, the more I want to see.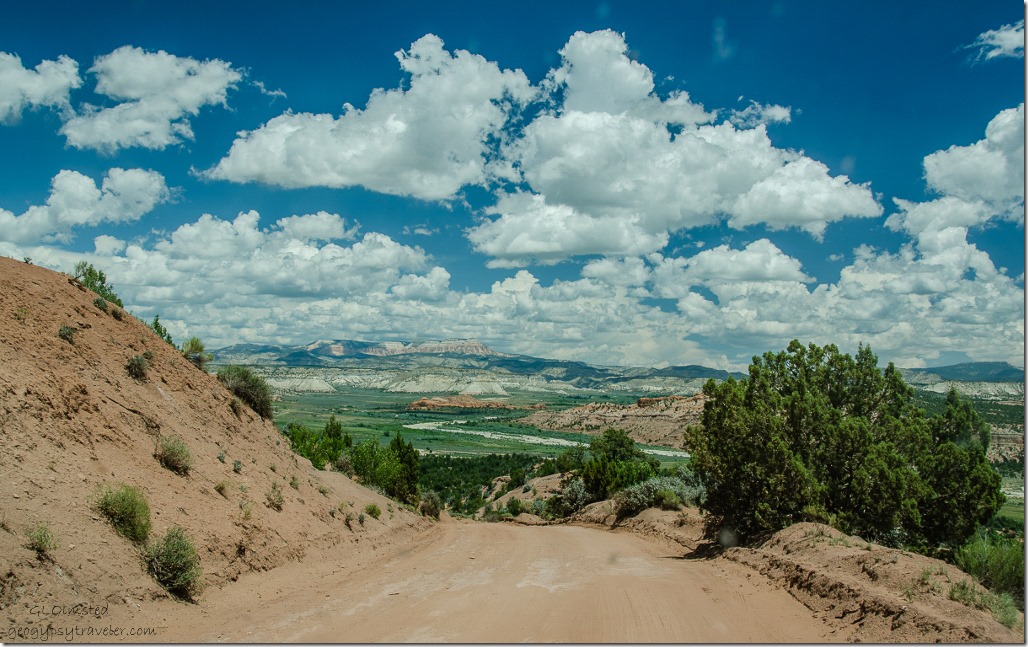 Soon we are headed down the dugway into Bryce Valley where we stopped at the Cannonville Visitor Center to get a road report for the Cottonwood Road which I'll post about soon.  Skutumpah Road follows the contours around the northwestern boundary of Grand Staircase-Escalante.  This 33 mile (53 km) long dirt road requires a high clearance vehicle and like all the monument roads can be impassable due to heavy rain or snow.
If you shop at Amazon please consider clicking below for the Amazon website. As an Amazon Associate I'll make a few cents on your purchase(s) at no extra cost to you. Put a few pennies in the winter travel kitty. Thanks for helping out.

Geogypsy is a participant in the Amazon Services LLC Associates Program, an affiliate advertising program designed to provide a means for sites to earn advertising fees by advertising and linking to amazon.com