The last Monday of the year with rain predicted Tuesday and me without running water, thus no shower, for 11 days.  And this rain would be too cold to shower in.  All it takes is one tiny little part which is on order.  So I thought about a place recommended by a reader, the nearby Agua Caliente County Park with hot thermal water pools and RV camping.  Went online to check availability thinking I could treat myself for New Years.  Partial hookup (water and electric) for limited sites available, $63 for two nights.  Ouch!  But what the heck, I'm worth that as a belated Christmas present.  But instead of making online reservations I decided to make a reconnaissance trip to Agua Caliente and check it out.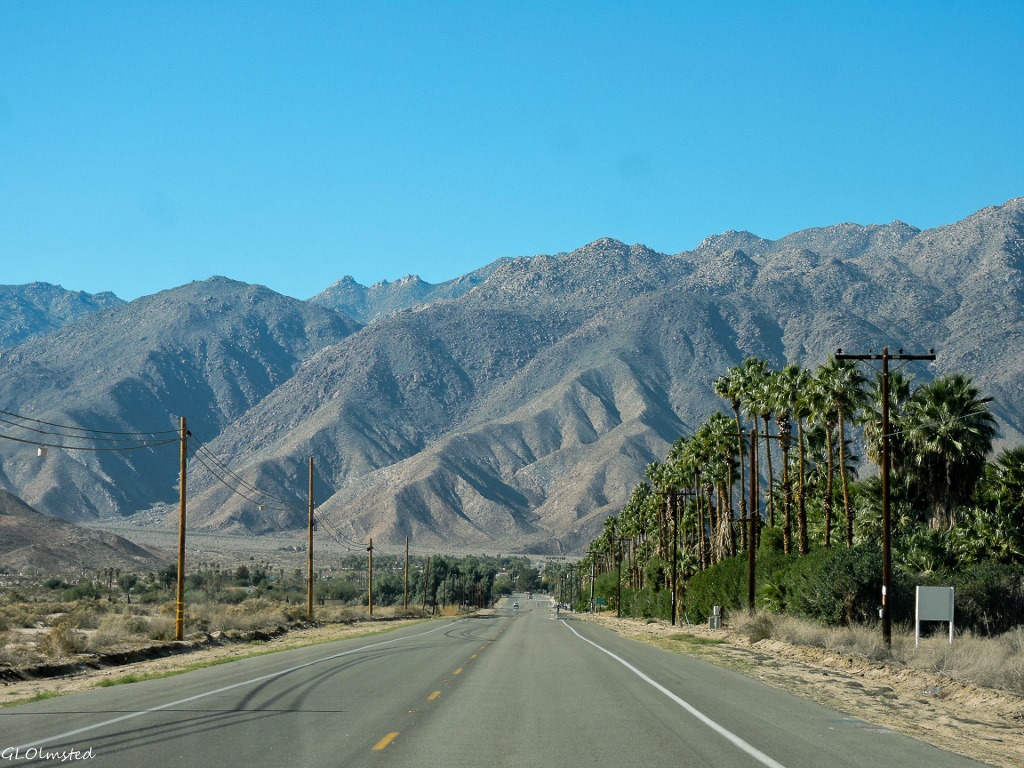 The sun was out and it was suppose to get to 61F, so at 11:30 I hit the road.  I'm not a super early morning person, and besides what's the rush.  Just before downtown Borrego Springs I turned onto S3 and cruised past the fancy looking Borrego Springs Resort, Casa del Zorro Resort and Spa, and even the Borrego Medical Center all surrounded by tall palm trees amongst their lush desert landscaping.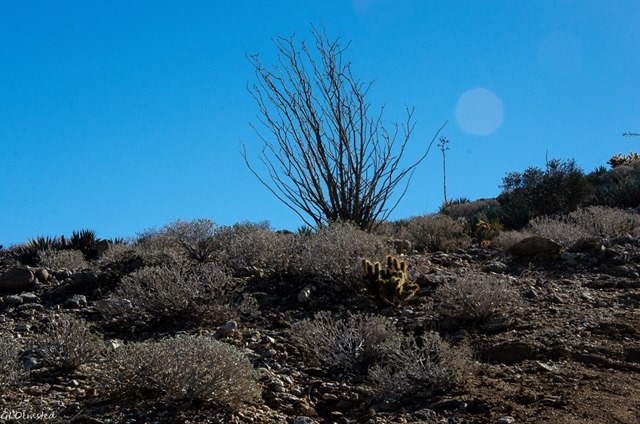 Soon I'm out of town and back in the park headed over 1750 foot Yaqui Pass.  There's a gravel parking lot at the pass that is also a dry camp though not very enticing with no signal but a lot of barrel cactus, cholla, ocotillo, century plants, yuccas and the William L Kenon Overlook trail.  I stopped briefly but didn't hike.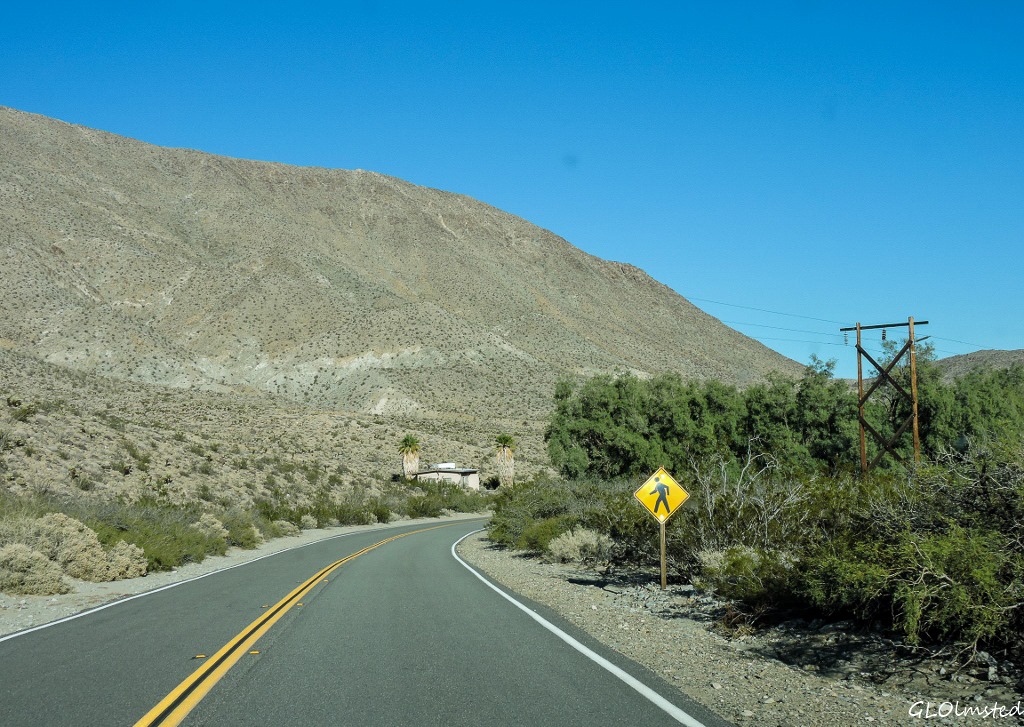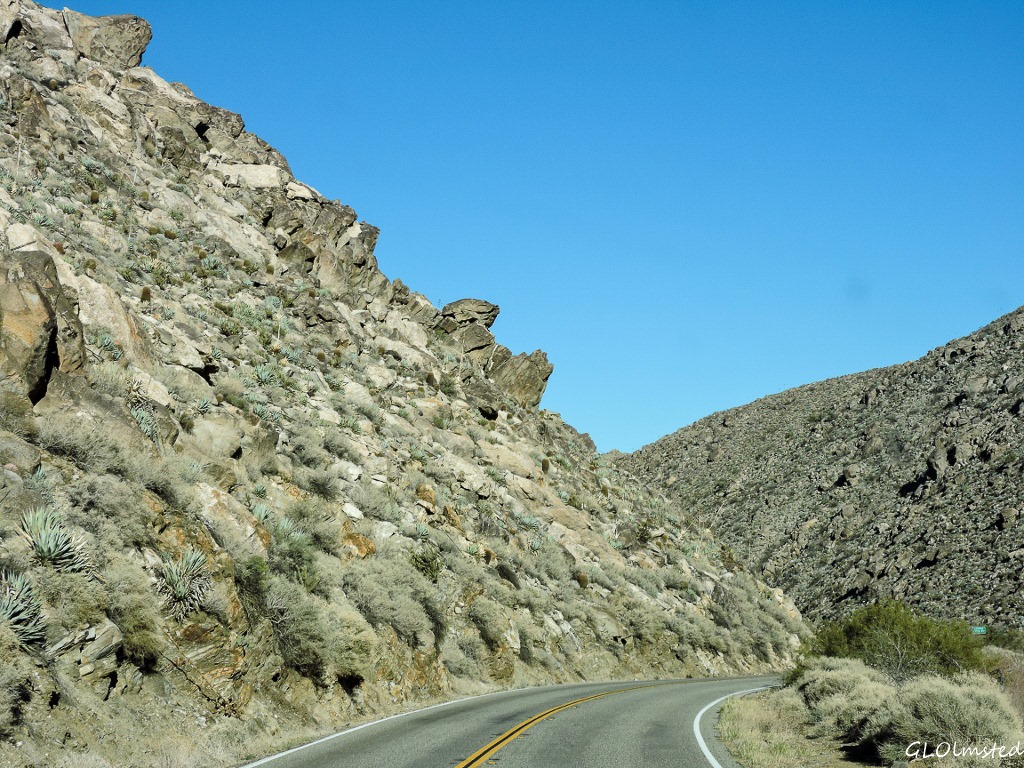 Tamarisk Campground is at the junction of California 78 surrounded by giant towering tamarisk trees.  I got twisted around and went the wrong way but not for long and turned around.  And then, OMG, massive amounts of big rigs towing on this curvy road and bringing in their toys and jeeps to play in the desert.  Thank goodness only certain areas of the park allow the drive anywhere you want ORV space.

The traffic decreased once I turn onto S2, 21 miles to Agua Caliente over a 2000 foot pass, down into valleys and up again curving past cactus studded landscapes.  Through Shelter Valley, population 300 and I can see them all in this long flat valley.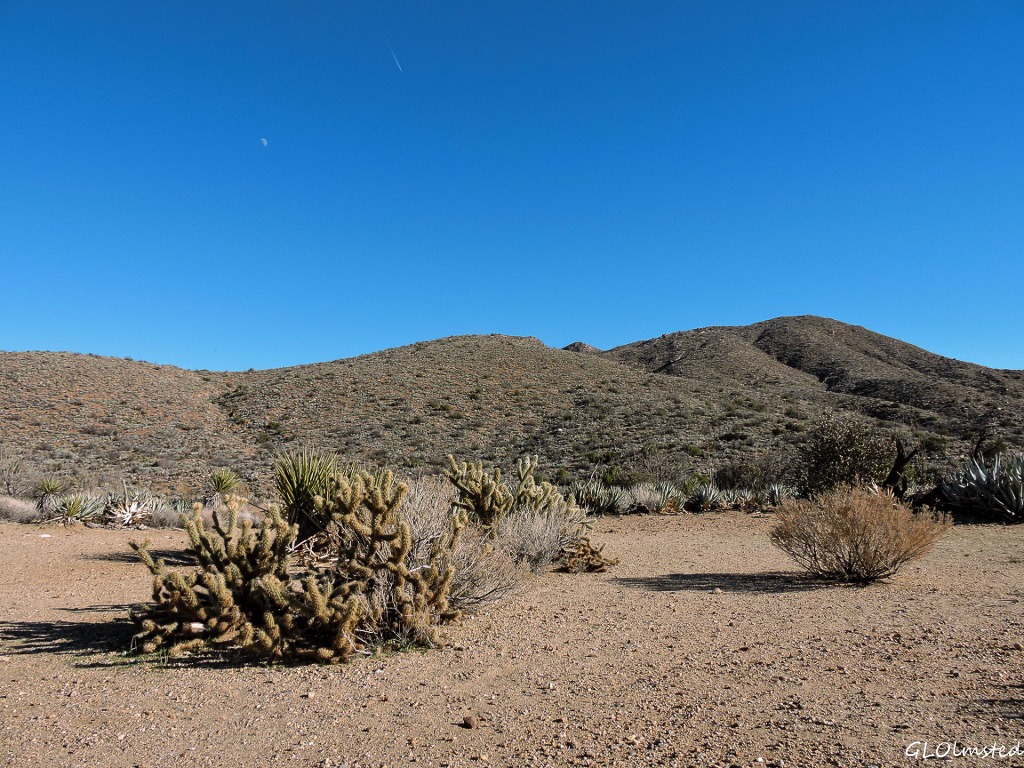 I stopped to check out the Blair Valley dry camp and only saw one tent way off in the distance.  No signal and no RVs as it seems we all want our technology.  Gone are the days when the Butterfield Stagecoach delivered the true 'snail mail' across this unpaved route.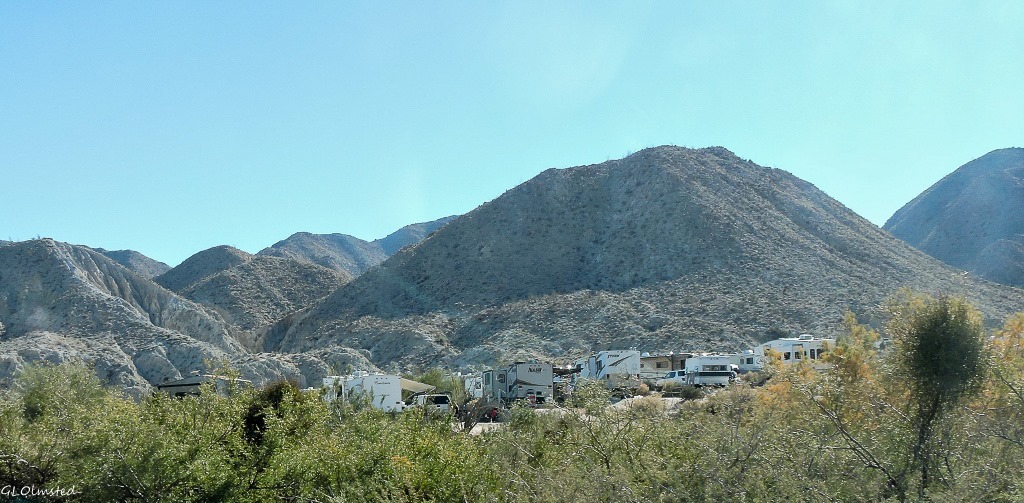 And finally I got to Agua Caliente, a noisy, parked right on top of each other, RV parkish place.  No thanks.  But maybe after the holiday rush is over and kids are back in school.  I mean it is soaking in hot water.  Ahhh….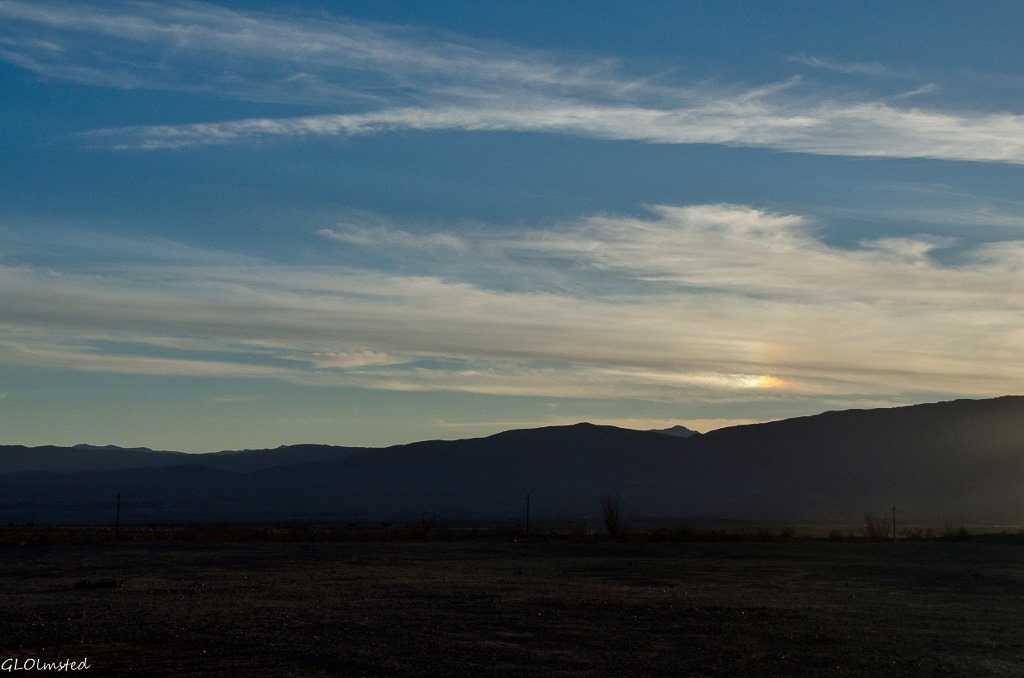 The return drive was prettier than before without the bright sun shinning in my eyes.  I smiled returning to this extensive piece of desert off Rockhouse Trail.  Sure glad I made the reconnaissance trip to Agua Caliente instead of making those online reservations.  And such a beautiful drive.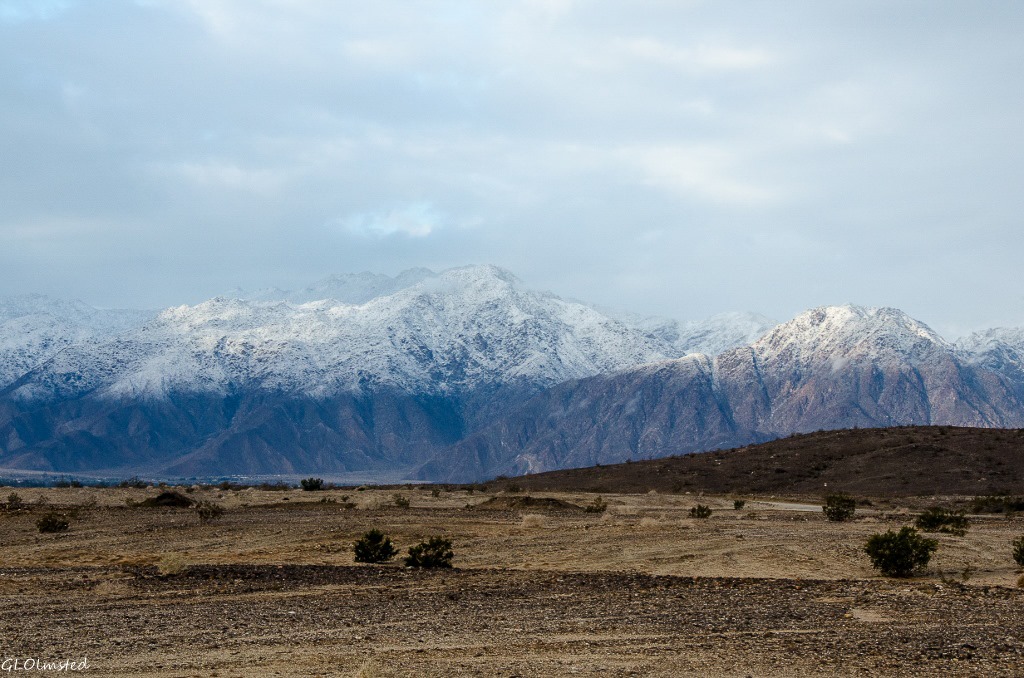 BTW, it did rain Tuesday night and the morning light of New Year's Eve showed snow capped mountains all around and down to 2000 feet.  Thank goodness I'm not at more than several hundred feet.
If you shop at Amazon please consider clicking below for the Amazon website. As an Amazon Associate I'll make a few cents on your purchase(s) at no extra cost to you. Put a few pennies in the winter travel kitty. Thanks for helping out.

Geogypsy is a participant in the Amazon Services LLC Associates Program, an affiliate advertising program designed to provide a means for sites to earn advertising fees by advertising and linking to amazon.com