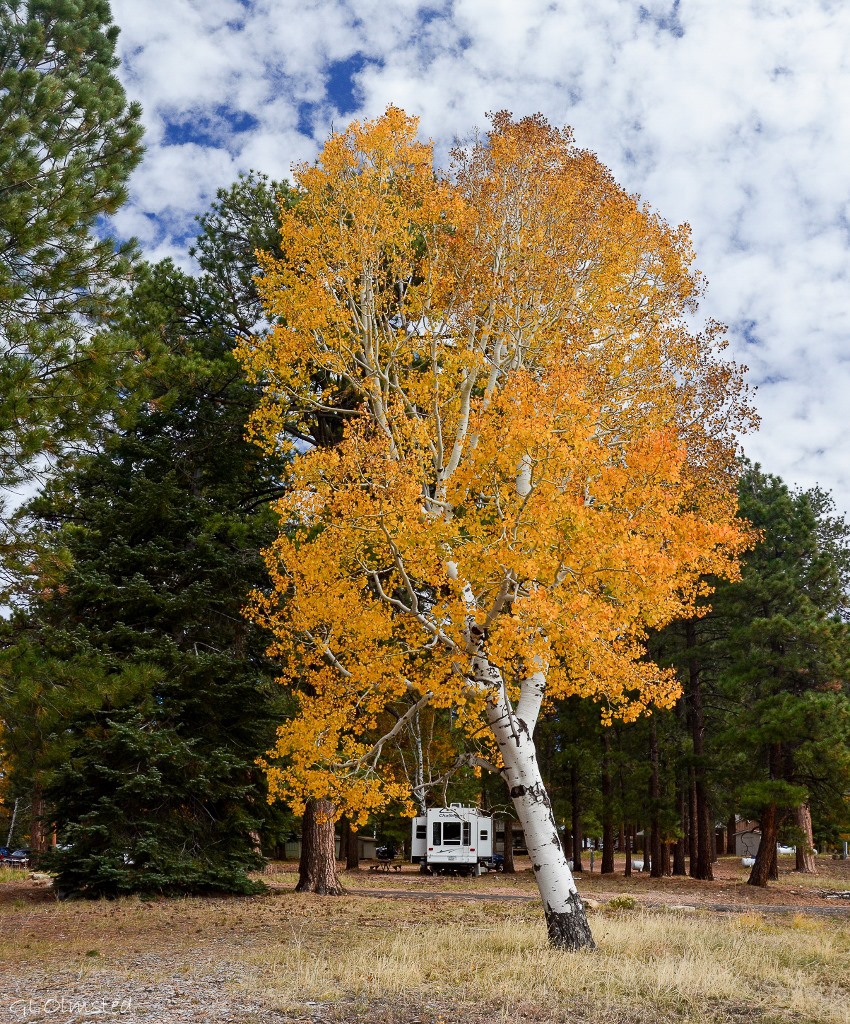 That's it, I'm packing it in at the North Rim and today I roll the 5th-wheel off the Kaibab Plateau.  There's always a certain amount of packing and tossing things out after sitting in one place for almost six months.  I really tried not to collect this summer, at least not big items.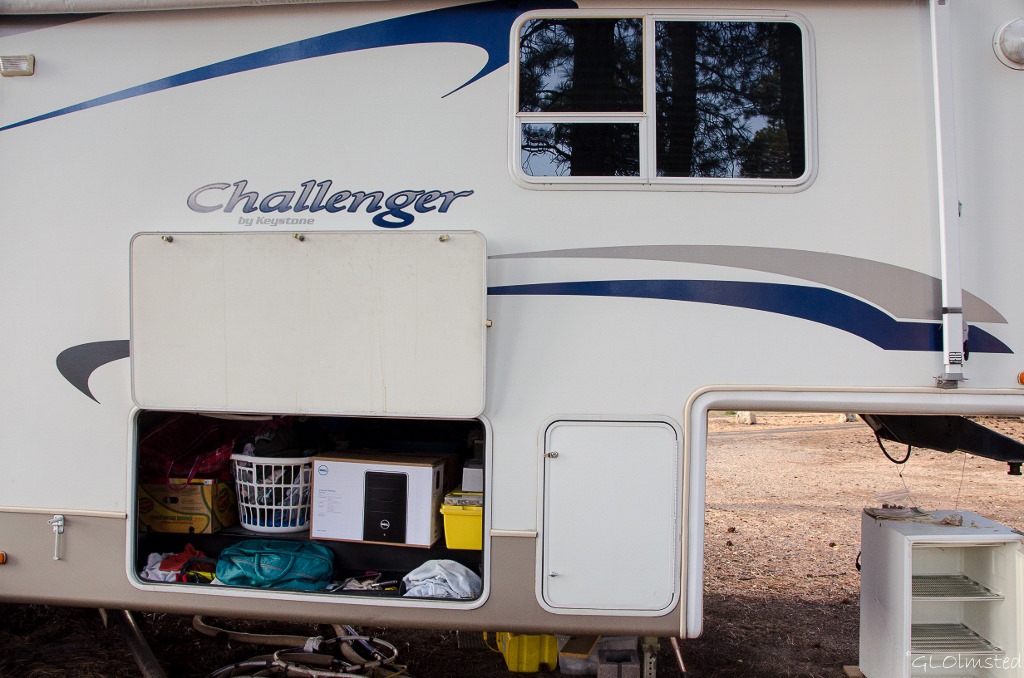 So why is the basement so full?  Oh yea, it's empty boxes to pack things in.  Besides it's just as against the rules to throw away a techie box as to tear the tag off your mattress.  Bet you didn't know my RV has a basement, well unless you do know.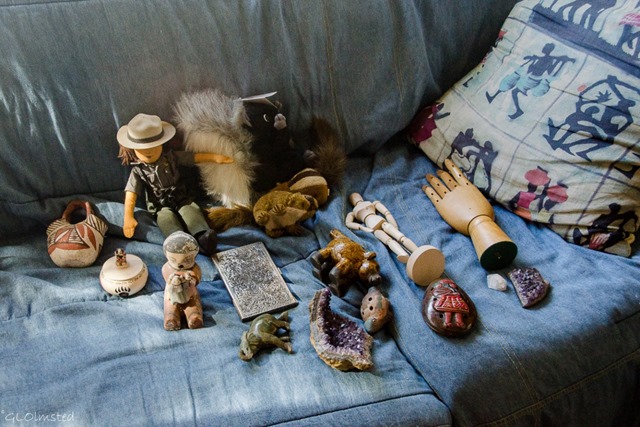 Yet it really only takes a couple hours to pack.  I mean, I'm still living in the RV so daily used items can't really be put away until just before the slides come in and I hook up to go.  I'll take three leisurely days from my last day of work.  Then drive as far as Flagstaff for a night before completing the move back to Yarnell.  Don't like to tow the 370 miles in just one day which puts me in late.  Much easier to set up in daylight.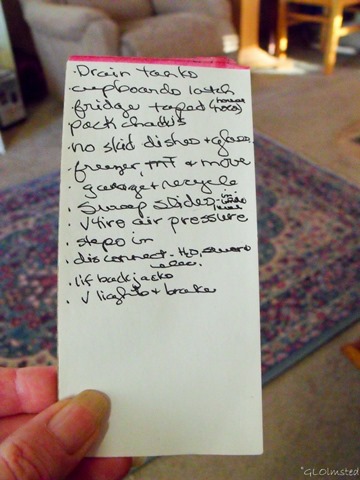 I'm a list maker partially OCD, ageing memory, and just plain don't want to forget anything.  It's not fun when a gallon of milk jumps off the shelf onto the floor because the refrigerator door wasn't latched.  Or in my case duct taped shut in many directions because it's a household fridge without a cool gadget to latch it shut like the RV versions.
Really only two small boxes of 'stuff', plus PC, put strips of no-skid between the dishes, stuff glasses in old (clean) socks

, and a little rearranging of the furniture.
Sweeping pine needles off the top of the slides is also a good time to see how the roof looks and enjoy the up high view.  Plus remove the Wilson booster antennae which didn't help my phone or internet signal a bit.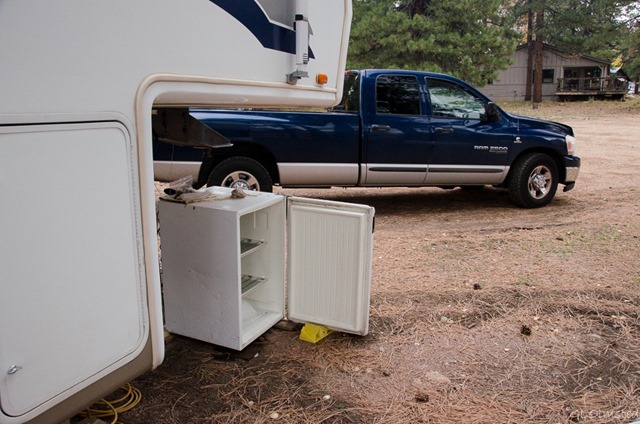 Hardest thing to do is round up a few Rangers to help me load the little freezer in the back of the truck.  Been eating it down the last couple of weeks so it will fit in the inside freezer.
Last thing unhook sewer pipe which stays behind for next year, water hose and electric.  Trust me you don't want to see a photo of that.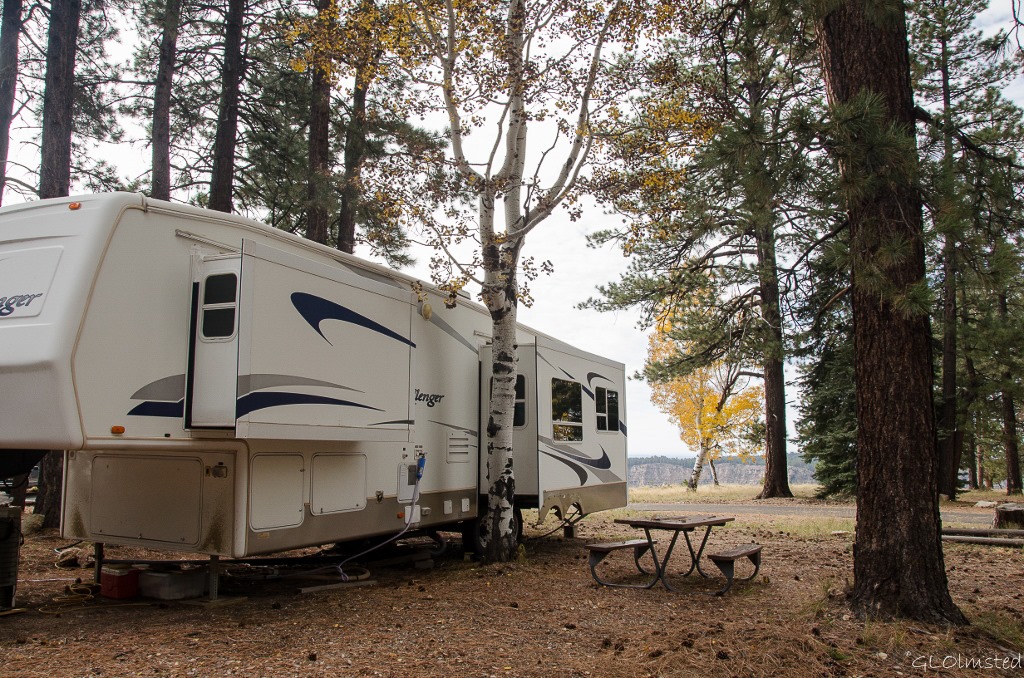 I could put off packing forever, especially in a setting like this.  But it's time to move on.
So what's up for my winter?  Other than a quick trip to the Pacific Northwest at the end of the month, I don't know.  But I'm open to possibilities.
If you shop at Amazon please consider clicking below for the Amazon website. As an Amazon Associate I'll make a few cents on your purchase(s) at no extra cost to you. Put a few pennies in the winter travel kitty. Thanks for helping out.

Geogypsy is a participant in the Amazon Services LLC Associates Program, an affiliate advertising program designed to provide a means for sites to earn advertising fees by advertising and linking to amazon.com