When visitors arrive at the North Rim of Grand Canyon they've usually already been or are headed to Zion National Park.  Guess my guests are no different.  In early June fellow blogger, Pat aka Bibi, from Belgrade but visiting family in Settle flew down to Las Vegas, rented a car and drove to the North Rim for a visit.  We hadn't met before other than online many years ago.  But as usual we bloggers were already friends and hit if off fabulously.
Pat had explored the North Rim scenic overlooks on her own and again with me so we hit the road for the three hour drive, zooming to Zion, for a different perspective of the Colorado Plateau.  The North Rim view for most is from the top looking down but at Zion the main canyon roads provide a neck wrenching look upward.  Although the east entrance road begins up high, after the historic tunnels sweeping switchbacks quickly dropped us to the canyon floor with spectacular views along the way.

Part of the Grand Staircase Escalante NM along with Bryce NP and Cedar Breaks NM.  Geologically speaking, the exposed rocks get younger heading north.  Grand Canyon's upper young rock layer of 270 million year old Kaibab limestone is found on the canyon floor at Zion as the oldest deposit topped with 6600 feet (2011 meters) of 225 to 150 million year old sandstones.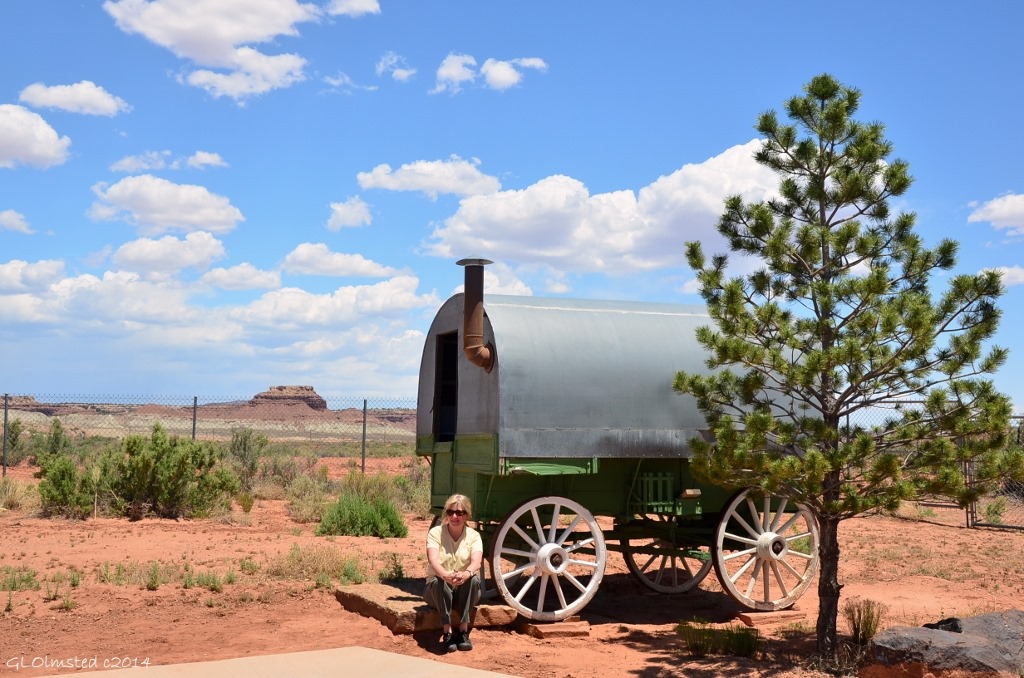 On the way we stopped at Red Pueblo museum in Fredonia.  First time I'd seen it open.  They have displays of Native artifacts inside and early white settlers outside.  Pat felt right at home on the wagon stoop and if it hadn't been for a replacement tin roof we'd have both claimed it for our own.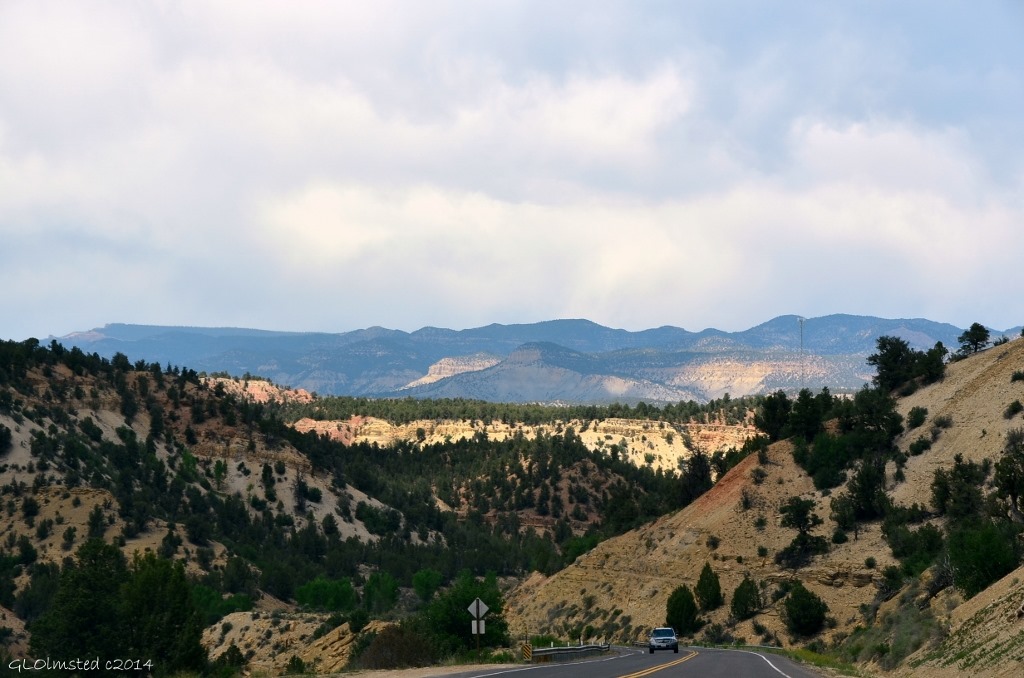 The drive north on Hwy 89 provides teasing views of what's to come passing towering ancient sand dunes turned to stone.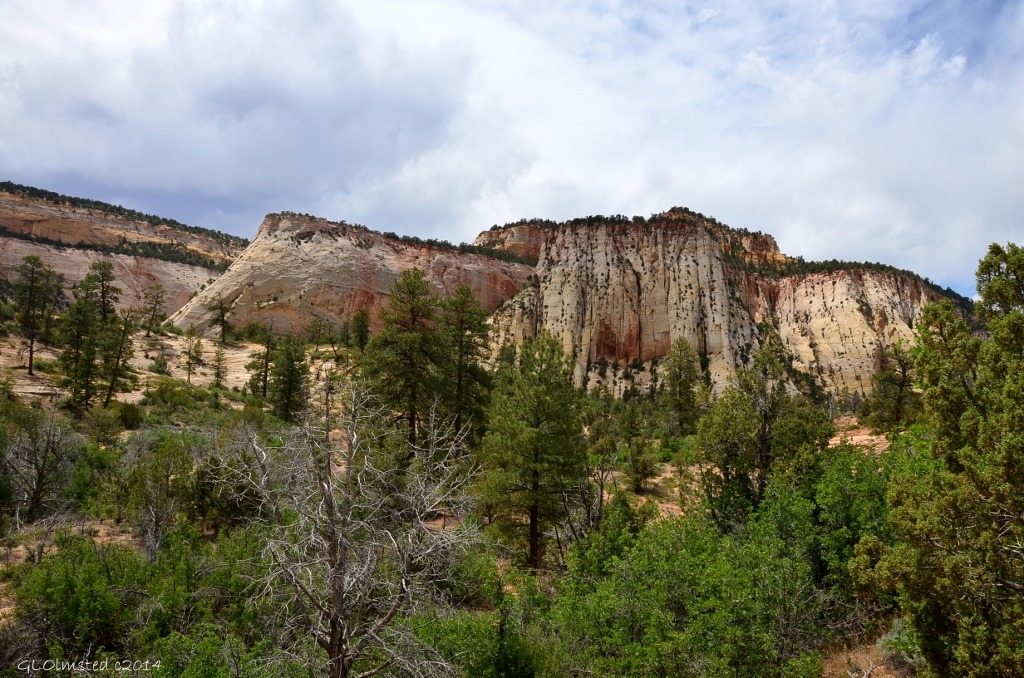 A short drive west on Hwy 9 welcomes us to Zion National Park.  Entering at 5700 feet (1737 meters), Checkerboard Mesa overlook where everyone stops and this is the opposite view.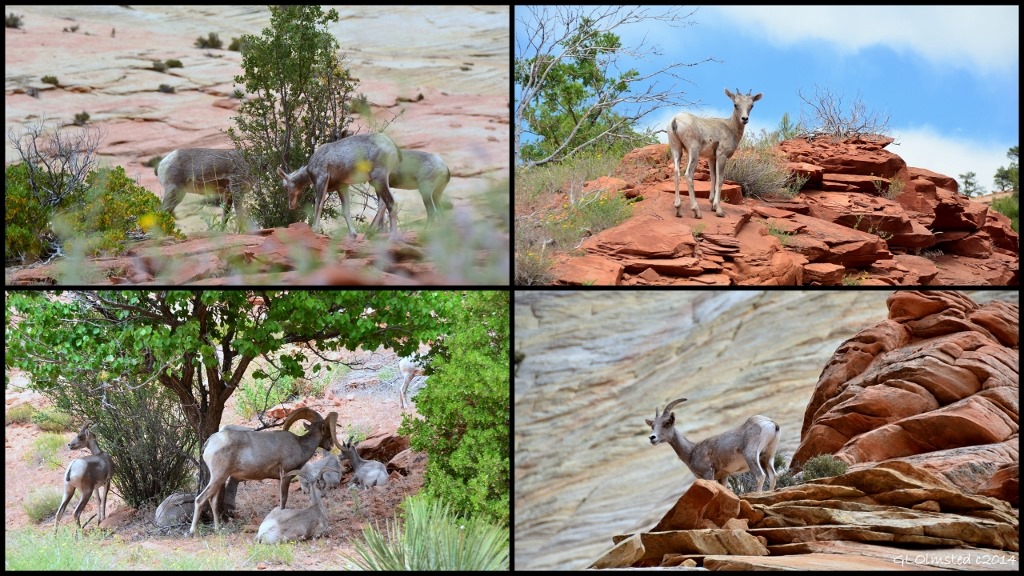 Desert Bighorn Sheep, exciting to see in such numbers and lots of folks stopped to photograph them looking at us looking at them.  Previously extirpated then reintroduced to the park in 1973, the herd size has grown to more than 500 animals within their habitat on and off of Zion National Park.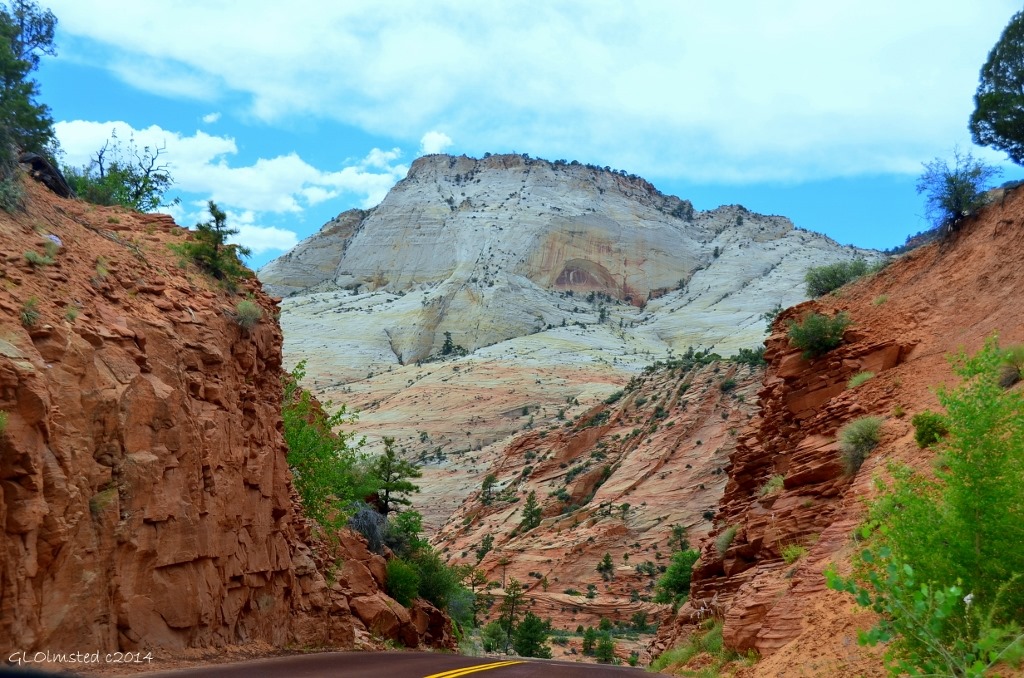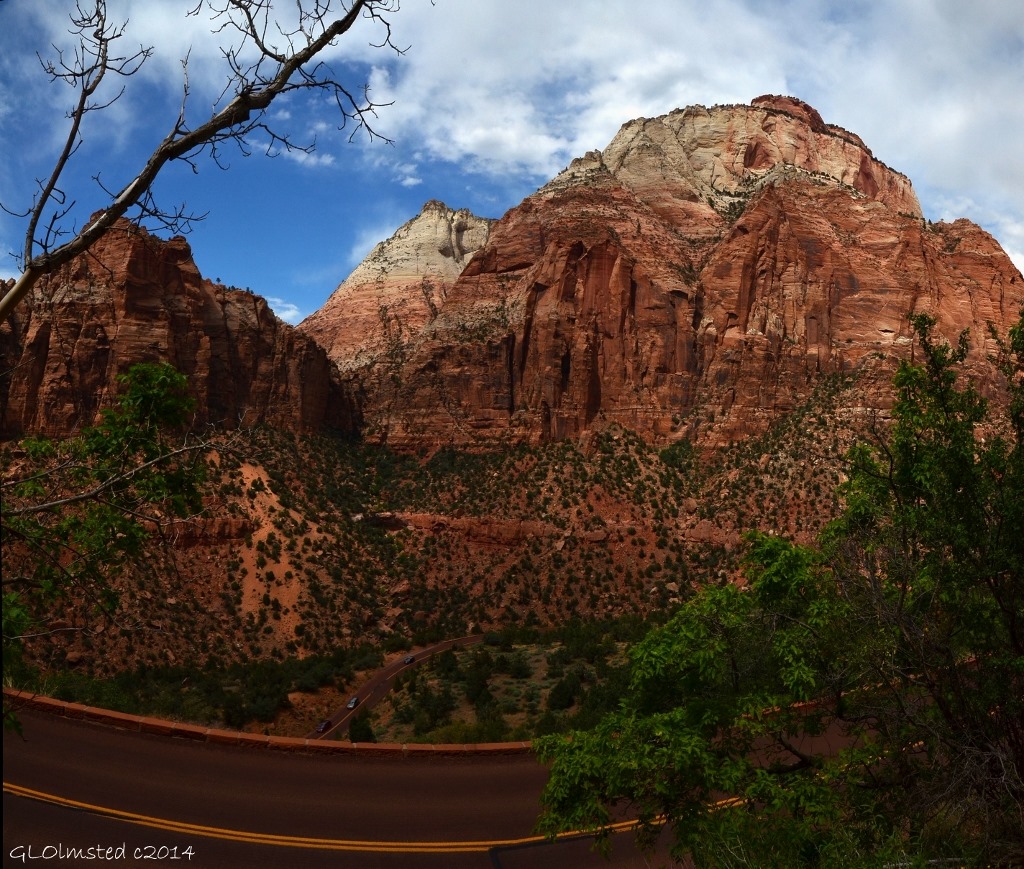 The rocky views are stunning and we're barely into the park. I couldn't stop myself from taking 100s of photos.  OK, so it will be a long post even though it was a rather short 6.5 hour visit.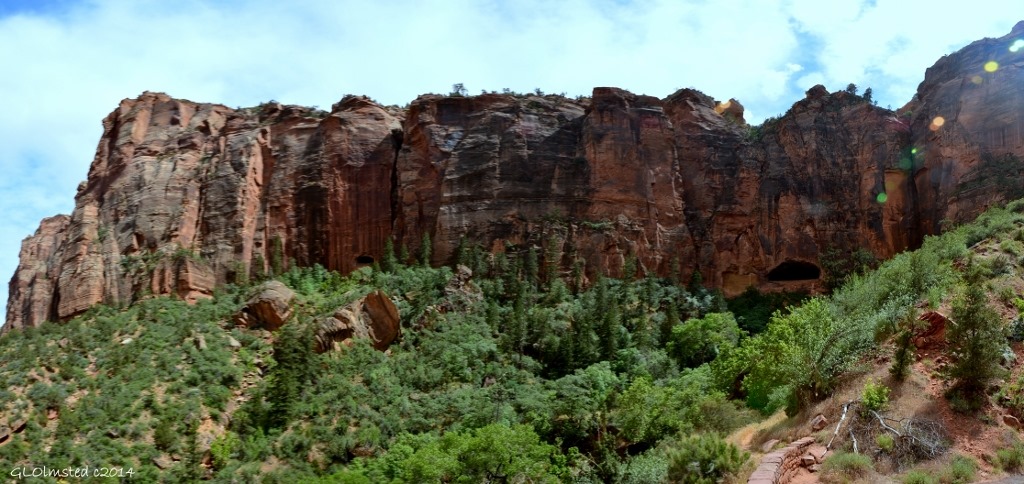 Then came the historic tunnels, built in the 1920s, a true engineering feat.  Pat's little rental car sped right on through but if you have an 'oversized' vehicle you'll have to pay $15 extra for two trips through which stops oncoming traffic so the large rigs can ride down the middle of the road.  The first tunnel is very short but the second one bores through 1.1 miles (1.77 km) of rock and includes windows for ventilation that we drove by too fast to get more than a quick view.  No stopping in the tunnels.
Once through the tunnels descent begins drastically almost 2,000 feet (609 meters) to the floor of Zion Canyon.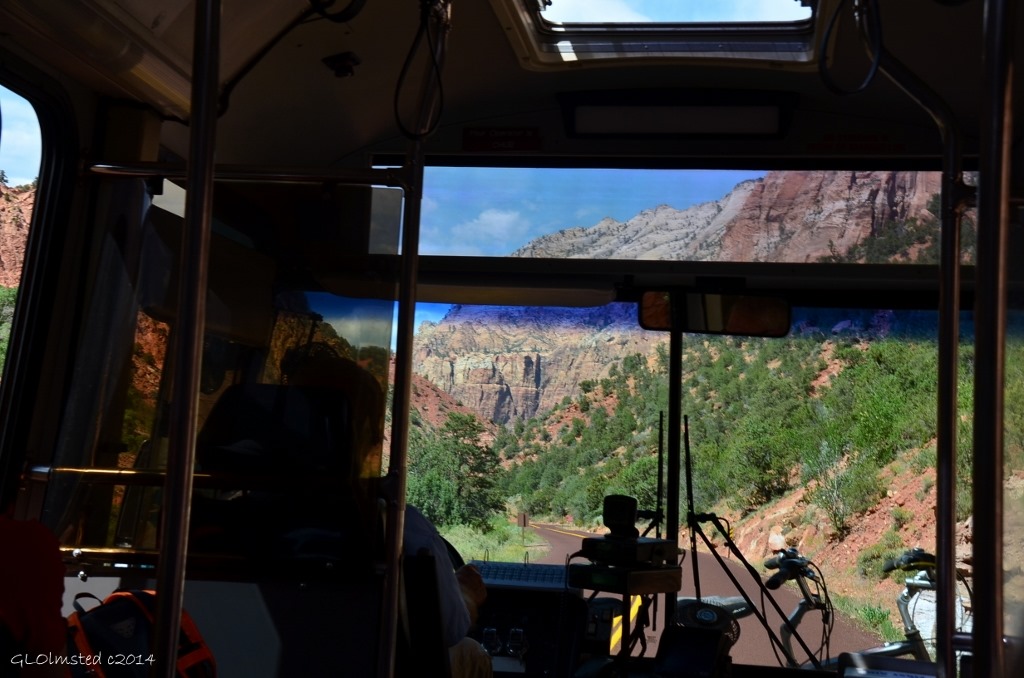 We parked at the Visitor Center and boarded a shuttle for the canyon ride, all the way to the end is 6 miles (9.6 km) to Temple of Sinawava but there are lots of opportunities to stop along the way for trails into and up.  A quick hotdog lunch so we can do the 2 mile (3.2 km) round trip paved Riverside Walk at the end.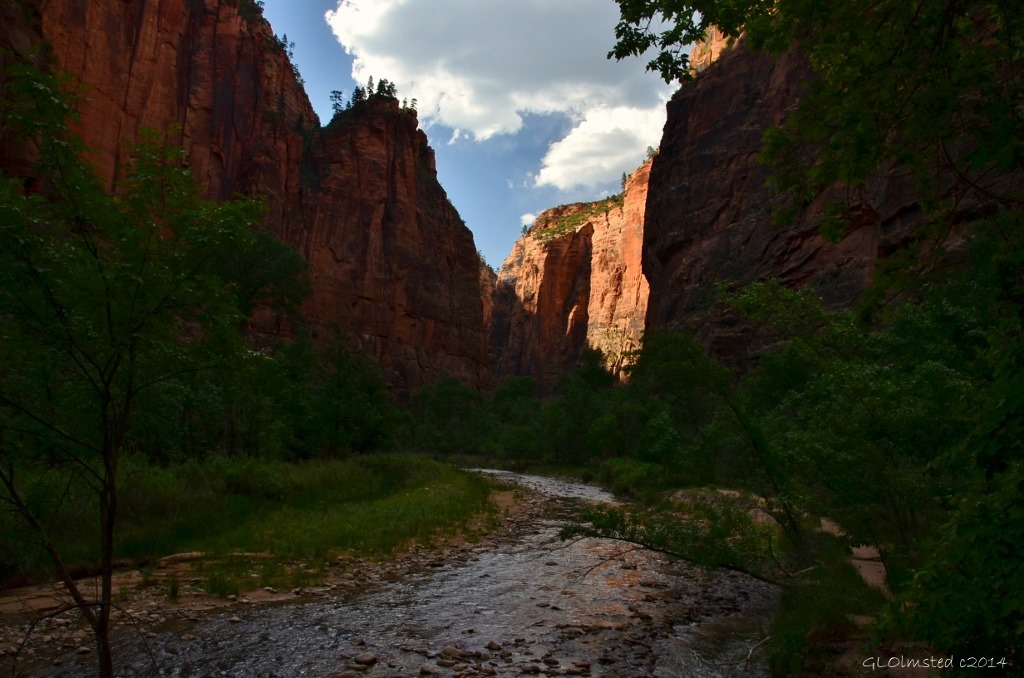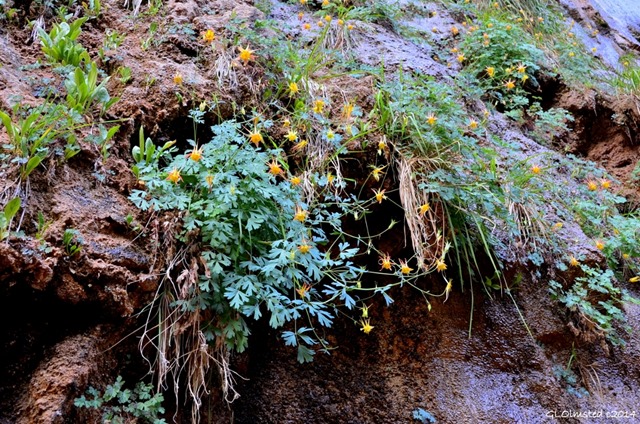 Most of the landscape so far looks dry and desert like but the cool shady moisture along the Virgin River gives life to many flowers with water dripping from seep springs on the canyon walls, ferns, moss, monkey flowers and columbines.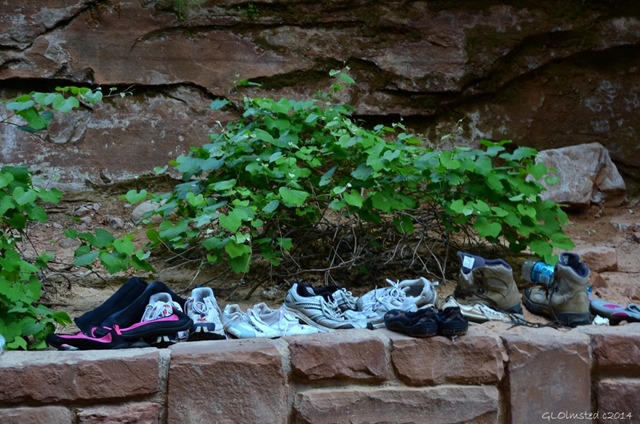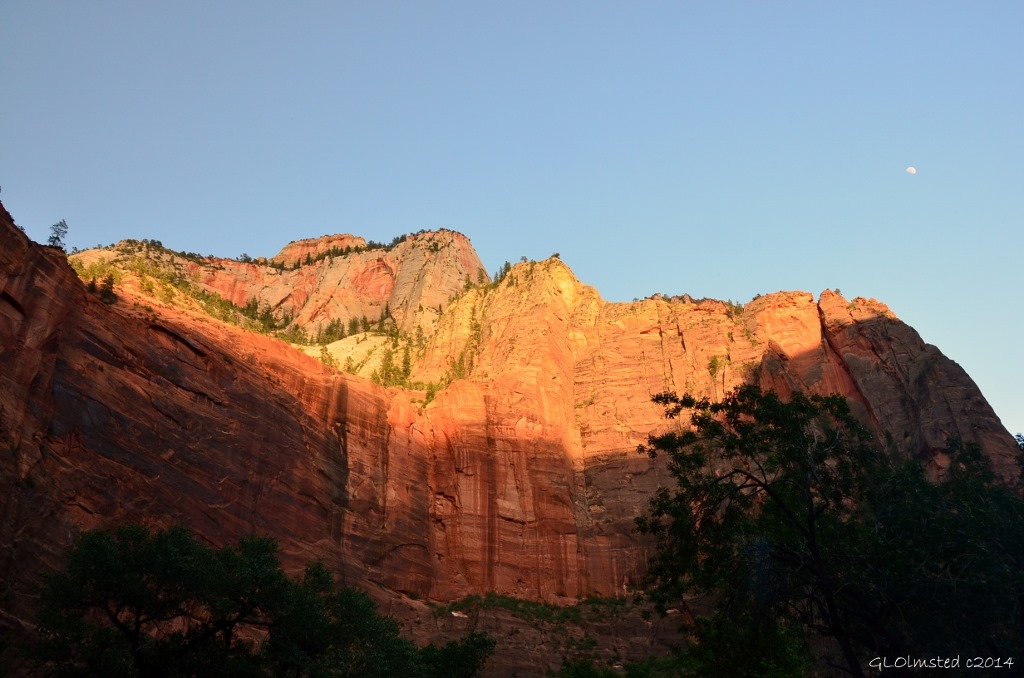 We didn't continue the actual walk in the river, which I've done before, as the sun was slipping behind the western cliffs.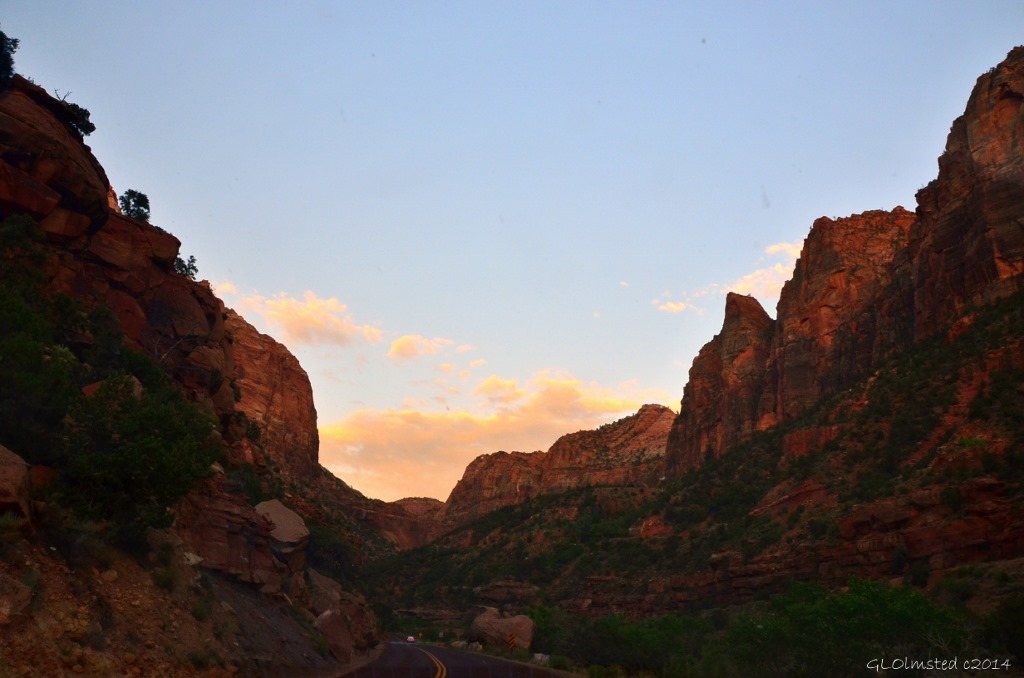 And we still had a long drive home.
If you shop at Amazon please consider clicking below for the Amazon website. As an Amazon Associate I'll make a few cents on your purchase(s) at no extra cost to you. Put a few pennies in the winter travel kitty. Thanks for helping out.

Geogypsy is a participant in the Amazon Services LLC Associates Program, an affiliate advertising program designed to provide a means for sites to earn advertising fees by advertising and linking to amazon.com