Unusually heavy fall rain brought exciting water energy at Augrabies Falls National Park with the thundering falls, a soggy hike and floating tent which gave us an excuse to stay in a chalet for my birthday.

After leaving the Kgalagadi early due to poor road conditions and a shopping stop in Upington Joan and I headed for the 10th, and last, National Park of this South Africa diversity Eco Tour, Augrabies Falls.  Because of high rainfall the Orange River ran in full force with water flowing at 30,017 cubic feet (850 cubic meters) per second making for a very impressive drop of 183 feet (56 meters) and living up to its Khoi name 'Aukoerebis' meaning Place of Great Noise.
Set up camp, walked to falls and hiked in a storm
We found a camp site in semi-shade with no near neighbors, set up my tent and walked to several of the Augrabies Falls overlooks.  Note to self, don't camp on the lowest ground.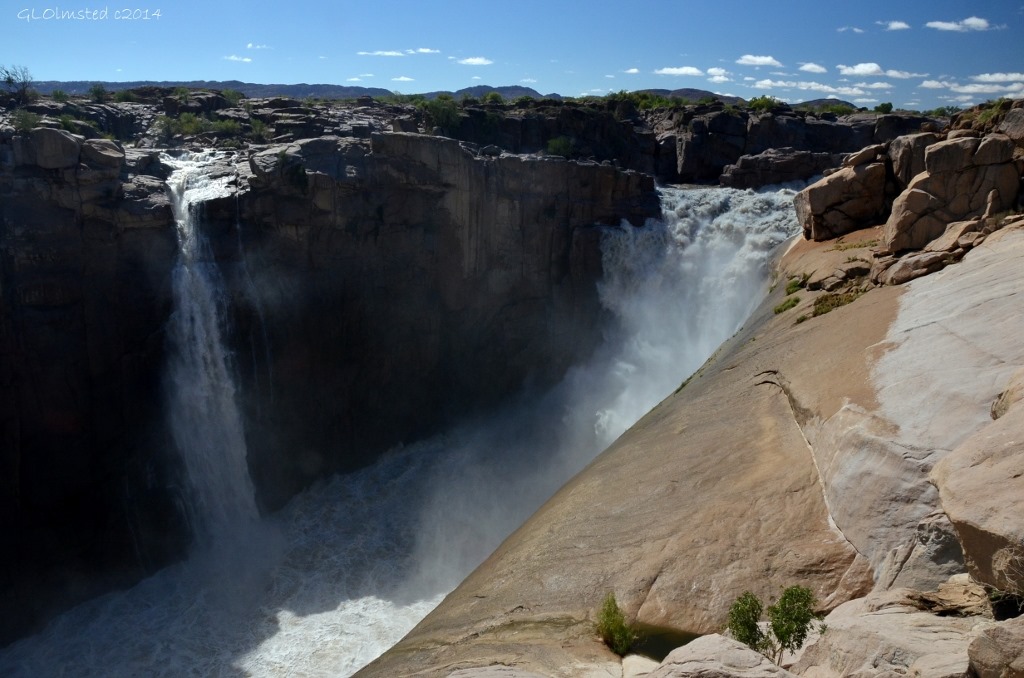 Really nice raised boardwalks keep you from slipping on moist misted boulders.  The flow was impressive.  Joan said the previous August the flow was about 1/3 of what we saw.  This raised trail leads to several overlooks above, next to and below the falls.  All an easy walk from the camp and reception area.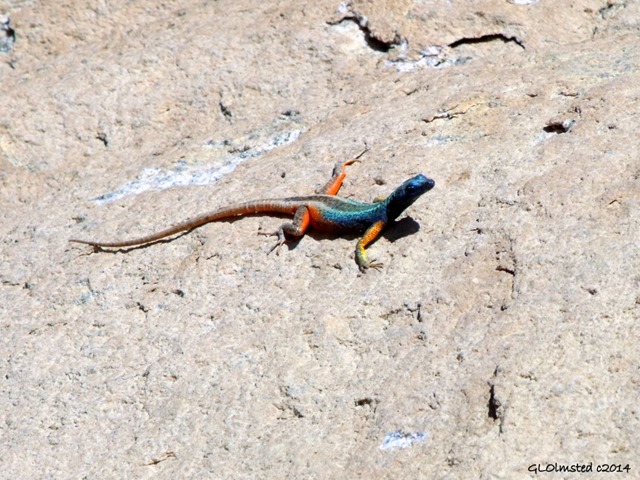 And these colorful Augrabies flat lizards crawled all over the boulders and the decks.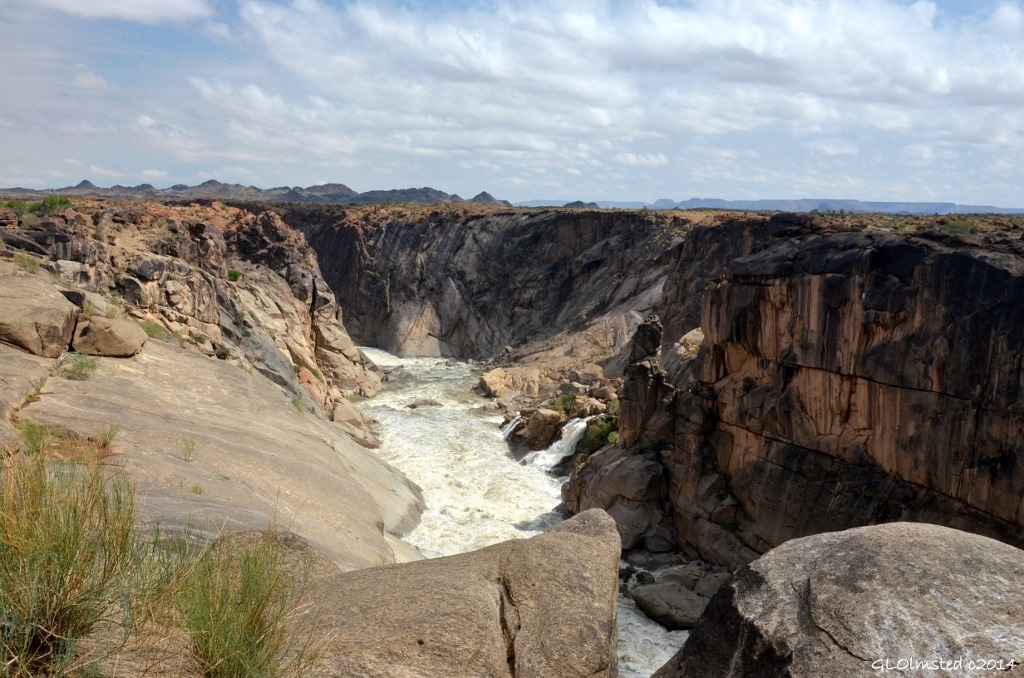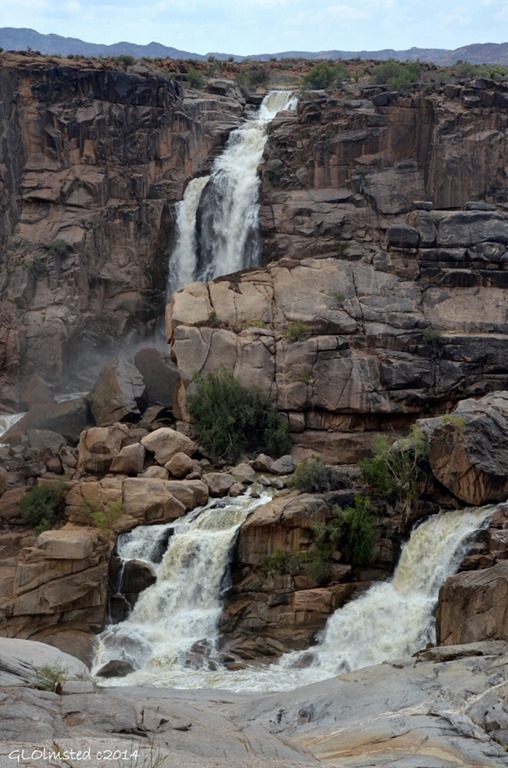 Then we decided to tackle the 3 mile (5 km) Dassie Nature Trail, a loop that follows along the gorge to Arrow Point, then out onto boulders to Moonrock before heading back to camp.  Easy peasy.
Until storm clouds headed towards us about half way followed by rain with thunder and lightning.  Thank goodness it was warm but the only place to hide was huddled against giant boulders which we did until streams of water began to flow all around us.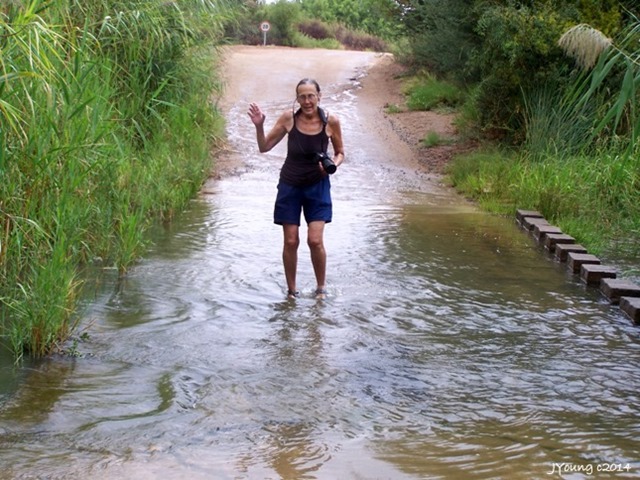 With cameras tucked under damp shirts we made a beeline for the road back to camp and the cloud burst moved on.  Although soaking wet it was still an awesome hike.
Rained all night and woke up in a lake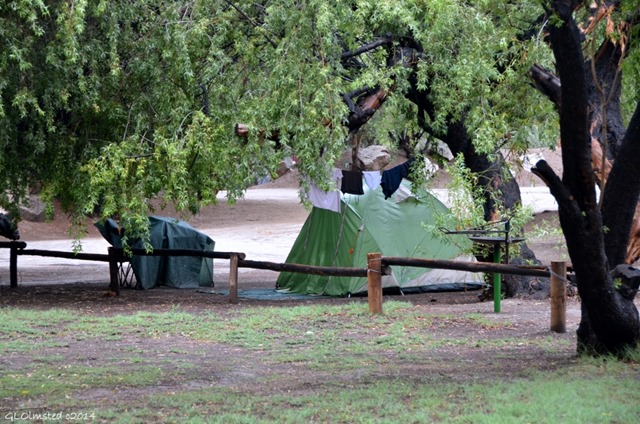 It was an early night for us two tired hikers plus it continued to rain.  And it rained all night.  Joan was dry sleeping in the back of her truck.  And I slept fine with the sound of rain on the tent.  But in the morning I noticed a trickle of water from a floor corner and quickly stacked all my stuff on the air bed.  When I unzipped the door to step out the lake surrounding our camp was at least 5 inches (12.7 cm) deep.  Gives a whole new meaning to waterbed.  I rescued Joan's flip-flops that had floated away, waded to the bathroom then hopped into the cab with my coffee.  Not a happy camper.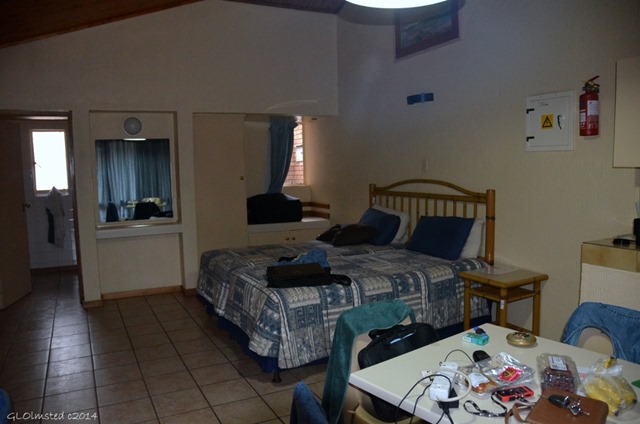 As soon as reception opened Joan called and we reserved a chalet for the next two nights.  Very nice with two beds, sofa, bathroom, and fully stocked kitchen except for food.  Was a little expensive but what the heck, it was my birthday.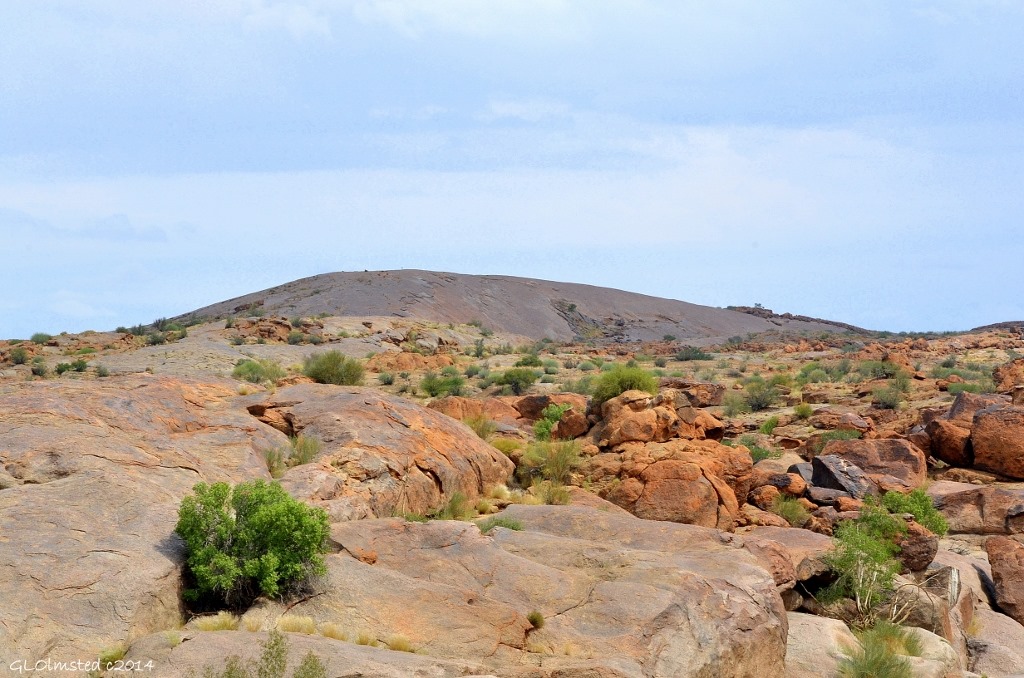 Moon Rock

View from Moon Rock
Then the sun came out so we laid out the tent and ground cloth to dry.  After another walk back to the falls we drove to and climbed Moon Rock which we'd almost made it to the rainy day before.  This prominent landmark is a massive exfoliation dome or "whaleback" of eroded granite. And the view of the park from the top was awesome.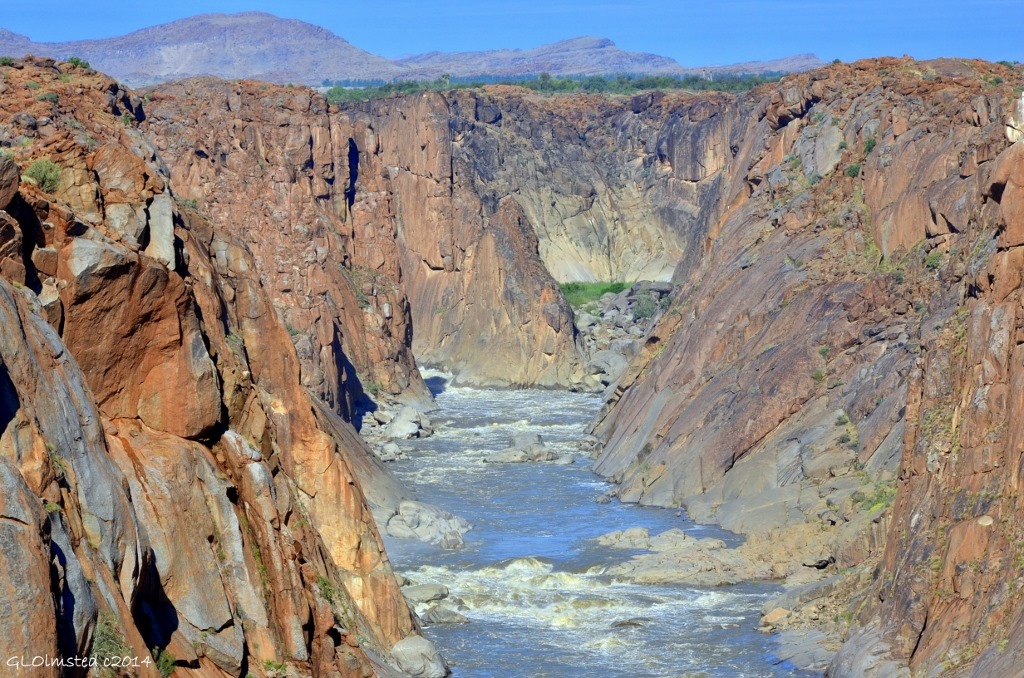 Plus we drove to some other overlooks of the Orange River gorge, an impressive example of granite erosion 787 feet (240 meters) deep and 11 miles (18 km) long.
My birthday
Started off with a fine smoked salmon breakfast at the park's restaurant.  Then after another look at the falls we went for a drive.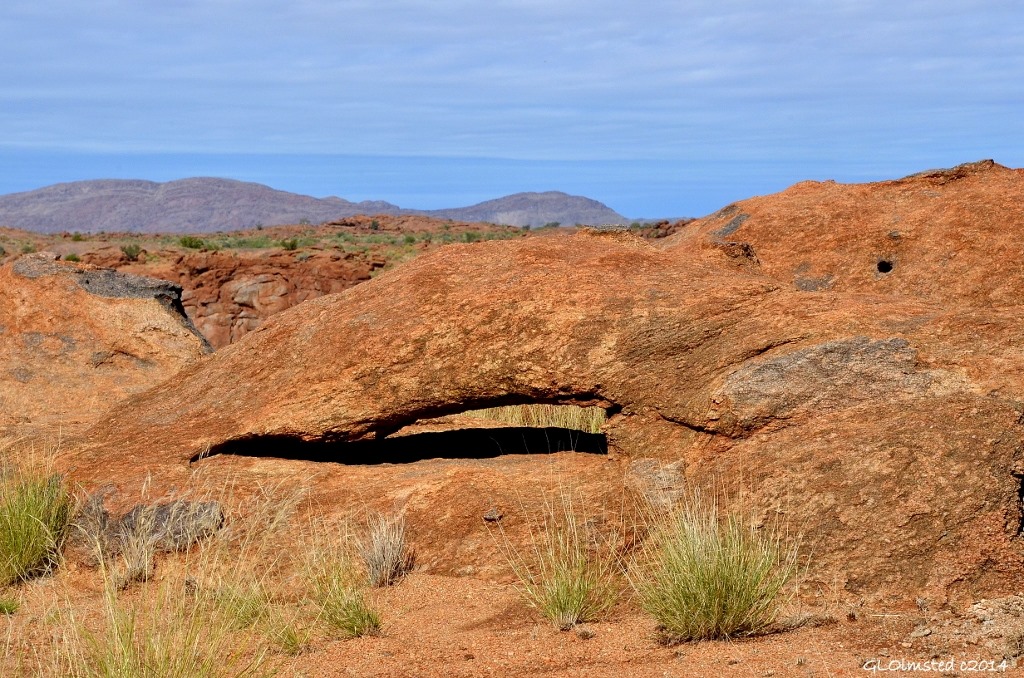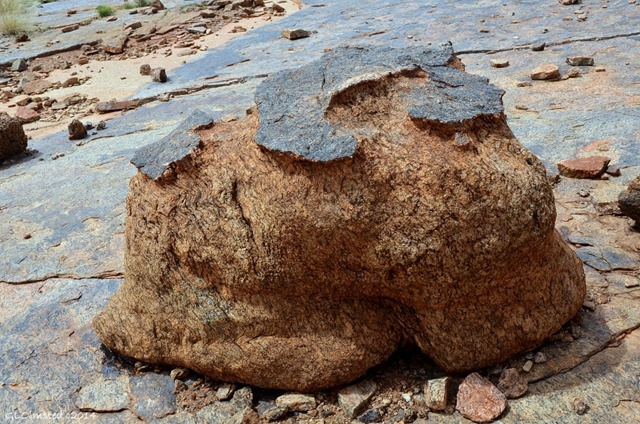 The drive winds through a geologic mix up of sediments, metamorphic and igneous rock with eons of erosion thrown in.
The Black Hills are made of quartz-poor igneous rock that form a natural border between the harsh environment of the gorge area and a more fertile area on the other side.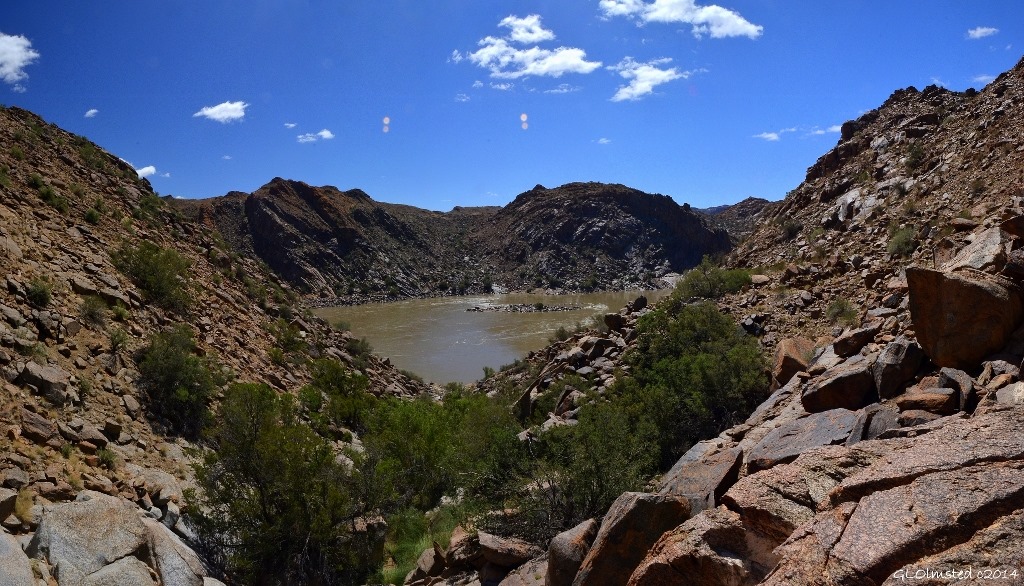 And the road to Echo Corner took us through some stunning scenery plus another view of the Orange River gorge.  And yes, we tried to echo.  Joan was unsuccessful, but I guess I have a louder voice as it worked for me.
Plenty of diversity to excite the geologist and rockhound in me.  Although no gathering in the park I was tempted with the fist-size and smaller chunks of rose quartz.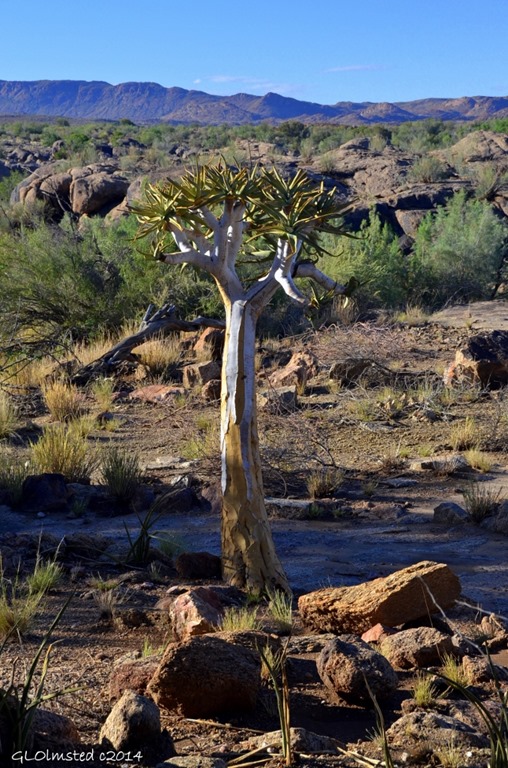 Augrabies is situated in a semi-arid region so the vegetation is sparse.  Yet it supports the unusual kokerboom, or quiver tree, which is a succulent that can store huge amounts of water in their stems and so survive long periods of drought.
There seemed to be a lizard on every rock.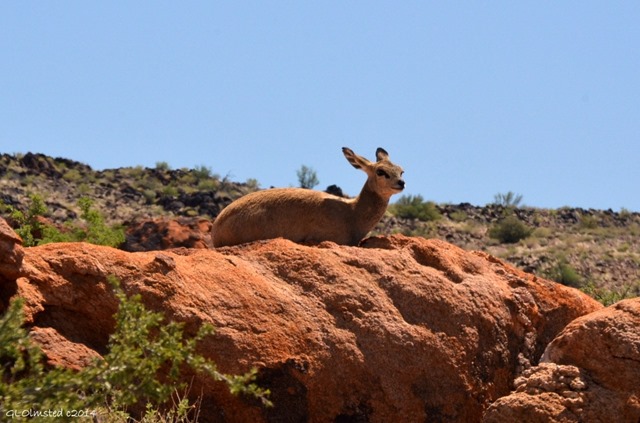 Well, except where the klipspringer rested.  And we also saw springbok, tortoise, butterflies and birds.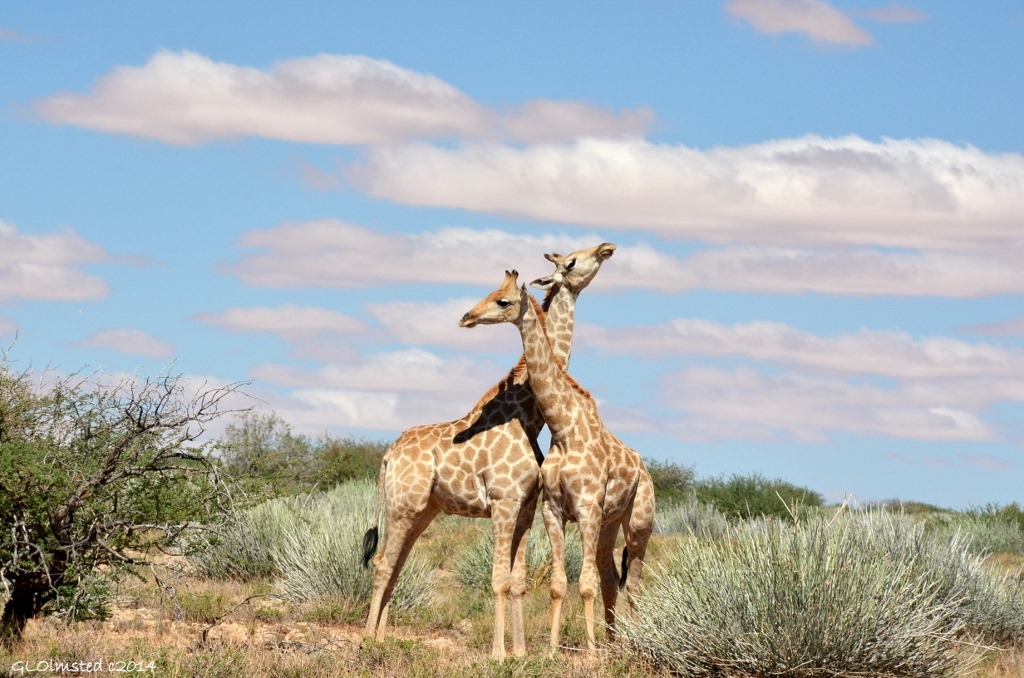 Yet the best wildlife sighting, and most frequently seen, was giraffes.  And these two males put on quite a necking show as they swung their heads back and forth, rubbing and intertwining for several minutes.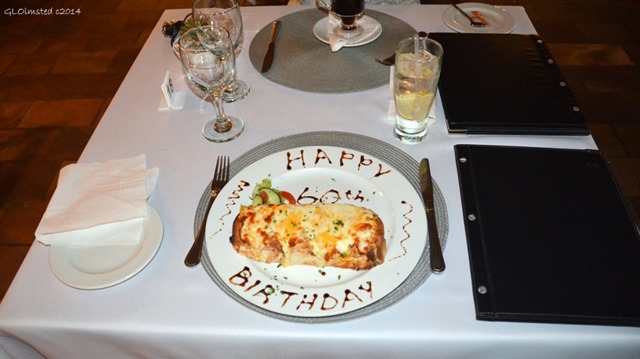 Joan took me out for a very special birthday dinner celebrating 60 in South Africa.  Kitchen staff went the extra kilometer with our starter of garlic bread with cheese.  For our main course Joan had schnitzel and I had kudu stroganoff with malva pudding for dessert.  All eaten before a photo could be taken.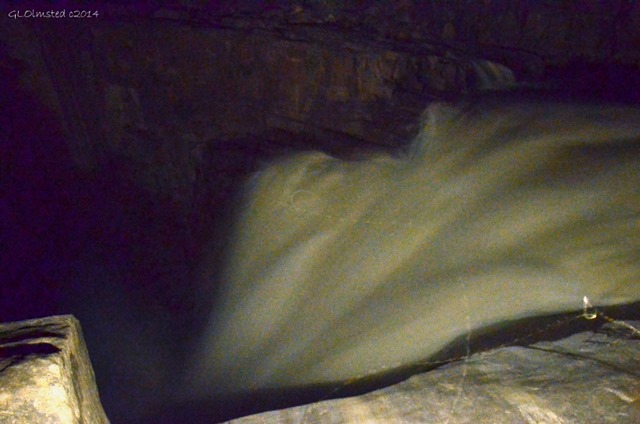 Then we waddled to the falls for a night view with lights on the water and bats chasing the many insects.
The next day started our journey east back to Pilanesberg Game Reserve for 10 days over holiday.
Services and review
Shaded campsites with power, bathrooms with showers, and communal camp kitchen with two-plated stoves, and sinks, laundry and ironing room.    Self catering chalets sleep 2-6 with lounge, kitchenette, bathroom and outside seating and BBQ area.  Three swimming pools for overnight guests and one for day visitors along with restrooms and BBQ in picnic area.  The Shibula Restaurant offers indoor and outside seating for breakfast, lunch and dinner.  Easy boardwalks with steps to railed decks provide multiple views overlooking Augrabies Falls and the Orange River Gorge. In addition to the Dassie Nature Trail that we hiked, the Klipspringer Trail takes three days to cover 22.2 miles (35.8 km) through rugged terrain.
Spending 3 days at Augrabies Falls National Park was ideal.  The two meals eaten at the restaurant were delicious and moderately priced with excellent service.  Good thing we had food for the rest of our meals with us because the Park Shop had a limited selection.  Internet connection was spotty at best even near reception.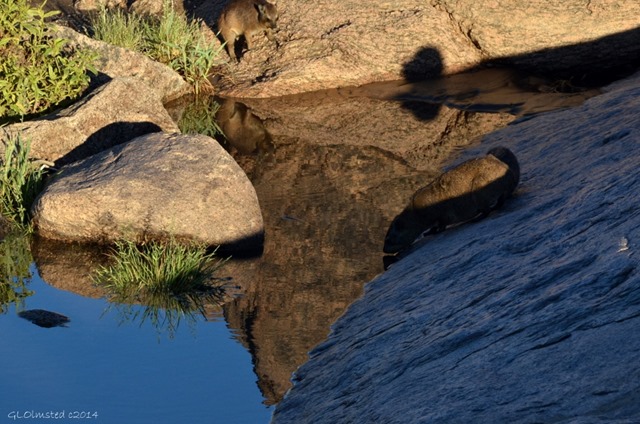 How many Dassies do you see?
If you shop at Amazon please consider clicking below for the Amazon website. As an Amazon Associate I'll make a few cents on your purchase(s) at no extra cost to you. Put a few pennies in the winter travel kitty. Thanks for helping out.

Geogypsy is a participant in the Amazon Services LLC Associates Program, an affiliate advertising program designed to provide a means for sites to earn advertising fees by advertising and linking to amazon.com