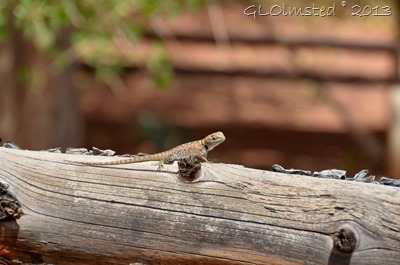 A collared lizard welcomed us to Lees Ferry Lonely Dell Ranch.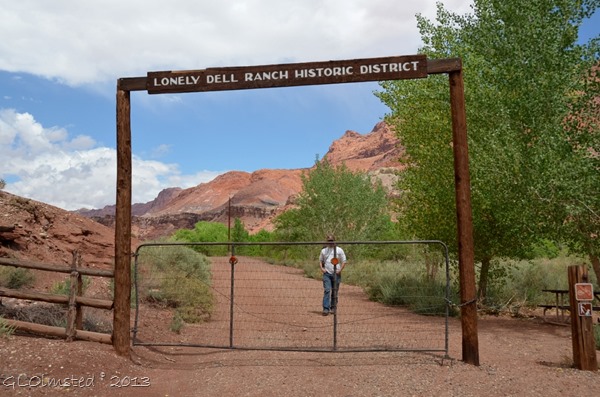 Remember me writing about our staff day of playing hooky in the spring when we hiked Cathedral Wash?  Well we started that day off visiting Lees Ferry and saw many folks getting ready for various trips down the Colorado River.  Then we explored the Lonely Dell Ranch.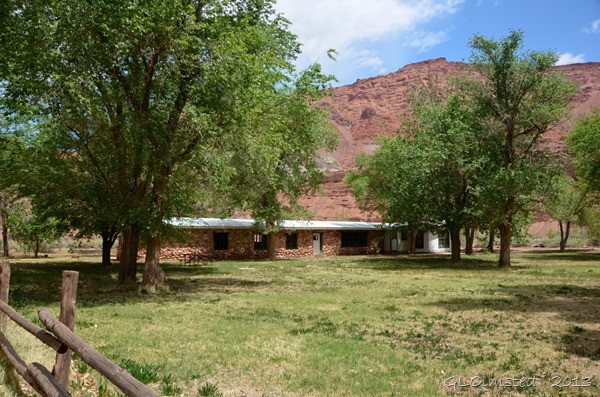 The National Park Service has preserved original structures built from the 1870s to the 1890s at Lonely Dell Ranch first lived in by John D. Lee, a practicing Mormon polygamist, and two of his families.  Mormon church President Brigham Young sent Lee to this remote area to operate a ferry across the Colorado River plus this put Lee in a secluded enough area to hide from authorities after his role in the Mountain Meadows Massacre.
Seeing these remnants from the past really brings history alive.  You just have to respect the solid construction that has kept these buildings standing over 100 years.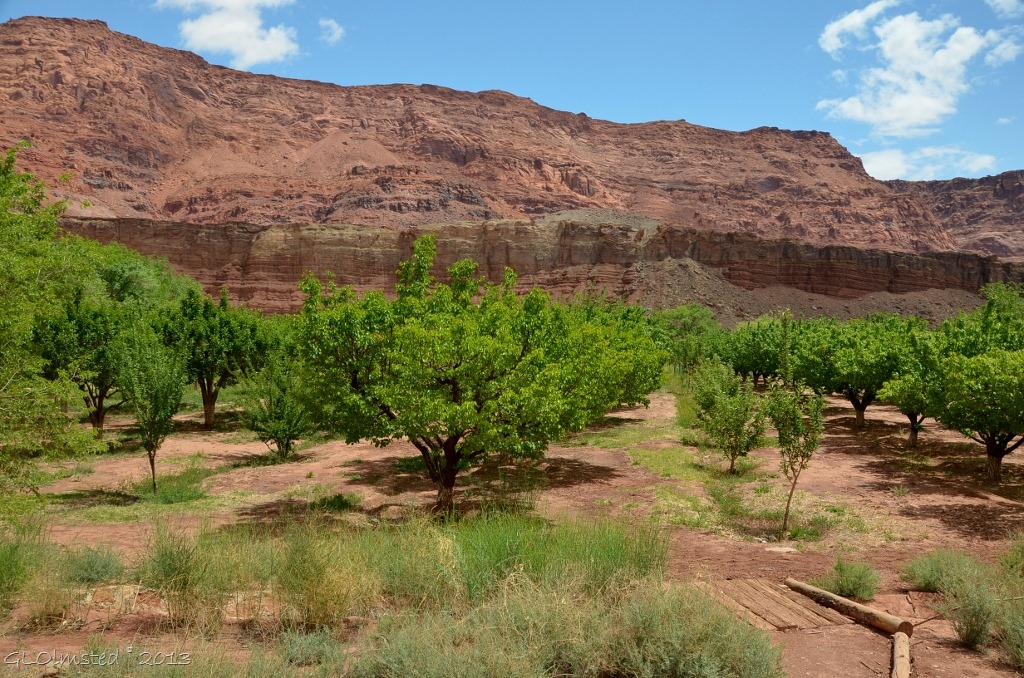 The orchards, crop fields, farm animals and fish from the river supported the residents of this 160 acre ranch with a minimum of outside trading.  But then some goods probably came over on the ferry.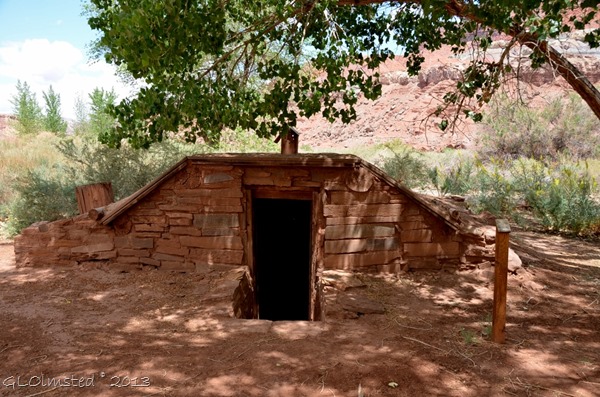 After Lee's execution in 1877 his wife Emma continued to operate the ranch and ferry for two years then the church bought her out and sent Warren Marshall Johnson and his plural families to take over the ferry operations.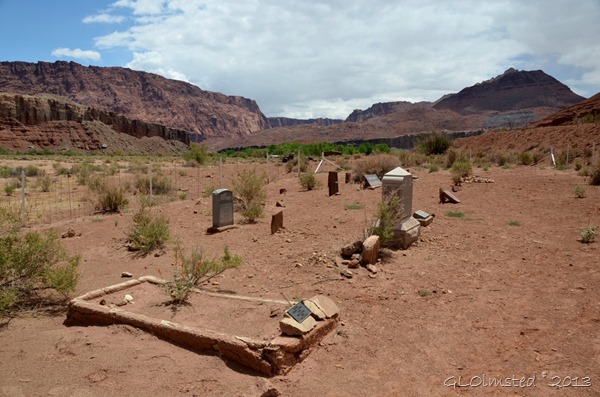 The ferry ended in tragedy when it sank in June 1928 just seven months before the completion of its replacement the Navajo Bridge.  The Johnson family stayed on until 1932 when the Mormon church took ownership but by 1936 the area was becoming more visited so was sold to first the Emmets and later the Babbitt brothers of Flagstaff.  The property was transferred to the United States National Park Service in 1974.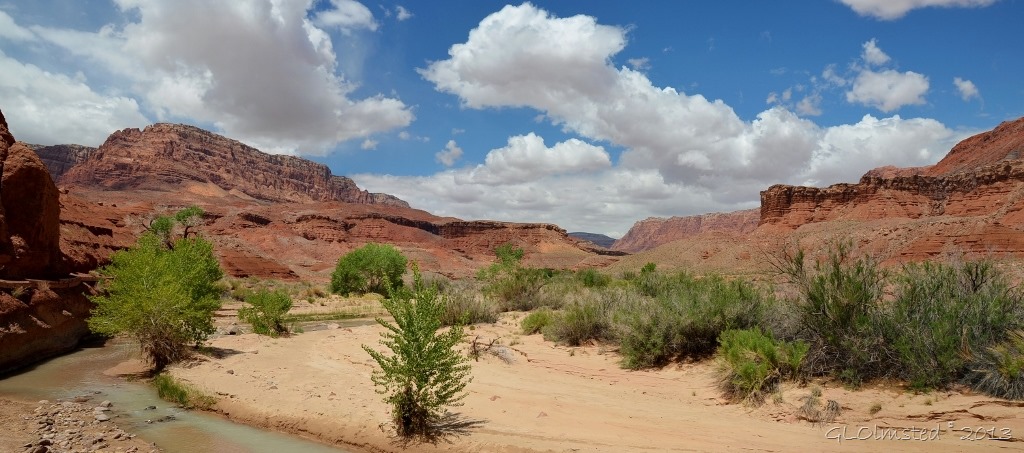 By the 1980s, the fruit orchards had begun to decline after so many years of irrigation with alkaline Paria River water. In 1989, the orchards began receiving clear Colorado River water and now produce abundant peaches, pears, apricots and plums which are free for visitors to gather.  Guess I'll have to return with a basket this fall.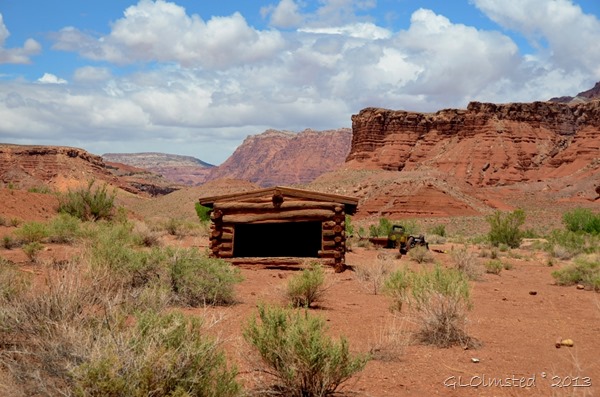 Seems like a lonely land with many memories left behind.

Getting there
From Highway 89A near Marble Canyon a 5 mile (8 km) side trip takes you to Lees Ferry where many boats launch for Colorado River trips.  This is also a place to easily walk right down into the chilly river.  Historic stone ruins of Lees Ferry Fort can be visited nearby and a short trail upstream leads to the original ferry site.  Separate parking to tour the Lonely Dell Ranch requires a 700 foot walk with the cemetery a quarter mile further up the road.  The complete self-guided tour is about one mile, round trip.  Picnic tables are located under shade trees at the ranch.  As this is a hot environment, please take plenty of drinking water.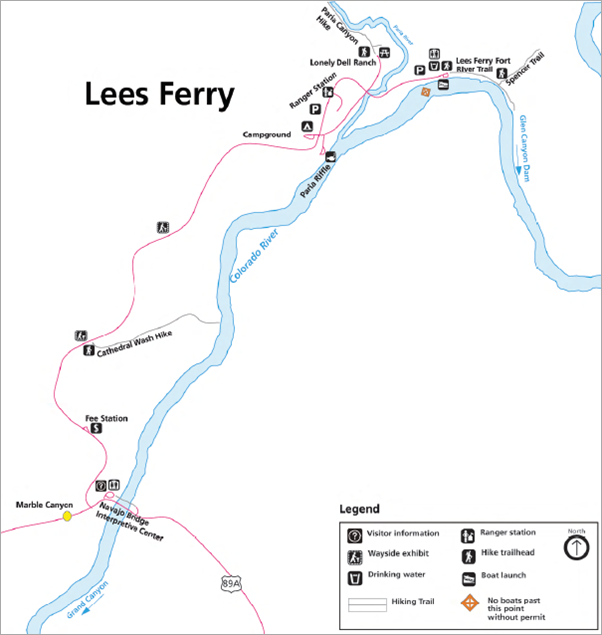 map from http://www.nps.gov/glca/planyourvisit/directions.htm
If you shop at Amazon please consider clicking below for the Amazon website. As an Amazon Associate I'll make a few cents on your purchase(s) at no extra cost to you. Put a few pennies in the winter travel kitty. Thanks for helping out.

Geogypsy is a participant in the Amazon Services LLC Associates Program, an affiliate advertising program designed to provide a means for sites to earn advertising fees by advertising and linking to amazon.com