September 18-19, 2016
A road trip along US89, a classic north and south route through Arizona, taking pics while driving because I enjoy watching the world go by.  Don't get me wrong, I also like to stop to take in the scene along the way.  But sometimes I take an A to C trip with only stop B along the way.  And frequently the photos are blurry and out of wack.
I left the North Rim about 3:30 taking off early from work Sunday afternoon.  Figured on about a two hour leisurely drive to Lee's Ferry hoping there'd be space to camp.  Nice to break up the otherwise seven hour drive to Yarnell.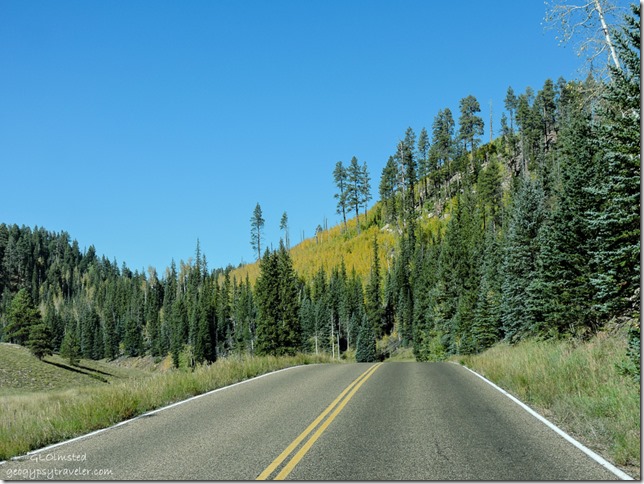 The quaking aspen were putting on quite a show.  Young stands created a golden blanket edged in ever greens.  Taller and older aspen thrust out more isolated clusters of color entirely framed in green.  Some stubbornly hung on to their summer foliage while others were stripped bare.  Driving past at 60mph created a fall kaleidoscope.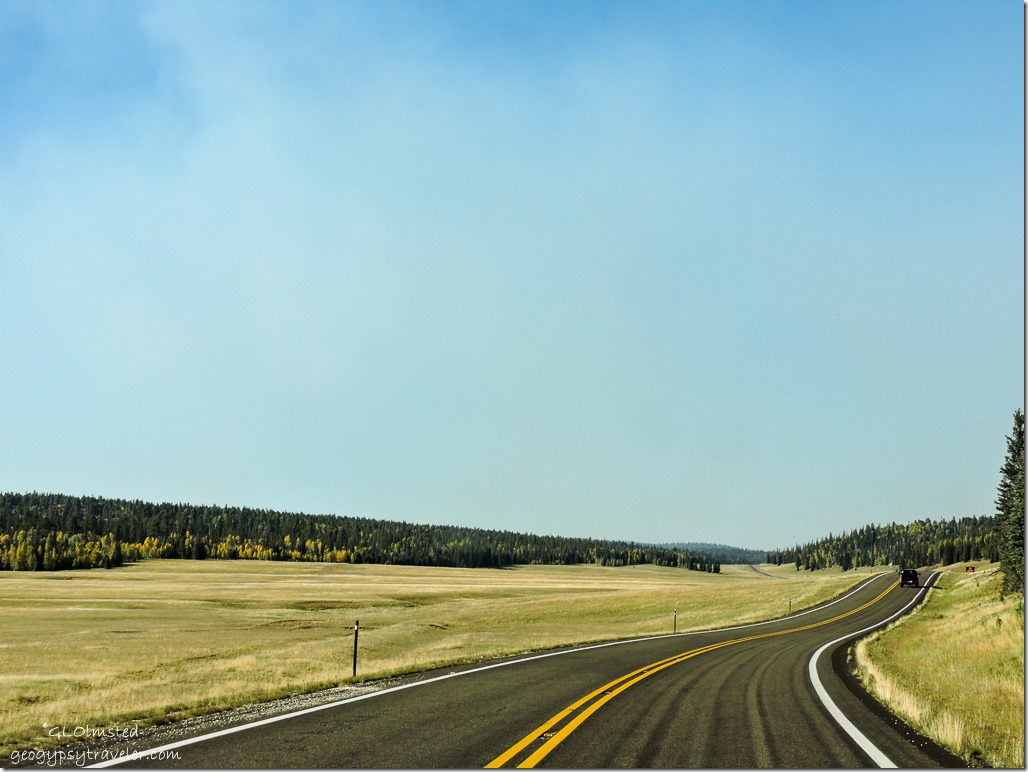 September rains make the meadows look like golden fields of grain with a green tinge as if it's a little to early to harvest.  Yet the deer and bison graze heavily to fatten up for the coming winter.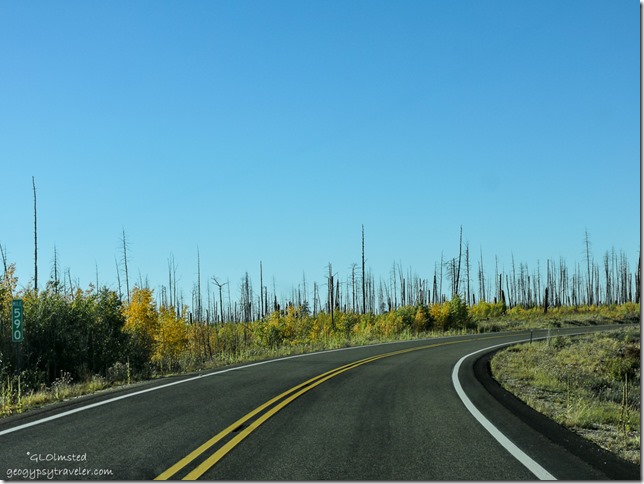 The ten year old burn displays a mixed topography of scattered tall snags standing in a field of golden young aspen.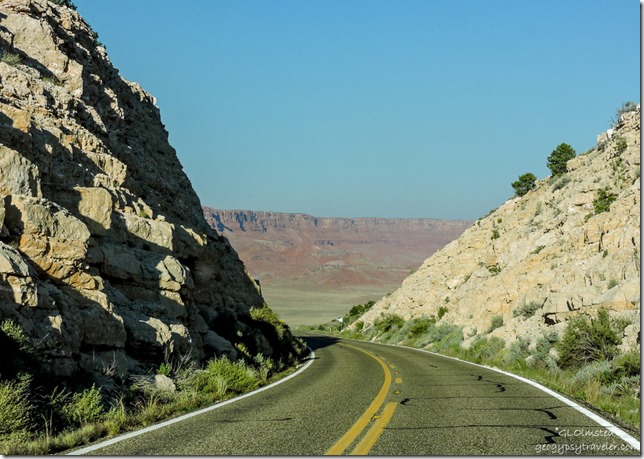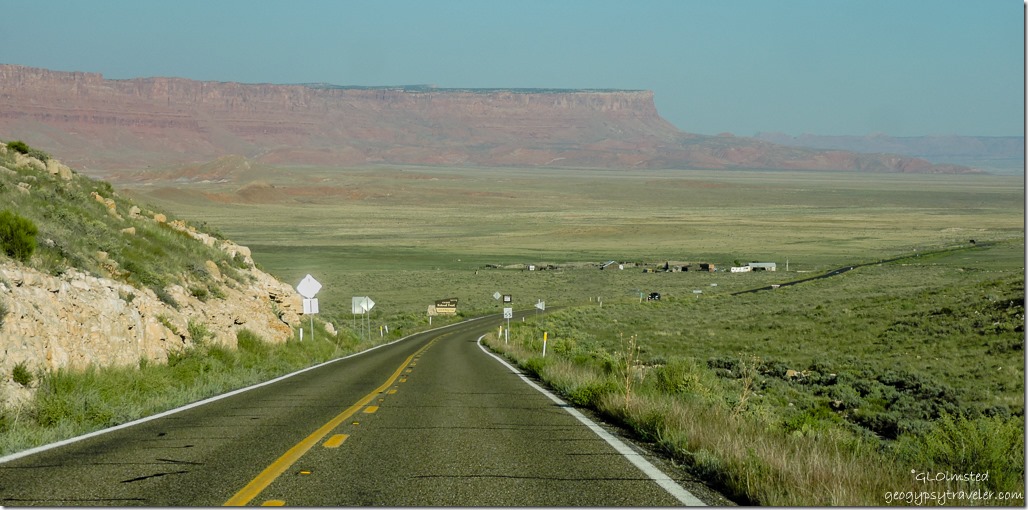 After a quick cookie stop at Jacob Lake I headed east on SR89A.  Hadn't been this way for quite a while and certainly not past House Rock Valley Road since going to White Pocket in March with Pam and John.  Did come back that way last January after the Grand Canyon Association and blogger gatherings in Quartzsite.  It just looked all different yet familiar, like an old friend not seen for decades.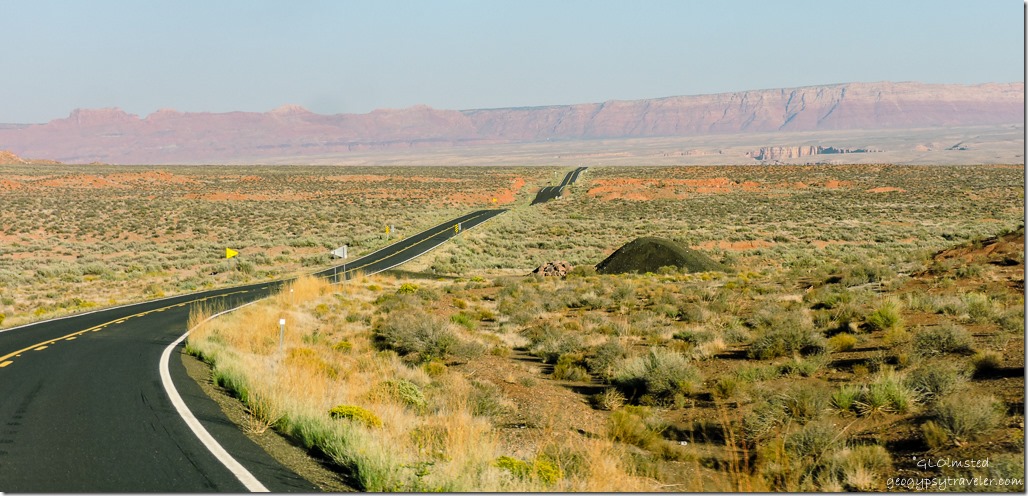 Of course it was only a few weeks back while camping at Marble View I'd looked down on this scene.  I love to do that, see where I've been or where I'm going.  In fact when I see a road I want to drive it.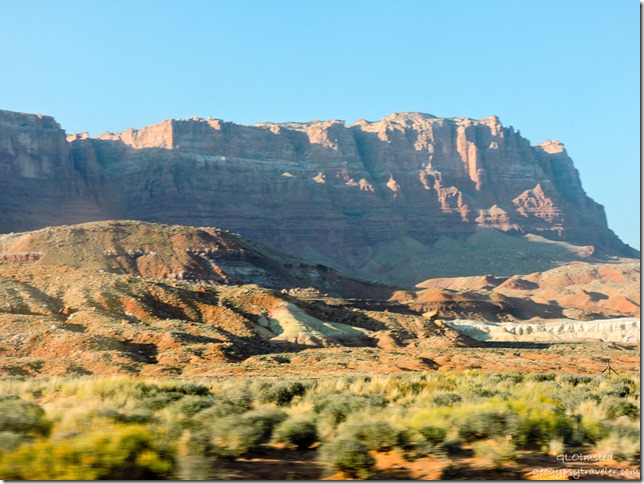 Sure nice to go from fall back to summer.  It was 65°F (18°C) when I left the 8200 foot (2500 m) North Rim and 87° (30°C) on the 5000 foot (1524 m) Marble Plateau.  I could feel the work weight lift and drift away watching the multiple mineral colors of the Vermilion Cliffs slide by.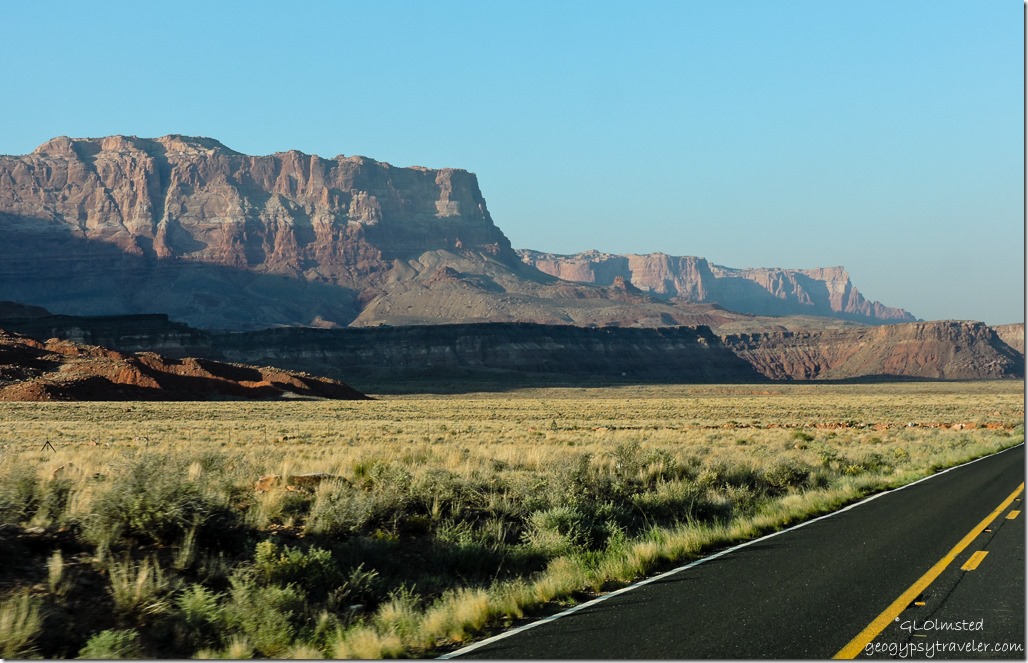 Felt like I was racing the clock a bit because I wanted to be in camp before sunset and knew that would come a little earlier than I'm used to being I'd be surrounded by the warm towering rocks.  The shadows were lengthening.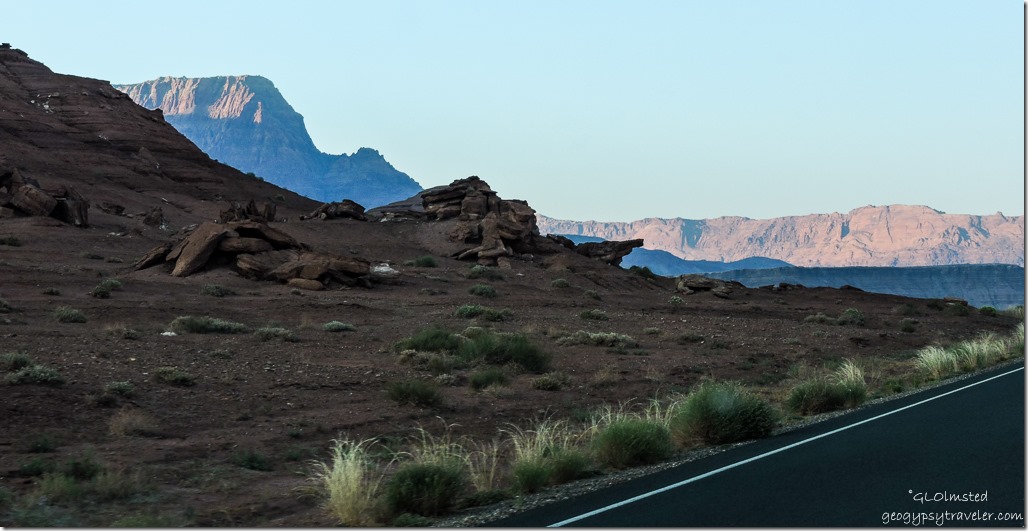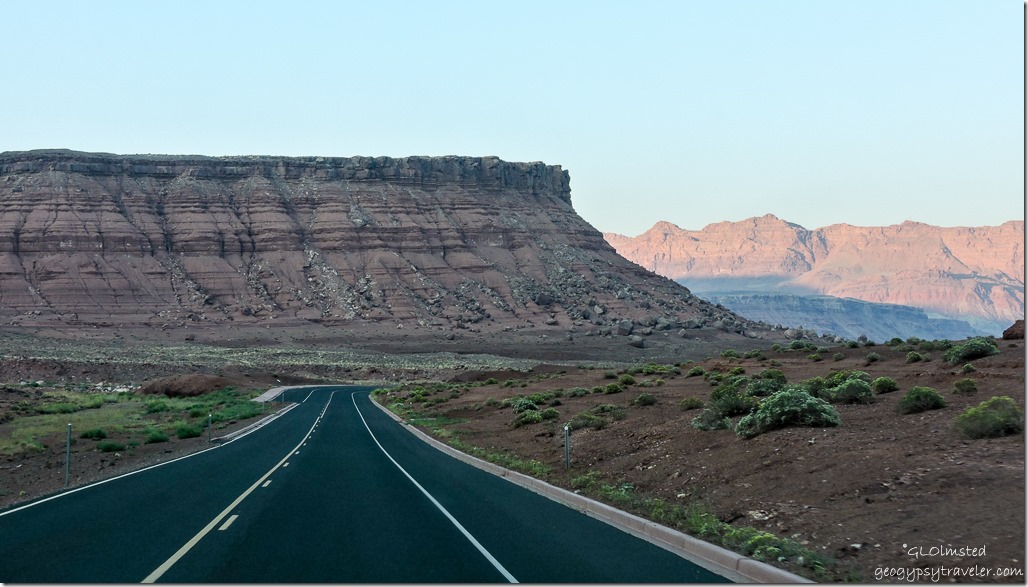 I parked in shadow paying my $9 (half price with Senior Pass) camping fee then hurried down the road no more than four miles.
The campground is situated on a rise with mostly level gravel sites many having sun shelters over the picnic table and a wind/privacy fence or a few trees.  It's dry-camping with bathrooms which I didn't use.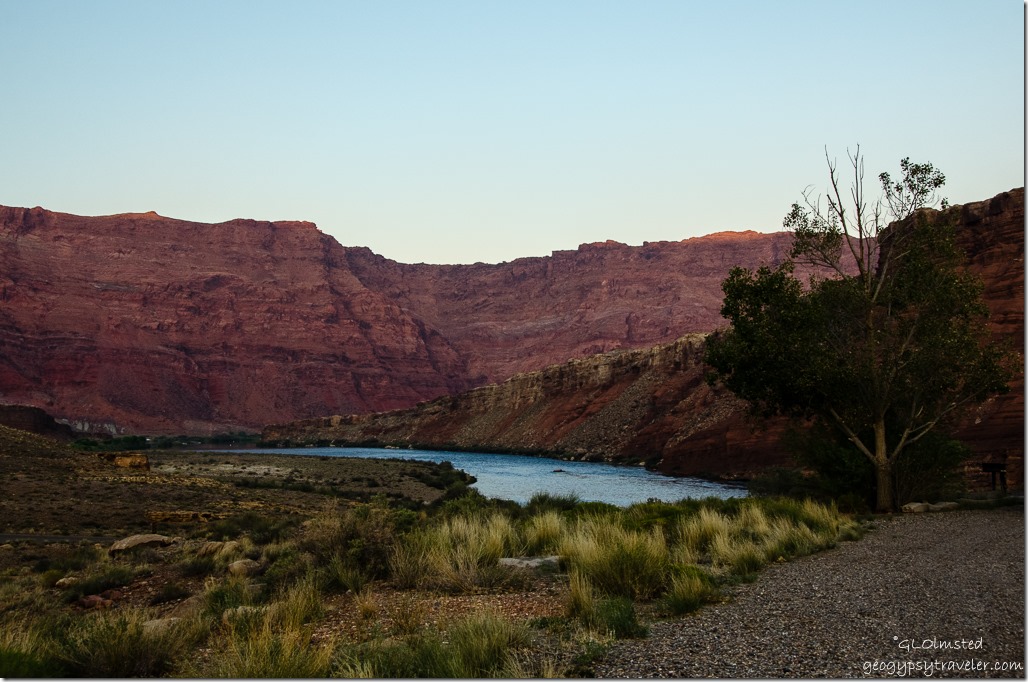 I parked with a view looking down on the Colorado River and just caught the last glowing tip of the eastern escarpment.  Pulling out a chair I sat absorbing the warmth under the dimming light and discovered a cell signal so sent a photo into the cyberworld.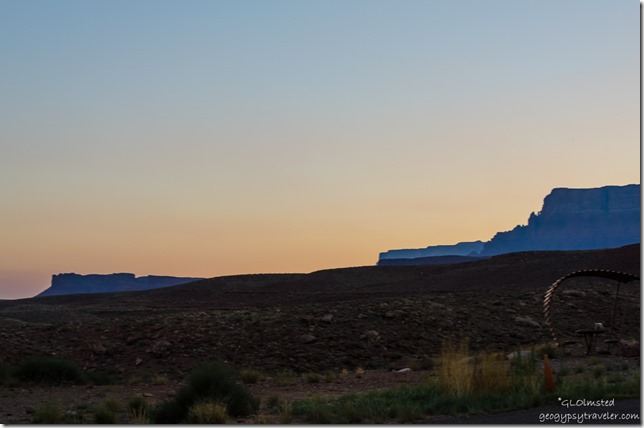 A pastel sunset backed the scene.  The night was quiet and the moon lit the earth.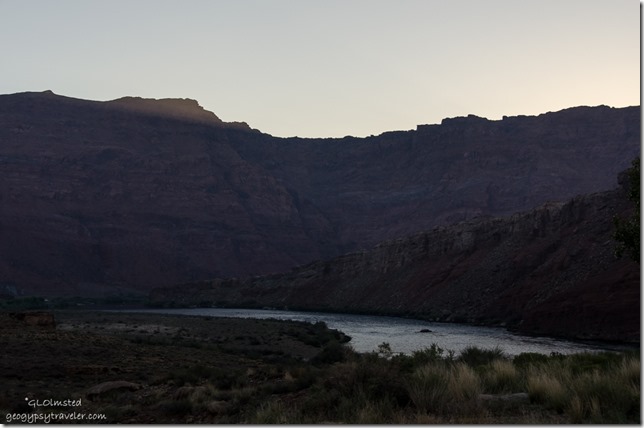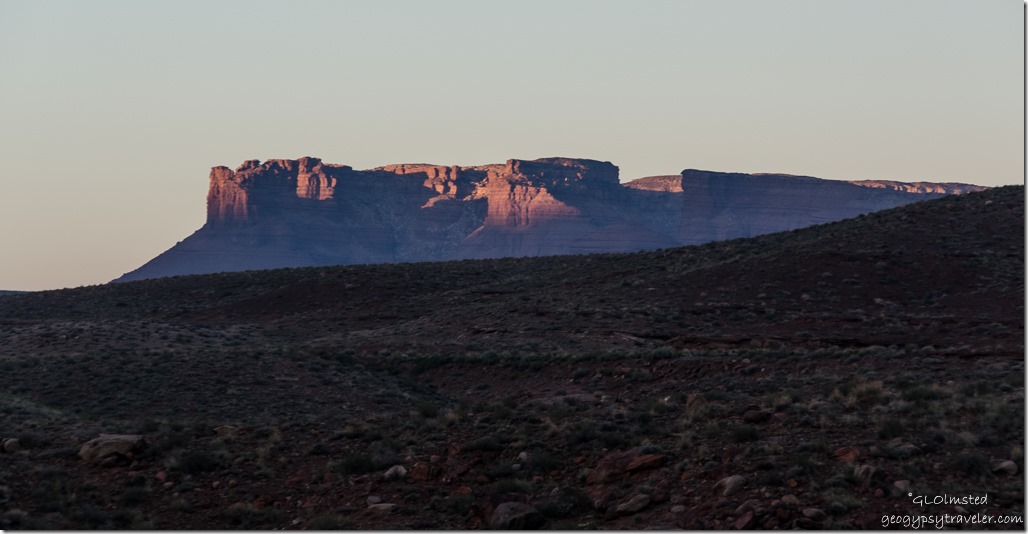 Early morning was blanket weather that promised to warm quickly.  Just as the sun broke over the cliff at 6:30 am somebody had to break the silence with a generator.  Really don't those multi-million dollar motorhomes have a propane stove to make coffee on.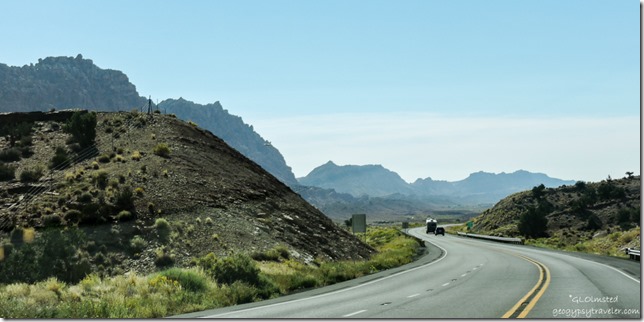 Two hours later I moseyed south, straight into the sun making for lousy photos, past the big Echo Cliffs.  Ah but to soar like a vulture over this magnificent landscape under a bright sun with thermals rising.  Would I rather be a Raven, vulture, hawk, a condor perhaps.  Makes me want to be a Navajo Edward Abbey.  Through the Painted Desert across the Navajo plains.  Scattered hogans and prefab houses, nice communities and scene.  Little wooden shelters some would call shacks with open signs and wares on the battered tables.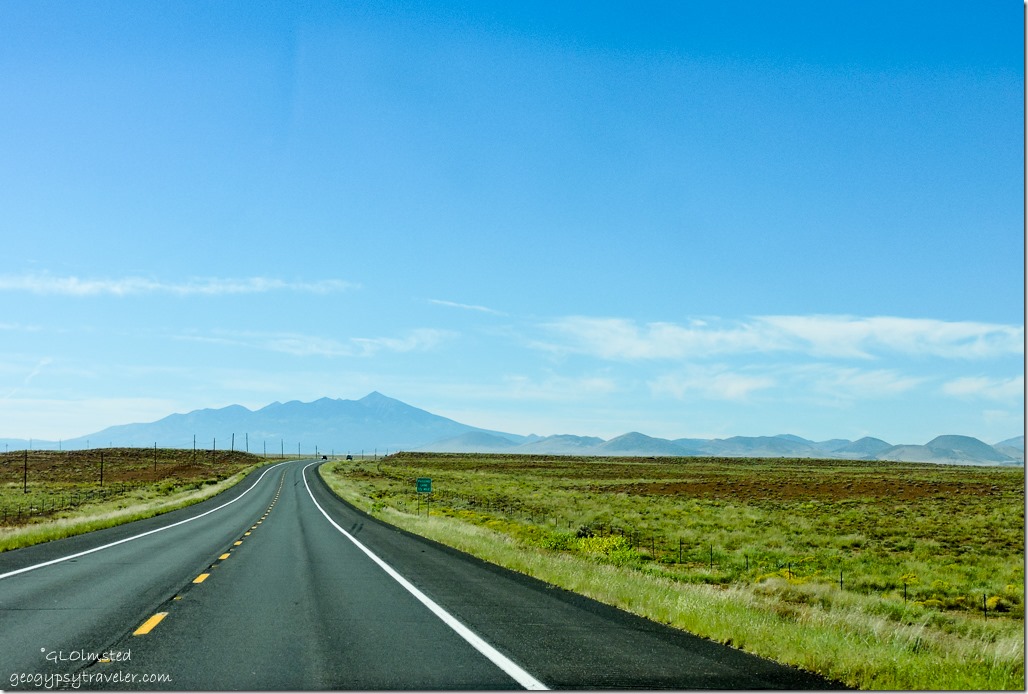 Finally Humphreys Peak appears on the horizon, the highest mountain in Arizona at 12,637 feet (3,852 m) it dominates the horizon at 75 miles (120 km) away.  And that means almost to Flagstaff, a little less than half way to go.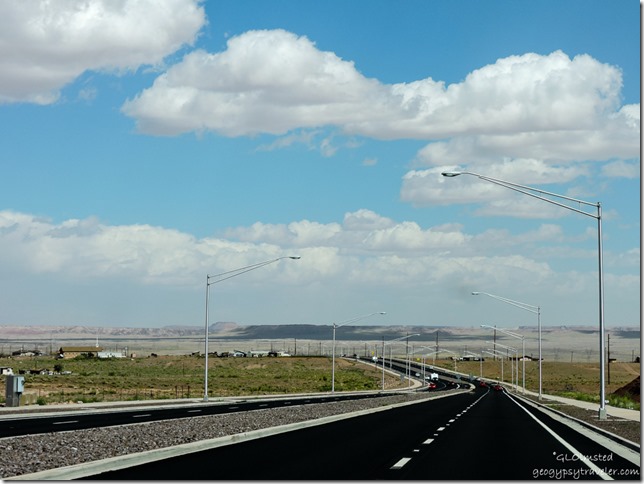 The once tiny Navajo town of Cameron has grown into divided four lane highway, miles of street lights, sidewalks, and a roundabout at the turn off to Grand Canyon's South Rim.  I'll bet the bright lights at night obstruct the view of the sacred mountains.  Is it irony that a huge power grid runs across the Navajo land?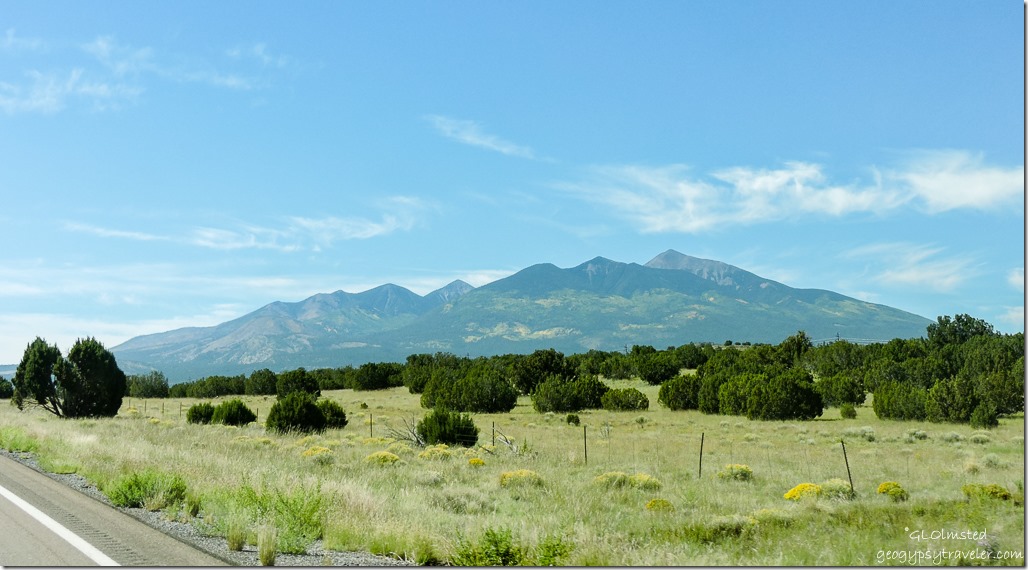 To the west the clouds look like white chantrell mushroom swirls, to the east almost like a seismic graph, and in the middle a squiggly exclamation point.  Mt Humphreys wears patches of yellow on the north slope.  The trees change to ponderosa, yellow clusters of flowers that could be rabbit bush and the dead brown grasses blowing in the wind.  Coming up to Sunset Crater.  Then over the 7286 foot (2221 m) pass and 15 miles (24 km) to Flagstaff at 10:35am and 77°F (25°C) as I passed the turn off to Sunset Crater National Monument.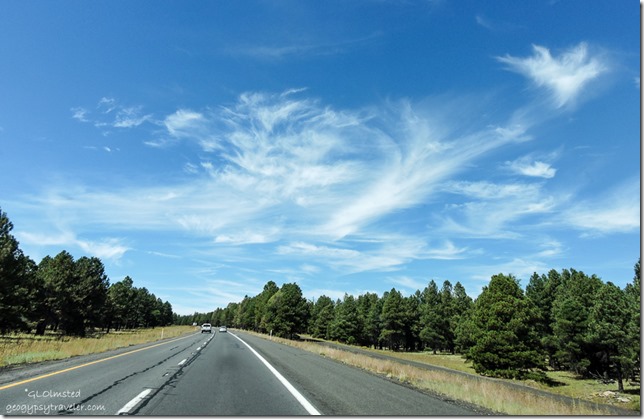 Next to put up with city and traffic as I descend into Flagstaff yet I miss most of it by jumping onto the Interstate 40 for an hour to Ashfork then back on SR89 South.  But I'm not so keen driving on expressways, especially around big towns/cities, lots of trucks up hills going slow.  The speed limit is 75 mph but I set the cruise control for a little over 70 which is good enough and still seems too fast.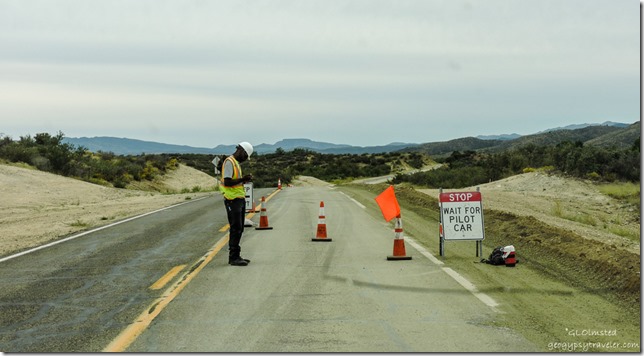 An hour later off the freeway onto SR89 again, back in the juniper/pinyon forest with some chaparral.  What with the bright sun, dirty windshield, and roller coaster road to Paulden followed by to many roundabouts in Chino Valley no photos were taken while watching the world go by.  Then took the by-pass around Prescott on Iron Springs road, which is once again under construction between Kirkland and Skull Valley.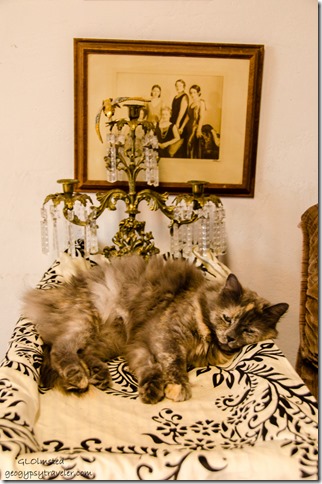 3:30pm, parked in Berta's Yarnell yard, level, backed up to the electric box and a huge shed that is almost as big as the little house.  Berta wasn't home but Sierra welcomed me.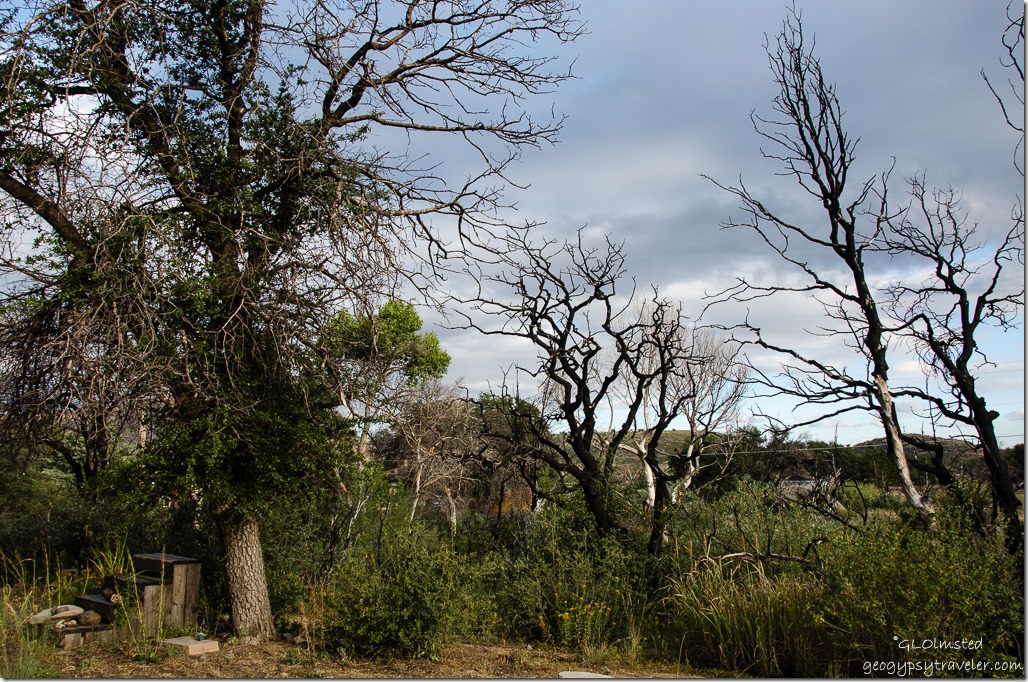 The regrowth three years after the Yarnell fire is amazing and frames the sculptural standing dead trees.  Home Sweet Home.  At least for a few days, then back to the North Rim to finish out the season.