Sunrise, sunset.  Sunrise, sunset.  Swiftly go the days, weeks, months…    And I'm practicing nepholography even though I am not a nephologist.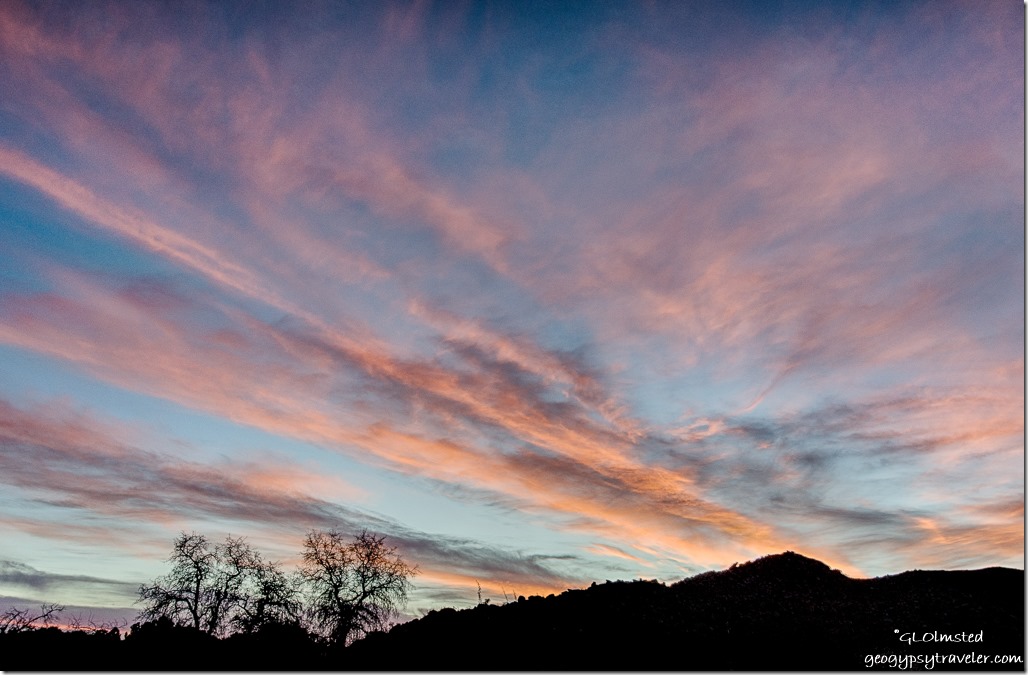 sunset West over Weaver Mountains 12-12-17
OK, so it's mostly sunsets I see.  I'm still working on that getting up early thing.  Honestly, my ideal sleeping time is 11pm to 7am, followed by a slow two hour wake-up over coffee and the computer.  Have to see what's happening in the world.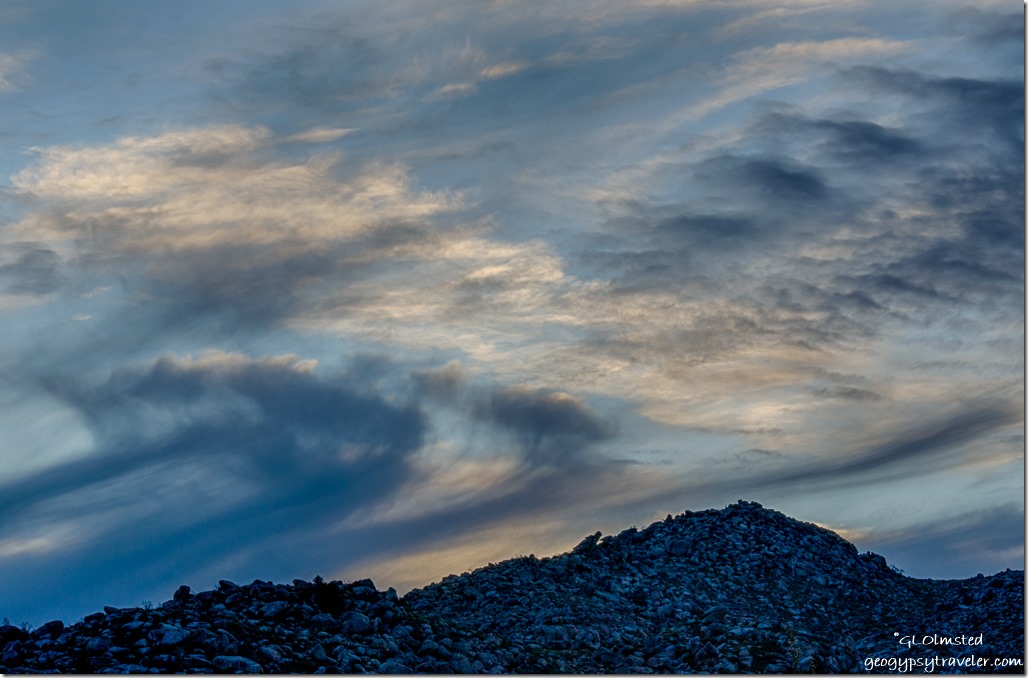 sunset West 12-26-17
I've been sitting around more than usual with plenty of time on my hands.  Just haven't felt motivated to get out much.  I usually go to town with Berta once a week, could be Wickenburg or Prescott.  My needs are simple.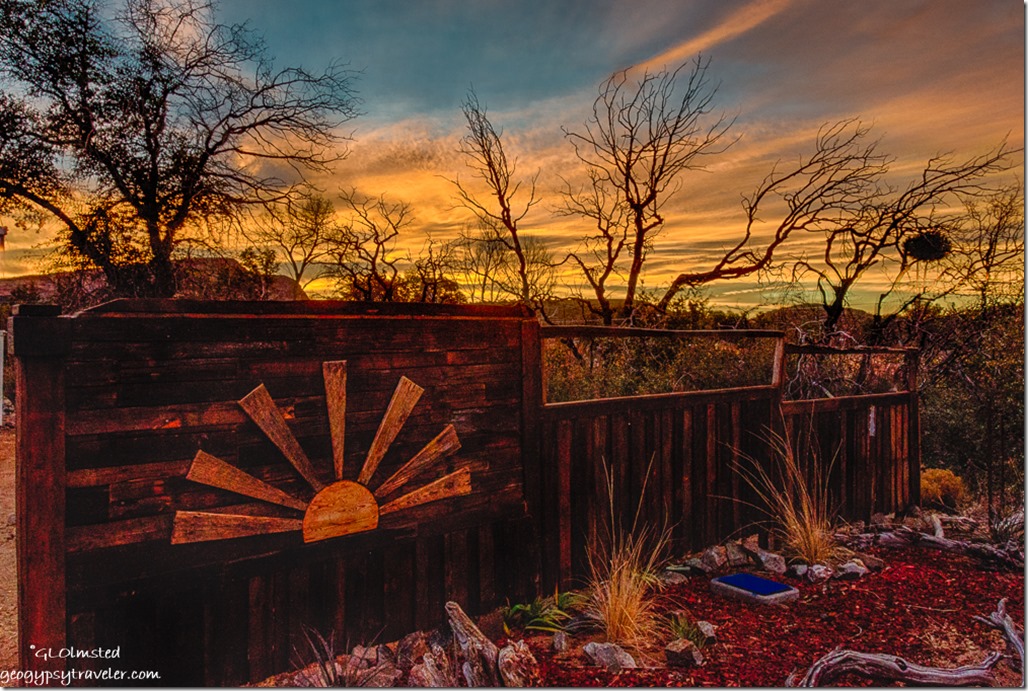 sunrise Southeast 12-31-17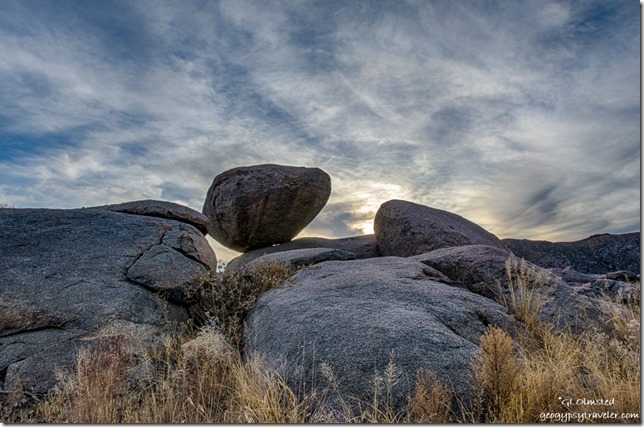 sunset West 1-1-18
Sunrise, sunset.  That's about all I've been photographing lately.  Not every day is awesome.  Takes clouds to really make it good.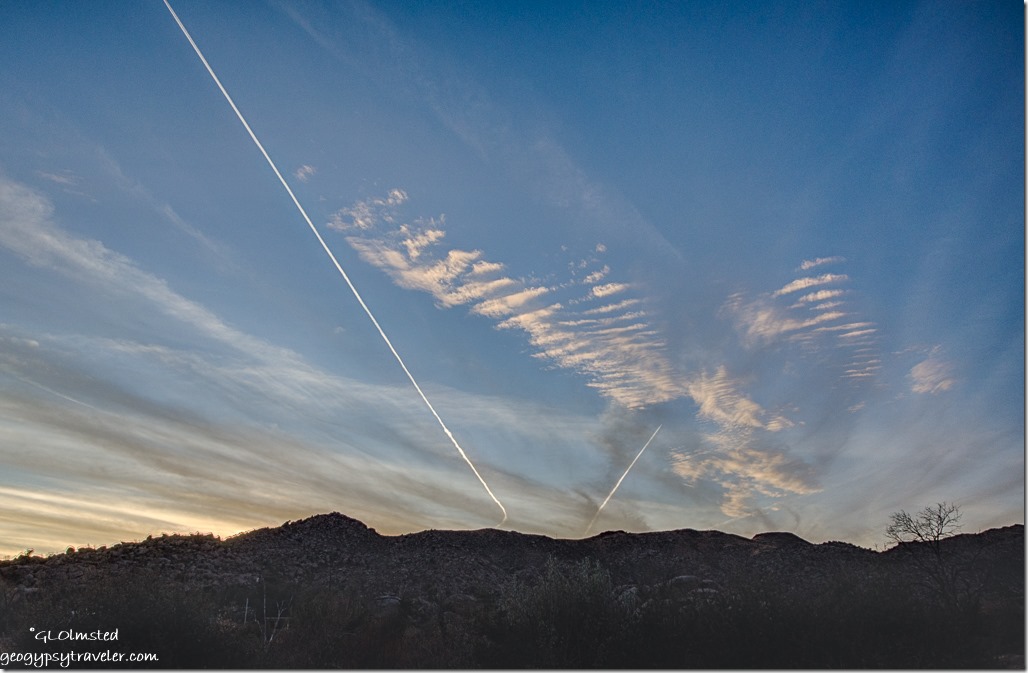 sunset West with contrails 1-2-18
If you've followed me very long you've seen lots of photos of sunsets over the Weaver Mountains from ten winters in Yarnell, Arizona.  I never tire of this western view, the overall shape of the ridge-line and the rock figures that adorn it.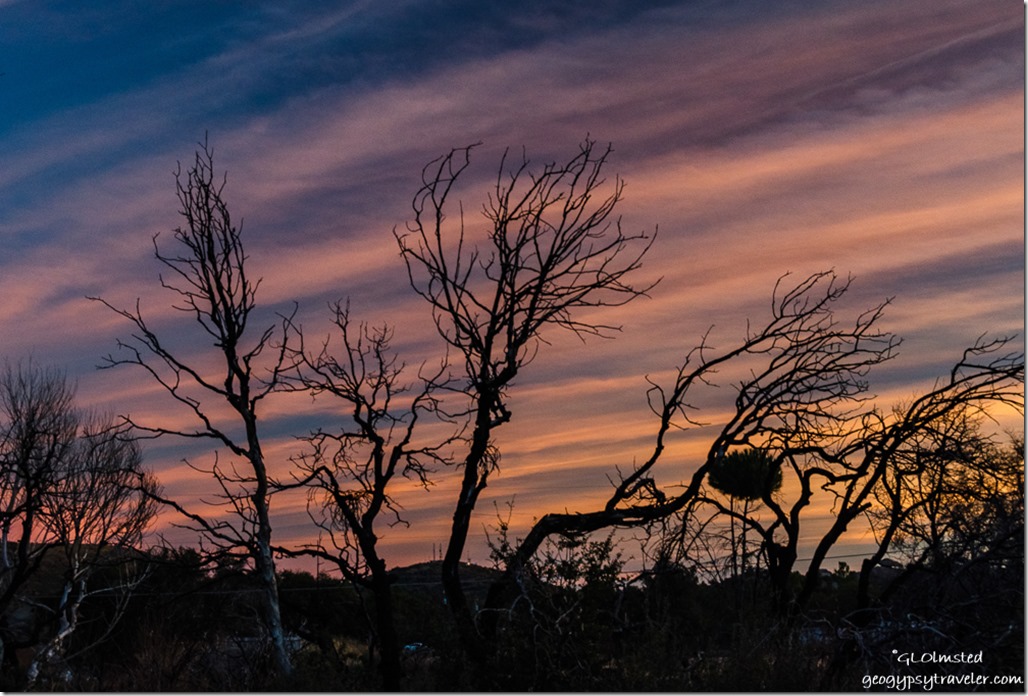 sunset South 1-2-18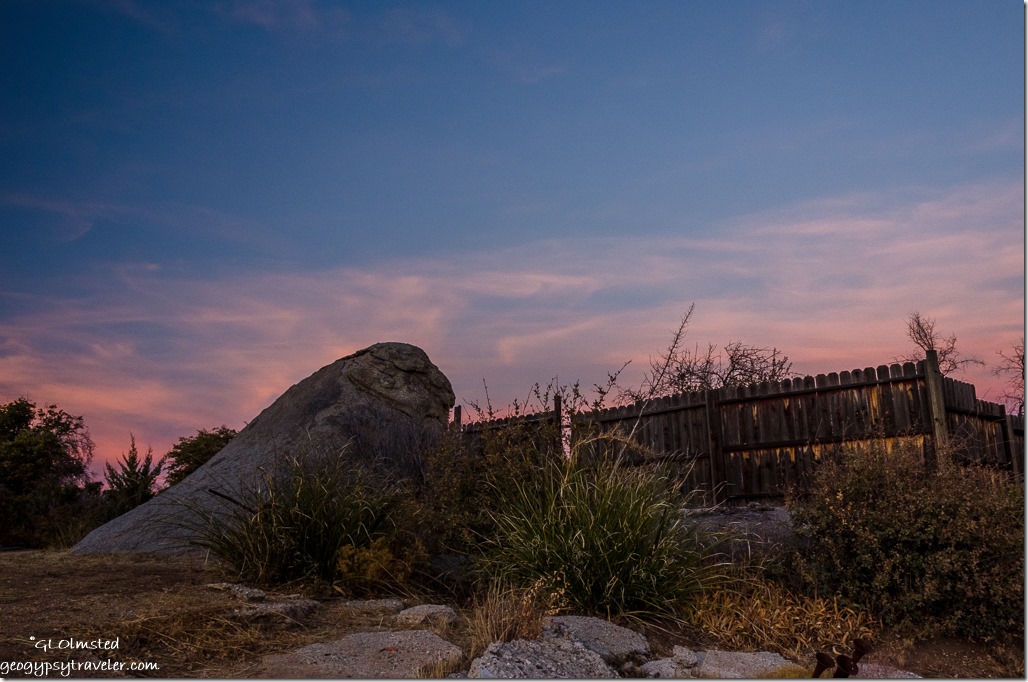 sunset North 1-4-18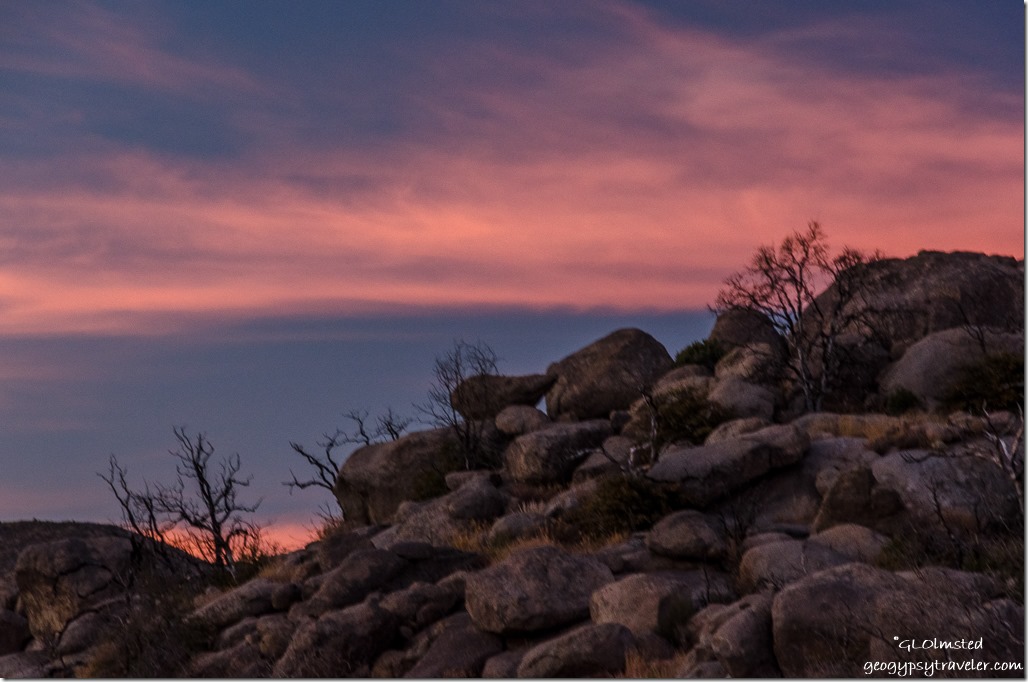 sunset Northwest 1-4-18
Yet I also like the burnt twisted trees and giant boulders.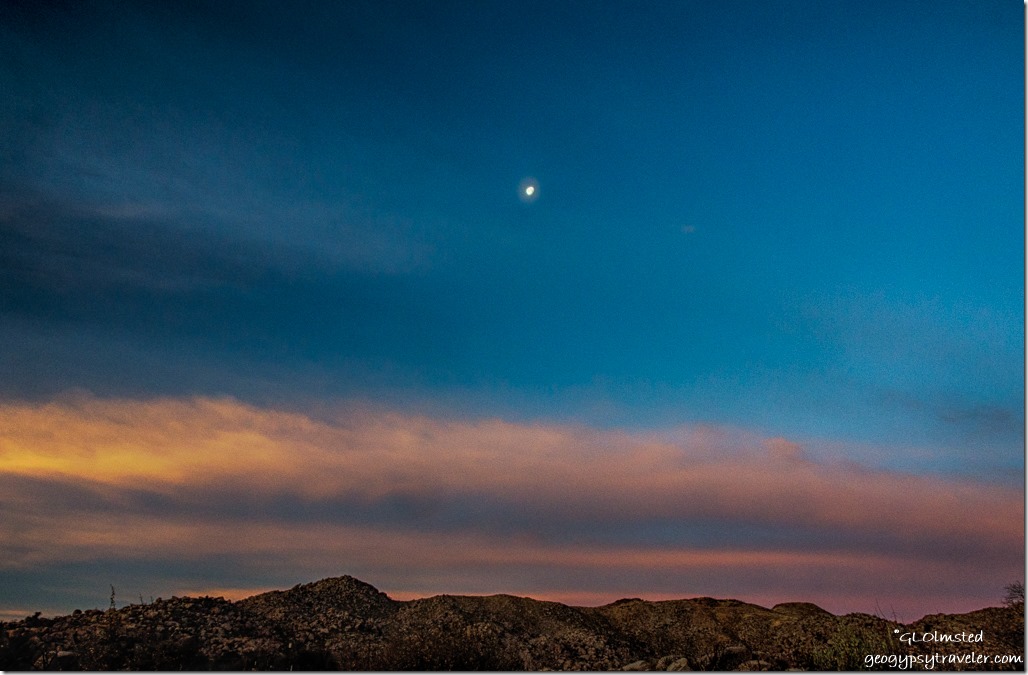 sunrise West 1-5-18
Sunrise, sunset.  Same scene different picture, no two alike.  Add a bit of moon.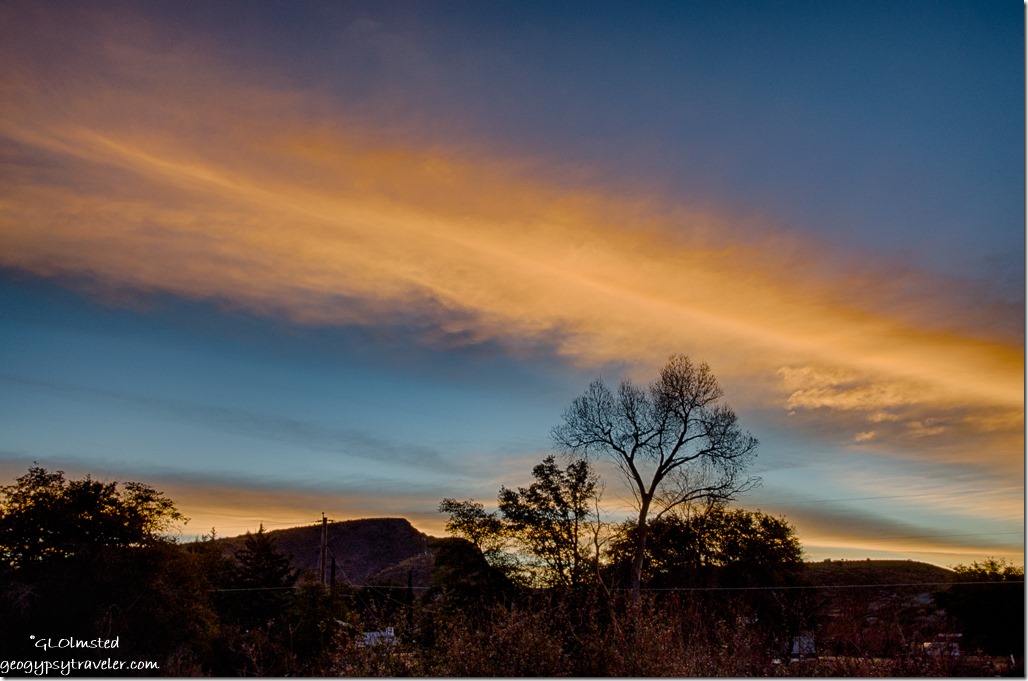 sunrise East 1-5-18
I frequently spend the entire day in the camper, on the computer, and enjoying my marvelous view.  Spend way too much time on Facebook.  Not enough time reading and keeping caught up on blogs with no excuse.  Most of the rest of the time is labeling photos.  I'm so anal about that.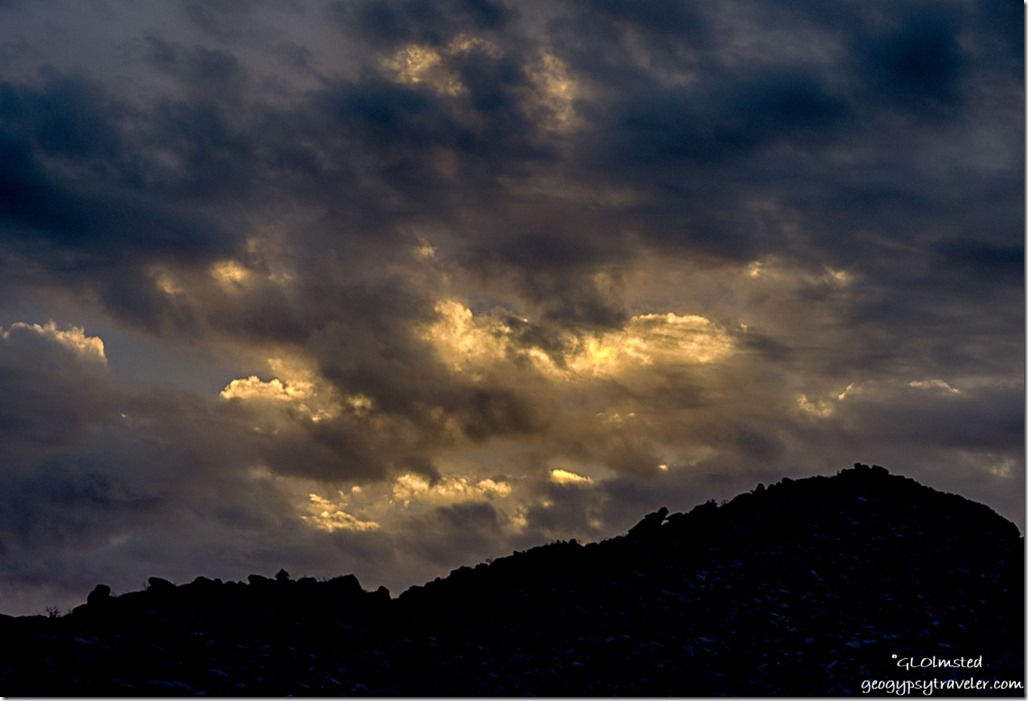 sunset West 1-8-18
I gained weight.  Probably too much sitting.  From Berta who has struggled with weight for years, I get no sympathy.  But it's a new concept for me.  If I still owned them, I could have been wearing clothes from high school, almost 50 years ago.  And although I know I'm not over weight, it's a whole pant size, from 6 to 8, my max 140 pounds.  I'm only 5'5", and shrinking.  I had to buy new pants.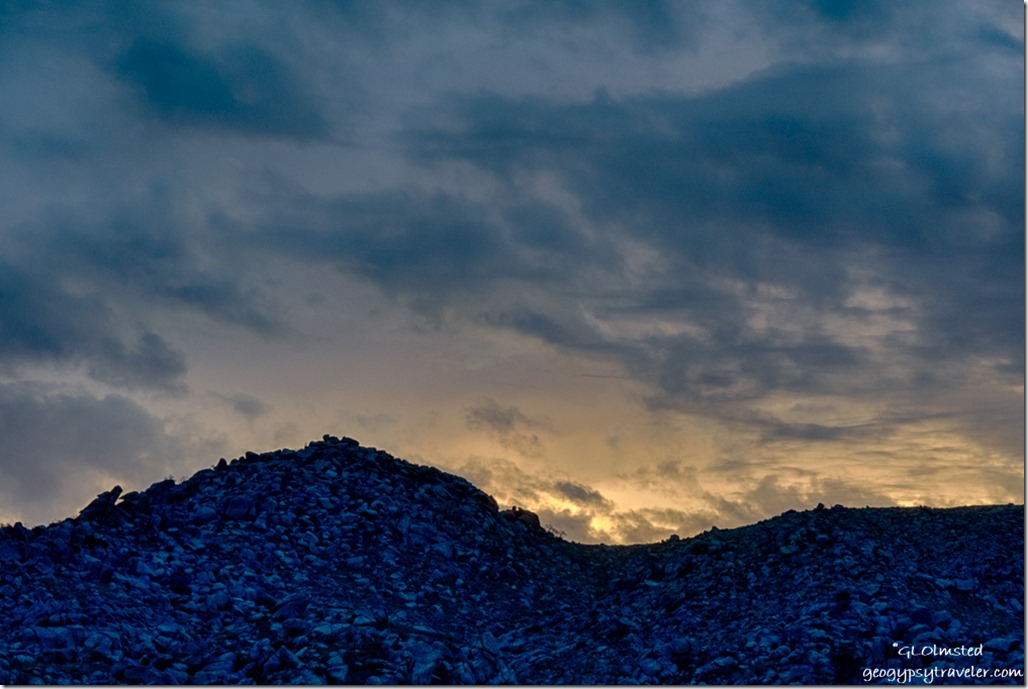 sunset West 1-8-18
Several people told me to expect weight gain after I quit smoking in June.  Not sure why it's taken six months to catch up to me.  Eating habits didn't change so I'm blaming this on lack of exercise.  And I'm sticking to that story.  If you see me this winter, please encourage me to get out and walk and please come along.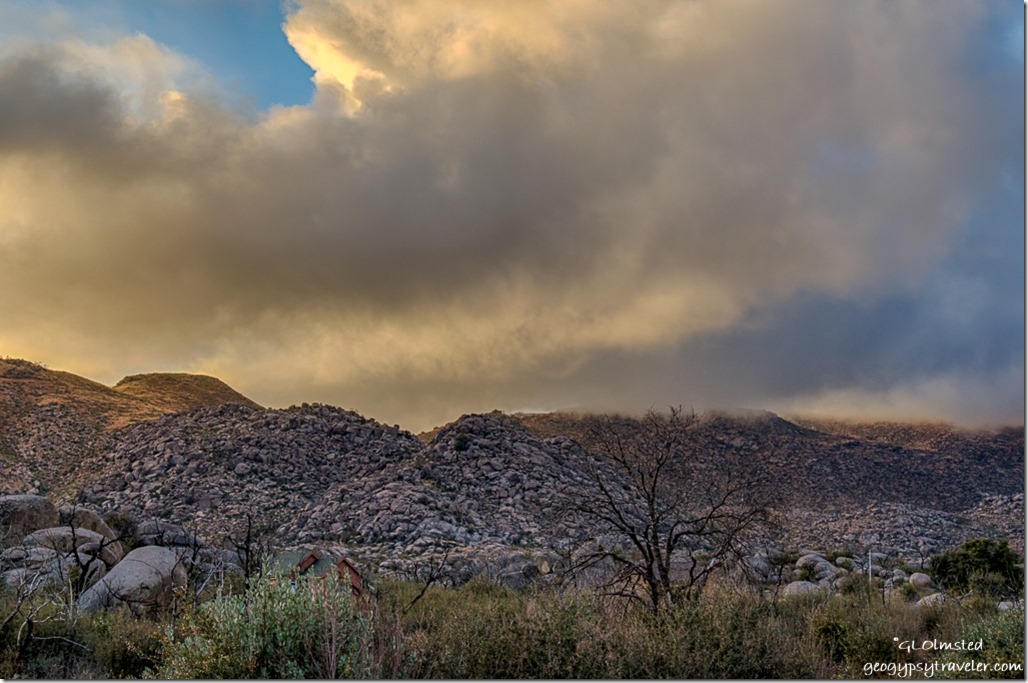 sunset West 1-10-18
Sunrise, sunset.  I love to watch the cloudy changing sky.  It's like a dance and I don't know the steps.  Never know what to expect which is part of the magic.  Brings the nepholographer (person who photographs clouds) out in me.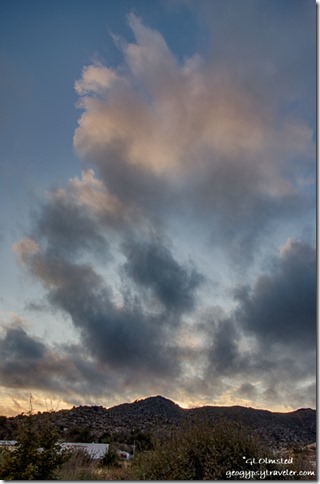 sunset West 1-10-18
But not very far out.  All these shots were taken within sight of my camper.  Sometimes I jump in and out taking some shots in between.  It is chilly for the best sunrise and sunset photos so I am content not to have to go far from the warmth of my tiny rolling home.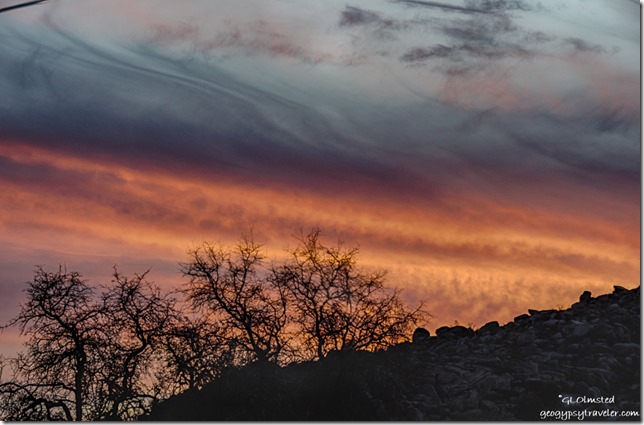 sunset West 1-14-18
I'm just rambling on.  But maybe that's because I haven't been out much.  Sometimes I'm an introverted hermit and other times my extrovert won't shut up.  Really, just ask anybody who's met me.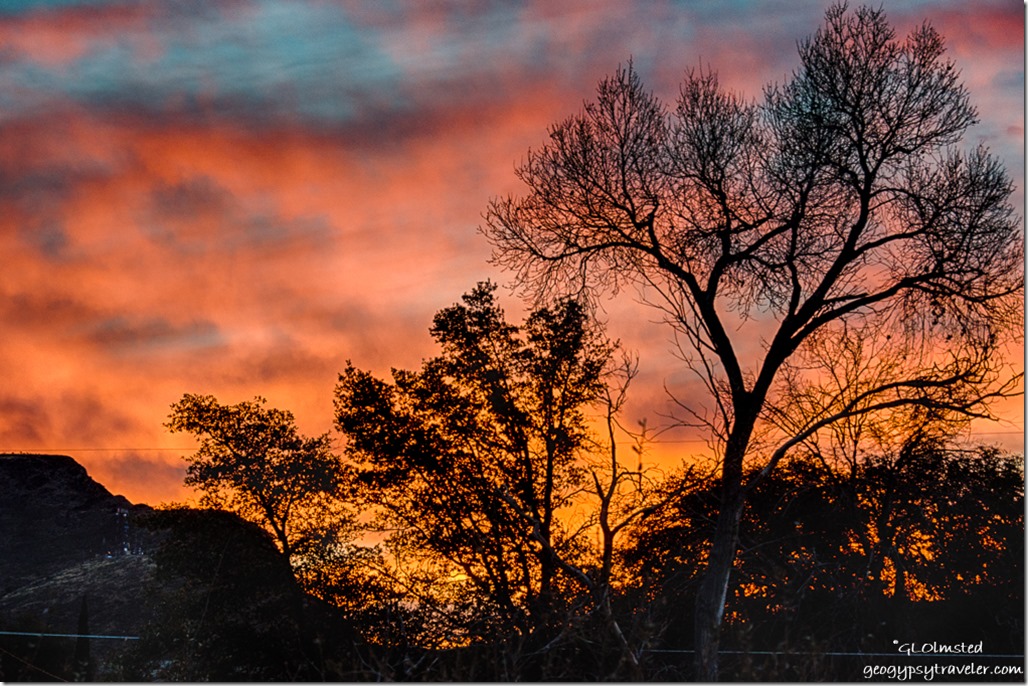 sunrise East 1-15-18
But I really am beginning to feel like a slug and it just might be time to ramble on.  It does seem that plans made during the last couple of months have mostly gone astray.  So I'm almost afraid to say…     I'm going to Quartzsite this week.