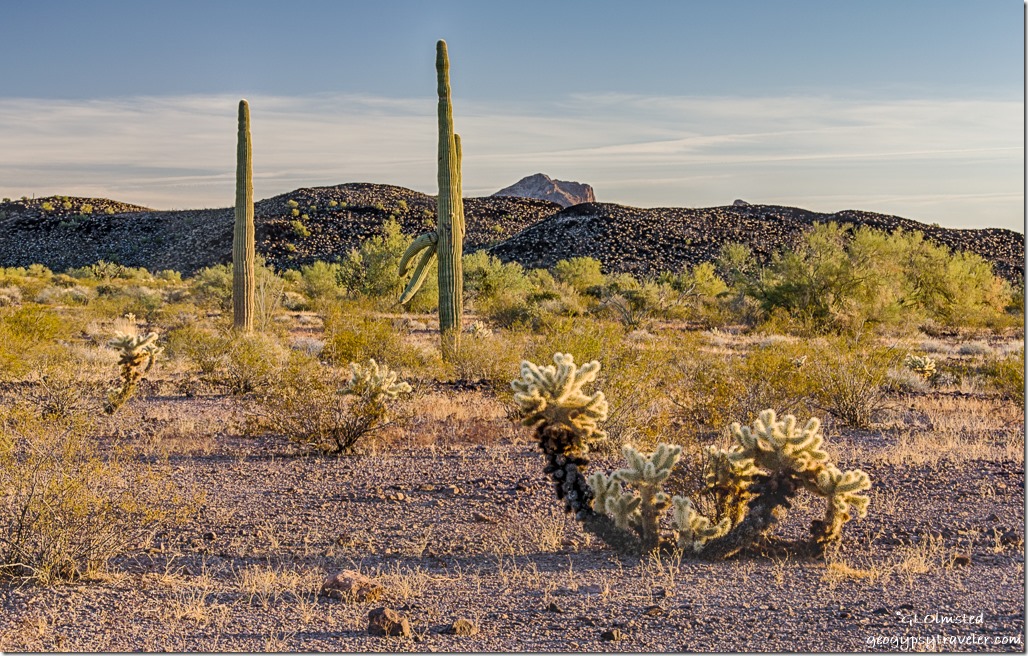 The day after photographing the super blue blood lunar eclipse from the Kofa NWR (National Wildlife Refuge) friends left and I continued to watch the sky and hang out in the desert.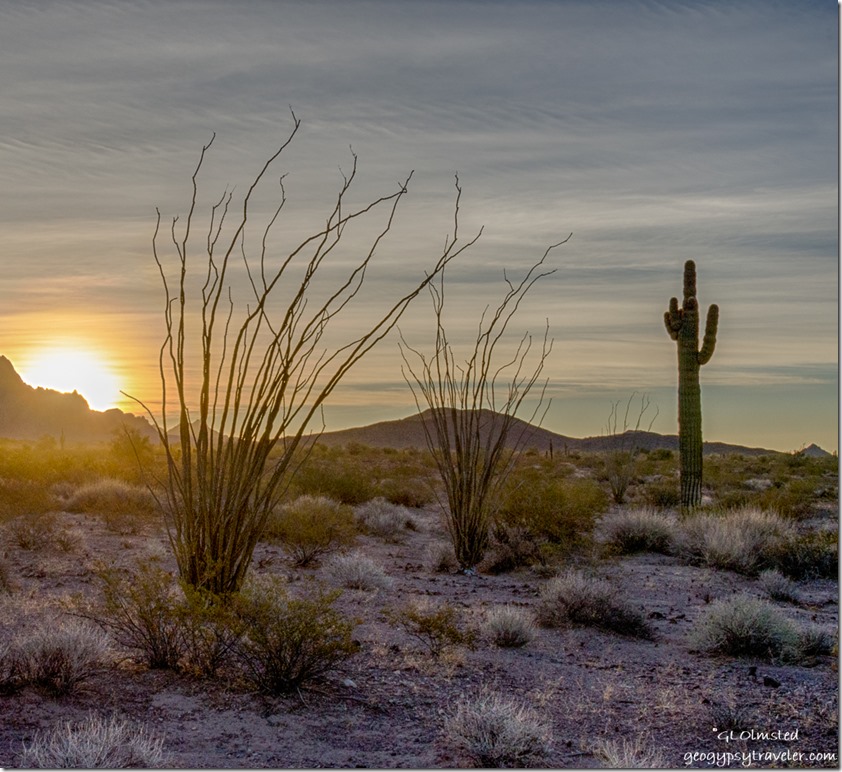 Sunrise
First morning of February, I found myself turning back and forth 180° as the sun rose over the Kofa Mountains and the moon set over the Dome Rock Mountains.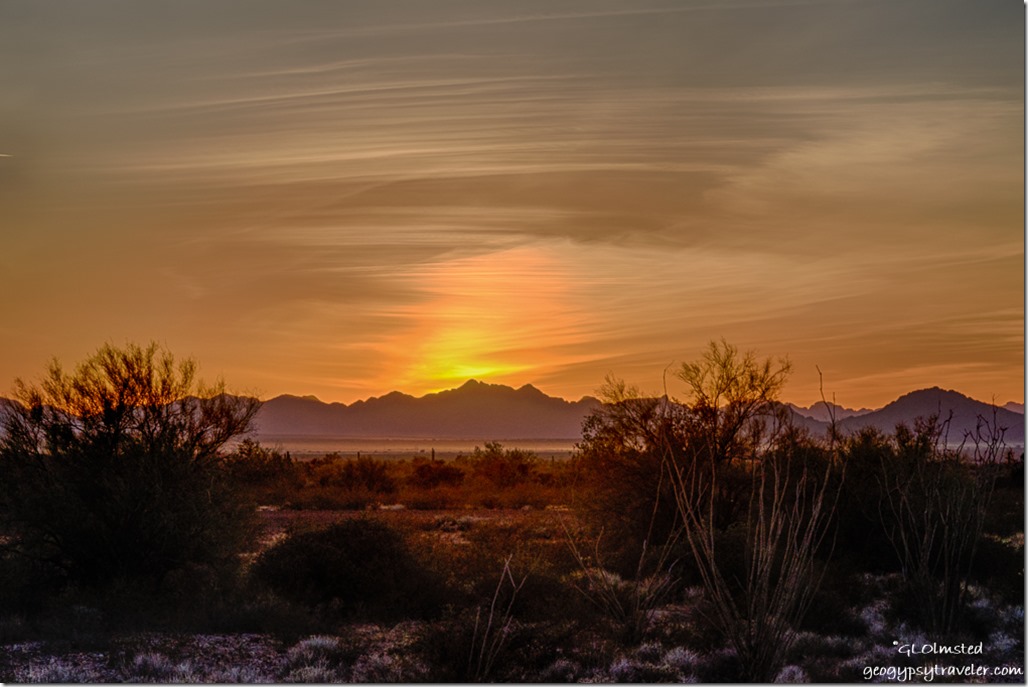 Sunset
Back at it for sunset then early to bed from the way too early morning the day before.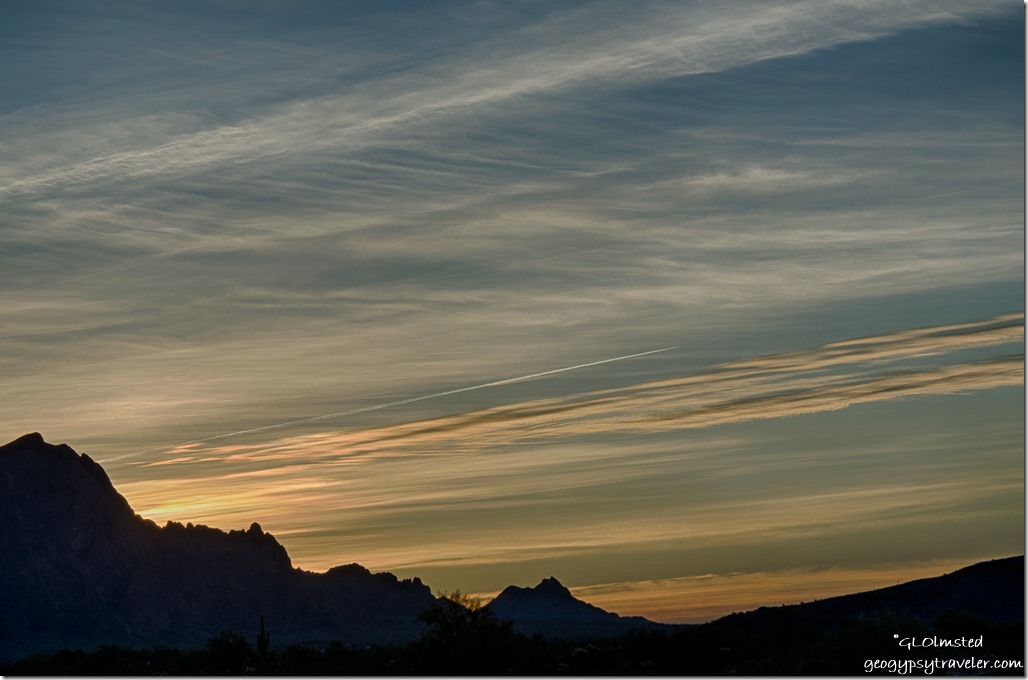 Sunrise
I've spent daytime absorbing the peace and quiet of the desert.  Didn't see much wildlife, a few birds including a soaring red-tail hawk, scat from coyote and deer, and one night eye-shine from my headlamp not more than 10 inches off the ground disappeared behind a creosote bush about 50 feet away.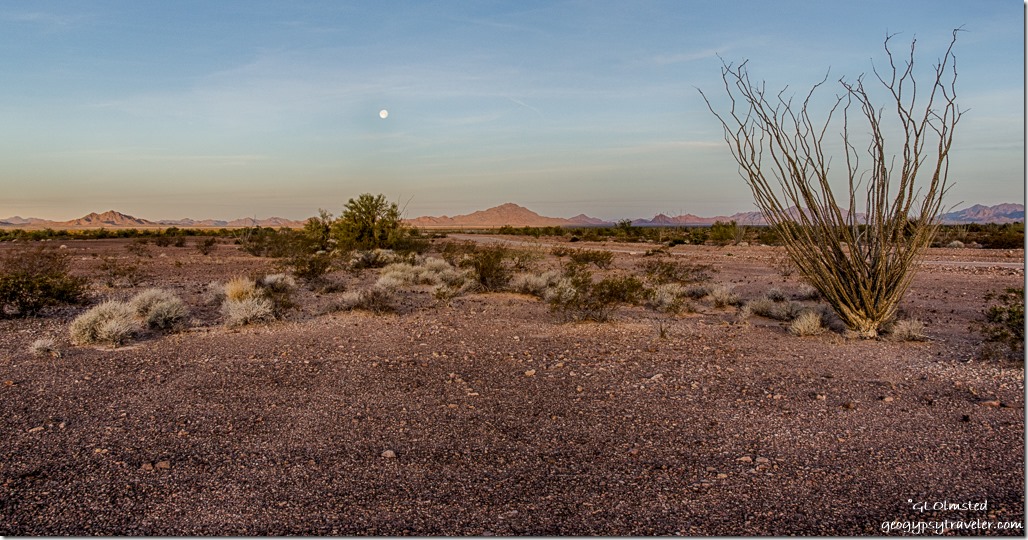 Moonset at sunrise
Second day of February I'm still at it, up for sunrise and in time to see the moon yet too bright by the time it sets.  Groundhog day for Punxsutawney Phil in  Pennsylvania while here in Arizona the cactus saw a tall shadow so that could mean six more weeks of winter.  But it's been feeling more like spring at 80°/50°F.  So even though I'm loving that weather I'm hoping for winter.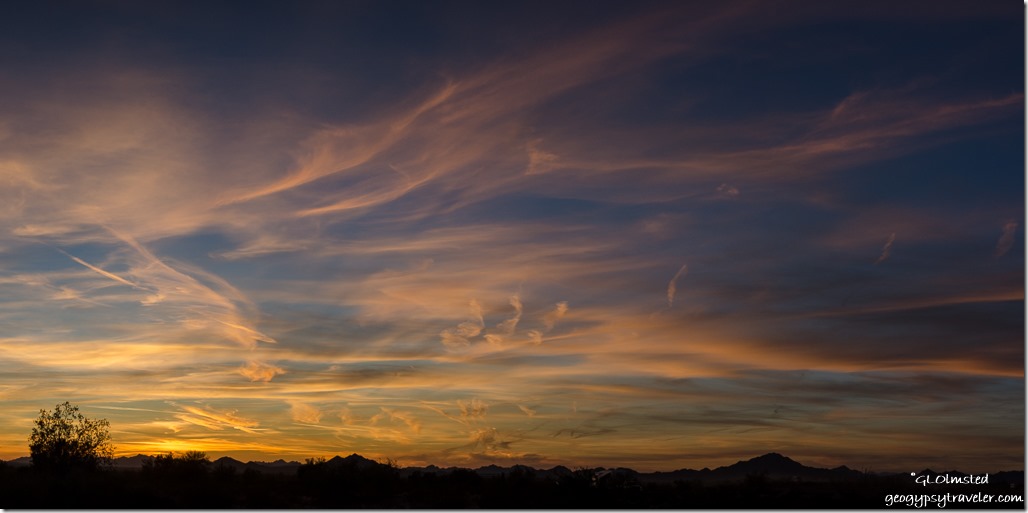 Sunset
Tom showed up late Friday afternoon just in time for sunset.  Saturday we hung out in camp and watched the world go by as we chatted about any number of topics and watched contrails crisscross across the clear blue sky.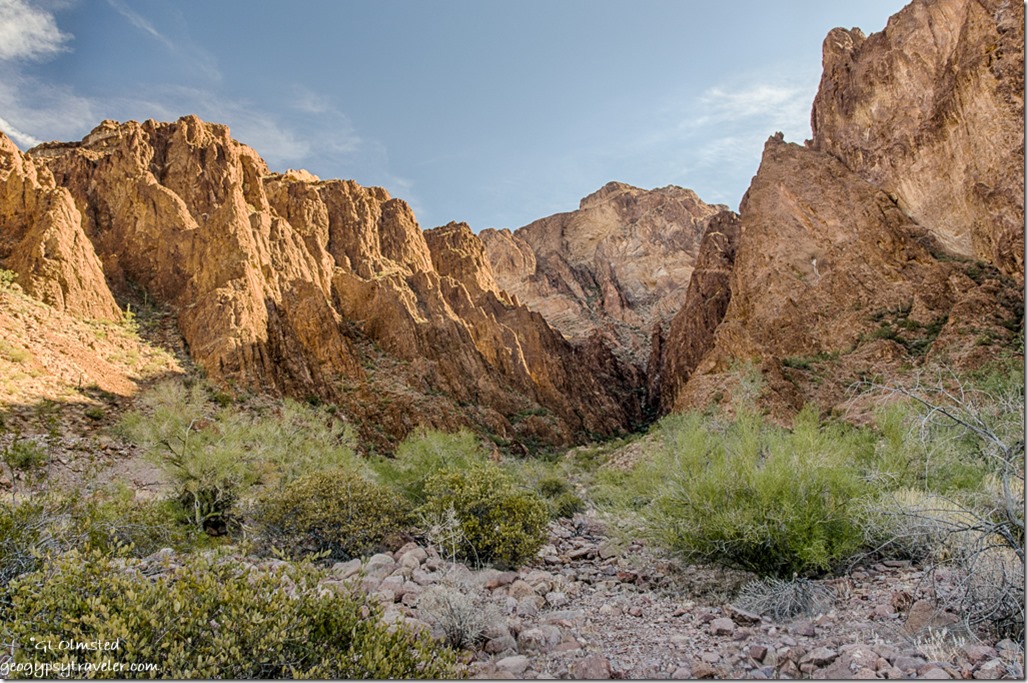 Sunday we hiked the Palm Canyon trail located just up the road from camp.  Was almost a year ago to the day I hiked this trail for the first time.  It's in the shade so cool enough I was glad to have grabbed a lightweight long-sleeved shirt.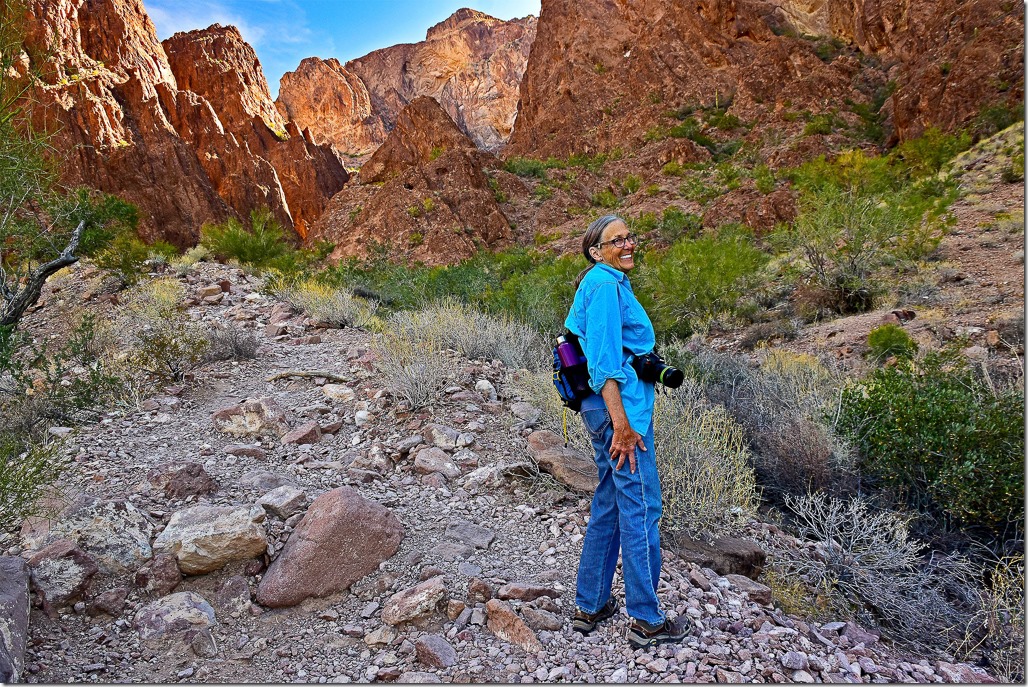 Gaelyn heads up Palm Canyon Trail by T. Morse
The .5 mile hike is fairly easy with a few areas of boulder climbing and only a small gain in elevation.  Saw a lot of folks with trekking poles which I usually consider a bother when taking photos.  One couple told us where to look for bighorn sheep but even with binoculars we didn't see sheep.
Arrived to the sign pointing to the side canyon where the palms grow and fortunately didn't wait long for the afternoon light to shine on the palms.  These California Fan Palms, Washingtonia filifera, are perhaps the only native palm trees in Arizona.  Because palm trees do not produce annual growth rings it's very difficult to say how old the trees might be.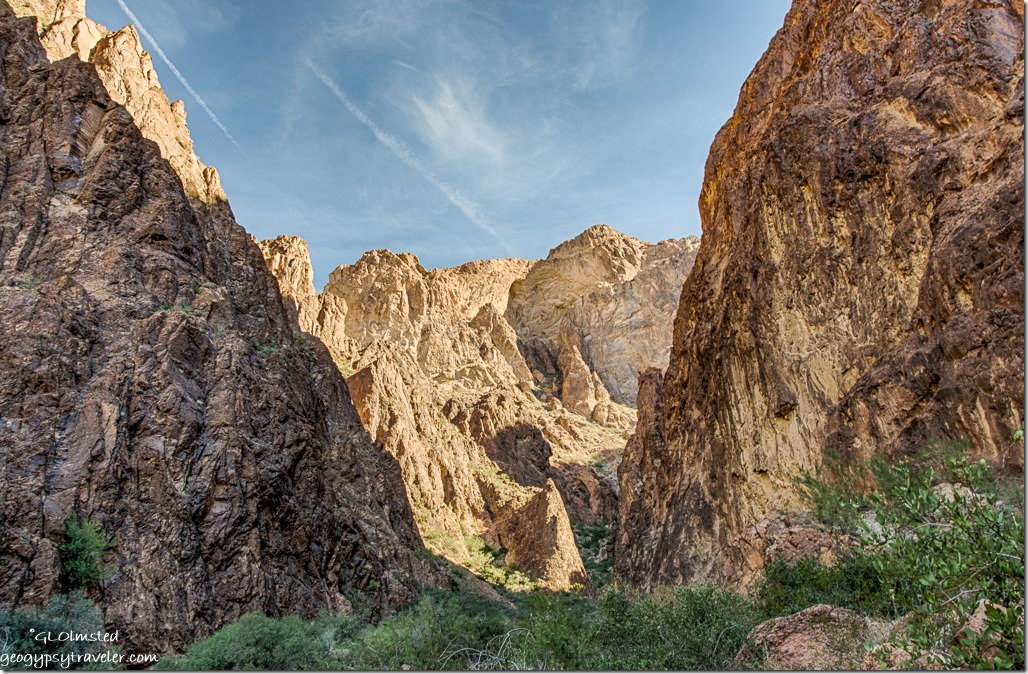 Water erosion through the volcanic rhyolite rock formed Palm Canyon.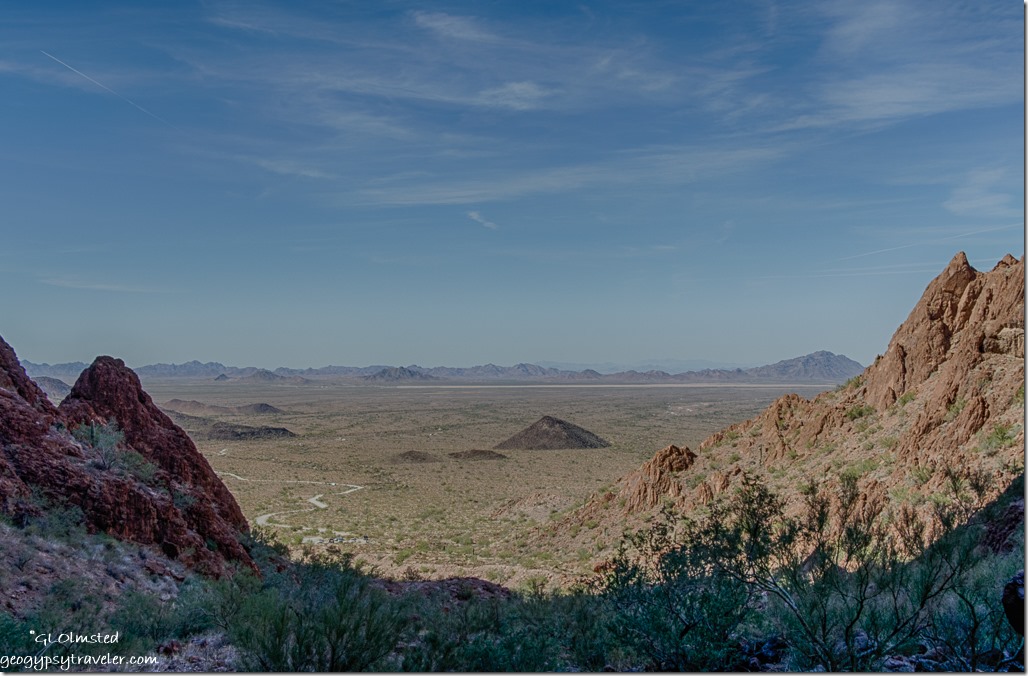 On the return hike we looked across the La Posa Plains to the Dome Rock Mountains 30 miles away.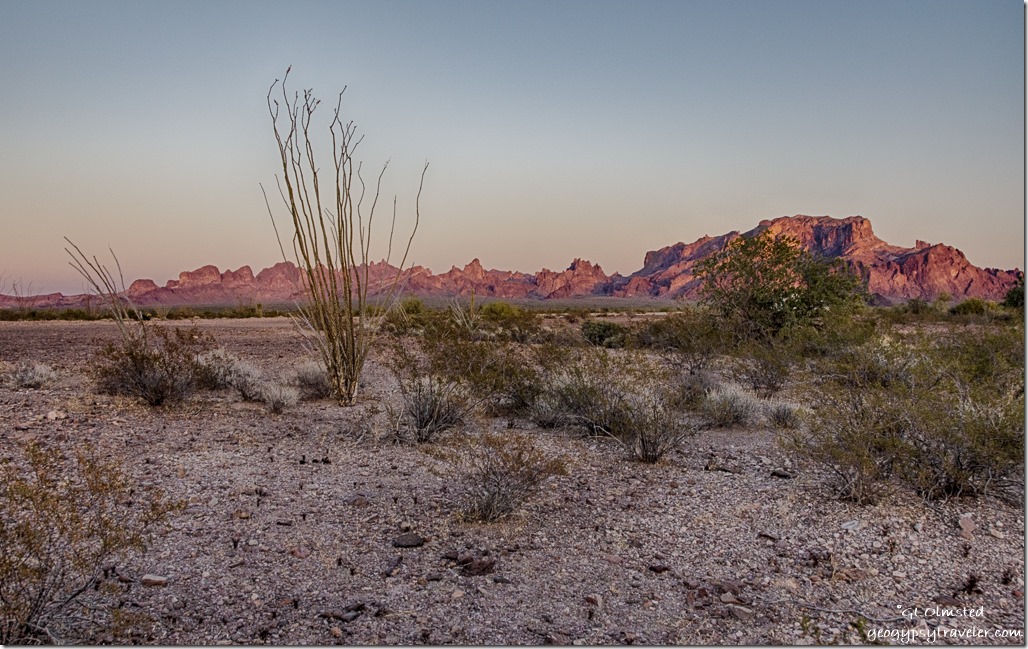 Although there aren't that many RVs around and people are good about leaving space it seems they are in sight so I try to hide them behind trees like Palo Verde and Ironwood.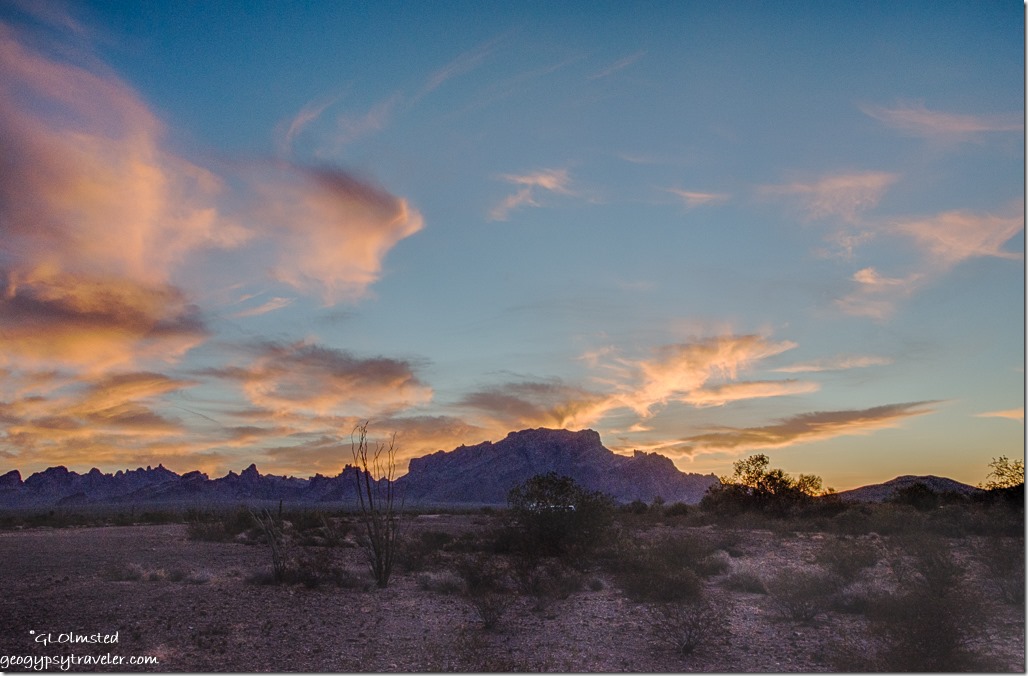 Monday greeted us with a marvelous sunrise.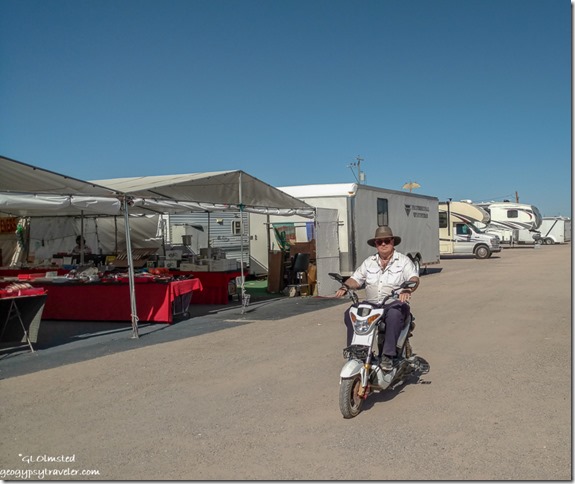 We walked through a lot of vendors in Quartzsite and of course I found a few more things I didn't know I could live without.  Tom test drove an electric scooter he thinks would be a fine addition on the back of his motorhome.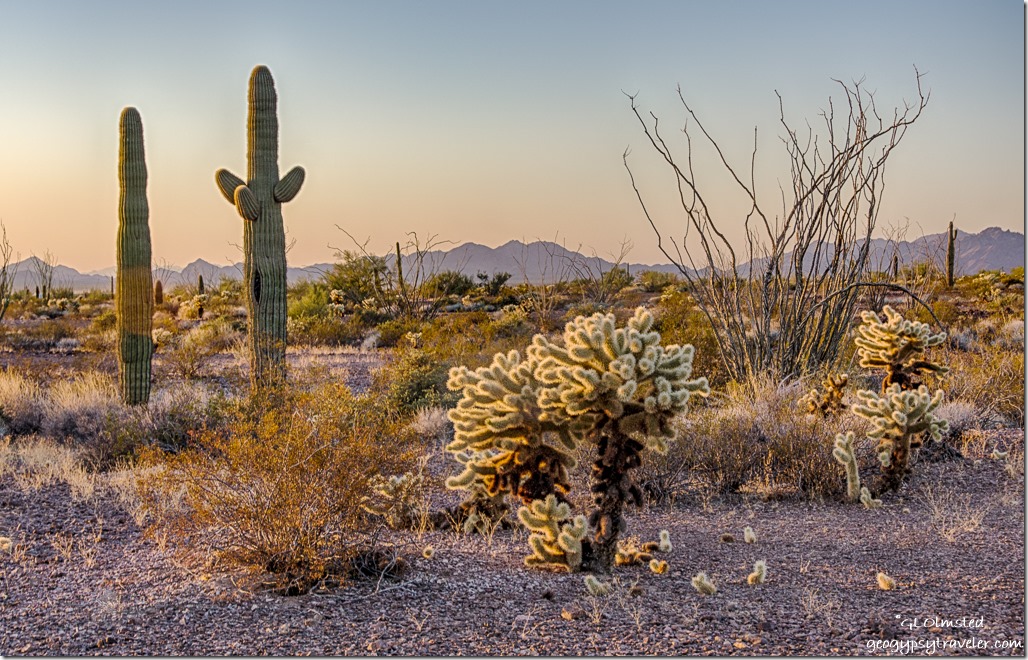 That evening we drove toward the Kofa mountains with several stops to enjoy the golden hour.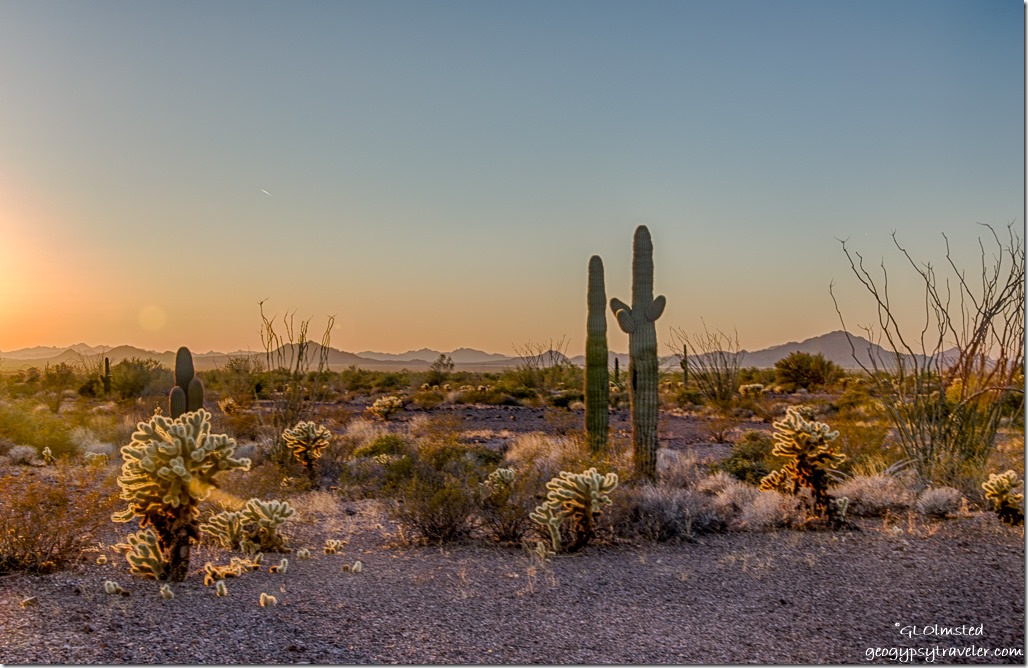 The Sonoran Desert can be a prickly place to walk and you have to be cautious of the jumping cholla whose spines show no mercy.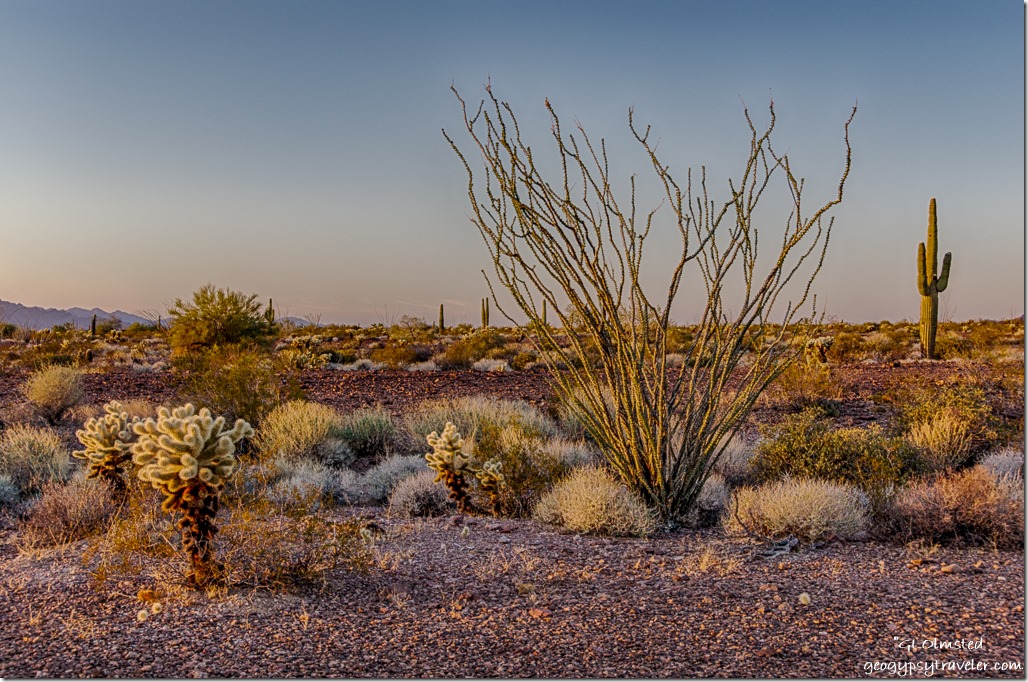 Yet their glow in the late afternoon light beckons one in.
Tom left Tuesday morning and I'm still here.  Saturday marks my 14-day limit.  I'm concerned about the possible government shutdown Friday so not sure where to go.  Had been planning (a mistake) to visit some friends volunteering at Casa Grande National Monument but don't want to get caught off guard.  I might be able to hang out nearby a bit longer but will have to dump and fill in a few days.  Also need a grocery run which is not great in Quartzsite but there's a Safeway in Parker.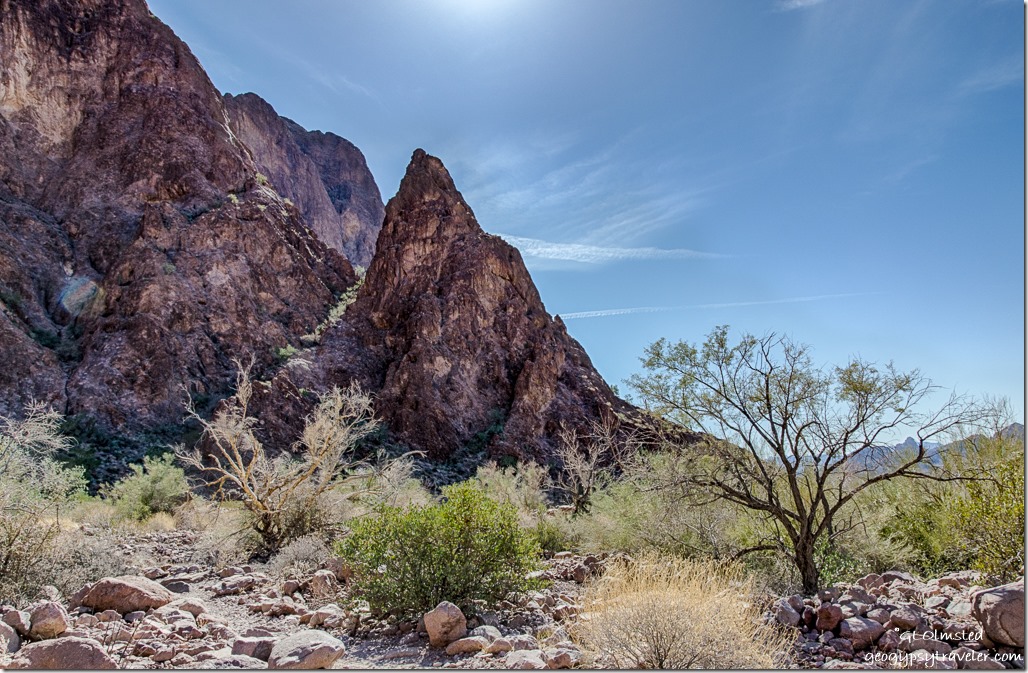 Where is it
East side of US Highway 95 approximately 63 miles north of Yuma and 18 miles south of Quartzsite, Arizona near milepost 85.  Sign reads Palm Canyon and the gravel road is usually in pretty good shape, a little rough, but could be nasty after rain.  Seven miles to parking for Palm Canyon Trailhead.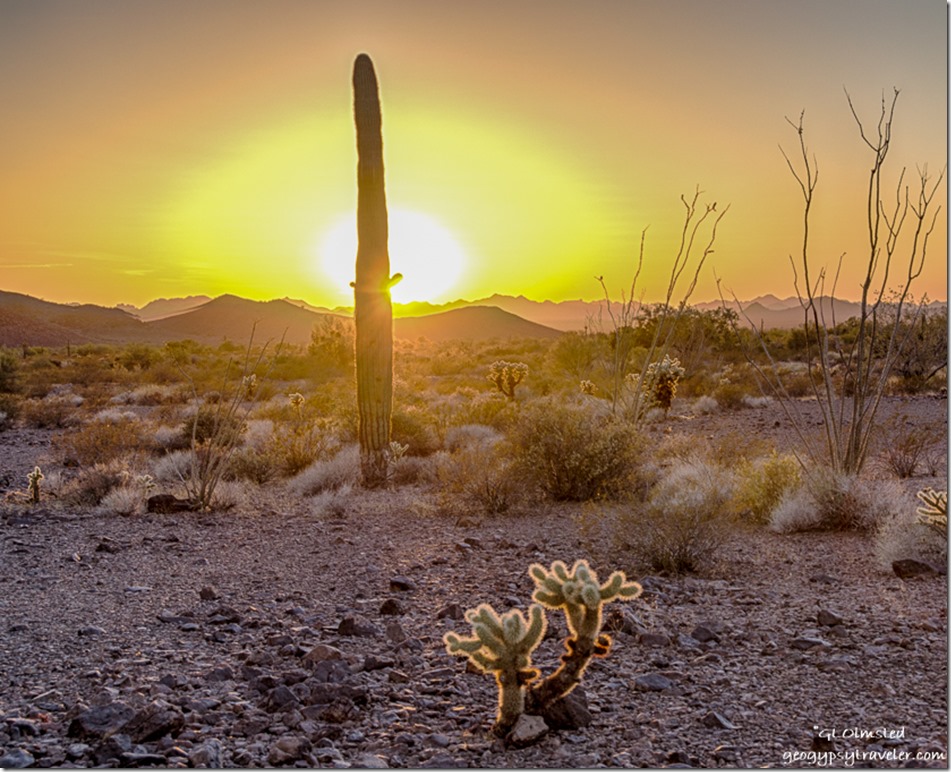 Sunset
Camping is pretty close to the gravel Palm Canyon Road both on BLM and the NWR.  Lots of vehicles drive fast and if the wind is blowing your way it gets damn dusty.  It's free camping for 14 days with absolutely no services.  Bring plenty of water.  Do not drive over or park on vegetation.  In the NWR I saw signs about no vehicles beyond a line of rocks not far from the road.  Good signal with Verizon usually 4G with 3-5 bars.