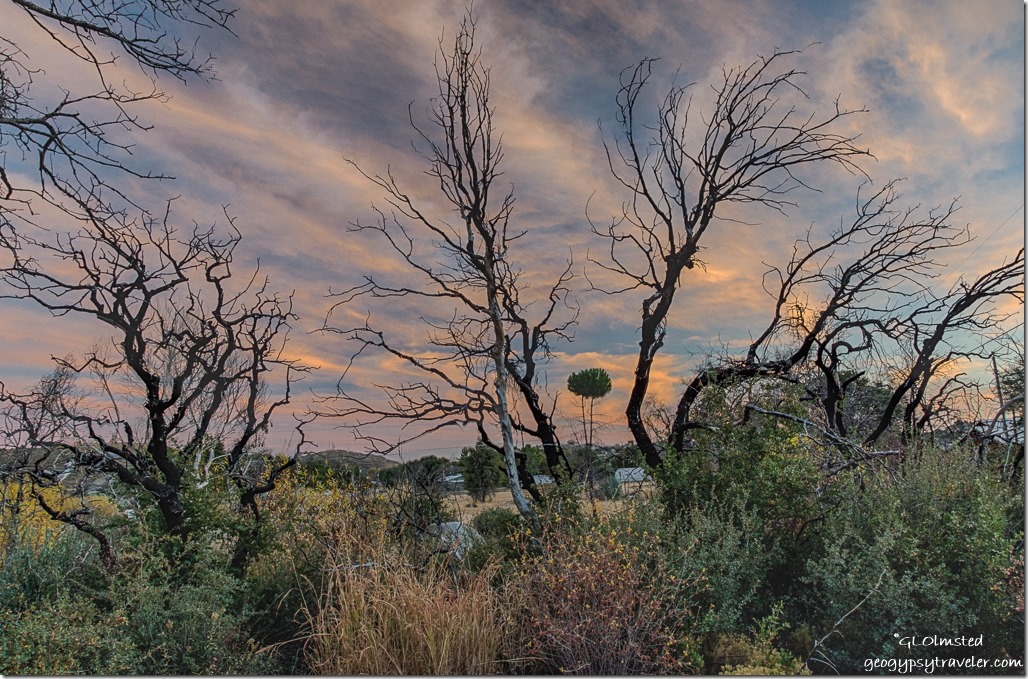 I haven't done much since returning to Yarnell, especially taking photos.  Oh, a few of my view and can't resist Berta's pretty flowers and her cat.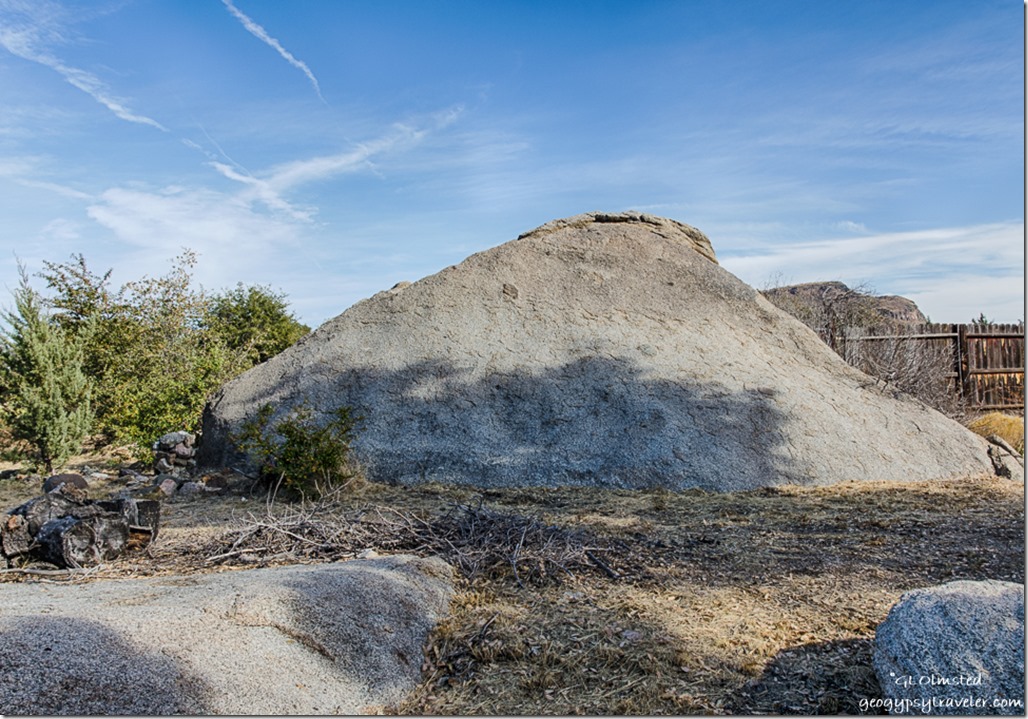 I was hoping for some fun with the rising of the full Cold Moon but even with all my calculating with ephemeris and compass, clouds made that a little fuzzy.  Besides, I got cold and packed it in pretty early.
But my pre-planning did pan out for the morning set of the full cold moon.  And now I'm in love with a piece of property here and it's balancing boulder.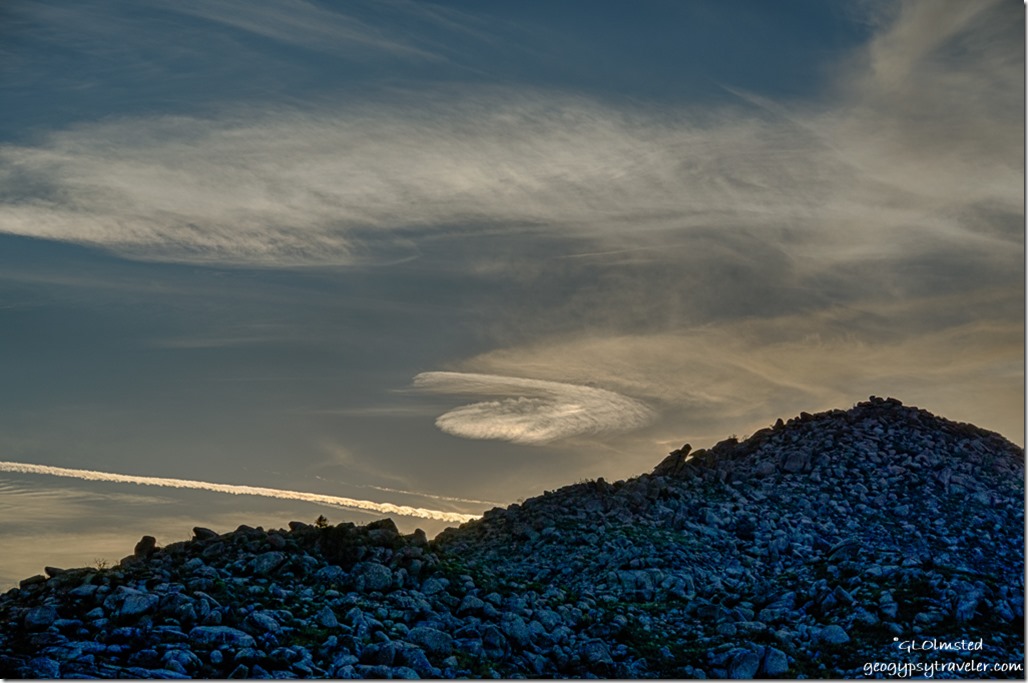 I actually fell in love with Yarnell 12 years ago, the first winter I parked my old 5th-wheel on this piece of private property now owned by my dear friend Berta.  About 3/4 of an acre adjacent to a dry wash (dry when I'm here in the winter anyway) with a marvelous western view of the rounded boulders of the Weaver Mountains.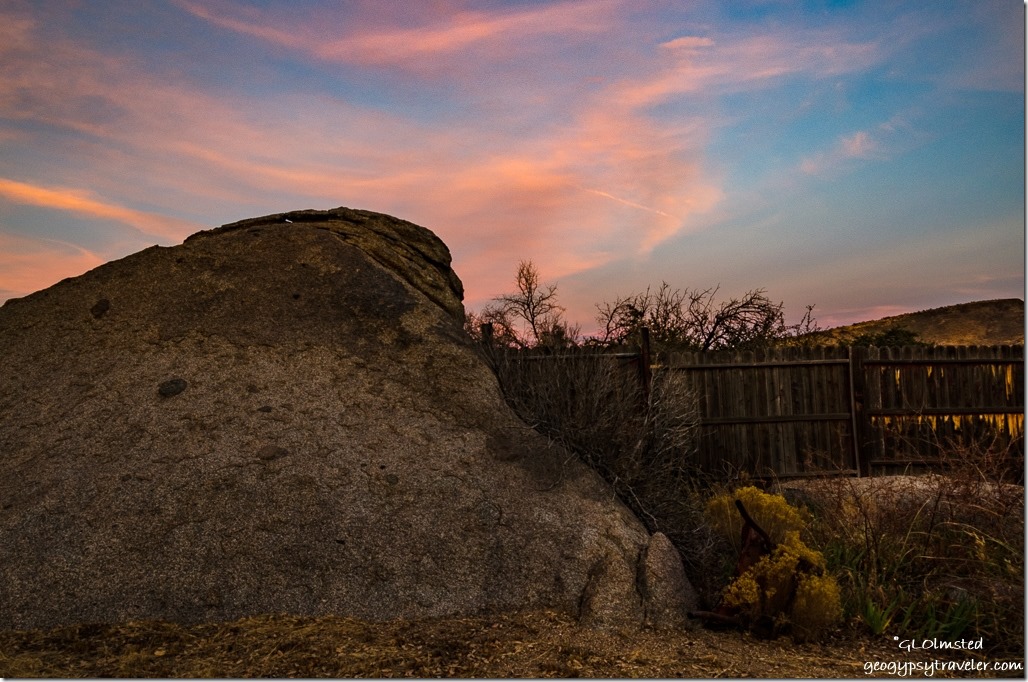 This little area of Yarnell called Glen Ilah is known as the Boulders.  Many small houses built in the 1920s followed by more building during the 40s and 50s.  They were often tiny and incorporated the boulders in and into the house.  In some cases there are more boulders than flat to build on.  At first I thought that was a cool idea but as I got to know people I discovered the boulders are near impossible to seal from the house so critters come in including spiders and scorpions, and during winter the rock is generally cold.  As much as I love rocks this idea no longer appeals to me.  But I do love to climb and look at the boulders.  Actually eroded granite plutons much like the landscape at Joshua Tree National Park and Alabama Hills.  I like this place as you can probably tell and spent ten winters here, or at least part of the winters.  In fact I'm having a difficult time leaving here, again.  I'm not sure why I feel so lackadaisical.  I want to go, but don't want to leave.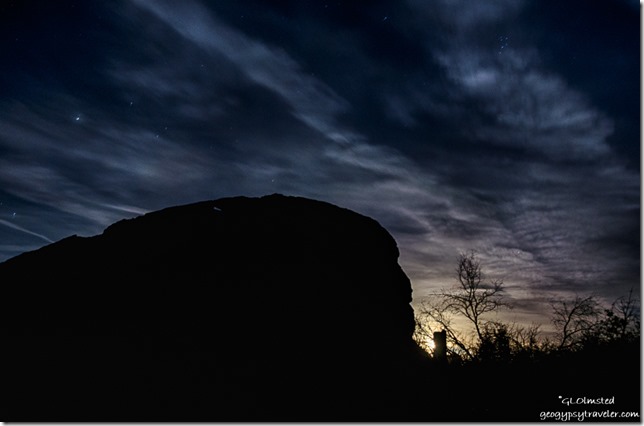 Oh yea, this is about the full moon.  And this is all I got for moon rise.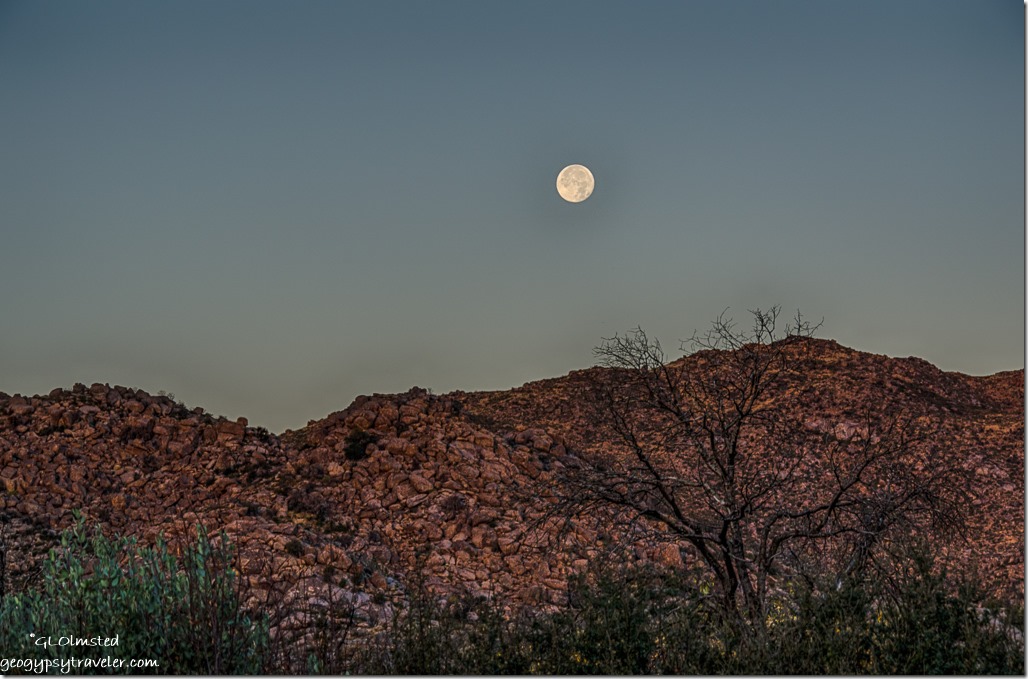 I did a much better job of shooting the morning moon set.  No clouds, just before the sun broke over the eastern horizon and Rich Mountain.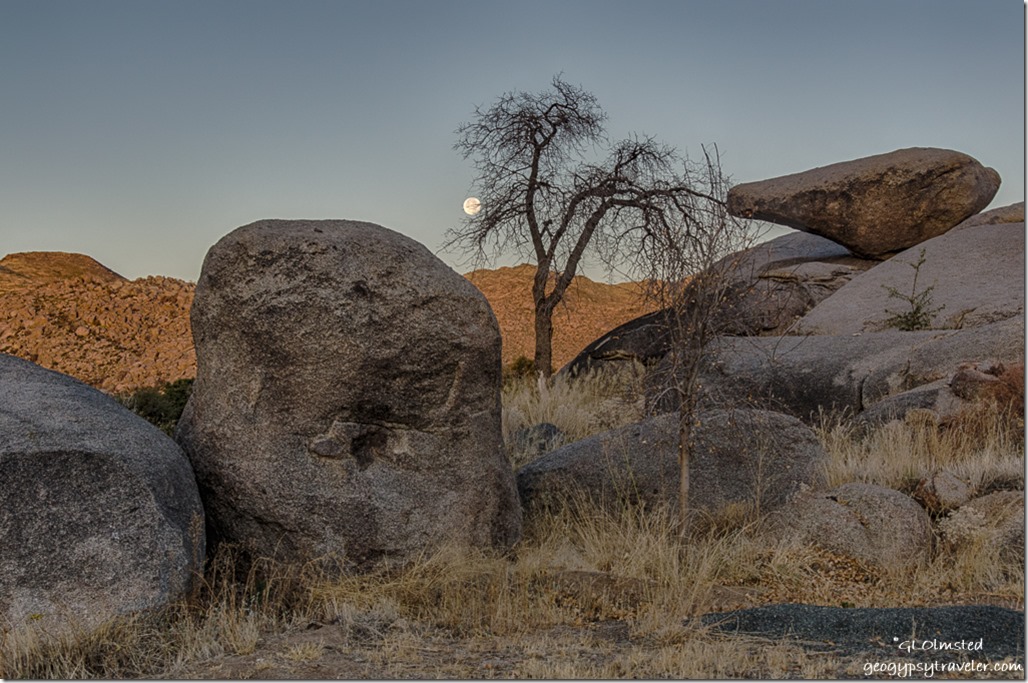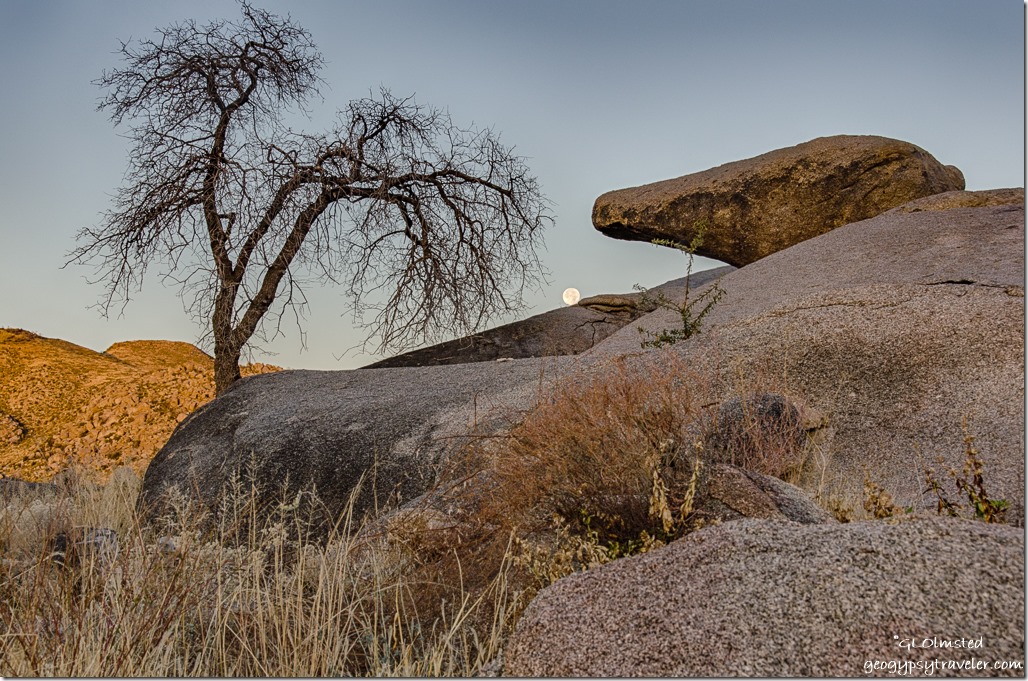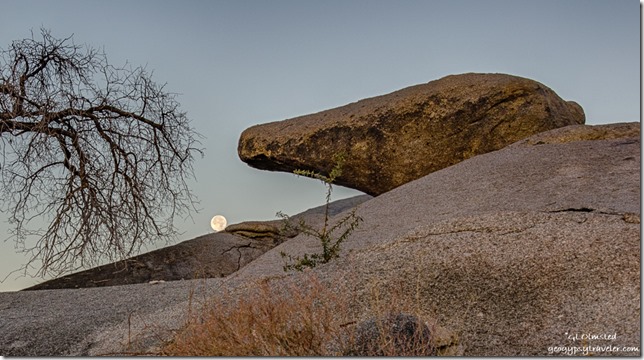 The deep blue sleepy sky made a delightful Arizona back drop with the boulders.  These shots all taken from the piece of property I fell in love with.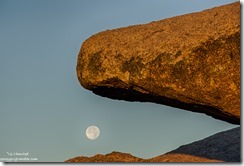 So, I'm here, cat sitting for Berta while she is visiting with family in Portland.  Do I Have to stay?  No.  Do I want to stay?  Yes.  At least so far.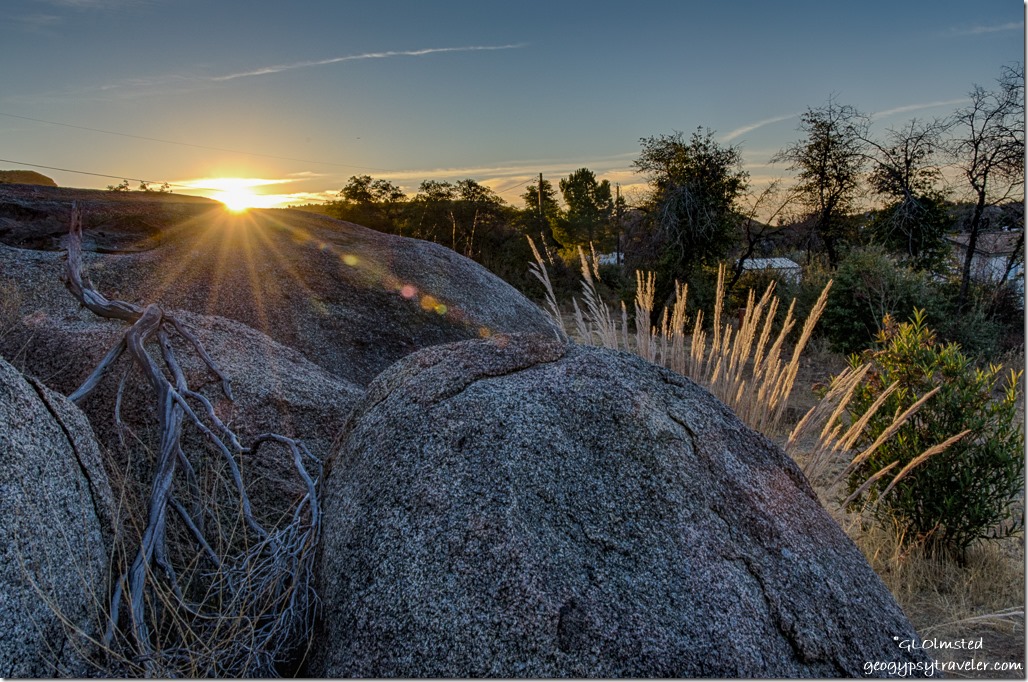 With all the possible places on my Arizona to-see list none of them have jumped right out and grabbed me, yet.  In the meantime, I'm enjoying the view, labeling photos which I am almost nine months behind on, and still working on posts from last month's visits to Death Valley and a ghost town.  Please, don't rush me.