March 23-28, 2017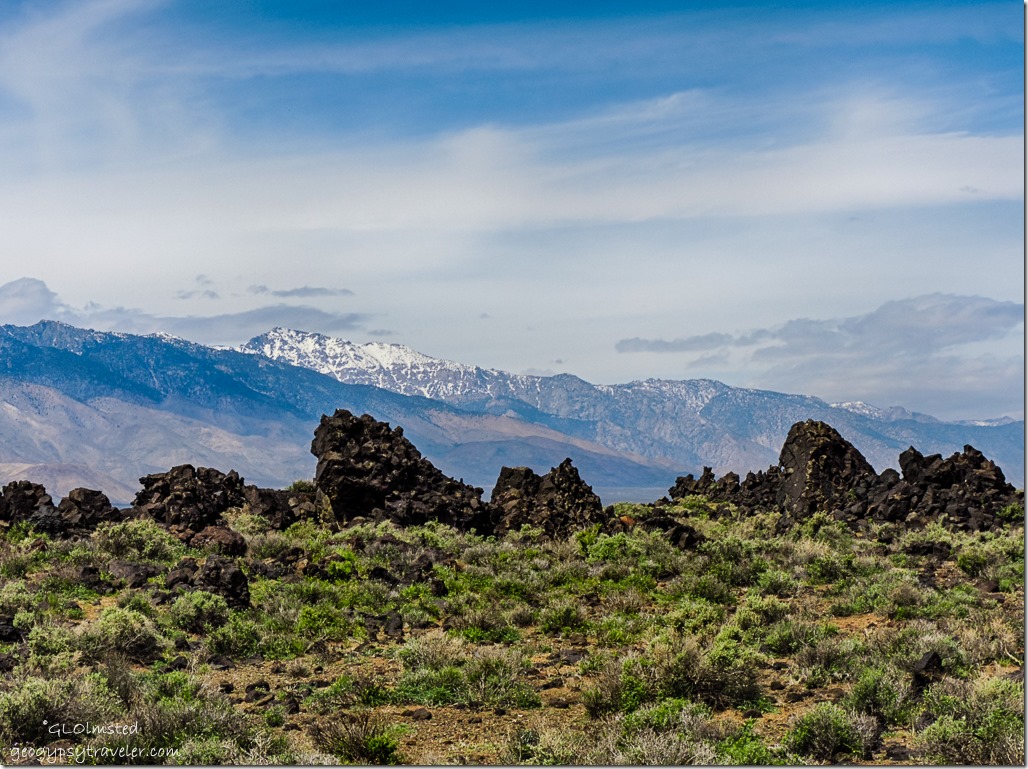 There are no fossils, or currently any waterfalls either at Fossil Falls, but there were flowers growing in cracks and crevices of jagged basalt carved smooth by the ancient flow of water.
After two weeks exploring around Lone Pine California—Alabama Hills, Manzanar, and Tuttle Creek—it looked like a little break in the wind and I figured it was time to start the journey home.  But of course with some stops along the way.  Thanks to Jeff for recommending Fossil Falls.

Only a 40 mile drive south on US395 I watched carefully for Cinder Road just south of the prominent Red Hill.  Along the way I stopped in don't blink you'll miss it Olanche for much needed propane.  Ouch, $4.99/gallon hurt the budget, especially after a museum visit and staying at Boulder Creek RV Resort the night before.  Time for a cheap rich connection with nature.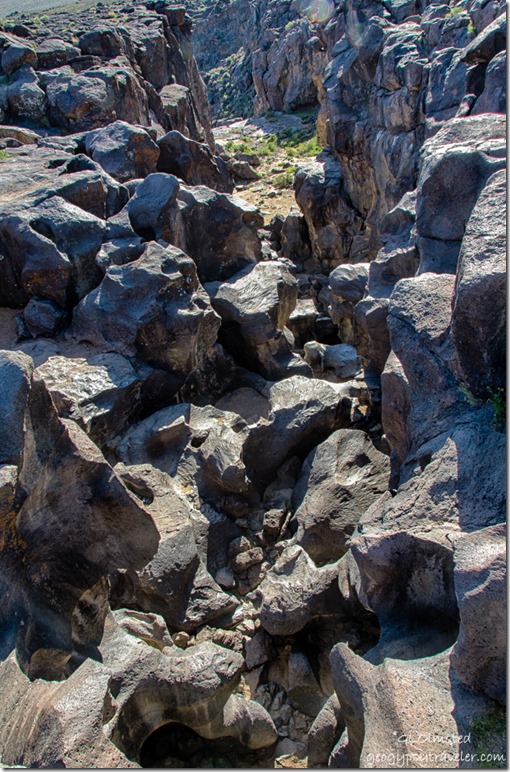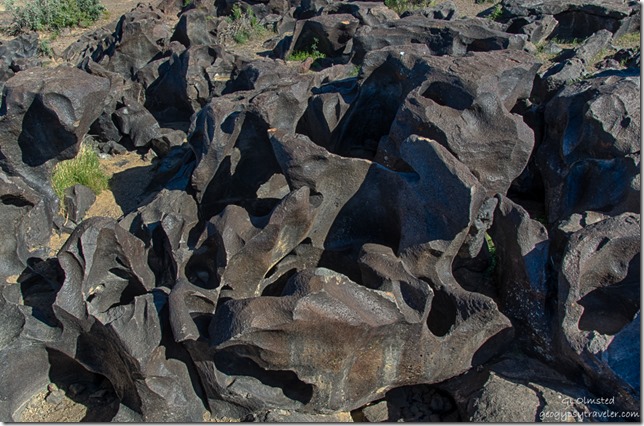 Signs directed me down a good gravel road a short way to the turn off for both day use parking and a campground.  A 1/2 mile easy trail lead deceptively over low ridges of porous yet smooth basalt.  And suddenly, a 40 foot drop reveals this fossil of a waterfall.  The scene is vast and difficult to put into perspective.  The seemingly jumbled and carved rock like a pile of discarded sculptures was overwhelming and hard to separate.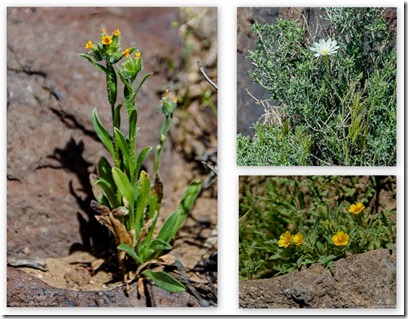 Plus I was totally distracted by the brilliant dots of color with flowers scattered around.  The dark lava rock made a nice backdrop yet the wind made it difficult to photograph.
I didn't stay too long as the falls canyon was looking straight into the lowering sun and I wanted to find my campsite for the night.  Nice to know I could return in the morning.
(All unidentified)

The primitive campground offers a hand-operated water pump that others reported was a slow pain, and a pit-toilet.  The dirt road has lava tire bitters to avoid.  Each of the maybe dozen campsites had a table, fire ring, and grill.  Only a few sites would accommodate large vehicles.  I never saw the "pay station" for the BLM $6/night fee.  Wasn't overly worried about it for a planned one night stay at $3 with my Senior Pass.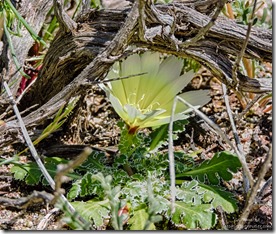 I had every intention of getting out, relatively, early for some morning light.  Instead Berta and discussed the troubles with our world.  Yet timing turned out right when I met and chatted with two ladies coming off the Fossil Falls trail.  Carolyn is a blogger and instagramer from BC, Canada and was traveling home in her RV with her friend  Christine caravaning behind her.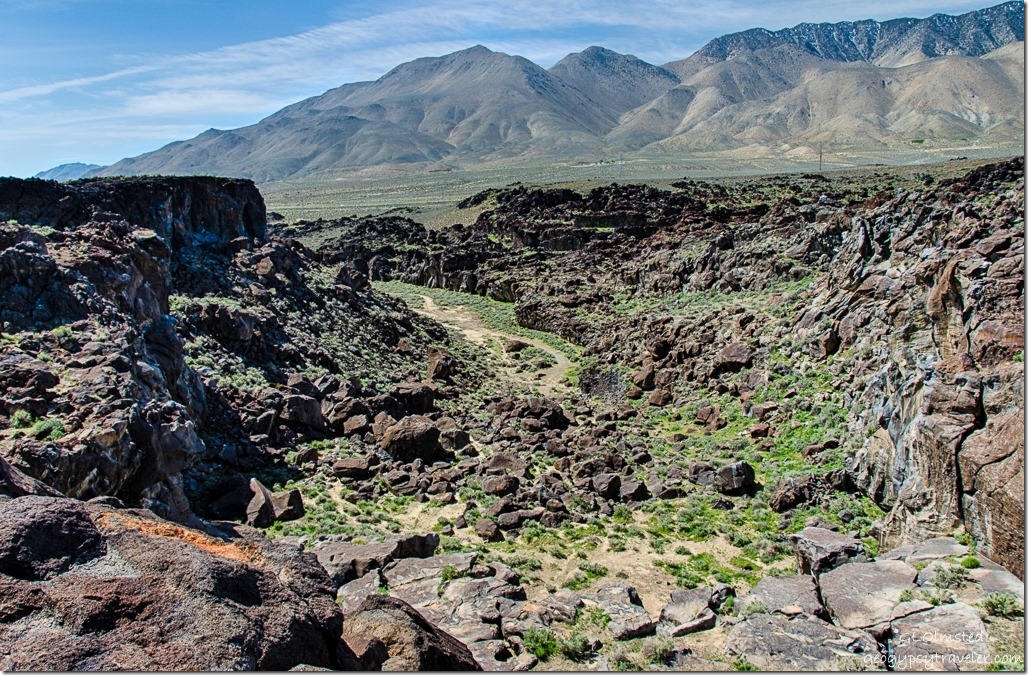 I spent about two hours roaming around on this course and sculpted landscape beyond the first falls.  Between 400,000 and 10,000 years ago basaltic lava flowed from the Coso volcanic range east of the Owens Valley.  While the area is an arid desert now, water once flowed from Owens Lake to the north through the narrow valley creating an interconnected system of lakes that are now dry basins.  In addition to lava flows and river systems, the Owens Valley was once covered with glaciers.  The falls were formed when the river was forced to divert its course over a basalt flow, polishing and reshaping the rock.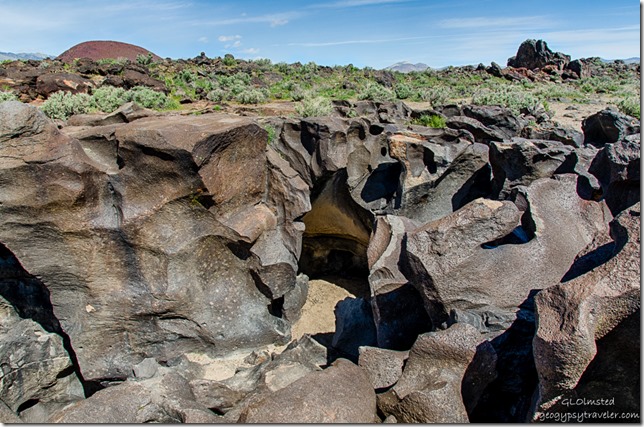 Although it's possible to crawl down into the ancient flow I chose to stay on top inspecting potholes made by rocks caught in an ancient eddy that drilled these almost perfectly circular holes.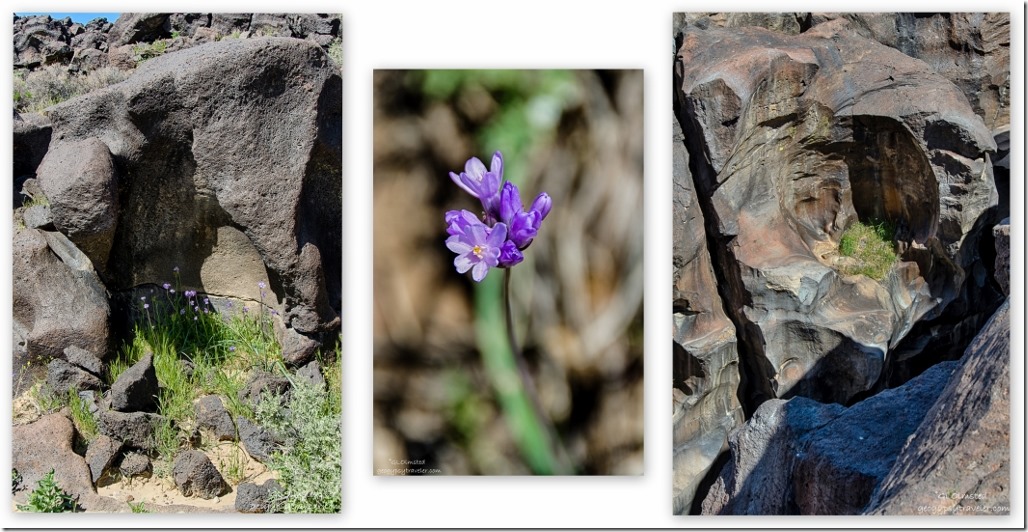 Desert Hyacinth
Sediments settled in some of these carved rocks creating micro environments like a pot filled with flowers.  And these attracted butterflies, some pairs dancing on air, that were way quicker than I am with the camera.  I found it interesting to note that frequently the color of the butterfly matched the flowers they landed on.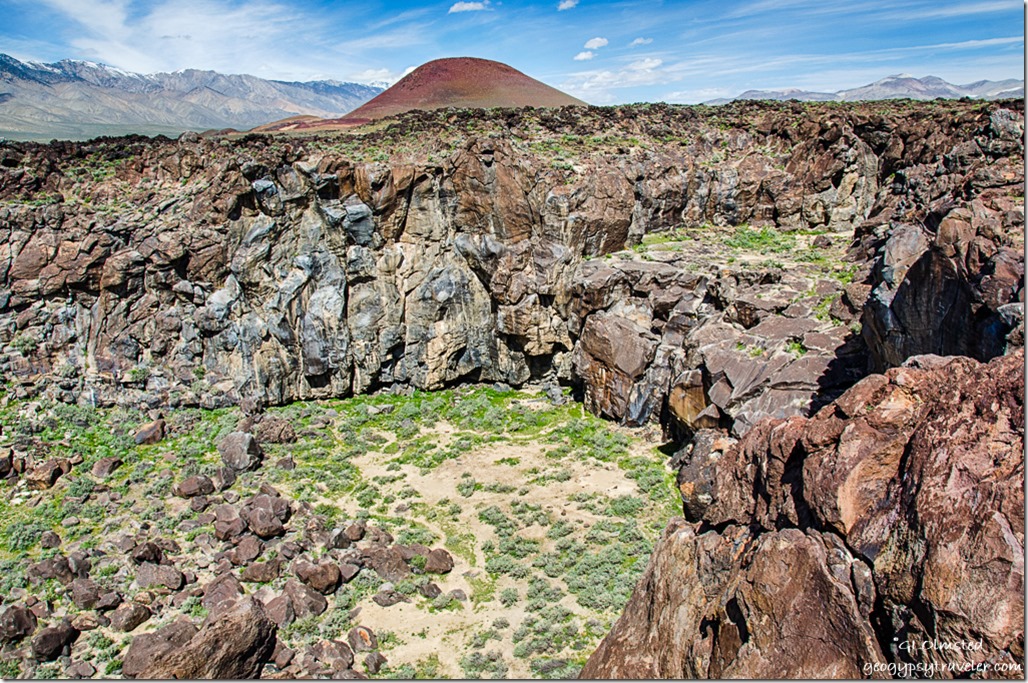 I tried to imagine the flow of water, listening for its song as it dropped and swirled to create this smooth yet chaotic rock fissure.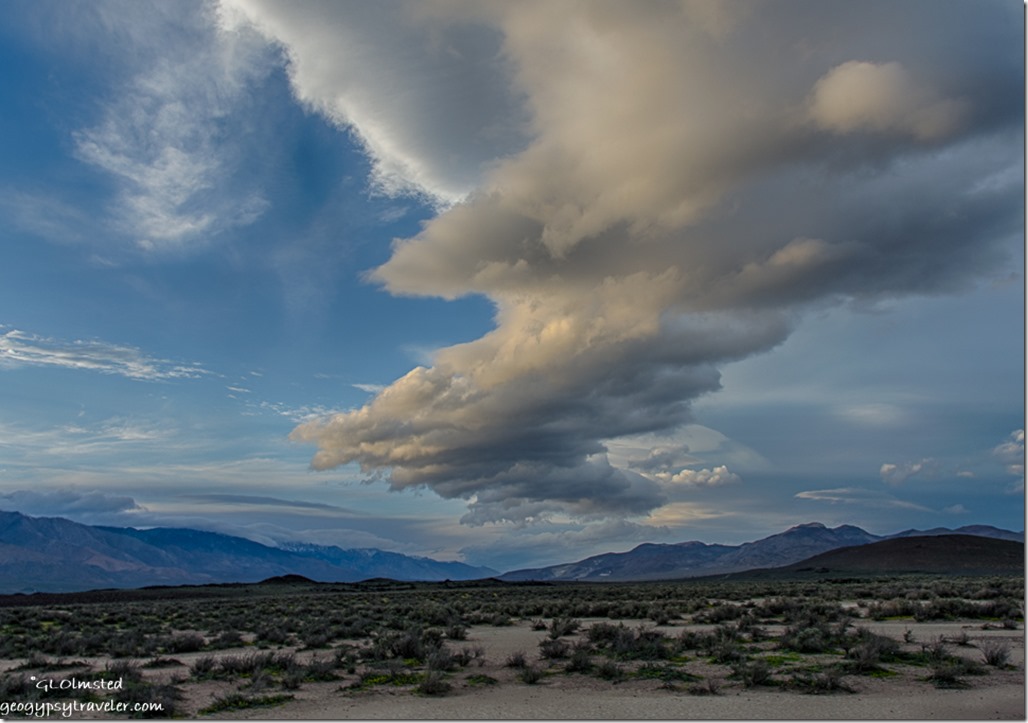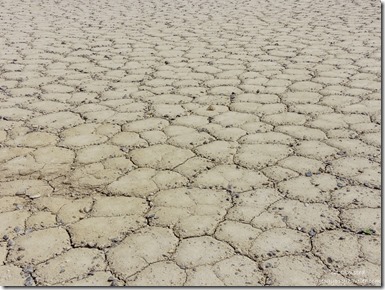 This place deserved more than one day of exploration but with a weekend coming I headed out about another mile past the appropriately named "Little Lake" and camped on a dry lake bed.  The dry cracked mud looked like cobblestones but I wouldn't want to drive on them when slippery wet.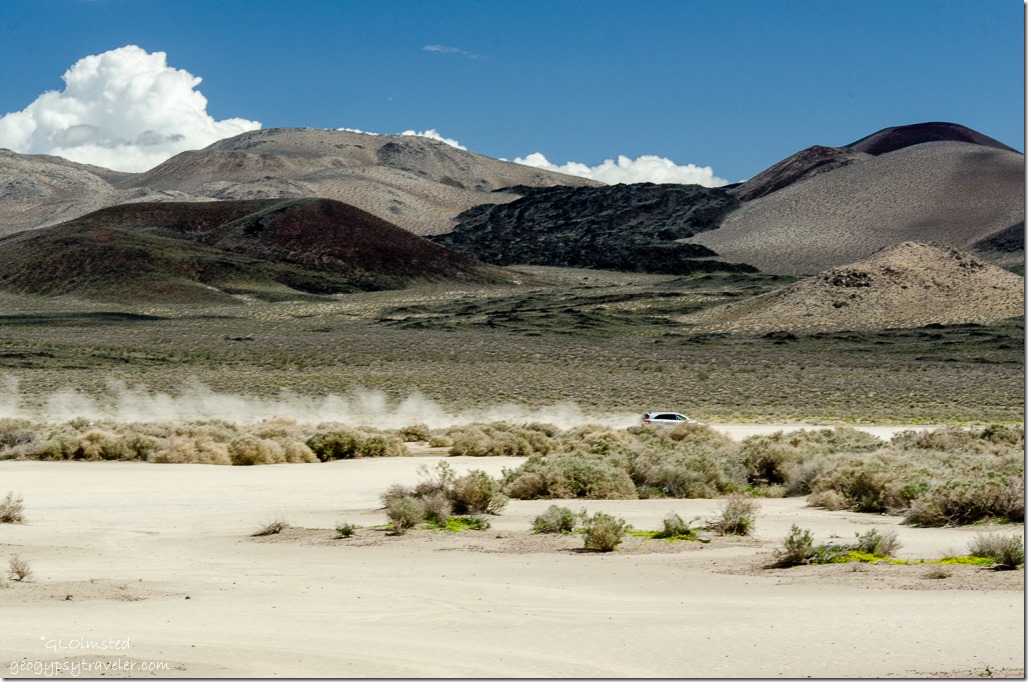 Unfortunately the wind kicked up the following day yet I was content to stay inside with a good signal working on posts and enjoying the shadow speckled Coso Mountains beyond the long stretch of valley.  Plus entertained by the occasional SUV driver fantasizing a race across the Bonneville salt flats dry lake bed and leaving a legendary trail of dust lingering behind.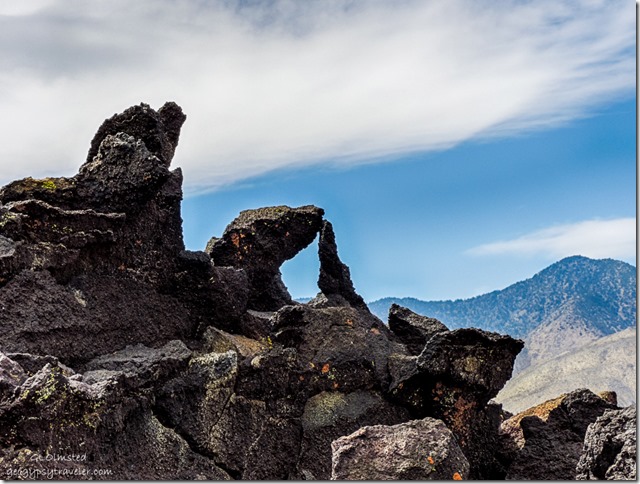 My birthday started late that night and well into the next morning with wishes from different time zones, the other side of the world in some cases.  I love social media for the friendships and conversations with friends around the world.  Depending on how late you stay up or get up.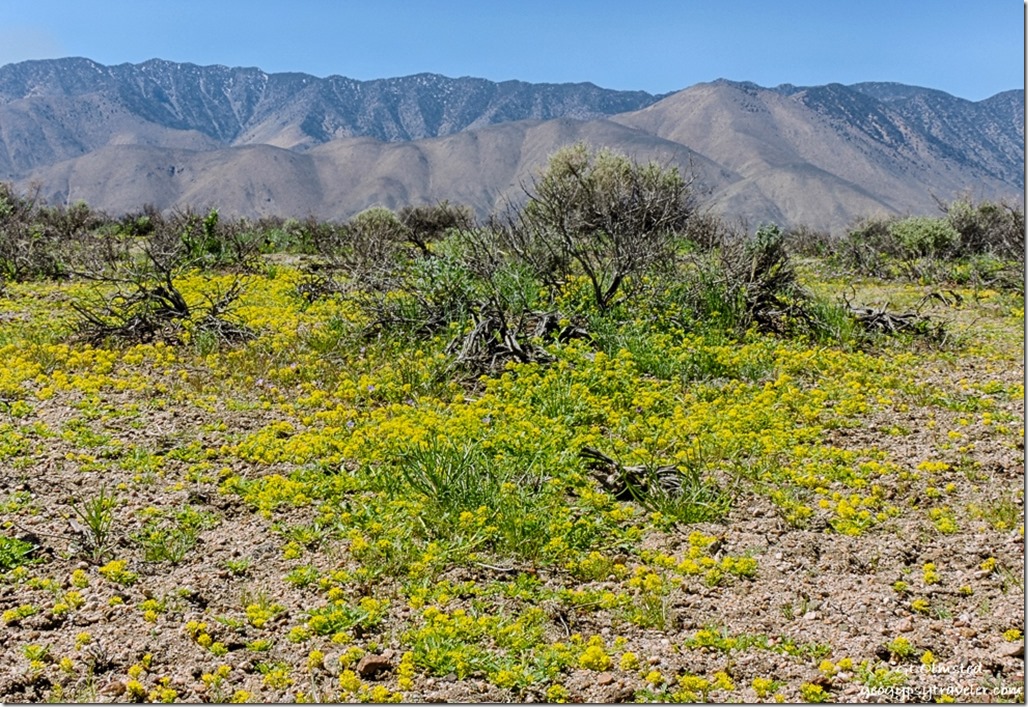 Yellow pepper-grass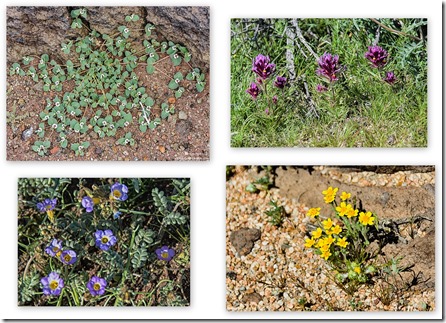 I eventually went for about a three hour stroll through the wildflowers and around some interesting shaped lava with the southern Sierras as a backdrop.  Many of the flowers at Fossil Falls are tiny—from the head of a pin to a pea-size and no more than a quarter—growing in the shade of lava rocks.  True survivors.  Scattered, hiding, but there.  I respect the desert blooms for not being too big and showy as they struggle to flower at all.
Rattlesnake weed, Purple Owl's clover, unidentified & Phacelia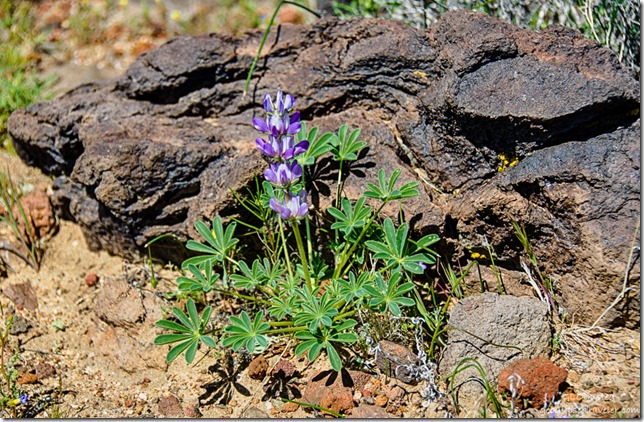 Lupine, called Bluebonnet in Texas, seems to grow in many environments.  I've seen it stunted to no more than four inches tall on rocky tundra and up to two feet in meadows, plus every height in between.  These weren't more than 10 inches.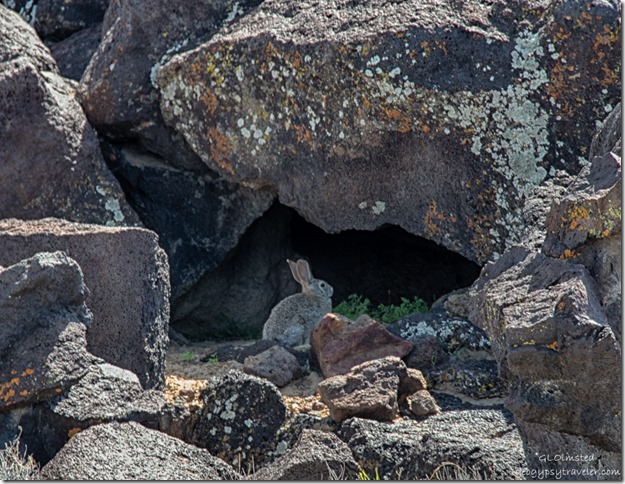 Sparks of sunshine reflected off numerous chips of shinny obsidian left behind by the First People indicating they knapped arrow heads here.  Might have been good hunting.  I saw a couple of jackrabbits the size of a large lap dog.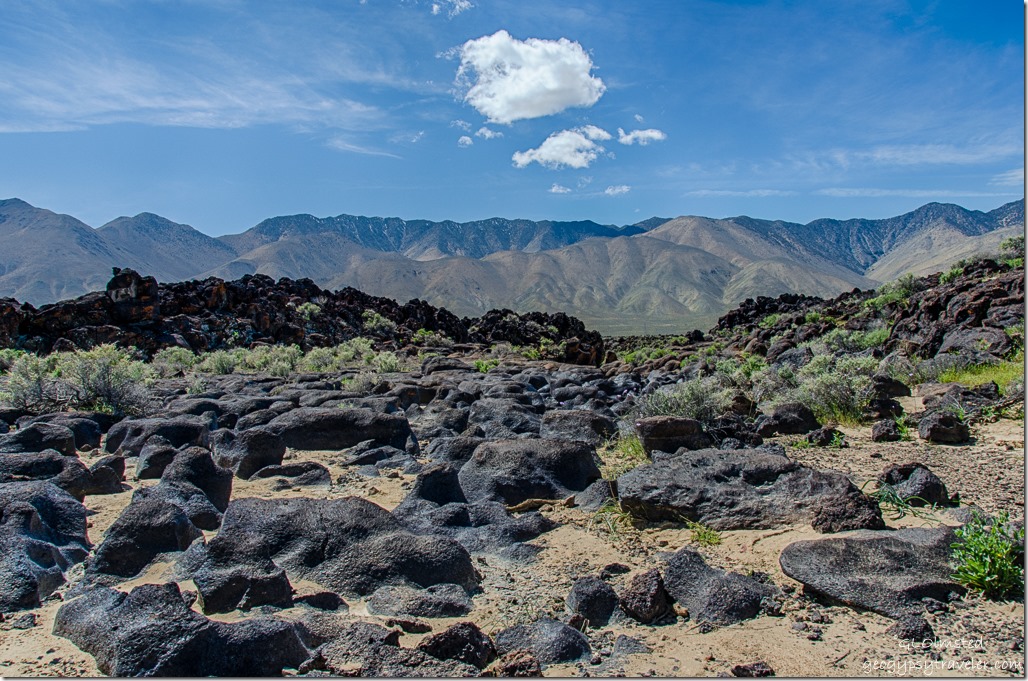 That night the wind rocked me and with predicted N/NW gusts of 55mph I moved first thing in the morning into a little more sheltered area in the campground.  The low walls of lava buffered it a bit and was certainly better than the dusty dry lake bed.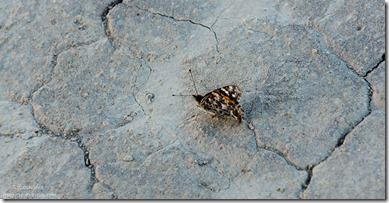 With the camper still rocking I didn't poke my nose out all day.  Thank goodness for a strong signal.  But I'm done with it.  I would roll the next day wherever the wind blew me.
Save
Save