March 22, 2017

While exploring the Alabama Hills I kept expecting to see the Lone Ranger and finally did at the Museum of Western Film History along main street in Lone Pine, California.
I remember sitting in front of the TV in the 1950s enthralled by the B&W cowboys riding through amazing western landscapes full of dust and boulders backed by towering mountain peaks.  In fact I swooned over a few of these stars.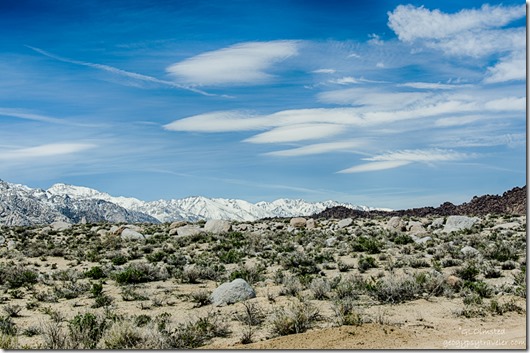 I woke up to a mostly blue sky morning in Tuttle Creek campground and decided it was time to move on and begin the journey towards home.  I'd planned to dump full holding tanks on the way out of Tuttle Creek campground but their tank was full and closed.  I headed to Lone Pine but the RV Park didn't offer a public dump station and recommended Boulder Creek just south of town.  Good enough.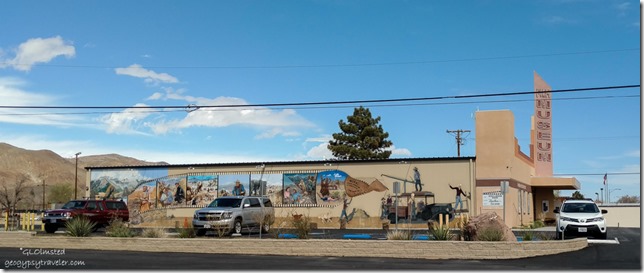 So I enjoyed yet another breakfast at the Alabama Hills Cafe and Bakery.  Then made my way to the Museum of Western Film History.  Thanks to those who recommended this when I was hesitant.  I'm not a TV or movie buff so didn't think this would be my thing.  However, having grown up with so many of these stars at least I knew who they were.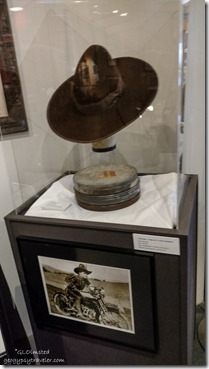 Entrance fee is a $5 "donation" which was well worth it.  I started with the 15-minute introductory film with historic movie clips beginning with the 1920 B&W silent film The Round Up starring Fatty Arbuckle.  Cowboys raced across the screen usually chasing the bad guys, or running from the good guys depending on which color hat you wore.  Over 300 feature films have been shot in the Alabama Hills along with dozens of TV shows, movie serials and car commercials.  Although westerns weren't the only thing filmed in the area that is the museum's main focus through photos, costumes, props, scripts, and movie posters.  A map is available for a self-guided driving tour to some of the film locations on Movie Road in the nearby Alabama Hills.
Fatty Arbuckle's hat
    Roy Rogers & Dale Evans                                                       Hopalong Cassidy
Many of the 1950s TV favorites sold licensed products including comic-books, plates, lunch boxes, clothes, toy guns, milk cartons, watches, games, table lights and much more that were also on display.  I remember proudly carrying a Roy Rogers lunch box to school as a kid.
You might remember the jumbled rocks of an Alabama Hills backdrop in Have Gun Will Travel, The Gene Autry Show, Annie Oakley (who I so admired), Bonanza, The Lone Ranger, and Hopalong Cassidy.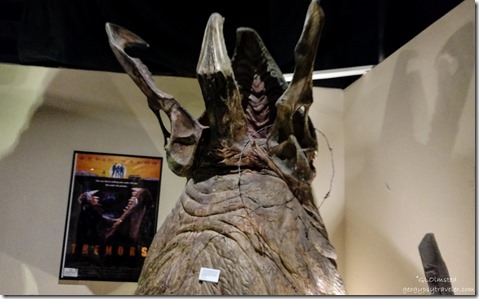 Graboid from Tremors
Even though the Westerns' genre became less popular after the 1950s the Alabama Hills stood in for India, the Middle East, the Gobi Desert, China, and even Africa in two Tarzan films.  Sci-fi producers found the landscape out of this world for movies like Star Trek V, Star Trek: Generations, and the television series Deep Space 9.  Those hills also served as a backdrop for Gladiator, Tremors, and Dinosaur by Disney.  I may have to watch some old movies to be reminded of my visit.  But not Tremors, that was too scary.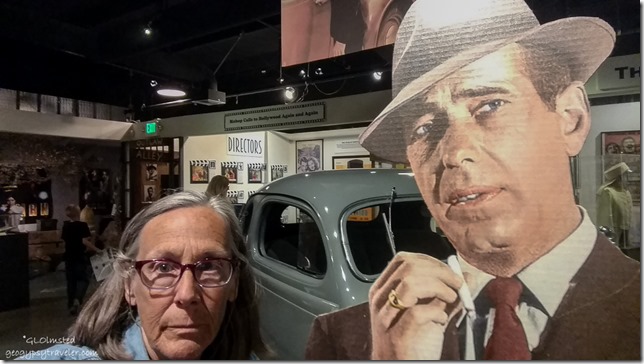 More recent filming includes scenes from Iron Man, Django Unchained, and The Lone Ranger.  Must be a new version out I haven't heard of.  The list of movie stars is long: Tom Mix, Cary Grant, Will Rogers, Joan Crawford, Fred MacMurray, Errol Flynn, John Wayne, Big Crosby, Humphrey Bogart, Barbara Stanwyck, Spencer Tracy, Gregory Peck, and Randolph Scott to name a few.  Mostly men on the list I notice.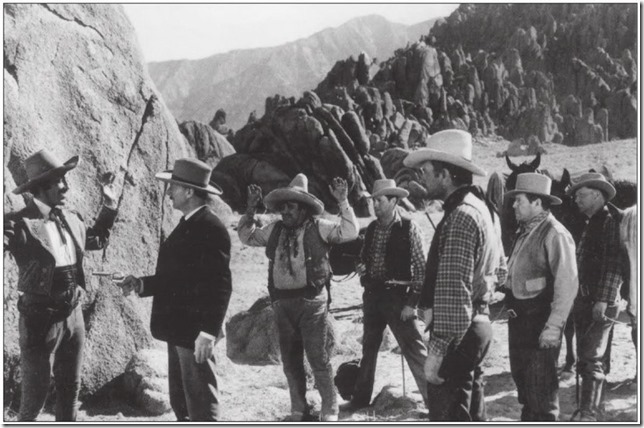 The Cisco Kid and The Lady 1939 clip, my 2nd campsite Alabama Hills
Most of the Alabama Hills are public land administered by BLM (Bureau of Land Management) and why we're able to dry camp there up to 14 days.  The BLM Bishop Field Offices issues about 30-40 film permits a year requiring all sets be removed and a monitor is present during and after filming to make sure this fantastic place stays as wild and beautiful as ever.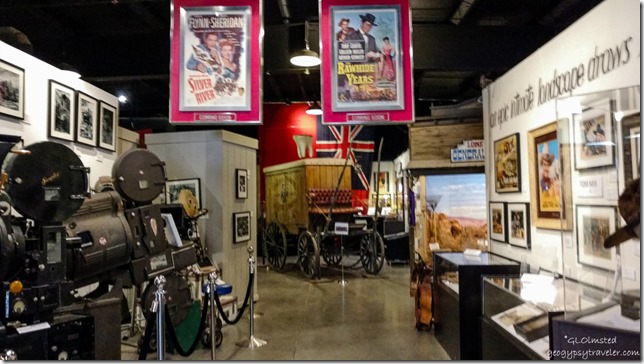 The museum is jam packed with memorabilia with far too much to read for the short visit I planned.  I was headed south to Fossil Falls at the recommendation of Jeff (Ruffin it with Rufus).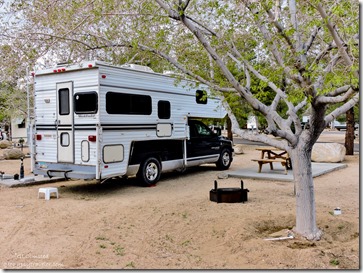 But when I got to the truck my cousin from Santa Barbara called to say he'd be driving through Lone Pine the next day on the way to Mammoth Lakes to ski.  So I decided to stick around and went to Boulder Creek RV Resort to dump the tanks and fill propane then ended up spending the night.  What the heck, it's only the second RV park I've stayed at in three weeks on the road.  I deserve it.  Especially the long hot shower.  Probably should have taken advantage of their hot tub too but once clean and settled in didn't feel like going back out into the wind.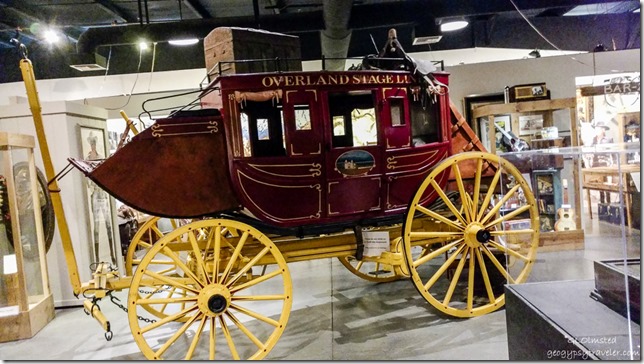 For any of you Clayton Moore/Lone Ranger fans check out this video.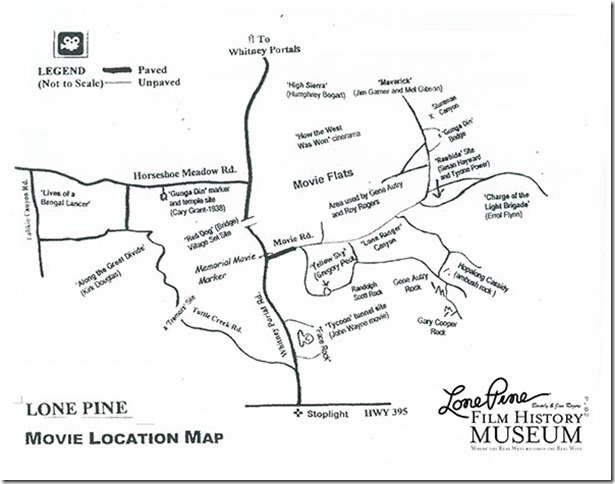 And there's an annual Lone Pine Fim Festival Oct 6-8, 2017
(Photographs are allowed with no flash, all the museum photos were taken with my phone.)
Save
Save