Seems like time to look back at the last year and take stock of what I learned in 2017 from travel, photography and life.
"Life is like a camera. Focus on what's important. Capture the good times. And if things don't work out, just take another shot."  –Ziad K. Abdelnour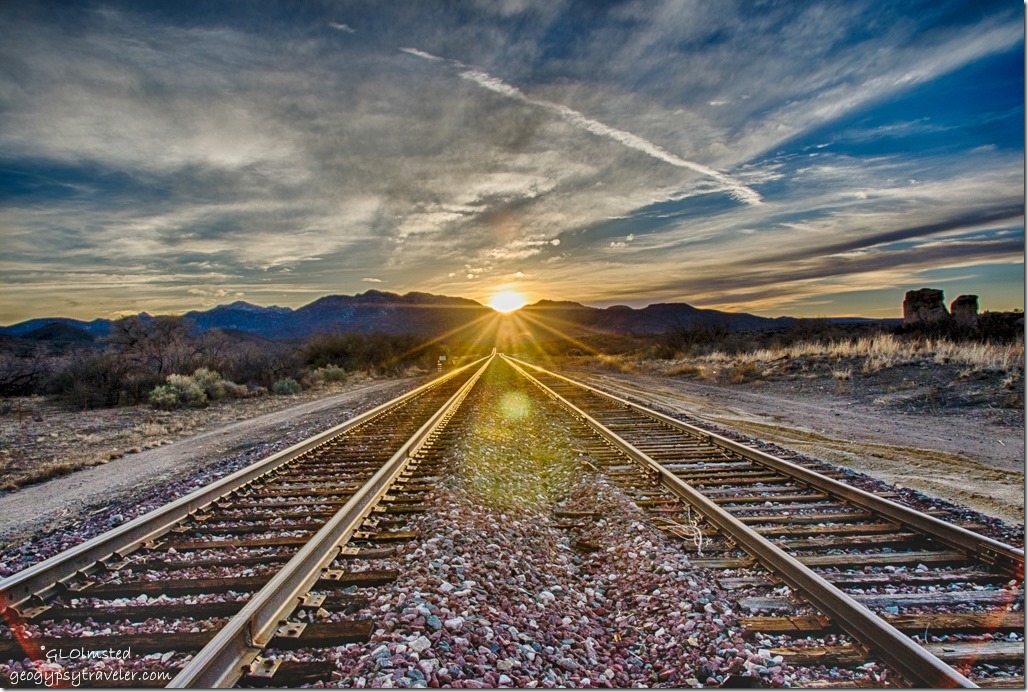 A magical opportunity for photography actually began in December 2016 when I got lucky with the sun setting at the end of the Railroad tracks not far from where I'd parked my 5th-wheel home in Kirkland, Arizona for the winter.  In fact, by overwhelming readers' vote this shot made the cover of my 2018 calendar.  All the photos, except for the one above, are some of my favorites from this past year, when I feel like my photos took a big step to increasingly better as I continue to learn and improve my photography.
January 2017, I got brave enough to open a photography website in addition to this blog where I've shared photos and stories since 2008.  I probably take way too many photos because I usually carry the camera everywhere, but not always in front of my face.  I take many photos that aren't meant to share.  In fact only a small percentage of my photos rate high enough to call a one or two "star".  My rating system and labeling with key words helps pick out photos worthy of post-processing for the blog, Facebook pages mine and others, Instagram, 500px, flickr, landscape photographer magazine, National Geographic Your Shot, Outdoor Photographer, ViewBug, and GLOlmsted Photography.
"When I quit learning I'm dead."  –Gaelyn L Olmsted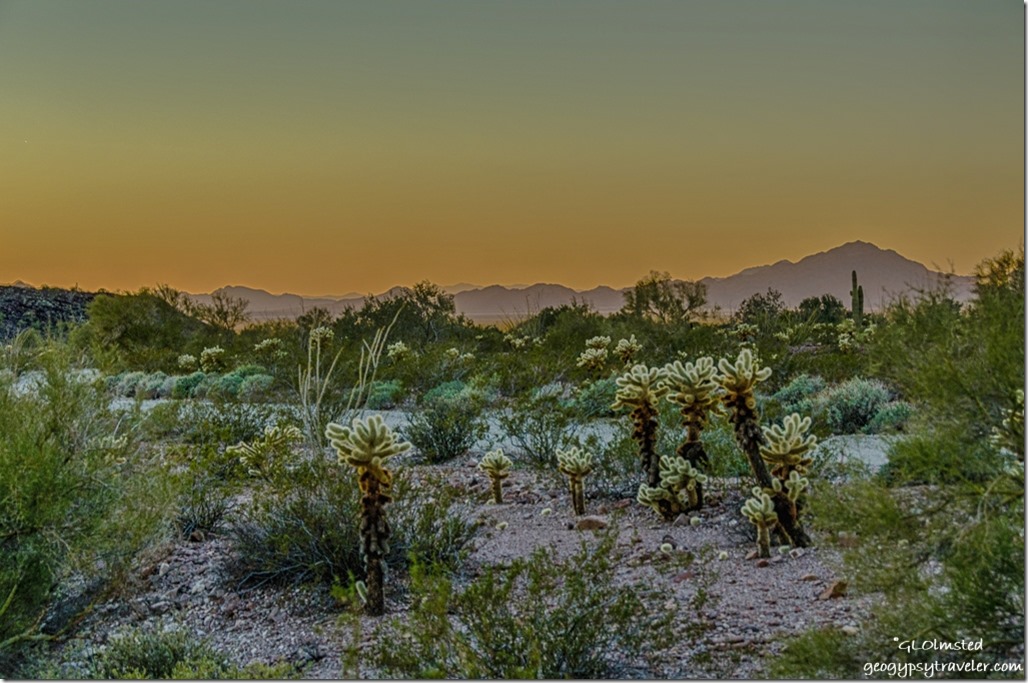 After setting up all the social media and photography sites I started the year's travels heading south to Quartzsite to hang out for a week with friends and attended a blogger-fest.  I'll be honest, when it comes to real time social gatherings I'm terrible about taking photos of people.  I probably know my camera and almost all the functions, buttons and knobs better than I know most people.  I've learned to think quickly about setting shutter speed, aperture, ISO, and maybe white balance.  Yes, that's on Manual.  It does feel like I'm guessing sometimes but practice makes better.  I'm even remembering to clean the lens with an appropriate cloth and check the settings before I shoot.  OK, so sometimes that happens on the second shot.  Fortunately the landscapes I typically photograph don't move much giving me time to recompose.  Do have to watch out for plants that bite like the jumping cholla found at the Kofa National Wildlife Refuge.
"Take note of and truly experience and nourish the moments of joy in life.  They will grow."  –Gaelyn L Olmsted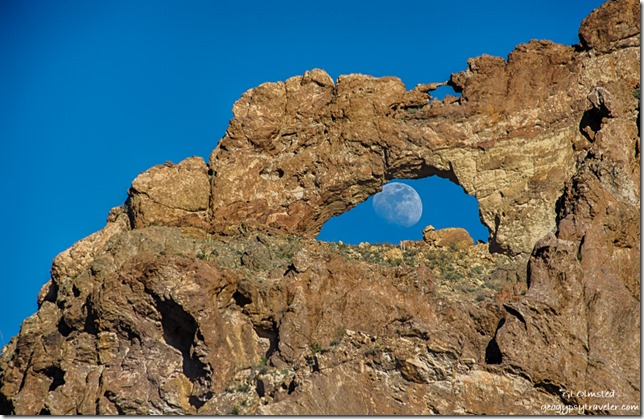 February found me moving back and forth between the free boondocking on BLM just south of Ajo, Arizona off Darby Well Road, and Organ Pipe Cactus National Monument about 15 miles down the road.  So much to see in this dense Sonoran desert environment I took literally 1000s of photos.  Thank goodness for digital.  Yet even with the digital convenience I still try to compose my shots.  I believe my art background pays off when it comes to composition, balance, what pleases and attracts the viewers eye.  Sometimes framing can be intentional but I also look closely around the edges and backgrounds for unwanted distractions like a stray branch.  I look for leading lines and interesting foreground to provide perspective.  I break the view into the rule of thirds, and try to use the Golden Ratio which I understand intuitively but not mathematically.  Yet rules are made to be broken and I don't want to limit my creativity.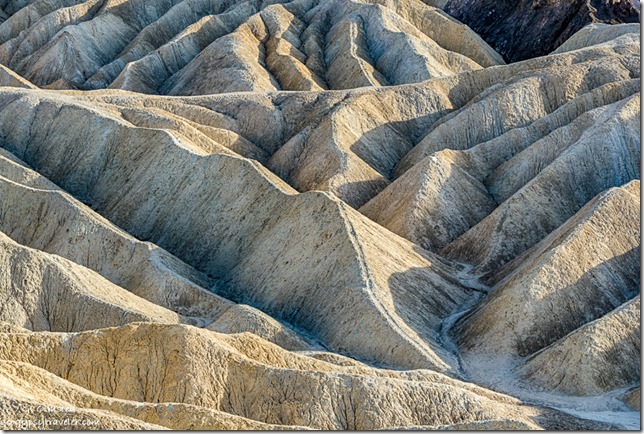 However, just because I'm a landscape photographer doesn't mean I Have to include the entire landscape.  Like the badlands at Death Valley in March, sometimes there is just too much, too big, too confusing.  I remind myself to focus in on the detail.  Plus I'm trying to wrap my head around hyperfocal distance for a sharp image from front to back.
Photography, from Greek origin meaning "drawing with light"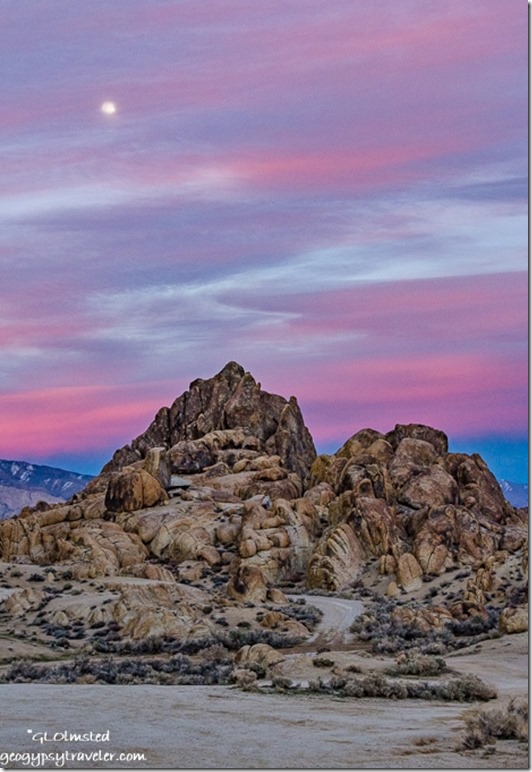 I continued to chase the light west to a new for me location at the base of the snowy Eastern Sierras in the Owens Valley.  Here lies a cluster of awesome boulders called the Alabama Hills very near Lone Pine, California where filming has occurred for almost 100 years.  I always figured as long as the sun was to my back and I could keep my own shadow out of the frame it was all good.  Now I'm getting to know the best light, blue and golden hours, just before and after sunrise and set.  That often gets me out of bed earlier, sometimes with an alarm clock.
High noon usually sucks for landscape photography, unless there are clouds and I really like stormy days if it's not too cold, or a dramatic subject.  Sometimes I use a hat or my hand to block sun reflections and then I still frequently get lens flare.  However I have learned how to catch those sun rays and like the effect of backlighting like the header photo.  Thinking more about shooting 90 degrees off the sun and remembering to use the polarizing filter.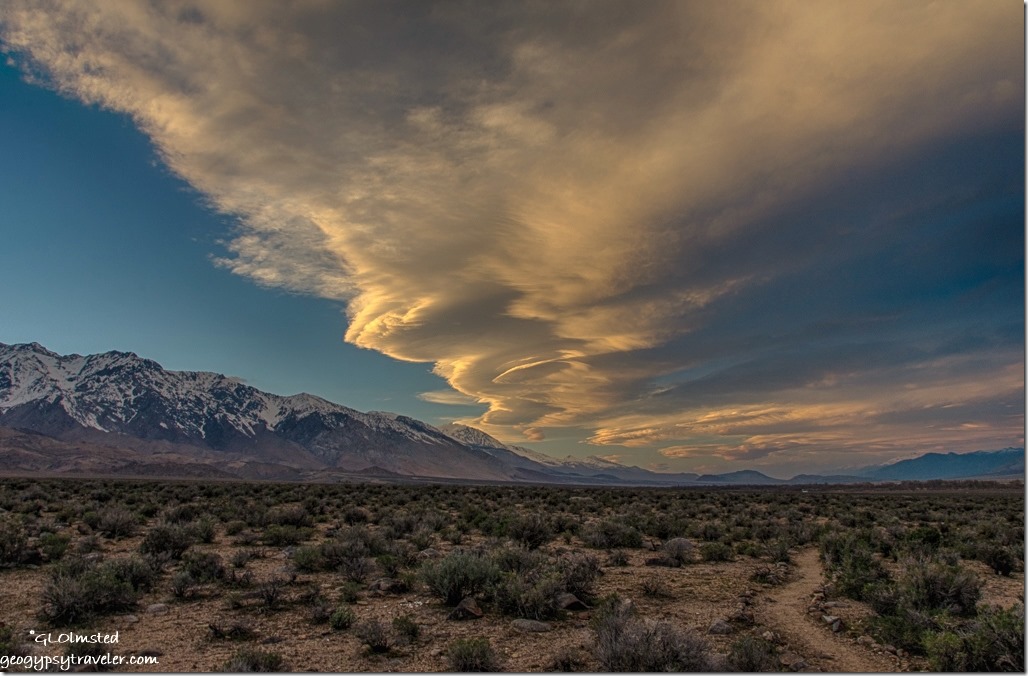 Get lost in nature and you will find yourself.
The end of April I returned to work, live and play at the North Rim Grand Canyon.  May and June I took very few photos as work time often finds me along the rim during mid-day.  I felt like a light snob mostly taking photos of visitors with their phones.  In the last five years I've seen less "real" cameras carried by visitors.  The serious photographers have their tripods out in the morning and late afternoon.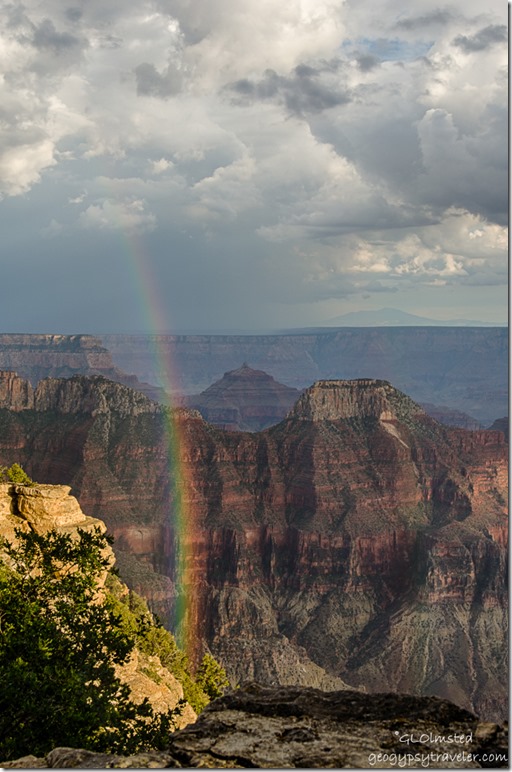 Sometimes it's just pure luck.  Being in the right place at the right time.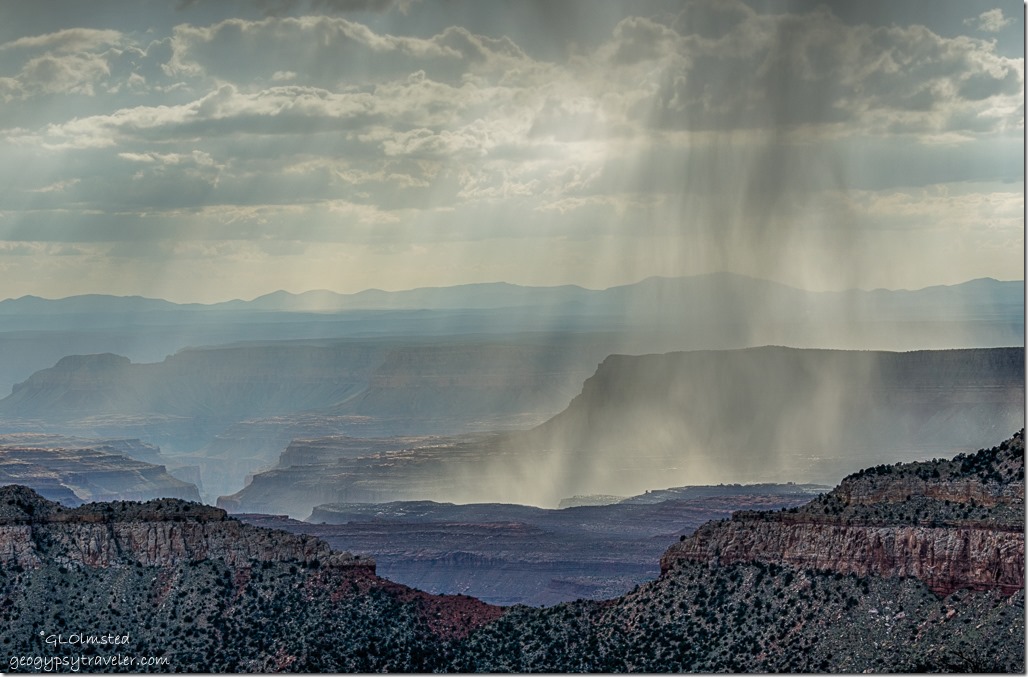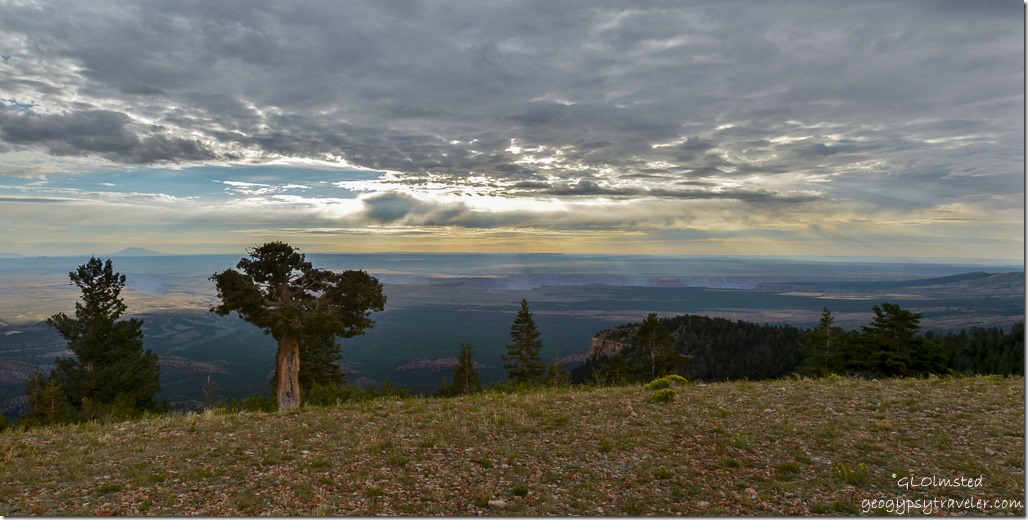 Yet there is something to be said for paying attention to weather patterns and taking opportunities like shooting during monsoon season at Grand Canyon.  I scored several times in August at Crazy Jug Point and Marble View.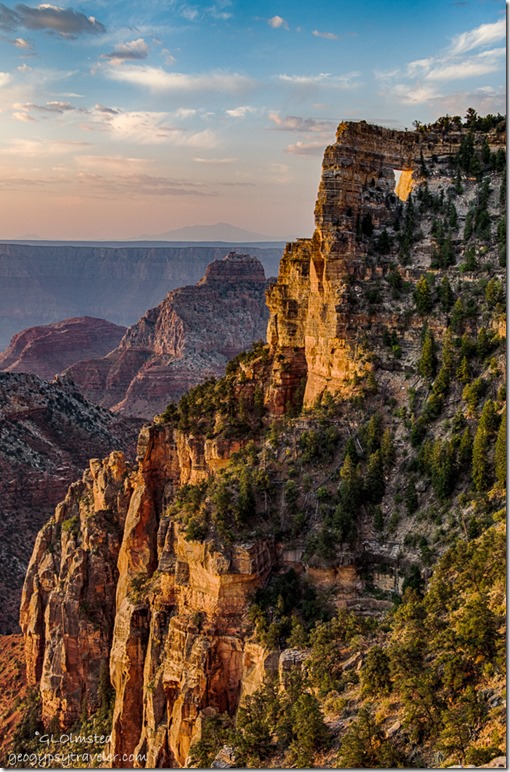 Getting those "best" shots usually requires at least some pre-planning.  I find myself thinking ahead about sites, the direction of the light, using Google Earth for unfamiliar locations, checking the photographers ephemeris and photopills for times and location of moon and sun, rise and set.  One of my favorite shots from 2017 I planned ahead to catch the first morning light on Angel's Window, and it worked.
"We have our ways and patterns that are difficult to change the longer we own them."  –Gaelyn L Olmsted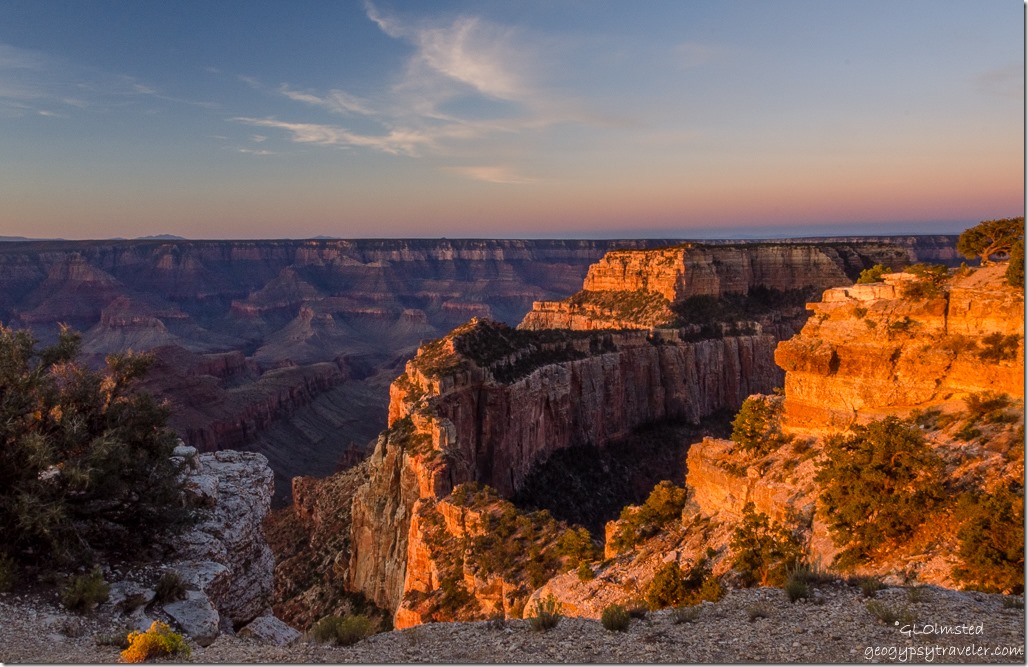 This is when I find a tripod necessary—even though I don't like carrying the heavy thing around—for sharper photos than hand held in low light.  But then I still have to remind myself to move around, looking at my scene from different angles, high and low.  I need to buy a lighter yet sturdy tripod.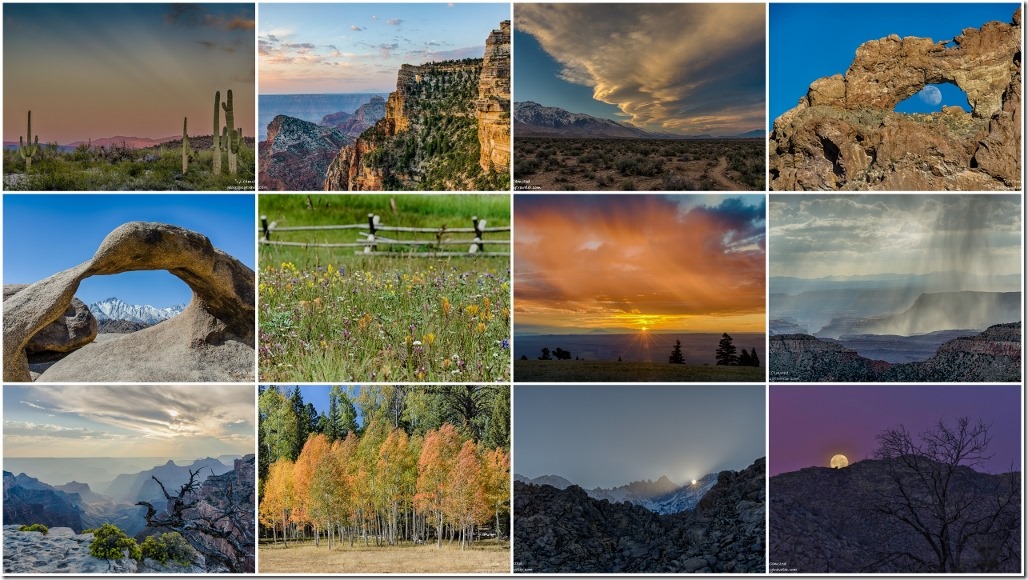 Mid October my work season ended.  The 2018 calendar was printed with good results and another lesson in post-processing.  Print is darker than monitor.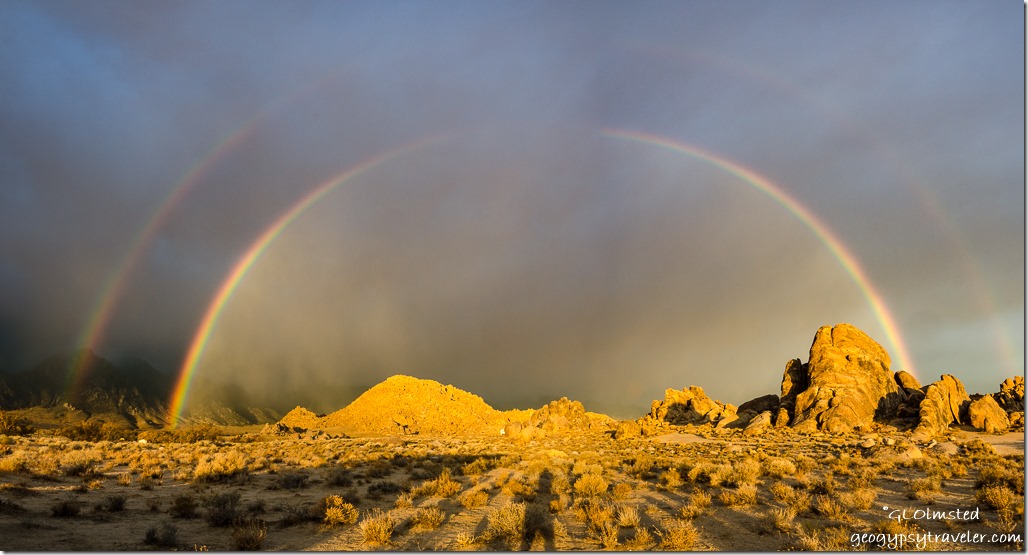 November's return to Alabama Hills brought luck with the last day's double rainbow.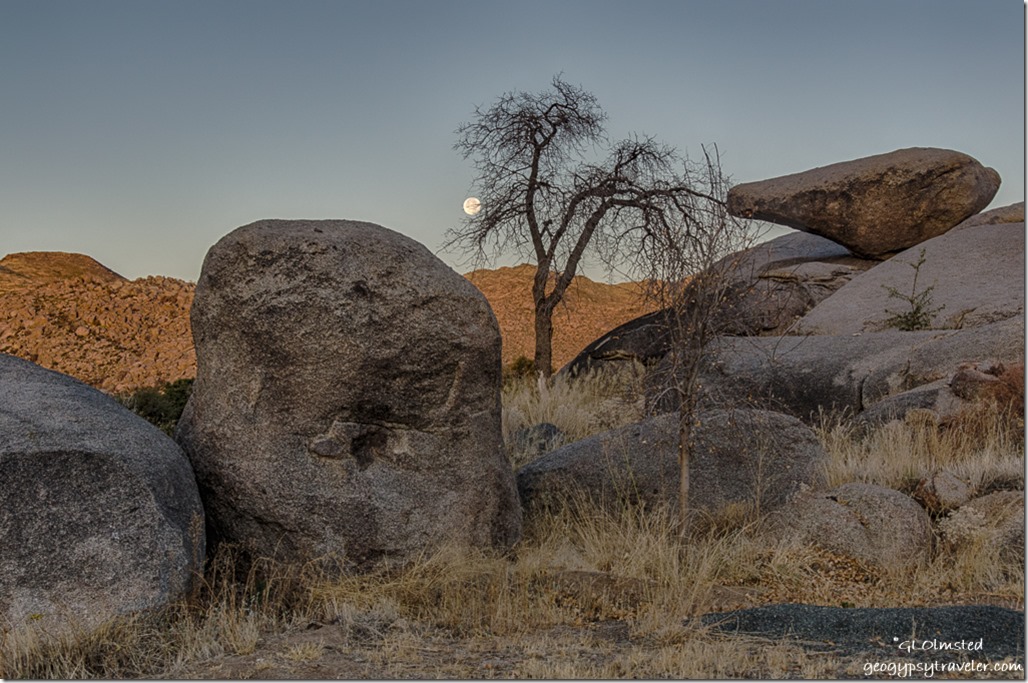 Then with a little planning I caught December's full moon setting in Yarnell where I was kitty sitting.
When not out taking photos I find myself looking at other people's photos which gives me ideas.  And then there's labeling and processing photos I've already taken.  I love learning from other photographers, many I first met online and some I've now met in real time.  Wish I could afford workshops with the pros.  Plus I truly appreciate all your feedback and encouragement.  I'm constantly reading to learn more.  This year's challenges could include more night photography and I'd really like to invest in a lightning trigger.  Yet I am ultimately trying to save money to return to South Africa for some more wildlife photography opportunities.  Maybe 2019.
"Even when I'm not traveling, I'm dreaming about the next journey."  –Gaelyn L Olmsted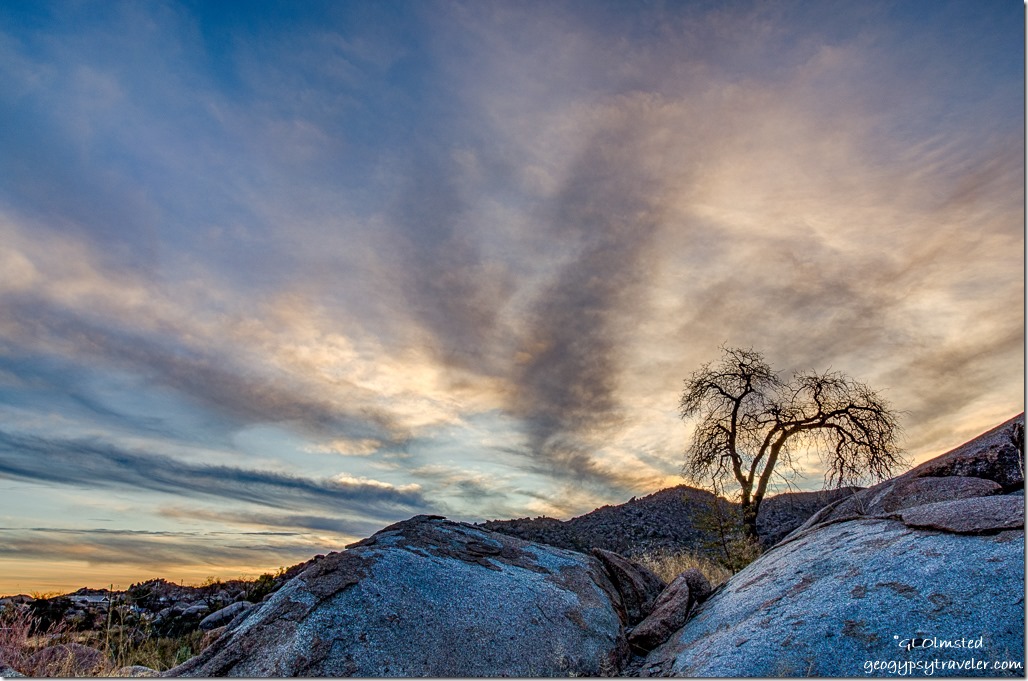 I've been taking photos for 40+ years and called myself a vacation photographer.  In 2017, I improved my photography as I learned to hone my skills with constant learning and practice.  Now, I call myself an amateur enthusiast and still have a long way to go.  I love making photographs for many reasons.  Traveling is an exciting way to get new vision for photography, however, there are always opportunities near and in my community of the moment.  Photography is about capturing the now for future memories of the past.
Right now, I'm hesitant to plan too far ahead as plans seem to have a way of falling apart.  But I am feeling the need to travel so it must be time to hit the road and make more photos and memories.  Maybe the South Rim Grand Canyon next week.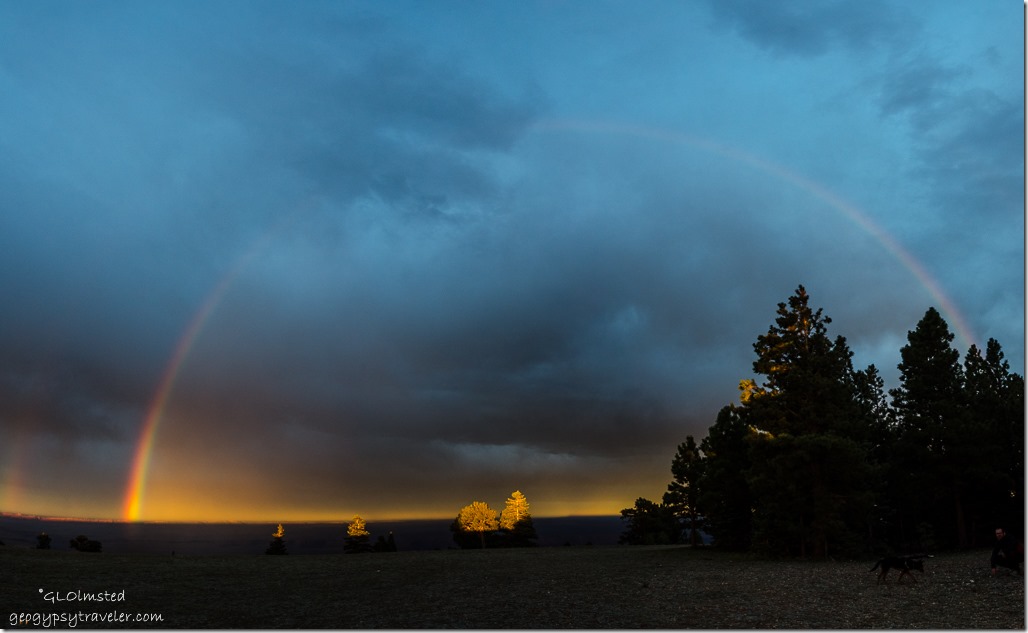 I'd like my photos to tell a story and evoke emotion as I share experiences, provide information, and hopefully inspire others to follow their dreams while I follow mine.  I will continue to document our natural landscapes with hope these natural wonders will remain protected for future generations without us humans destroying them by reckless over visitation or through idiotic decisions to allow resource extractions by the highest bidder.
"Wilderness is not a luxury but a necessity of the human spirit, and as vital to our lives as water and good bread. A civilization which destroys what little remains of the wild, the spare, the original, is cutting itself off from its origins and betraying the principle of civilization itself."  –Edward Abbey, Desert Solitaire