December 22-26, 2016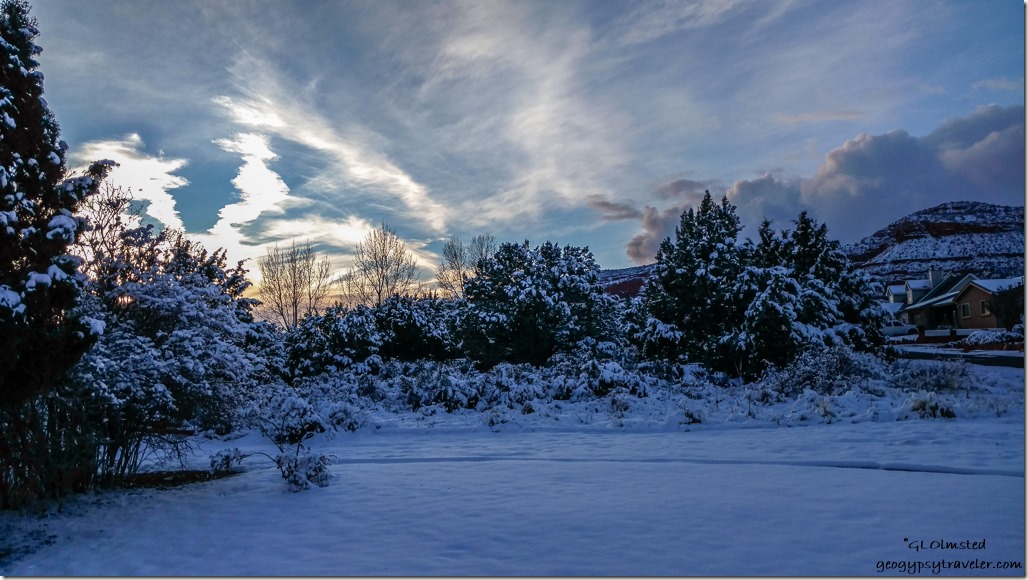 Christmas sunset Kanab, Utah
I don't ever dream of a white Christmas.  Yea, that white stuff is pretty to look at in contrast to a green forest, red-rock desert, or blanketed rolling plains.  But best from some place warm.  Like in front of a crackling fire or my Facebook page.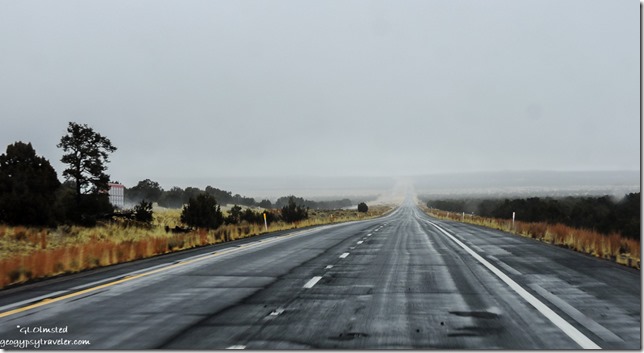 Chilly and wet Thursday morning at Flagstaff KOA.  I didn't rush because the yarn shop in town opens at 10am.  Found it by 10:10, got what I needed as quickly as possible, trying not to handle all the luscious textiles.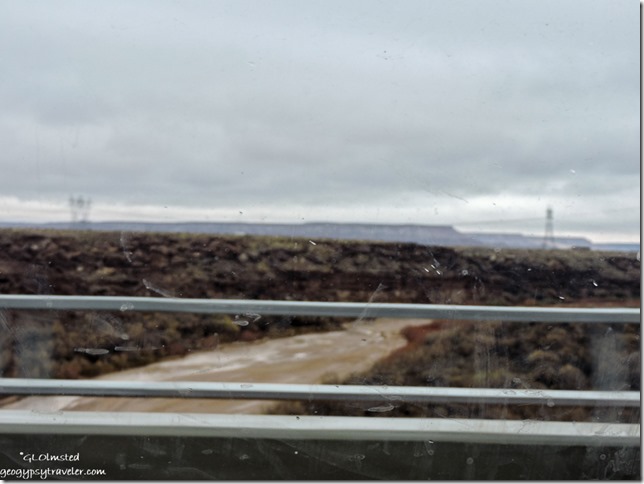 Little Colorado River Cameron, Arizona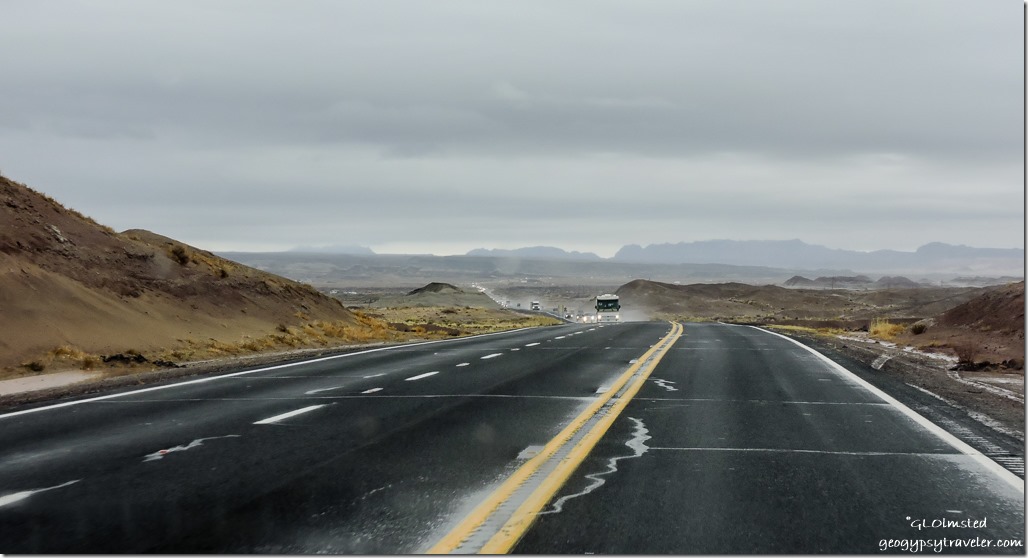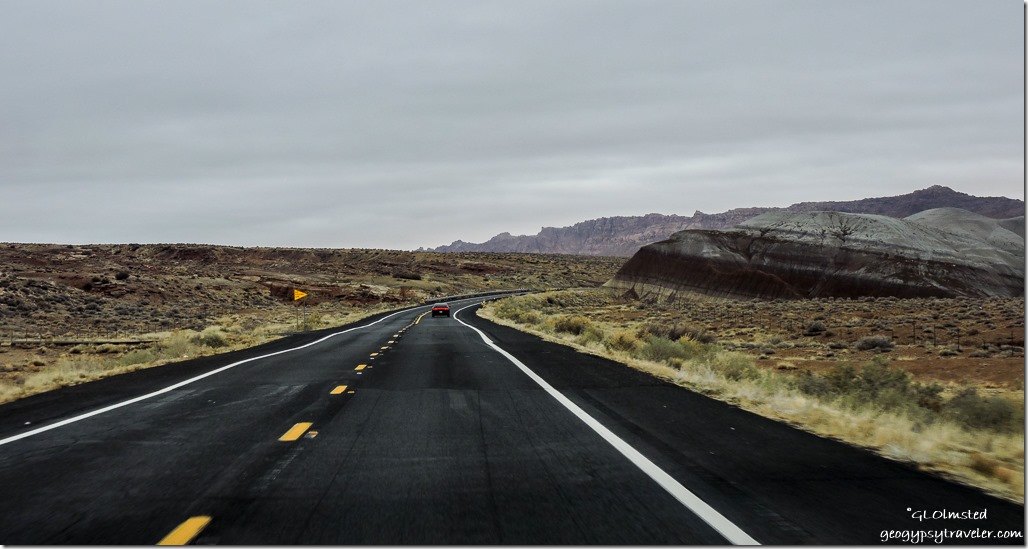 Along SR89 North water flowed in the Little Colorado River and through the Painted Desert water flowed in Hamblin Wash.  Not something seen often.  Still not heavy rain but wet.  Yet I see vehicles coming towards me with snow on the hood and think they must have come from the Kaibab Plateau.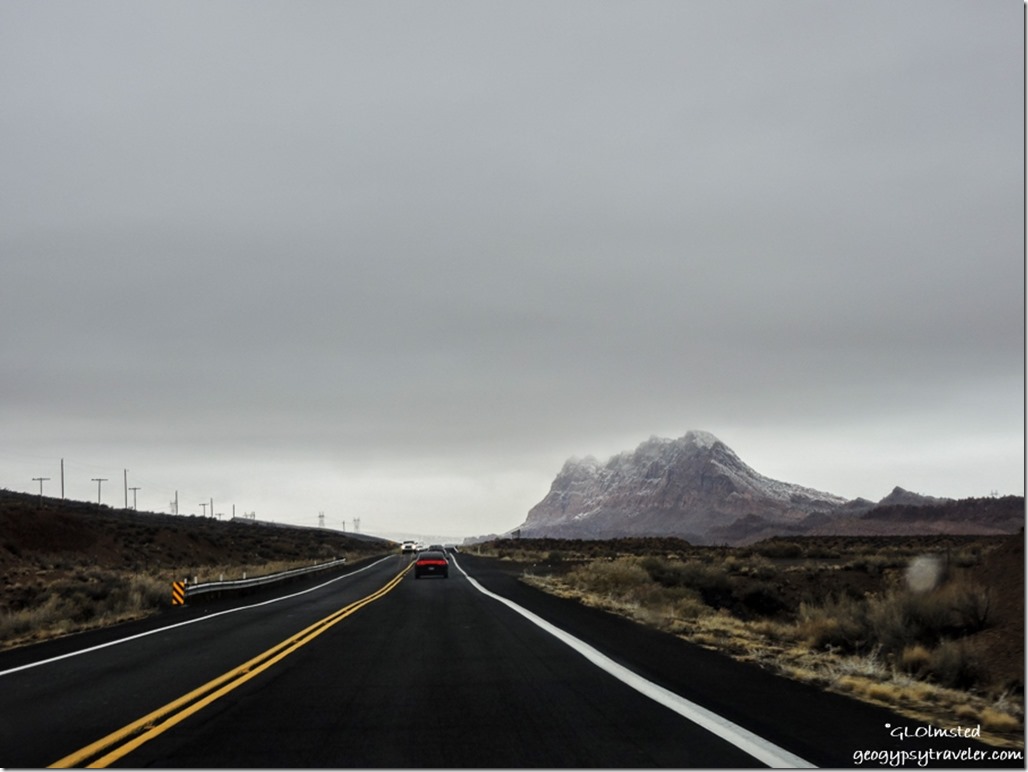 Came around a bend in the road before the Gap trying to decide if I wanted to take SR89T to Page.  It's a much easier climb though a little slower speed limit, very little traffic through pretty land on top of Echo Cliffs.  Versus, SR89 a quick climb up about 800 feet through The Cut.  Which I ultimately decided to do so I'd spend less time at the higher elevation and hopefully less snow.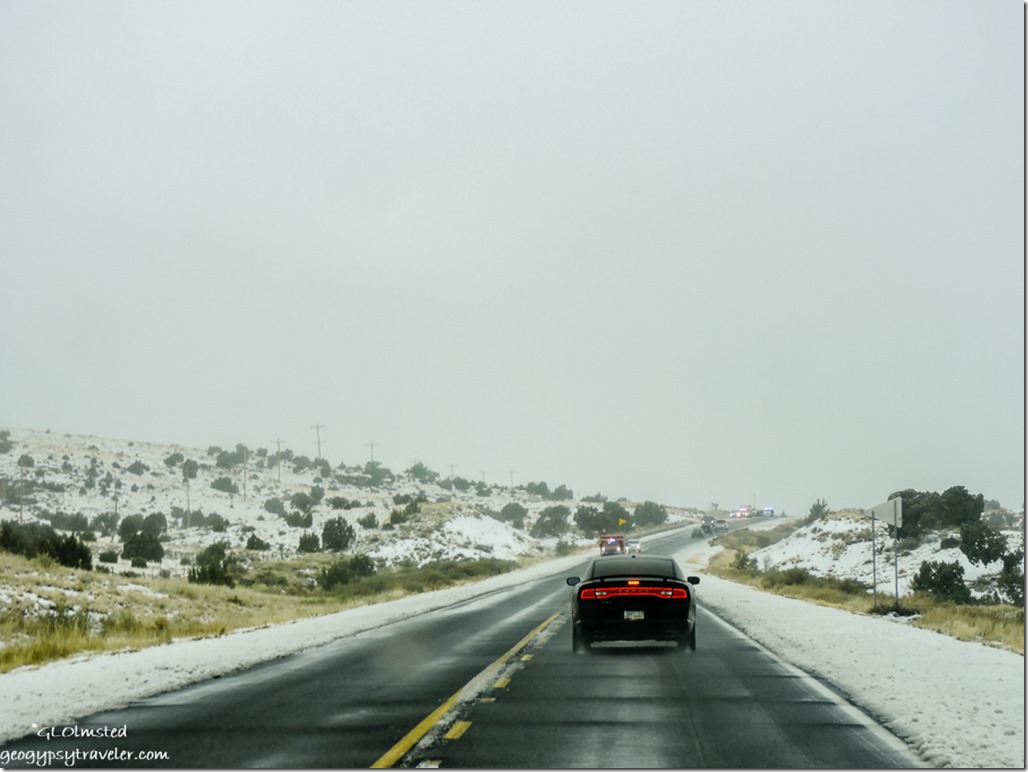 Not so.  It just kept coming down, wet, sloppy, and big flakes sticking to the ground, and slushy lines on the road.  I did see several snow plows going the opposite way.  Passing lanes were only about half wide and with me going no more than 50mph I pulled over as best possible to let the speed demons pass while many others just slipped in behind me content to let me lead the way.  Of course there was an accident.  Sure hope nobody was hurt.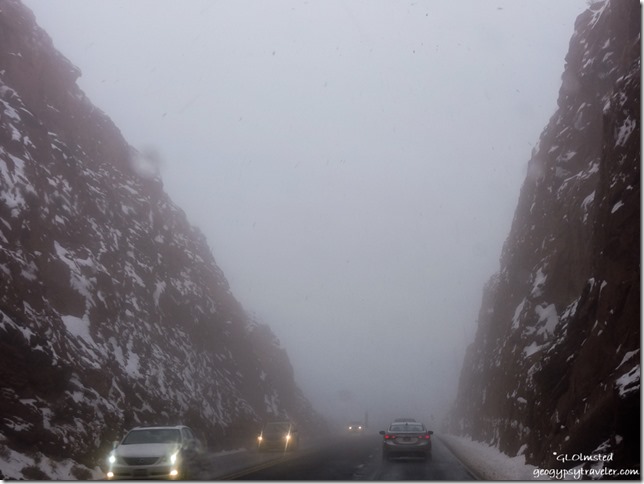 I wondered what that big climb would be like.  Thank goodness, even only one lane each way, the climb was clear wet pavement with snow still falling like crazy.  Now I used to drive in the worst of snow storms back in Illinois but I'm a little out of practice even in Northern Arizona.  Obviously not the only one as some drivers wanted to go slower than me.  Yet made it to the top and on to Page.  There were even quite a few people parked and walking up to the Horseshoe Bend overlook.  No thanks, not today.
No need to stop in Page but I did pull over by the bridge over the Colorado River and took a few shots because the contrast of snow on the red-rock was compelling.  And I needed to let go from my death grip on the steering wheel.  Unfortunately none of those turned out.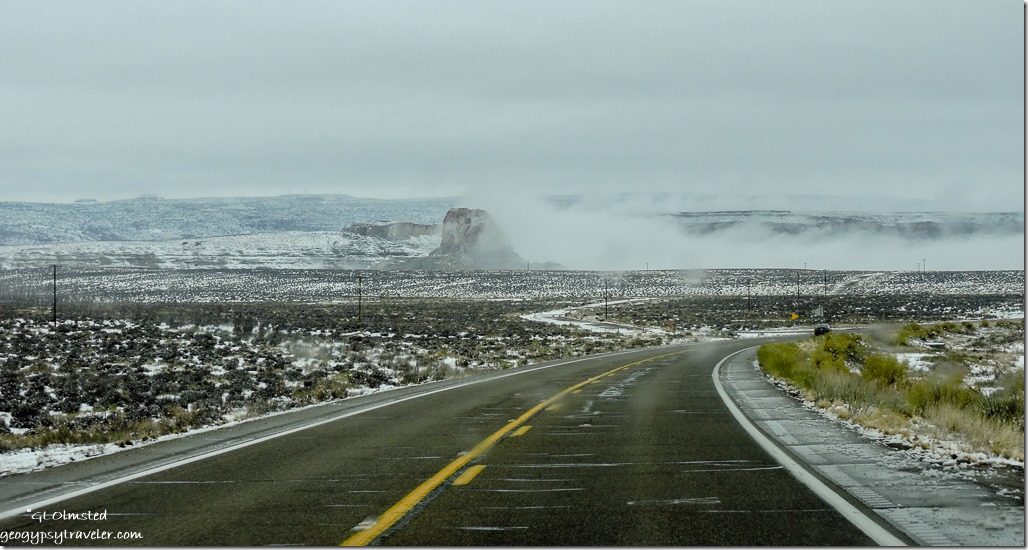 Although it had quit snowing it was still quite foggy as I crossed the border into Utah.  Didn't look like anybody had braved driving the Cottonwood Canyon Road.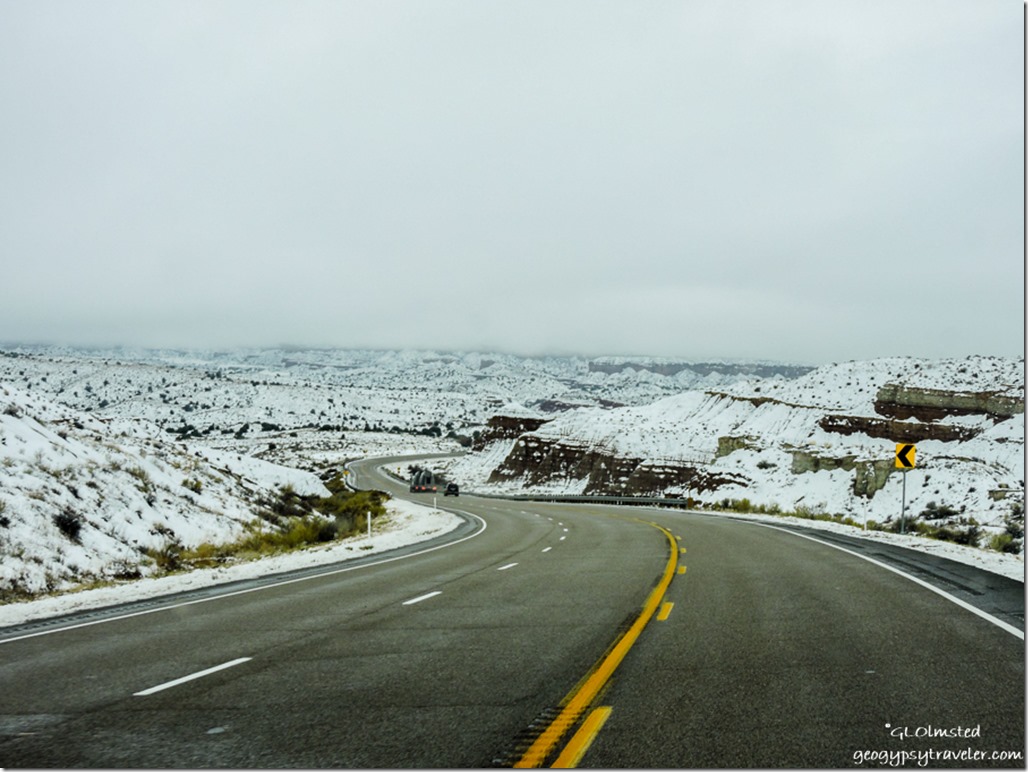 Wasn't until I crossed the Cockscomb that the snow line rose higher on the Vermilion Cliffs and slowly disappeared from the ground.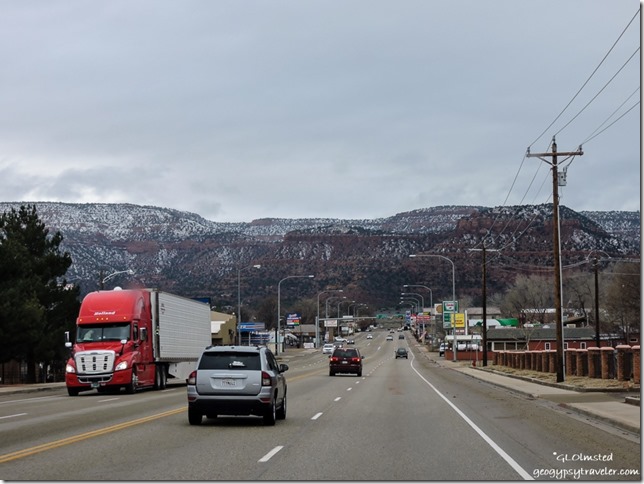 Kanab was just wet.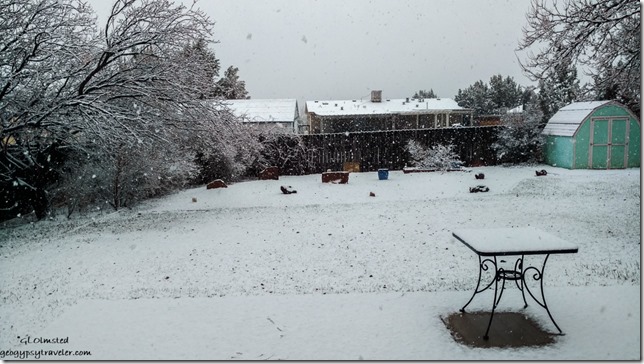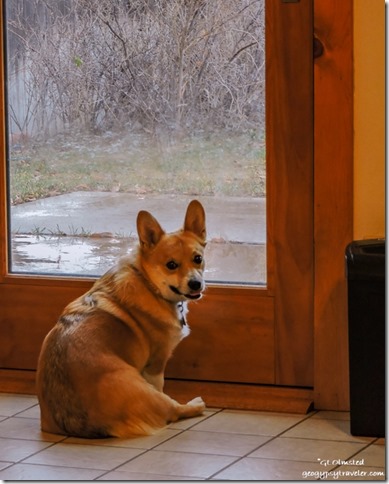 Nice not to see the white stuff in Kanab but that didn't last when it started to snow, heavier and heavier, on Christmas Eve.  The dogs loved romping around in it until soaked and exhausted.  Bill's son and DIL arrived Christmas Eve from their more northern Utah home.  They spent the afternoon scanning some of his Dad's photos of the growing up years.  Plus DIL cooked chicken enchiladas for dinner.
Bill gave up his bed to the "kids" so we slept in the camper in the driveway which was plugged in with a heater going almost constantly.  Awoke to a white Christmas and a soggy place at the foot of the bed.  Which in this case is the part of the camper which hangs over the truck cab.  I sleep backwards so my head isn't by the cold window.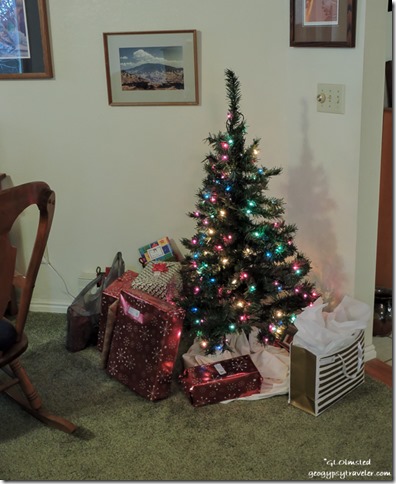 Someone went and got Bill's sister who lives down the road a bit.  Didn't take long to open gifts as agreed none of us got carried away this year.  Then I made sausage, bacon and french toast with real maple syrup for breakfast.
Watched a couple of cute Disney-like movies, DIL's picks.  I liked them and sat in a rocker like an ole granny knitting away on my sweater.  I also cooked dinner, two ducks baked for four hours, stuffing, green beans and bacon.  Bill made the mashed potatoes.
After dinner we watched Star Wars.  I like the series but am way behind as I don't go to theaters or watch movies at home.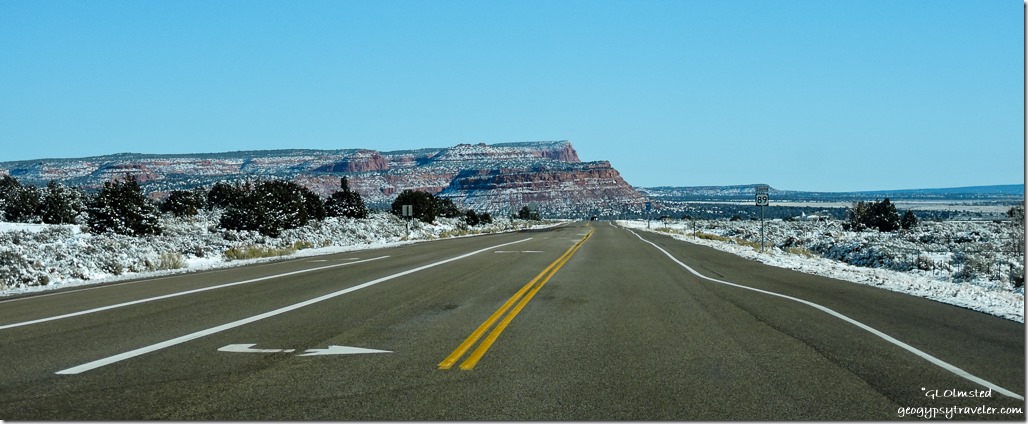 The thin white line of House Rock Valley Road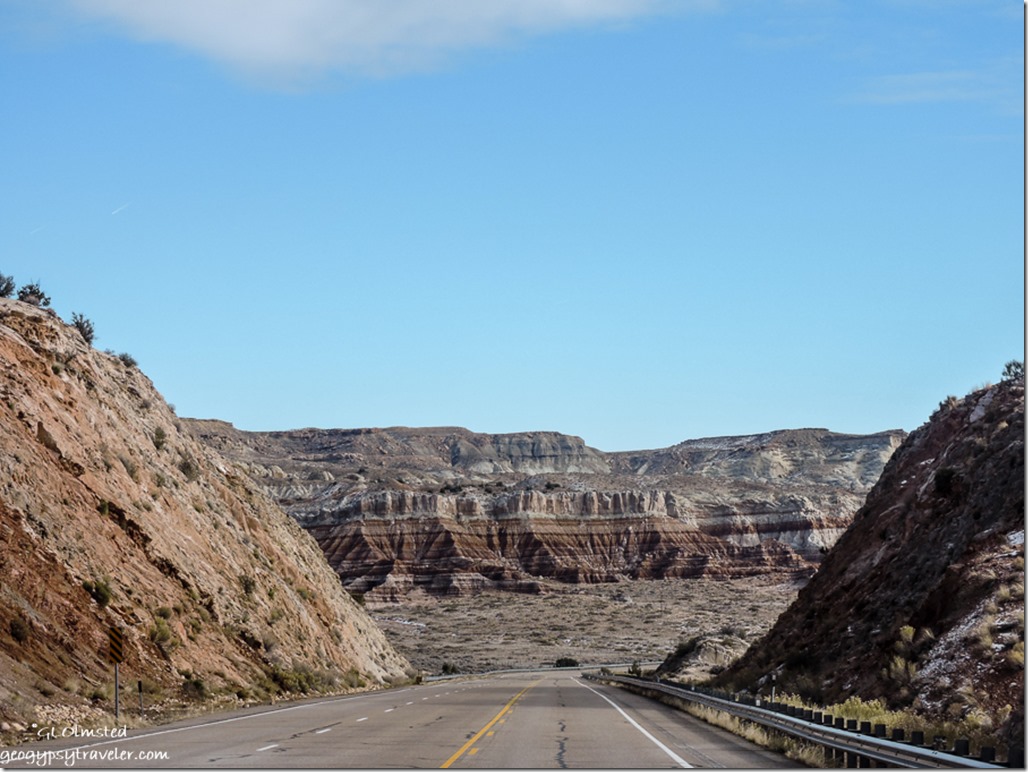 Monday morning the kids took off for home and to get a water heater replaced.  Oh the joys of home ownership.  I left after things warmed up a bit, read 31F, around 10:30.  The drive back home seemed reversed in more than direction now that Kanab was all white then once crossing the Cockscomb there was barely any snow on the ground.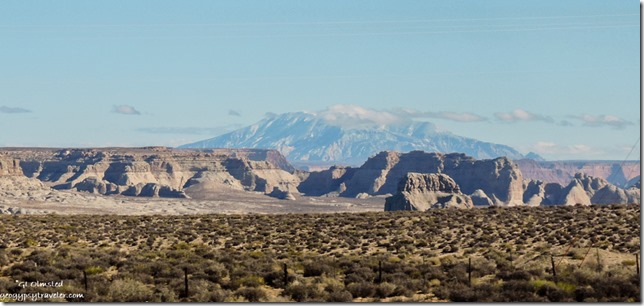 However Navajo Mountain wore a mantle of white beyond Lone Rock.  And a plume of steam/smoke drifted off from the coal-fired power plant on the Navajo Reservation just past Page, Arizona.  When I cross that state line I think I'm home even though I still had a three hour drive just to Flagstaff for the night.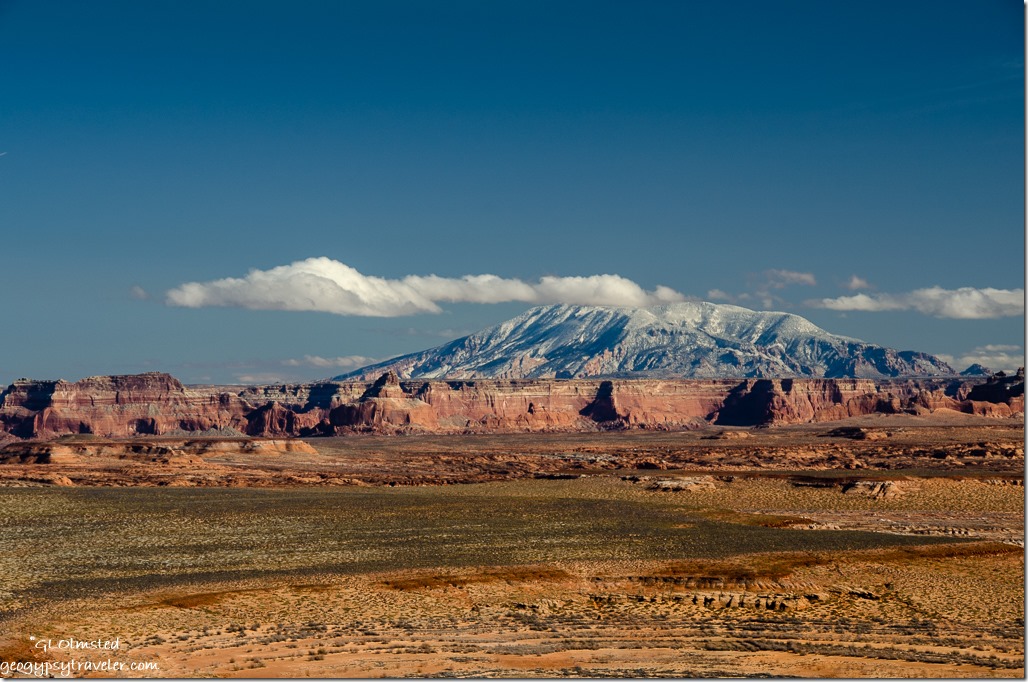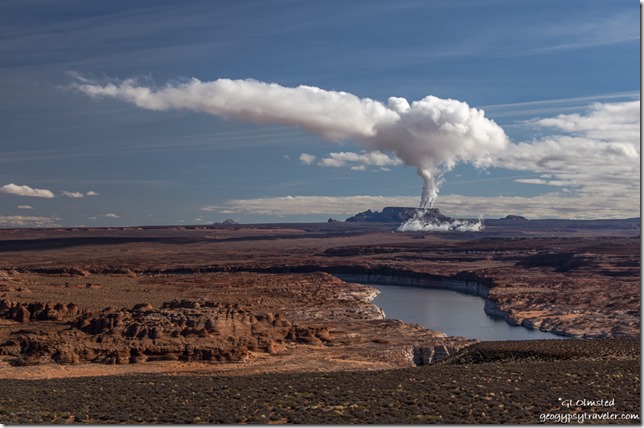 Made one stop at Wahweap overlook for some shots with the big camera.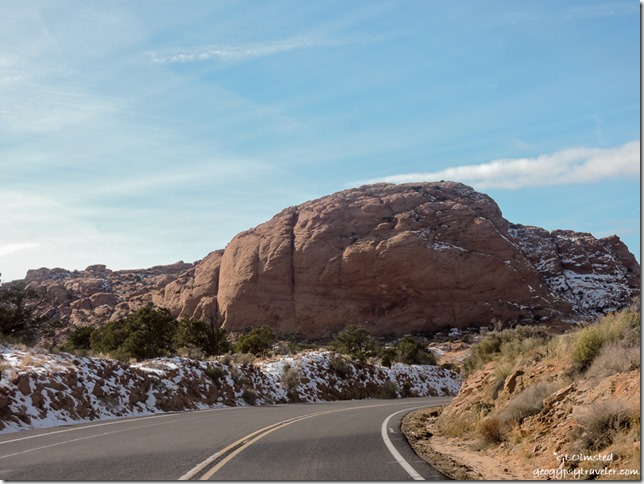 Just beyond Page the Echo Cliffs still carried a little white.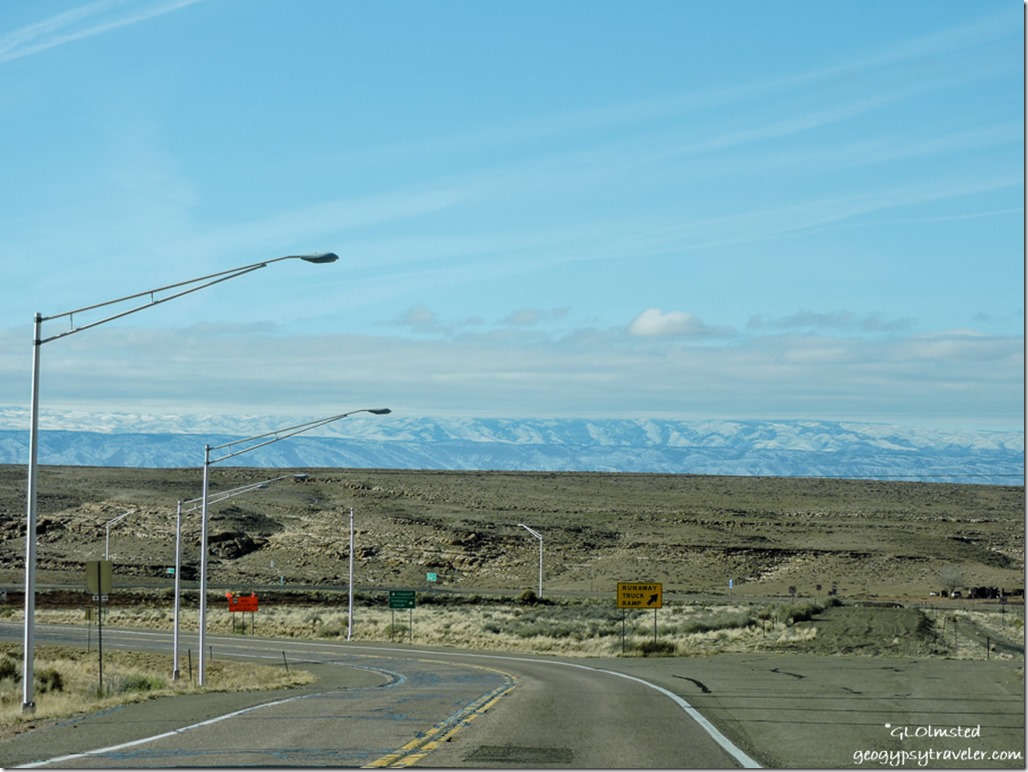 By the junction with SR89A the snow was just a distant memory, like on the Kaibab Plateau where I'm glad not to be right now.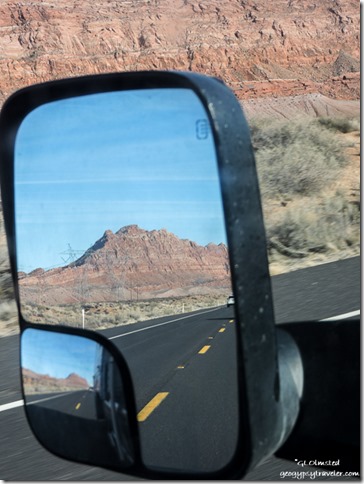 Same peak seen in the sixth photo now without snow near the Gap.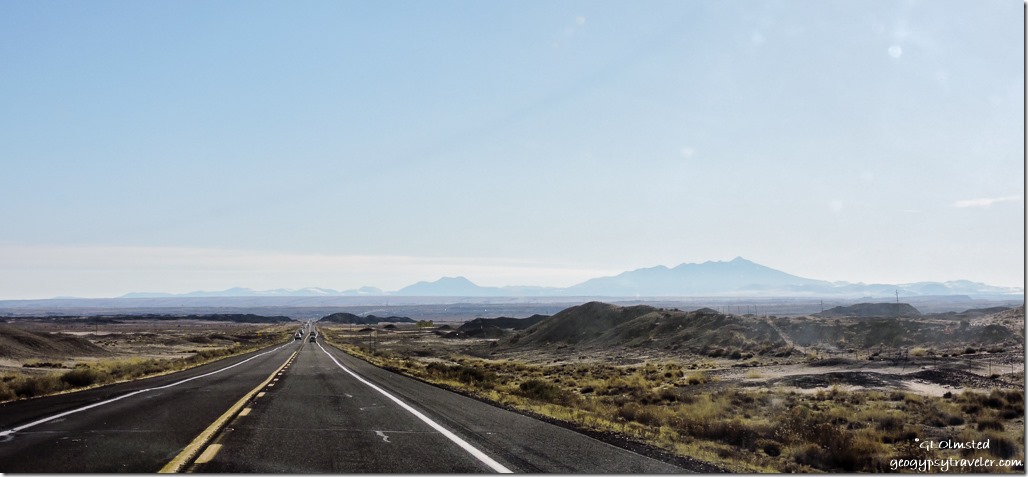 Blaring sun made it difficult to photograph Humphrey's Peak.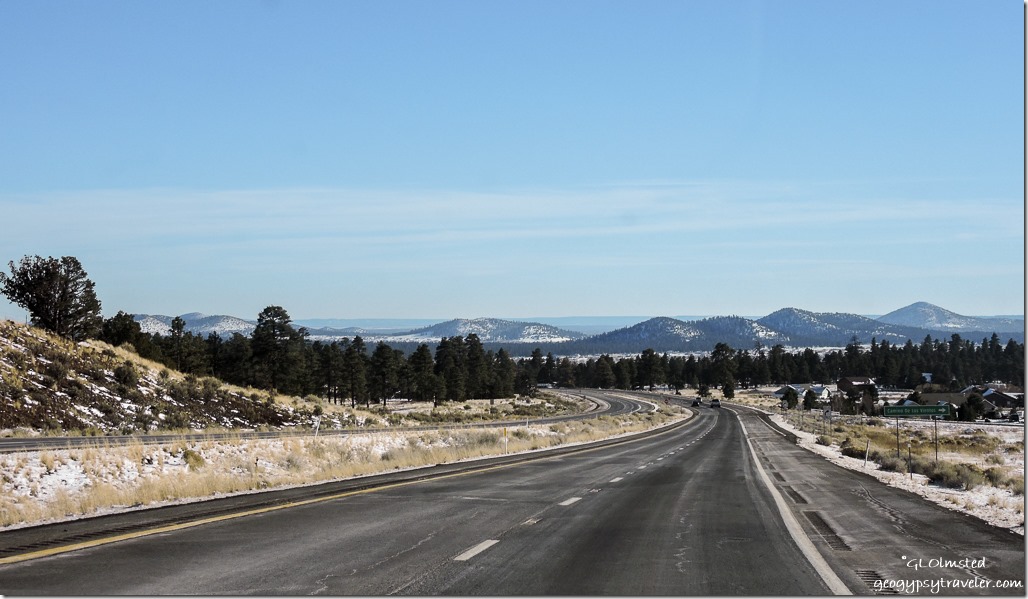 Lots more snow in Flagstaff than Kanab.  Hope there's a lot less at home.  Low temperature for Monday night 8F.
Although I stayed warm in the camper I don't dream of cold temperatures any more than I do a white Christmas.  Now, Tuesday, headed home to see how much of that white stuff is left in Kirkland.