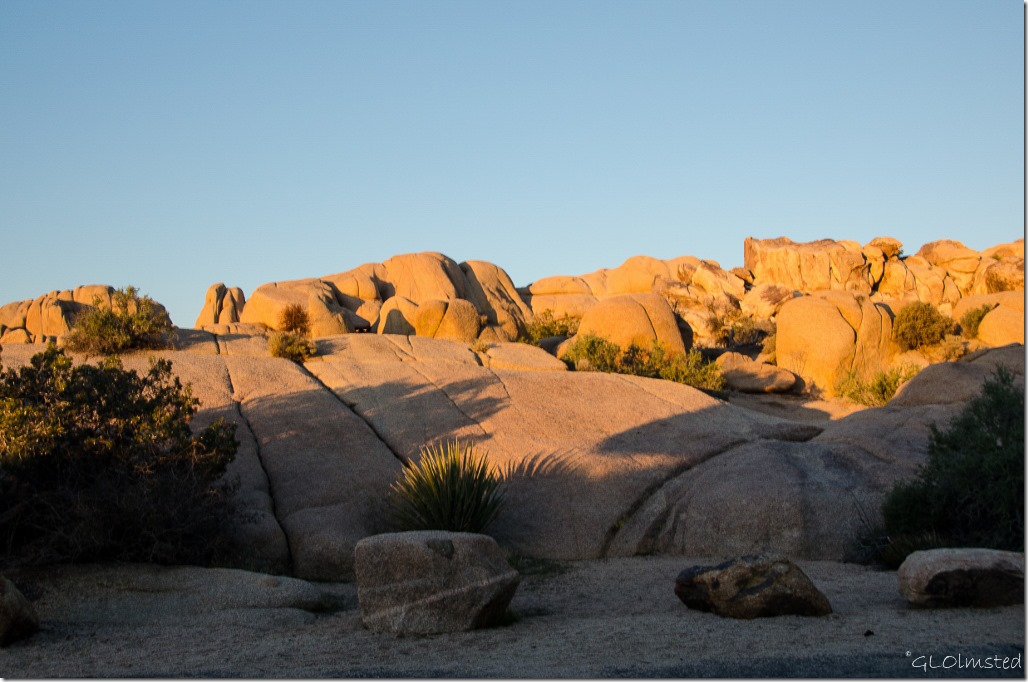 Awoke to glorious sunshine lighting up the boulders outside my window at Jumbo Rocks campground.  And even though it was chilly cold I got out for some photos on my last day in Joshua Tree National Park.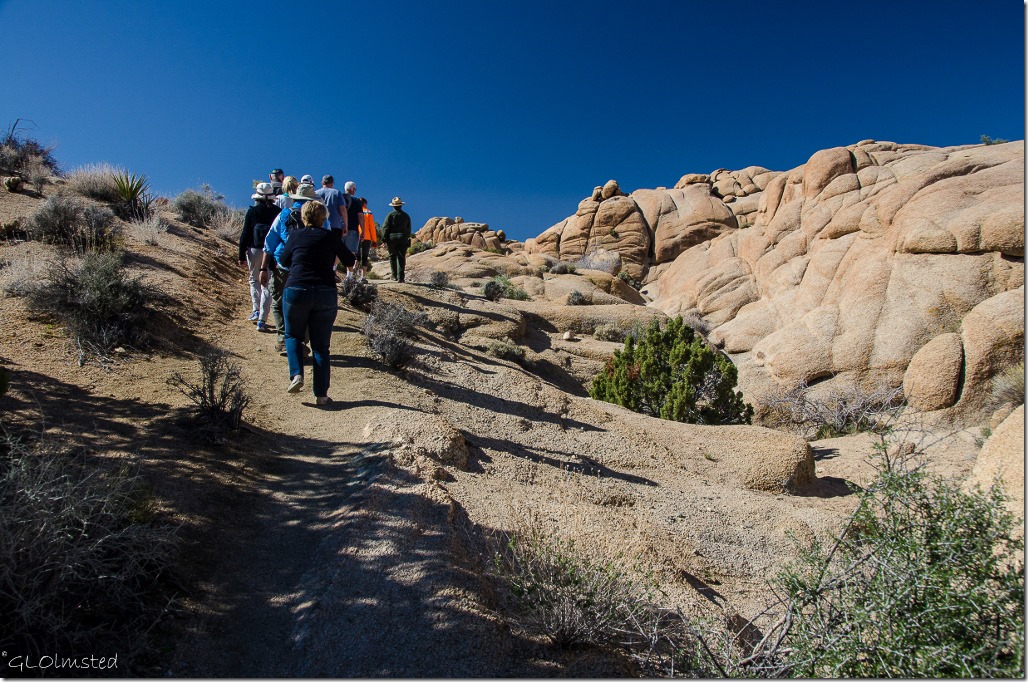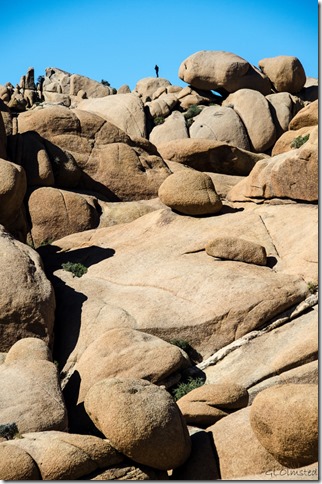 Attended a 9am Ranger-lead geology walk near the campground and Skull Rock.  These rock piles began underground eons ago as molten magma called monzogranite.  Sometimes quartz veins pushed through the molten rock which you can see above.  Then as it cooled and crystallized, cracks formed horizontally and vertically.  Chemical weathering caused by groundwater eroded the granite blocks widening cracks and rounding edges eventually eroding the surface soil and leaving these piles exposed for further erosion.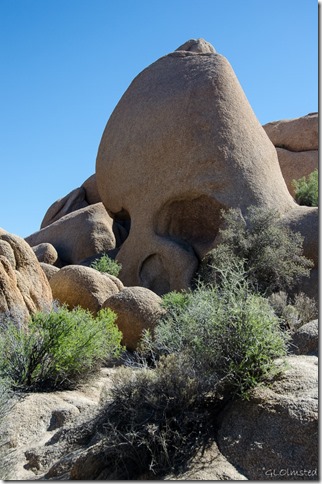 The short one hour walk began and ended at the famous Skull Rock or optionally continued into the campground.  Most Ranger activities are geared for weekends, when I really didn't want to be there.  In fact I noticed it getting more crowded as the Friday morning progressed and as I drove out lots of vehicles drove in to reinforce my desire to leave.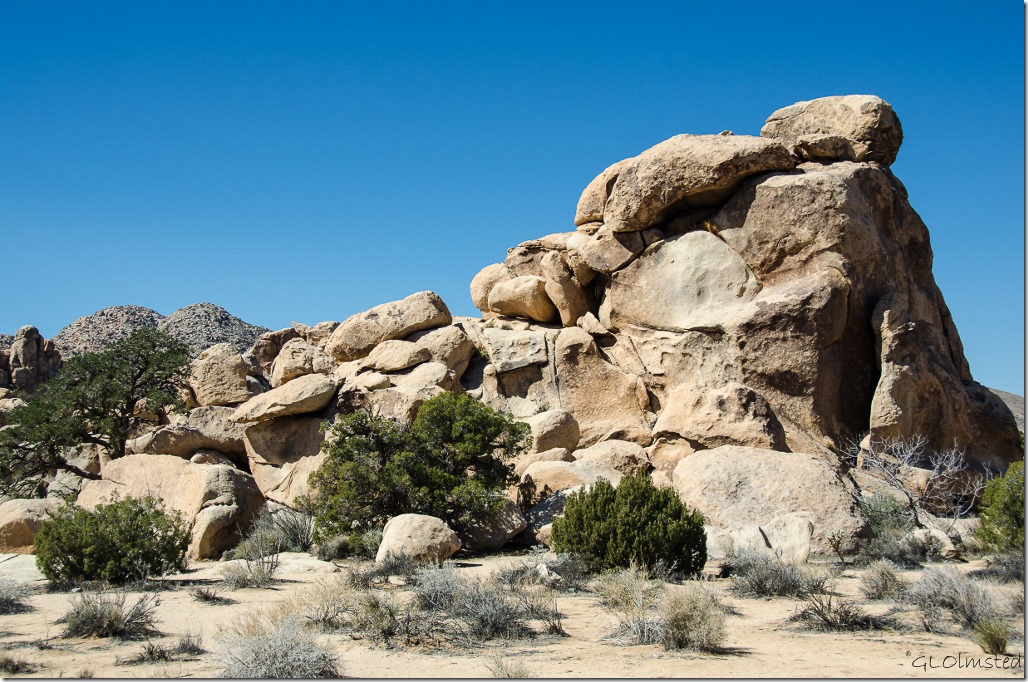 But I did stop and admire some boulders along the way.  You know how I love rocks.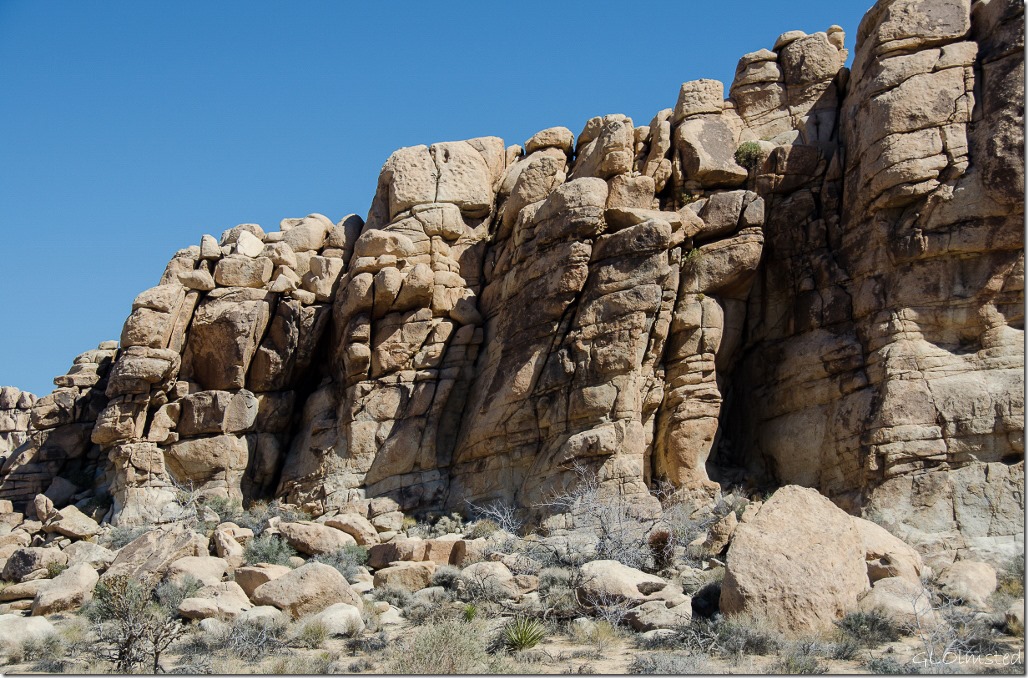 The nature sculpted granite provides vertical and horizontal cracks with a rough texture which attracts rock climbers from around the world.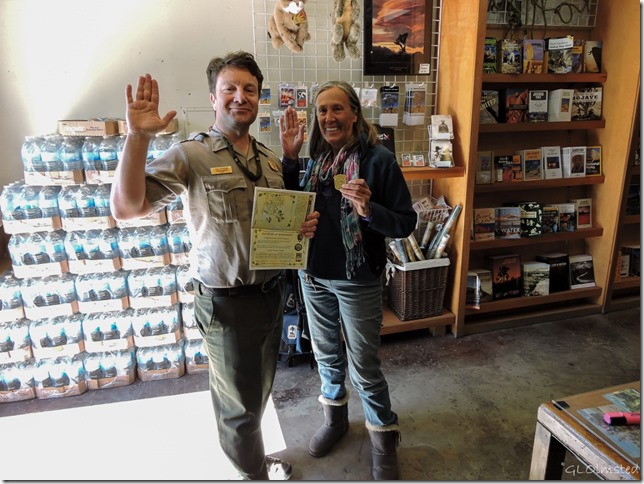 Stopped at the Visitor Center in Joshua Tree to get my Junior Ranger badge and bought a Mojave Desert wildflower book.  I always learn so much about a park completing the Junior Ranger book and this one is the largest I've seen at 30 pages.  Of course the kids don't have to finish all the pages like an adult does.  Also got information on BLM free camping at the edge of town and an outdoor art display.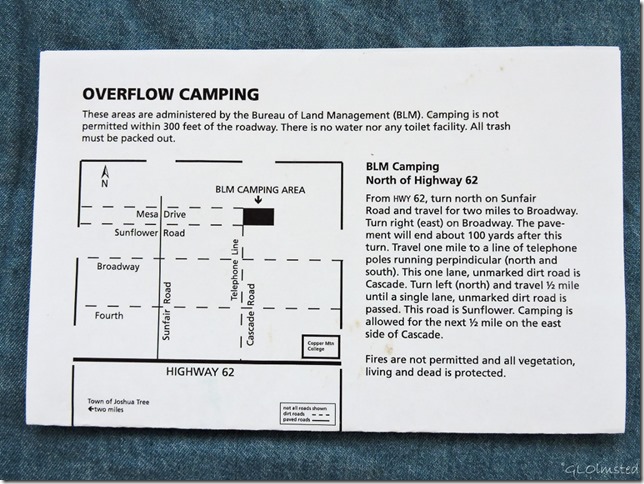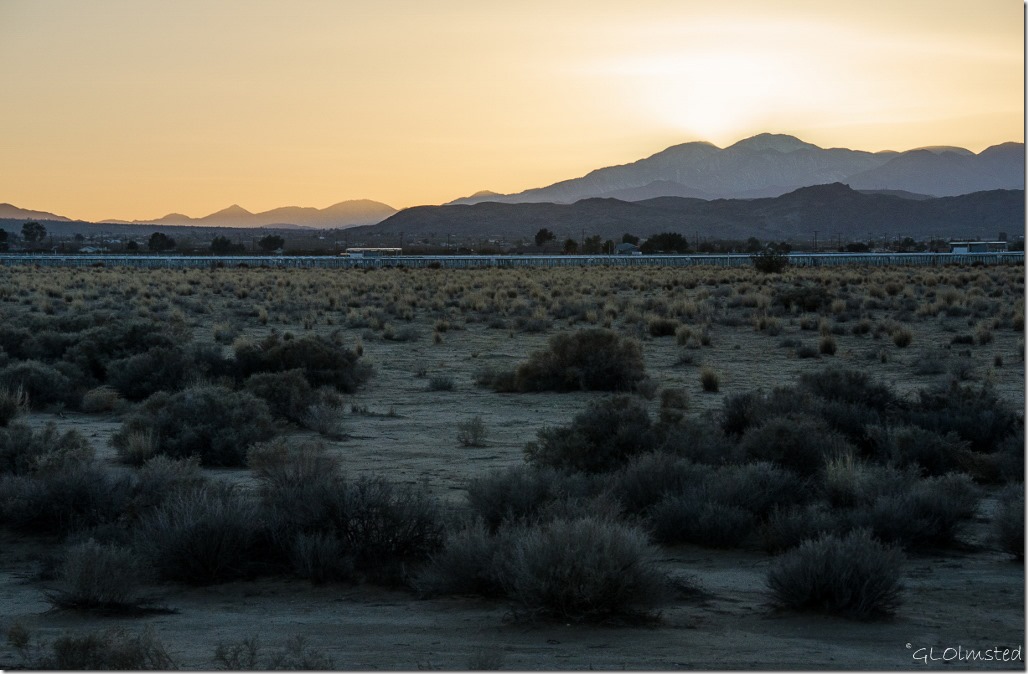 The BLM overflow camping is about five minutes from Joshua Tree which is a funky small town with a couple restaurants, a tiny health food store and a good old fashioned hippie vibe.  Major shopping requires a 15 mile (24 km) drive to 29 Palms or 10 miles (16 km) to Yucca Valley which was my choice.  The actual BLM is nothing to brag about with lots of broken glass to watch out for and my site was full of shotgun shells though the view was nice.  I was very glad of the specific directions along the rough gravel roads.  Saw less than a dozen groups of people an adequate distance away and the area would be large RV friendly.  It is barely within sight of night-time lights from Highway 62 and near a large solar farm.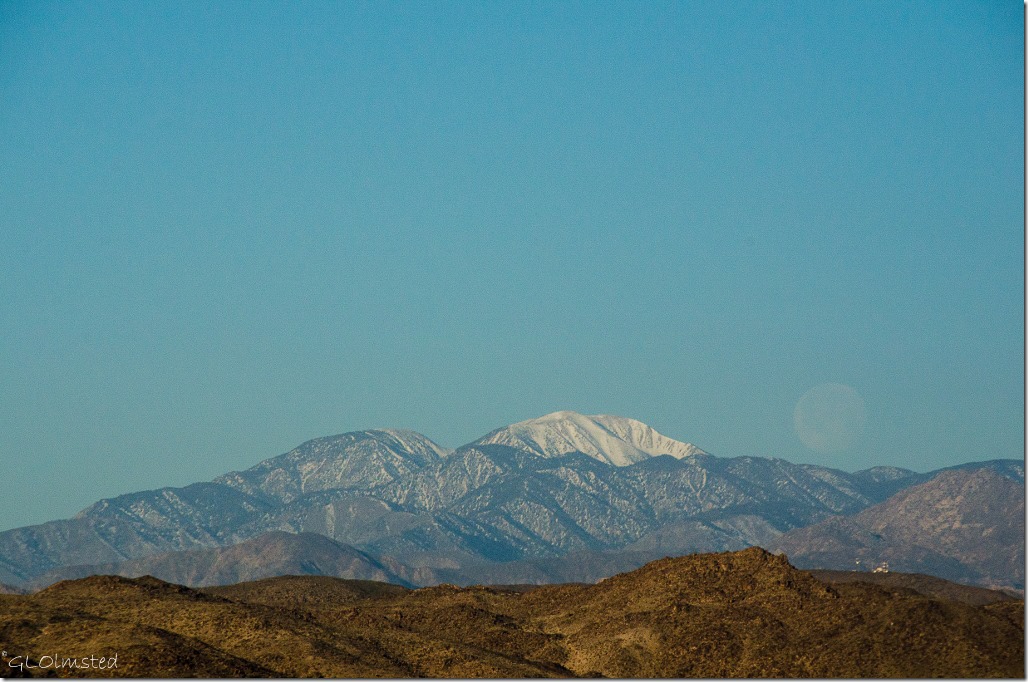 The following morning I watched moon set next to the snowy San Jacinto Peak while I planned the day.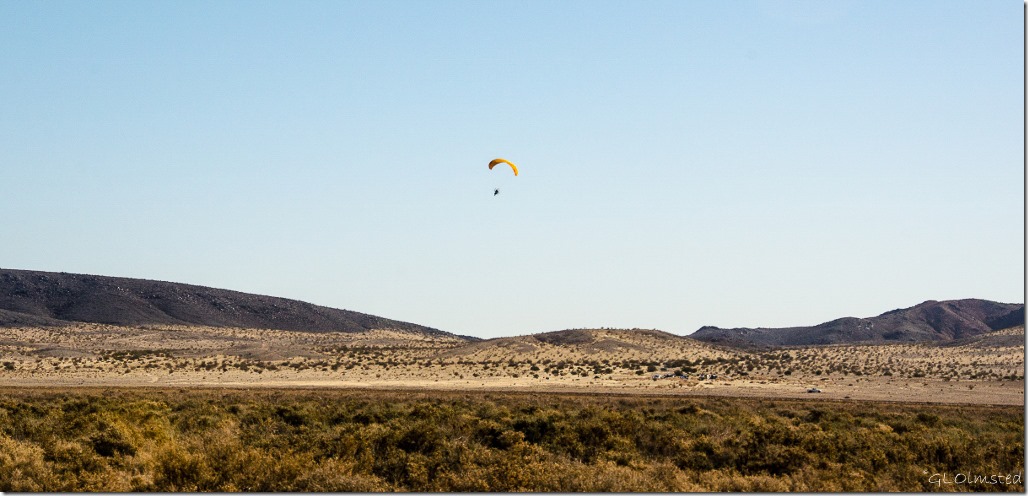 Then I heard a buzzing sound and looked up.  This version had a motor and I'd rather fly with the wind to get a bird's eye view.
Went into Yucca Valley to check out the Sky Village Market Place where I'd sold my flea market wares in days past.  A quick walk about satisfied my curiosity and I didn't see anybody I knew or buy anything.  Also stopped at the Joshua Tree Farmers Market where I picked up a few organic fruits and vegetables.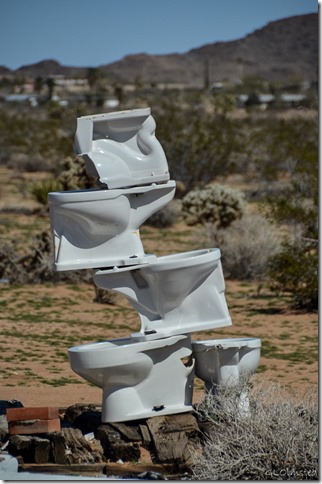 Next I went in search of the recommended Noah Purifoy's Outdoor Desert Art Museum of assemblage sculpture before looking up a friend in town.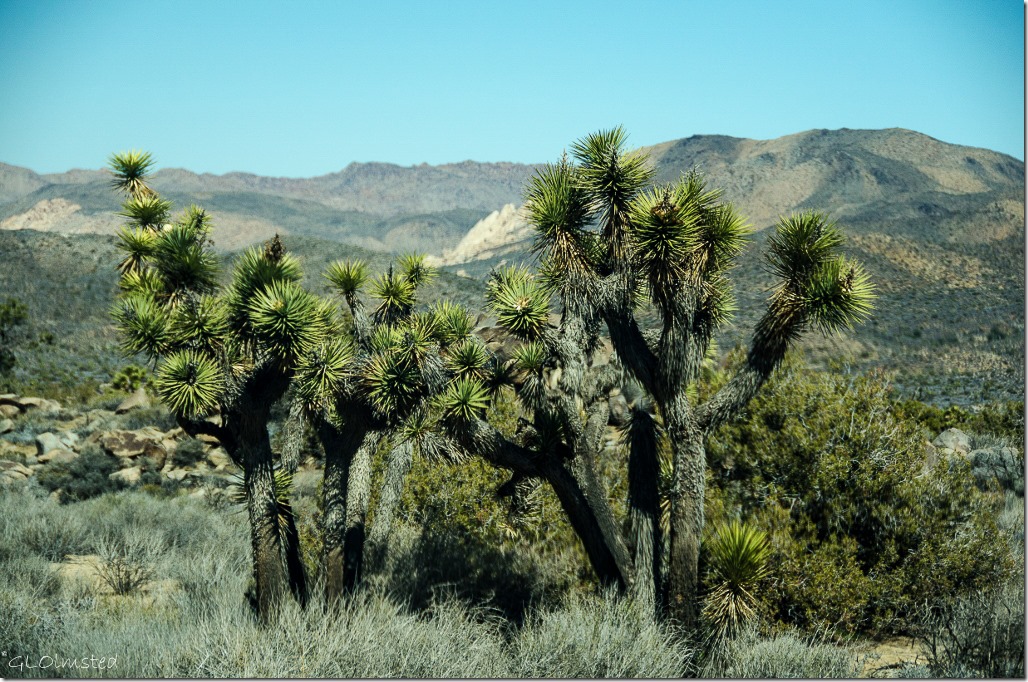 Five week-days visiting Joshua Tree National Park was adequate but it would take a lifetime to explore it all.  I think spring and fall would be the ideal times to visit, summer temperatures could be brutal and winter nights quite cold.