I'll bet there are thousands of Anza-Borrego slot canyons throughout the badlands, some easy to access and others impossible.  From my view at Fonts Point I saw endless possibilities but no clearly marked trails.  Yet a Ranger at the visitor center assured me I could get the truck out to "The Slot" marked on the map at the Butte Pass turn off.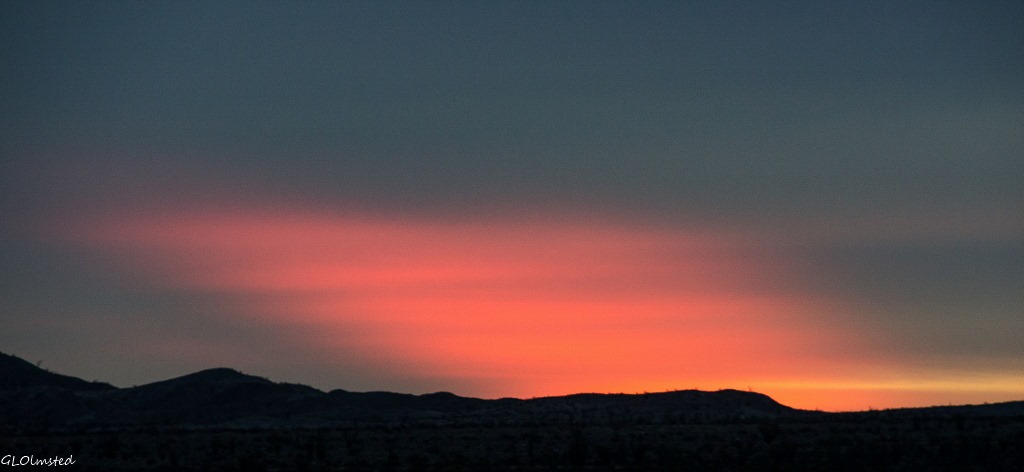 So I invited Nan and John to hike along and picked them up at 9am and we started with the Farmers Market in Borrego Springs.  Hey, that's early for us retired folks.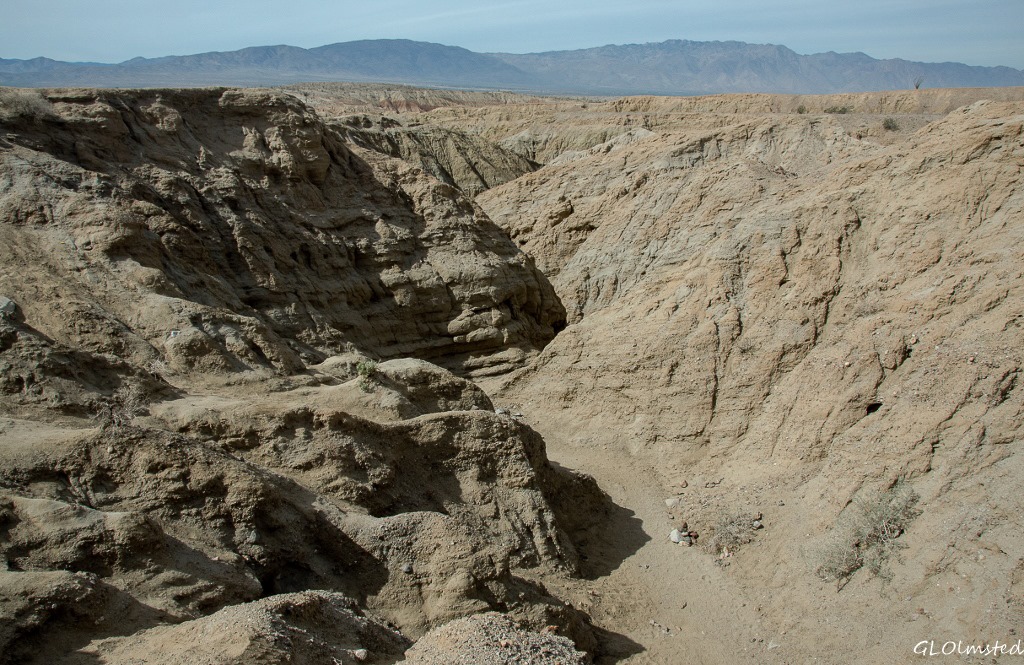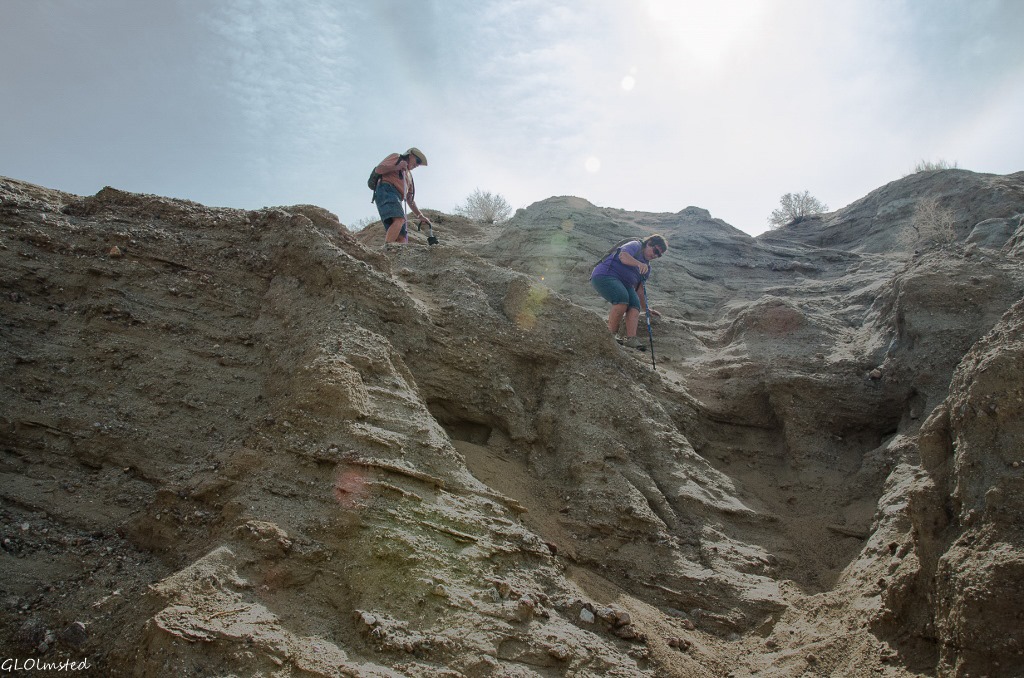 About a 13 mile drive from Borrego Springs to the Butte Pass turn off from CA78 and another mile of doable sand/gravel road brought us to parking at the edge of the canyon.  There are a couple of options to get into the canyon.  One up hill to the right, or around as we discovered on the way out, then down a slope. The other an obvious scramble down about 50 feet which turned out to be the hardest part of the hike.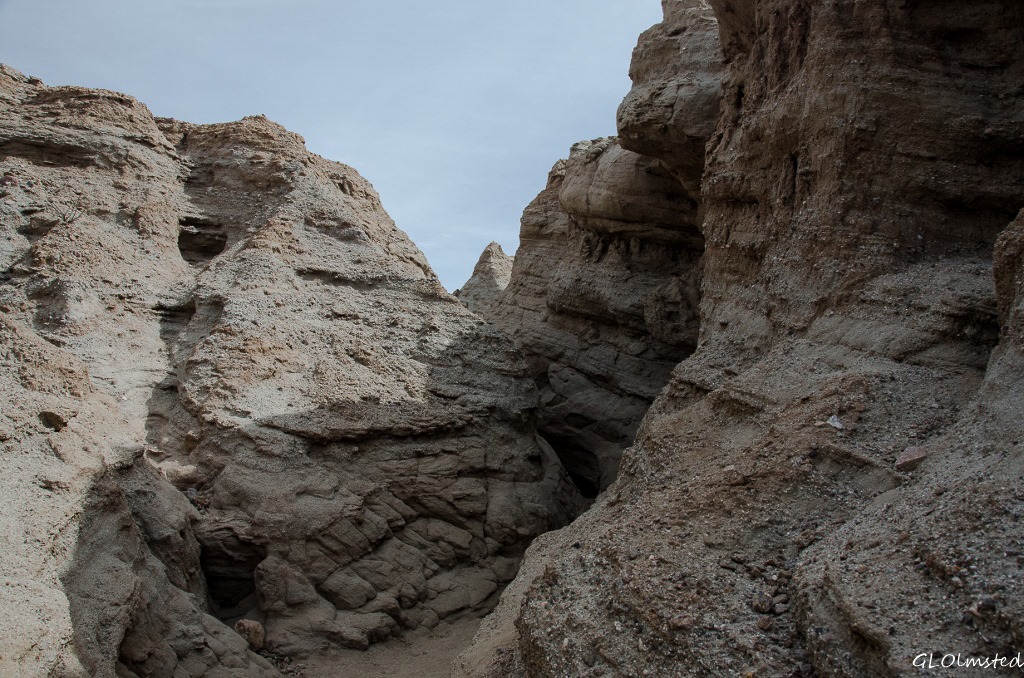 Unlike Utah slot canyons of smooth and colorful sandstone, these siltstone canyon walls made up of multiple layers of river deposits carved by time and water reveal textures of various sized stones interspersed with shale.  Red, green, orange, white, gray, speckled and solids, sharp and rounded protruding from the canyon walls defied us rockhounds being solidly cemented in.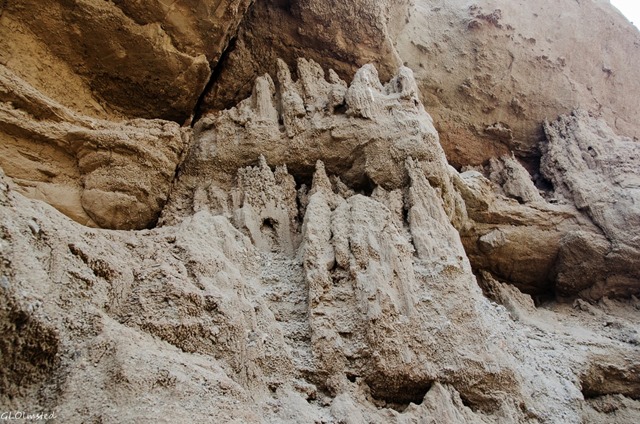 In fact that "cement" was evident in some of the formations that reminded me of dripped sand castles.  Yet one more example of how we imitate nature.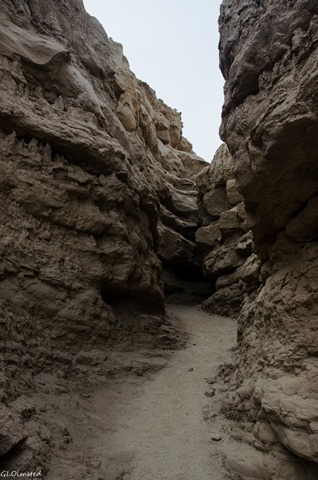 Wasn't long before the canyon narrowed and the walls rose higher.  Yet the soft sandy trail was still wide enough for other hikers to pass us slow pokes with our noses almost against the wall looking at a layer of bean-sized calcite crystals.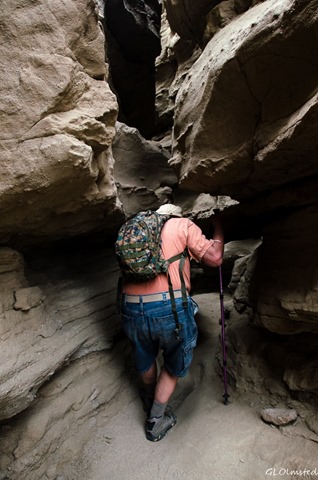 Then narrower yet requiring a few twists and bending on our part.  Felt like going through a combination maze and cave.  Encountered a few 12-18 inch drops which proves a bit more interesting when wedged between a rock and a hard spot.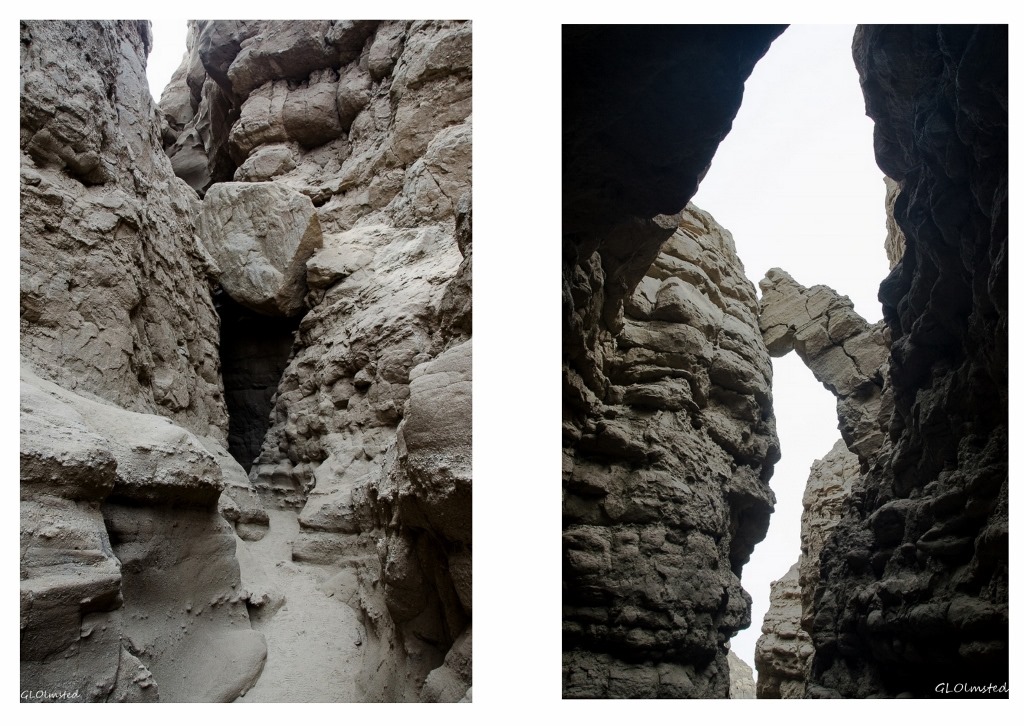 And then there's boulders from above.  We moved under those a little quicker, just in case, and I reminded everybody not to sneeze.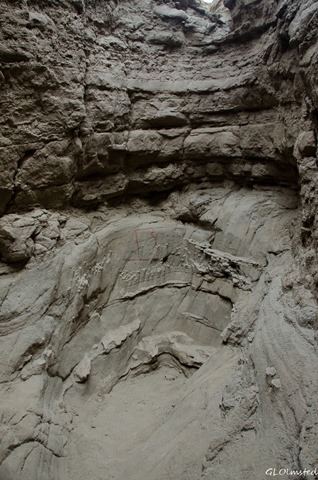 Twist and turns brought more spectacular carved shapes caused by water that pours from above.  Not a time to be in a slot canyon.  And then we saw where someone had defiled the canyon walls with a fresh lipstick drawing of a hangman that Nan rubbed out with a piece of rock.  How can anyone do this?
At one point the slot almost seemed to close in upon us like an abrupt end.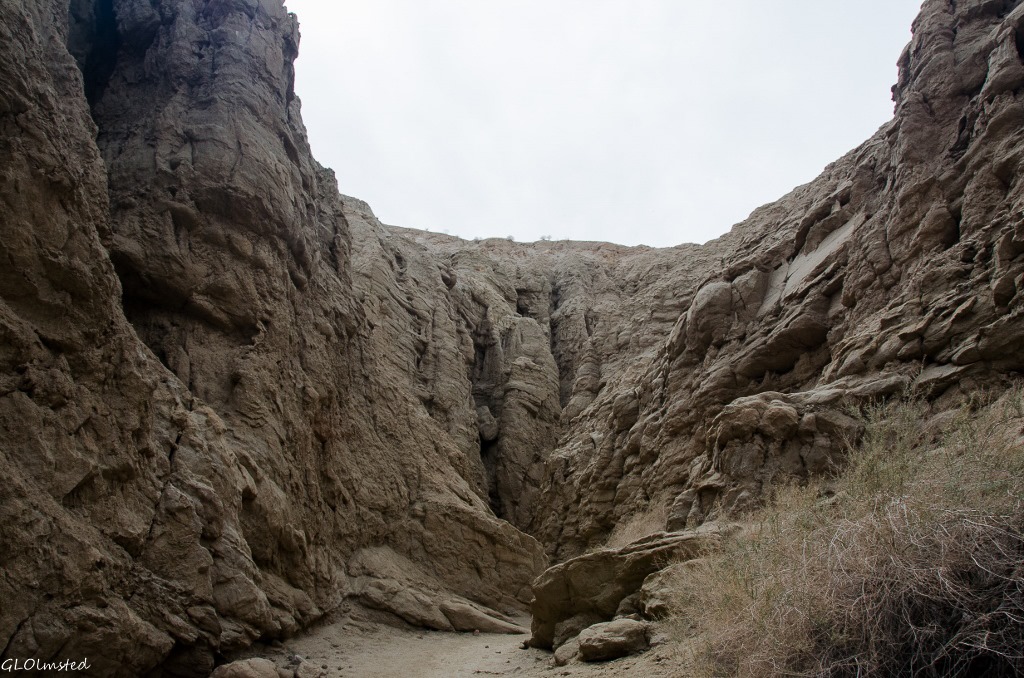 But then opened up to an easy walk.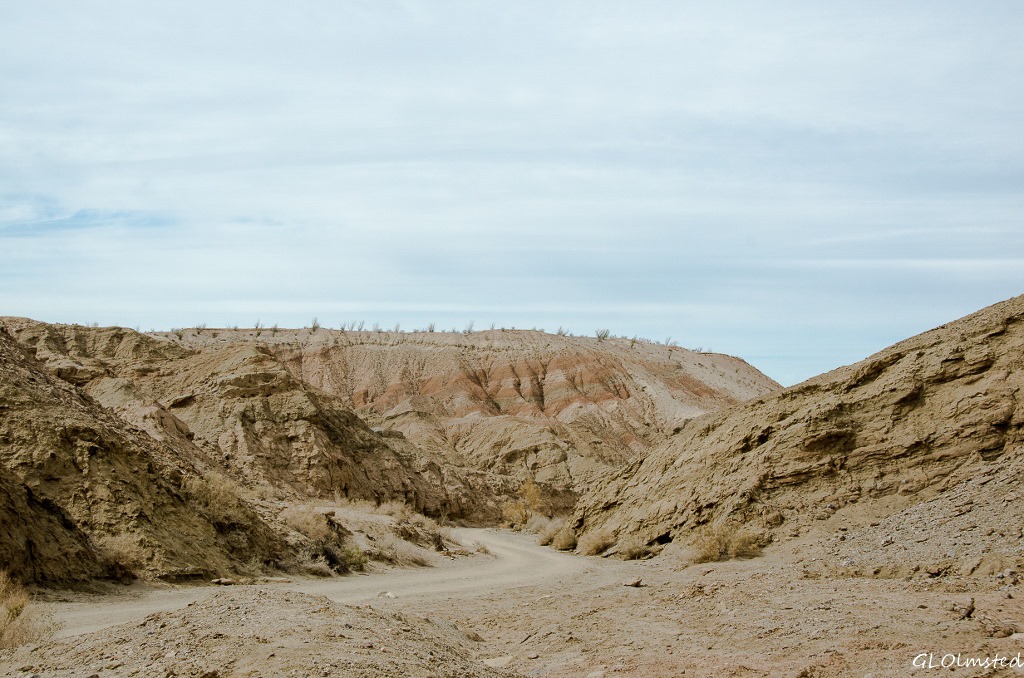 Until finally the canyon floor was wide enough to drive in, and we saw the proof of that from tire tracks possibly from an ORV.  Also an increase in human litter.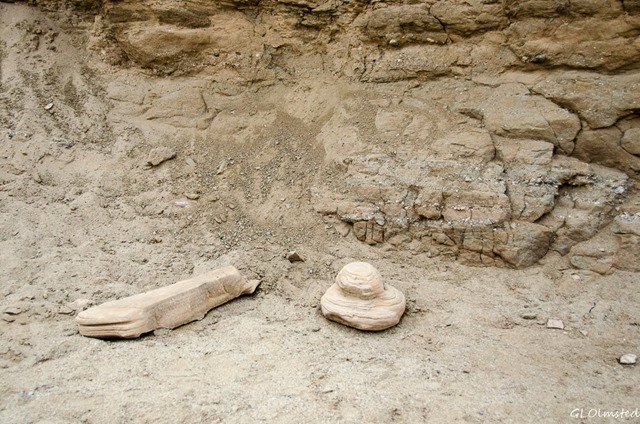 Here we saw some very unusual concretions, rock made of sand and calcite that look like roundish or flattened balls.  Nan and I were so intrigued by these bulbous rock sculptures and secretly tried to figure out how to move a large watermelon-sized specimen back up through the slot.  Yet we knew it was all we could do to get ourselves through some of the squeezes.  And then what to do with a 100 pound rock when living in a RV.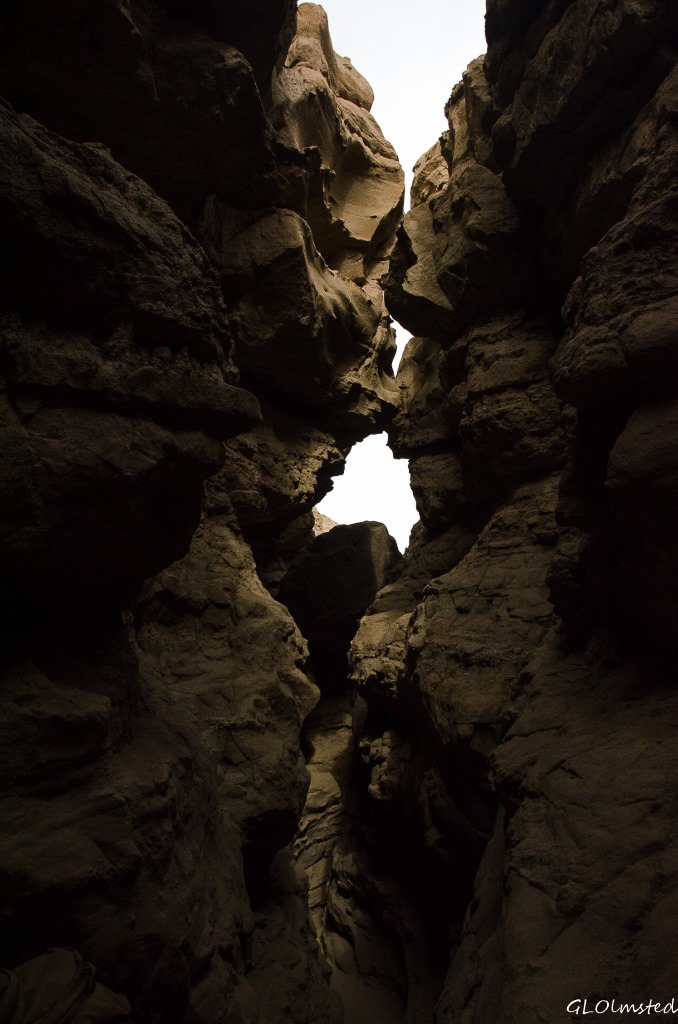 The return route always goes faster for me even though the reverse views are different.  Well, maybe being hungry had something to do with that also.  Although only about 1.5 miles round trip we took several casual hours to explore this unusual environment.  Nice to find like-minded slow hikers.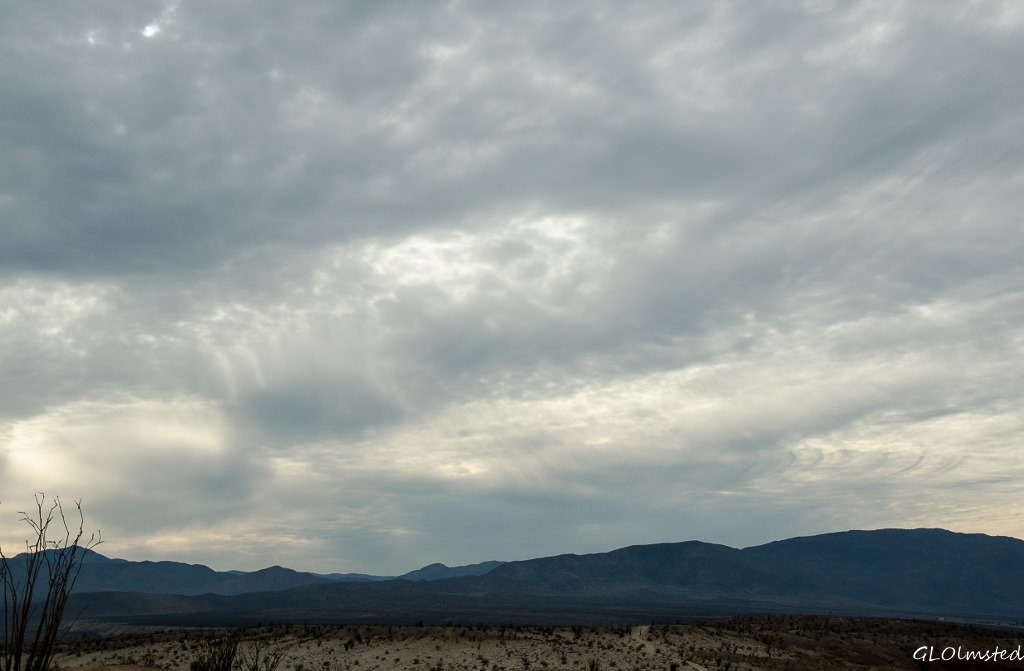 And this amazing sky greeted our return to the top.