No way I'm looking down my nose at the historic town of Prescott with scenic mountains all around.  It's a picturesque place to visit.

But after checking out Granite Basin I stopped at an overlook where I could look down onto Prescott.  I hadn't really taken into perspective that it's located at the southern edge of a valley with mountains on three sides, like a horseshoe.
Prescott
In 1864 Prescott became the capital of the Arizona Territory, a bustling town full of prospectors and whore houses.  Although the capital is now in Phoenix reminders of this historic western town can be seen along Whiskey Row and at the Sharlot's Hall and Smoki Museums.  With the current population just under 40,000, Prescott is now the third-largest metropolitan area in Arizona.  The college energy makes this a lively place.  But I must admit it's the many thrift stores I usually frequent plus the mountains in the surrounding Prescott National Forest.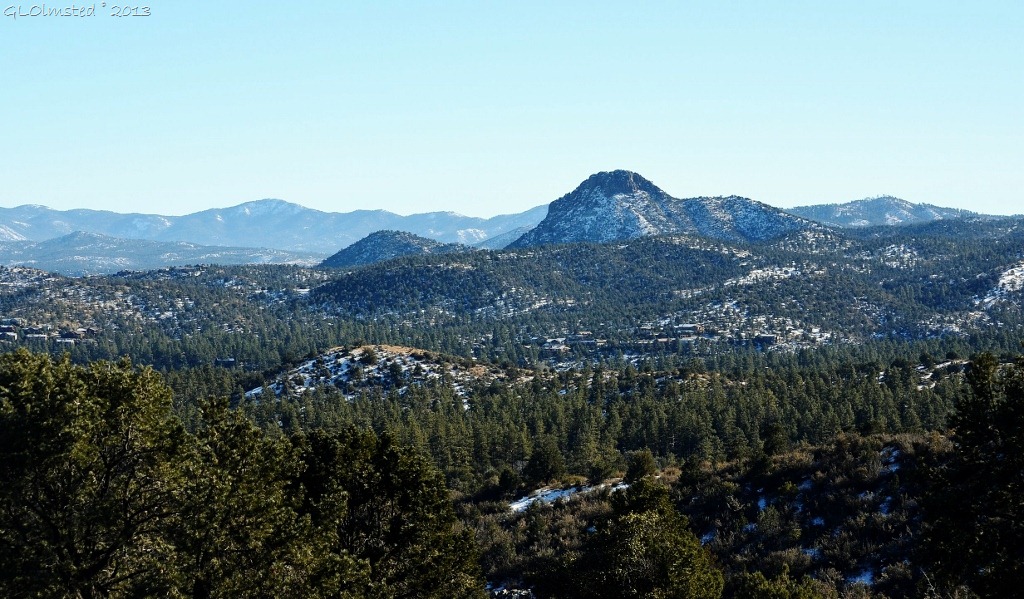 Surrounding Mountains
The original inhabitants of Yavapai people called the Bradshaw Mountains Wi:kanacha for "rough, black range of rocks" and here they mined copper from around AD 1100 to 1600.  The Bradshaw range runs east of Prescott and ends just north of town.  To the west lies the Sierra Prieta mountain range with the Weaver Mountains that run in my backyard to the southwest.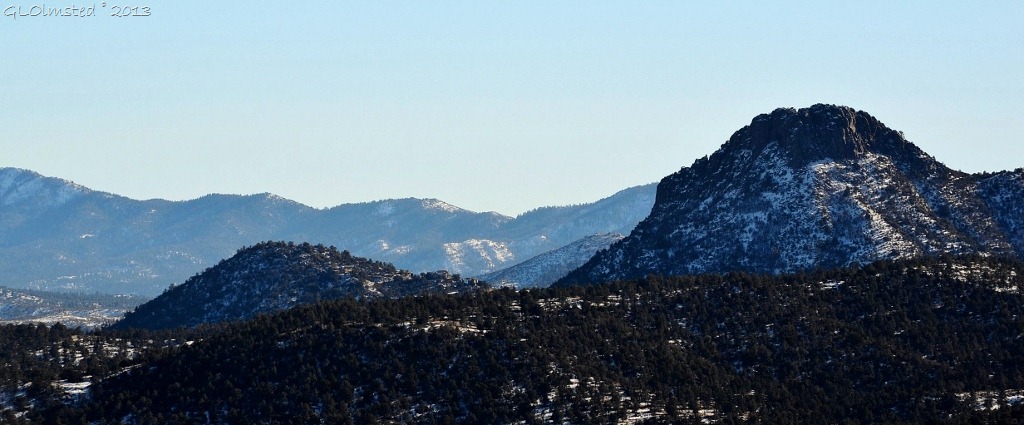 Thumb Butte
The iconic Thumb Butte volcanic plug stands as a landmark on the south side of town.  Many stories are told about Thumb Butte, named after its shape if seen from the north as a clenched fist and prominent thumb.  Sorry, we're looking at it from the west.  Others say it looks like a sphinx.  A trail climbs 600 feet in only 1.75 miles through ponderosa pine forest and offers views of Prescott and all the way to the San Francisco Peaks north of Flagstaff.
I didn't make that climb on this brisk winter day yet enjoyed the expansive view from just below Granite Mountain instead.
I hope you'll get a chance to visit Prescott and explore the surrounding mountains and forest. Or have you already?