October 20-24, 2016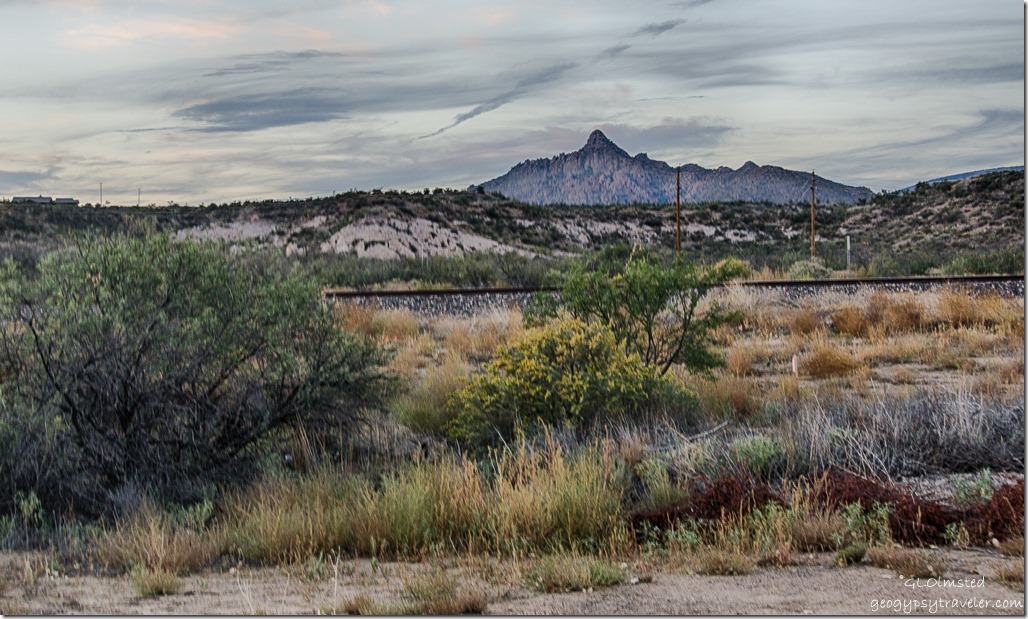 My new Kirkland view of Martin Mountain and the RR tracks
RVers who move frequently have the pack and move down pat, as do I under travel mode.  But after being parked in one place for six months I tend to spread out and decorate a bit so there's more to put away for the 5th-wheel roll.  Yet after moving the big RV twice a year for the last 11 I have it down and I'm ready to settle in Kirkland Arizona for the winter.
I start packing about two days before moving.  If I put things away too soon I'm sure to need them.  And don't think I pack for two days solid.  I just putter around at it.  Tackling one thing at a time in between being online, reading and writing blog posts, labeling at least three month old photos, and checking chores off the list.  There's always a list.  A lot can be forgotten since the last move six months ago.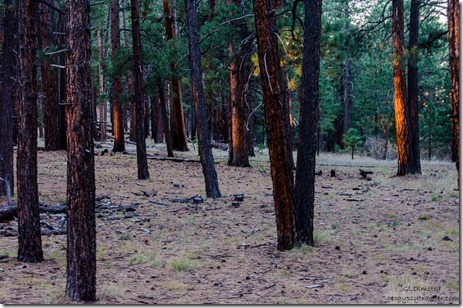 Actually, it just felt good not to set and wake up to the alarm clock to get ready for work.  I'll miss that by spring when it's time to return to Grand Canyon.  I like to just hang out in my RV home.  Especially after six months of being on for the park's paparazzi.  All day long the sun filters through the giant Ponderosa Pines in my back yard, shadows work their way from west to east.
Bill and Sasha arrived Thursday afternoon.  He helped me get a few last minute things done like take down the booster plus haul a few things in the back of his truck making it less crowded inside the 5er with the slides in.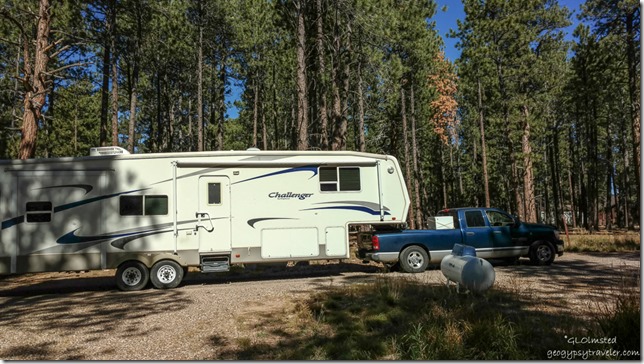 Hit the road Friday about noon headed only four hours away to Flagstaff.  No photos along this drive but you've seen the route before off the Kaibab Plateau, past Vermilion Cliffs, over the Colorado River at Marble Canyon, through the Navajo Reservation and Painted Desert and over the pass next to Humphrey's Peak.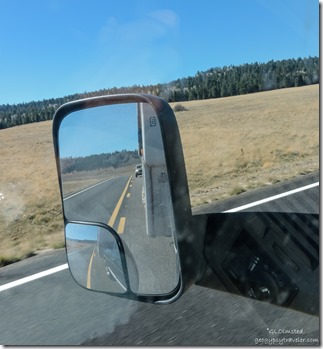 Pulled into Flagstaff KOA about 4:30.  I'd requested and reserved a site large enough to accommodate the truck connected to the 36-foot 5th-wheel with three slide-outs plus space for Bill's Toyota pickup.  Only needed to hook up to water and electric.  Was told the site is 55 feet long yet I have my doubts the curved and unlevel gravel with holes and rocks is anywhere near that as truck and 5er barely fit in.  Without unhitching there was no way to get the RV leveled front to back although I did put levelers under the truck's back tires to help a little.  We slept nose down and I feared knocking Bill out of bed.  I do love all the towering pines, but this old park isn't easy for today's big RVs.  Water was on the wrong side so I didn't bother for our one night stay.  No photos as I was too tired.
We had a very nice dinner at Pita Jungle.  Made a quick stop at Whole Foods, REI and Eddie Bauer for Bill.  Called it an early night as we were both tired after the morning's final packing.
On the road by 9am Saturday morning and the 2 1/2 hour drive brought us to Kirkland.  Some of the route bypassing Prescott on Iron Springs Road is being resurfaced so the speed limit is only 35mph but no actual construction going on Friday through Sunday.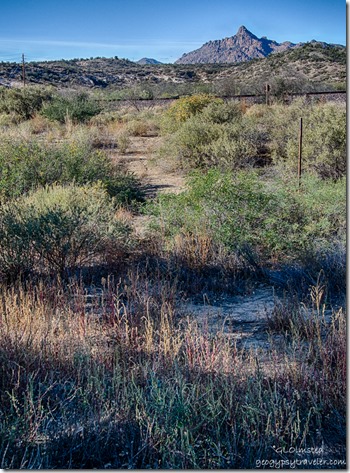 Met Mike the Kirkland RV Park manager, the owner lives in San Diego.  Nice guy.  After meeting me he decided which site I'd get.  I must have impressed him somehow as I'm far back on an elongated loop away from the road with cottonwood trees to provide shade, still a concern at this elevation (just below 4000 '), and a northern view of Martin Mountain.  Plus the RR tracks.  So far only about 3-4 trains in a day.  Bill heard one in the wee hours but I zoned right through it.  Not terribly noisy for long although they do have to blow the whistle due to the nearby crossing.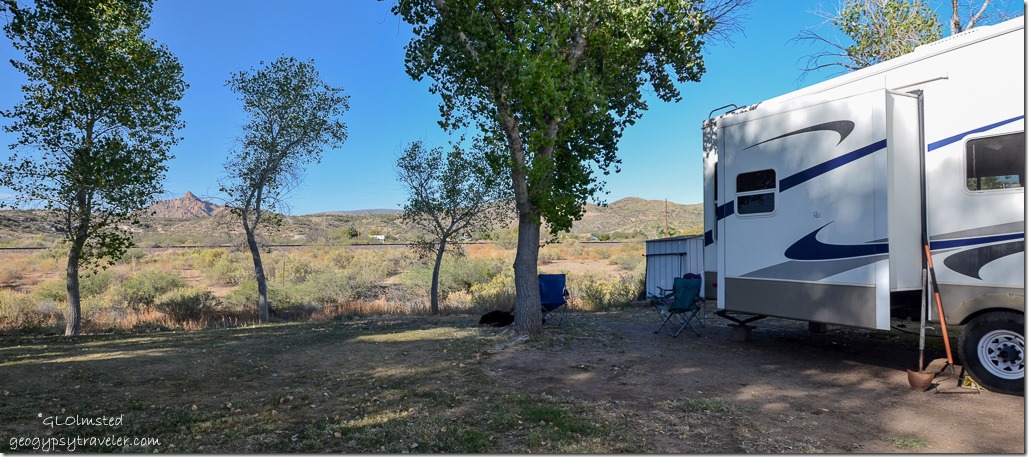 With Mike and Bill's help I backed into this relatively spacious site between the trees and utilities.  I'm not good at backing up the 5th-wheel but I do know how with some time, patience, and a good spotter.  Best part, I was absolutely level side to side and when unhitched from the truck level front to back too.  I think that's probably a delightful first.  Set up was easy and out went the slides.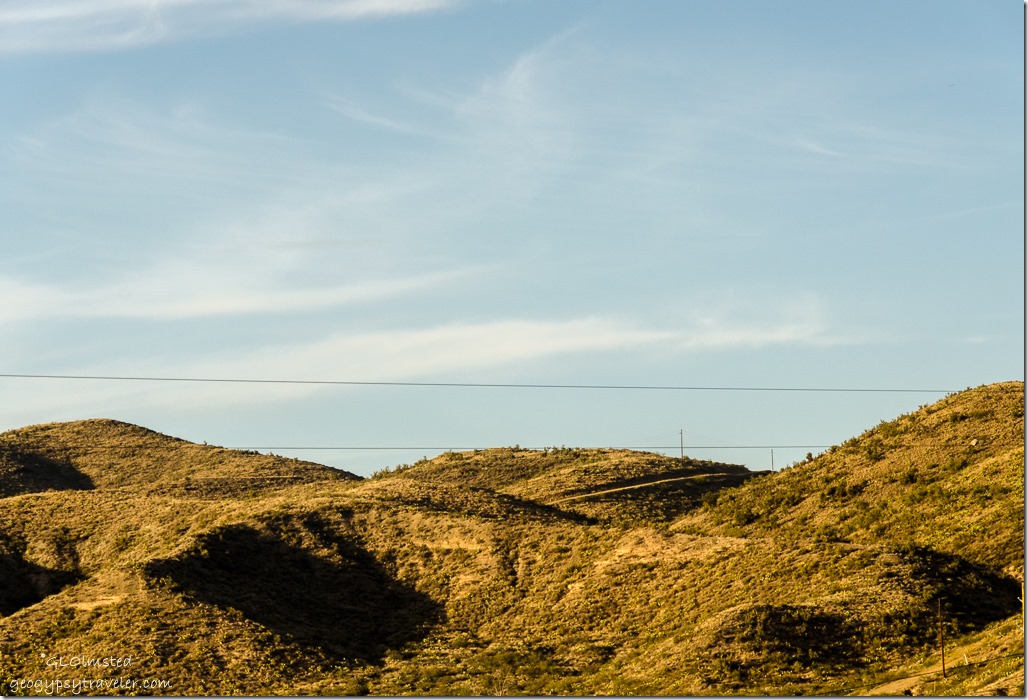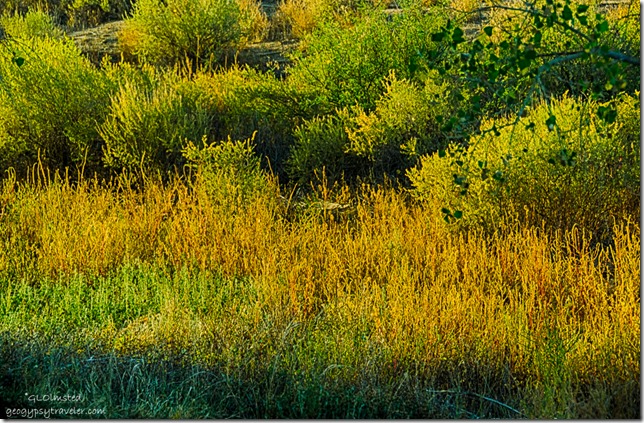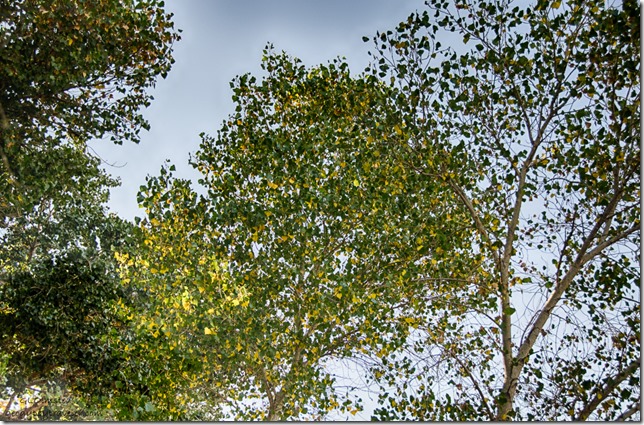 We sat outside and enjoyed the breezy view for a couple of well deserved hours.  The light on fall drying vegetation so different than I'm used to.  Poplars instead of Aspen and low scrubby brush means learning some new plants.
Met two neighbors; next door is Cindy, a single 50s lady who seems nice and so far very quiet, and Tom across the street who Bill says is originally from California.  It's a quiet place full of retirees.  There's an empty site next to me so could get another neighbor.  Martin Mountain, Cindy said the locals call it "Old man snoring" and sees that from both left to right and right to left.  I only see it one way.  How about you?
Drove the 14 miles to Berta's for dinner in Yarnell.  The dark drive back was really dark with no streetlights anywhere.  Just how I like it under a bowl full of stars.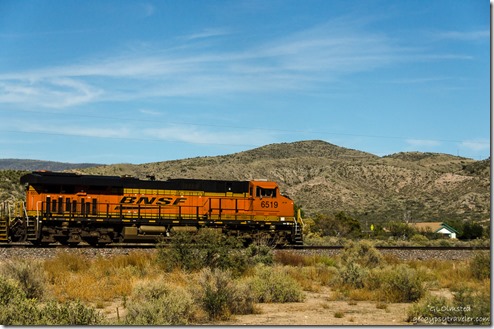 Bill left Sunday afternoon and I puttered around setting up the computer with good internet signal but only 1-2 bars on the phone so will put up the booster again and hope for the best.  Windows wide open the first time in months, no heaters running overnight.  In fact as I sat typing it was almost too hot, but not hot enough to put on the AC.  Yikes, I'm paying for electricity again.  Along with my view of Martin Mountain the other side of the train tracks runs the road to Bagdad, neither very busy.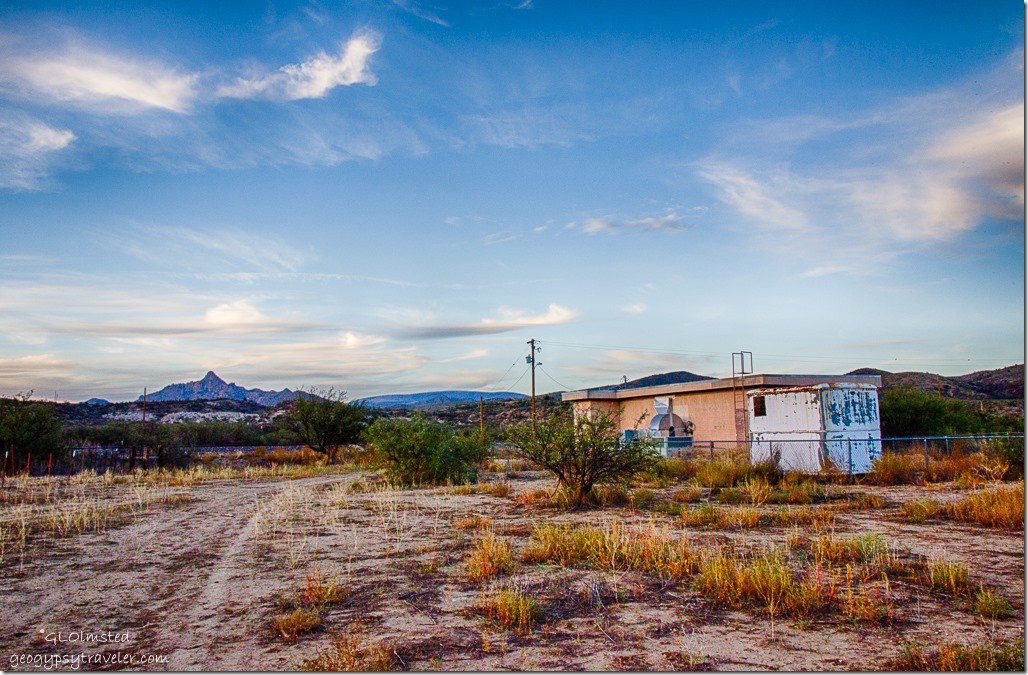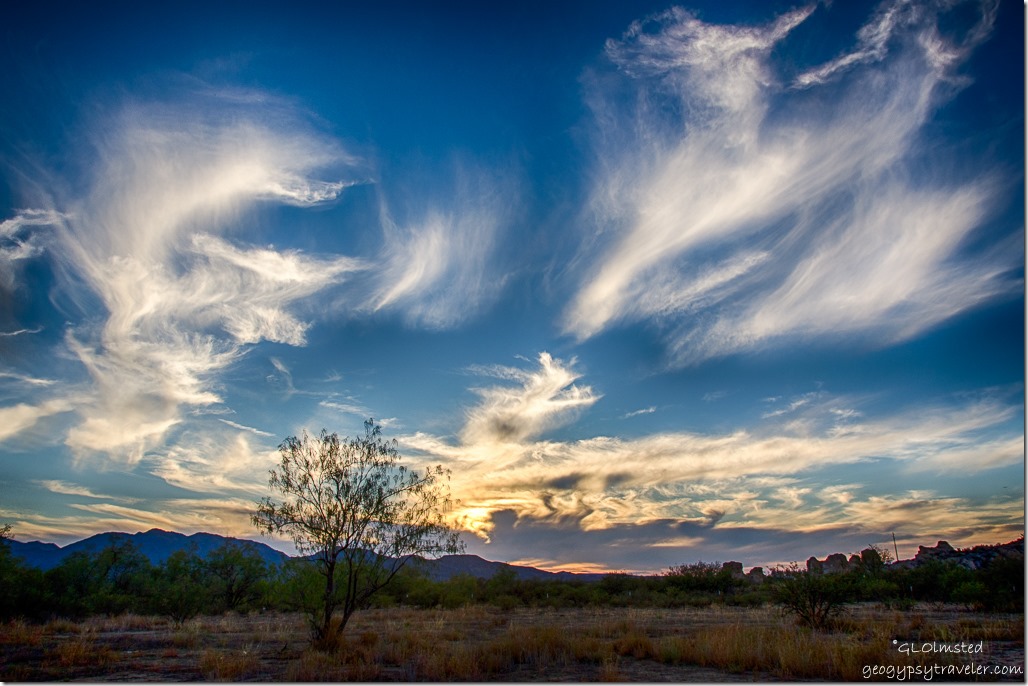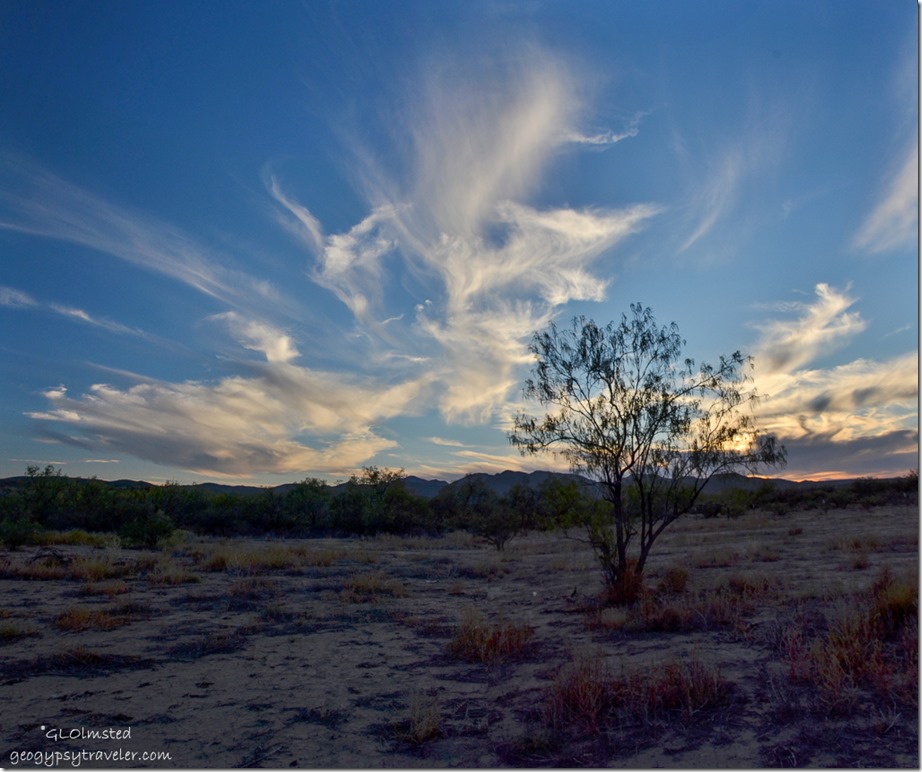 Just at the end of the road is an open area with some kind of building, I know not what, and a marvelous sunset view over the McCloud Mountains.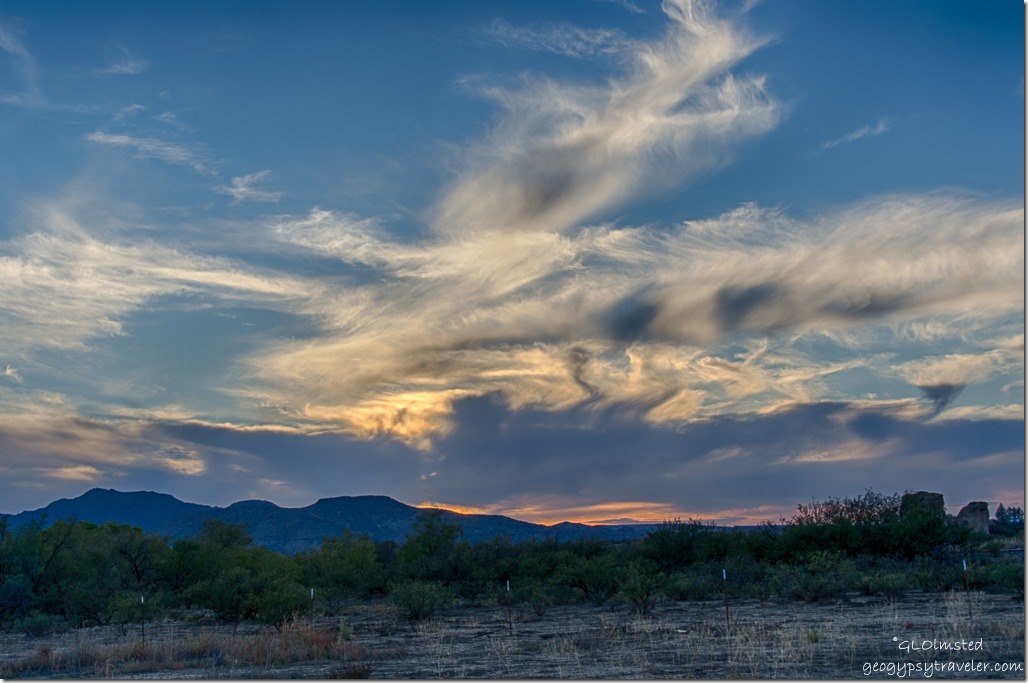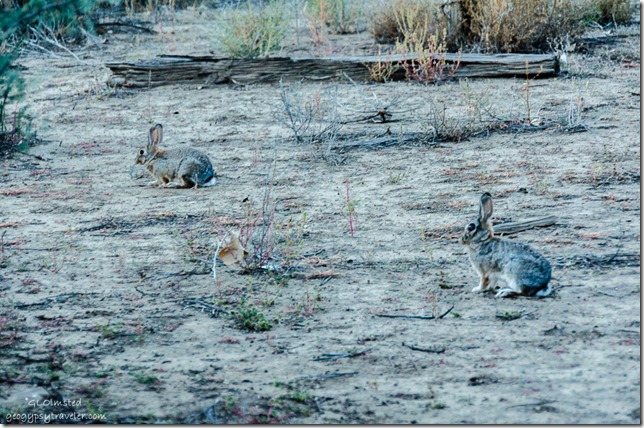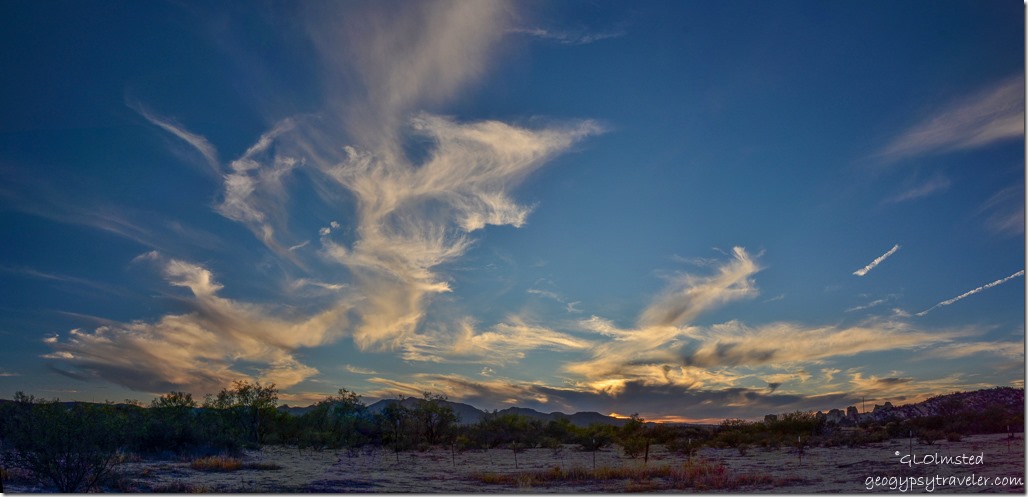 I followed game trails around what looked like coyote scat, grasshoppers bounced out of my way, quail flew by, and rabbits searched for food allowing me to get mighty close.  I hear that coyote, javalina, and fox are frequently seen and recently a coatimundi.  I'm so happy this place is right out my door.  Will do more exploring after I finish setting up.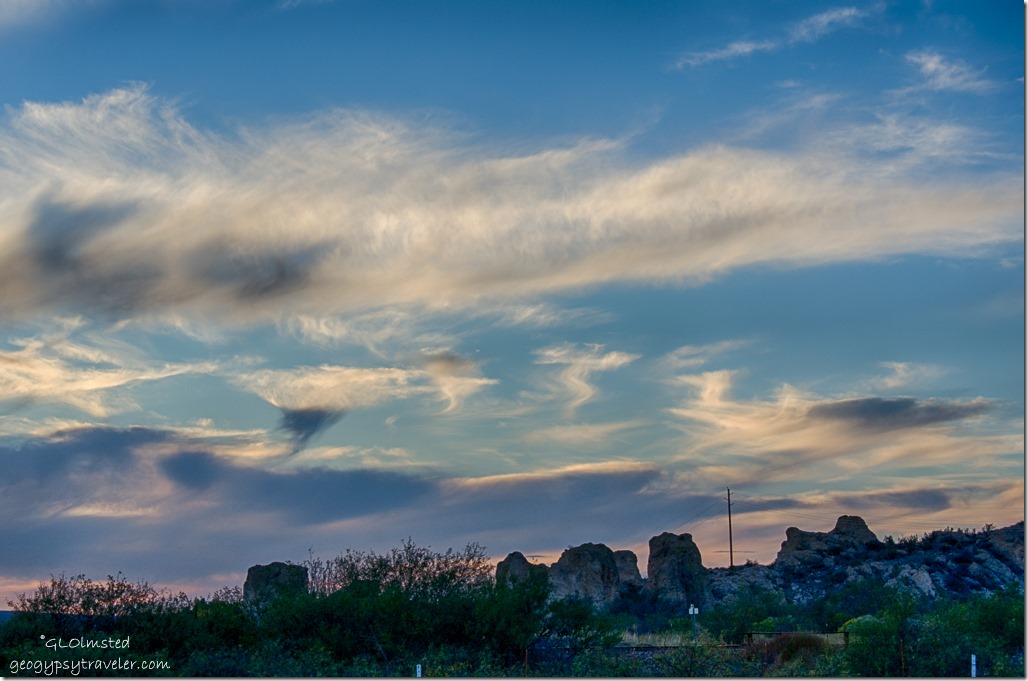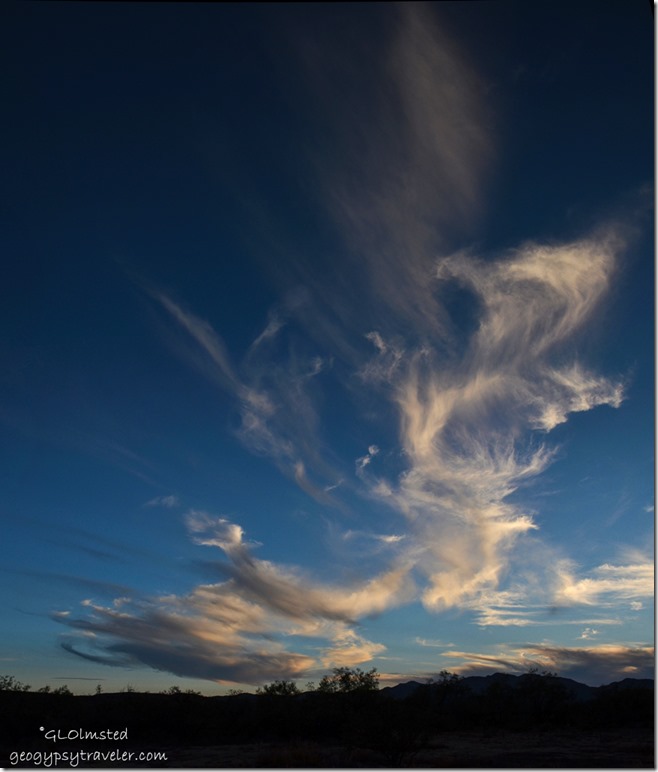 Not quite done unpacking and still have to hook up the sewer and signal booster.  Then time to put the camper back on the truck and ready for an early November trip to the South Rim for the Grand Canyon History Symposium.  Yippee!!!  A canyon fix.  Then maybe slow down a bit, hide out for a while, take day rides to explore the area, and just settle in Kirkland Arizona.
However, today I plan to relax a bit, listen to the wind bring in possible rain and watch clouds dance over the hills.  And dream of some new adventures for the winter.
Except it seems today is lawn mowing day, so there is that.
Linked to Our World Tuesday