After a week at Kruger National Park I wanted to visit Golden Gate Highlands National Park next. Joan asked, "Are there animals?" "I suppose, but it's a geology park."  Then I watched her eyes roll.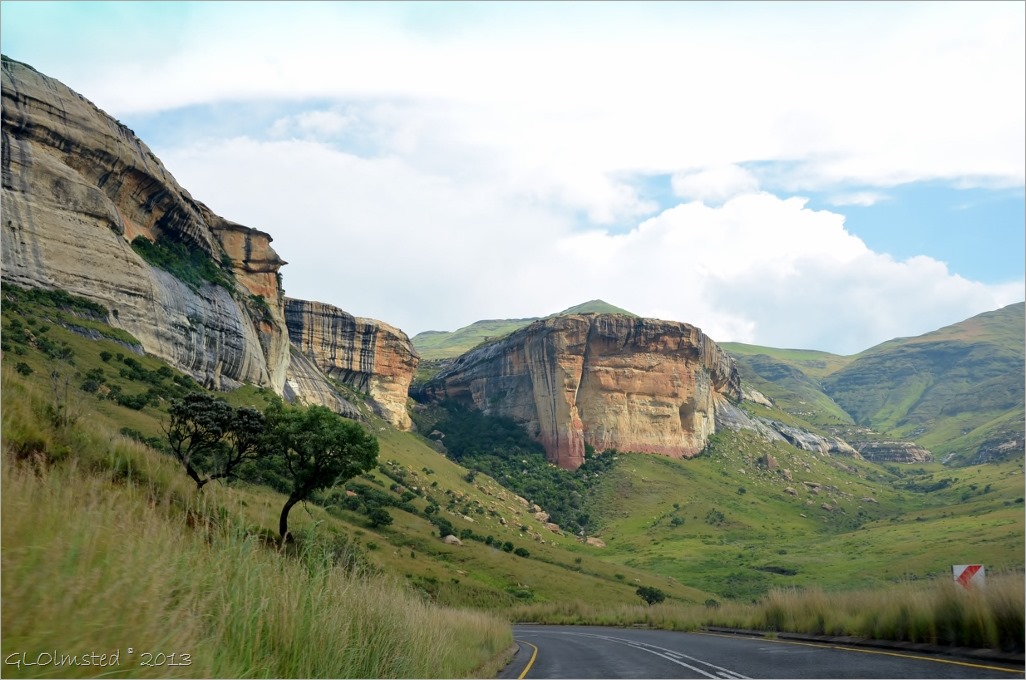 Yet after crossing the flatlands of the agricultural Free State we were both excited to see the giant cliffs of red and gold surrounded by the rolling green foothills of the Maluti Mountains.

I'd researched Golden Gate Highlands a little and put it on the must see list. Sure glad we made it.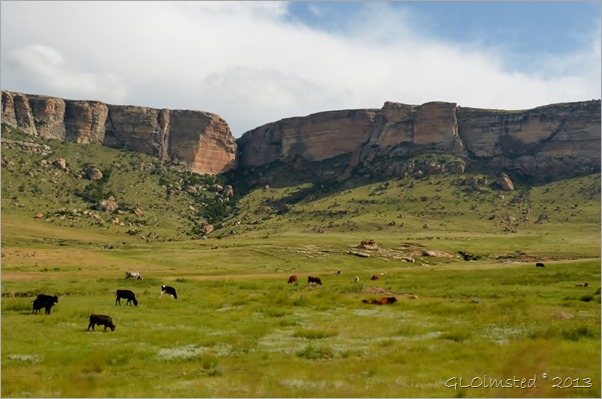 The park is known for black wildebeest, eland, blesbok, oribi, springbok and Burchell's zebra, plus many birds including the rare bearded vulture and the equally rare bald ibis, which breed on the ledges in the sandstone cliffs. But except for a few unidentifiable birds we only saw cows.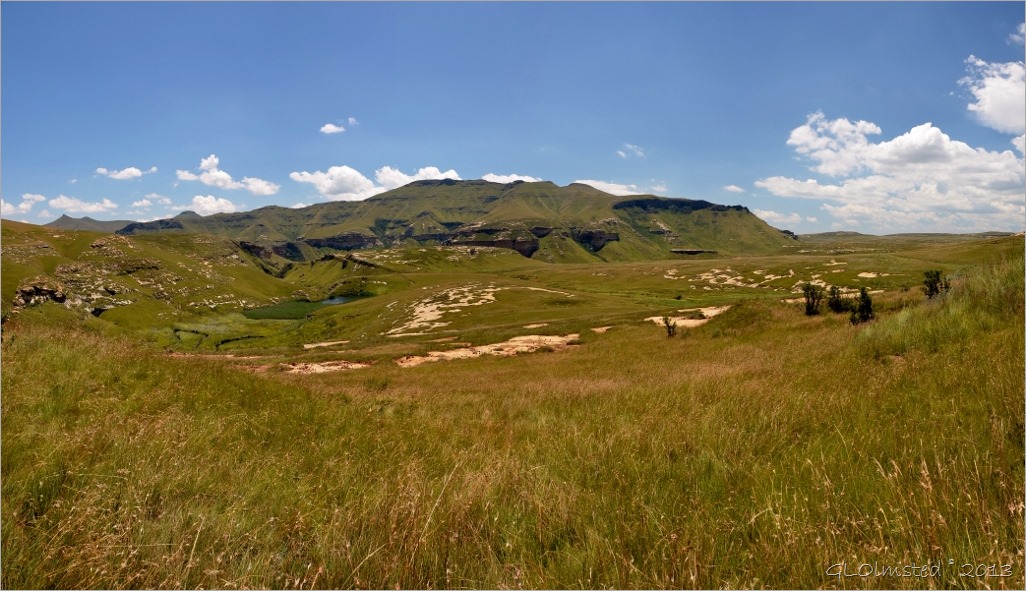 Not the biggest of South African National Parks at a little over 28,000 acres yet Golden Gate is currently the only proclaimed National Park that protects the grassland biome which is the most neglected biome from the point of view of conservation.
There are several trails that bring you right up to the rock and we hiked part of the Echo Ravine trail.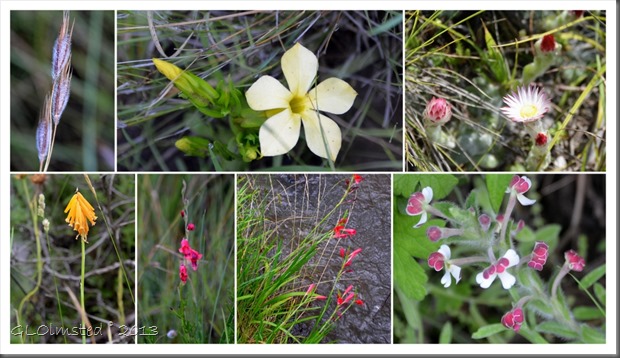 Of course it took quite a while because we both stopped to take numerous photos, of the big and small.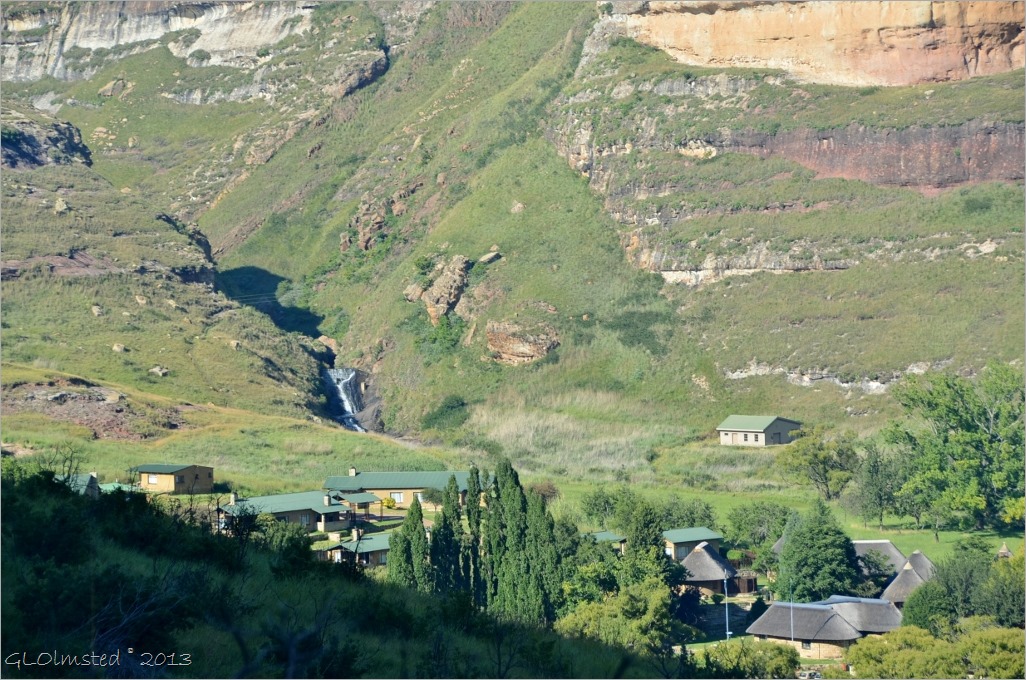 Seeing a waterfall from our view on the trail we next walked the short trail behind Reception to check it out.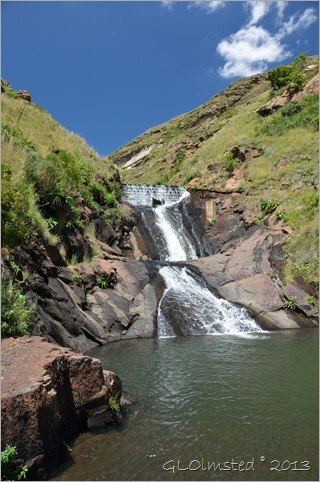 The pool below the waterfall provides a natural swimming pool but it wasn't quite warm enough for a swim that day.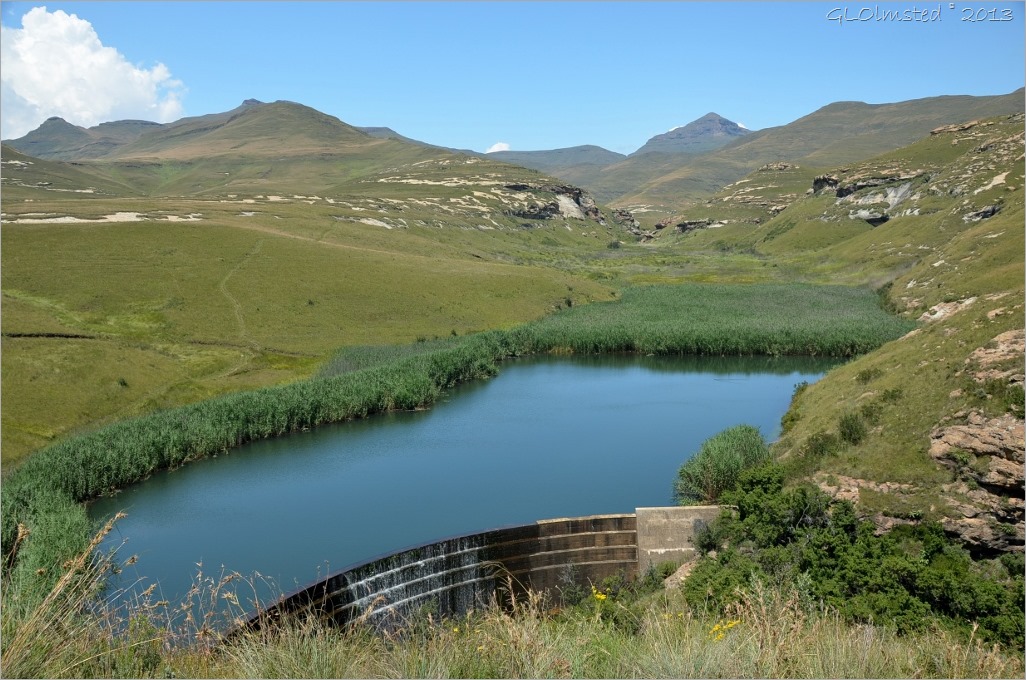 The Oribi and Blesbok loop drives offer spectacular views across the grasslands and a look at the dam above the waterfall.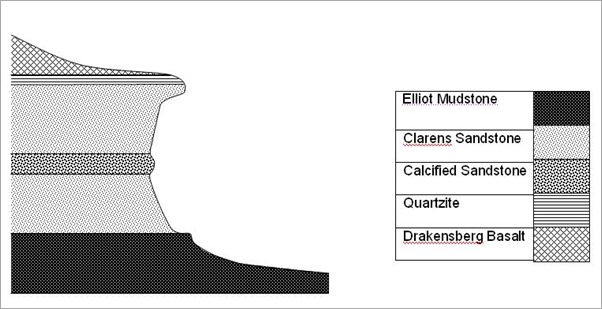 There are 3 main layers of rock eroded over time by rivers and streams. The bottom layer is made up of red mud-like sediment deposited by swampy rivers 200 million years ago. On top of that is yellow sandstone from a 196 million year old desert. This topped off by a basalt layer from volcanic activity from 160-190 million years ago.  The black stripes show were water carrying manganese from the basalt seeps out staining the rocks below.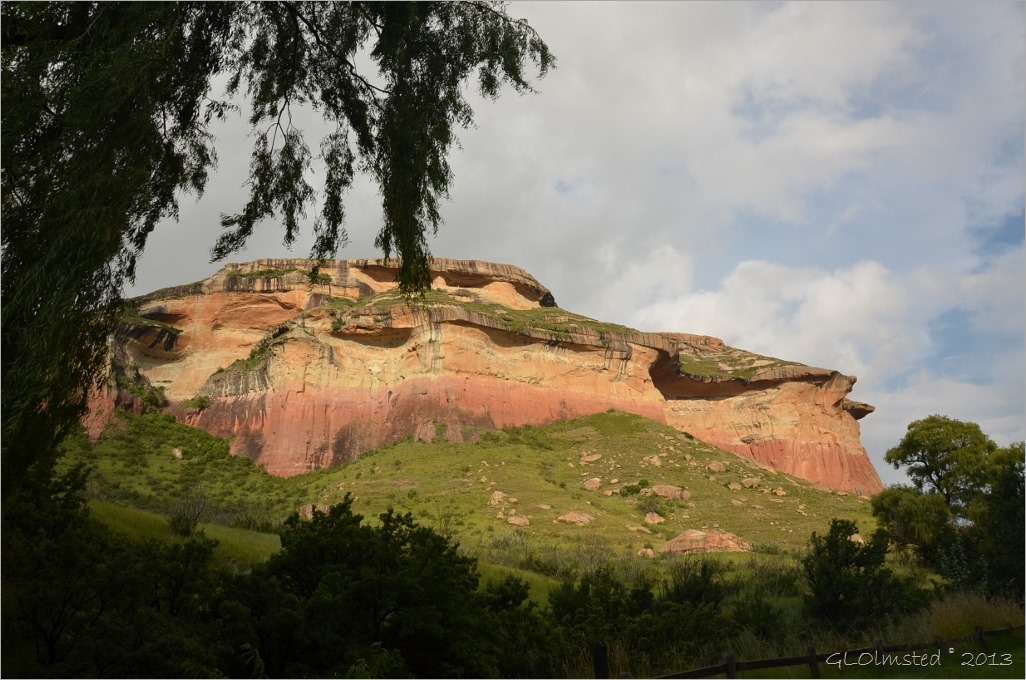 The view from our camp below the towering cliffs showed off the brilliant shades of gold cast by the setting sun which gave Golden Gate Highlands its name. And even though it was summer the night temperatures dropped enough I wished for hat and gloves camping at 7200 feet (2200 m).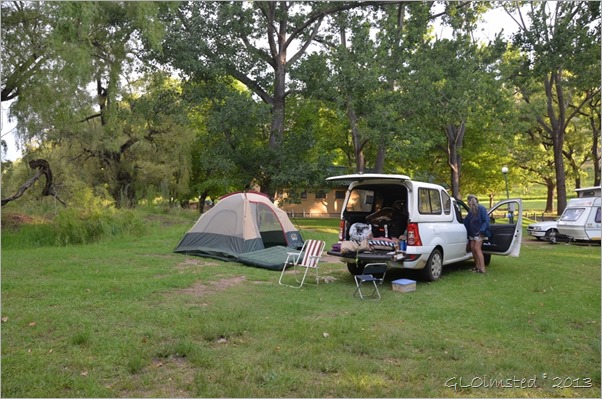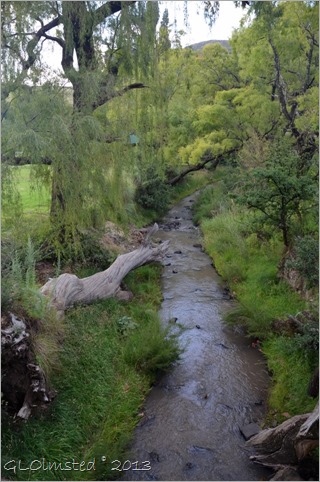 Little Caledon River behind camp
We only spent two partial days and although we didn't really see wildlife I'd like to return and spend more time on the trails.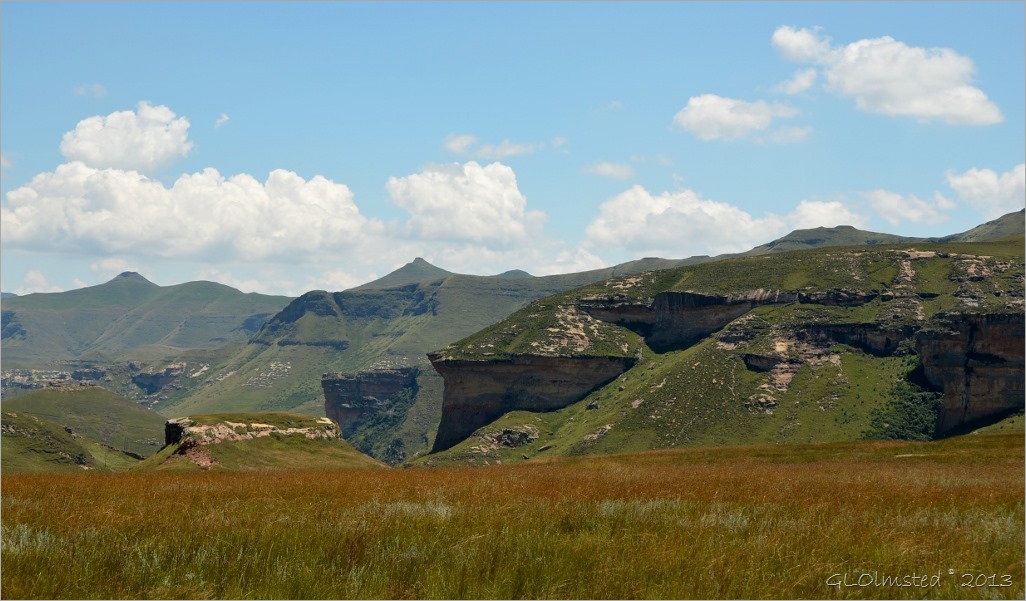 Activities
· Hiking short nature trails 1-5 hours and a by-reservation 2 day/1 night
· Self-drive game viewing
· Environmental education courses
· Horse riding by reservation
· Guided Basotho Cultural Village experience
Services
· Pub at hotel
· Day use picnic site with ablution and barbeque
· Fuel Station
· Curio Shop
· Restaurant and Coffee Shop
· Conference facilities
Accommodations
· Glen Reenen Rest Camp
Caravan and camping sites in beautiful shaded grounds
Ablution (bathroom with showers), barbecue facilities and scullery (kitchen)
Power points in ablution block and some camp sites
A maximum of 6 persons, one caravan/tent and one vehicle per site
· Rondavels, Longdavels and Guest Cottages with either one double and two single beds or two single and one stack bed, bathroom (shower) and kitchen with basic equipment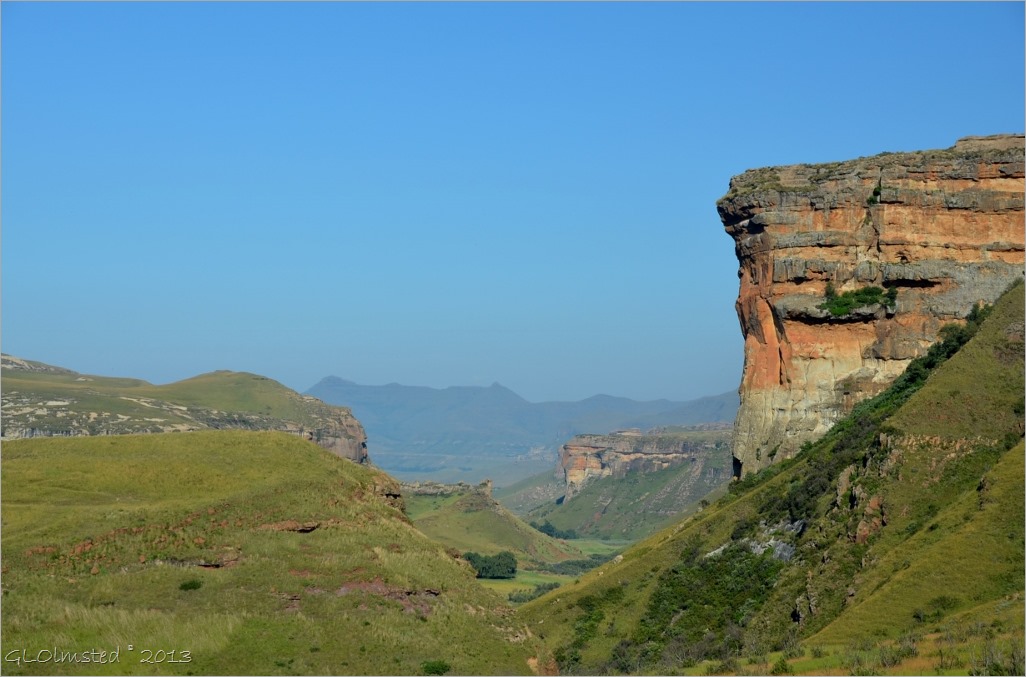 "The Free State landscape gladdens my heart, no matter what my mood. When I am here I feel that nothing can shut me in, that my thoughts can roam as far as the horizons."
– Former State President Nelson Mandela wrote in his autobiography Long Walk to Freedom.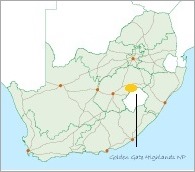 Save