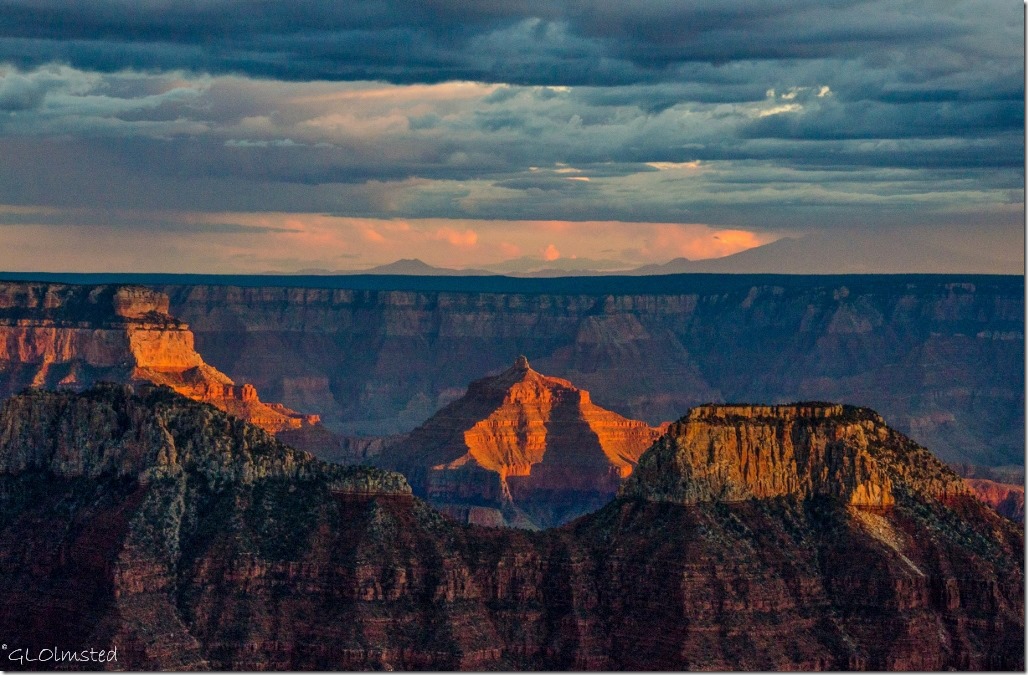 Most of the 5 million people visiting Grand Canyon National Park each year end up on the South Rim with only 10% visiting the North Rim.  Part of that has to do with the North Rim only being open from May 15 – November 30, weather dependent.  Plus it's a little more remote so it's a really good idea to plan ahead to visit the North Rim.  Remember there's a $25/carload entrance fee if you don't have a park pass and cash is not accepted at the entrance station.  However, visitors are not turned away.  Cash is accepted at the Visitor Center.
First, it's unlikely a GPS will work in or around the North Rim so please get a paper map.  Go to the park's website and check out the newspaper which you can download or print ahead of time.   A map of the North Rim is located in the middle of the newspaper, please use it.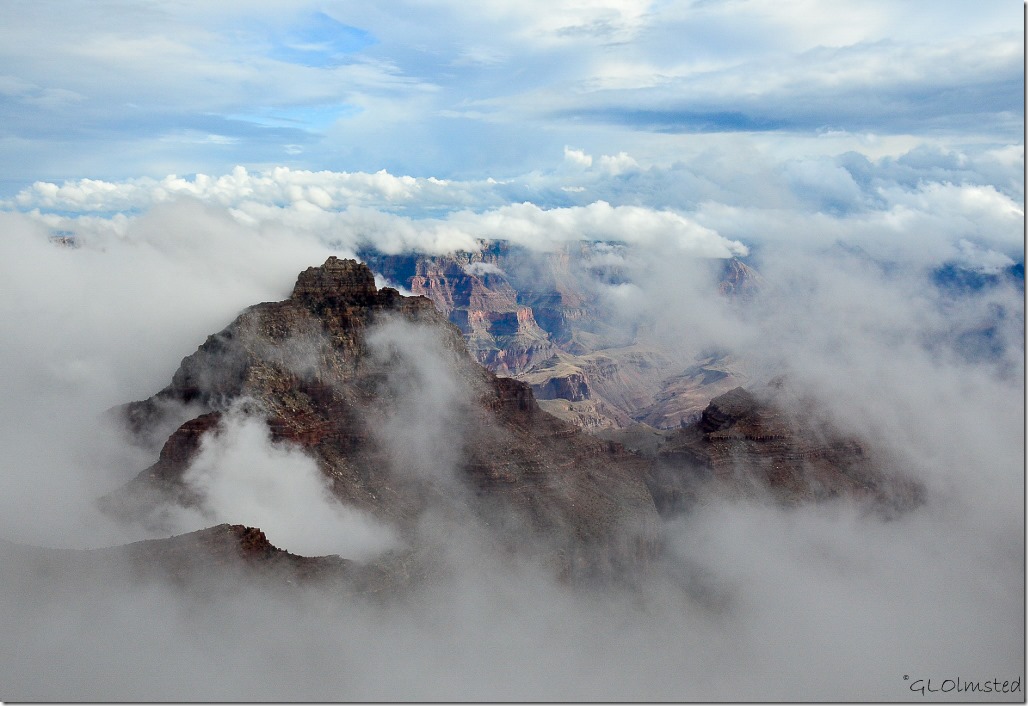 Be prepared for all kinds of weather.  8200 feet (2500 m) can mean cold and snow into June and as early as October.  Monsoon from July through September brings daily rain and sometimes clouds obscure the canyon views.  Heat in the canyon can soar above 100F (37 C) during summer.  Dry conditions requires drinking plenty of water.  Children dehydrate faster than adults.  Altitude sickness can be a reality many don't recognize.  Symptoms include headache, nausea, and grumpiness.  The air is thinner and breathing can be difficult.
The scenic drive on the North Rim is 40 miles (64 k) round trip on a paved curvy road with no shoulders.  It is not recommended for a vehicle over 30 feet (9 m).  Pull offs and parking are provided along the way.  Please don't park on the roadway.  No food or water are provided and restrooms are located at only two points.  There is no shuttle service touring the North Rim however a hiker shuttle offers a five hour ride between the north and south side of the canyon.
Hike smart.  The North Rim offers many hiking options from an easy 1/2 mile to many miles.  Although you are welcome to wander anywhere you want think about sticking to established trails for safety's sake.  If going off trail please don't walk on the vegetation.  Use extreme caution along rocky edges.  Take at least one gallon, or 4 liters, of water per person for the day and salty snacks to help keep your electrolytes up.  No dieting at Grand Canyon as you'll be burning up calories very fast.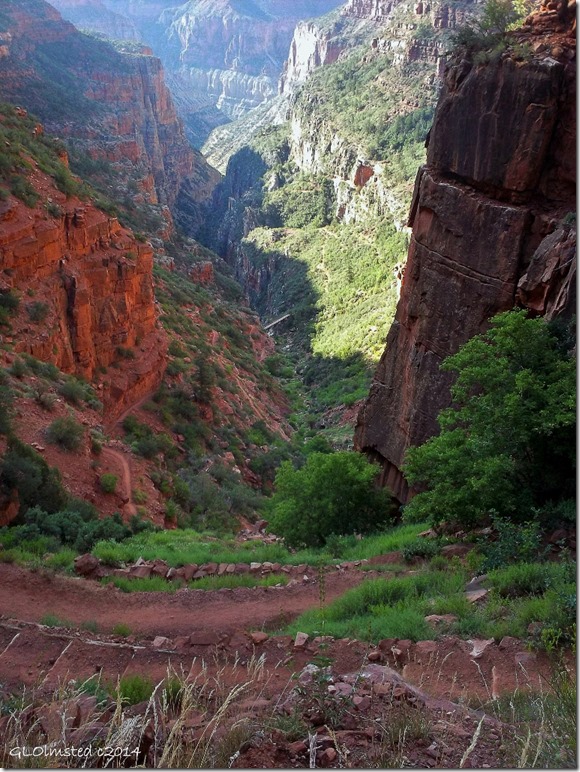 North Kaibab Trail
If you're hiking in the canyon the trail is steep.  What goes down must come up.  Day hikers are encouraged not to go more than the 5 miles down to Roaring Springs on the North Kaibab Trail.  This is considered an all day hike for most people and you should get an early start.
Overnight camping along the main rim to rim trails at one of the three designated campgrounds in the canyon requires a permit which you typically apply for four months in advance.  Again, check the website for complete information.  Best, and most popular, time to hike in the canyon is spring and fall when inner canyon temperatures are not so brutal.  Stop at the backcountry office for more information.  Maybe you'll get lucky and get a next day permit.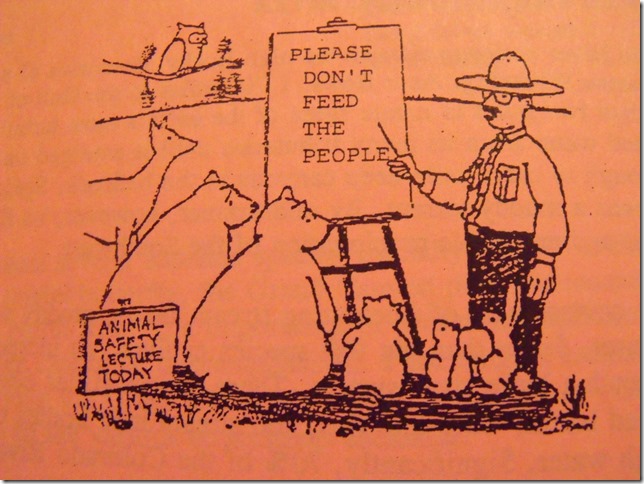 Ranger programs go on throughout the day and into the evening.  Subjects vary from geology, ecology, archeology, California condors and cultural history.  It's a great way to learn more about your Grand Canyon.  Times and locations are listed in the North Rim newspaper which if you haven't already printed are handed out at the entrance station.
The Junior Ranger Program offers more learning opportunities for kids of all ages and you earn a Junior Ranger badge for your efforts.  Stop at the Visitor Center/Bookstore to pick up a Junior Ranger book and maybe a postcard or two.  Rangers are available to help you plan your visit.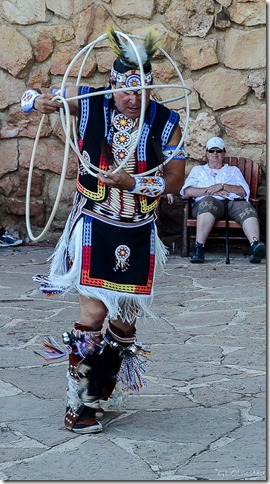 Special events include the 4th of July water parade, Western Arts Day, the week long Star Party, Native American Heritage Days, the Kanab Symphony and special presentations by Artists-in-Residence.  Plus nature puts on a wildflower display most of the summer and the fall aspen turn to gold.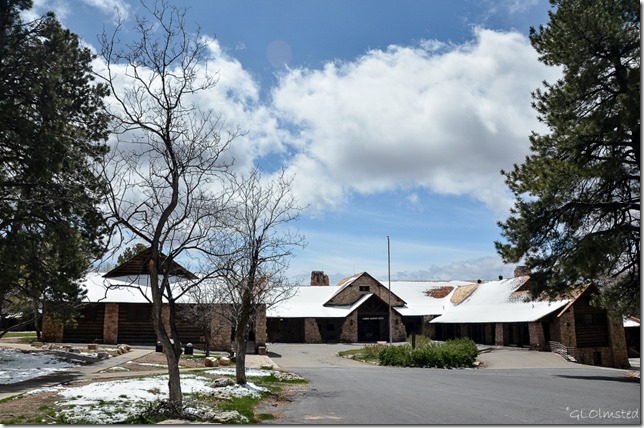 Food options are available at the Grand Lodge for breakfast, lunch and dinner.  It is the most expensive of options but not outrageous for a National Park dinning experience with views of Grand Canyon.  Dinner reservations should be made in advance.  Deli in the Pines offers a variety of quick foods at reasonable prices like salad, pizza, sandwiches, ice cream, beverages and more.  Food can be eaten inside, outside, or to go.  There is also a Grand Canyon Cookout Experience that includes musical entertainment.  The camp store has pretty much all the basics but you'll pay more than in town.  And speaking of town, the nearest true grocery stores are in Kanab, Utah 85 miles away.
The Rough Rider Saloon offers some quick food and cocktails.  Plus coffee and rolls for the early risers.
Grand Canyon National Park does not sell small throw away sized water bottles.  But who needs all that plastic around when you can fill your own containers at the water fill stations.  It's delicious spring water pumped up from about 3000 feet (914 m) below in the canyon.  Roaring Springs provides water to both the North and South Rims.  Drink plenty of it but be conservative where you can.
Accommodations are limited and typically require reservations far in advance for lodging and campground.  Dispersed camping in adjacent Kaibab NF.  23 miles away Kaibab Lodge, also excellent dinning.  45 miles away Jacob Lake Inn along with restaurant, gift shop and famous cookies and milkshakes.  Camping also around Jacob Lake.  East is Cliff Dwellers, Lee's Ferry and Marble Canyon.  North Fredonia, AZ and Kanab, UT.
Fuel is available near the camp store 24 hours a day.  There is no mechanic on duty.
Pets must be on a leash at all times and only the Bridle Trail and the area around the lodge and visitor center are pet friendly.  Do not leave your pet unattended in a closed hot car.
Cape Royal overlook for the best sunsets
If you're planning to visit the North Rim let me know, I'll be working there all summer and would be happy to answer your questions.  Planning will make your visit more enjoyable.