First of all the best of 2016 has been all of you.  If it weren't for readers like you there wouldn't be any "best of 2016" post.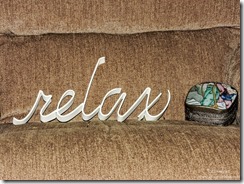 Best advice from BFF
There's a lot of scuttlebutt online about 2016 being the worse year ever.  A lot of people in the public eye have died.  Some of our favorite entertainers, ones many of us grew up with.  Let's face it none of us are getting any younger.  Politics have become a nightmare with many unfriending friends and family for differences of opinion.  Terror attacks around the world killing many innocent people.  The climate continues to change despite deniers.  It's not all roses for sure.  But I'd like to take stock of the good times while learning from but not dwelling on the bad.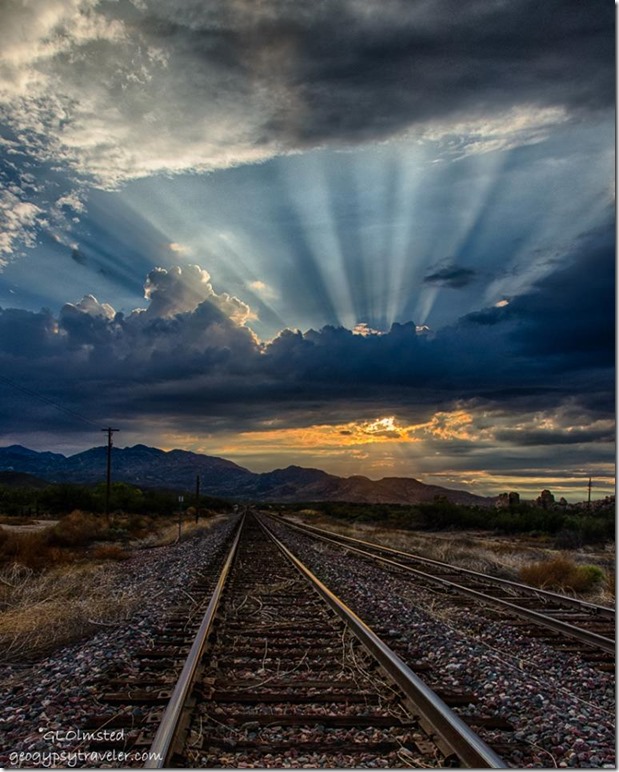 Best photo from 2016, IMO (Most liked on FB)
If you're a regular reader thanks for being part of the statistics on Geogypsy.  According to WordPress stats the blog is holding close to last year with a little over 86,000 pages views, on average 250 views a day.
Other than regular readers, no surprise that Google refers the most viewers.  People searching for " badplaas forever resort," "black wildebeest vs blue wildebeest," "prescott az," "kaibab national forest," and "grand canyon" top the list in that order.
Yet like many years, Al and Kelly from the Bayfieldbunch send the most people my way.  Al posts daily with humorous stories about life and fantastic photos to go along.  You really should check them out.  Guess I must be getting the word out pretty well on Facebook as that's the 3rd best referrer from 2016.
The "top posts" of the year I assume to be the most viewed but not necessarily posted in 2016 include:  Camping at Point Sublime Grand Canyon, Sculptures at Galleta Meadows, Monsoon visits Grand Canyon and what to do when it rains (high increase when it's raining at the the canyon), Grand Canyon views from Timp Point in the Kaibab National Forest (along the Rainbow Rim trail), and Playing in hot water at Forever Resort Badplass South Africa.
Plus folks find other blogs/websites like: Sallie at A Full-time Life, Pam and John at Oh, the Places They Go, RoverPass for lots of RVer stories, Diane and Nigel in France, Jodee and Bill at On the Road Abode, Sherry and David at In the Direction of our Dreams, just a few of my favorite blogger people.
Favorite photos and adventures from 2016
I took 55,075 photos this year, and shared almost 18,000 of them.  Of course some going into Foto Friday Fun are from years past.  I'll try not to overload you with all the rest.  Many of you have probably seen a lot of my favorite photos from the year.  But what the heck, they're worth looking at again, I think.  I've included links in case you missed something.
January
Much more snow where I woke to 2015 in Kanab, Utah.  And although I'm not a lover of snow I knew the contrast would be outstanding on the red rock of Zion National Park.  Bonus, I got my first ever decent photo through a tunnel window entering the park from the east side and only because of limited visitation during winter could we slow down enough to enjoy that view.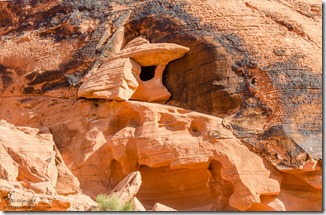 Yet with ever more snow making me feel home-bound by mid-month it was time for sunshine and a desert fix.  First stop, Valley of Fire State Park, Nevada.  So much to see here the three days weren't enough.  Swirled sandstone, petroglyphs, innumerable trails, distant views, and good camping (except for a loud drunken guy the first night).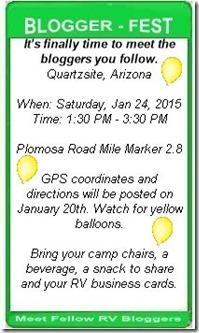 Camped along the ever shrinking Lake Mead on the way to Quartzsite, Arizona for some social gatherings.  Unfortunately I got sick in Q, legs swelling and joints aching.  But I still made it to the second Bloggerfest, just didn't stay very long.
February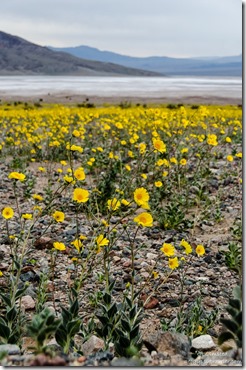 More snow came to southern Utah taking me for a nearby visit to Coral Pink Sand Dunes.  But once again I wanted back into the desert and the Death Valley super bloom was the perfect fix.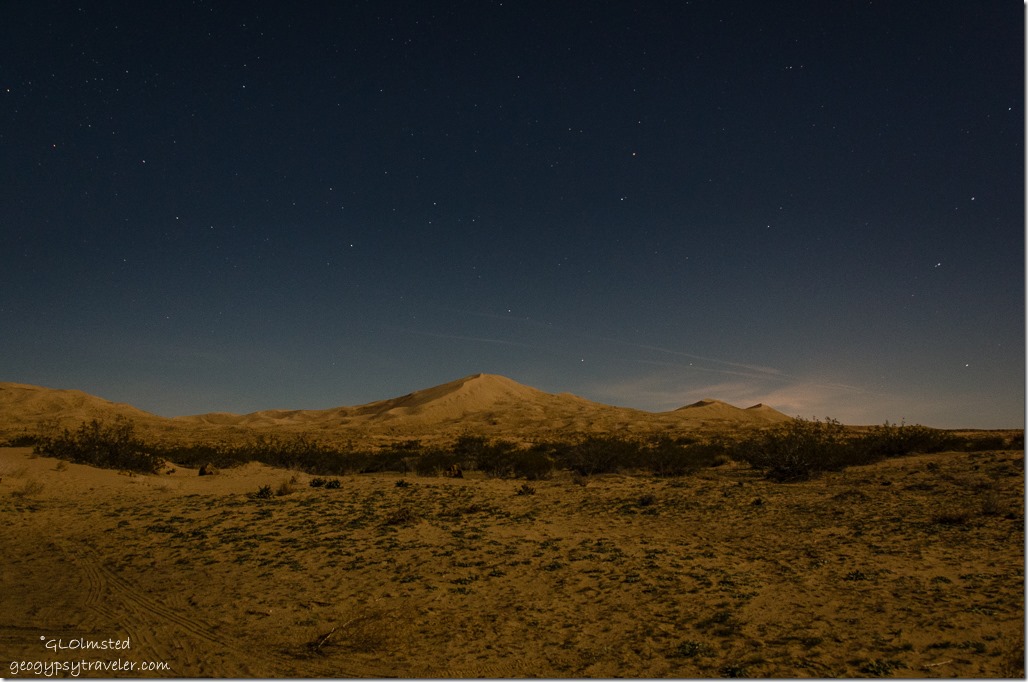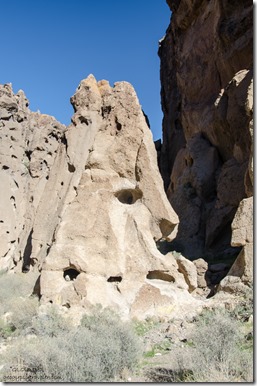 Being so close it seemed like the right idea to also visit Mojave National Preserve.  Another diverse landscape camping first at the Kelso Dunes where I practiced a little night photography.  Then on to Hole in the Wall with a hike in the sculptural Banshee Canyon on the Rings Loop trail.  Two days were not enough so this goes on the return to list.
Returning to Kanab at the end of the month I saw the first happy signs of spring as flowers bloomed and buds appeared on the trees.
March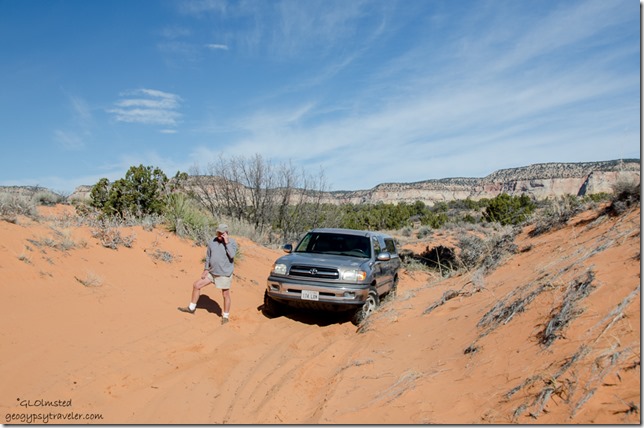 With the weather getting so nice Bill decided to show me Peekaboo slot canyon but the clutch went out on his truck on a sand dune so we didn't get there, yet.  Thank goodness for cell service and a Rubicon in this gorgeous sandscape.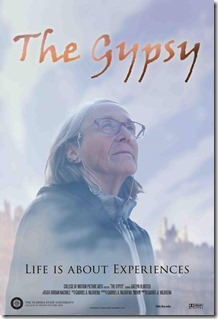 One of the most exciting events for me in 2016 was being filmed for a documentary about living nomadically and connecting to nature.  I met three of the greatest young folks from a Florida Film school who spent three days taking a massive amount of video as we chatted and shared the beauty of Bryce Canyon National Park.  And I just found out director Gabriel won Best Documentary short with "The Gypsy" at the Fort Lauderdale Film Festival.  It will next be screened at the St. Augustine Film Festival and has been entered into the Travel FilmFest in Cypress.  Unfortunately, as long as the film is in festival circulation, it's not allowed to be shared publicly online, as it would forbid it from festival entry.  I think as the star I should be in Cypress for that showing.  Don't you?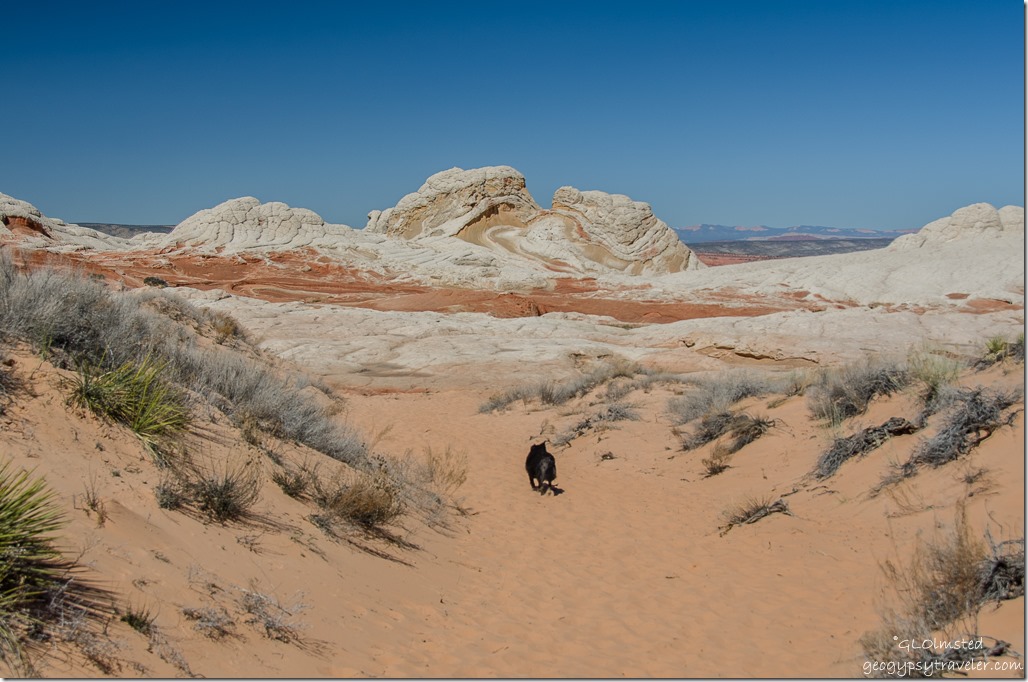 Mid-march Bill lead the way for Pam and John to White Pocket in the Vermilion Cliffs National Monument.  We both love to share the Southwest landscapes with friends.
Celebrated my birthday near Salt Lake City with Bill's son and DIL.
April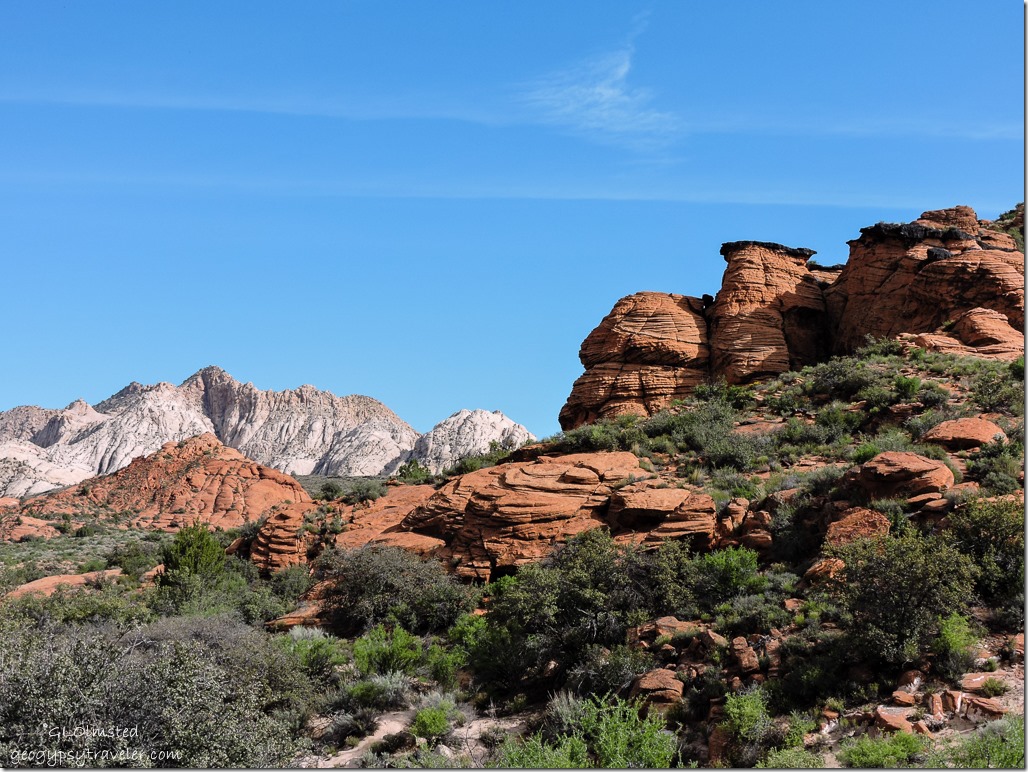 Winter wasn't quite over in southern Utah yet the temperatures were perfect for hiking and camping at Snow Canyon State Park near St. George.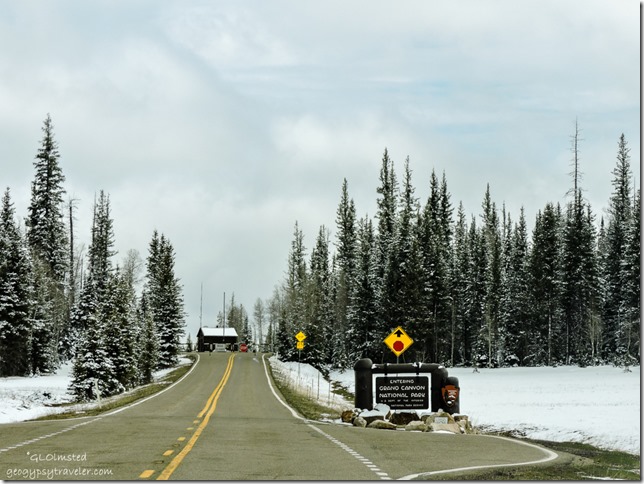 And suddenly it was time to return to the North Rim Grand Canyon.  A new parking site for the 5th-wheel placed under the Ponderosa Pines only a short walk to the rim of Transept Canyon.  But of course spring comes late at almost 9000 feet.
May
Us North Rim Park Rangers went to the South Rim for training and then returned to open the North Rim on the 15th.  The crowds began immediately with many hiking the canyon.  I suffered around a lack of phone and internet signal driving to places along the rim before finally buying a booster that got me online most of the time.  Difficult because of the trees and the tower is on the South Rim.
Several Grand Canyon Park Rangers from both sides of the canyon marched in the Kanab Earthfest Parade for the first time.  After all 2016 marked the National Park Service's 100th birthday.
June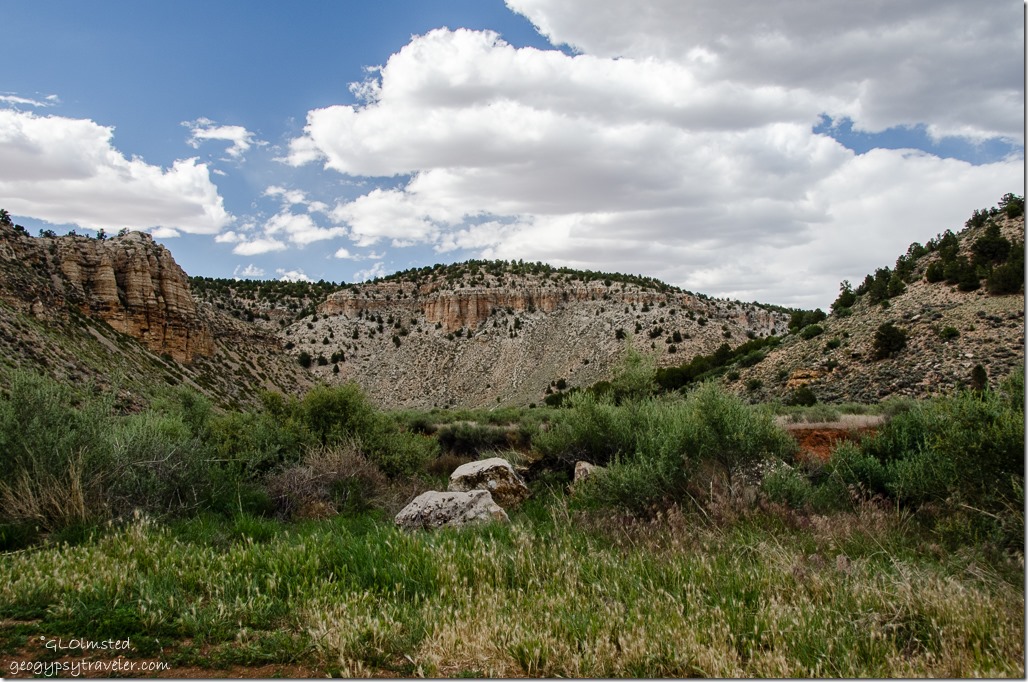 The 2016 week long Star Party kicked off the many events scheduled for Centennial at Grand Canyon.  Bill and I tried, and failed, to hike further into Snake Gulch but that nasty cheat grass turned us back.
I tried to watch the solstice moon from the Point Imperial overlook on the North Rim but clouds got in the way.
Yet the best of June was meeting long time blogger friends Diane and Nigel from France and sharing Grand Canyon while watching them stand in awe.
July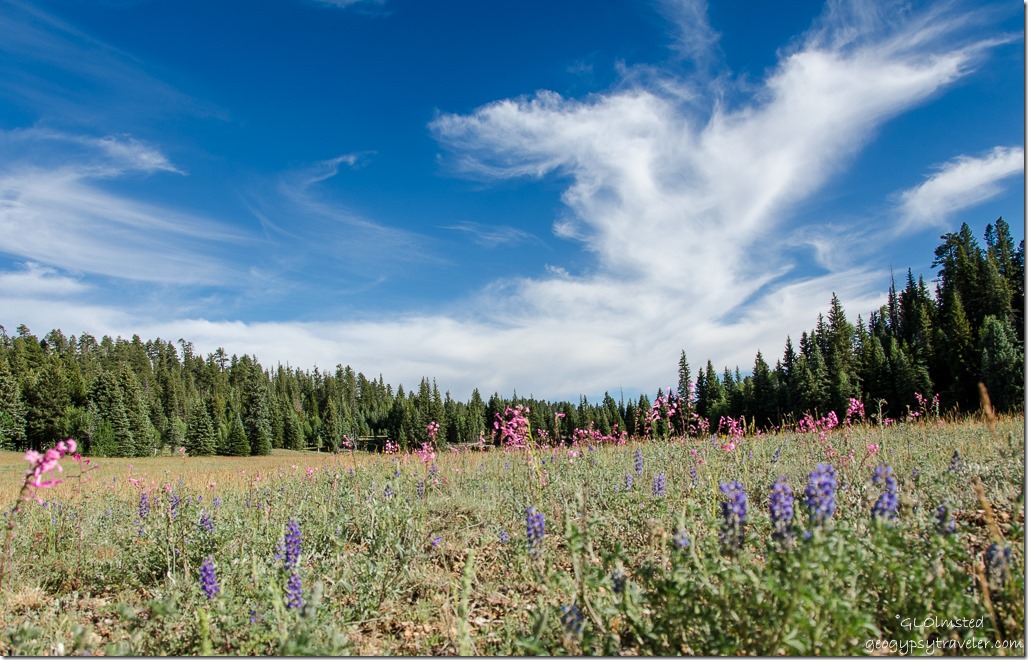 The beginning of monsoon, one of my favorite experiences at the canyon, brought many opportunities to explore on the adjacent Kaibab National forest.  And the rain brought plenty of wildflowers.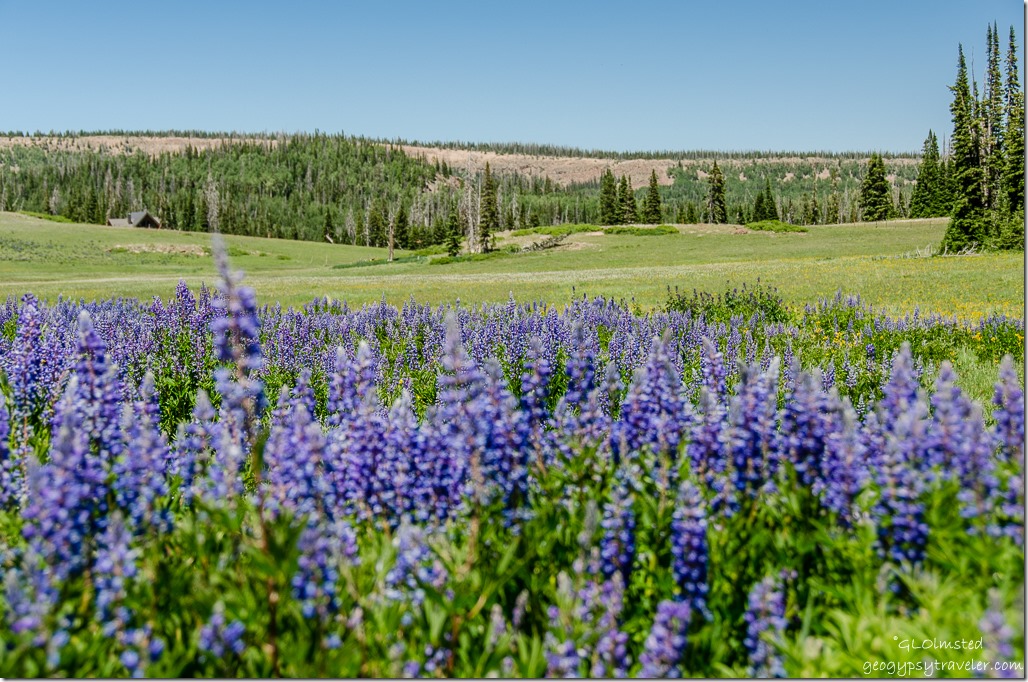 Plus more wildflowers at Cedar Breaks National Monument, Utah, a little visited place with much to offer.

And so many gorgeous sunsets.  Rangers get paid in sunsets you know.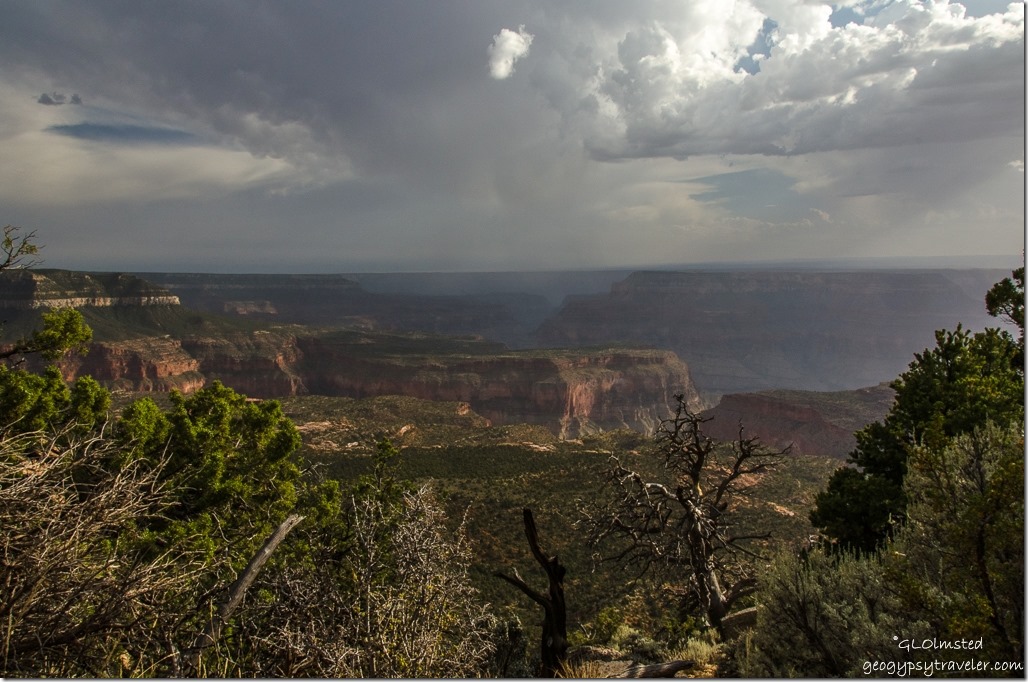 Plus endless marvelous monsoon skies.  Including a visit to Crazy Jug Point, one of my favorite canyon views especially with storms brewing.
August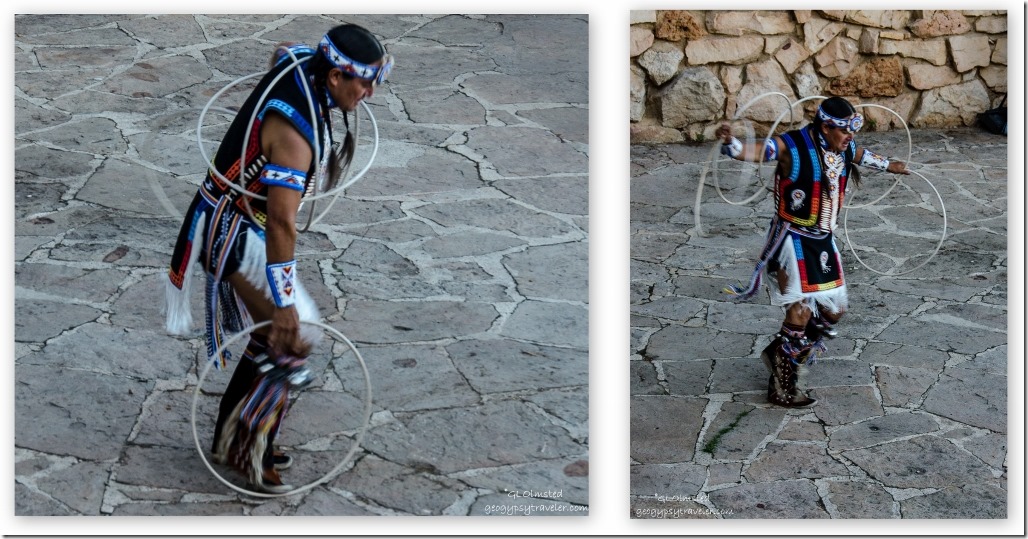 Mid-month the North Rim celebrated the annual Native American Heritage Days where people from affiliated tribes share their culture and arts.  Always a special treat to watch Derrick Suwaima Davis hoop dancing.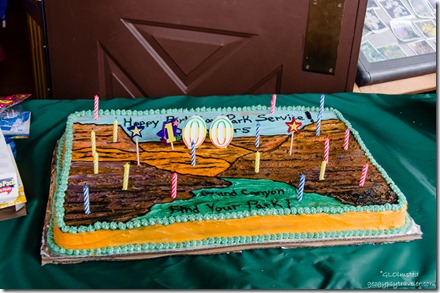 Yet this month was really all about the National Park Service celebrating 100 years.  Truly one of America's Best Ideas.
September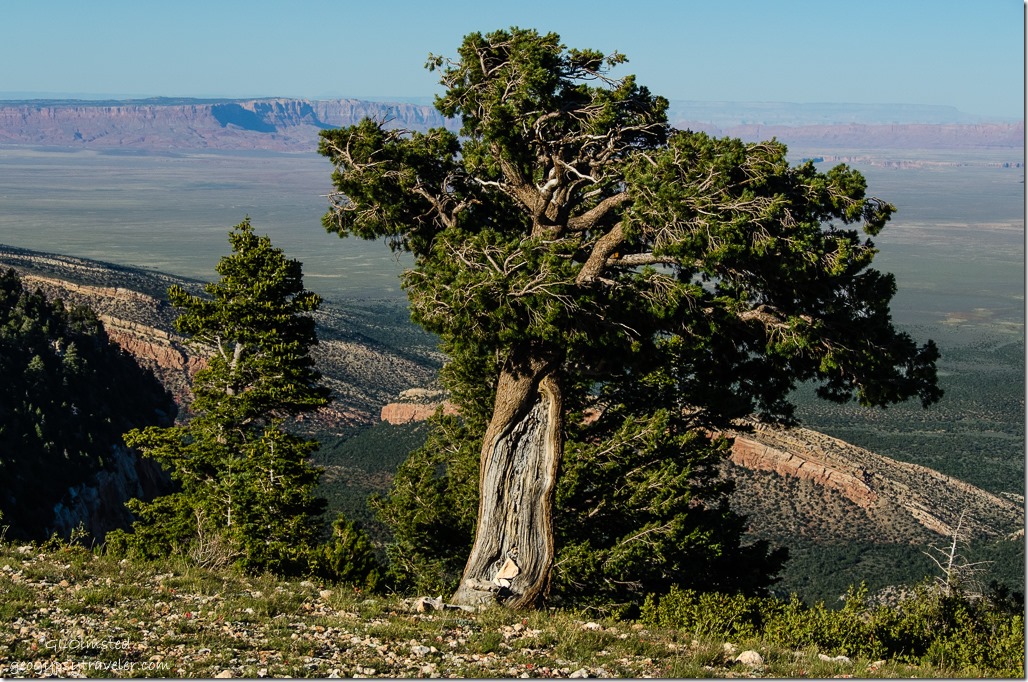 Fall on the Kaibab Plateau called for more camping and one of my favorite eastern locations is Marble View.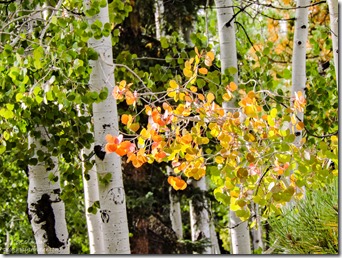 There is something extremely special watching fall settle in as the Aspen turn to warm colors in contrast to the evergreens.
But fall is also the time I need to decide what and where I'd be doing at the end of my season.  I drove to Yarnell twice, the second time to drop off the truck camper staying at Lee's Ferry along the way.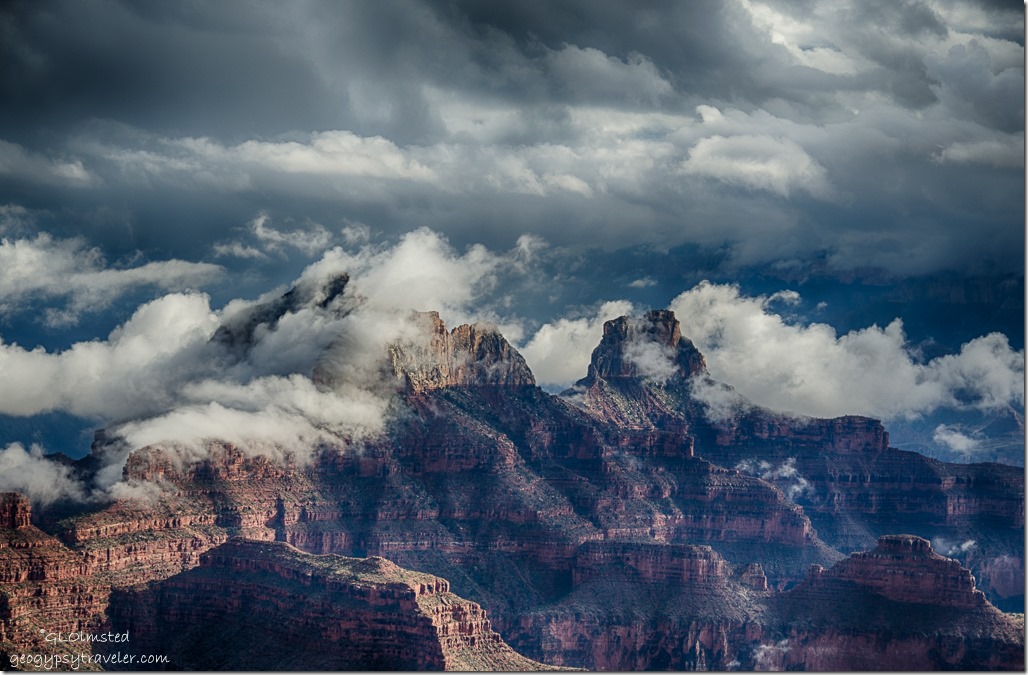 Monsoon storms continued to bring the fantasy of inversion to Grand Canyon.
October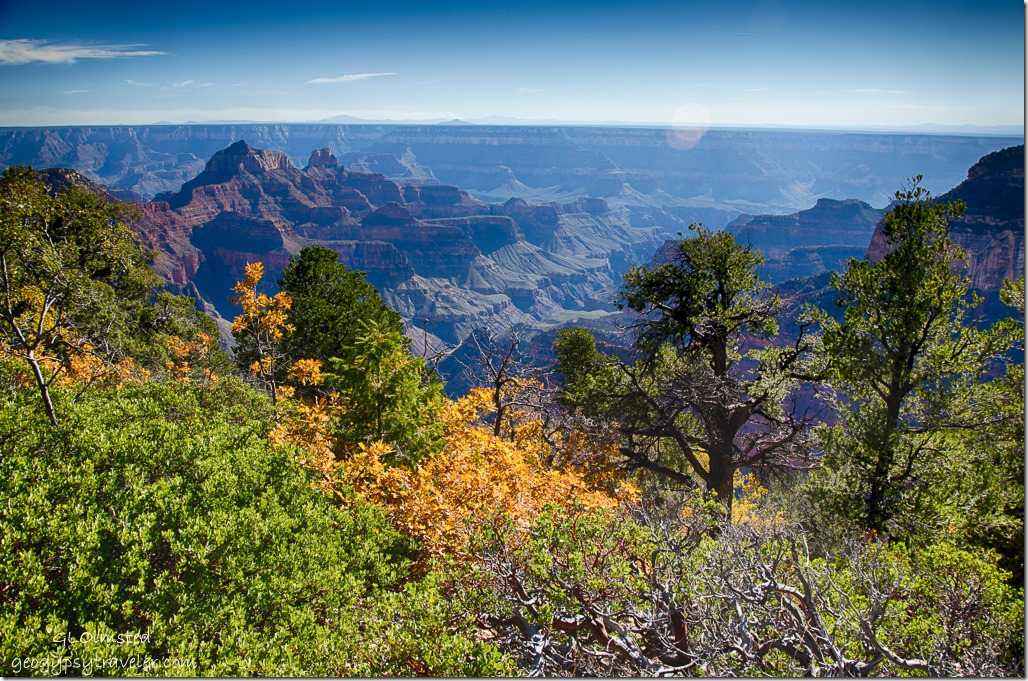 The month just disappeared with the prospect of end of season.  It's always hard to say goodbye to the canyon even though I'm ready to go.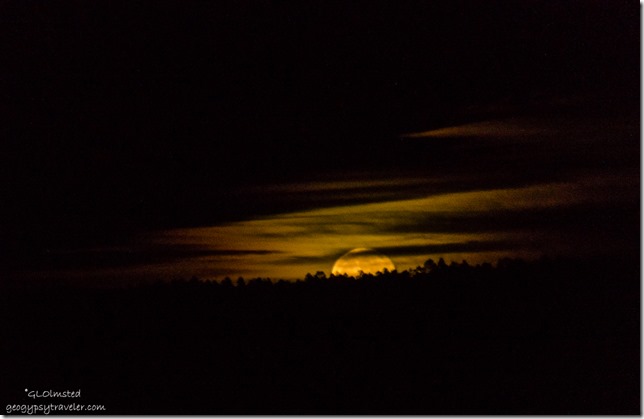 Tried again for super moon and got more clouds.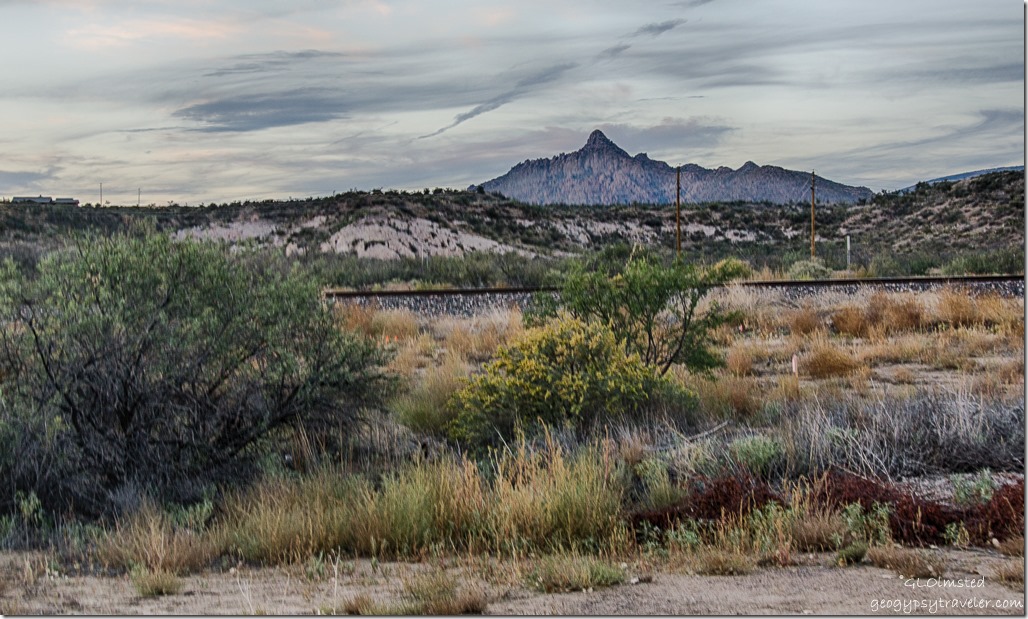 Moved the 5th-wheel to Kirkland AZ the 22nd and parked with a view of Martin Mountain on the far side of the railroad tracks.
November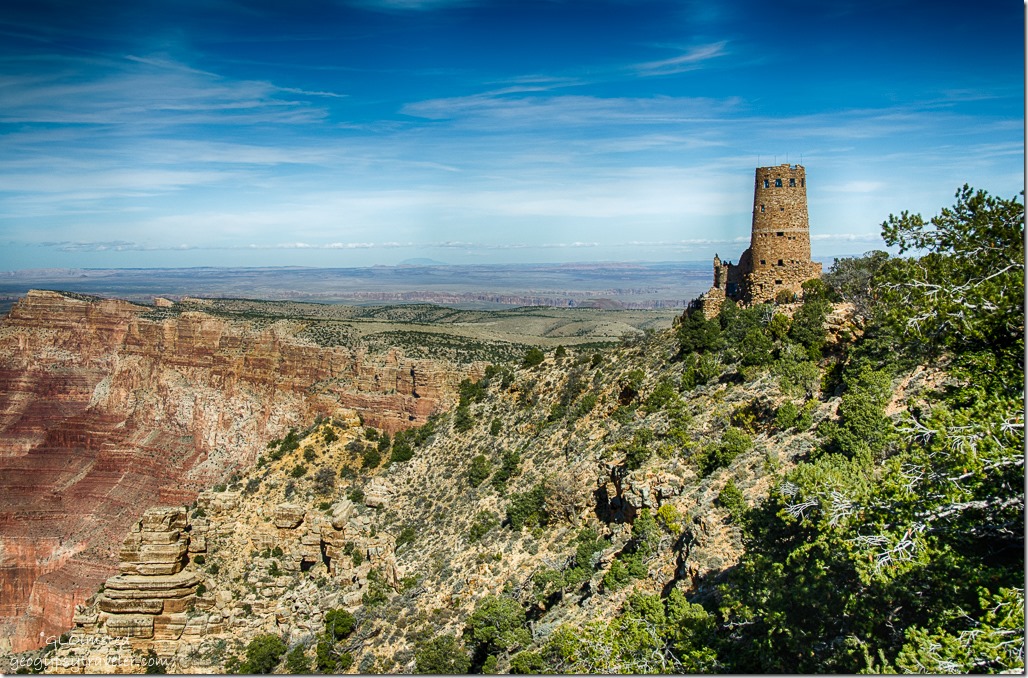 Yet I didn't stay long away from the canyon and returned to the South Rim early in the month to attend the History Symposium where I constantly learn more about the cultural history of this special place.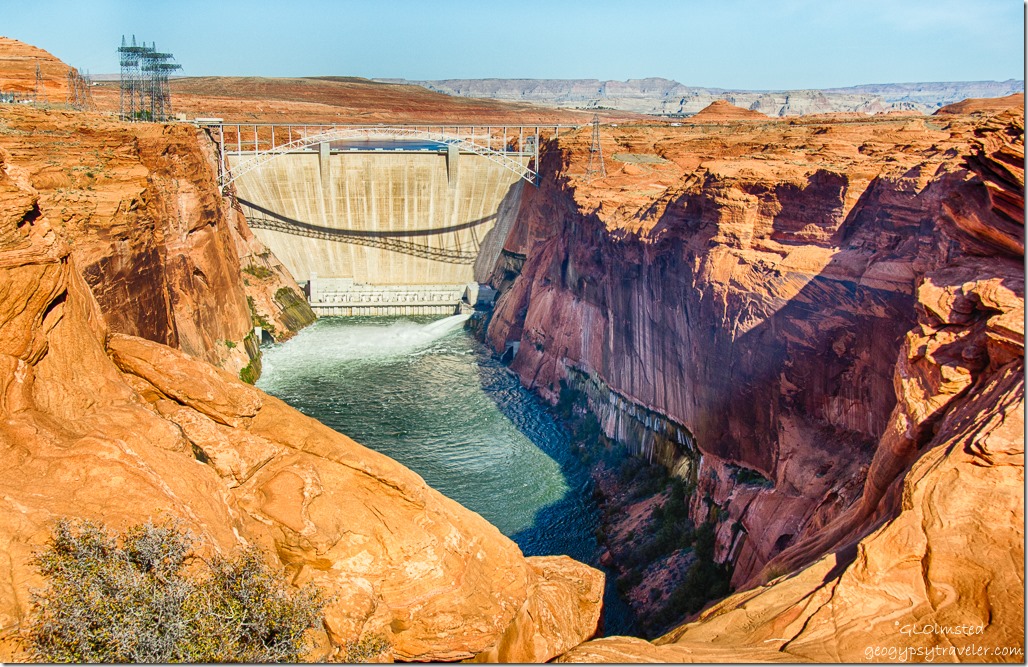 From there I saw the water release at Glen Canyon Dam.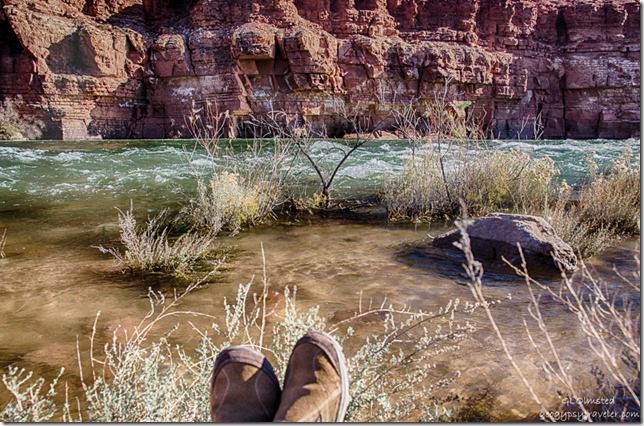 Plus camped again at Lee's Ferry and stayed a couple days to reflect and listen to the river.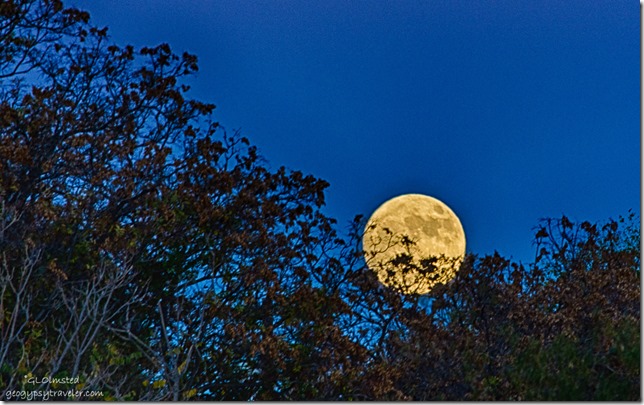 Once back in Yarnell I finally got some clear sky shots of a super moon rising and setting.
December
The last month of 2016 was a whirl wind during a time I usually veg and hermitize.  I decided to make calendars for Christmas presents doing the whole process myself.  Many of the photos are featured here .  But next year someone else will print it and I'll offer it for sale.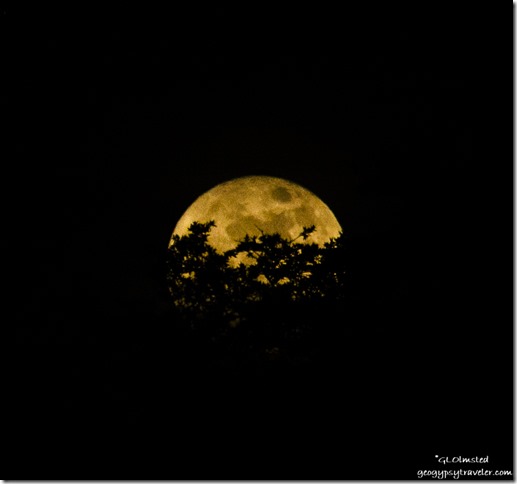 The first few weeks I spent helping my dear friend Berta after her knee replacement.  I stayed in the truck camper in her yard and was successful at shooting the last super moon of the year.
Spent Christmas in Utah with Bill and his family and saw plenty of snow.  Yet I'm seriously thinking of going to the South Rim this week to see the snow decorated canyon.
2017
I'm more than ready for a new year of adventures.  So I'm studying the map for options around two January gatherings, Grand Canyon Association alumni & Bloggerfest in Quartzsite.  Maybe a trip down Yuma way and even across the border (just for the day).  Perhaps Organ Pipe Cactus National Monument where a friend is working.  May sound funny but my 45th Illinois High School reunion is near Phoenix Feb 18th because there's so many alumni living in Arizona.  From there, many roads lead elsewhere.
Whether I've met you in person or not, and I hope to someday, I look forward to another year.  Thank you all for joining my life journey.
What was your best of 2016?
Save
Save