November 12-16, 2017

My last visit to Alabama Hills during late winter, the Sierras wore a blanket of white providing a stark backdrop to the ever changing light and colors of the sculptural granite boulders below.  This fall visit to meet a friend and make photos brought the first snow on the Eastern Sierras for the coming winter.
After a few days camping at Kelso Dunes I spent one night near Fossil Falls, a convenient place to disperse camp for free on the way to Alabama Hills.  In the morning I continued to Lone Pine, California which took me past the almost dried up Owens Lake, basically a salt flat.  Met a friend at the Eastern Sierras multi-agency visitor center.  Then we headed to a camp at Alabama Hills in a different location than where I've stayed before.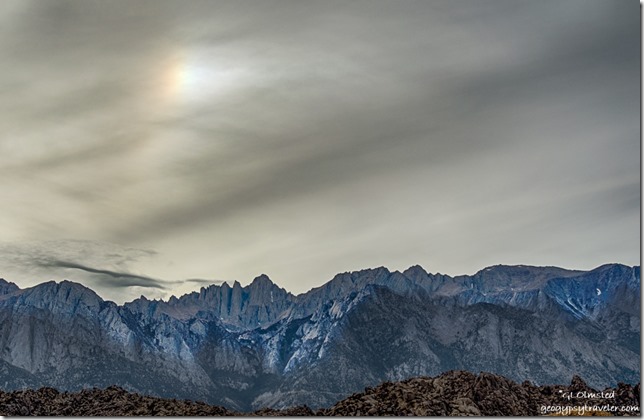 Saw a sundog over the mountains indicating ice crystals in the clouds and telling me cold weather would be coming soon.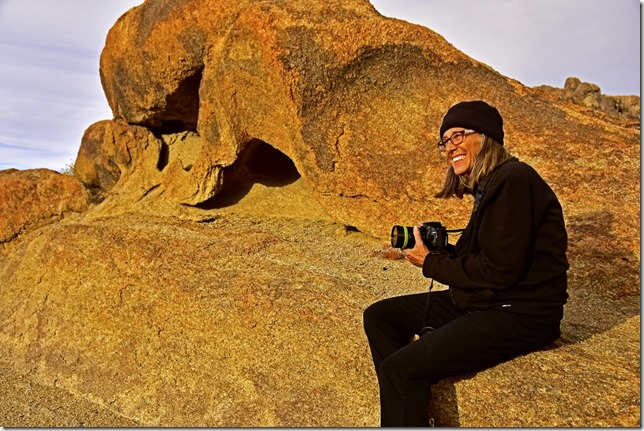 Yet I found a sun warmed rock to sit on, looking for shapes and faces in the boulders.  (Thanks for the photo Tom.)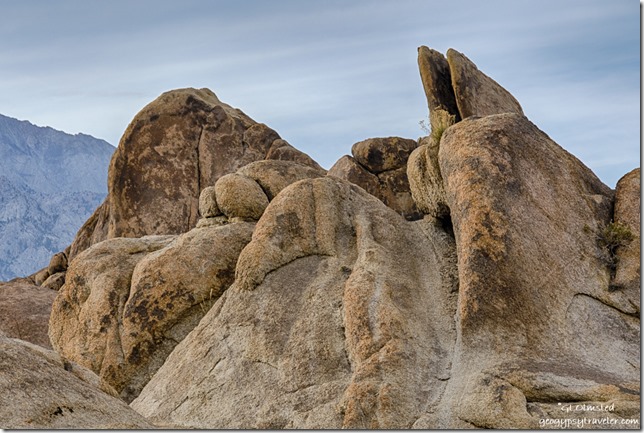 I see a dragon in this one.  What do you see?
Sunset wasn't very exciting so we retreated to Tom's RV where he made dinner and we chatted the evening away.
Woke up early for sunrise but wasn't all that impressed.  I'd been hoping for first light to brilliantly glow on the Sierras but there was too much cloud on the eastern horizon.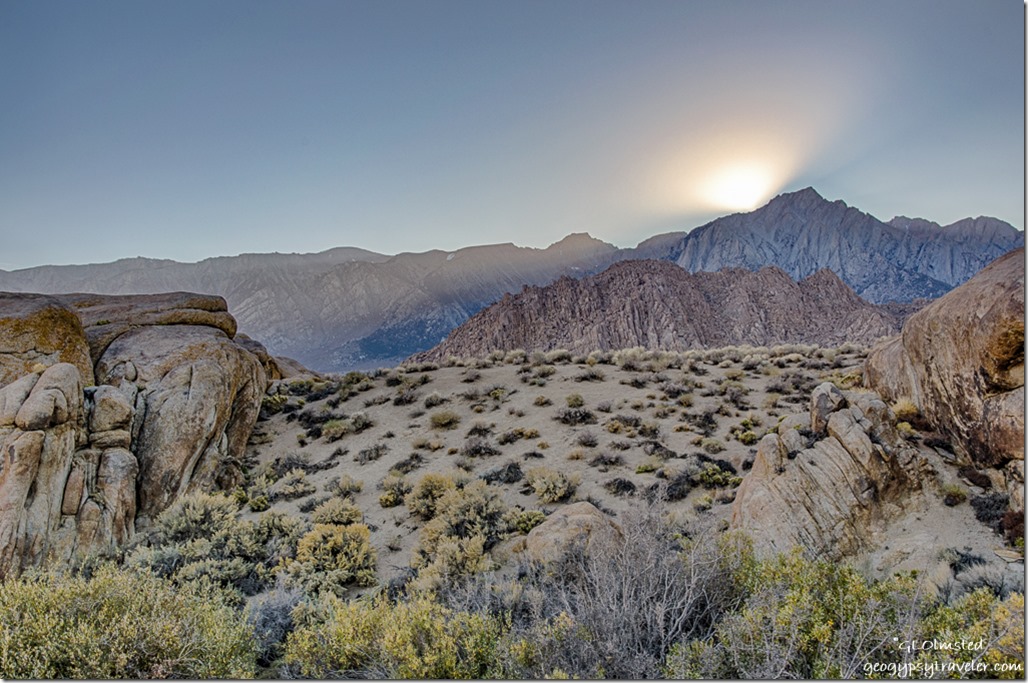 And by sunset not a cloud in the sky as the sun sank behind Lone Pine Peak.  Oh well.  Ya' get what you get.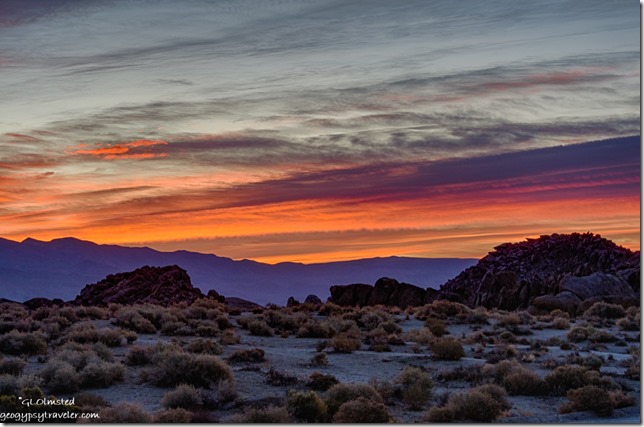 The next morning a cloudy and colorful sunrise brought some light to the new day causing Mount Whitney to glow a bit.
As the shadows receded toward me lightening the landscape I began to warm up and removed a layer.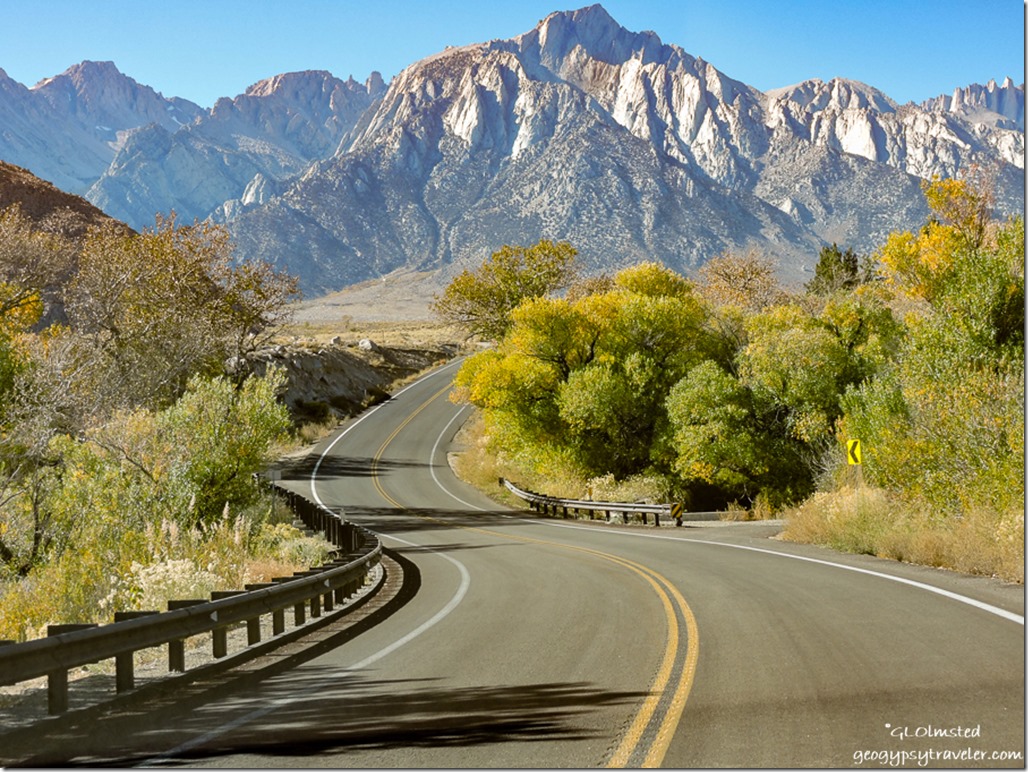 After breakfast Tom took off for his coastal California home and I drove up the Whitney Portal Road.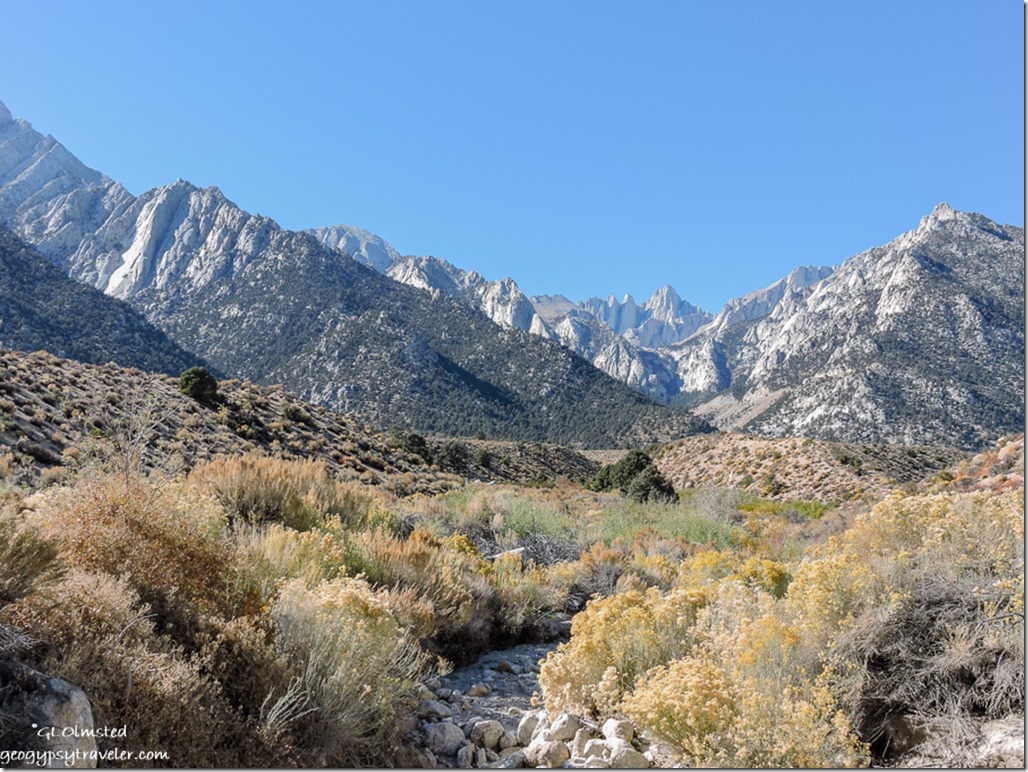 Once in the Inyo National Forest camping is allowed only in campgrounds like the Lone Pine which I drove through and was open for free during winter with about 35 medium-sized sites and maybe open bathrooms.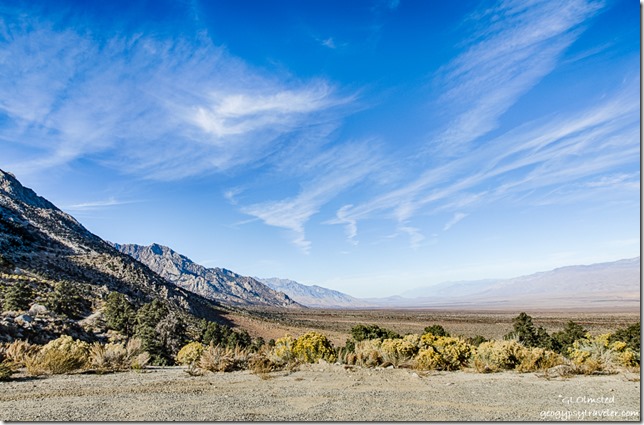 I continued up the curvy Portal Road a few more miles to a nice wide pull off right before the pavement turned to gravel.  Lucky me even found a signal so I took care of some business and had lunch with a view of the valley below.  I love when that happens.
When returning to the bouldery BLM of Alabama Hills I stayed a little closer to the highway and found a nice camp with a signal and some views too.  There are many options for parking either near the boulders or in the open where I prefer and none are usually very level.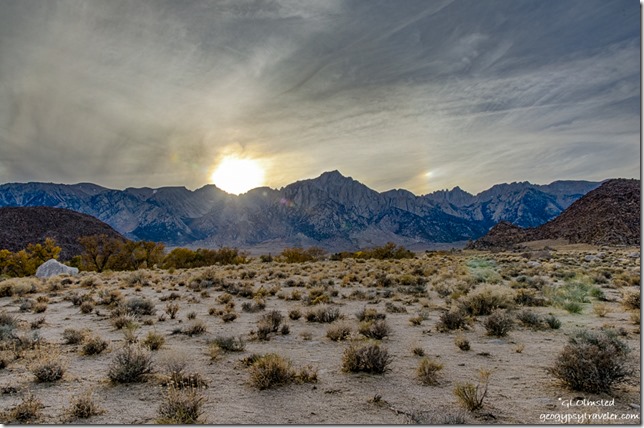 As the sun dropped to the mountainous horizon another sundog appeared in swift and wispy clouds but the sunset proved uneventful.  Me thinks there is a change in weather coming.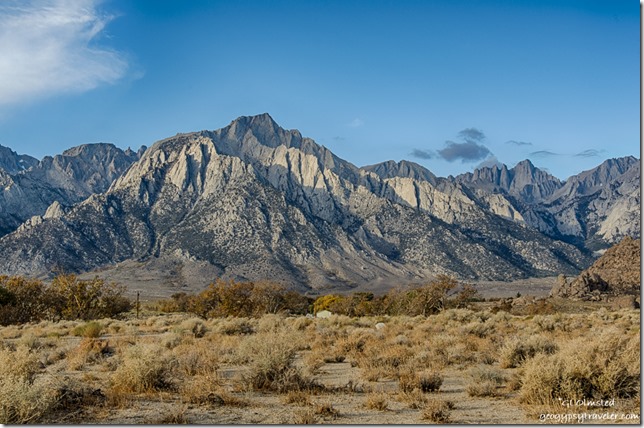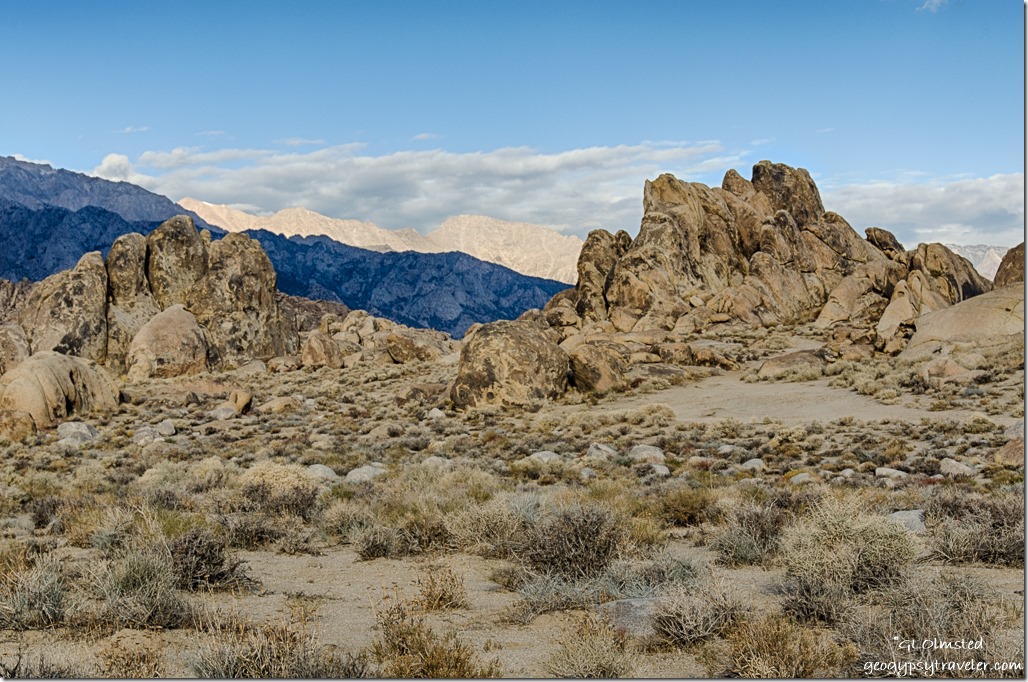 Yet morning clouds to the east limited the direct sun on the Sierras to the west.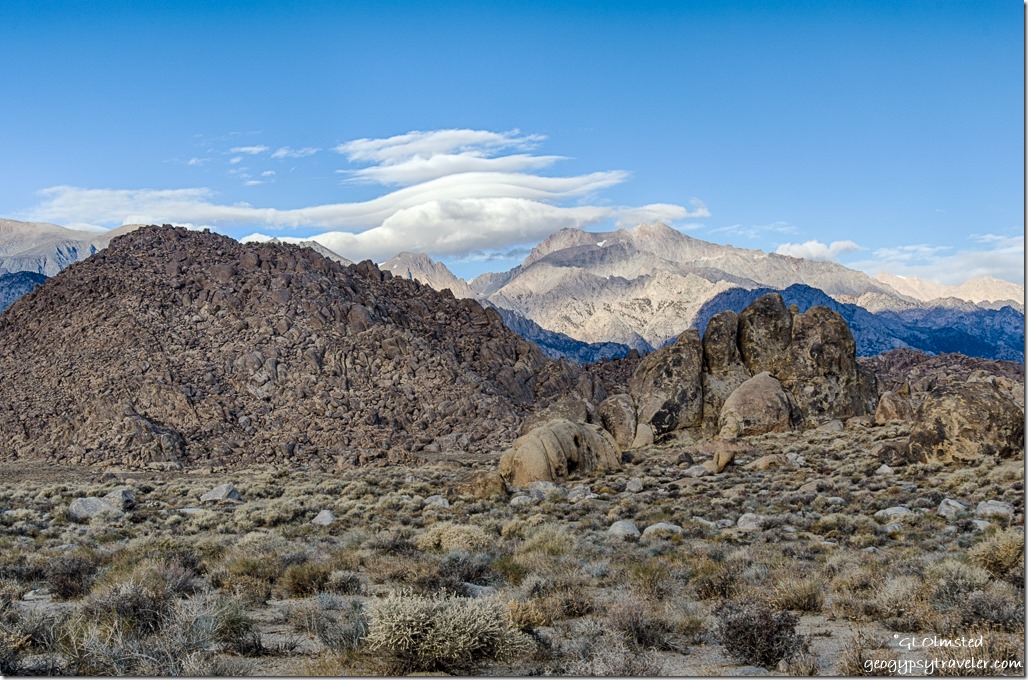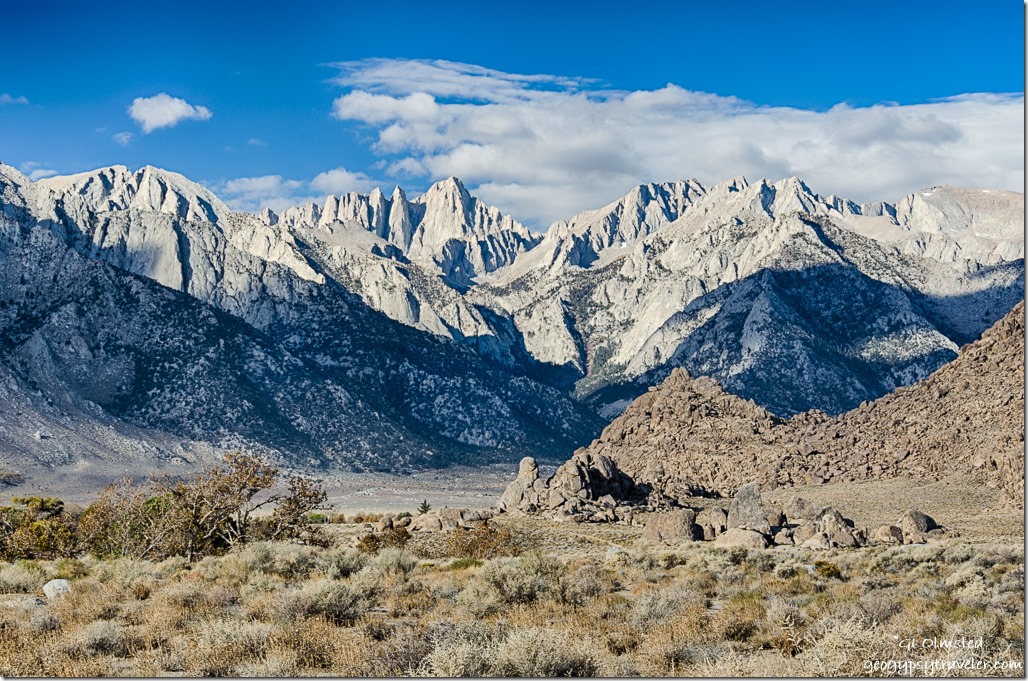 Mountains have a mind of their own sometimes creating lenticular clouds almost in imitation of their shape.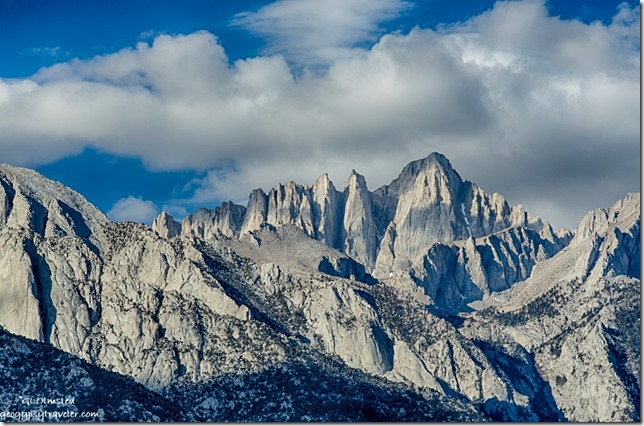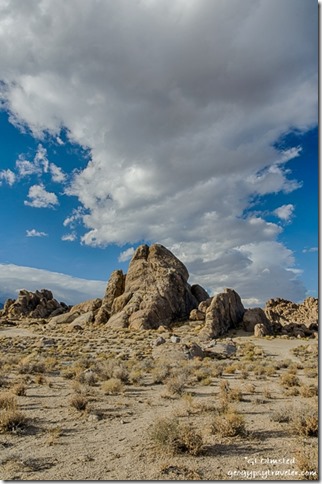 Rolling and moving clouds put on quite a morning show that continued to build all day.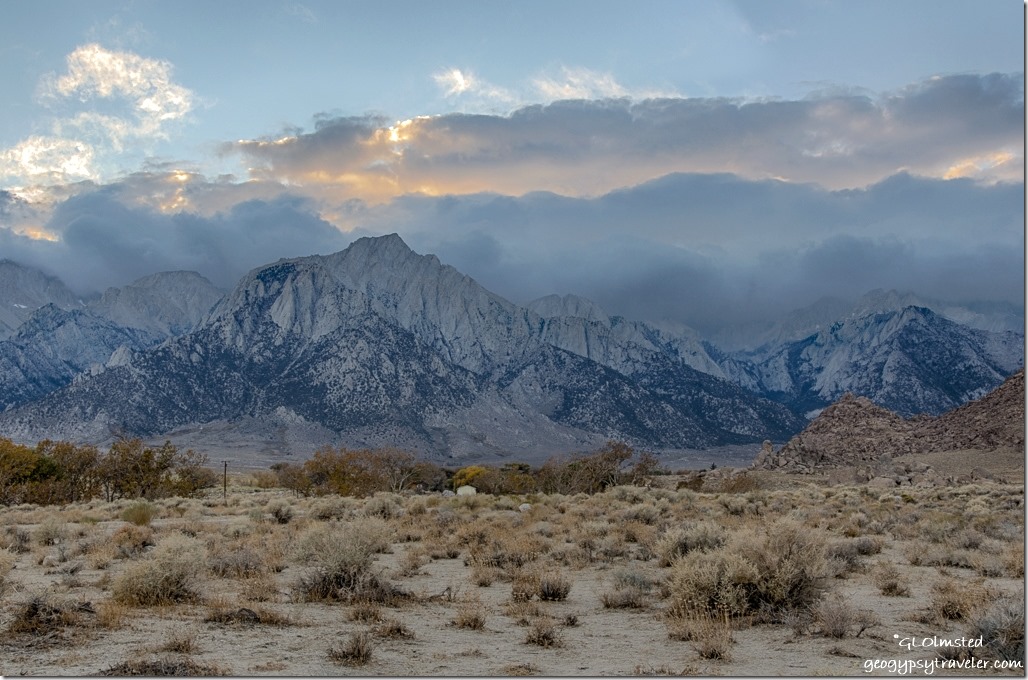 Eventually the clouds dropped over the mountain peaks until Whitney was out of sight.  I watched the weather online and saw that possible wind and wet was on it's way which meant I would be leaving soon too.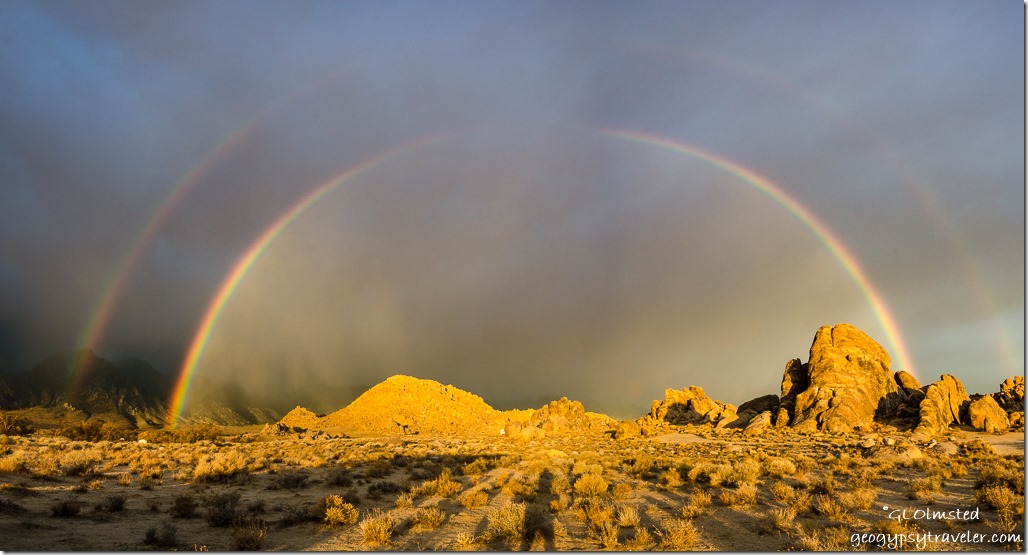 It rained softly in the night and the morning was gray with low clouds.  Definitely time for me to head to warmer weather.  Thank goodness I hung around long enough for the double rainbow show.
After some minimal shopping in Lone Pine the clouds lifted enough to expose the first dusting of white on those rugged Sierras and I headed east with a strong side wind on the way to Death Valley.
If you shop at Amazon please consider clicking below for the Amazon website. As an Amazon Associate I'll make a few cents on your purchase(s) at no extra cost to you. Put a few pennies in the winter travel kitty. Thanks for helping out.

Geogypsy is a participant in the Amazon Services LLC Associates Program, an affiliate advertising program designed to provide a means for sites to earn advertising fees by advertising and linking to amazon.com