I've driven past and through Burro Creek campground several times but this was my first time camping here.  It's only a couple of hours from Yarnell and seems to be a good halfway point for travelers between Phoenix and Las Vegas from the number of picnic people I met while out walking.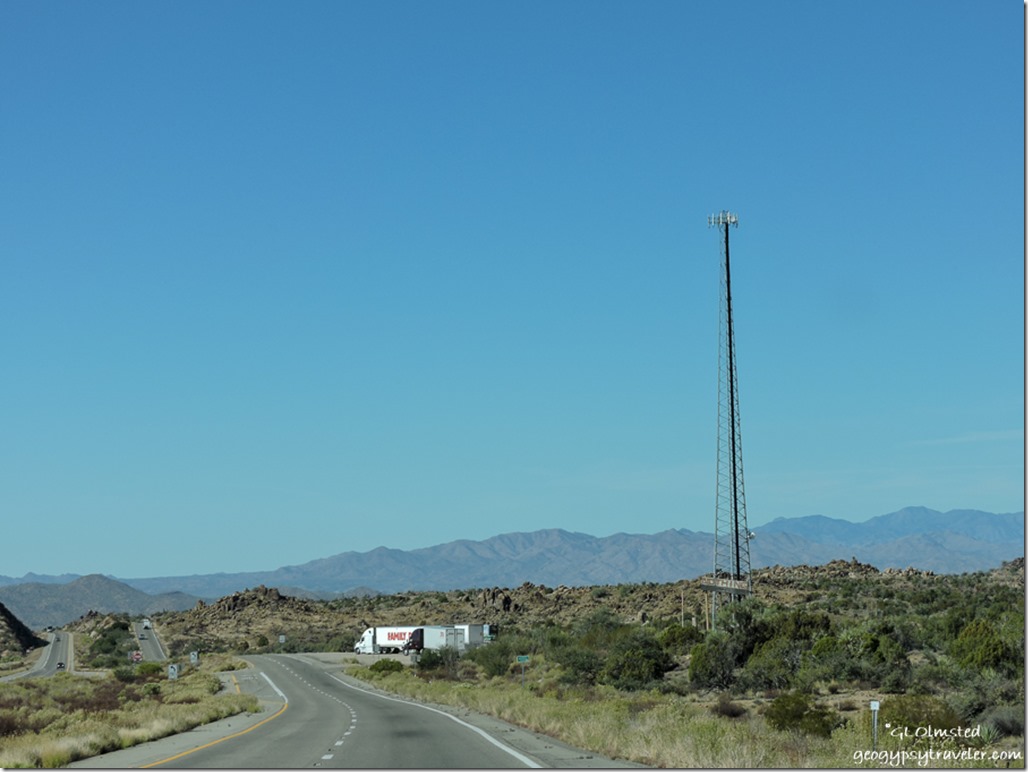 Even the "scenic" drive from Congress on US93 is pretty along the Joshua Forest Parkway.  Although it appears a lot of the Joshua Trees are dying.  I had thought about taking a different route from Kirkland through Bagdad and joining US93 just south of Nothing, Arizona where there really is nothing much more than a dilapidated building, parking, and a cell tower.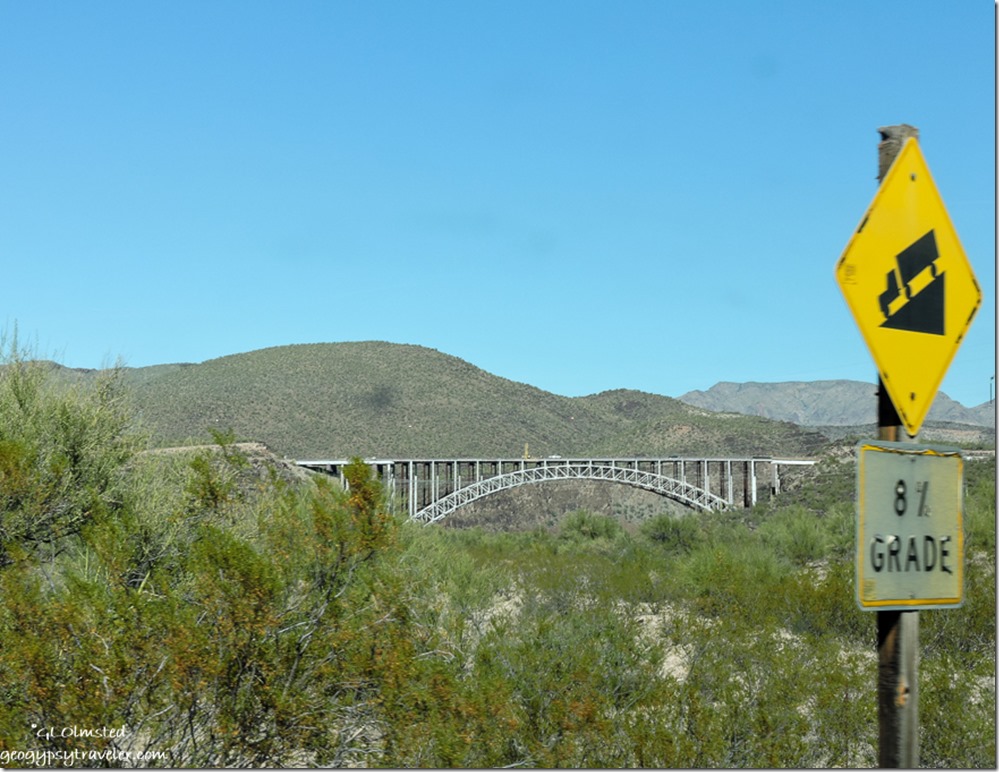 One mile off the highway on doable rough pavement down to the bottom of the canyon through BLM grazing land with a view of the high bridge.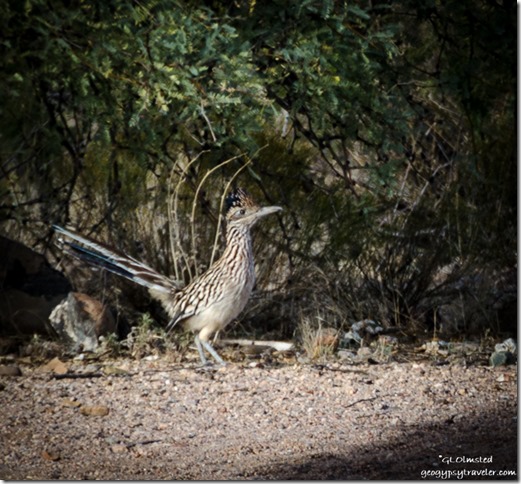 Roadrunner greeting
Pulled into camp about 1pm and after using the dump station, complete with potable water, circled around a couple times to find what I considered the "best" site, #18 for me.  None right along the creek or even within sight of it which would have been premium.  One big rig looked rather settled in and only two more RVs and one tenter  came in later so we were nicely spread out with maybe 25-30 sites including pull in, back in, and pull through options.  Relatively level gravel, 50-100 feet between sites with desert vegetation, shaded picnic table, fire ring, lots of trash & recycle cans and water spigots nearby.  The bathrooms have cold running water and no showers.  Group camp area & picnic shelters.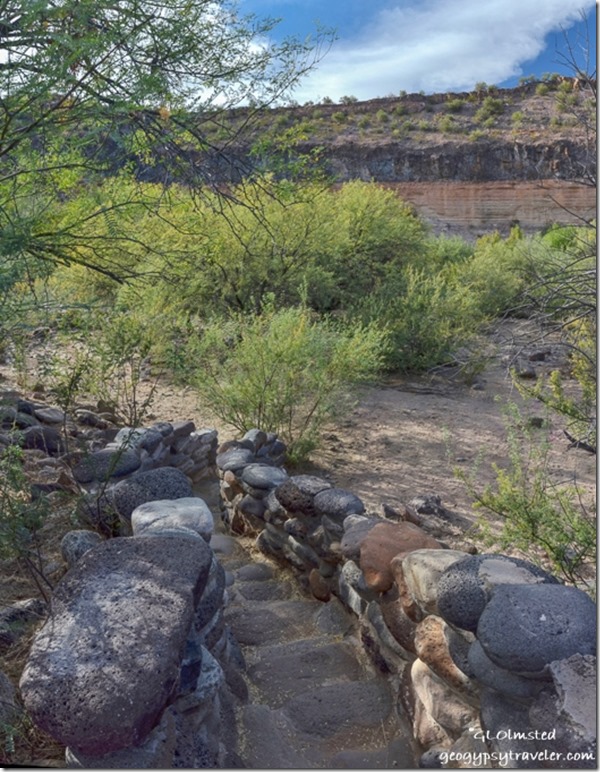 Lots of brush along the water.  At first couldn't figure out how to get to the water without bushwhacking.  Then noticed stone steps which someone obviously had fun building with nearby river rock.  In fact I discovered a couple of these options and then worked my way to the shore in a couple places.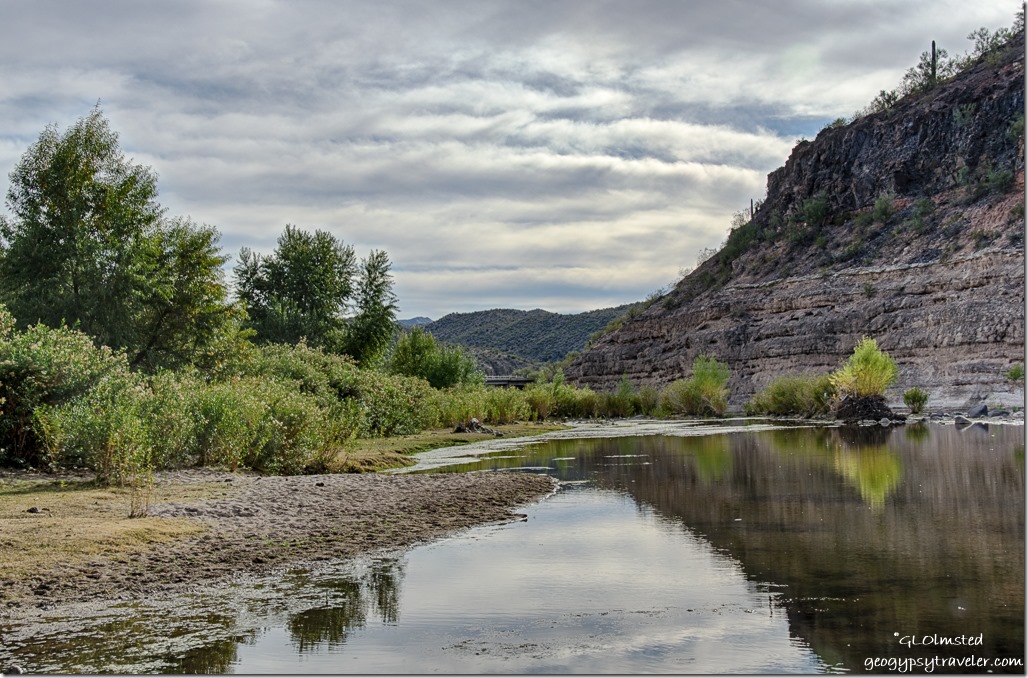 Burro Creek downstream
Fingers of sand reached into the creek, some rather soggy.  Which I shared with lots of track of deer, cattle and maybe burros which are supposed to be in the area.  Plus poop.  Didn't see any animals and it's difficult to tell the difference between burro and cow poop.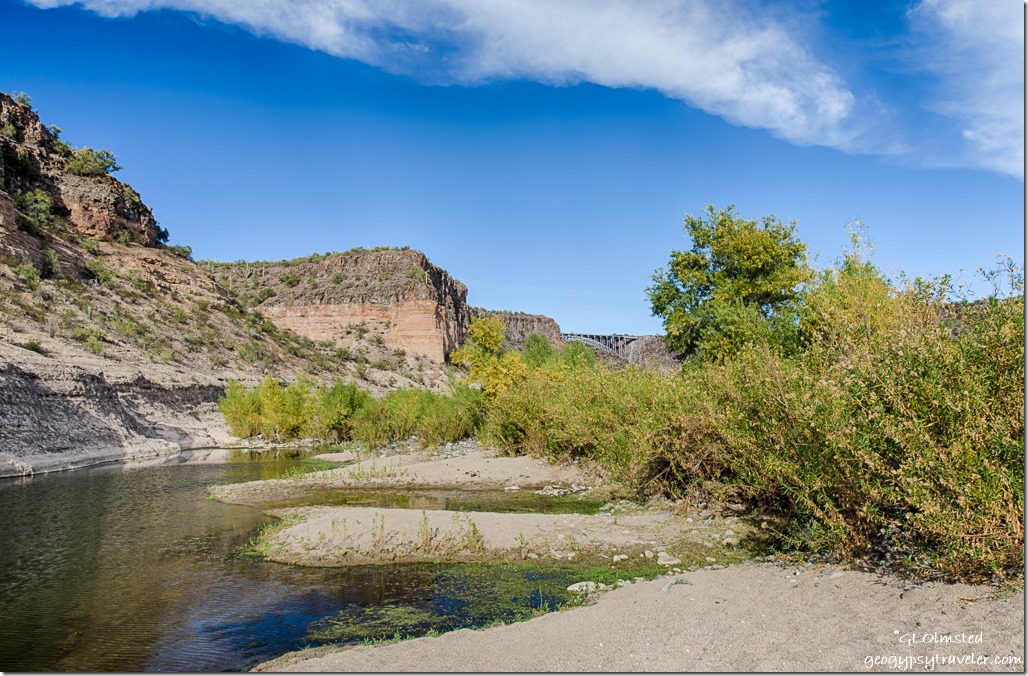 Burro Creek upstream
I looked for a rock called opalite that is said to be found in the area with no luck even though there were lots of beautiful colored rounded river rock.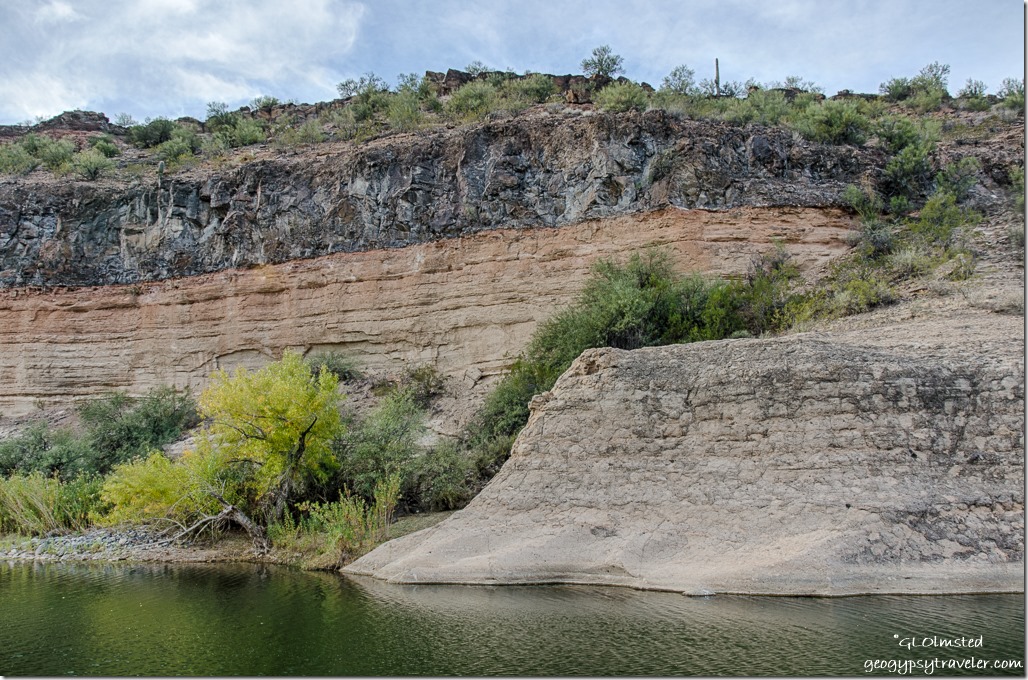 Also saw some schools of fishes maybe about six inches long.  No idea what they are.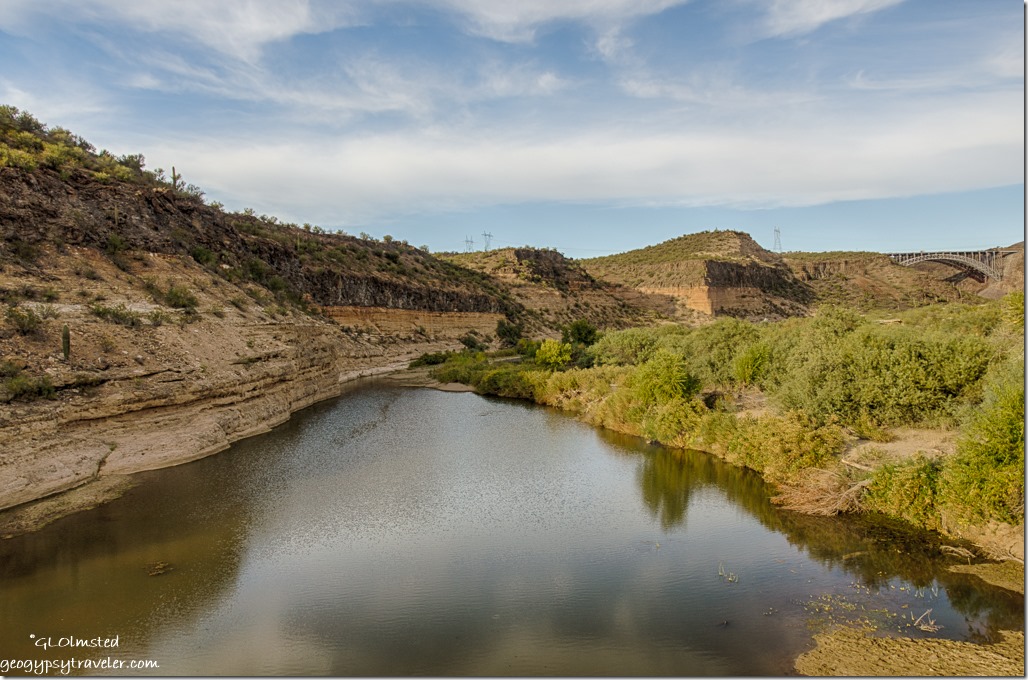 Burro Creek upstream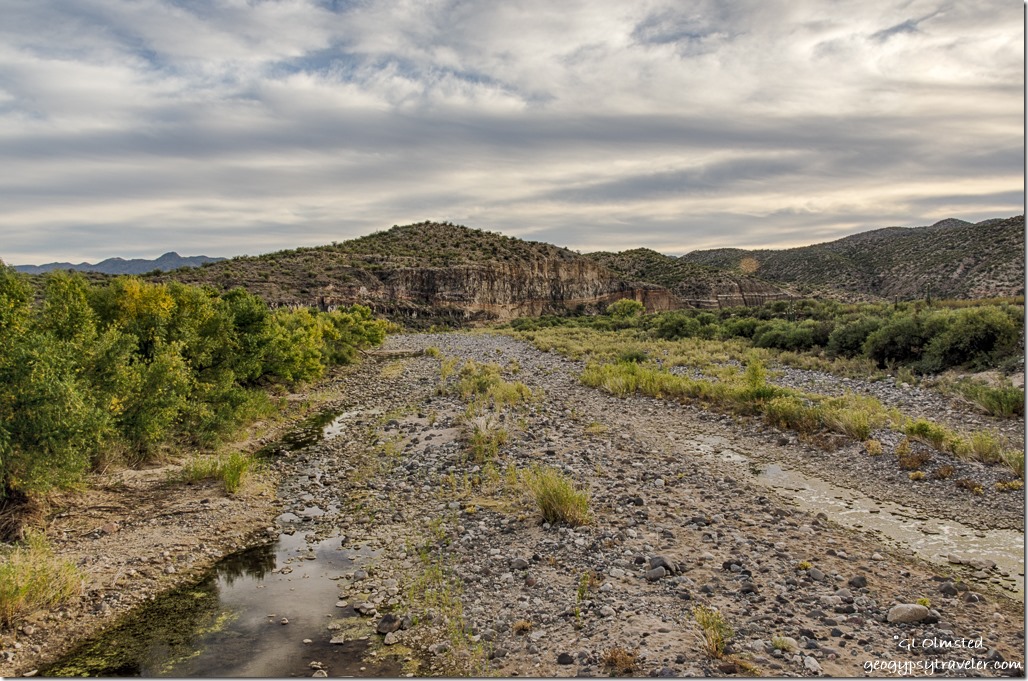 Burro Creek downstream
No real "trail" along the creek but I did walk out of the campground onto the road and then low bridge over the creek for a different view.  Seemed a lot less water downstream yet could have been flowing underground which is common in this type of rocky desert environment.

Back to camp for a beautiful desert sunset, which seem to be happening early these late fall almost winter days.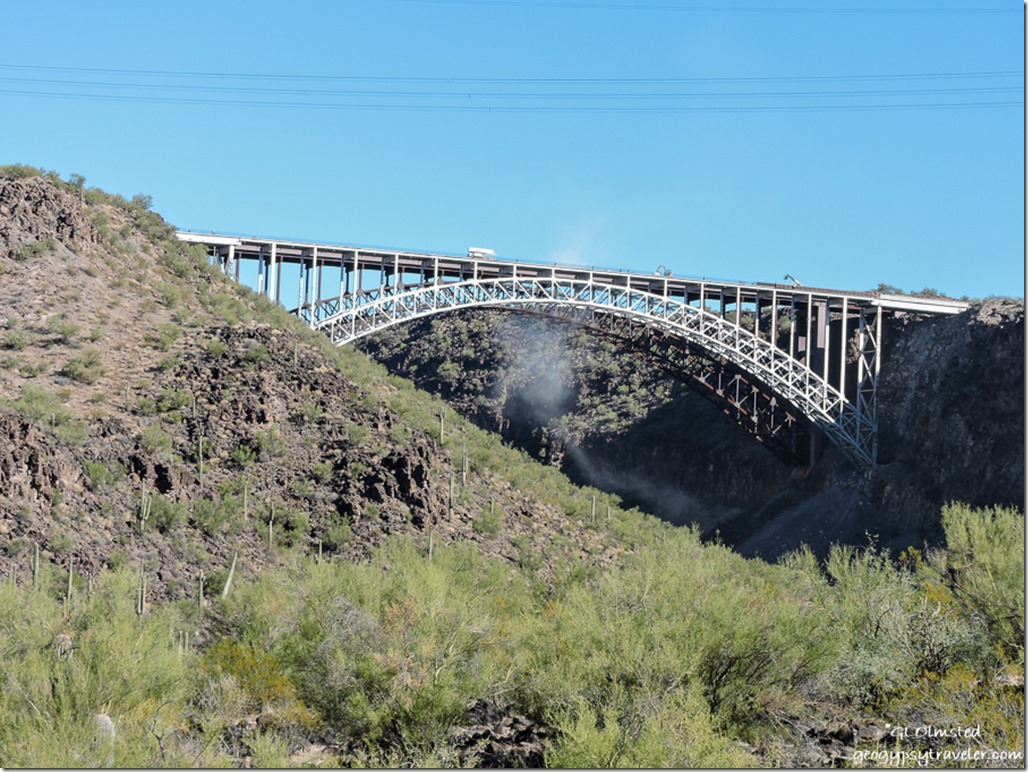 Although I'd heard noise all afternoon from work on the high bridge darkness turned on the quiet with a distant chorus of howling coyotes.  My kind of song.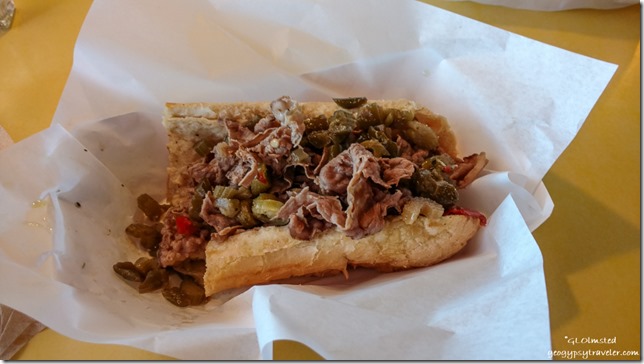 Absolutely no signal down in this canyon hole.  However, had 4G at the Nothing tower only a few miles south and in Wikieup maybe eight miles north on US93 where I stopped for a Dazzo's Chicago style Italian Beef sandwich just as tasty as I grew up eating.
Save
If you shop at Amazon please consider clicking below for the Amazon website. As an Amazon Associate I'll make a few cents on your purchase(s) at no extra cost to you. Put a few pennies in the winter travel kitty. Thanks for helping out.

Geogypsy is a participant in the Amazon Services LLC Associates Program, an affiliate advertising program designed to provide a means for sites to earn advertising fees by advertising and linking to amazon.com