This week's Foto Friday Fun features 11 images chosen by readers including rock, wildlife, towers, and an old painting.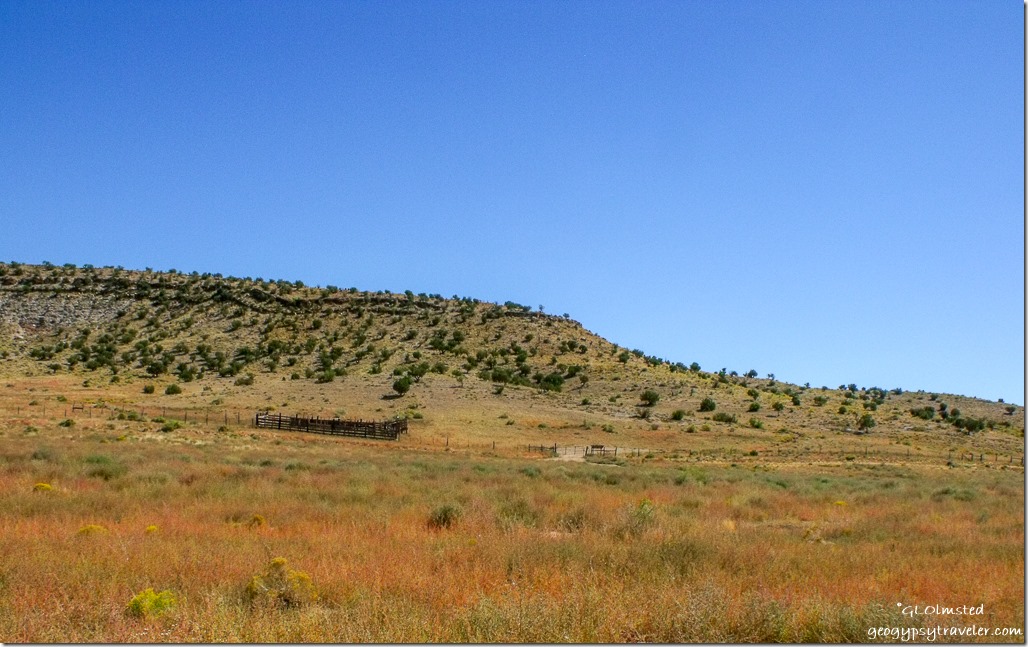 Diane and Nigel chose #2710.  The long drive to Toroweap's iconic Grand Canyon view travels through cowboy country with visible remains of corals and some old wooden fences.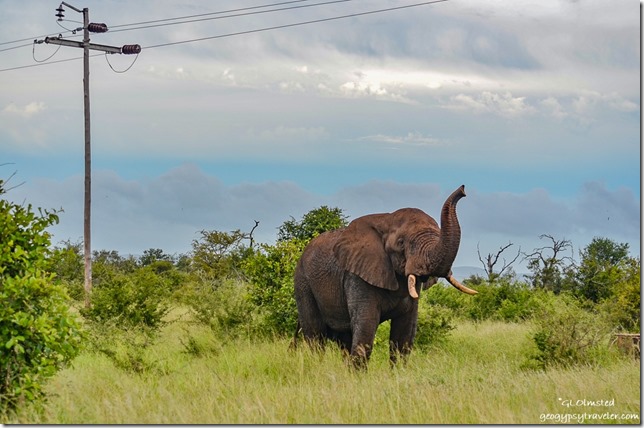 Rita chose #3740.  While on safari in a place as large as Kruger National Park one does occasionally comes across the markings of civilization and wildlife.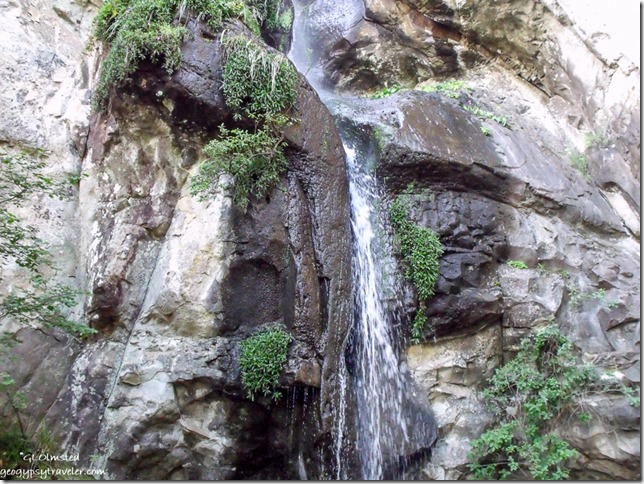 Jim and Diana chose #1819, "the year Alabama (our current locale) was admitted to the Union."  When hiking in the Drakensburg we filled water-bottles from Crystal Falls.  This lush green environment and rolling mountains were so pristine no filtration was needed for the sweet tasting water.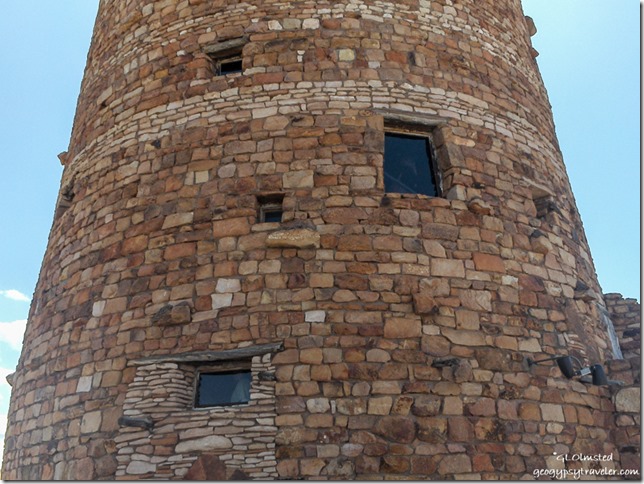 Jeff chose #262, "the distance to San Felipe I'll be driving today."  Mary Jane Colter designed the Dessert View Watch Tower on the South Rim Grand Canyon to resemble a native watch tower.  Although there is a rebar structure for strength and integrity within the rock walls, having seen the remains of 1000 year old rockwork in the Southwest this design work from the early 1930s hold true to form.  Strong and beautiful together.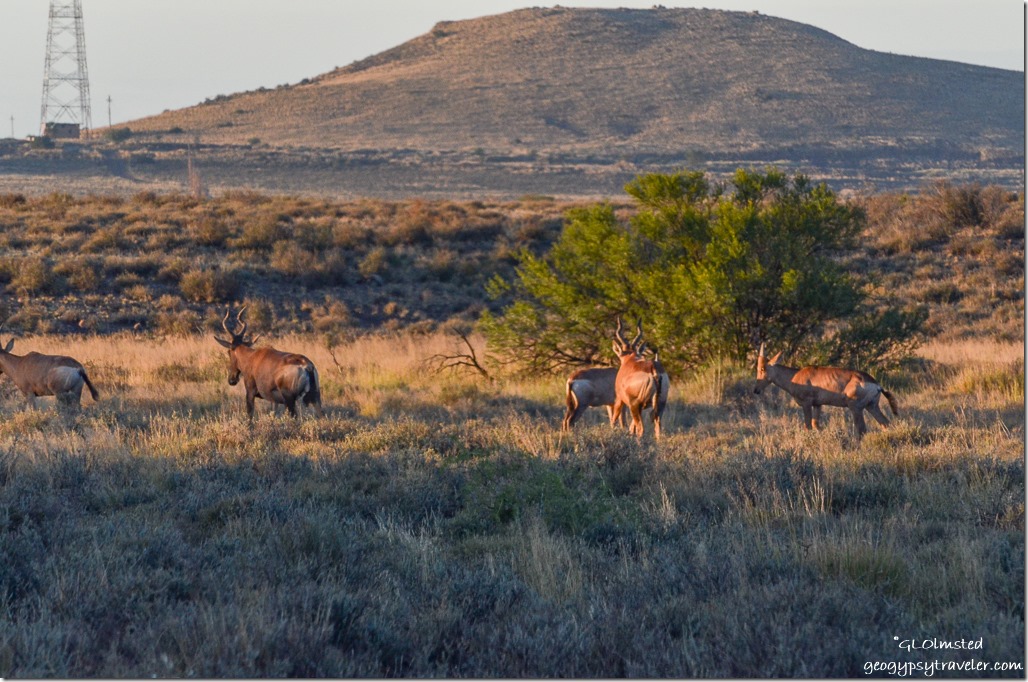 Pam and John chose #7210.  Once again the reality of civilization intrudes on wildlife this time on an early morning drive in Karoo National Park, South Africa.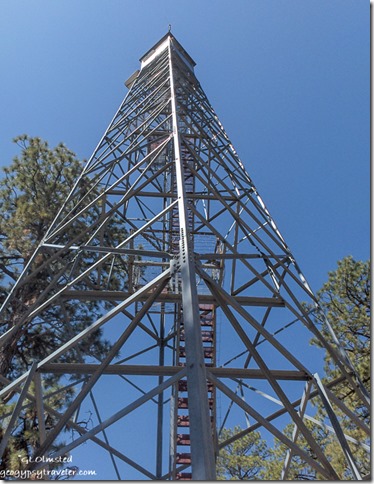 Patti and Abi chose #00.  A different construct of tower built in the 1930s.  This 80 foot tower near Jacob Lake is still staffed during the summer months on the Kaibab National Forest in Arizona.  I've climbed three towers around the North Rim NF, it's a workout, not for the feint hearted, but does give a fabulous view.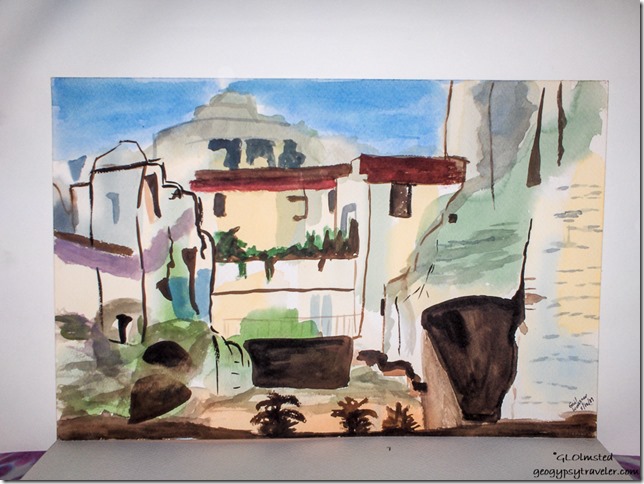 Sherry and David chose #46.  I've always wanted to paint watercolors but instead I tend to make mud.  During a 1987 class at Shoreline Community College, Washington state, the instructor projected a slide upside down and out of focus for us students to begin painting to establish shapes and colors before getting lost in details.  I think it was a street scene in Europe.  I'll stick with photography.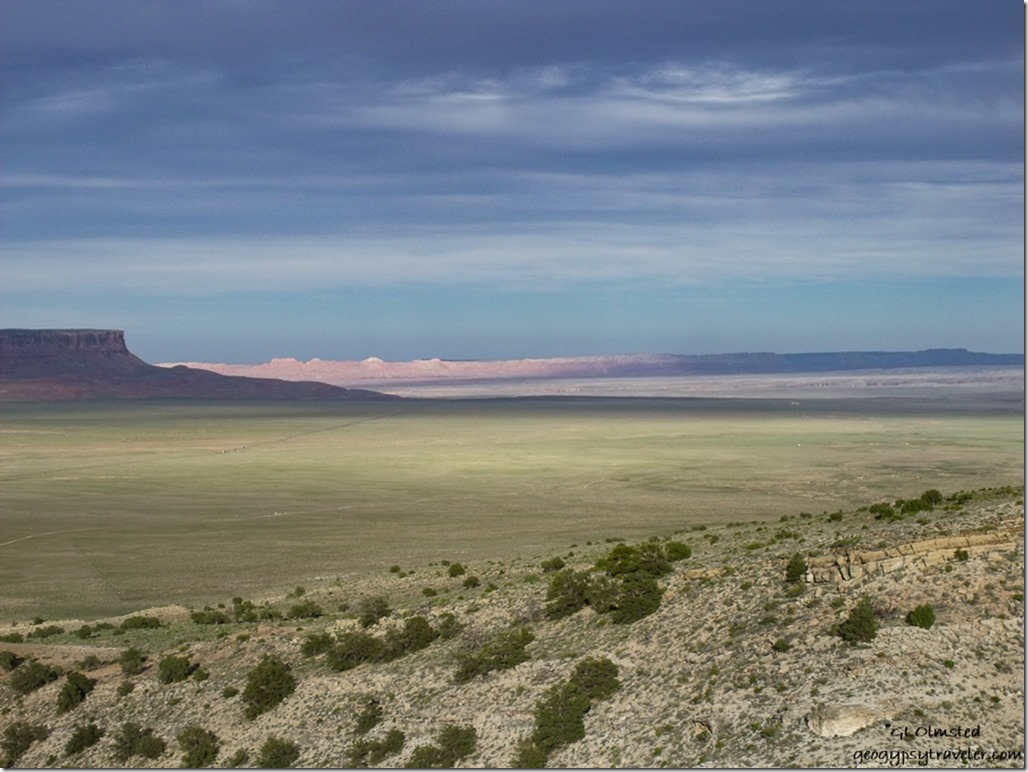 Donna chose #767.  A wide place to park along SR89 is always worth a leg stretch and shot or two of this distant view of the Marble platform, Vermilion and Echo Cliffs under almost any light.  Plus frequently Native sellers too.  My favorite this week.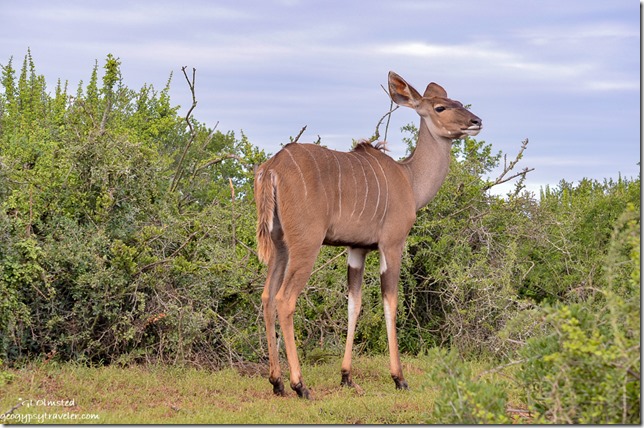 Jodee and Bill chose #8161.  The bird hide in Addo Elephant National Park reveals many animals from a different perspective like this female Kudu.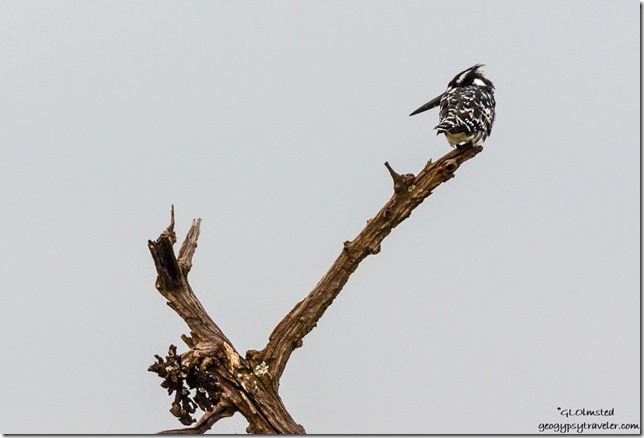 Yogi chose #9750.  The distinctive Pied Kingfisher watching from a branch near the Mankwe Dam in Pilanesberg Game Reserve in South Africa.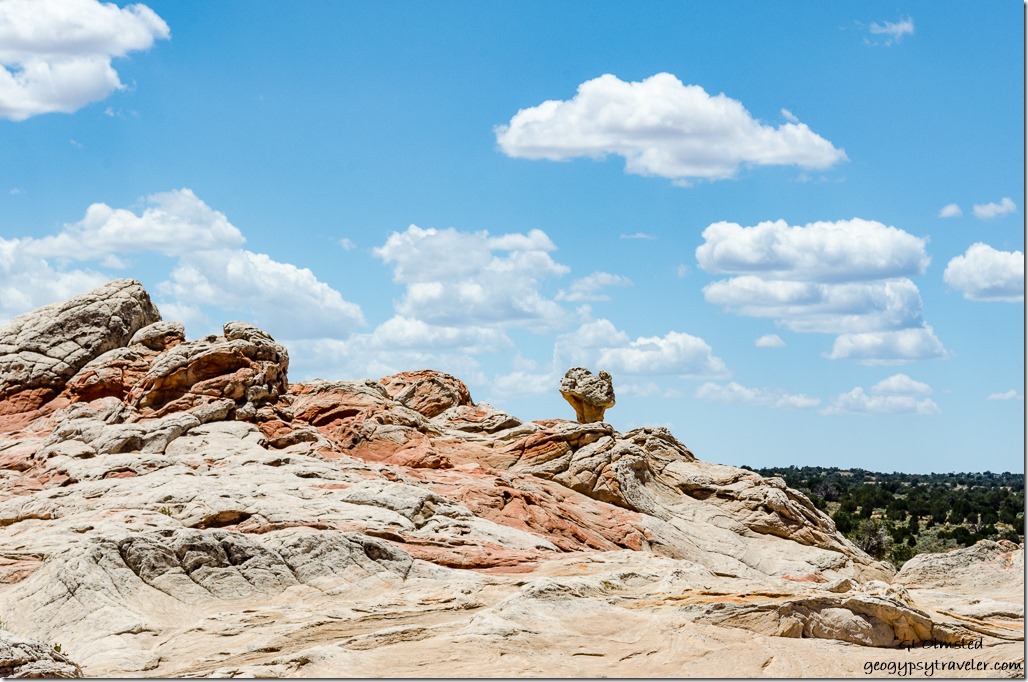 Sallie and Bill chose #1957 as they celebrate their 60 year wedding anniversary soon.  I am impressed with people who find someone they can share life with for so long.  A different Bill shared this amazing landscape called White Pocket on our first "date" back in May 2015.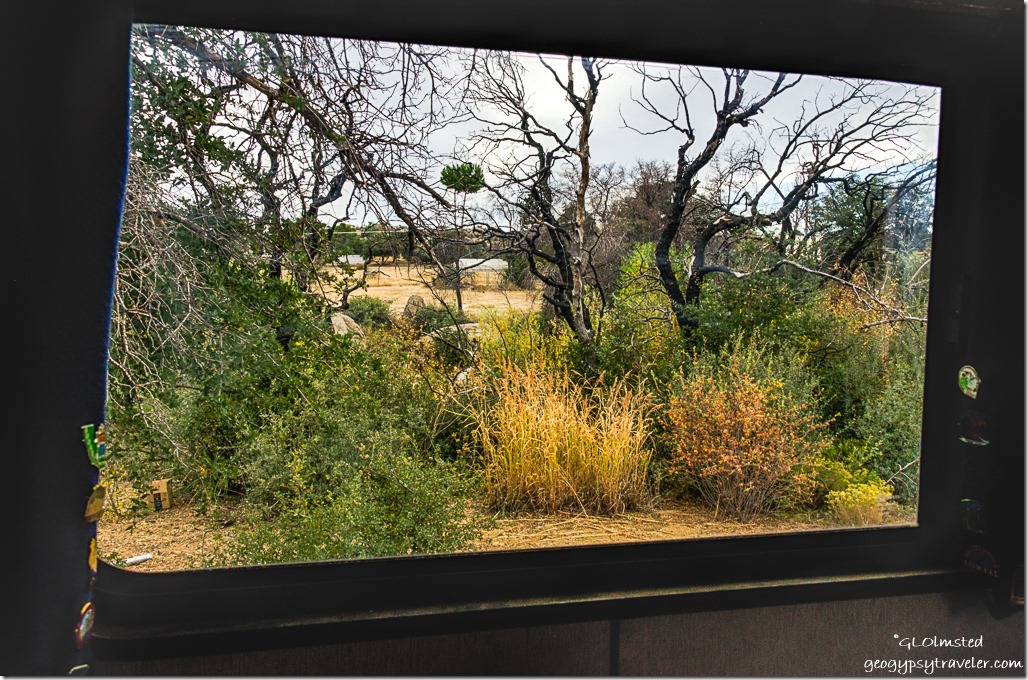 My choice this week is my view from the camper where I've been parked in Yarnell for a week recovering from a nasty bout of diverticulitis.  I believe I'm going to live.  Funny though I am now without a travel plan.
Thank you for playing along with Foto Friday Fun which allows me to share these photographs and memories.  Please join in next week by leaving a number between 1 and 9999 in your comment below.
Do you have a favorite this week?
Save
If you shop at Amazon please consider clicking below for the Amazon website. As an Amazon Associate I'll make a few cents on your purchase(s) at no extra cost to you. Put a few pennies in the winter travel kitty. Thanks for helping out.

Geogypsy is a participant in the Amazon Services LLC Associates Program, an affiliate advertising program designed to provide a means for sites to earn advertising fees by advertising and linking to amazon.com