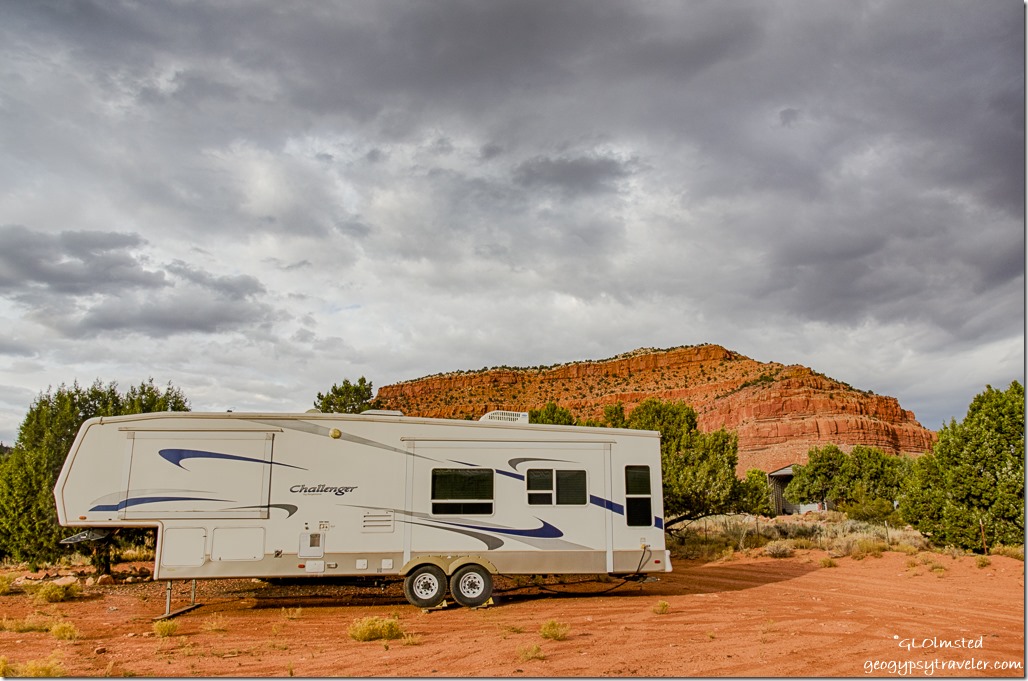 After the 5th-wheel was safely moved from the North Rim last week I got sick and have been hanging out in Kanab ever since so figured it was time for a fall follow up.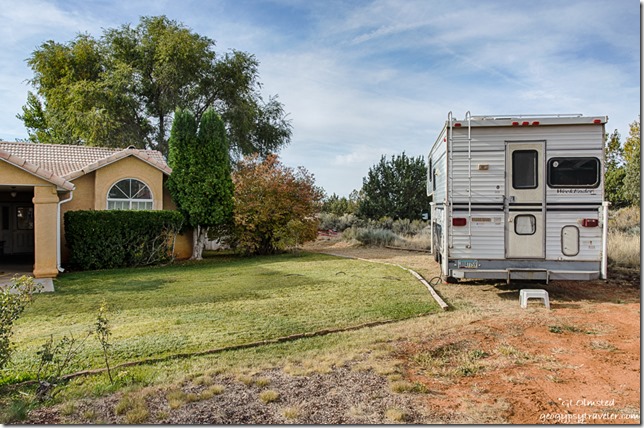 I visited with friends in Kanab for a couple days getting settled in to my smaller home and planned to be on my way towards Zion National Park within a few days.
But then I got sick.  A bout of diverticulitis probably from an organic strawberry seed.  Thank goodness I had the appropriate meds to deal with it.  But it does take days to even start to feel better and a lot of naps.  So I parked at the wonderful folks who towed my 5th-wheel and hunkered in.  Complete with electricity and a beautiful view.
The first day I went into a deep funk.  Totally stupid.  Calendars were selling like hotcakes at a breakfast festival. Probably the damn pain pill I took.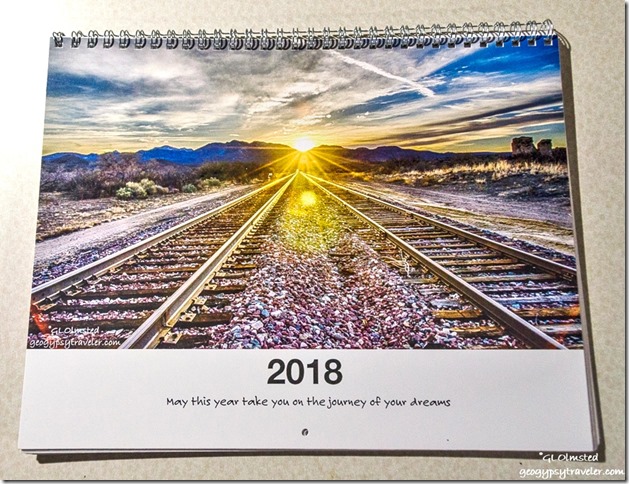 In fact I am overwhelmed by the massive response to the calendar.  Thank you all.  I am shocked the first 25 calendars went so fast and I still have orders to fill.  So I ordered 25 more and hope I don't get stuck with a bunch of them.  After all, I live in a RV with barely any wall space to hang a calendar.  So please spread the word.
After sitting too much, talking to my BFF, and thinking, I've changed my travel plans, once again.  I really need more down time and hate the idea of crowds at our national parks.  So if I feel up to it this morning I'm going to move east about 30 miles and hike a little on the Upper Buckskin trail.  Then who knows.
I'd like to visit Monument Valley and Canyon De Chelly.  But right now, it's just one day at a time.
I will end up in Yarnell because that's where the calendar order is going.
Save
If you shop at Amazon please consider clicking below for the Amazon website. As an Amazon Associate I'll make a few cents on your purchase(s) at no extra cost to you. Put a few pennies in the winter travel kitty. Thanks for helping out.

Geogypsy is a participant in the Amazon Services LLC Associates Program, an affiliate advertising program designed to provide a means for sites to earn advertising fees by advertising and linking to amazon.com