My first post was October 8, 2008 so this 2024th post marks ten years blogging with at least half of each year from the North Rim Grand Canyon where blogging started at the end of my first season.
When I began blogging at the suggestion of friend and fellow Ranger Karen at FabGrandma I didn't have any idea what blogging even was.  But I like to write, share stories and take photos so what the heck.  I really didn't figure anybody would even care to read my story or figure anyone would find me in the giant Cyberworld.
Somehow I ended up on two memes, Sky Watch Friday and My World Tuesday, where I started reading other blogs and leaving comments.  I met some of you there.  I didn't understand what to write, especially for the My World meme so I began my series of "The gypsy life of a seasonal park ranger" from the start of my Ranger career the summer of 1992.  I shared my world in six month increments of working and off season traveling.
I started on blogspot and stayed with that for almost 3 1/2 years when I bought a domain and moved to WordPress on my birthday 3/26/12.  I've always been big about my birthday figuring it's MY special day.
When I started blogging I thought it would be a way to make a little money.  How wrong could I be?  I'm not much of a consumer so don't want my sidebar slathered with blinking stuff to get your attention and buy, buy, buy.  Well unless it's my photos coming from a website I opened in January 2017, and just a wee bit of Amazon which I fail to make any money on.  Instead blogging made me a lot of friends.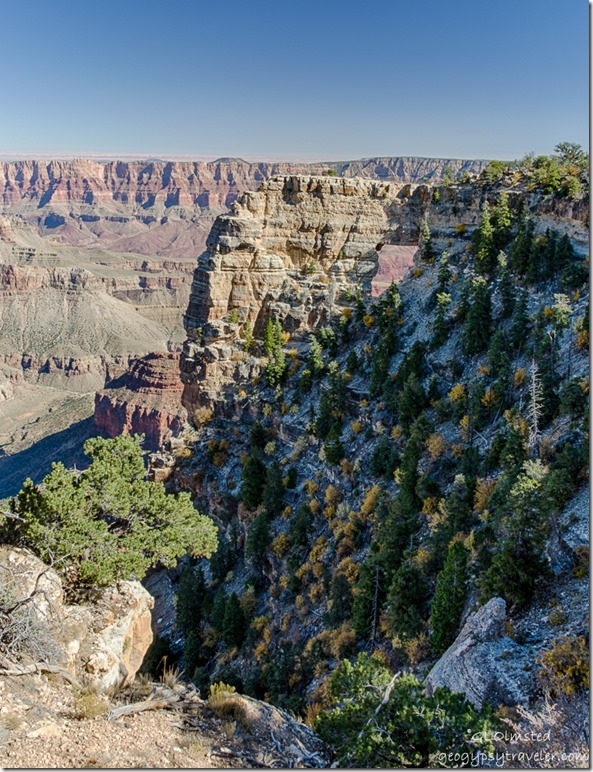 Fall colors below Angel's Window from the Cape Royal Trail North Rim Grand Canyon National Park
You've seen a lot of photos from Grand Canyon and may almost feel like you've been here.  Actually I hope you have been here.  And if not, why haven't you been?  I've met so many wonderful people at the park, including some of you.
So Happy Birthday to Geogypsy and thank you all for keeping me motivated for 10 years blogging.  Wonder if I can keep it up for 10 more.
Save
If you shop at Amazon please consider clicking below for the Amazon website. As an Amazon Associate I'll make a few cents on your purchase(s) at no extra cost to you. Put a few pennies in the winter travel kitty. Thanks for helping out.

Geogypsy is a participant in the Amazon Services LLC Associates Program, an affiliate advertising program designed to provide a means for sites to earn advertising fees by advertising and linking to amazon.com