If somebody would pay me to travel and explore I'd just keep on going  because no matter what natural area visited I enjoy a love affair with the land.
Since mid-January the wind blew me to numerous fascinating places in the Southwest.  The truck and camper survived the 2200 mile journey.  I worked on improving the making of photographs.  And I can add at least a couple serious new love affairs with the land from this winter's journeys including the lush Sonoran Desert, the dramatic Eastern Sierras, and the pastoral Owens Valley.  Plus they all deserve return visits for further explorations.
Kofa National Wildlife Refuge Arizona
Making a plan versus not making a plan
I didn't plan to fall in love, but I love making a plan.  Research and reading about places I want to experience, making a list longer than life even though I accept not seeing them all is really part of the fun.  Yet this winter I went from one place to another as the feeling struck, or someone made a suggestion like being set up on a blind date.  This type of courtship took me a while to adjust to, yet over time, and I mean weeks, won me over.  I felt so relaxed and at ease even with the turmoil of our current political state which I kept up with to a point before high blood pressure.  Back to nature for the calm and centering needed.  Where I feel love the most.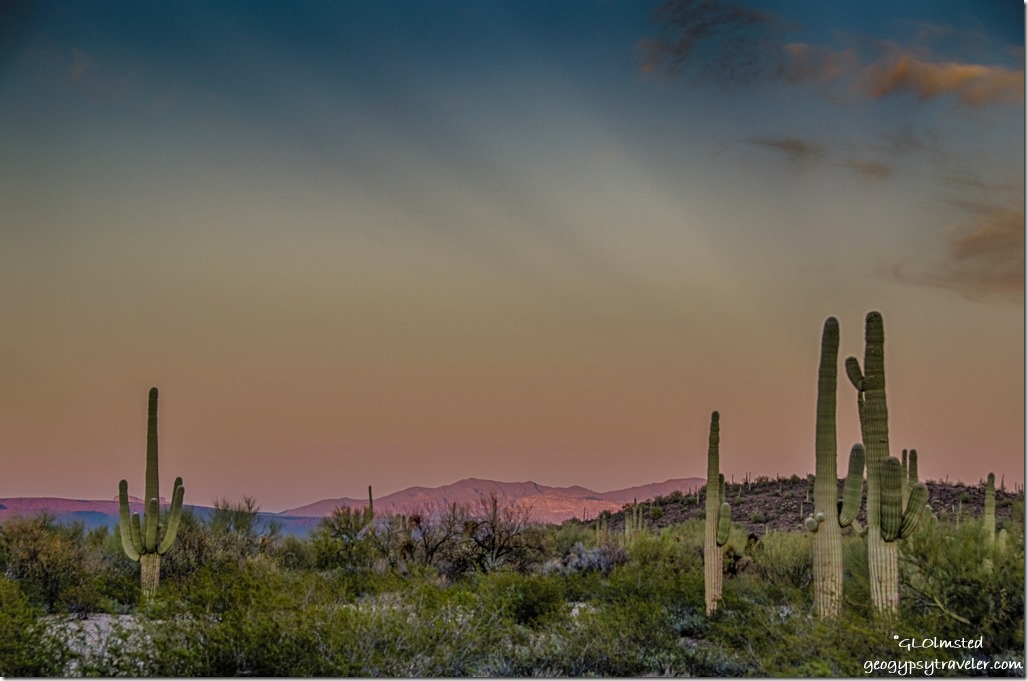 Darby Well Road Sonoran Desert near Ajo Arizona
I did have a plan to visit with friends and attend Blogger-Fest in Quartzsite in January and that instigated a visit to nearby the Kofa National Wildlife Refuge.  Then because a high school friend was wintering in Mesa I spent a few days way too close to the city of Phoenix but at least we got out for a hike on Silly Mountain along with many good laughs.  From there an invitation to visit a friend working in Organ Pipe Cactus National Monument had me headed south towards the border.  I so fell in love with this Sonoran Desert landscape that I spent most of February there.  Then I heard some friends planning an early March visit to Valley of Fire in Nevada and I figured why not as I'd only been there once before.  The winds of chance next blew me to Death Valley National Park, a place I can never visit too often.  But with a weekend coming and map in hand I remembered reading several blog posts about the Alabama Hills, a place I'd never been.  In fact it had been 40+ years since I'd traveled US395 and the Owens Valley.  And dang if I wasn't hooked again.  Love at first sight with the Eastern Sierras and before I knew it another two weeks had passed by.  As the end of March approached I began to feel a draw back home to Arizona yet made a couple more stops along the way.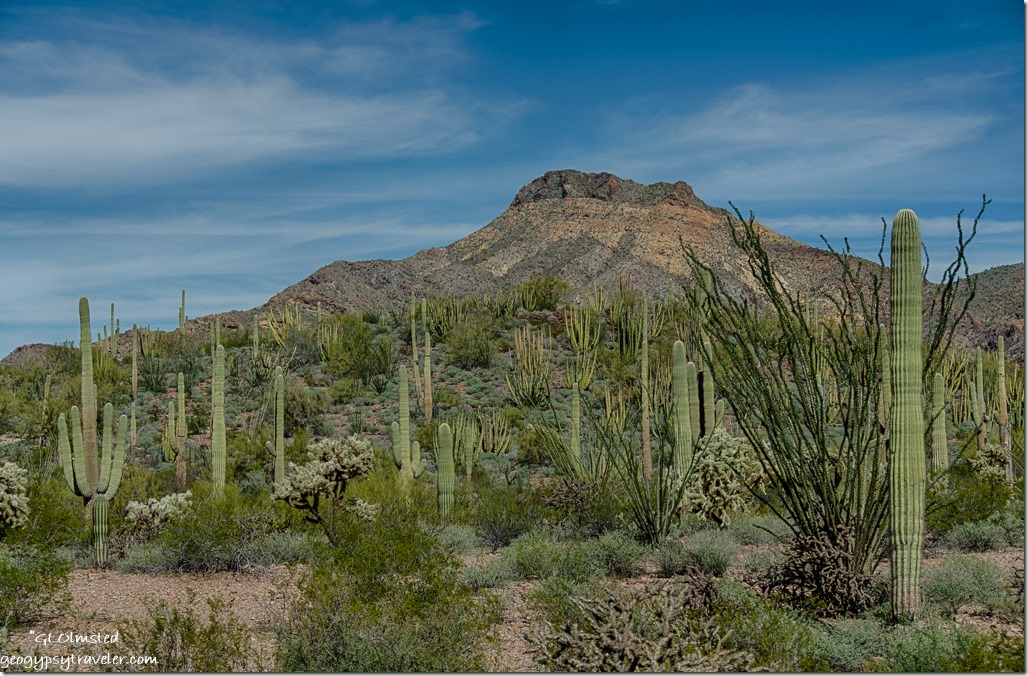 Organ Pipe Cactus National Monument Arizona
Camper comforts and room for improvement
By far the best investment for the camper was a new 100W solar panel that solved my electric needs which is mostly just lights and the fridge ignition.  I use an inverter plugged into the truck for charging the phone and running the laptop.  I have thought about getting a small generator but they are noisy and not particularly cheap.  Sort of like buying an overpriced diamond to get engaged instead of saving the money for experiences.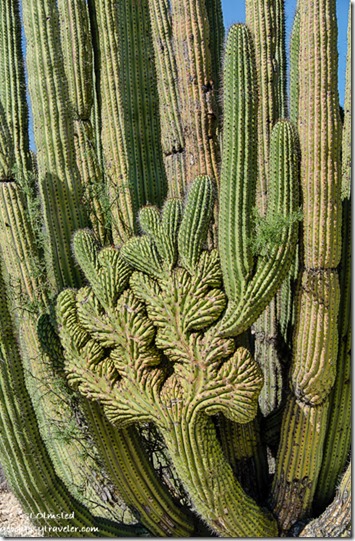 I don't use the fresh water system in this old beast, especially after the first winter when water froze and broke the kitchen faucet.  My bad.  But I have concerns about the rest of the plumbing and am not a plumber.  Just one of the many things that need to be looked at and repaired.  Water in jugs works just fine and a dishpan in the sink saves space in the gray water tank.  The occasional plant that gets watered is happy and so am I.  I am careful not to put food scraps down the sink or outside for critters.  I am picky about drinking water, either buying by the gallons or running through the Britta.  But with conservation I can get by on one gallon a day plus at least that much to drink.
Luckily I have a handy neighbor who rebuilt the two "wings" of rotten wood that overhang the truck bumper on each side by about two feet.  Had to be done in order to remount the protective plastic that half fell off somewhere between Fossil Falls and Barstow on the way to Mojave Trails.  Once the camper comes off the truck he's going to reinforce a few other areas of old wood.
I'd like to replace the foam on the dinette cushions that are flattened and old.  It's really the only place to sit inside.  And I need to finish the curtains so I can be rid of those awful metal blinds.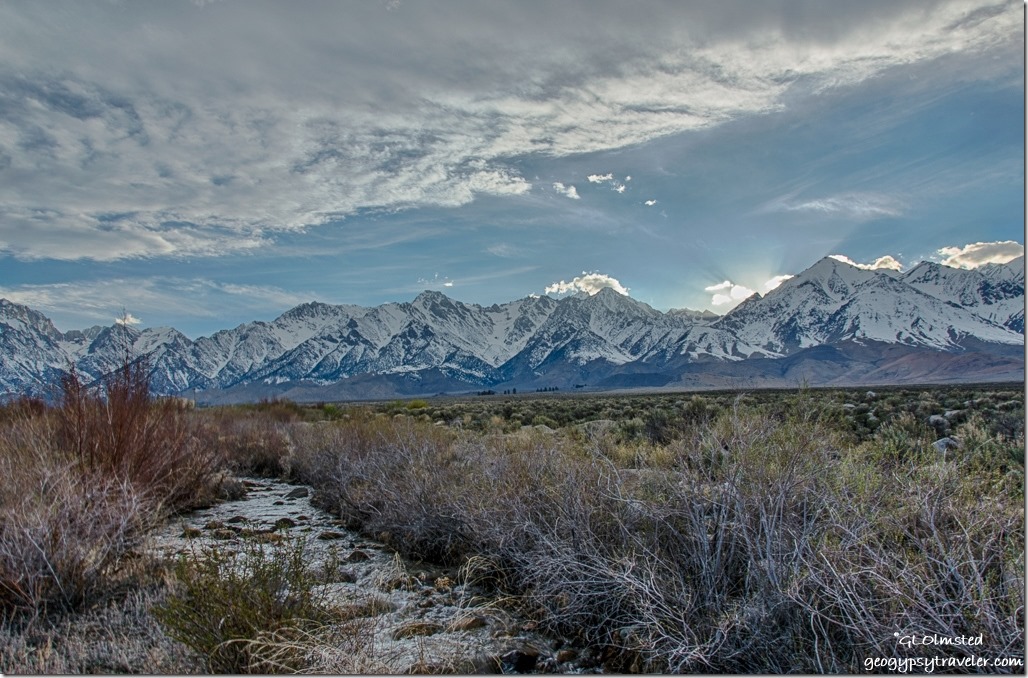 Eastern Sierras Independence California
Experimenting with photography
I definitely have a love affair with photography and am constantly reading and learning how to improve the relationship with my camera.  I honestly tried to carry the tripod around more and use it but it's a bit heavy to use as a walking stick on longer hikes.  I've been using manual (M) for a long time and tried moving back and forth with aperture (A) and shutter (S) priority.  Had fun with sun bursts.  I took more time composing a shot and observing edges to avoid a silly tree branch or such.  Looked at different perspectives and even got down on the ground once in a while. Ugh, not my best position.  Really tried not to overdue the post-processing like I did when first introduced to Lightroom.  Now that I've opened a new photography website I actually look at my photos on the screen with a more discriminant eye.  Out of 10s of 1000s of photos only a few make the cut.  All this is sort of like looking at old love affairs and learning from mistakes.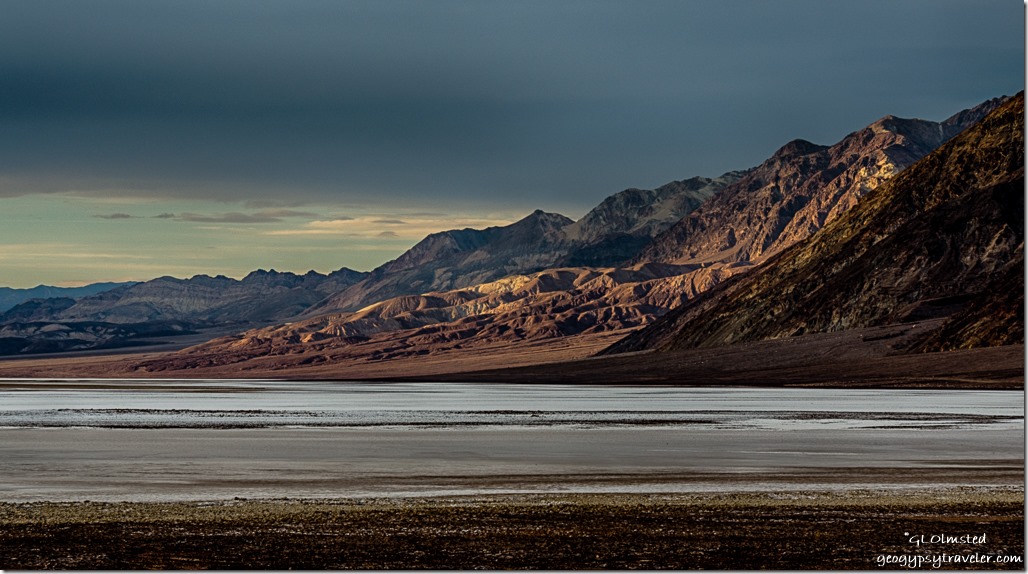 Death Valley National Park California
Reflections
The getting there, being there, rinse wash repeat, I love it.  The driving part, I'm getting a little tired of that.  I just don't ever feel like putting down many miles in a day.  Having said that…
I've been traveling alone so long it's now difficult to relax enough to travel with anyone.  Call it independence, stubborn, unable to make compromises, or maybe all of these.  It's also a chance to learn about myself and spend time living in the now.  I can barely describe how I feel when traveling solo, in my element, no matter the surrounding natural environment.  I love them all for what they are.  I love them NOW because I'm there.  Yet I'm friendly so have no problem meeting and chatting with people wherever I am.  I'm an ambivert, finding balance with my extrovert and introvert characteristics.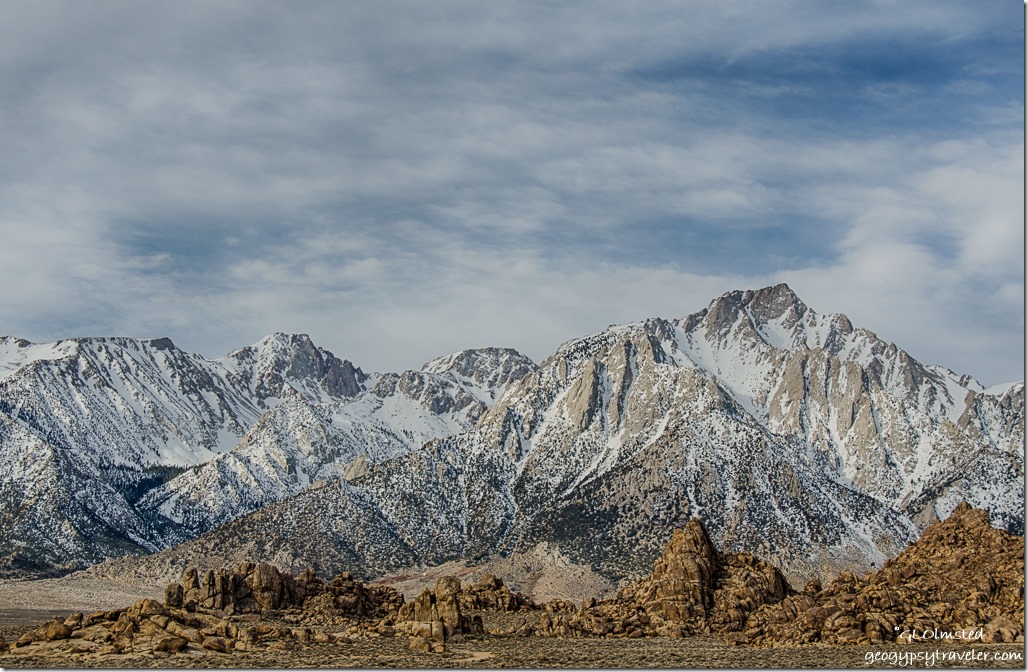 Eastern Sierras & Alabama Hills California
I love being able to share the moments on social media.  I've seen cell towers everywhere I've gone.  They are not obnoxious, intrusive or ugly.  They are just there like we used to have electrical and telephone lines.  I got a signal almost everywhere except the Alabama Hills.  Sure wish I could say that for the North Rim Grand Canyon.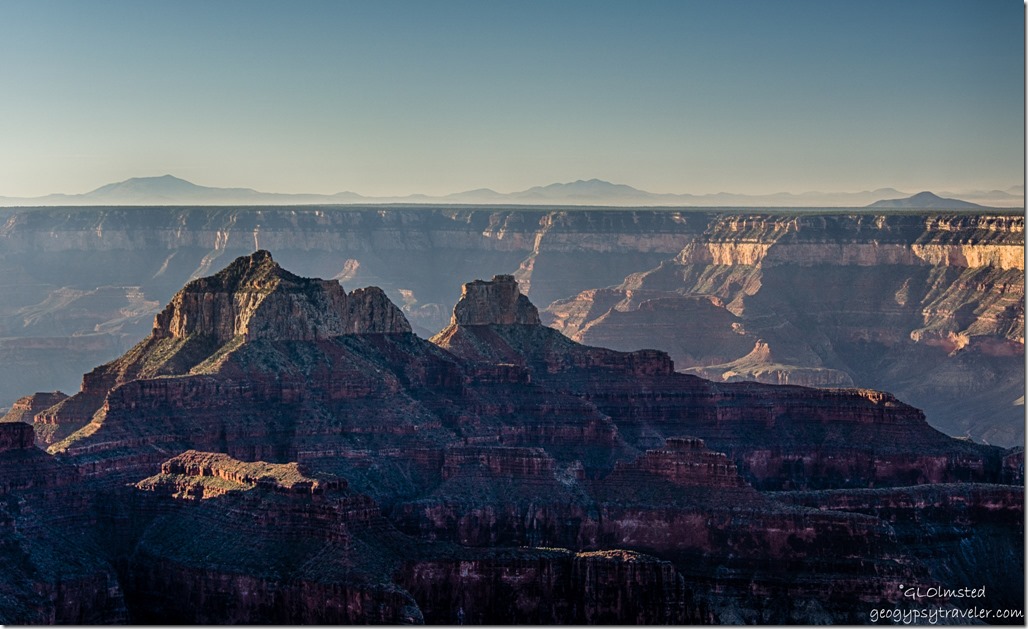 North Rim Grand Canyon National Park Arizona
What's next
Yet another landscape I love, and sleep with, calls me to return.  Yup the North Rim Grand Canyon, the 10th summer I call this place home.  So it's time to take the camper off the truck for some repairs and to haul the 5th-wheel back to the canyon.  I report for work May 1 but the North Rim doesn't open to the public until May 15.  And this year begins with limited services due to a major waterline break.
Maybe next winter I'll put the 5th-wheel in storage and live in the camper while traveling.  I'd love to take a fall journey to the Pacific Northwest where I've been trying to return for several years.  Yet I'm sure whatever journey I make there will be a love affair with the land.
Save
Save
If you shop at Amazon please consider clicking below for the Amazon website. As an Amazon Associate I'll make a few cents on your purchase(s) at no extra cost to you. Put a few pennies in the winter travel kitty. Thanks for helping out.

Geogypsy is a participant in the Amazon Services LLC Associates Program, an affiliate advertising program designed to provide a means for sites to earn advertising fees by advertising and linking to amazon.com