March 1-4, 2017 Valley of Fire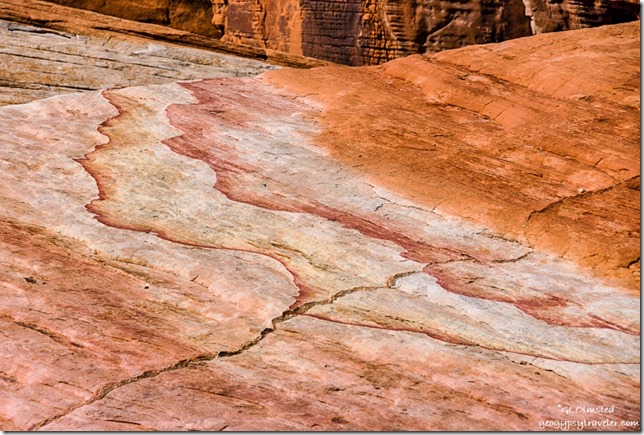 Like a watercolor left in the rain, the rocks make for colorful hiking at Valley of Fire State Park in Nevada.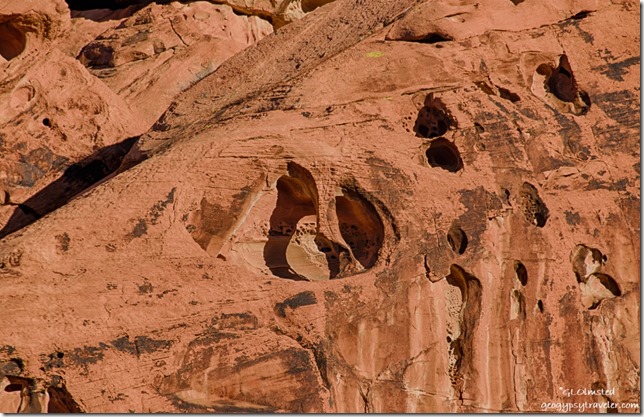 Sure am glad Sandee arrived early enough to get a campsite as I didn't pull in until just after sunset and both campgrounds were full, every night we were there.  She tried to save three sites in Arch Rock campground for some friends but a Ranger came by and told her that was illegal.  So we both parked in the one site she'd paid for, my camper and her minivan.  As soon as the sun went down the temperatures followed and we got in the camper where I could make heat and dinner.  Experienced a very cold night, below 40°F so was glad for the extra wool blanket.
Thursday morning we were off early, for me, because of the gained hour in Pacific time.  Went to the visitor center first to get a map and ask if they would let me pay for campsites with credit card, no problem. Check out time 2:30pm also meant no rush.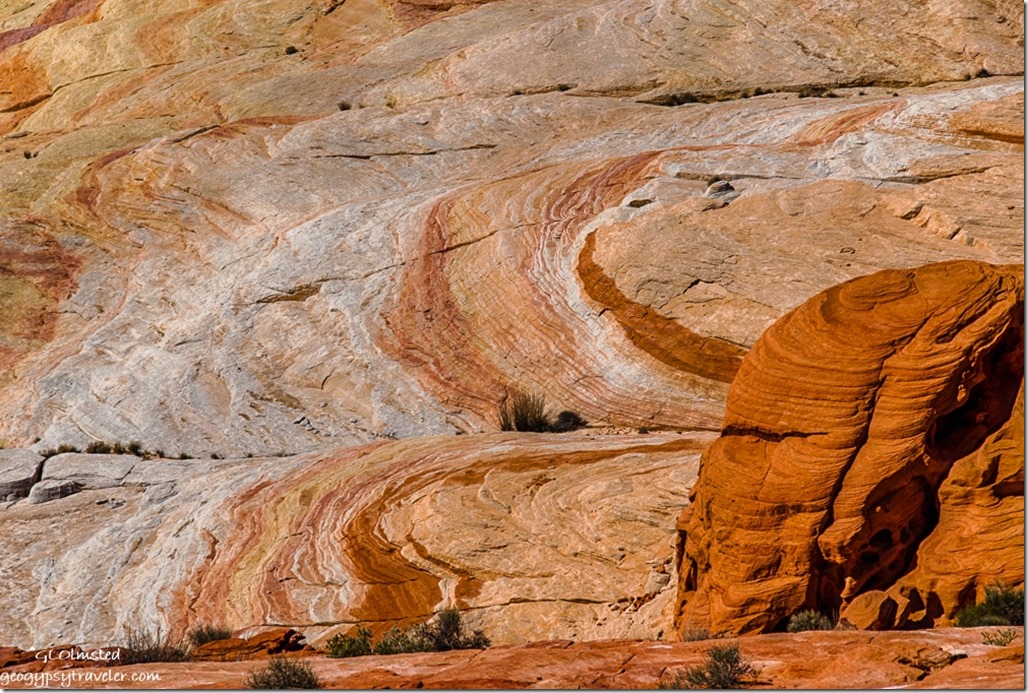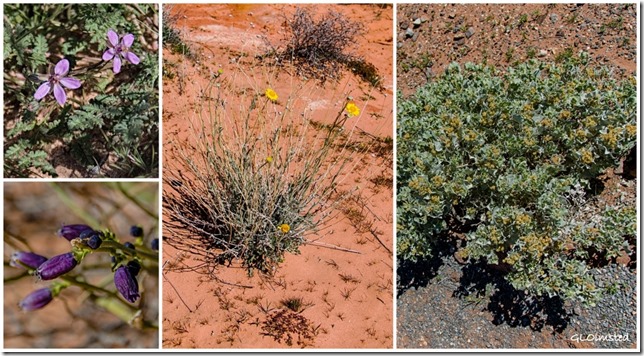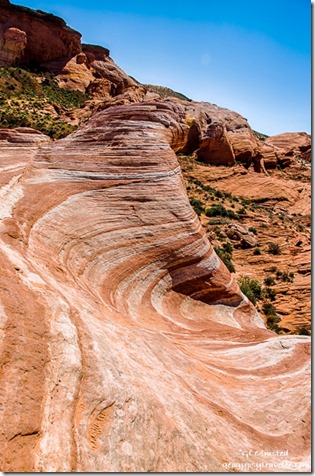 Off we went hiking to the Fire Wave and although it is a beautiful feature we spent way more time on our lollygag walk than at the actual Fire Wave.  Some plants are starting to bloom, Mormon tea, brittlebush, and several I don't know.  Plus so much awesome rock, shades of red sandstone, limestone, green-gray shale, and conglomerates often with a coating of desert varnish.  Sandee says she enjoys our walks because she learns so much about the geology.  The 1.2 mile hike turned into about 3 miles as we wandered about 2-3 hours.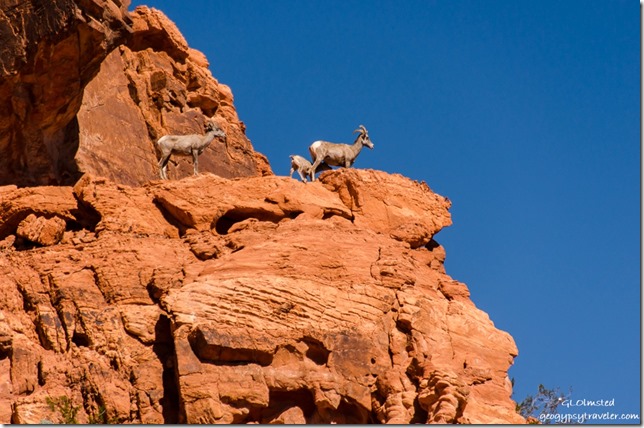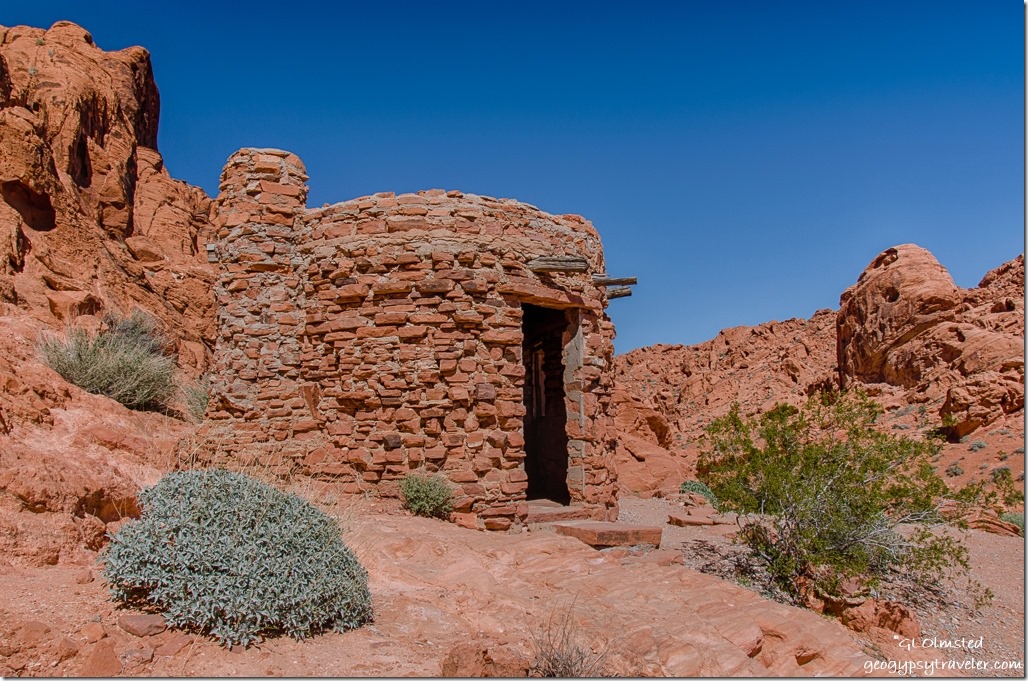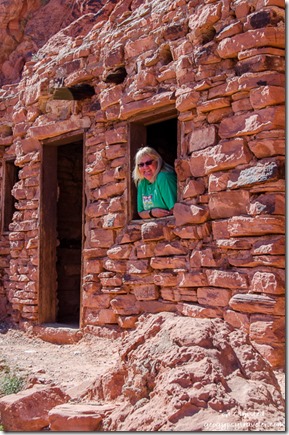 Sure sign of something good to see when several vehicles are parked both on and off the road.  Sure enough, we saw big horned sheep high up on the rocks just above the road on the way to see The Cabins.
Then saw them much closer to the road on the way back to camp in the same area.
A fenced off chunk of petrified log.  Poor Sandee was not feeling well, coming down with a cold.  So after we had lunch back at camp, and said hello to Nina, we drove the 25 miles to Overton for some cold medications.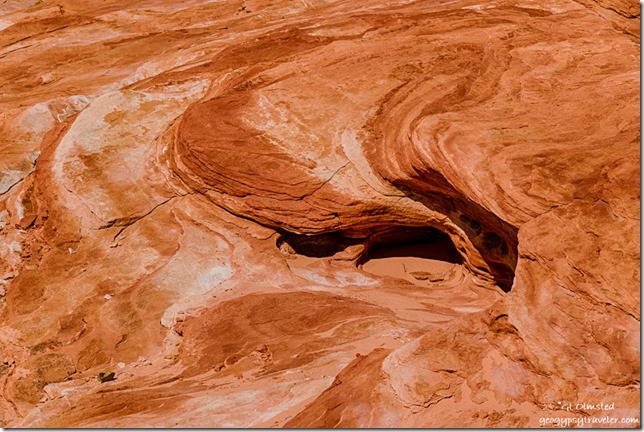 I'm bummed about the less than tack sharpness of most of the photos, and of course only sharing what I consider "the best" yet out of 130 photos the first day only 23 where rated with one star out of five.  So many seem totally out of focus.  That's only about 6% success.  Is it me or the camera?  Valley of Fire sure would be a great place to take a photography workshop if I could afford it.
Friday morning Sandee and I went looking for Arch Rock just down the road from camp.  We wandered into an alcove of rocks squinting into the morning sun searching for the arch with no luck.  Finally gave up and discovered it's actually right along the road even though the park's map clearly shows a trail.  And I didn't even take a photo of it.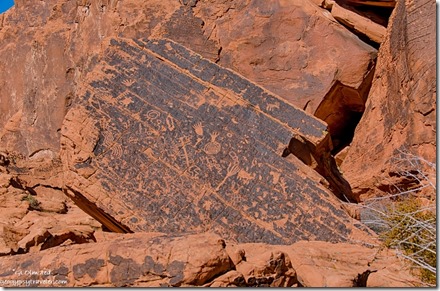 Then we went around the corner, of a huge rock formation, and wandered next to the cliff face finding many petroglyphs pecked into the varnish up to 2300 years ago.  I wandered a little farther than Sandee who still not feeling well returned to sit on a picnic table in the shade.  When she walked away she left her phone behind which she quickly discovered when we returned to camp.  Definitely a moment of panic as she was leaving the park to return to Mesa.  She drove back to the table, then to the visitor center.  When I got into the camper I saw she'd left her boots behind.  So I hurried to the visitor center hoping to catch her there.  Sure enough, someone had picked up her phone and given it to a Ranger who was bringing it to the visitor center.  So off she went with all her stuff, but still not feeling up to snuff.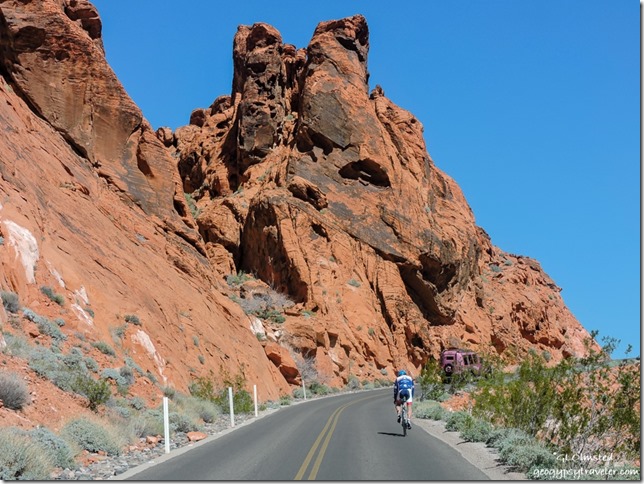 From there I drove to the end of the White Domes scenic road, delightfully narrow, twisty, and rolling through mounds, and past walls of sun warm colors, burnt oranges, dusty whites, soft pastel yellows, pinks, and lavenders.  I love twisty roads until I come around a blind curve and discover a staunchly peddling bicyclist.  No shoulder.  No way to pass.  No offense to those who bike but it seems especially dangerous on this type of road.
I started the White Dome loop trail counterclockwise, backwards of most hikers, to avoid slugging through the deep soft sand then only went a little ways to the Prospect trail.  Opposite that trail junction a short slot canyon offered a cool reprieve from the mid-day sun where I chatted with a photographer carrying a tripod and two cameras.  Roman is from the east coast but comes west often and we knew some of the same photographers.  I noticed someone had scratched a tic-tac-toe on the graceful canyon walls and took a hand-sized piece of sandstone to wipe it off.  I will never understand this mentality of desecrating the beauty one comes to see.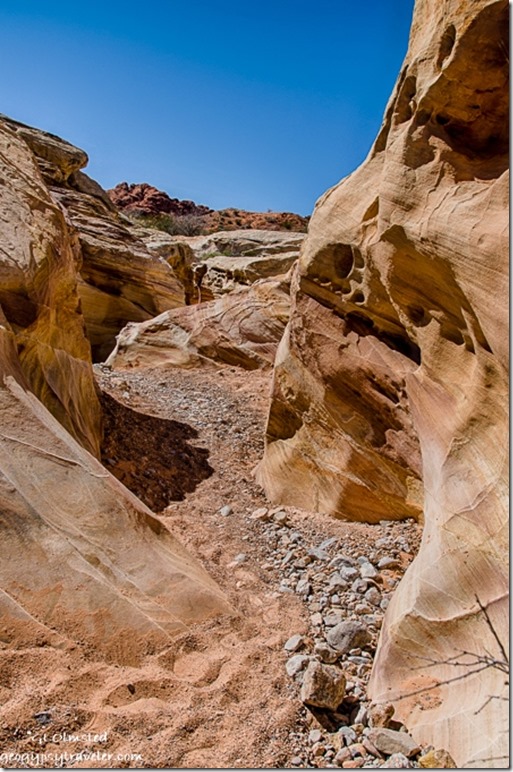 Then I wandered into the sinuous curves of the less traveled Prospect trail captivated by the swirling layers of colors.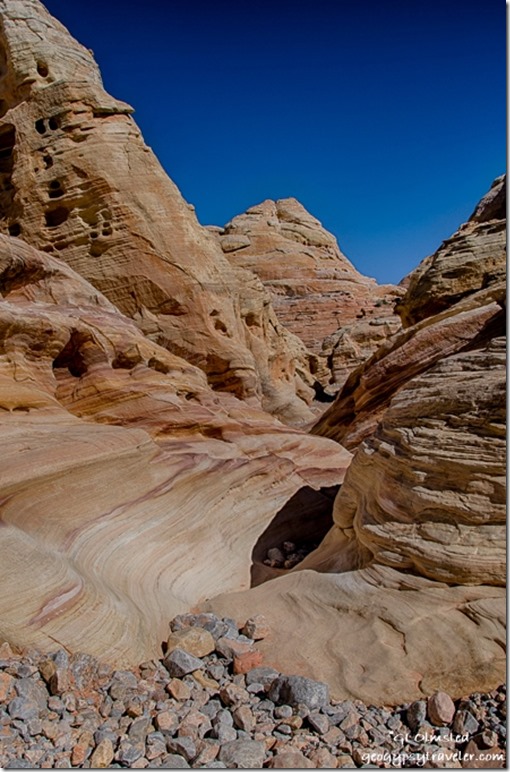 I didn't make it far or fast and after about an hour Nina's group of hikers showed up and I walked back out with them.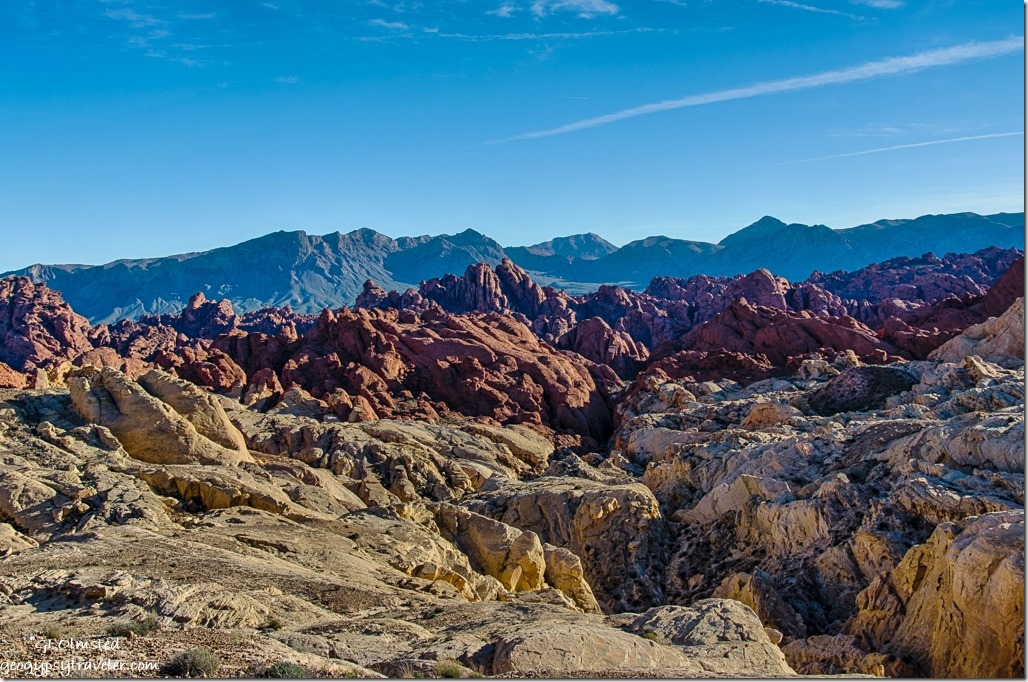 Next I drove out the Fire Canyon Road and at the end discovered a signal so tried to catch up a little online.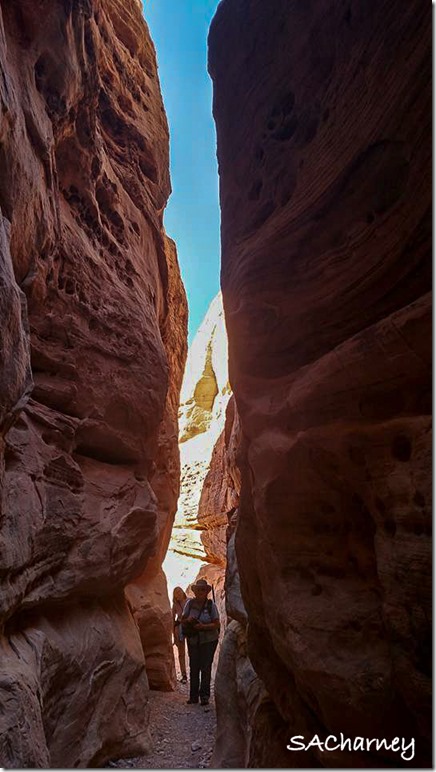 Gaelyn & Nina
Then back to camp before sunset when the road is closed and Nina invited me over for taco dinner along with her friend Sacha who had worked with her at Yellowstone for a couple of seasons and is now at the South Rim Grand Canyon.  It's a small National Park Service world.
Saturday was my last day in the park and not an early start.  I helped Nina with her first RV, a vintage 1972 trailer.  I showed her how to light the fridge and the oven pilot.  We chatted and soon it was after noon and I had decided not to pay for another night but instead head to Quartzsite for a solar repair.  That's another story.  But instead I discovered a desperate need for propane so drove the 20 miles north to Overton where I couldn't get propane then another 25 miles, north mind you, to Glendale.  On the way back south of Overton the winds increased from the southeast so I stopped at Snowbird Mesa to boondock for the night.  Thought I'd be blown further north with 30 mph gusts rocking the rig all night.
Camping in Valley of Fire – get there early as campgrounds fill quickly
Half the 44 camp sites in Atalatal Rock campground have water and electric the other half are semi-primitive.  This campground offers showers and modern restrooms.  Arch Rock campground offers 29 more primitive campsites and pit toilets.  Most of the sites are just big enough for two standard sized vehicles yet I saw some up to probably 35 foot RVs crammed in even there.  No cell signal at all in camp however a weak signal worked at the visitor center and better popped up while driving around.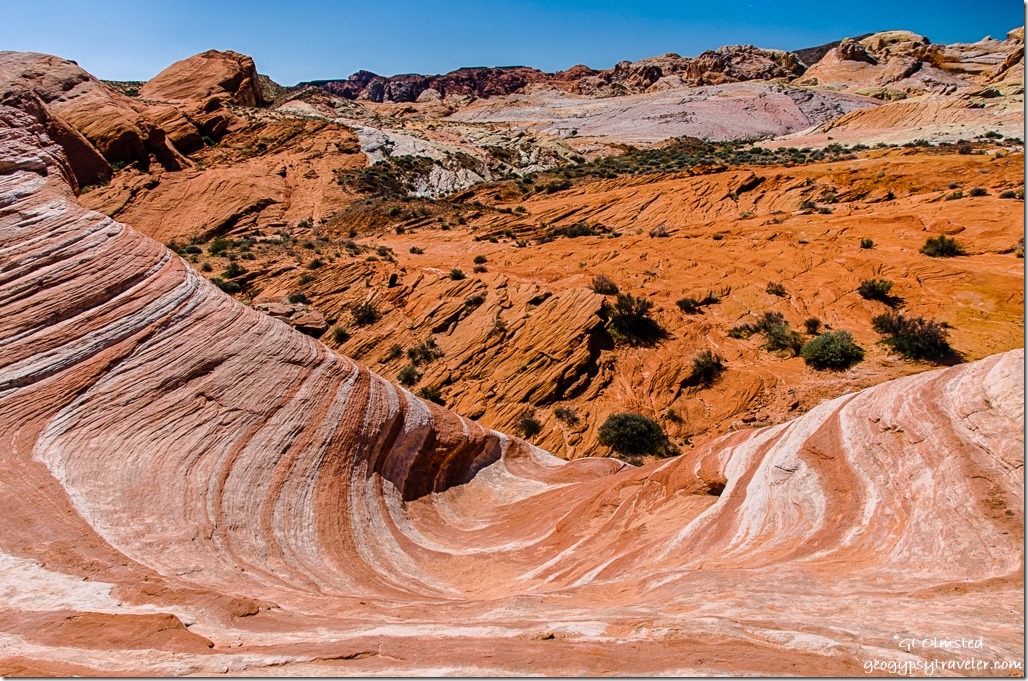 Hiking in Valley of Fire – the easy trails
The petroglyphs at Atalatal Rock are almost within sight of the parking lot.  Several short easy trails lead through spectacular contoured sandstone canyons.  Mouse's Tank .75 mile round trip trail passes canyon walls covered with petroglyphs.  Elephant Rock trail's 1.2 mile loop speaks for itself.  White Domes 1.25 mile loop includes sand dunes and slot canyons.  The .6 mile trail to Fire Wave passes shale and conglomerates on the way to the sandstone swirls.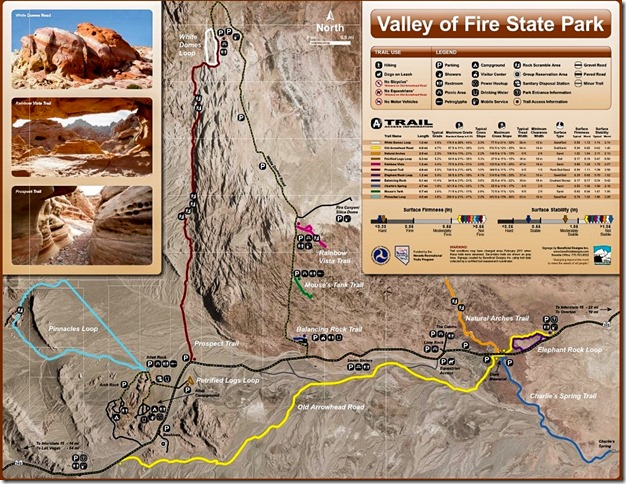 There is a $10 entrance fee for day use which is included in camp fees.  I highly recommend downloading the map from Valley of Fire's website as the one handed out isn't very good.
Save
If you shop at Amazon please consider clicking below for the Amazon website. As an Amazon Associate I'll make a few cents on your purchase(s) at no extra cost to you. Put a few pennies in the winter travel kitty. Thanks for helping out.

Geogypsy is a participant in the Amazon Services LLC Associates Program, an affiliate advertising program designed to provide a means for sites to earn advertising fees by advertising and linking to amazon.com