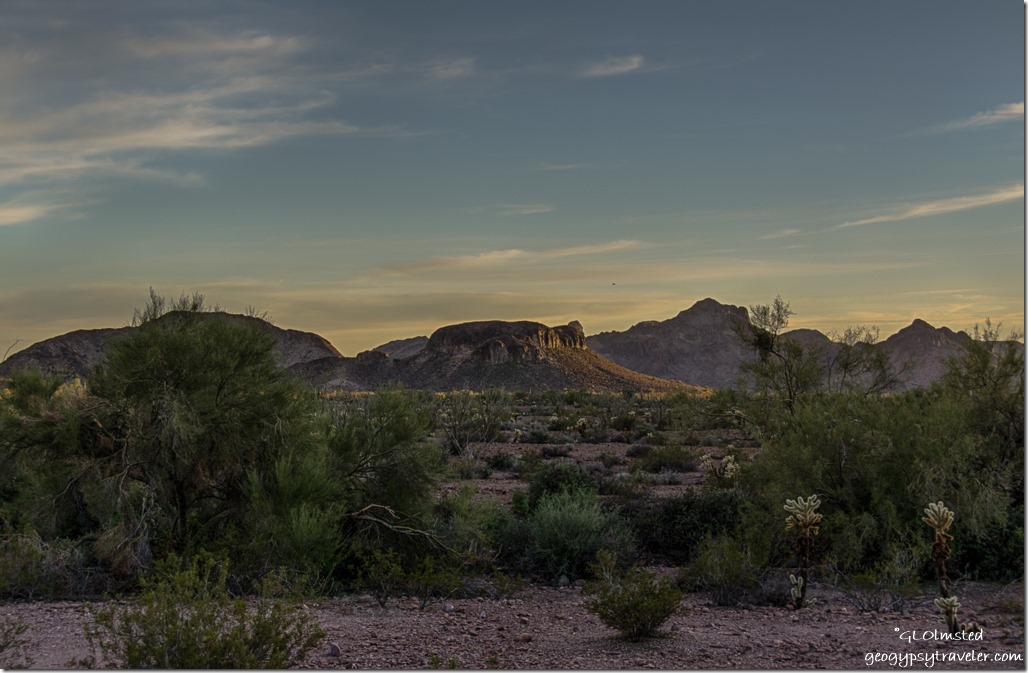 The contrasts are striking between desert, palms, and canyon walls along the Palm Canyon trail.  Located in the Kofa Mountains named because the King of Arizona gold mine stamping its property "K of A" in the late 1800s.  The idea of protecting this Sonoran Desert landscape began during the 1960s when conservationist Major Frederick R. Burnham observed that populations of bighorn sheep were sharply declining and appealed to the Boy Scouts to take up the cause.  For two years, more than 10,000 boy Scouts and their leaders campaigned to protect bighorn sheep and finally in 1976 the 665,400 acre Kofa National Wildlife Refuge was established to be managed by the US Fish & Wildlife Service.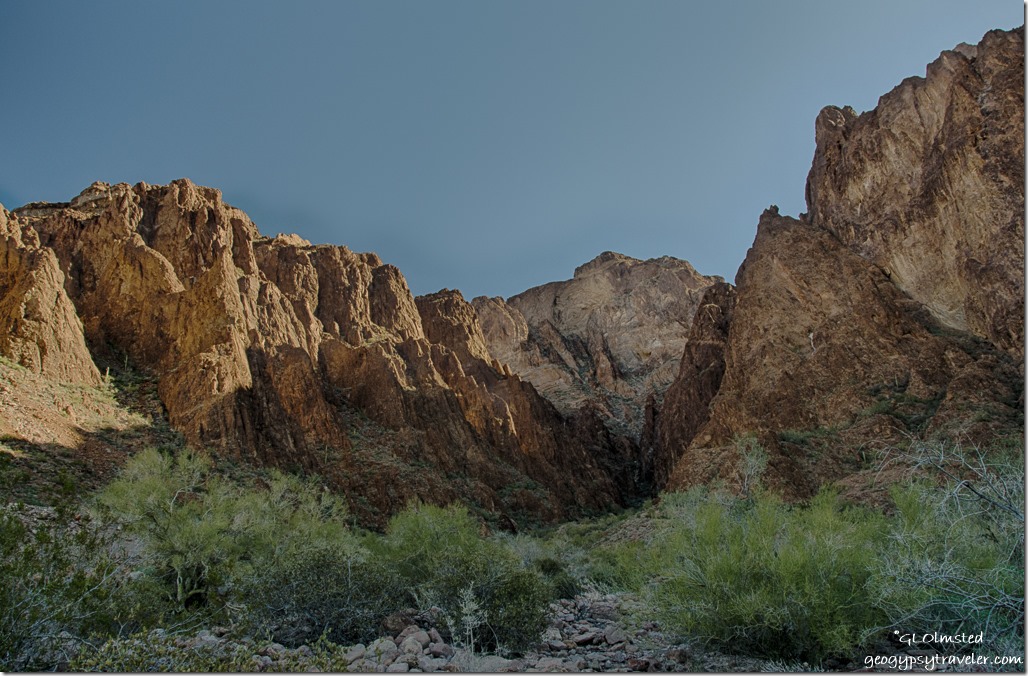 Palm Canyon
A half-mile National Recreation Trail leads into Palm Canyon so all four of us camping together on the Kofa climbed into Sharon's jeep and drove the two miles to the end of the road to start our hike.  Turns out either of the truck campers could have made the drive on this well graded road, but we weren't sure until we got there.  I'm sure there are times when after heavy rain the road would be rutted and rough.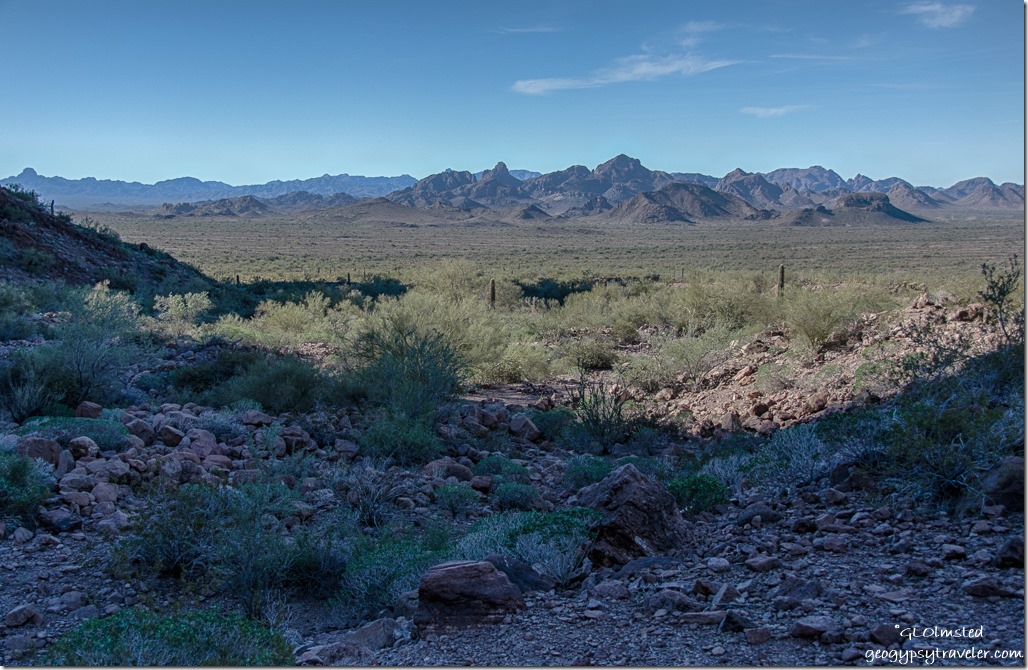 View west from Palm Canyon trail
At 11am it was still chilly enough, especially in the shaded canyon, to wear a couple layers.  But we weren't far along before the jacket went around the waist.  The website suggests to allow an hour round trip but us lollygag hikers took over an hour just to get one way.  There was just so much to see.  Plus the sometimes steep and rocky trail required us to watch our feet while walking so we stopped often to look around.
Geology
Millions of years ago the Southwestern United States resembled a broad plain with scattered marshes and streams studded with mountain ranges and erupting volcanoes that covered the marshes with 100s of feet of ash, rocks, cinders, and lava.  Then about 25,000,000 years ago, after a long quiet period, earthquakes and eruptions occurred cracking, splitting, tilting, and lifting the previous formed rock and created today's Kofa mountains.  Water flowing through cracks in the volcanic rhyolite formed canyons through erosion.
Plants
The current desert ecosystem is characterized by hot summers, mild winters and low annual rainfall of 4-8 inches.  Yet even in this harsh environment plants have adapted.  Looking with binoculars up tiny side canyons to the north, opposite the wash we followed, rewarded us with an amazing variety of plants.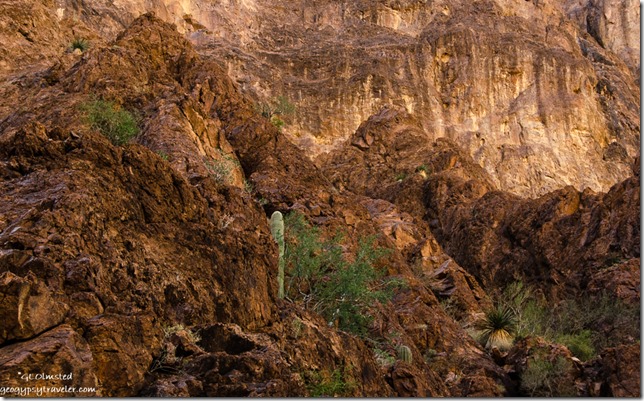 Most obvious are the tall and stately saguaros, yet these seem not terrible old and all of about the same age as is common with the species.  Closer to the ground, prickly pear, cholla, hedgehog, pincushion and barrel cacti thrive.  All wonderful to see but we were really excited about seeing the California fan palm, the only native species of palm tree in Arizona, and only 100 trees remain.
These could be relics of the ice age when the range of California fan palms was much larger than its isolated groves today gradually spreading into these canyons and other protected niches as the climate warmed to desert conditions.  California fan palms typically live for 80 to 90 years.  A fire burned through the grove in 1953, seriously damaging the trees.  Fortunately, most of the palms survived and young trees have become established.  The survival of these trees is directly dependent on the microclimate in this protected canyon.  The palm trees are only able to live in the narrow side canyons where direct sunshine is limited and moisture is available.
As we strained even with binoculars to find the palms we were often fooled by a palm-like plant growing out of cracks and on ledges but the nolinas are much smaller than palms and do not develop a trunk.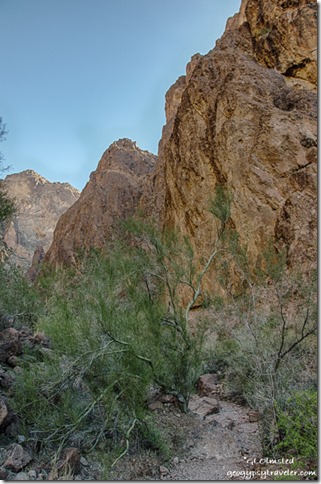 I love the twisted and contorted shape of the palo verde.  Its almost neon green branches and twigs have enough chlorophyll to produce all the energy the tree requires and during drought often has no leaves.
As the sun rose higher interesting shadow shapes moved rapidly across the north canyon walls.
And the timing was perfect to see sunshine creep into a side canyon and light up the oasis of palms.
Didn't see the endemic Kofa Mountain Barberry with its holly like leaves which may have been because I was looking for a low growing plant and this is a small bush.  Also don't think I saw any Ironwood unless it was the thorny trees I called mesquite.
Animals
We also didn't see the famed desert bighorn sheep.  The only animals we saw were a few birds and lizards flitting about way too fast to positively identify.  Maybe some peak-headed phainopeplas, some kind of hawks soaring in the far distance, turkey vultures, and mostly crows/ravens which seem to survive anywhere.  Saw the scat evidence of coyote and fox.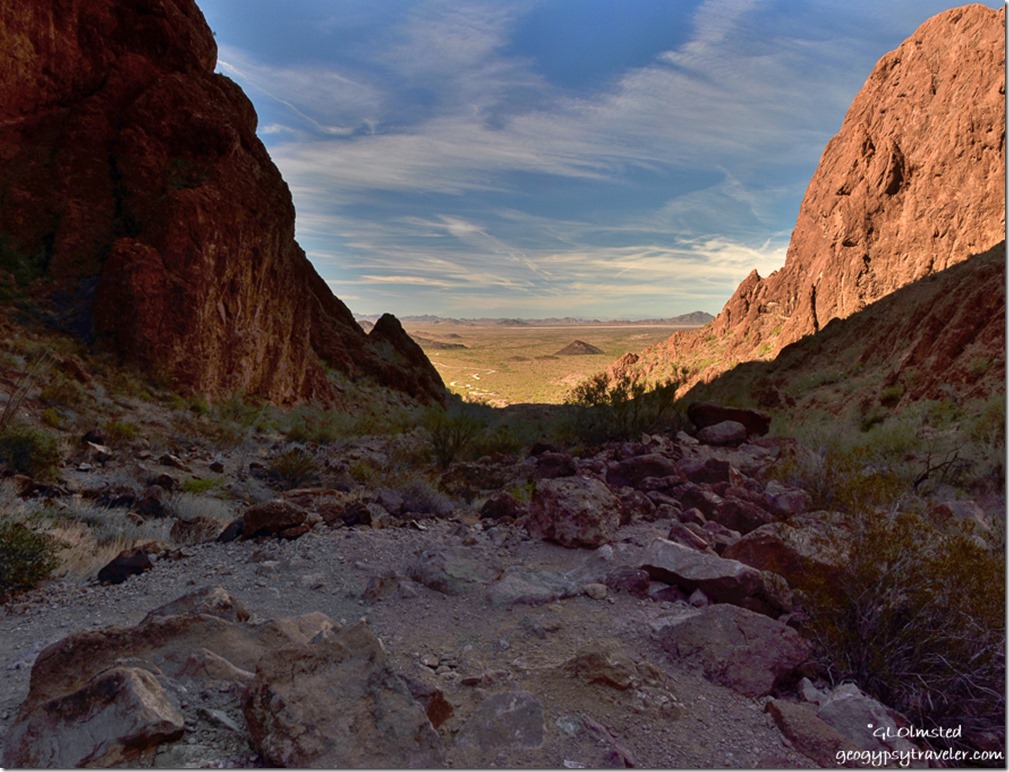 Many animals survive in the desert because they are mostly nocturnal.  But then after the sun went down and the temperature dropped we weren't particularly nocturnal ourselves.  Quite frankly there are a few species I wouldn't want to trip over, especially after dark, like the Gila Monster or Western Diamondback.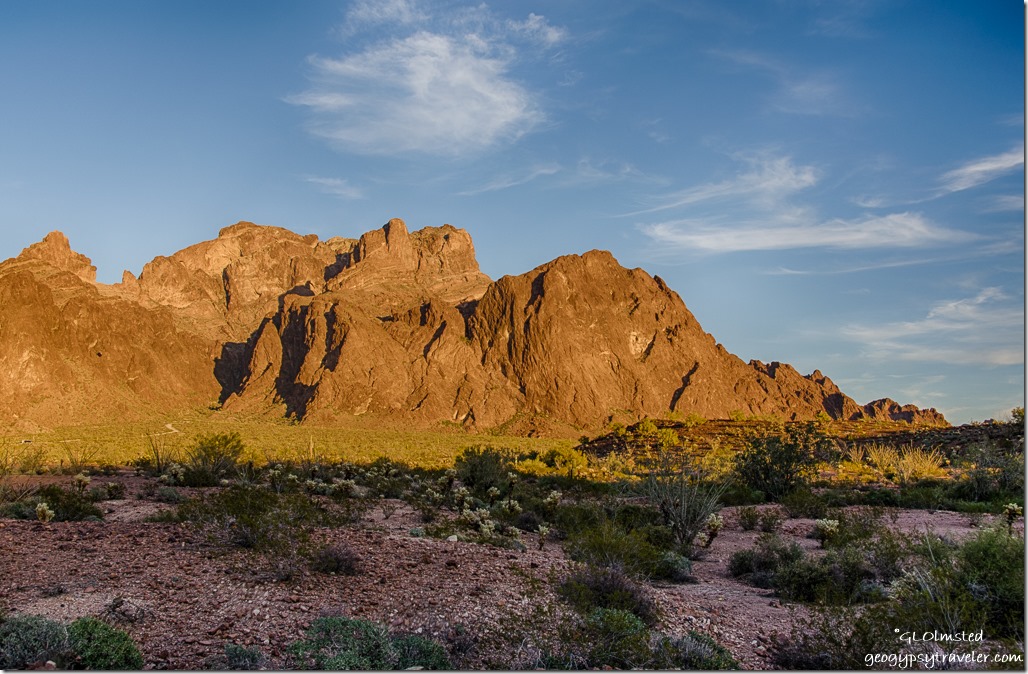 Yet no worries while the sun was up about being cold and by the time we returned to camp it was a delightful 73°F.  But that quickly changed just as we finished dinner enjoying the setting sun light up the Kofa Mountains and the desert.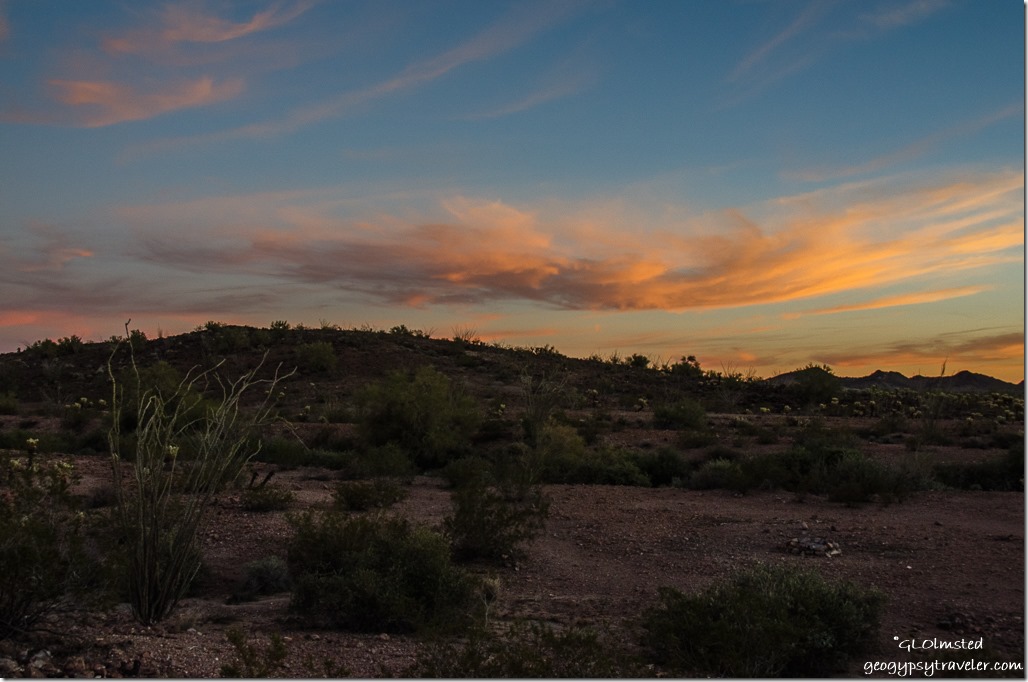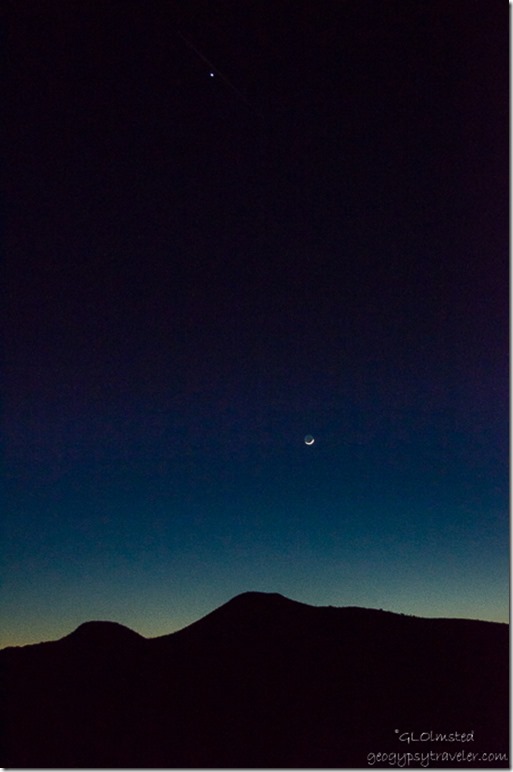 Followed by a gorgeous sunset and then a crescent moon with Venus, and Mars.
Of the 665,400 acres within Kofa National Wildlife Refuge, 547,700 acres are designated wilderness, making it the second largest wilderness area in Arizona.  While the Palm Canyon Trail is the only designated trail on Kofa, visitors are welcome to hike anywhere on the refuge so long as vehicles remain within 100 feet of the road, do not enter mines, or the area closed for the recovery of Sonoran pronghorn mostly seen in King Valley.  Camping on the refuge is limited to a maximum of 14 days in any 12-month period.  Campfires are permitted with a limited amount of only dead, down and detached wood that can be gathered and I didn't see any of that so probably want to bring your own firewood.  Also remember that summer temperatures can exceed 120°F.  Seems winter is the time to visit and I would highly recommend that.  Had a great cell and internet signal in camp.
If you shop at Amazon please consider clicking below for the Amazon website. As an Amazon Associate I'll make a few cents on your purchase(s) at no extra cost to you. Put a few pennies in the winter travel kitty. Thanks for helping out.

Geogypsy is a participant in the Amazon Services LLC Associates Program, an affiliate advertising program designed to provide a means for sites to earn advertising fees by advertising and linking to amazon.com