This week's Foto Friday Fun features images chosen by 12 readers from my photo files including wild and domestic animals, and a fun ride that brought the kid out in me.
Mary Lou chose #8016.  Glass blowing is not typically thought of as a Native American art but Hopi artist Ramson Lomatewama proves that wrong.  During August for several years he's demonstrated his skills at Native American Heritage Days at the North Rim Grand Canyon.  Here we see a vase in the glory hole, that will heat the piece making it possible for him to further shape it.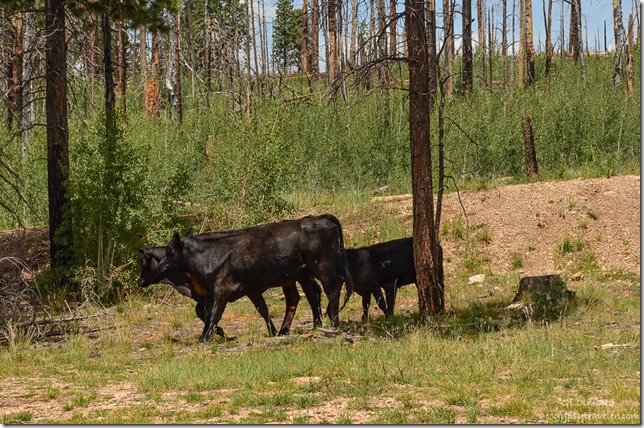 Diane and Nigel chose #4444.  A not very exciting shot of cattle who graze in the Kaibab National Forest, Arizona.  Have to watch out for these bovine along the road.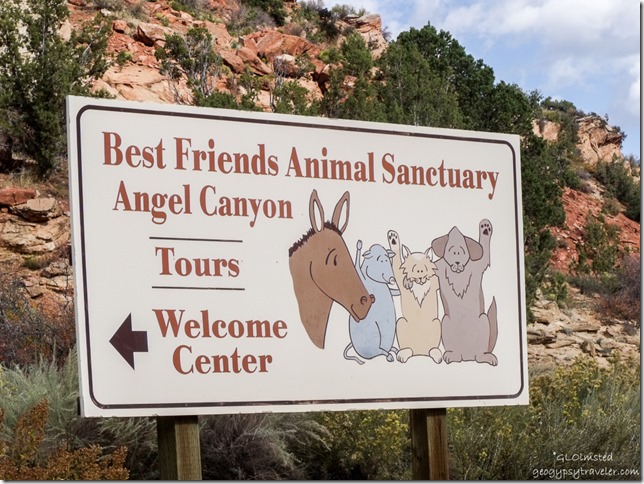 Debi chose #1009.  In Kanab, Utah, Best Friends Animal Sanctuary takes care of all kinds of different animals until they find a forever home.  You can even volunteer to work with the staff and animals.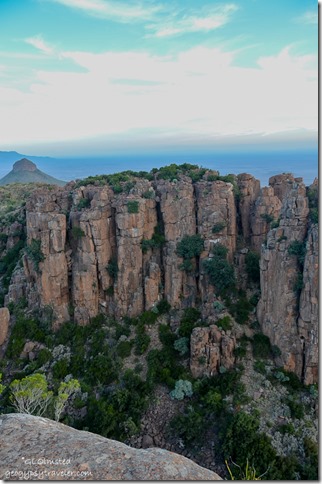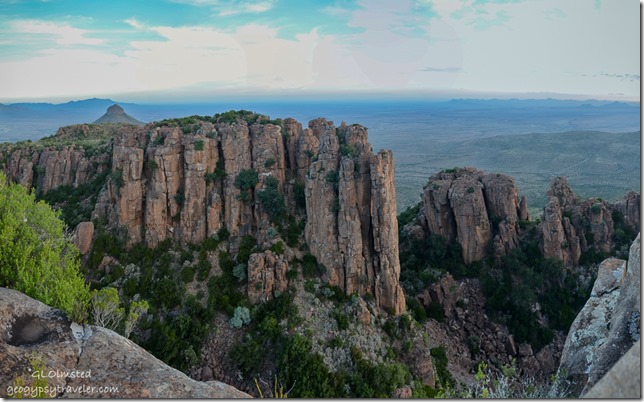 Shane chose #2214, one of five in a panorama.  Wildlife is seen at Camdeboo National Park, South Africa but the geology is also amazing.  These dolomite cliffs almost create a fortress wall next to the Valley of Desolation.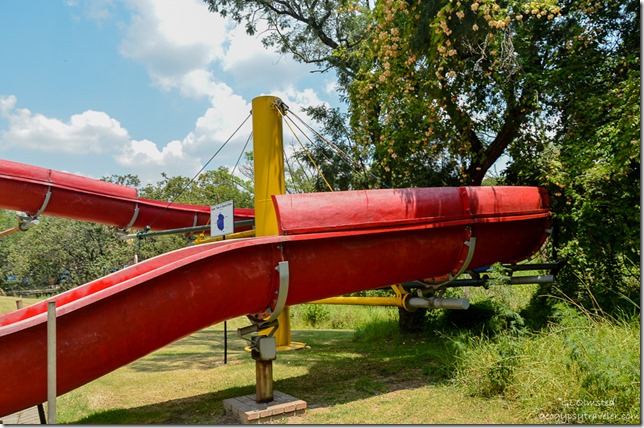 Sherry and David chose #5261, one of four in a panorama.  Being they are water-babies, I'm pretty sure they'd enjoy these warm-water slides as much as I did. The Forever Resort Badplaas in South Africa offers several warm to hot, and even cool, pools to soak in.  But the kid in me was drawn to the slides.

Donna chose #327.  A panorama from Marble View where the Kaibab Eastern Monocline is clearly visible.  Note how the cliff curves to the right.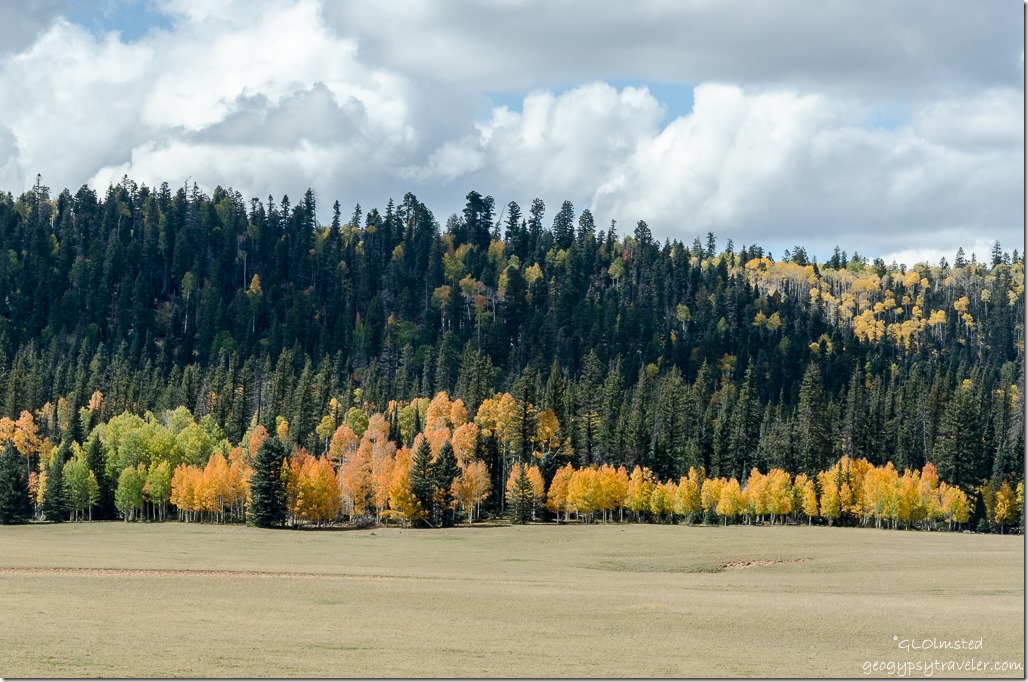 Jodee and Bill chose #8090.  This past fall they enjoyed brilliant fall colors while traveling in the eastern states.  Here are the fall aspen contrasting with the evergreens seen on the Kaibab National Forest in 2014.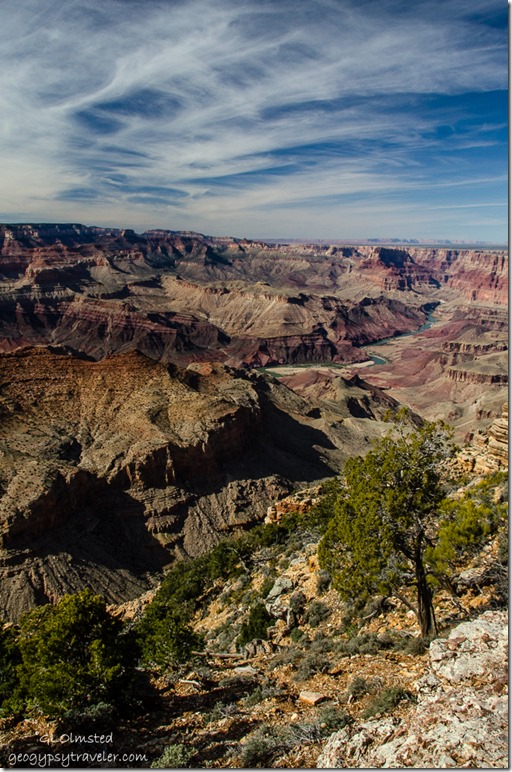 Pam and John chose #8642.  One of my favorite canyon views from the South Rim near Desertview Watchtower where I spent my birthday this year.  I've been given Grand Canyon twice now for my birthday.  Hmmm, wonder if that might happen next year?
Yogi let random dot org choose #276.  A helpful hiker took this shot of me walking upstream in the Virgin River at Zion National Park back in 2009.  An awesome and highly recommended experience.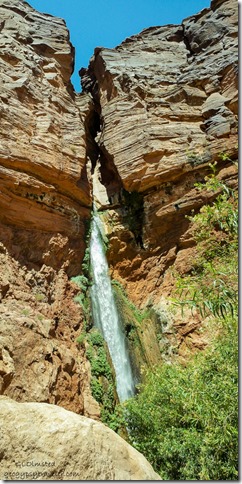 Bibi chose #950, "the time of my doctor's appointment tomorrow."  I'm sure she'd have blown that off to raft the Colorado River.  Deer Creek Falls was one of the many stops made along my 2011 river trip.  Definitely a highlight experience of my life.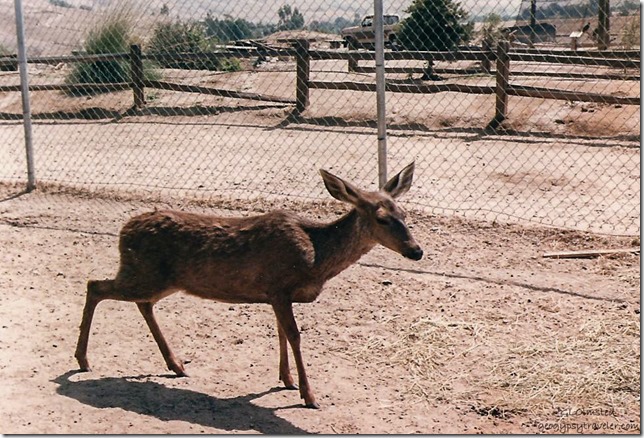 Patti chose #40, "just because I'm enjoying your flashbacks!"  Low numbers sometimes go back to much older scanned photos, like this shot of Blossom from the 1980s.  Mule deer are considered the most dangerous of wildlife to animal keepers at the California Living Museum and even though I was allowed in the cougar cage alone, not so in the deer enclosure.  Bambi looks so gentle, but those hooves can split you right open.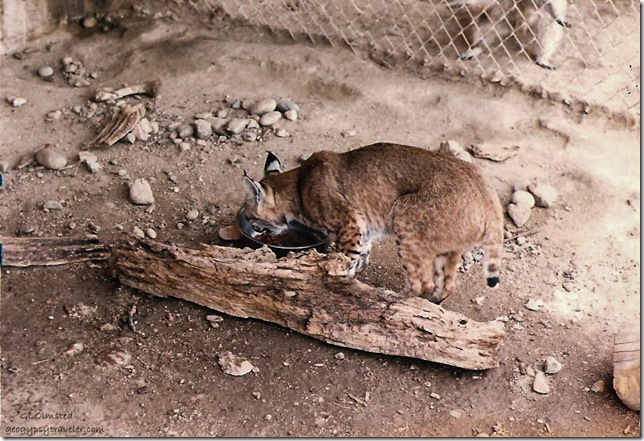 Sallie has a couple broken fingers making it difficult to type, yet she left a comment anyway and it had 39 (kind of) words so that's her number for this week.  When I worked as an animal keeper at CALM (as above), Bobby Bobcat had to be watched very closely when in its shared cage with a female and their offspring kit Gracie, who was lovable.  Bobby liked to mark his territory by spraying when you weren't looking.  Has to be one of the worse odors ever.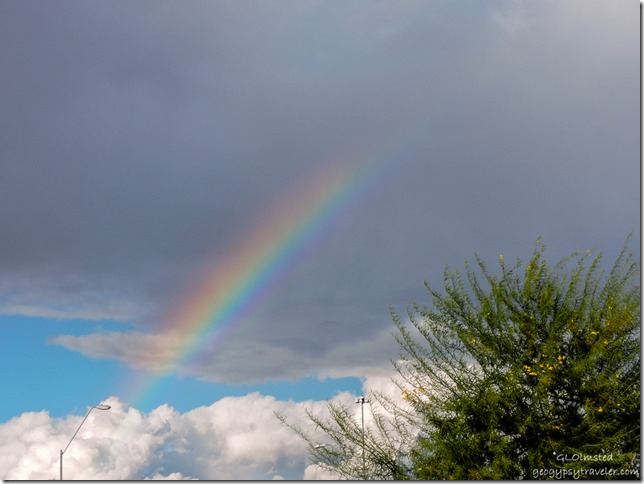 My choice taken Monday in Scottsdale, Arizona.  Not a place I'm usually found.  But Berta and I attended a very informative pre-op session at Oasis Hospital where her knee will be replaced next month.  This gift greeted us as we started back home in the afternoon rush hour traffic, bumper to crawling bumper for about two hours.  Thank goodness for good company.
Please join in next week by leaving a number between 1 and 9999 in your comment below.  Thank you very much to all ye faithful commenters and for playing along with Foto Friday Fun which allows me to share these photographs and memories.  You keep me blogging.
Do you have a favorite this week?
Save
Save
If you shop at Amazon please consider clicking below for the Amazon website. As an Amazon Associate I'll make a few cents on your purchase(s) at no extra cost to you. Put a few pennies in the winter travel kitty. Thanks for helping out.

Geogypsy is a participant in the Amazon Services LLC Associates Program, an affiliate advertising program designed to provide a means for sites to earn advertising fees by advertising and linking to amazon.com