July 26 & 27, 2016
So many possibilities for camping on the Kaibab.  Just about every gravel Forest Road (FR) offers obvious opportunities within a couple miles of pavement, or much farther if you choose.  Our choice was at the western edge of the old 2006 Warm fire where I hoped to maybe see some condors.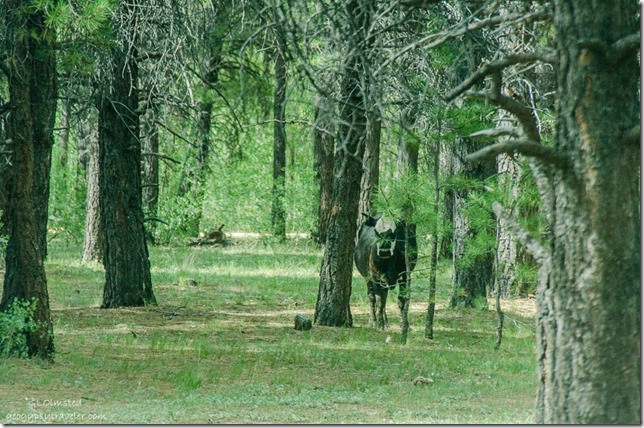 Instead we saw cows in our shared meadow and pine forest at Mile-and-a-half Lake along FR212 on the Kaibab National Forest.  But they kept their distance and no other people stopped by.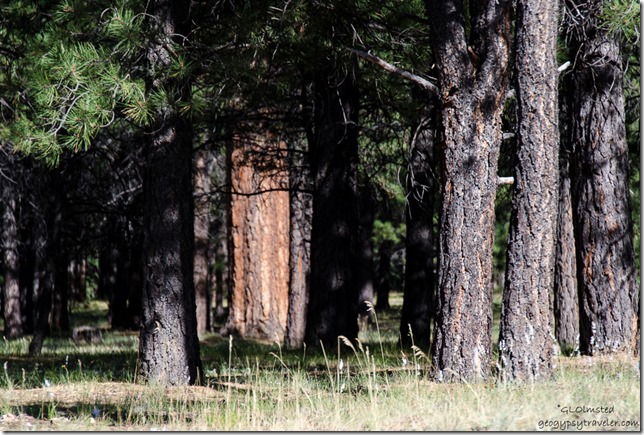 Sunlight streamed through the trees highlighting grasses and the deep ruddy bark of ponderosa.  The sweet smell reminds me of cookies fresh out of the oven.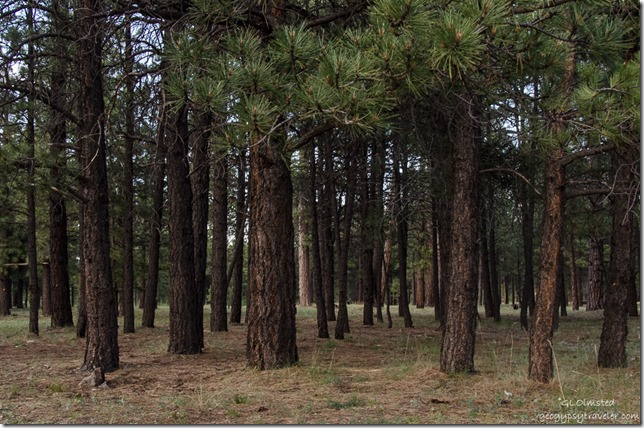 A rather open forest from some obvious selective cutting and burns yet the trees march on out of sight.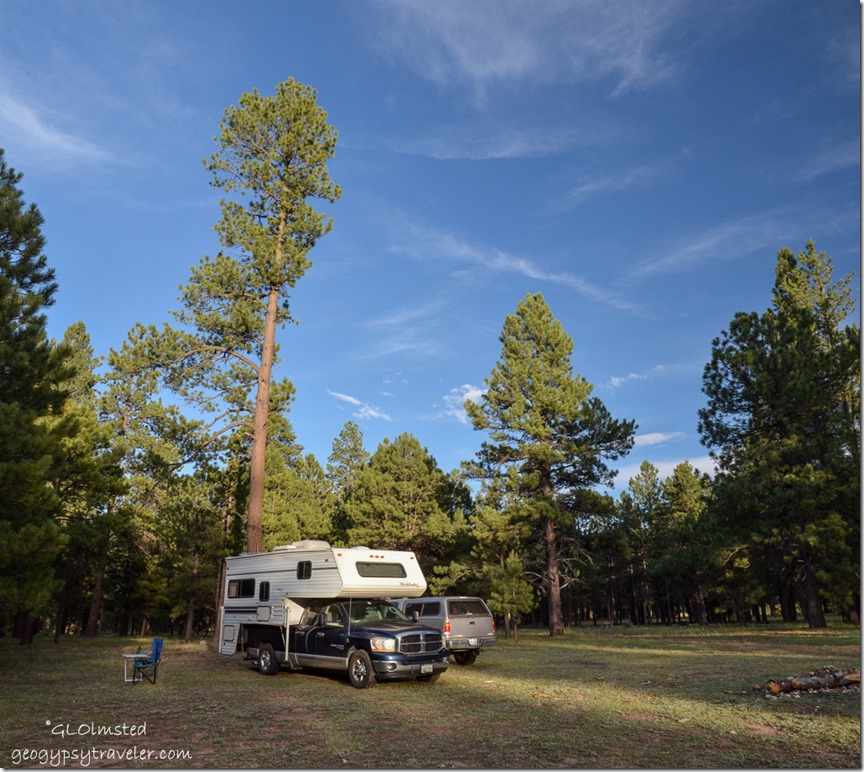 Several fire rings indicated others have camped here before but at that time there was still a fire ban on the Kaibab.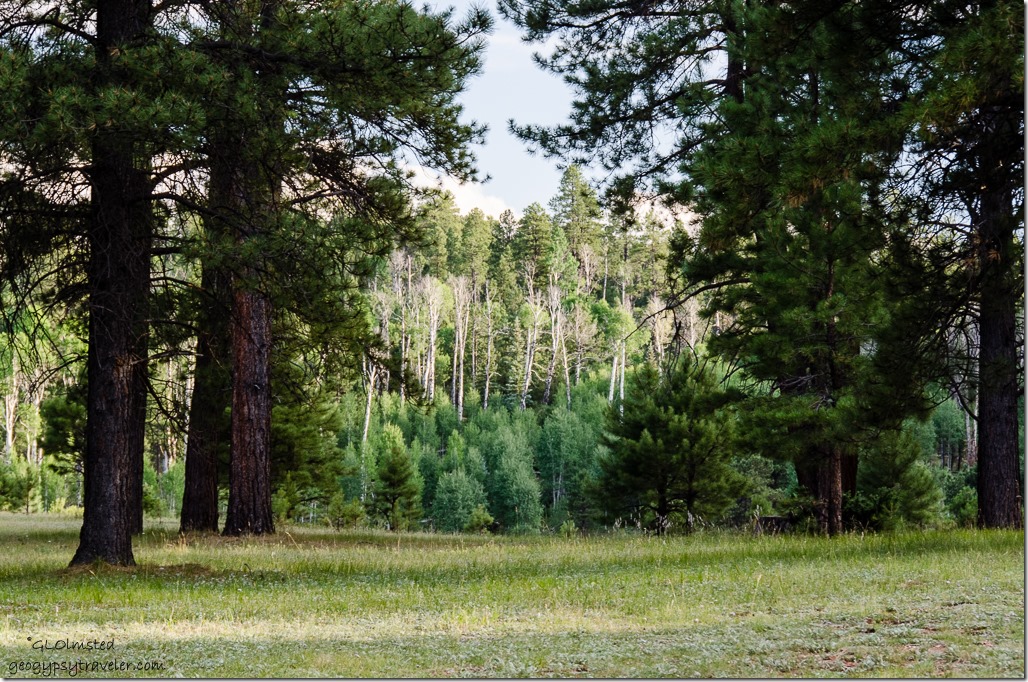 Bill enjoyed the open sky inside our ring of trees.  He suffers from dendrophobia you know.  And Sasha sniffed her way around the perimeter leaving her social media messages on every blade of grass.

Unlike the almost hot day before at Crazy Jug looking for shade we moved our chairs to follow the sun at this higher elevation.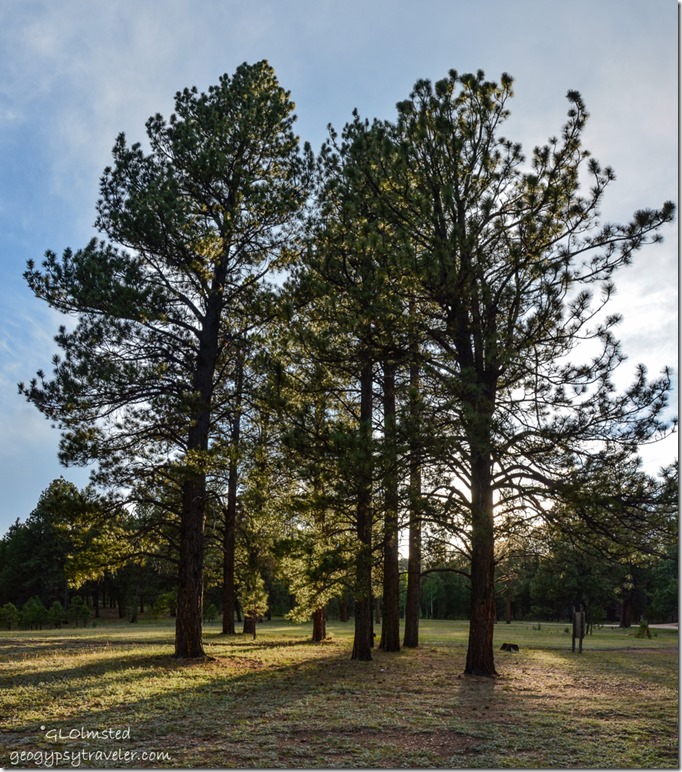 Birds singing lovely songs flitted in and out far too fast for me to photograph.  A few "pies" scattered around yet all in all a nice quiet place to spend a night camping under the stars.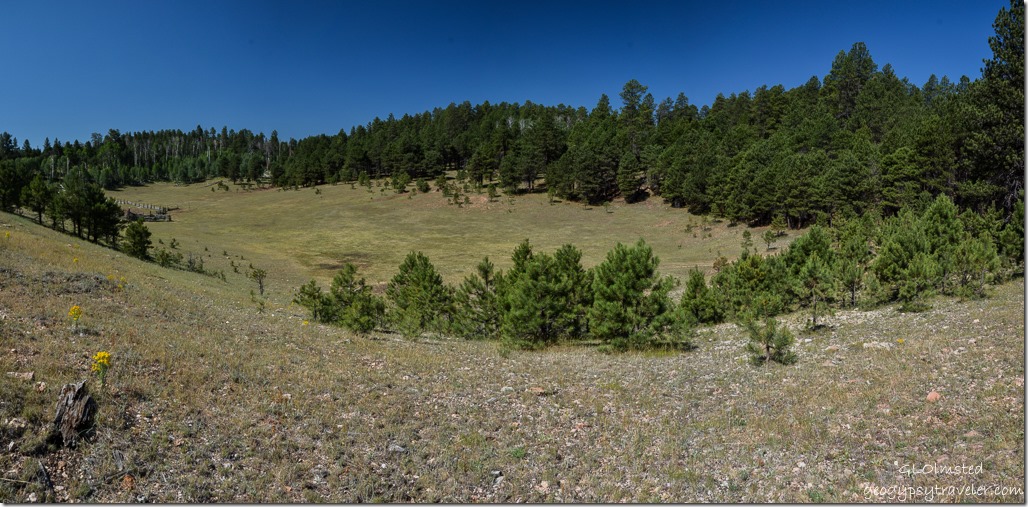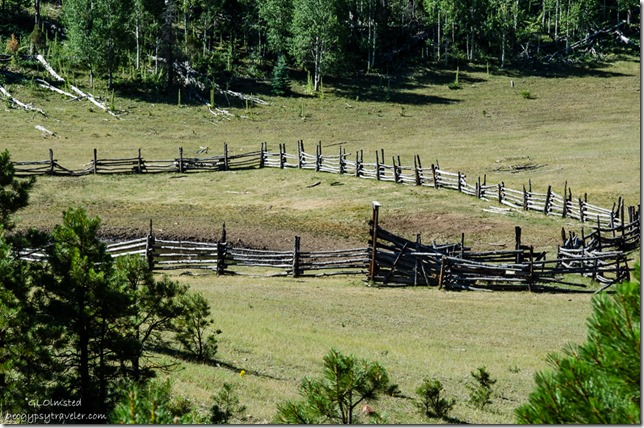 In the morning under better light conditions we took a short walk to look down on the lake.  It was more like a mud wallow for cattle.  The fence didn't slow them down a bit.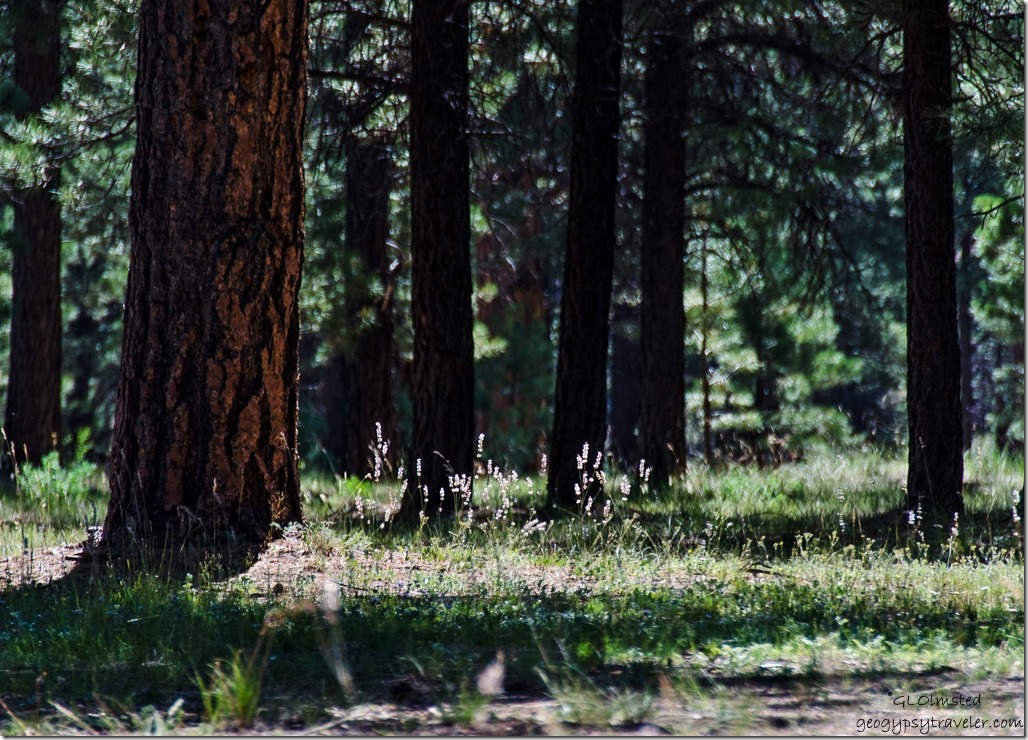 No rush to leave so relaxed in camp and watched the morning light play on the grasses and trees.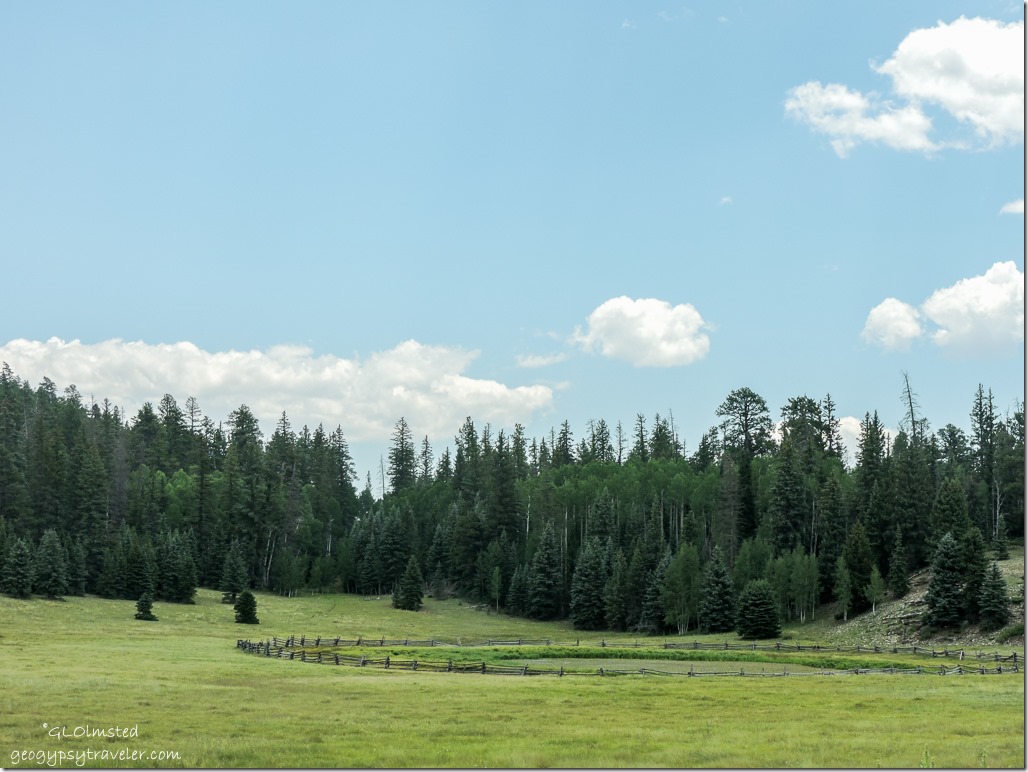 Hit the nearby pavement around noon after saying goodbyes to head home in opposite directions.  I drove south on SR67 past more meadows with shrinking waterholes like at Crane Lake.
Past the North Rim Country Store and the Kaibab Lodge.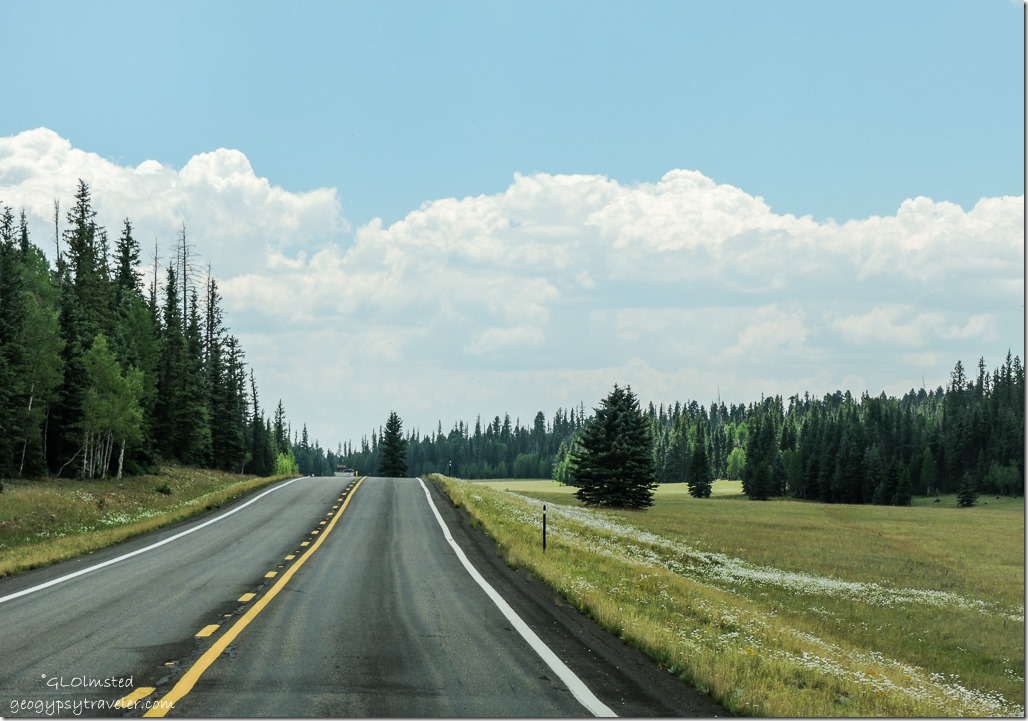 Through the entrance back into the park.  Can you see the station building at what appears the end of the road?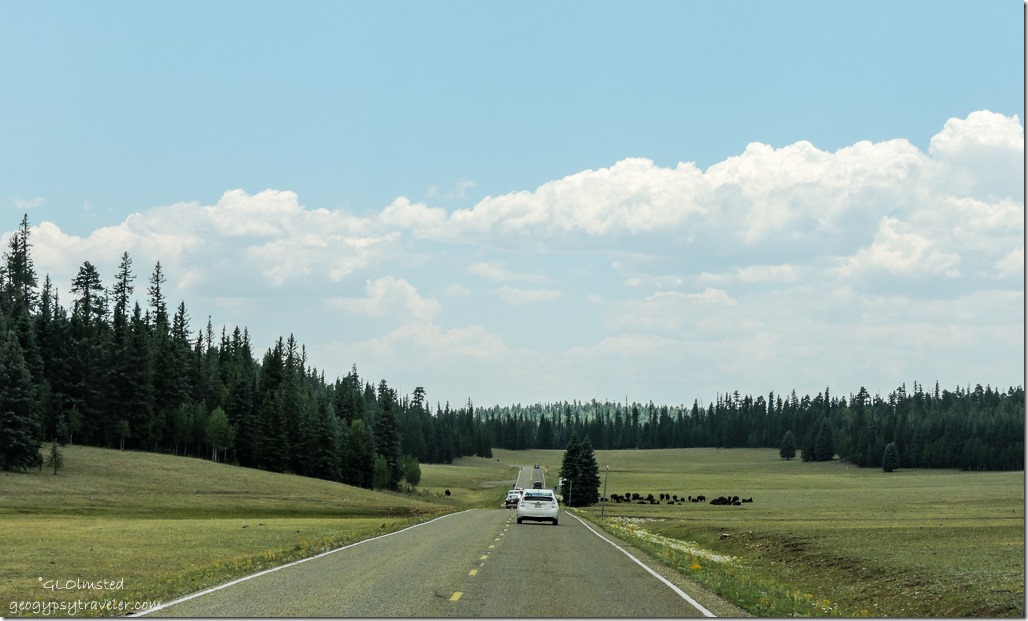 And just inside the park saw the bison causing a traffic jam.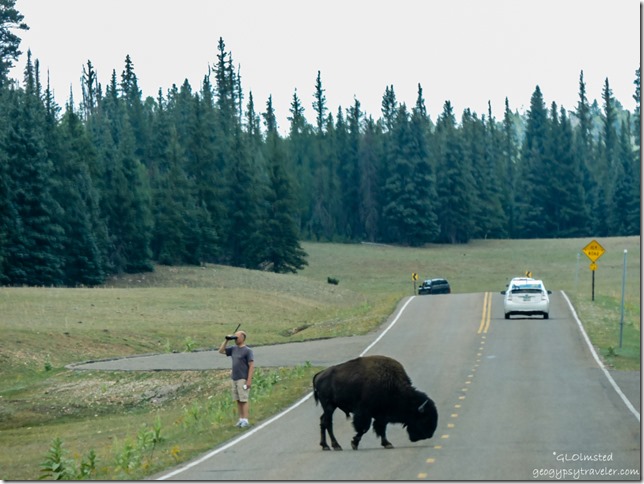 Plus a Touron stupidious maximus.
Save
If you shop at Amazon please consider clicking below for the Amazon website. As an Amazon Associate I'll make a few cents on your purchase(s) at no extra cost to you. Put a few pennies in the winter travel kitty. Thanks for helping out.

Geogypsy is a participant in the Amazon Services LLC Associates Program, an affiliate advertising program designed to provide a means for sites to earn advertising fees by advertising and linking to amazon.com