February 20 & 21, 2016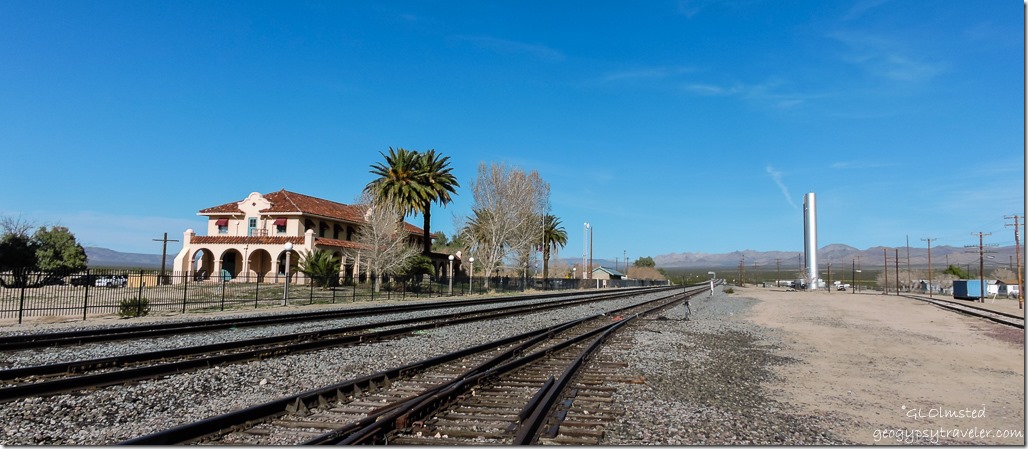 Bill and I woke up early at Death Valley to pack and hit the road for the move to Mojave, first stop Kelso Depot visitor center for information and a Junior Ranger book.
Campgrounds are funny places and great for people watching.  But then it was Saturday and weekends seem to draw out a lot of people especially because of the Super Bloom.

We only had a 110 mile (177 km) drive to enter Mojave National Preserve at Baker, California.  The landscape was familiar until we passed Tecopa and then became more sparse.  We drove by a BLM ORV Recreation Area called the Dumont Dunes located approximately 31 miles (50 km) north of Baker, California on State Route 127.  Not being a fan of loud noisy machines in nature I was glad we'd be able to explore the quiet at Kelso Dunes in the preserve.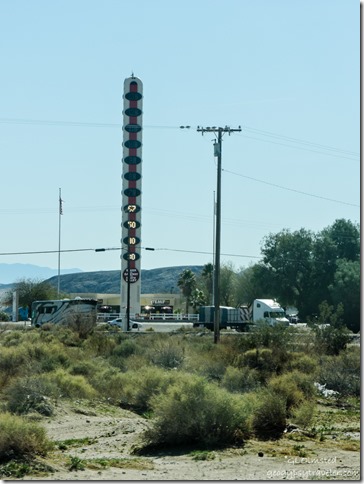 The town of Baker, "Gateway to Death Valley", lies on the border of Mojave National Preserve and sports the world's largest thermometer at 134-foot tall symbolizing the highest temperature in 1913.  But it doesn't have very much else.  Limited restaurants, grocery stores and lots of closed hotels.  I think this town is dying or dead already.

I've only driven quickly through parts of this National Park site which surrounds Providence Mountains State Recreation Area, and Mitchell Caverns which is currently closed.  And now that President Obama has set aside the three new National Monuments around this area even more protection will be provided.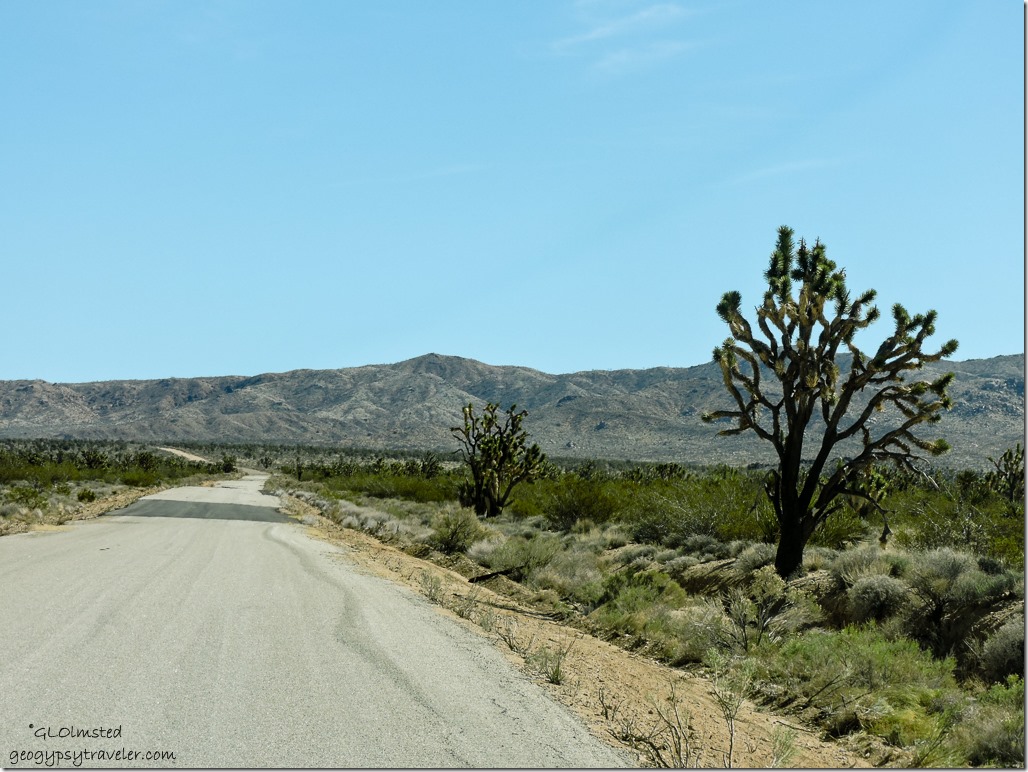 Once in the preserve, the Kelbaker Road took us through a Joshua Tree forest every bit as nice as the national park that bears its name and past Cinder Cone Lava Beds.  The road is more hard packed gravel than pavement for the 34 miles (55 km) from Baker to Kelso Depot.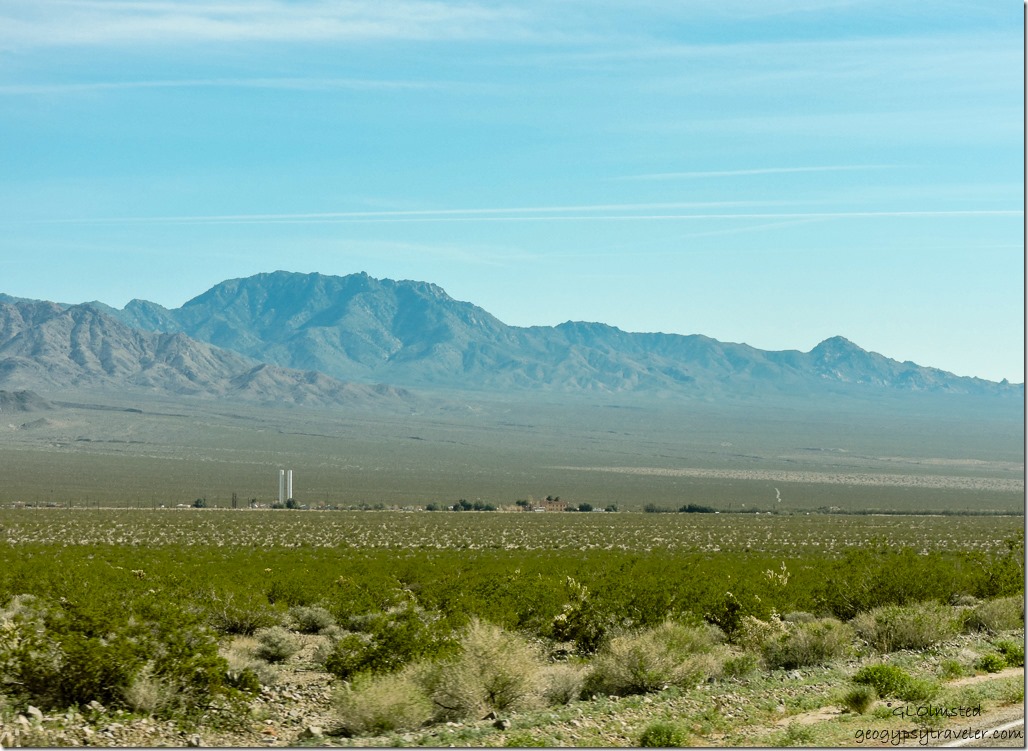 And you can see the depot from a lot of miles away, making us wonder why it was even there.  Yet we did see a long line of rail cars far away and I failed to get a photo even when it didn't stop at the depot.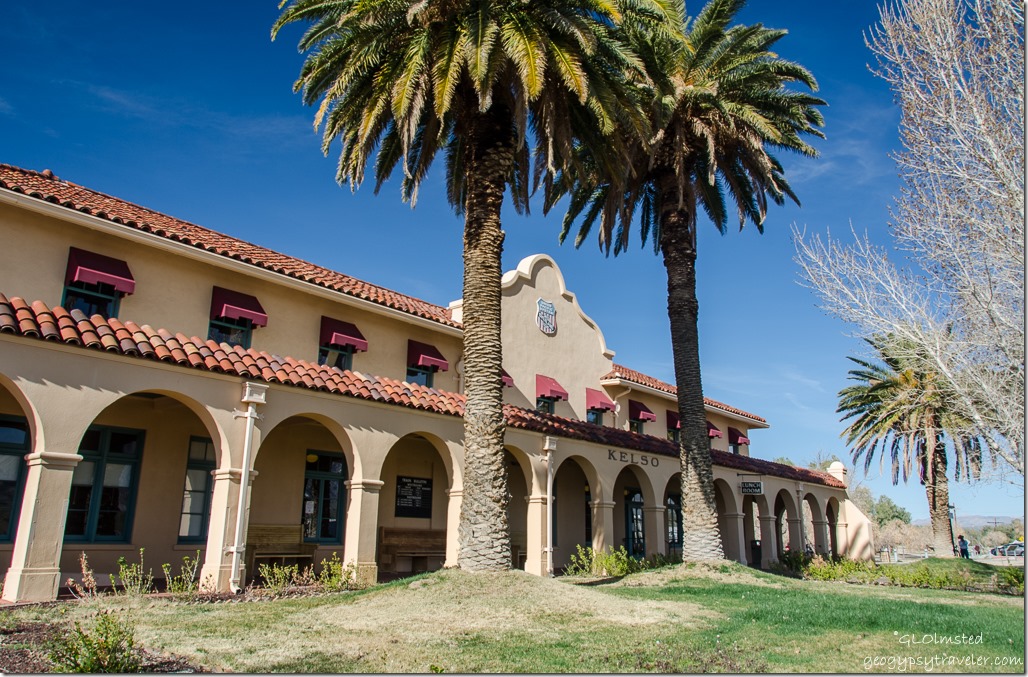 Once the Union Pacific Railroad (UP) reached Portland, Oregon in the 1860s the company turned its attention to California and the ports around Los Angeles.  But getting there meant crossing the Mojave Desert.  UP partnered with Utah Senator William Clark in 1902 who had begun constructing a line from Los Angles to Salt Lake City.  Three years and 235 miles later from Salt Lake siding #16 became known as Kelso after a worker named John Kelso's name was pulled out of a hat.  By the end of that year the line was finished stretching from the west coast port of San Pedro to Salt Lake City and UP bought out Clark.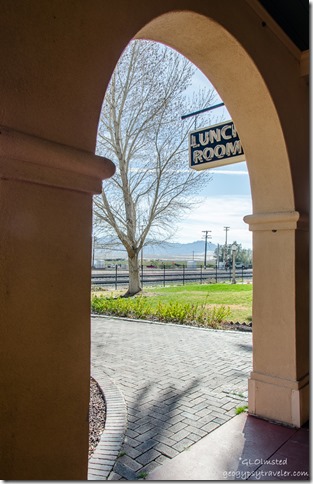 Most import was that Kelso had a reliable water source from a spring in the Providence Mountains and the steam locomotives of the era desperately needed water.  In addition, extra engines were required to assist locomotives up the 2078 foot (633 m) ascent on the steep two percent grade from Kelso to Kessler Summit (later renamed Cima).  So Kelso became the "helper engine" station.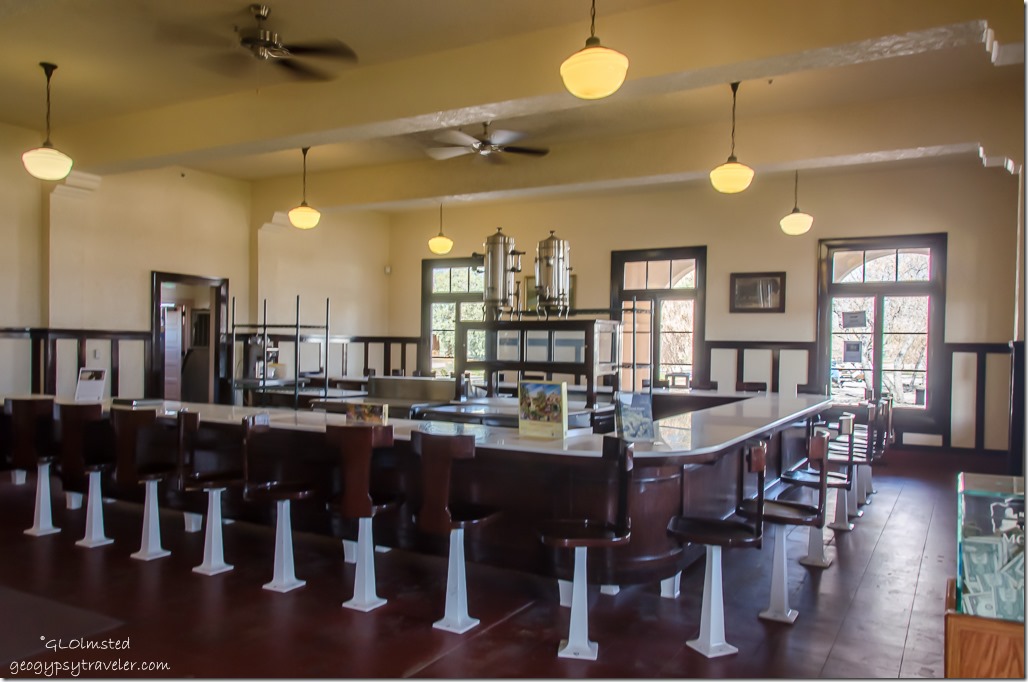 The first depot opened in 1905 followed by a post office, engine house, and eating house to serve railroad employees and passengers.  In the early 1920s UP started building new depots designed in the Spanish Mission Revival style in competition with the famous Harvey Houses along the Santa Fe lines.   The "Kelso Club House & Restaurant" opened in 1924 and included a conductor's room, telegraph office, baggage room, dormitory rooms for staff, boarding rooms for railroad crewmen, a billiard room, library, and locker room.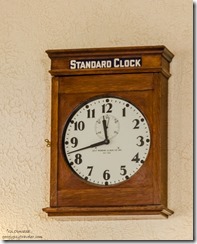 At one time the restaurant operated around the clock and through the mining boom years of the 1940s and '50s Kelso's population grew to nearly 2,000.  But eventually mine closures and diesel engines replacing steam left Kelso almost a ghost town.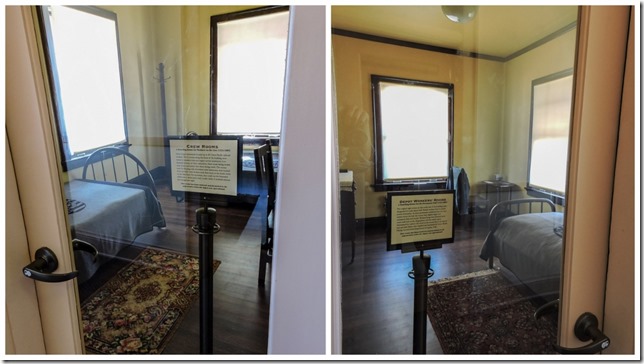 In 1985 UP closed Kelso Depot and began plans to demolish the building.  The Kelso Depot Fund saved the building but restoration costs were too steep.  By 1992 title has handed over to the BLM (Bureau of Land Management),  already managing the land around Kelso as the East Mojave National Scenic Area.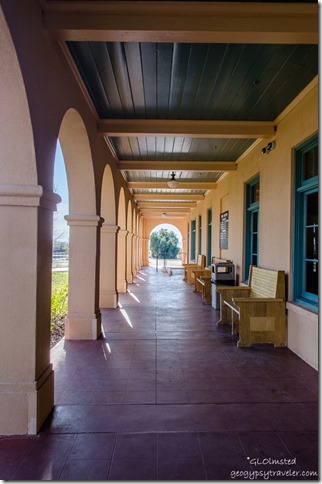 With the passage of the 1994 California Desert Protection Act the area became Mojave National Preserve managed by the National Park Service along with the depot.  Depot renovations took from 2002-05.  It was closed during my last visit in 2002.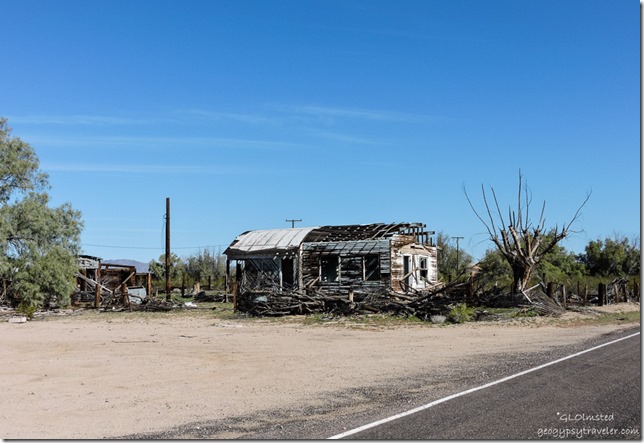 Across the tracks there is modular housing, maybe for staff, and we saw a new building but most of town looked pretty run down.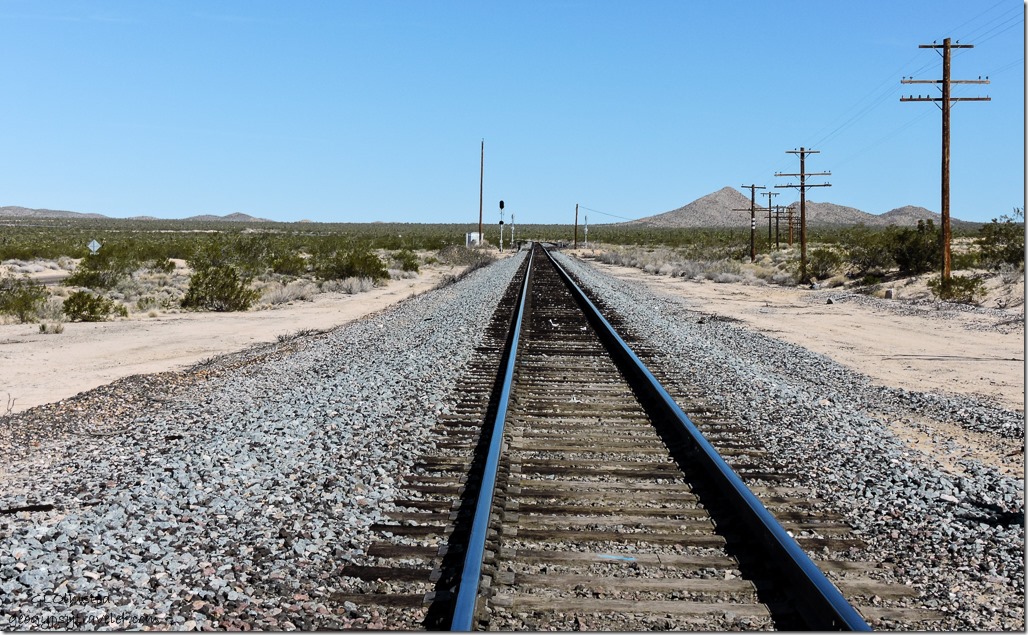 We wandered quickly through the lower floor filled with interpretive displays telling about the history.  But we really wanted to get to camp located next to the Kelso Dunes so returned the next morning with more time and some plant and bird questions for the Rangers.  Plus I got my Junior Ranger badge, #21.
Note: March 28 – April 28, 2016 Kelbaker Road closure from Baker to Kelso for planned road work. Can enter 39 miles east on I 15 on the Cima Road instead. 2/22/16 – 3/3/16 the water system at Kelso will be shut down to replace waste system infrastructure. Portable toilets are available; bottled water is available for purchase when the visitor center is open. Check Mojave National Preserve website for current information.
If you shop at Amazon please consider clicking below for the Amazon website. As an Amazon Associate I'll make a few cents on your purchase(s) at no extra cost to you. Put a few pennies in the winter travel kitty. Thanks for helping out.

Geogypsy is a participant in the Amazon Services LLC Associates Program, an affiliate advertising program designed to provide a means for sites to earn advertising fees by advertising and linking to amazon.com