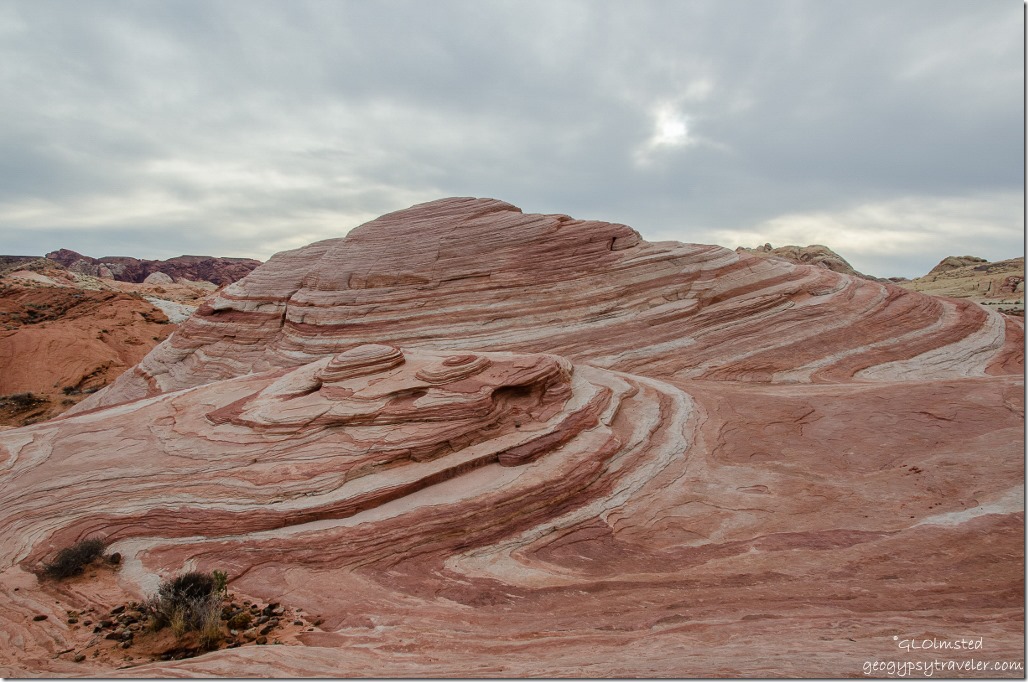 Two and a half days in Valley of Fire (not long enough), five days in Quartzsite (maybe too long), a way too short two day visit in Yarnell, and we're home from vacation.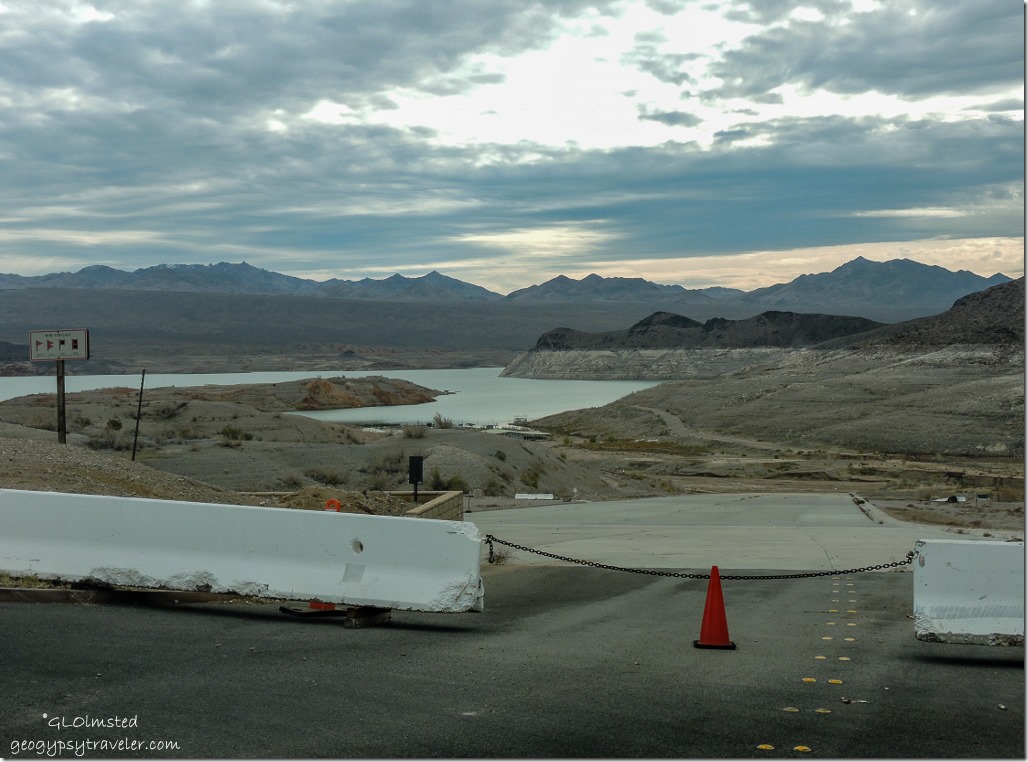 High and dry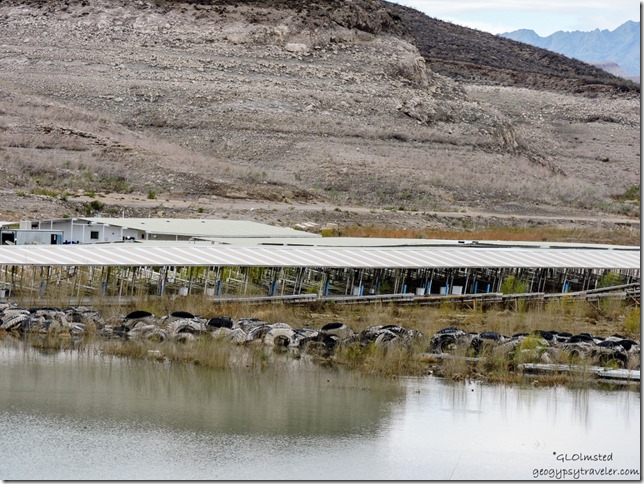 After surviving a 3-day holiday weekend at Valley of Fire State Park—deserving its own post—our journey went south with a stop at Echo Bay along the depleted shores of Lake Meade.  We skirted Las Vegas with an intended destination of BLM north of Lake Havasu City for the night.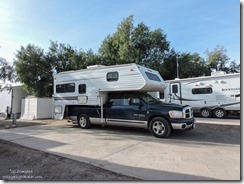 Instead, due to a low battery the very full fridge was being wonky so we treated ourselves to electricity at the Calizona RV Park just 5 miles south of Needles off Highway 95.  When I called to see about availability a recording said "We have space, come on in."  Yet we got the second to last space only available that night for $35 and then they'd be full for the month.  Nice enough with only a little "historic route 66" road noise.  Free WIFI at the Club House where several people gathered to be out of the cool breeze.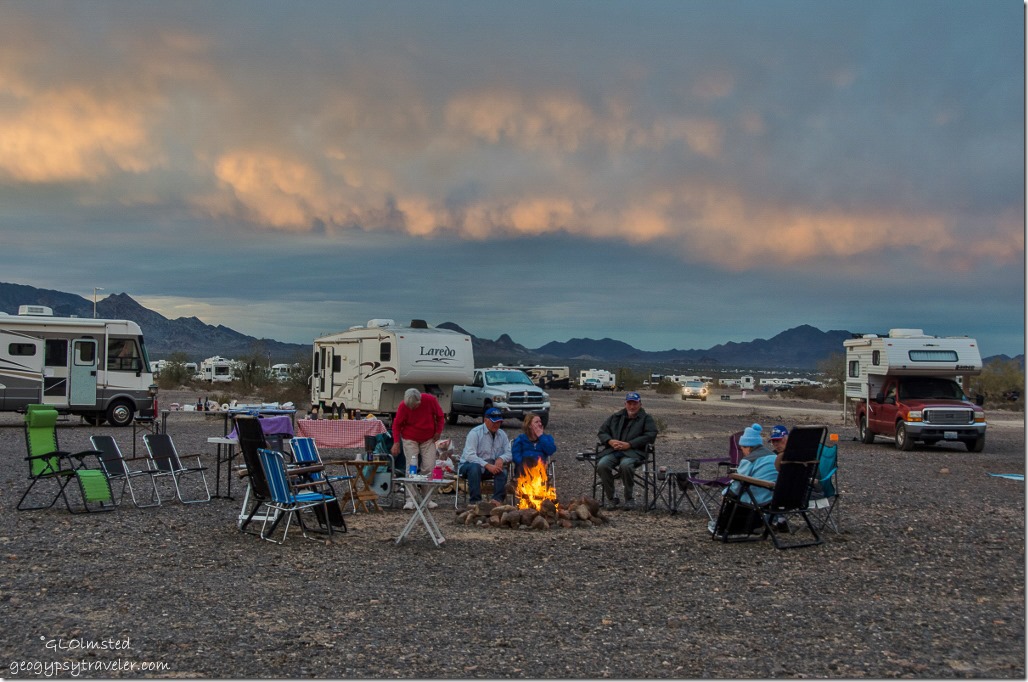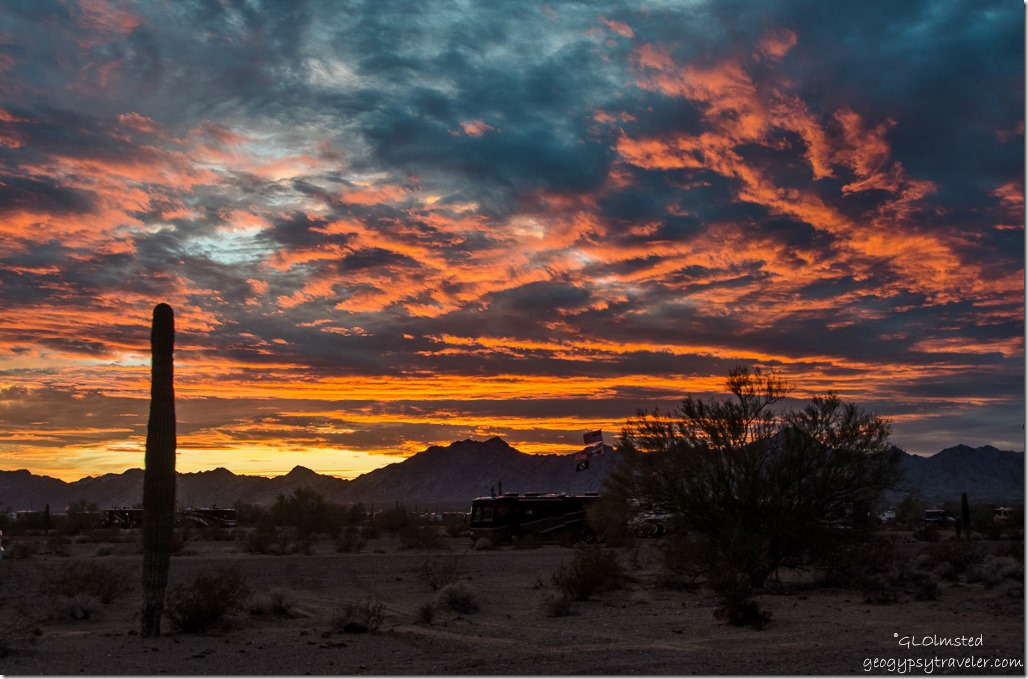 After a shopping stop in Lake Havasu City we continued to Quartzsite and gathered with friends at the La Paz Roadrunner BLM 14 day, along with 1000s of other RVers.  This is the second time I've joined this group, many who worked for Grand Canyon Association at some time or are friends of theirs.  Each of four nights someone cooked dinner for all 14 of us starting with our Tuesday arrival of pulled pork, beans, coleslaw and birthday cake for a sick birthday man.  One night lasagna with all the trimmings and another ham and beans with cheese and mac.  I made a chili rellenos casserole, fried some seasoned hamburger and offered the options of cheese, tomato, guacamole, lime and sour cream in a DIY wrap.  If that sounds familiar it's what I made over the holidays at Bill's son and DILs.
Saturday marked the second annual Bloggerfest in Quartzsite.  This year George and Suzie among others organized this gathering in the desert of about 50 bloggers, many RVers, and some readers/lurkers and wanna be RVers.  Unfortunately we arrived a bit late but still managed to see people we knew and didn't know.  I wasn't carrying the camera.
Photo by Al of the Bayfield Bunch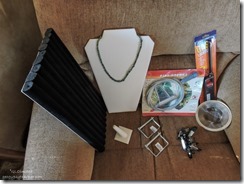 Wednesday morning we walked four hours through most of Tyson Wells' vendors finding treasures we didn't even know we needed. On the walk back to the truck, like someone clicked a switch, I could barely walk at all.  Legs swelled, joints and muscles stiffened and hurt, and small red splotches appeared on my lower legs.  It all got worse but with pain pills and anti-inflamatories plus Bill's help and patience I got around slowly with the assistance of a walking stick.
Sunday we headed to Yarnell where my BFF, Berta, lives and I spent the last ten winters.  Or at least my RV parked there while I sometimes went off gallivanting.  Between full hookups with heat and the pleasant company who fed us dinner two nights I felt right at home.  My leg swelling and pain started to disappear.  My favorite hairdresser gave me a long awaited haircut.  Now it's out of my face, a little shorter than usual, but my hair grows almost one inch/month.  And I got the best advice and a gift from Berta.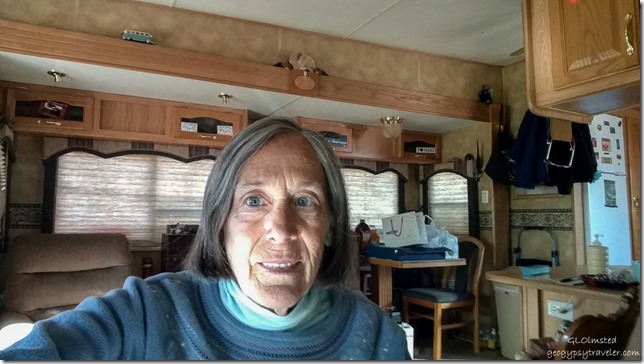 My first new phone selfie
Big treat on the way home staying in a Motel 6 in Flagstaff where we got some shopping done.  I got a new phone because I was eligible for an upgrade (probably by years), a Droid Turbo 2 on promo and along with a credit on my old phone some accessories plus still get to keep my old plan with unlimited data.  Walked out without giving them a dime but will be paying for this overpriced smart phone for two years no interest or contract which only added $22 to my monthly bill.  Did you know Verizon doesn't require a contract anymore?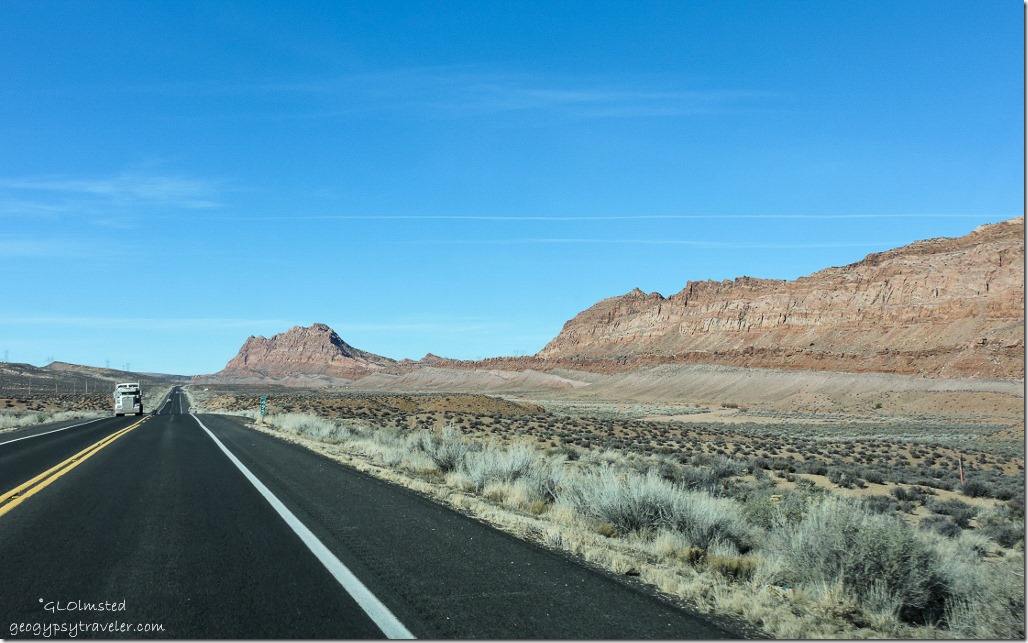 Drove north from Flagstaff along SR89 and took Indian 20 out of the Gap to Page.  I'd never been on this route through Navajo land which was paved as a detour when SR89 to Page slid off Echo Cliffs.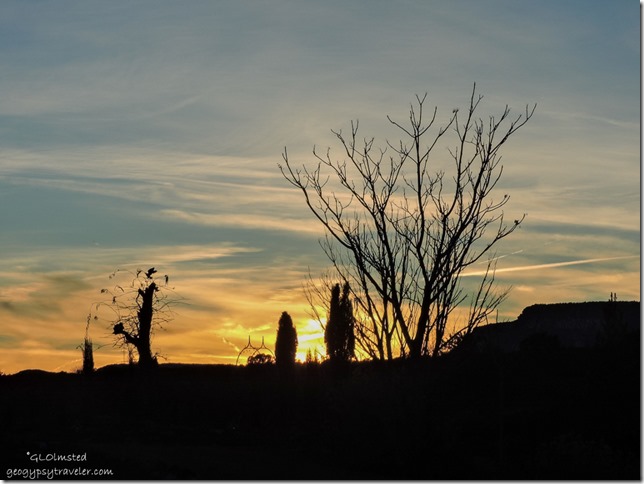 Home just at sunset Wednesday unloading first at Bill's and I have still some things to get out of the camper.  Loved this vacation, except for the leg thing, and look forward to start planning another.  Woke this morning with no splotches or swollen and sore legs.  This is about the third time this has happened to me so after some research I'll visit a doctor and try to figure it out.  Sure is a pain and a bummer when I can't go hiking with Bill and Sasha.
If you shop at Amazon please consider clicking below for the Amazon website. As an Amazon Associate I'll make a few cents on your purchase(s) at no extra cost to you. Put a few pennies in the winter travel kitty. Thanks for helping out.

Geogypsy is a participant in the Amazon Services LLC Associates Program, an affiliate advertising program designed to provide a means for sites to earn advertising fees by advertising and linking to amazon.com