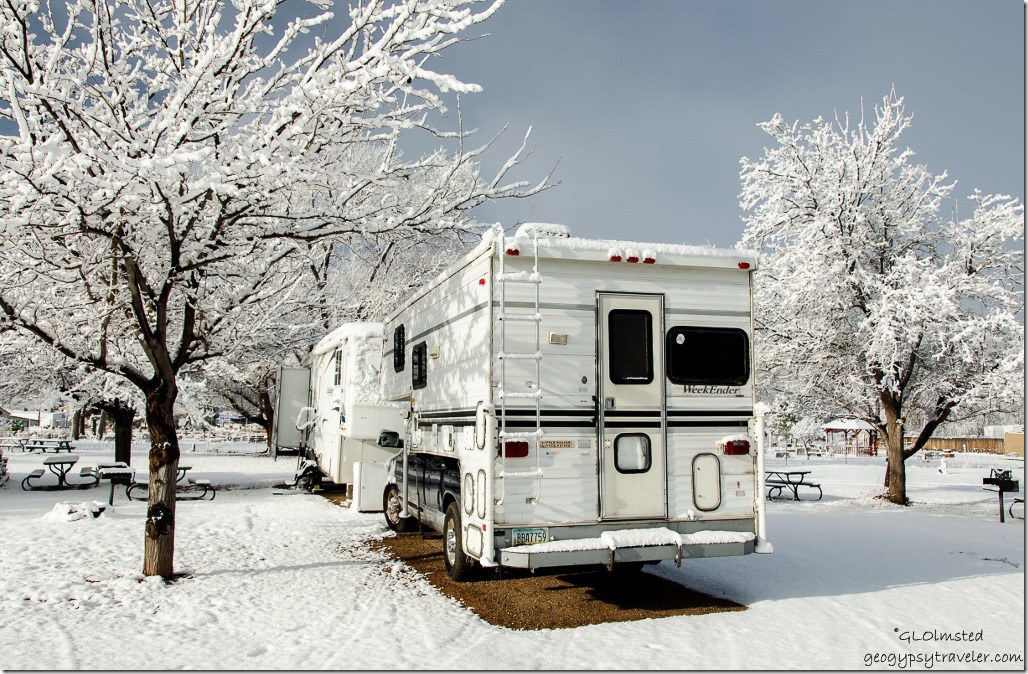 Bill and I will be using the truck camper at his son's house near Salt Lake City over the holiday and we're almost ready to go camping for Christmas.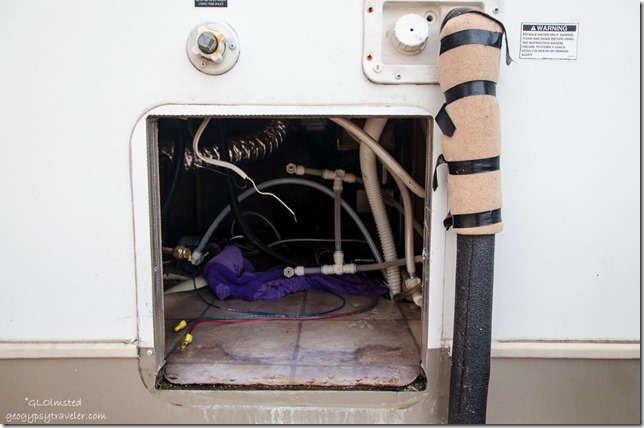 I've had a water leak on the 5th-wheel since setting up in Kanab a month ago.  First it was a cracked valve right by the water heater which I paid to have fixed.  But a week later I had icicles.  I suspected the hot water tank itself might be leaking but there are other hoses and junctions I couldn't really see.  So I spent a week experimenting.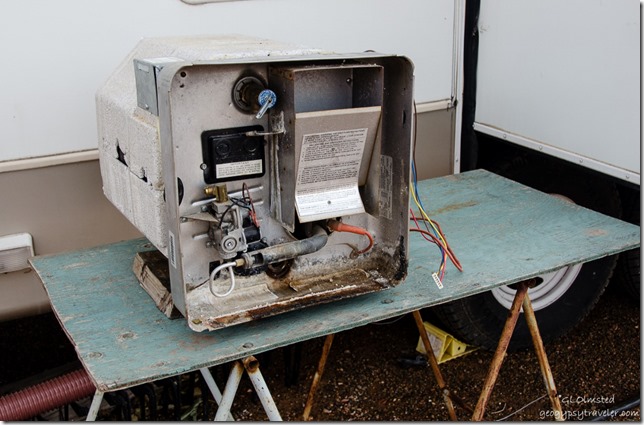 First I turned off valves to bypass the tank.  The dripping slowed down but was still there. Could be residual.  Then drained the tank and after two days barely a drip.  Damn, I didn't want to spend $400 on a new tank.  But what else could I do and have hot water.  It does look a little cruddy and you don't even want to know what came out with the water so I've learned a lesson about replacing the anode tube—slows down corrosion inside the tank—annually.  The new tank is scheduled to be here Tuesday.  So hopefully will be put back in Wednesday and I'll be back to having hot water.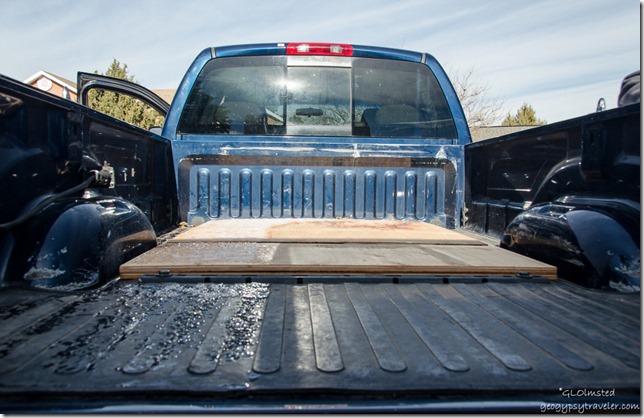 Also been waiting for a window of relatively warm temperatures to put the slide-in camper back on the truck.  Sunday was the chance with a high of 48F.  Had to rearrange the bed of the truck to make it flat and even with the 5th-wheel hitch out there is a 1 1/4 inch high bracket.  Originally there were 2x4s and 4x4s arranged in the bed but it wasn't completely flat and I noticed a buckle on an inside wall.  Looked into removing the bracket but the bolts under the truck are very difficult to get to.  So I bought two pieces of 3/4 inch plywood and had them cut into three pieces to fit around the brackets.  Then screwed them together.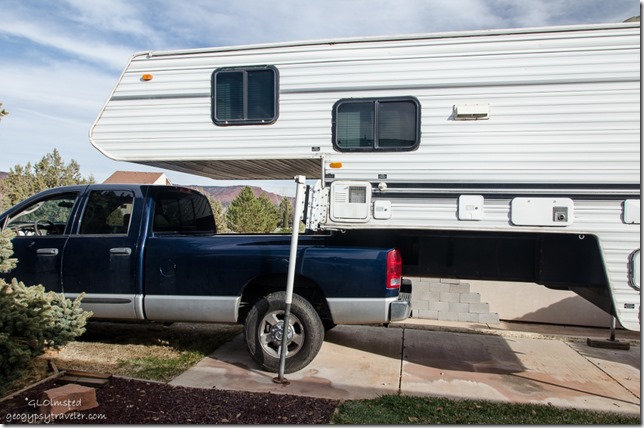 Well it took almost 4 hours to crank up the four corner jacks high enough to get the truck under—that's slow with 5-10 cranks on each corner at a time round and round—line things up and get the camper back on.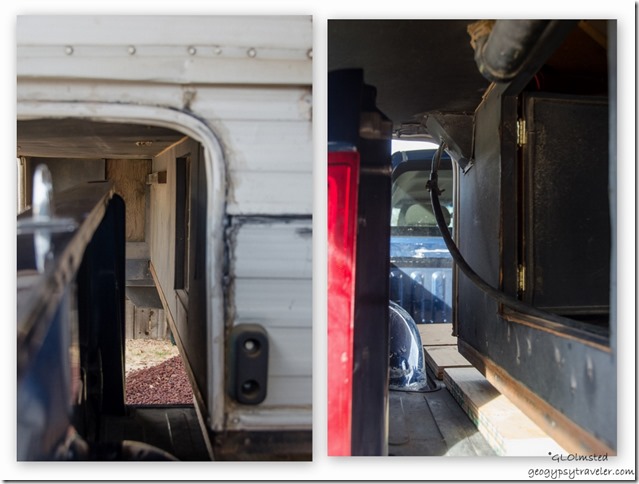 There is little margin for error when sliding the camper in between the wheel wells.  Two metal tie downs were removed from the truck bedrail.  Finally the tie downs which caused me confusion until I remembered the camper now sits at least 2 inches closer to the truck.  I can't thank Bill enough for helping me with this chore and his patience at my frustrations.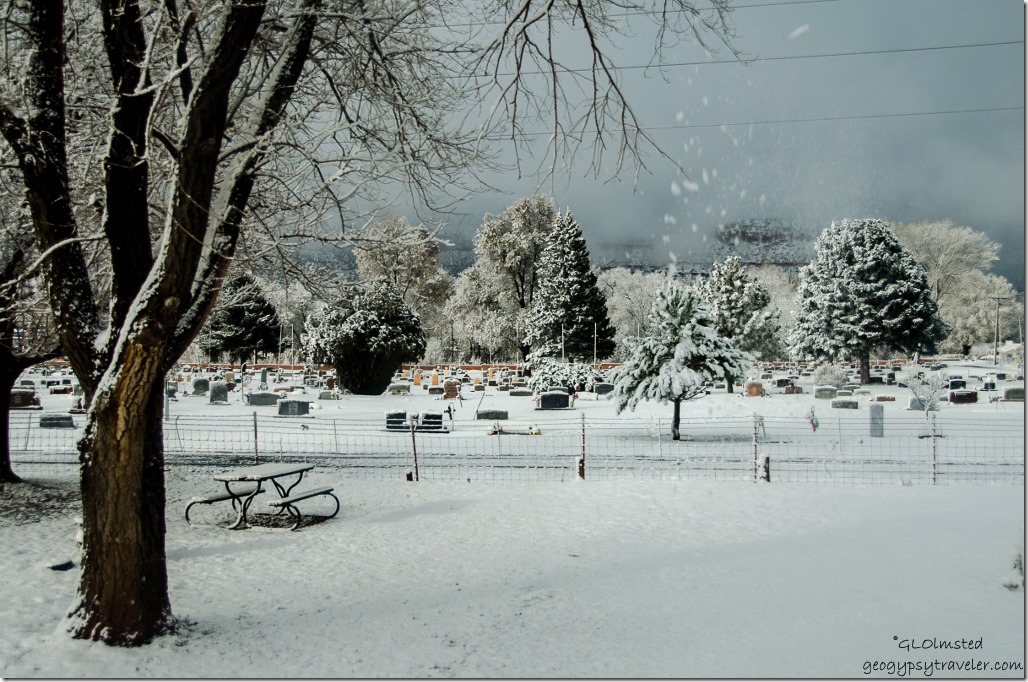 Just in time, as this is what I woke up to this morning and more predicted throughout the day.  Partly sunny tomorrow with a high of 34F, nighttime temps are approaching single digits when 3 electric heaters only keep the living room at about 60F, that really at the desk where I spend the most time indoors with 2 heaters pointed right at me dressed in layers, wrapped in a blanket, wearing a hat and finger-less gloves.  For typing you know.  And making photos through my Imax windows.  What a view!
We'll be taking off early next week towards Provo, Utah to spend Christmas with Bill's son and DIL plus other family members to the count of 20+ so it will be really nice to have the camper in their drive for our own room to sleep and run away to if needed.  Be able to plug in to 110 power so can warm the bed with electric blanket and hopefully keep warm with one electric heater.  Or propane if we're feeling desperate.  Not easy to keep us desert rats warm.  Note to self: remember to winterize the 5th-wheel before leaving to go camping for Christmas.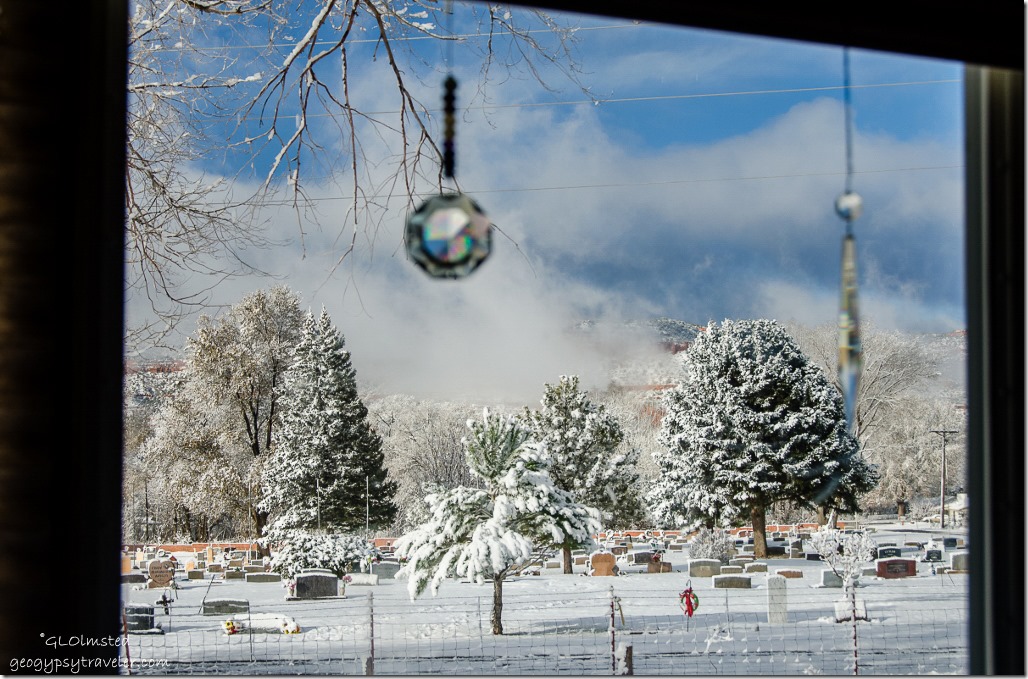 Although I don't like to be cold I can appreciate the look of this red rock Utah winter wonderland.
If you shop at Amazon please consider clicking below for the Amazon website. As an Amazon Associate I'll make a few cents on your purchase(s) at no extra cost to you. Put a few pennies in the winter travel kitty. Thanks for helping out.

Geogypsy is a participant in the Amazon Services LLC Associates Program, an affiliate advertising program designed to provide a means for sites to earn advertising fees by advertising and linking to amazon.com