As much as I love my job, I always look forward to the winter of no working.  Yet this year has taken almost a month to park the RV.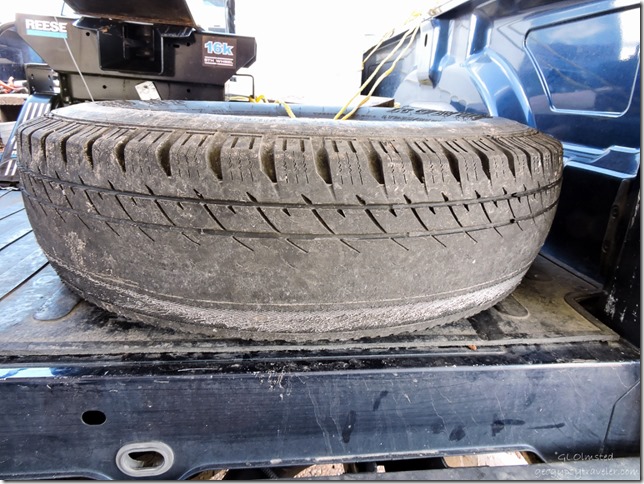 My last day of work at the North Rim was October 17th, the 19th I hooked up to my 5th-wheel and headed off the rim, northward this year instead of south to Yarnell.  Did have to have a tire changed along the way.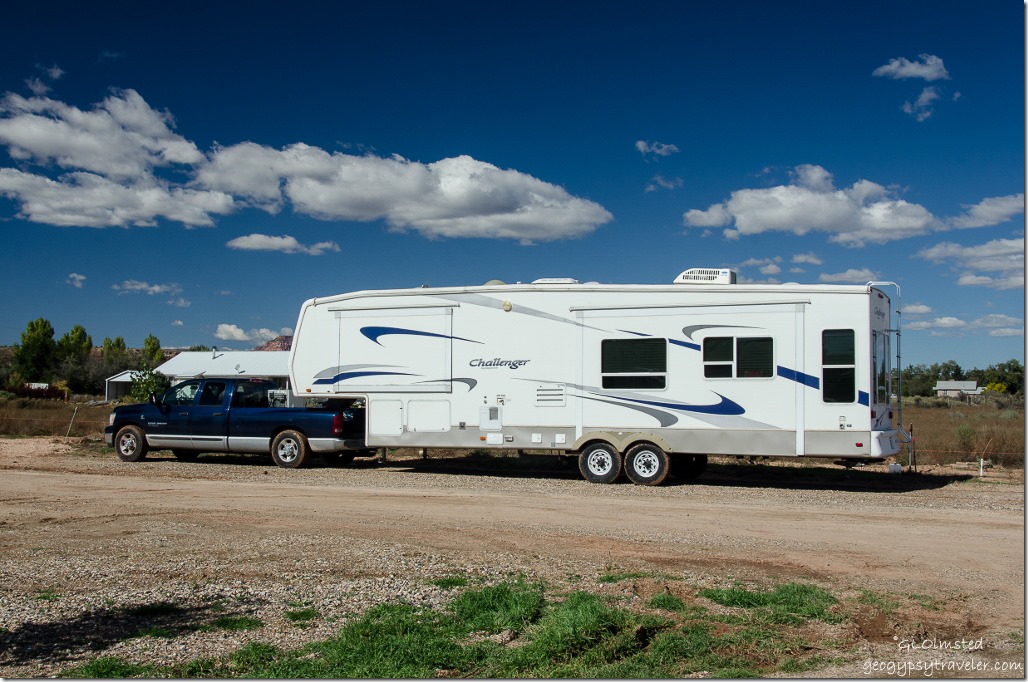 Initially I parked the 5er at the Country Rose RV Park in Fredonia yet that was mostly for storage purposes while waiting for a Nov 4th appointment with Camping World in St George.  I bumped a fence pulling in and pulled an awning bracket out.  I was so mad at myself.  After over 20 years of RVing it's the first thing I've ever hit.
Bill graciously offered me a place to stay.  So I moved the food out of the refrigerator/freezer as I wouldn't have it plugged in.  I moved some clothes.  I moved my PC.  Seems we made several trips for things I Needed.  I'm sure he must have wondered if I'd moved in permanently.
Took the RV to Camping World a day early due to possible wind and rainy weather.  They said it could be a couple of weeks, or more.  But now I had my truck.  And my truck-camper is parked at Bills.  Of course it won't be put back on the truck until after the 5th-wheel is returned.
It's getting, to me, cold in southern Utah.  You know I don't like cold.  Sunday I started to feel sick, bad coughing of nasty stuff which has held on since.  No hiking or playing.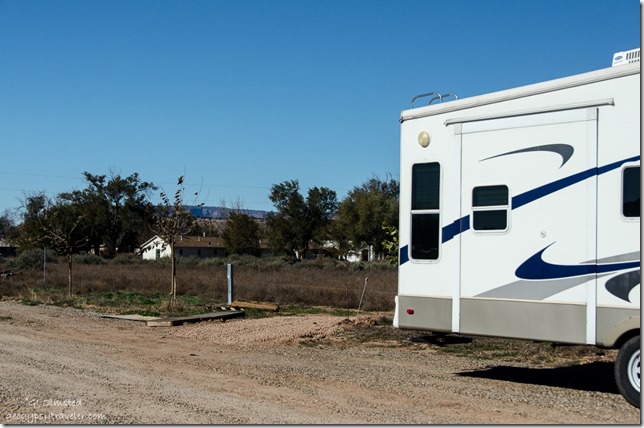 Yet I'm happy to say, it only cost $180 to find out I didn't have to spend at least $1200 on replacing the rubber seals on the slide-outs.  And the awning has been reattached.  So November 13th I hauled the 5er back to Fredonia.  When I pulled in there were three huge semi-trucks parked around where I should park. (Yes that tiny gravel pad is suppose to be 40' long.  My RV is 36′.)  Great!  Lovely noisy things.  As most of you know I usually live in very quiet places.  So I parked out of the way and with truck still attached left it for the night.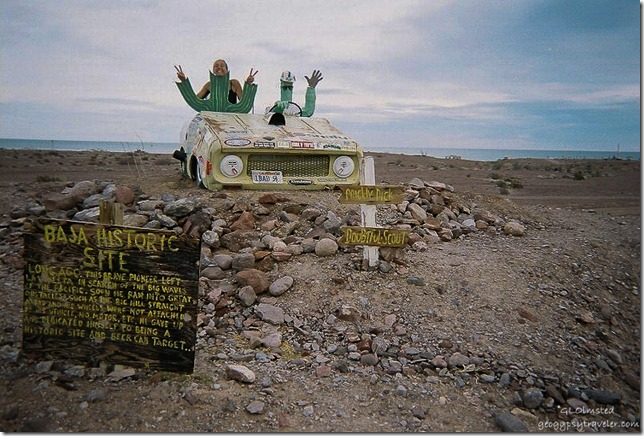 Decisions, decisions.  Did I want to live in a tiny RV Park, that can be a mud hole, overlooking a huge field, with semis coming and going for a reasonable $300/mo rent, OR move to Crazy Horse RV Park in Kanab, Utah just at the edge of town and look over the cemetery for $435/mo?  OR, simply put the 5er in storage, move into the truck-camper and head south to Mexico where I could live cheaper, probably warmer and maybe even on the beach.  Maybe I'm just kidding about this one but does sound tempting.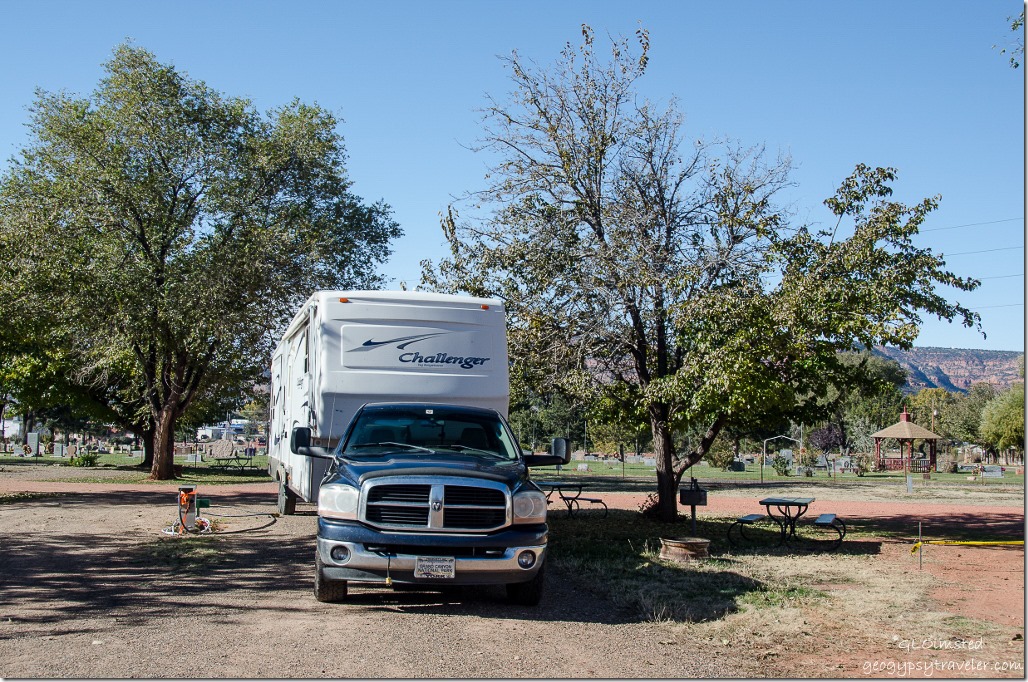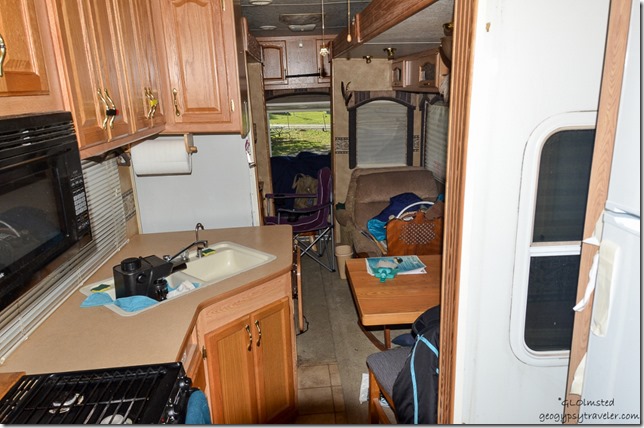 Slides in = tight livin'
Ultimately, I chose Crazy Horse, at least I paid one month's rent.  But when I pulled around to my 50amp site it was full.  "Oops", says the manager.  "This guy is leaving in one or two days."  So I parked at the 30 amp site next to the motorhome, backwards—which means all utilities have to run under the 5er and are just outside the door.  Leveled side-to-side but not front to back unless I unhooked from the truck, which I wasn't about to do.
Bill helped me move some of my stuff from his house to mine.  Sasha suspected something was up.  With me coughing and hacking for almost a week I know neither of them have been getting a good night's sleep.  Plus, I miss my house.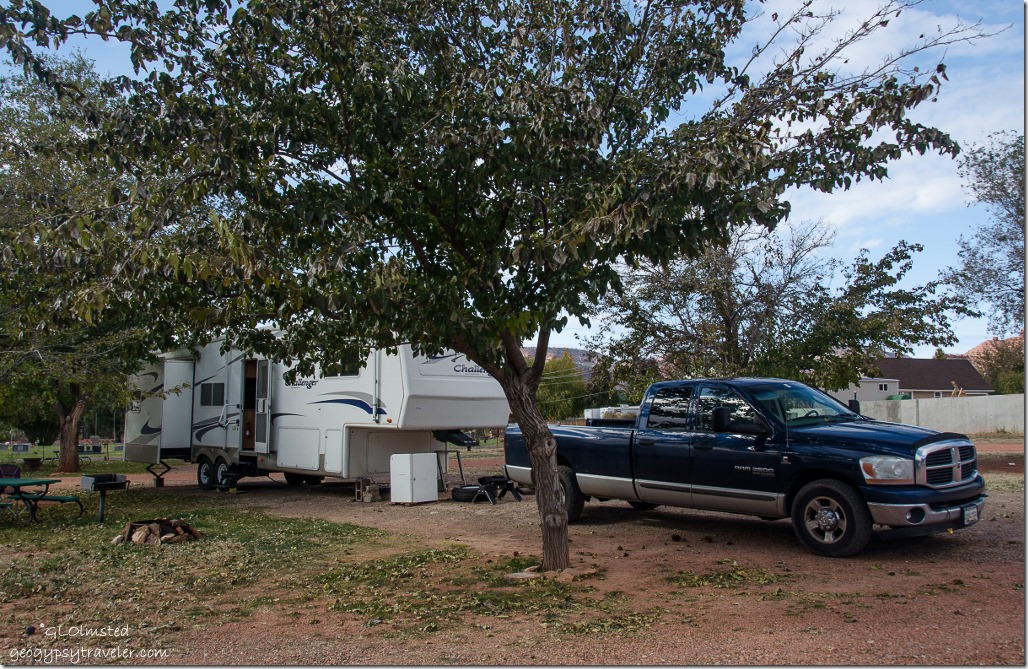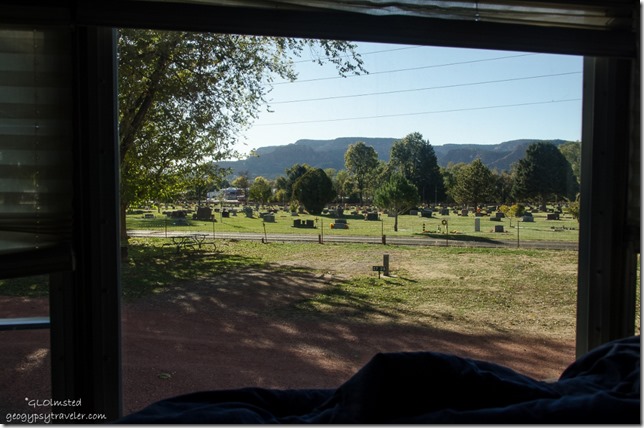 Quiet neighbors
Sunday morning the motorhome left so I actually got set up in my 'permanent' site, #71.  It's pretty level, only one board on one side.  And for the first time since I've owned this 5er the utilities are on the right side.  I do have a habit of going into spaces "backwards" so my Imax windows get the best view.  Here it's the cemetery and Vermilion Cliffs beyond.  There's grass, trees, a picnic table, fire ring and BBQ.  High styling.  And being only one block off the main drag of SR89 it was quiet.  Plus my neighbor is Cindy, mother to Dan the silversmith who lives here too.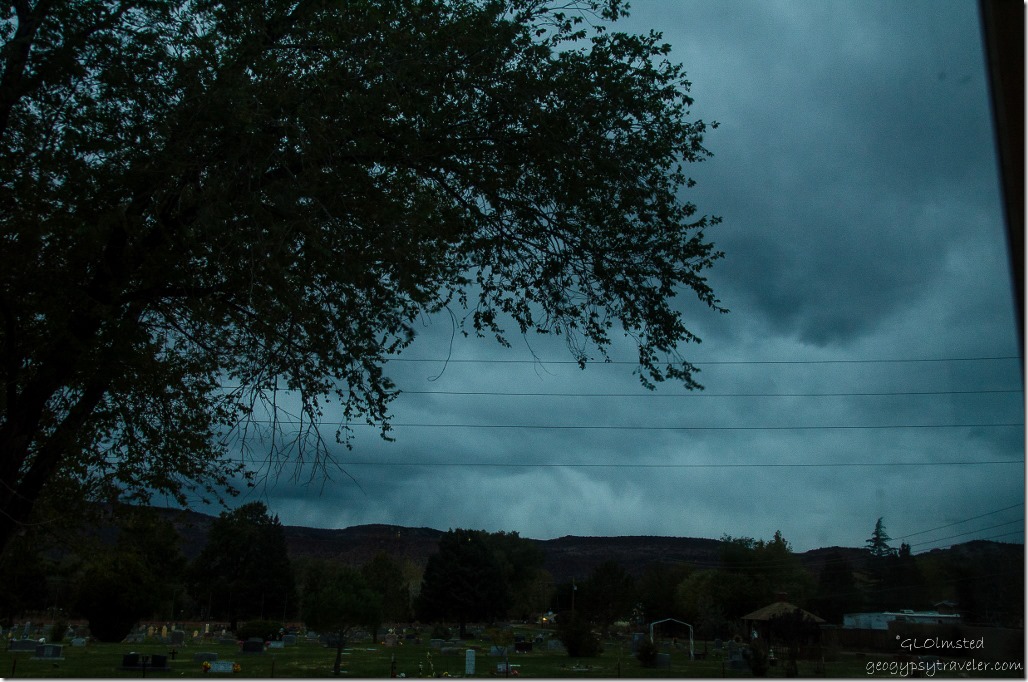 Just in time as a storm is approaching and there may be, dare I even type it, snow.
Ah, Home Sweet Home!  Now time to heal and then go play.  Anybody got severe cold weather gear? 

If you shop at Amazon please consider clicking below for the Amazon website. As an Amazon Associate I'll make a few cents on your purchase(s) at no extra cost to you. Put a few pennies in the winter travel kitty. Thanks for helping out.

Geogypsy is a participant in the Amazon Services LLC Associates Program, an affiliate advertising program designed to provide a means for sites to earn advertising fees by advertising and linking to amazon.com