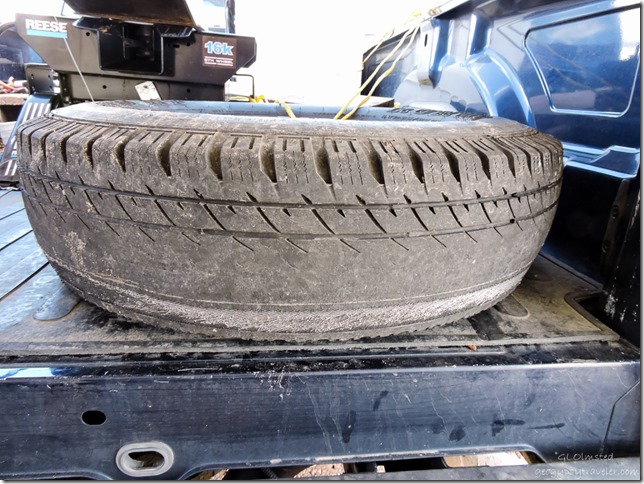 Sure glad Bill came up to the North Rim to help me pack it in.  That went smoothly although I suspected the 5th-wheel tires were a little low on air.  So we stopped about 23 miles down the road at the North Rim Country Store and not only did the tires need air but one of them had steel showing through and was sitting at a bit of an angle.  Not good.  Unfortunately Tyler doesn't have a jack capable of lifting the 5er so I used their phone to call Good Sam.  Cell phone doesn't work on most of the Kaibab Plateau.  After what seemed like an hour on hold plus trying to explain to the Good Sam person where we were and who should come up from Kanab to either change the tire or tow the RV we waited.  About an hour later a guy from Ramsay Towing arrived and said the bearings and axle seemed OK so changed the tire and we were finally on our way to park the RV in Fredonia.  The Country Rose RV Park was a rather muddy mess.  I didn't make the turn wide enough coming in and bumped a wooden fence which pulled a bracket for the awning off.  Not too bad but yet another thing to be fixed.  Due to all the extra time taken I just grabbed a few things and went to Bill's for the night.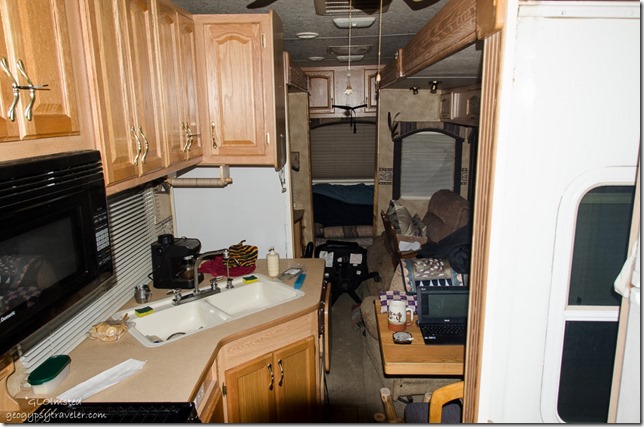 Another issue I have to deal with is the seals on the three slide-outs, they are old, dry and shrunken which means water can get into the walls.  Definitely not a good thing.  The replacement parts can only be gotten through a Keystone dealer which is Camping World, the nearest 1 1/2 hours away in St George.  The first appointment I could get is November 4th.  And that' just so they can order parts which could take 7-10 days.  And so I wait.
Anyway, made the journey off the Kaibab with only a few trials and tribulations.  I'm currently camped out at Bill's house for an indefinite amount of time.
BTW, the Forest Service job I applied for isn't being filled yet and another job announcement will go out in the spring.  Guess that means more time to play this winter.
If you shop at Amazon please consider clicking below for the Amazon website. As an Amazon Associate I'll make a few cents on your purchase(s) at no extra cost to you. Put a few pennies in the winter travel kitty. Thanks for helping out.

Geogypsy is a participant in the Amazon Services LLC Associates Program, an affiliate advertising program designed to provide a means for sites to earn advertising fees by advertising and linking to amazon.com