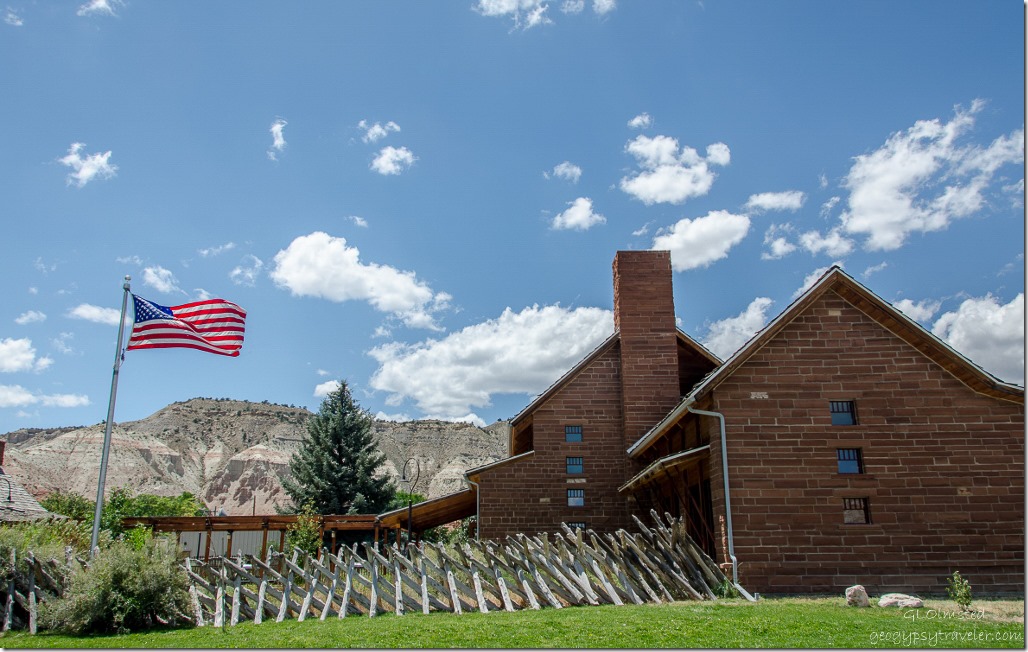 Bill and I spent the morning exploring along the Skutumpah Road then stopped at the Cannonville Visitor Center to get a road report for the Cottonwood Road Grand Staircase-Escalante National Monument (GSENM).  Yet once again, no one working in the center knew if the road was open or not.
However, a visitor from Switzerland told us he'd driven it the day before and it was open and in good condition.  We chatted with him for a while and agreed to mail him a glossy brochure from Grand Canyon where he'd already visited and in return he promised to mail us some chocolate.  A very good trade.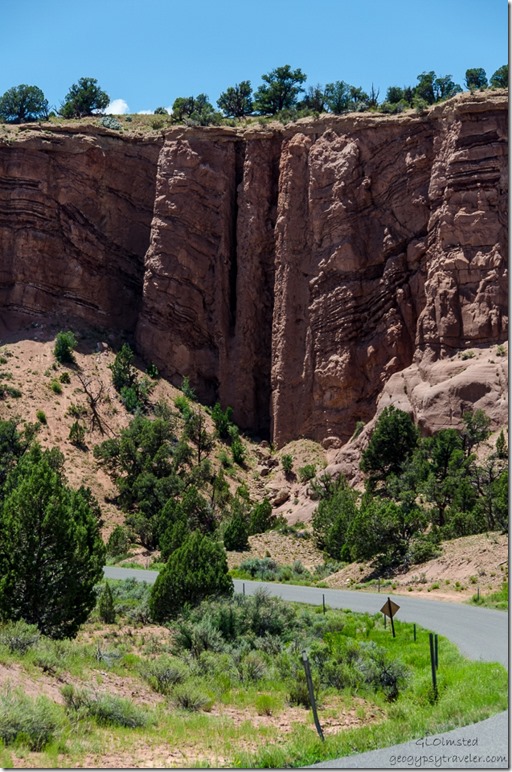 So we headed off to Grosvenor Arch with a quick stop to see an interesting rock formation called a breccia tube, pipe or chimney, where you can see a deformation in the rock layers.  These pipes are a result of the collapse of an underlying limestone formation and serve as conduits of mineralizing solutions of copper ore or uranium.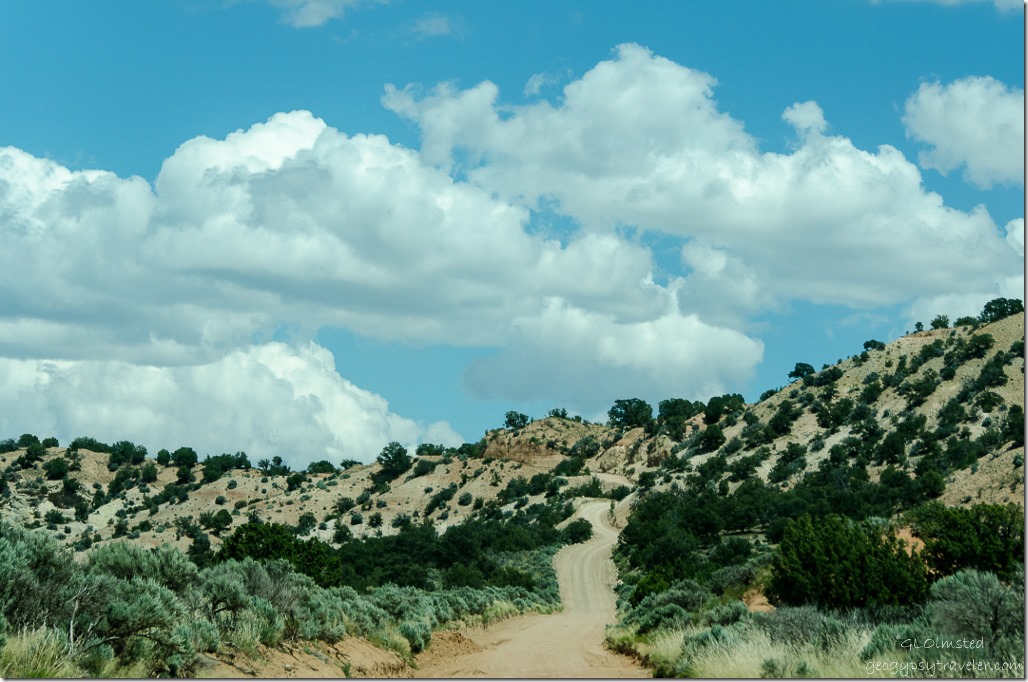 Then more great road to drive through the rocky countryside as we passed on Kodachrome State Park due to so many other stops to make.  I'd come back with my truck to camp there for future explorations if the road is in decent condition or access off the paved State Highway 12 from north of Cannonville and also paved the 9 miles (14.48 km) south to the State Park.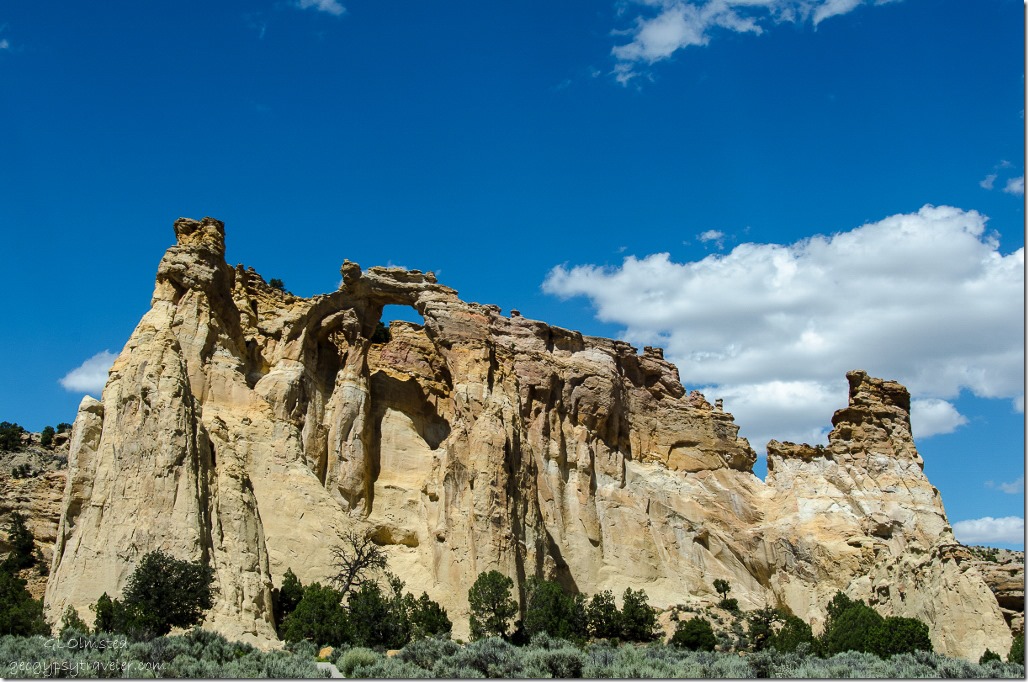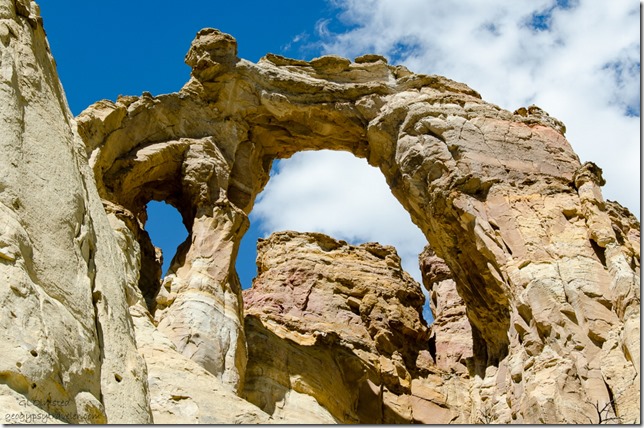 In a few miles the GSENM Road 440 turned east for a short drive to parking with picnic and "sweet" toilet facilities.  We ate lunch while admiring Grosvenor Arch, a 152 foot (46.32 m) high massive sandstone formation spanning 92 feet (28 m) with a rare double arch like Mother Earth's cathedral.  Originally named Butler Arch, then later renamed to honor Gilbert Hovey Grosvenor a past president of the National Geographic Society.  Kodachrome State Park was also named during a 1948 National Geographic expedition.
I'd like to return and walk around this monolith of rock on a cooler day.  We catch up with the road-grading operator who tells us he's just finished the Cottonwood Road so we can complete this loop drive with a couple more stops along the way.  The next day we reported to the Kanab visitor center about the good road conditions.

Because Bill worked for BLM, the managing agency for GSENM, he knows some rather off track places to explore.  I'd have driven right past this unmarked site down a disappearing two-track past three water tanks along the road.  Just a pile of rocks to some, the artist must have had a reason for two concentric circles of spaced blocks of alabaster to enclose an alter with a slit to observe summer solstice.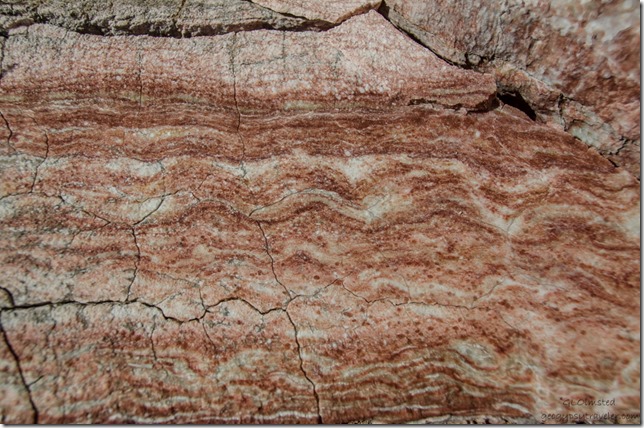 No sign tells the story of this now over grown creation.  Supposedly a sculpture who taught at BYU had a mining claim for the alabaster during the 1970s and could stack his rock as he saw fit.  The creation was called Gilgal, which while searching for more information I found the term means "circle of standing stones" and is mentioned in Joshua 4:19 – 5:12 when the Israelites placed 12 stones, presumably in a circle, after crossing the Jordan River.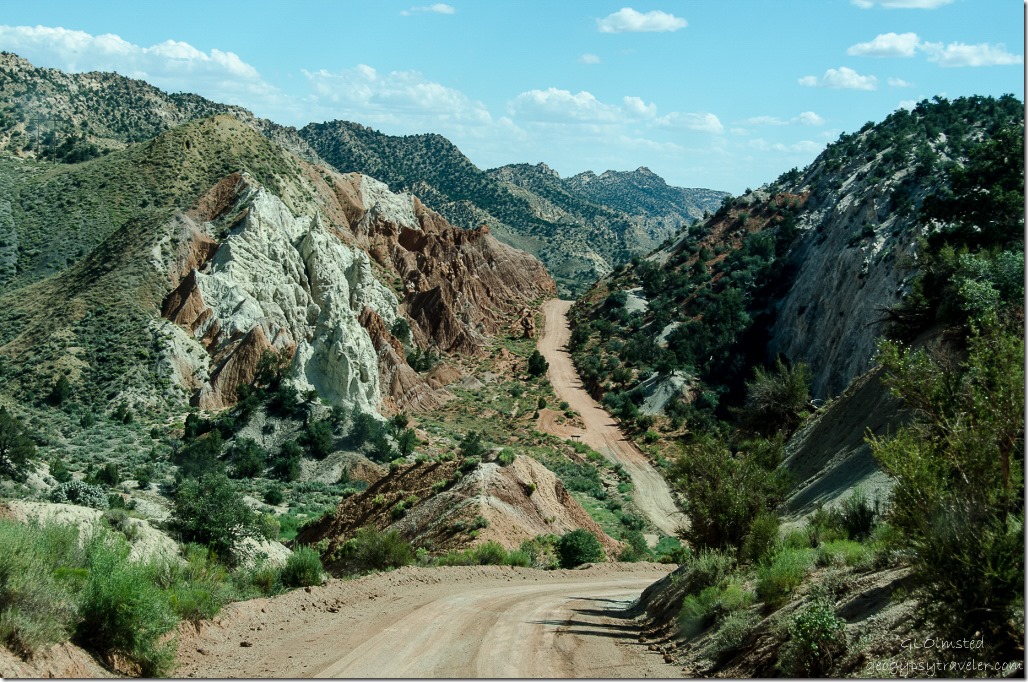 Cottonwood Canyon is beyond amazing nestled between two monoclines with enticing side canyons all along the way.  I may forever be trying to wrap my head around this geology.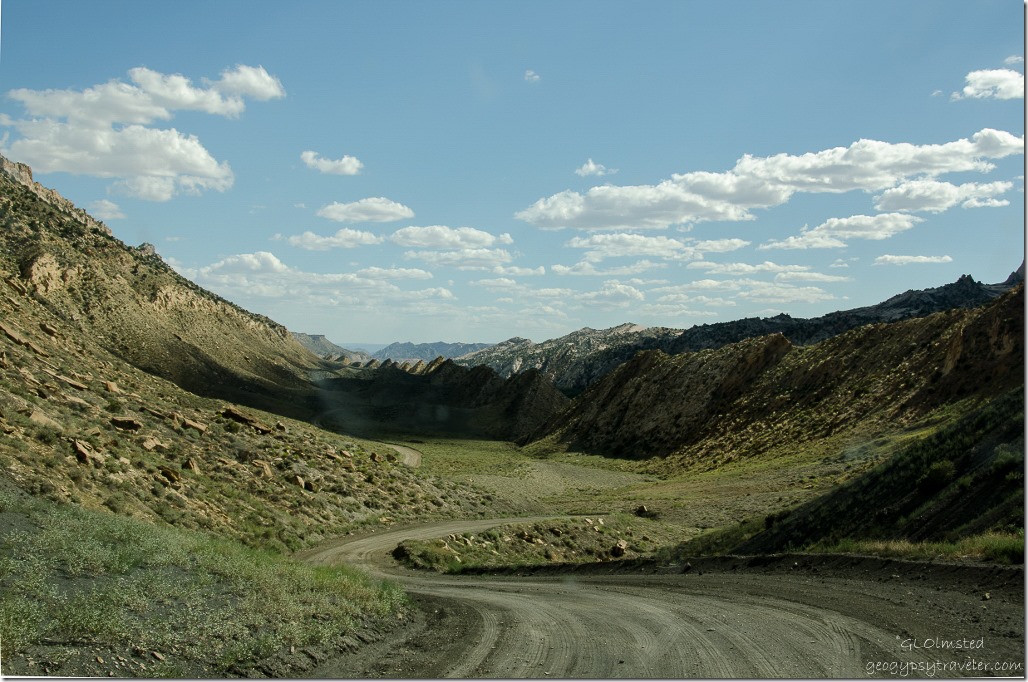 The Cockscomb is a series of flatirons along the East Kaibab monocline where strata are folded sharply downward to the east.  It extends 35 miles (56 km) from the Arizona border northward to Grosvenor Arch and acts as the boundary between the Grand Staircase and Kaiparowits sections of the national monument.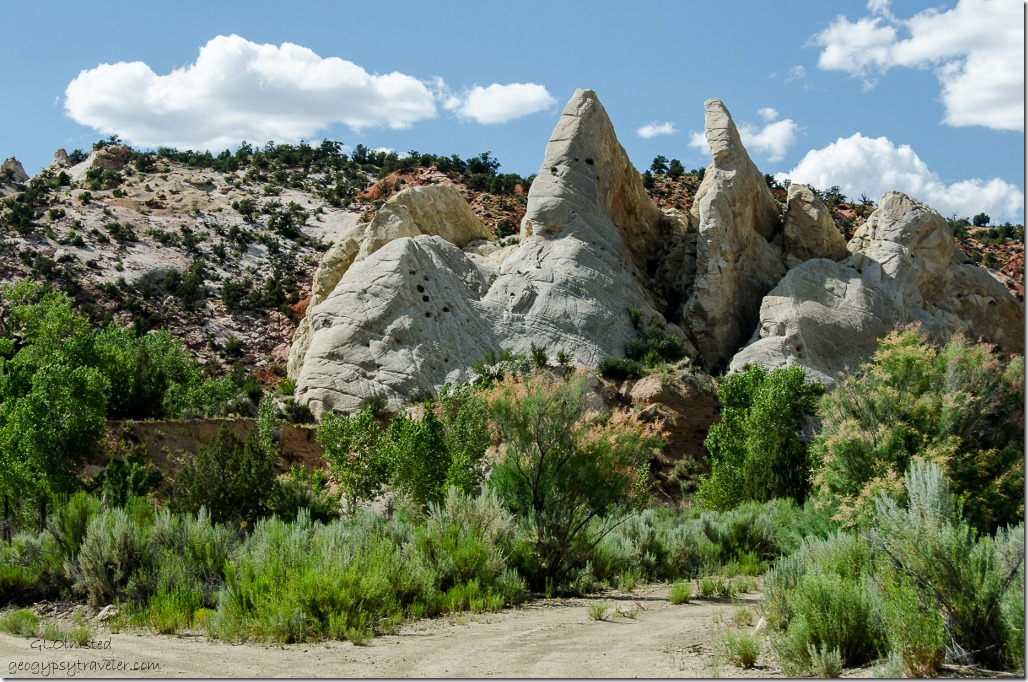 These elongated series of ridges running along the valley created by erosion of upwardly-pointing folded rock layers leave behind scuplted shapes of Utah earth colors.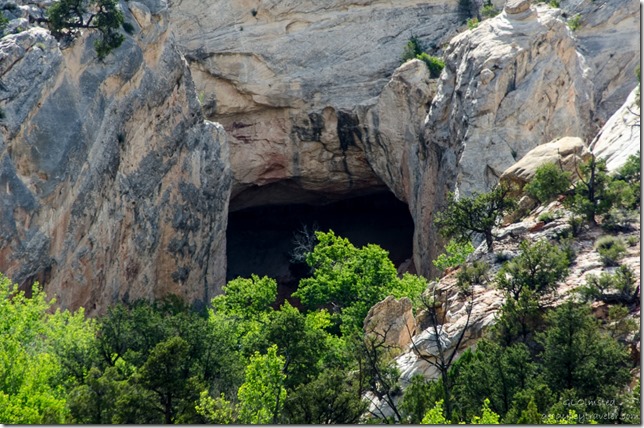 Caves, enticing canyons and trailhead names like Narrows, Lower Hackberry and the Paria Box, plus many unnamed that demand exploration.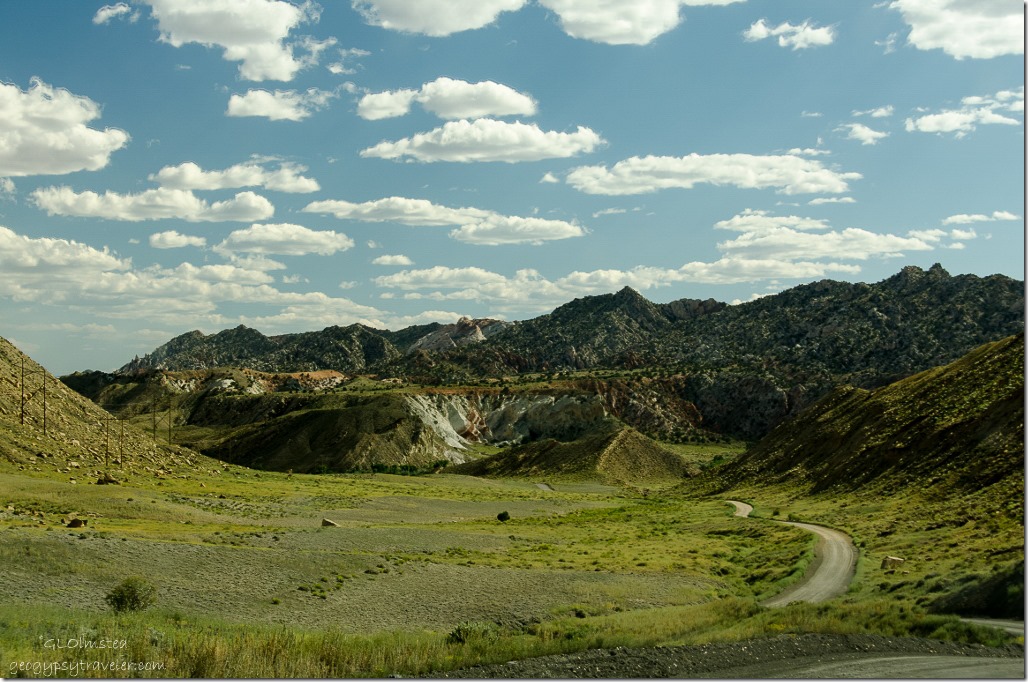 The road eventually drops into the Paria River Valley where flooding occasionally occurs making the route pretty much impassable.  Then it crosses a wide open undulating badlands before returning to State Route 89.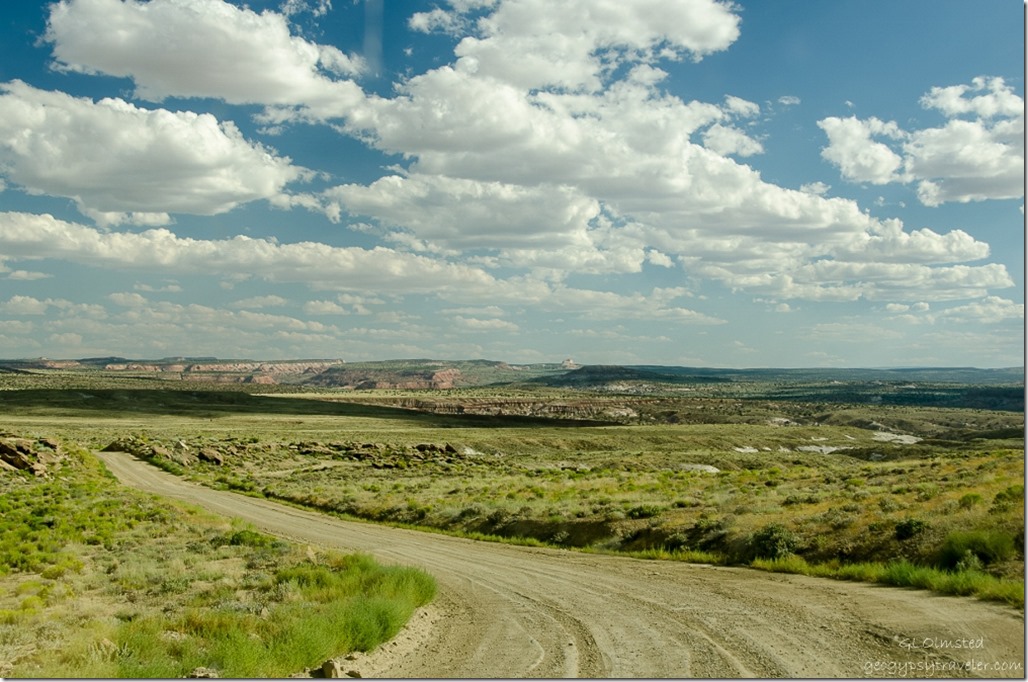 It was a long day with a lot of stops and the fall hiking list just keeps getting longer.
If you shop at Amazon please consider clicking below for the Amazon website. As an Amazon Associate I'll make a few cents on your purchase(s) at no extra cost to you. Put a few pennies in the winter travel kitty. Thanks for helping out.

Geogypsy is a participant in the Amazon Services LLC Associates Program, an affiliate advertising program designed to provide a means for sites to earn advertising fees by advertising and linking to amazon.com