I wasn't sure I'd ever get to White Pocket on the Paria Plateau because it requires a 4×4 to get through the deep soft sand.  Then I met Bill who worked on the Paria and last week he, and dog Sasha, took me there.  Almost all I could say is "WOW!"  And I said it all day afternoon.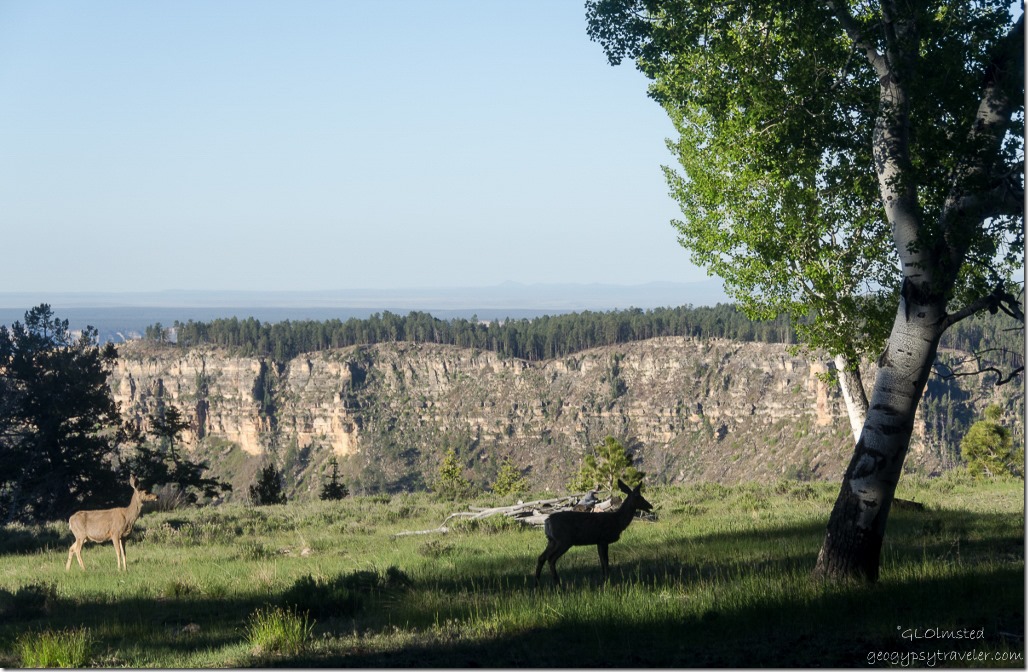 The morning began with clear skies over Grand Canyon shared with a couple of mule deer along the Transept Canyon rim as I gazed out the window over coffee.  But I couldn't lounge too long because of the 45 minute drive to Jacob Lake where I met Bill at 9am Arizona time for me, 10 am Utah time for him.  Left my truck at the Jacob Lake visitor center and chatted with Jackie and Gary who work there this summer.
I always marvel at the diversity in less than 20  miles  along the drive on SR89A off the Kaibab Plateau to the east dropping from Ponderosa Pine forest through Junipers and Pinyons as the temperature increases to House Rock Valley at the base of the Vermilion Cliffs.  Especially nice this time as I'm usually driving instead of a passenger.

The turn north on House Rock Valley Road is easy to find as there is a rock house along with several outbuildings and a mix of equipment and vehicles.  And there is no other sign of human constructs within sight.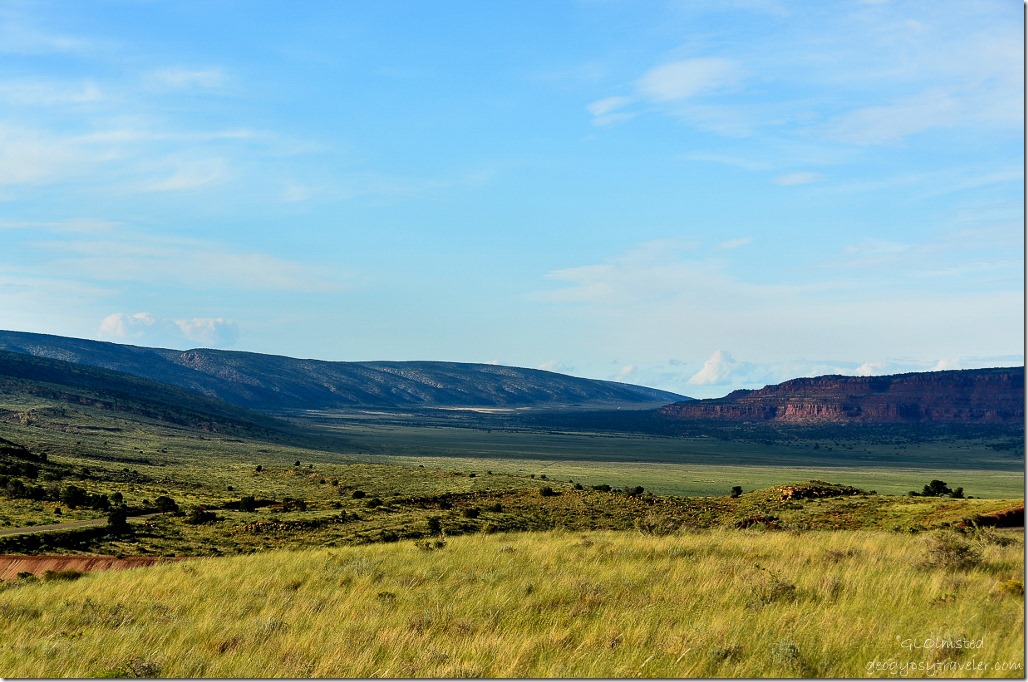 The valley itself is marvelous, sandwiched between the sloping Kaibab monocline to the west and the towering Vermilion Cliffs to the east.  Although I'd driven from the north about 8 miles I'd only been 3 miles from the south to the Condor release viewing site.  I relish exploring new territory and the House Rocky Valley Road is drivable with almost any vehicle unless it's wet.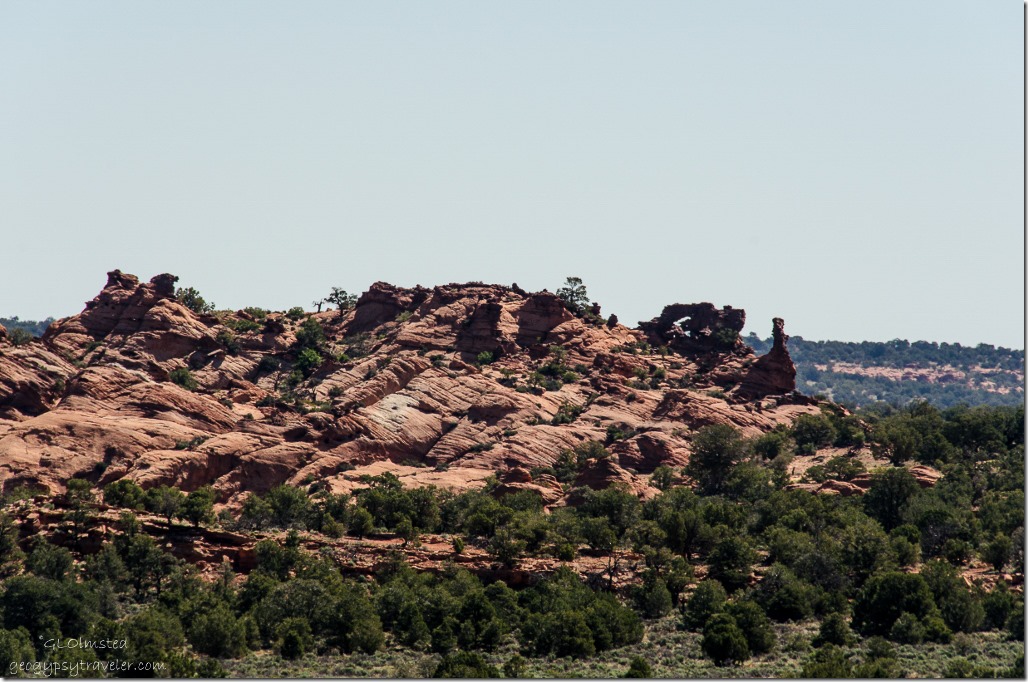 Saw a rock arch high on a carved mound of sandstone and Bill said he'd hiked to it.  I put that on my list but no time then as we turned off onto a side road and continued the drive up onto the Paria Plateau.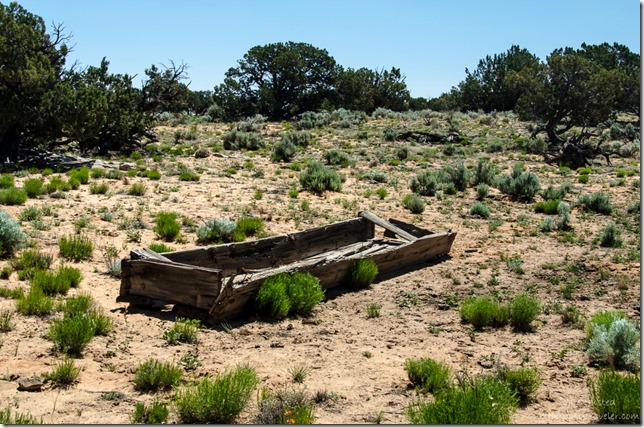 It may not look like it but this is cattle country and there's evidence of long time use.  President Clinton proclaimed the 280,000-acre Vermilion Cliffs National Monument in 2000 to protect the natural and cultural history of the Paria Plateau, Vermilion Cliffs, Coyote Buttes and Paria Canyon.  The BLM (Bureau of Land Management) continues to allow grazing in some areas.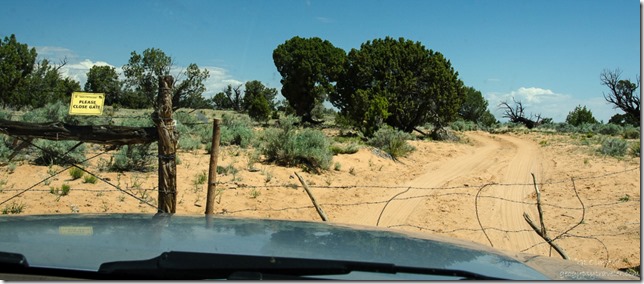 Although Bill opened and closed this gate driving in I was informed that's the passenger's job.  I kind of knew that and took care of it on the drive out.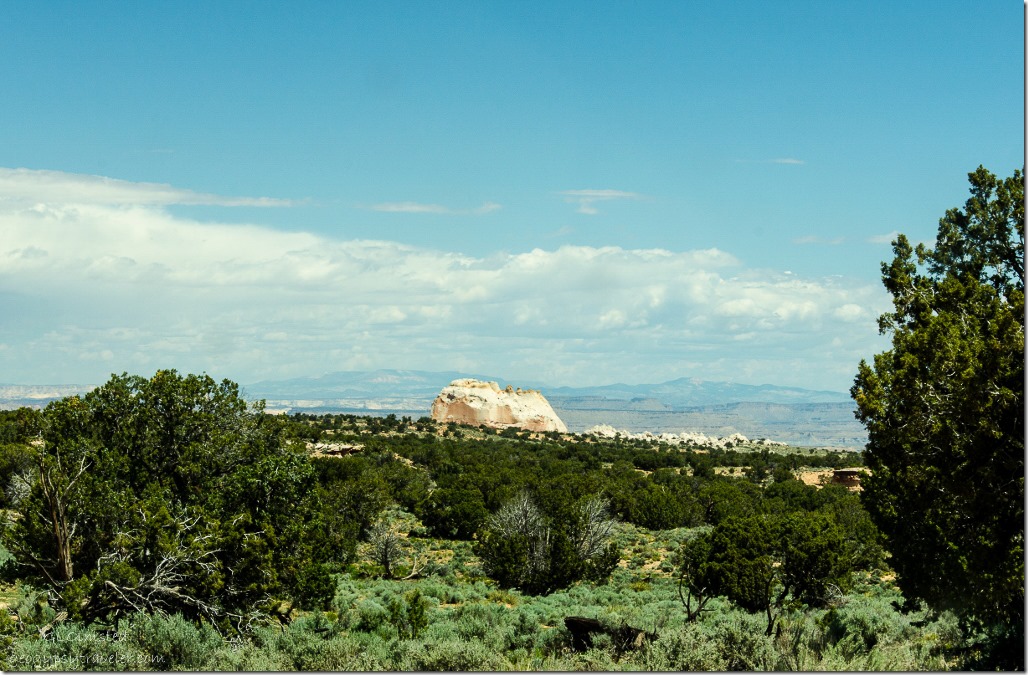 After about a 90 minute drive with White Pocket in sight I understood why Bill said you not only need a 4×4, you need to know how to drive it in soft sand and over slick rock on the Paria Plateau.  The area is remote with no cell signal and a maze of single track roads.  A place to be prepared for anything like a good spare tire, air pump, extra water, shovel and Bill even carries sand ramps/tracks/ladders, called all three.
We made it just fine but I wasn't prepared for the twisted and contorted colorful sandstone formations only 100 yards from the large but almost empty parking area.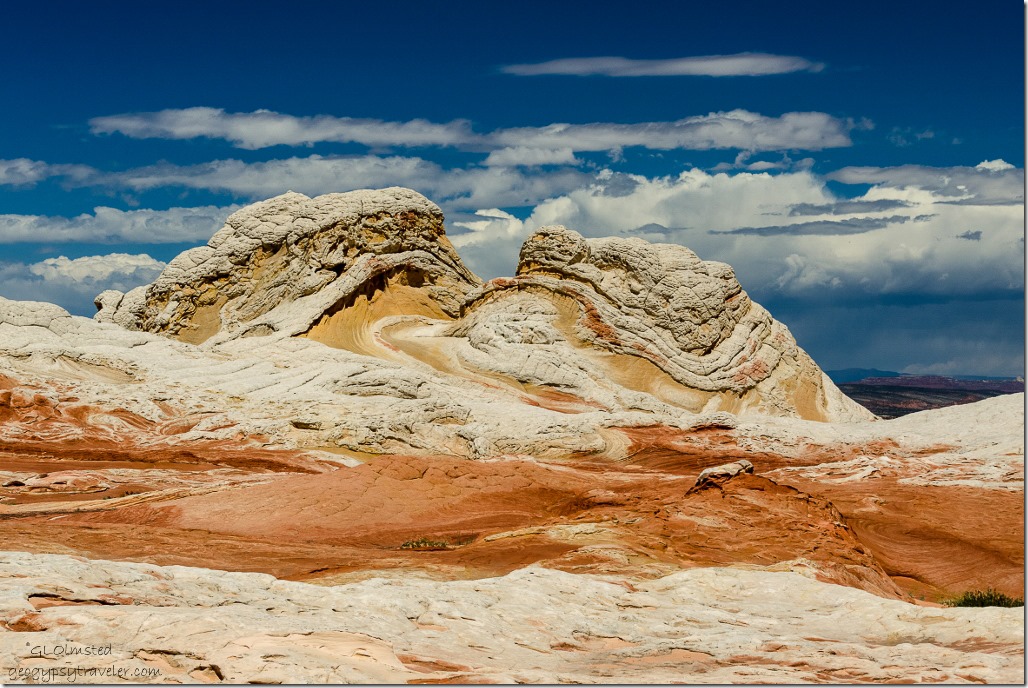 Like a butterscotch sunday with whip cream topping.  A storm brewing just to the north made a dramatic backdrop.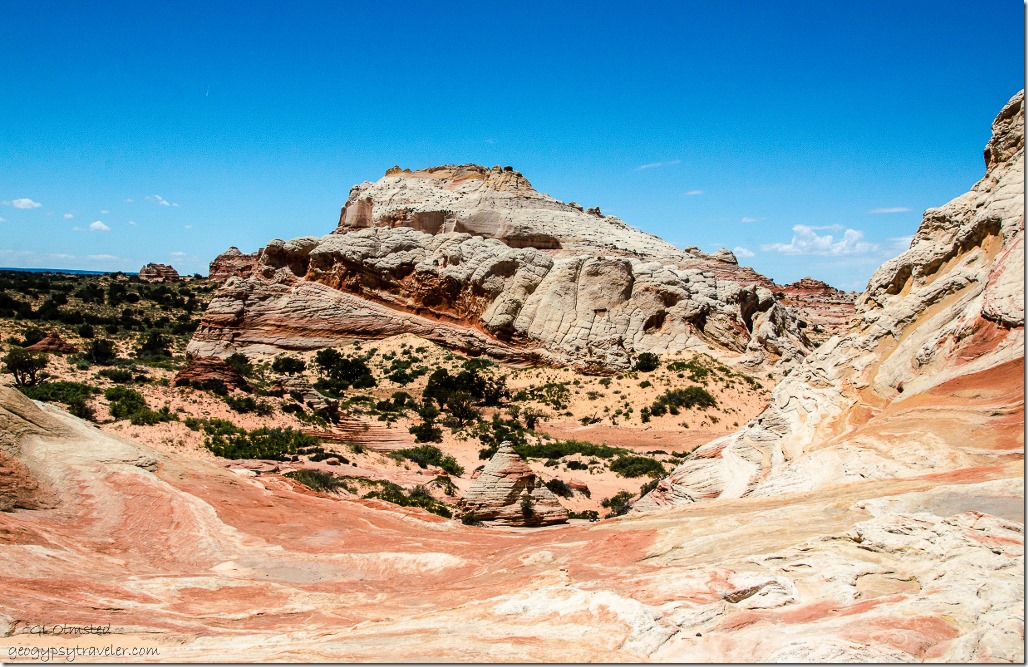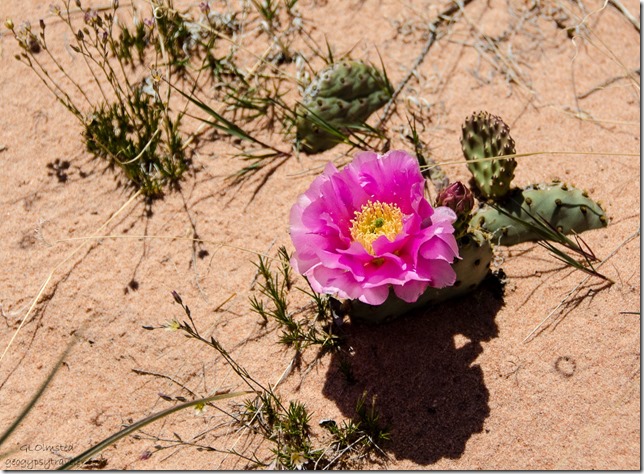 We wandered around on the incredible textures and colors mostly staying on the rock so as not to impact the sparse vegetation.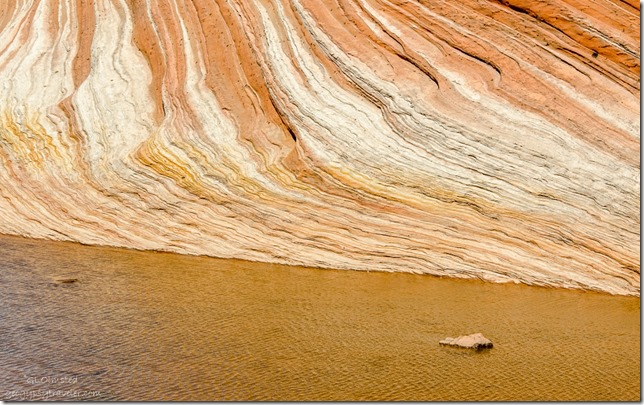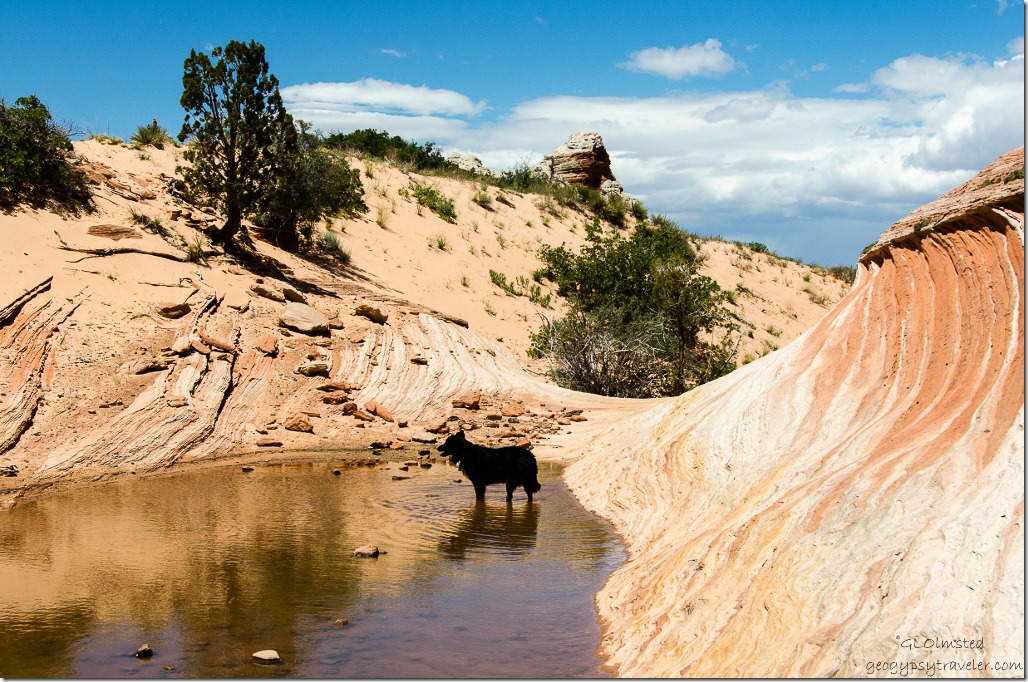 Water from recent rain provided opportunities for Sasha to drink and cool off while small junipers provided occasional shade.  Temps in the mid to high 70s with a nice breeze made the reflective white cap rock doable under the mid-day sun.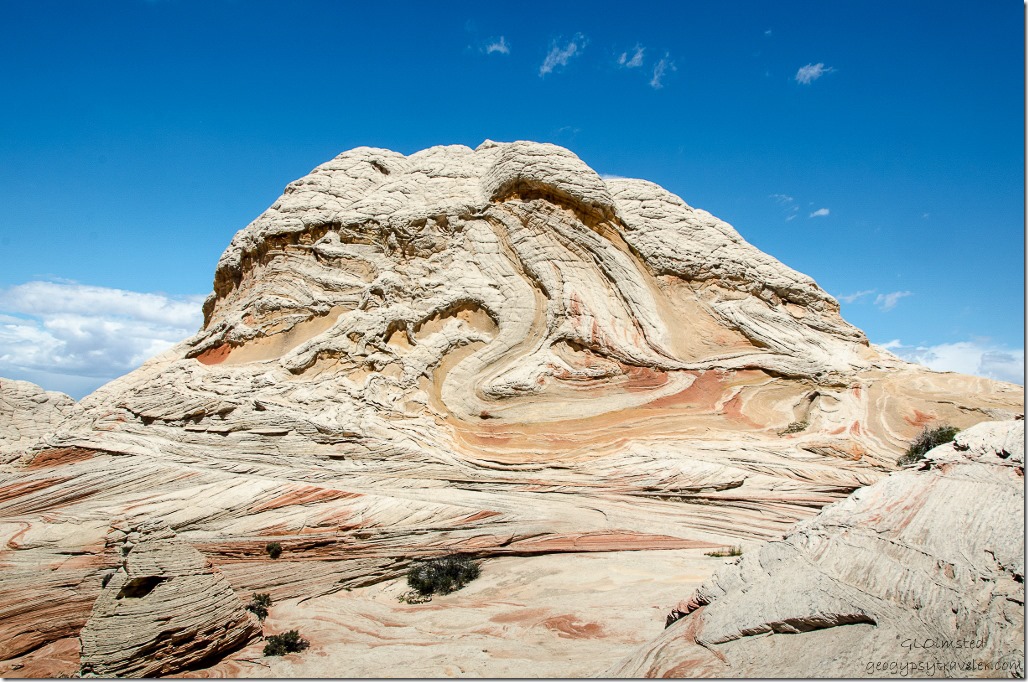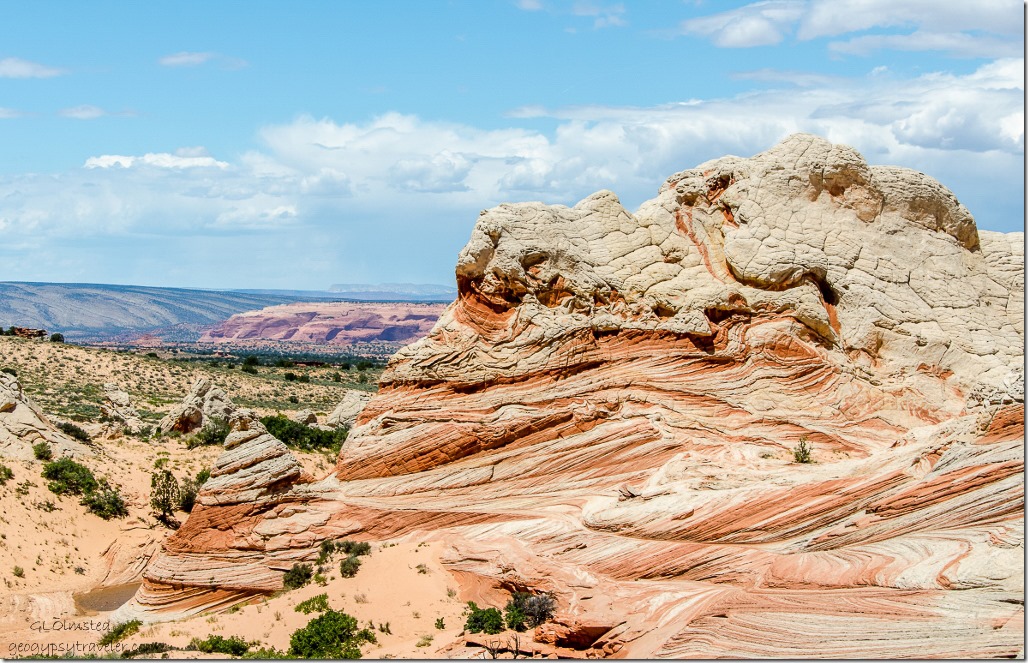 This twisted and alien landscape of Navajo Sandstone began as sand that turned to rock and now erodes to sand again.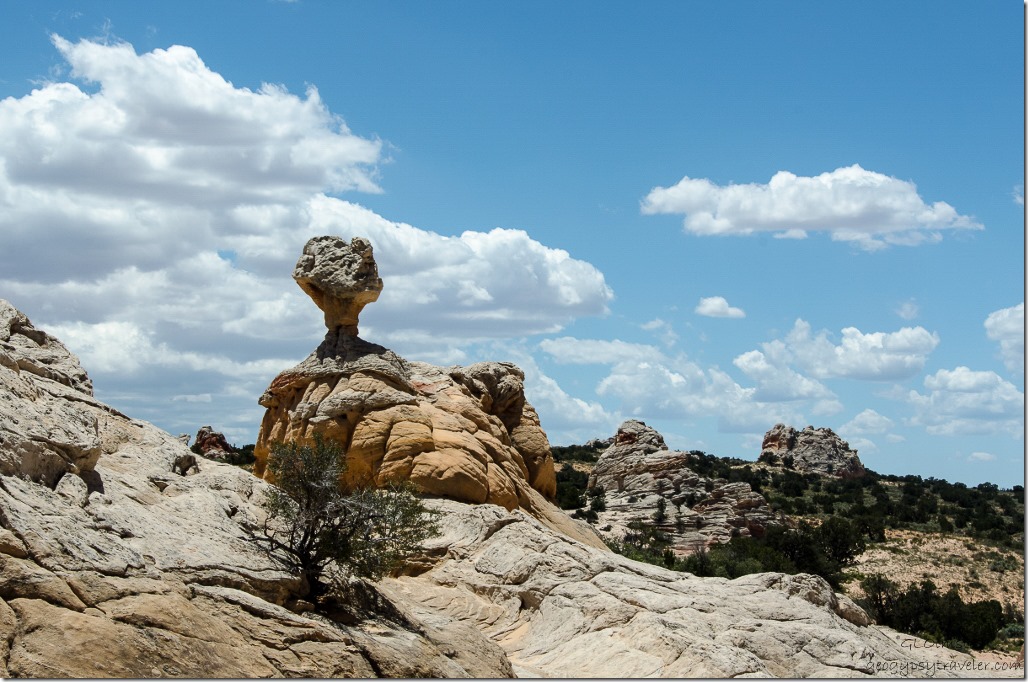 190 million years ago sand dunes stretched from present-day southern California to Wyoming comparable to the modern day Sarah Desert.  The Navajo Desert had a relatively high water table with oases and small lakes in low areas between the massive dunes.  Saturated sand slumped into the steep lake margins and fresh-water limestone formed in lake bottoms.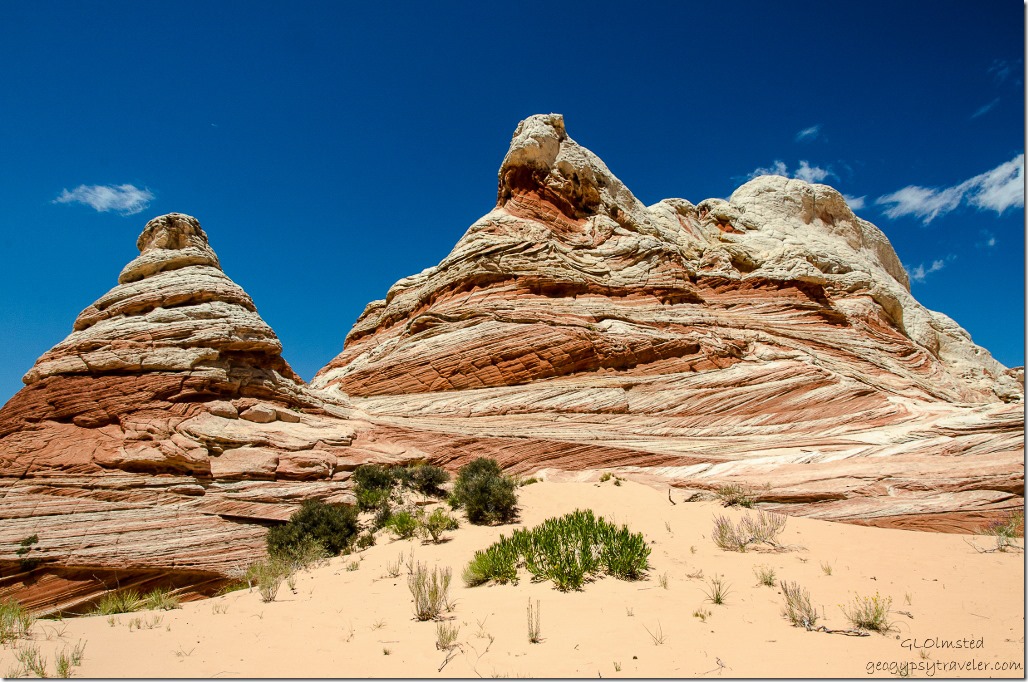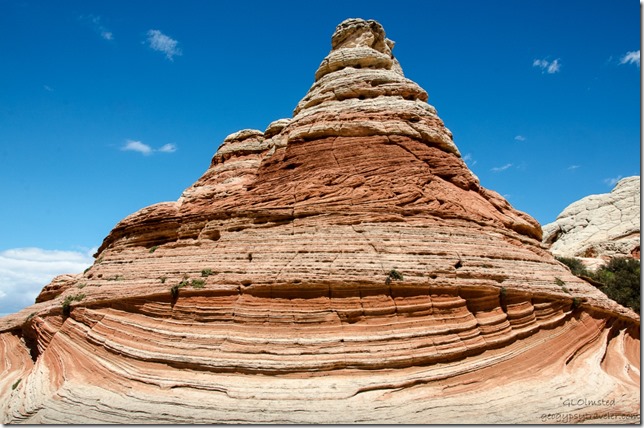 According to geologist Marc P. Deshowitz earthquake-induced flash floods caused soft sediment deformation before the sand turned into rock.  The various colors are from the oxidation of iron-bearing minerals in the sandstone.  Reds and pinks are from hematite and the yellows and browns are from limonite.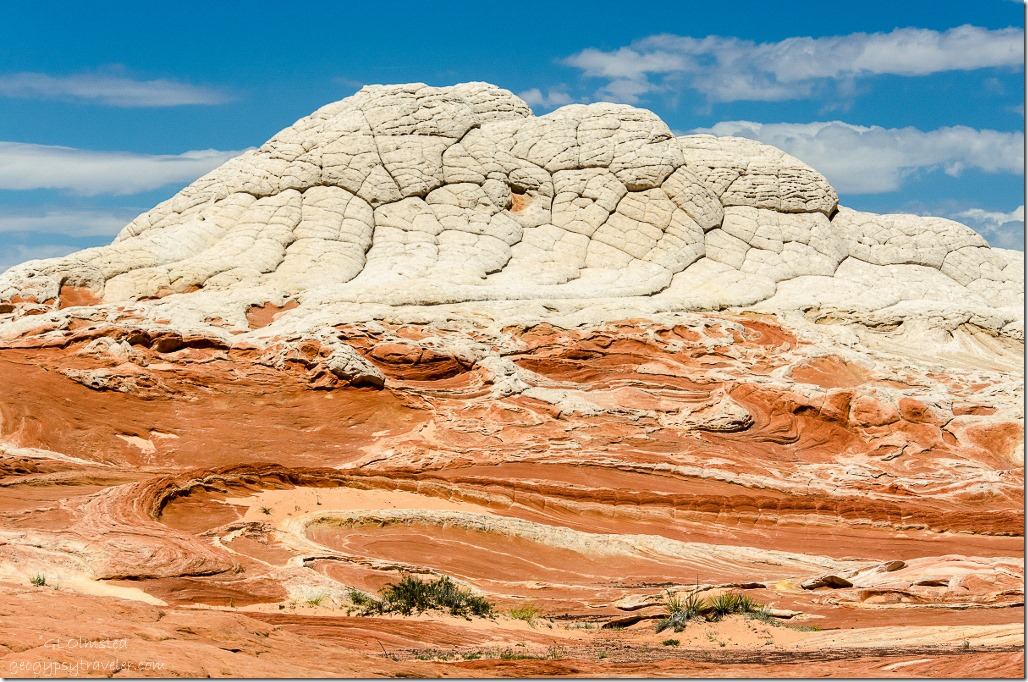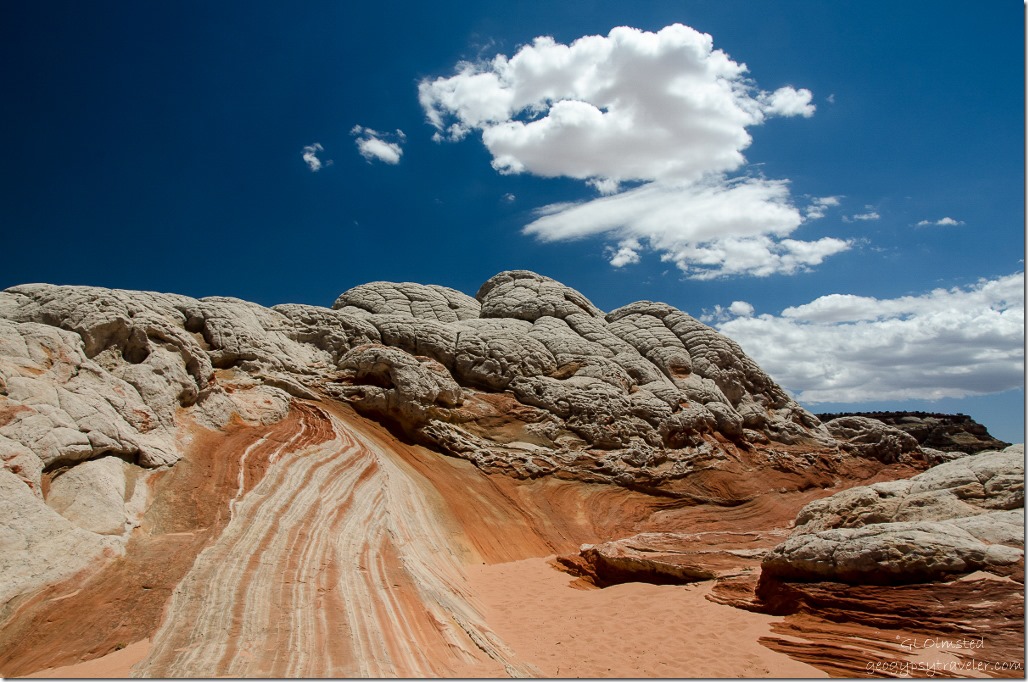 Much of this contorted rock is covered by a thick mass of bleached-white sandstone that weathers into rounded polygons or "cauliflower".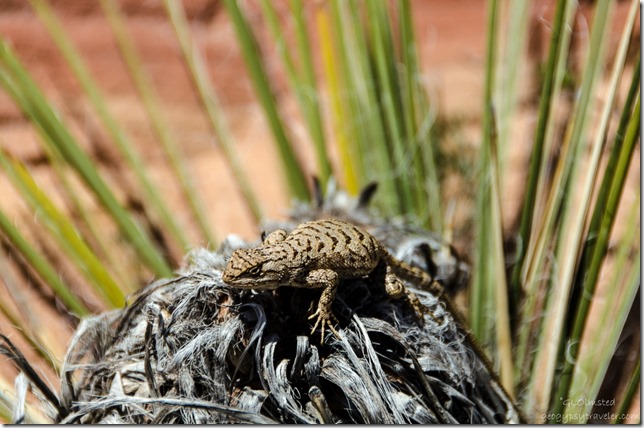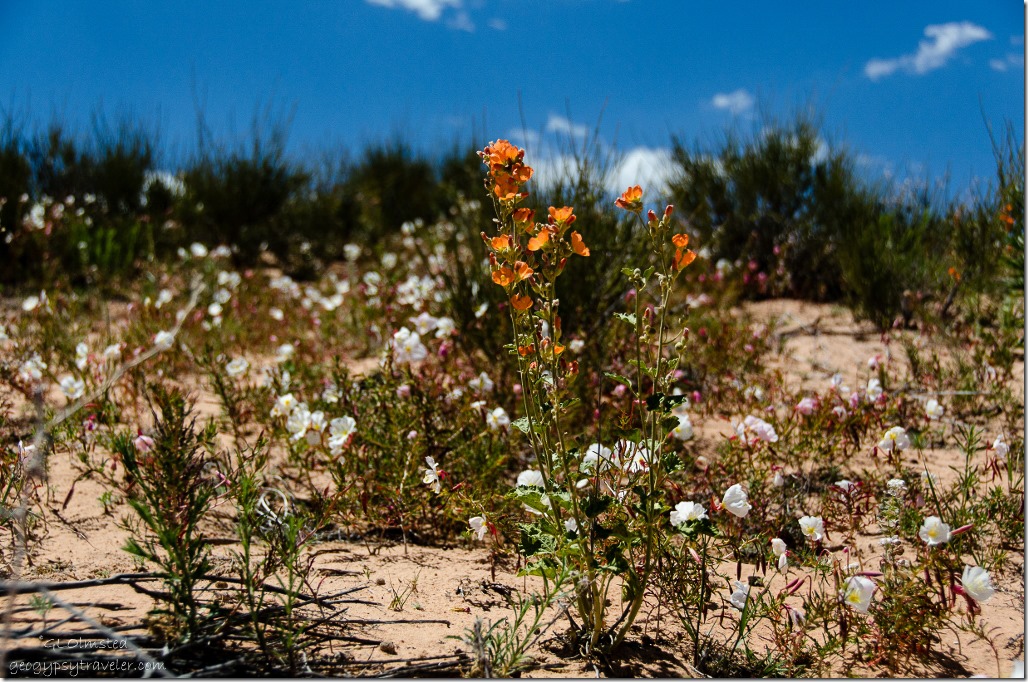 As we returned to the parking area Sasha went to greet a man we'd seen from a distance earlier sitting in the shade of a large juniper.  Turned out to be Gary from the Kaibab Visitor Center so we joined him and had lunch while chatting.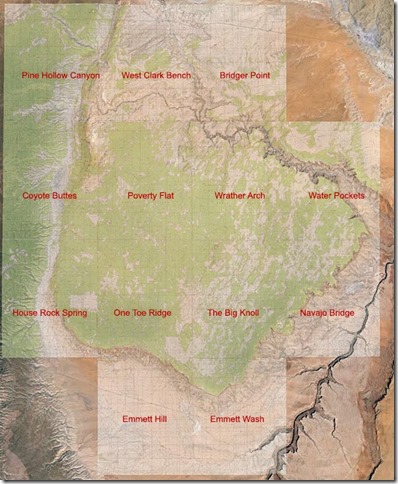 If you're headed to White Pocket on the Paria Plateau I recommend using maps as this is not a GPS area.  Vermillion Cliffs is largely covered by 13 USGS 24K topo maps. The White Pocket is covered by the Poverty Flat Map. The roads to it are covered by the Coyote Buttes, House Rock Spring, and One Toe Ridge maps.  They can be downloaded from here.  Maps can also be purchased at BLM offices in Kanab, St George or the Contact Station on SR89, Utah.  Tours are available if you don't have the right kind of vehicle for the drive.
Not to be confused with the well advertised "Wave" located in Coyote Buttes just across the border in Utah's Paria Plateau-Vermilion Cliffs Wilderness.  I haven't been there, yet, but have seen many photos.  Only 20 permits are issued per day for the Wave, but I didn't even see that many people at the non-permitted White Pocket.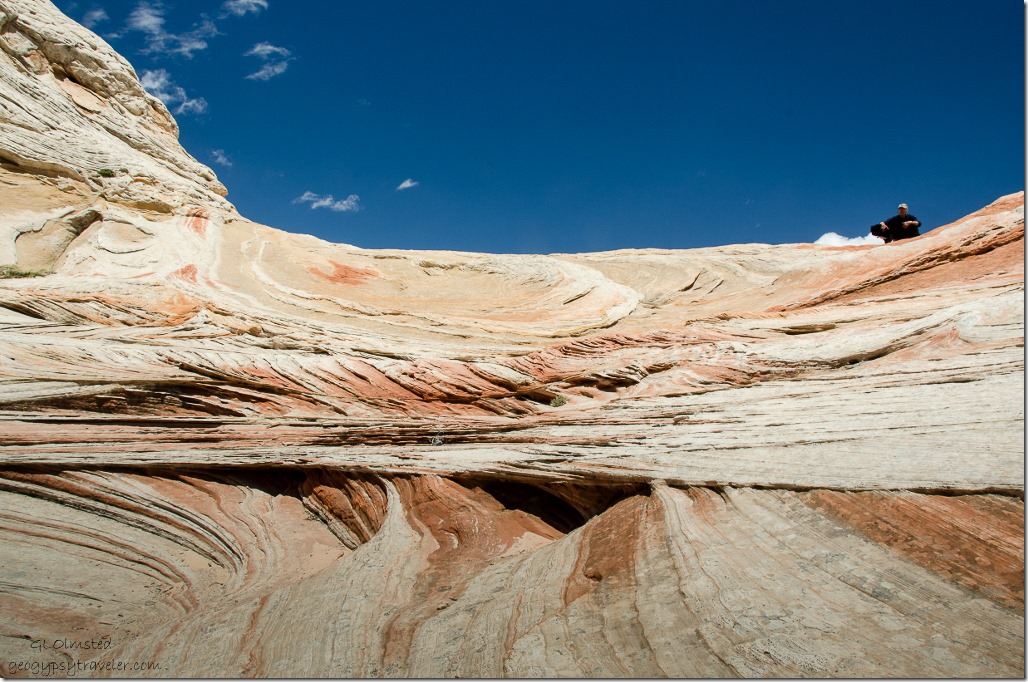 I want to go back and catch morning or late afternoon light but as temperatures rise I may have to wait until fall.  Instead I'll settle with hiking Snake Gulch with Bill and Sasha Wednesday.
If you shop at Amazon please consider clicking below for the Amazon website. As an Amazon Associate I'll make a few cents on your purchase(s) at no extra cost to you. Put a few pennies in the winter travel kitty. Thanks for helping out.

Geogypsy is a participant in the Amazon Services LLC Associates Program, an affiliate advertising program designed to provide a means for sites to earn advertising fees by advertising and linking to amazon.com