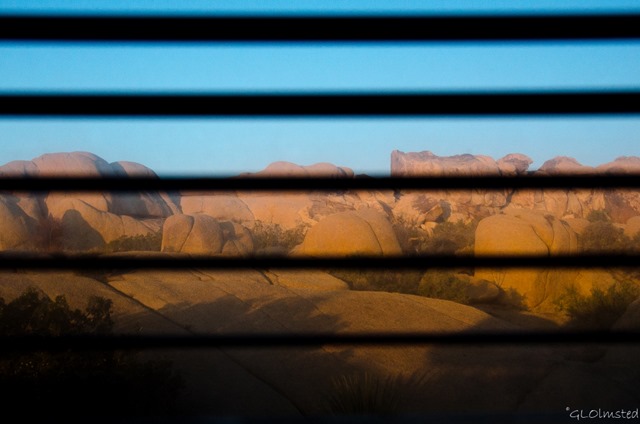 Just after 6am, the rising sun turns the rock a peachy pink and I want to go out and take photos but it's cold with a bitter wind so I'll settle with the view through my window.  Yet later in the day boulders surrounding Hidden Valley block the wind making it possible to explore more of Joshua Tree National Park.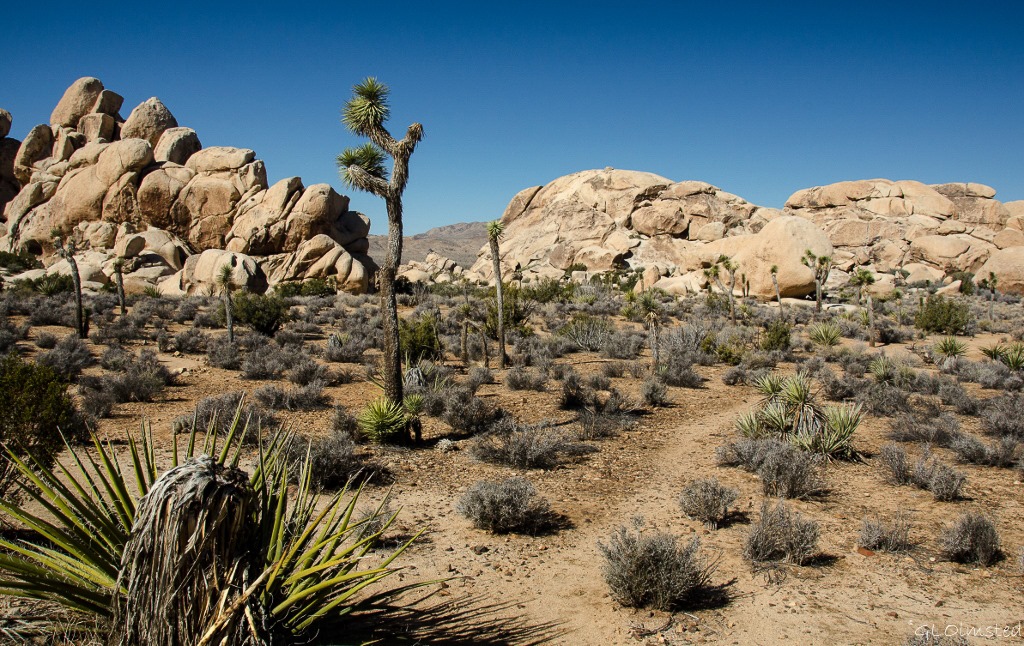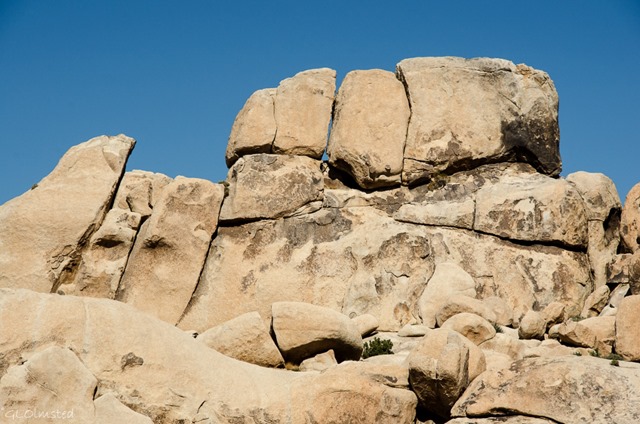 The third day of my visit I'm headed to the town of Joshua Tree via many stops along the way in the park.  Once again I am impressed with all the paved pull-offs to hike from or just enjoy the views.  Although some of the names are rather chilling like the Hall of Horrors where magnificent boulder piles beckon, especially climbers who are many here.  But the wind blows cold so my stop is brief.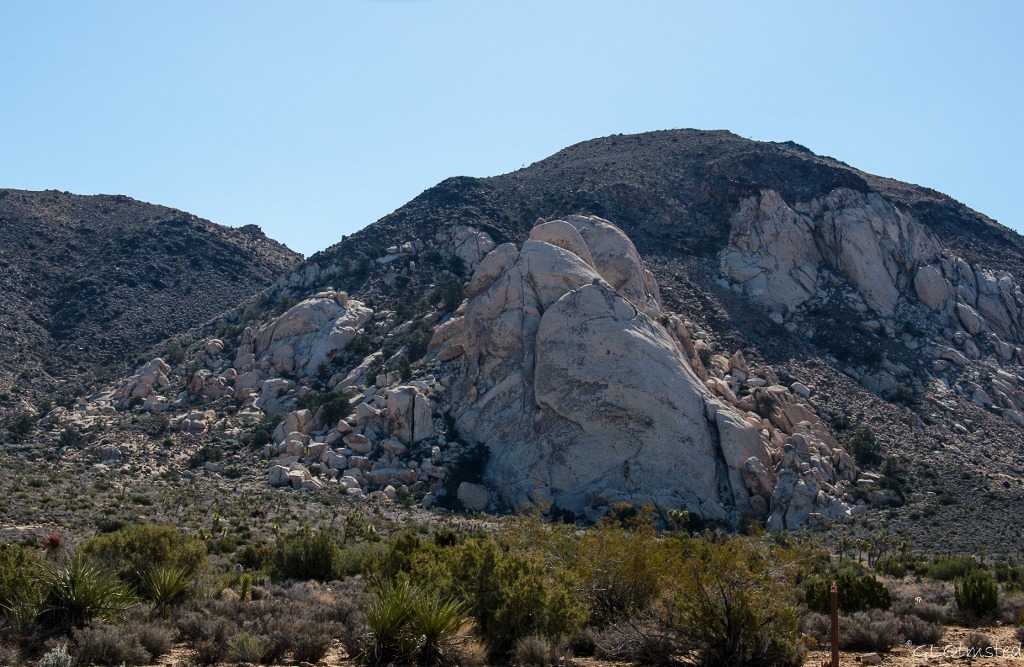 Saddle Rock across the road is also a popular climbing route.  In my younger years this would have appealed to me but now I contend myself to easier boulder hopping and just sitting on the sun warmed rock absorbing the earths energy.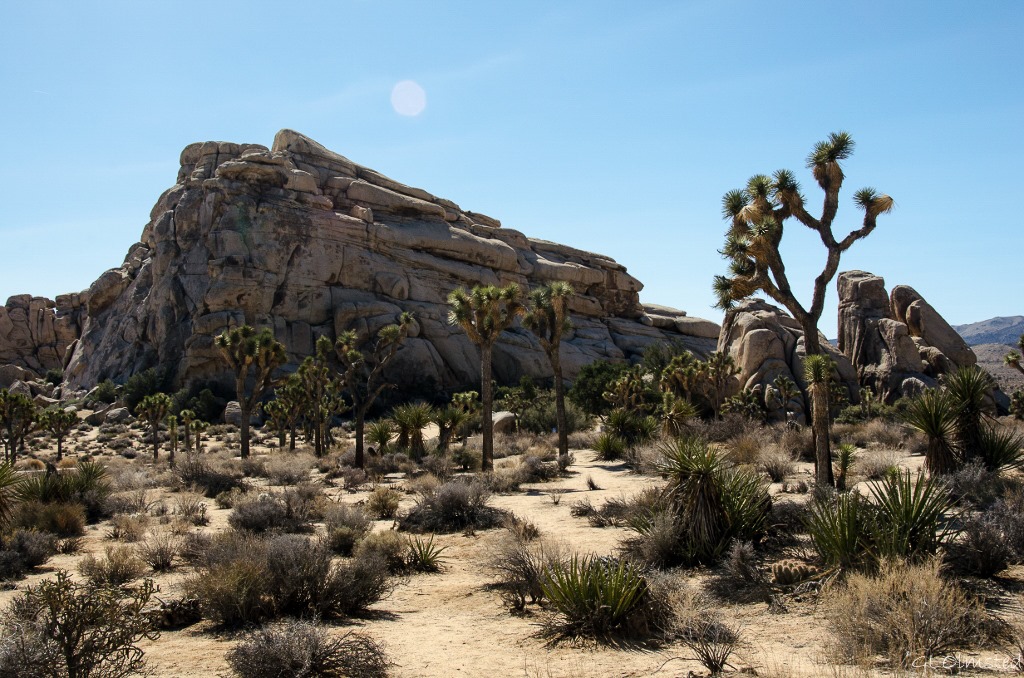 By the time I get to Hidden Valley trailhead the sun is up high and it's feeling warmer so I take off one layer yet bring it along on the hike.  I think wearing all these layers to stay warm adds 10 pounds and an extra size.  The large parking lot is 90% full and some little cars have pulled into the larger RV spaces.  I don't understand why people do that when there's empty parking for cars.
I chatted with a lady, Lyn, I'd seen taking photos with her tripod set up close to a bush.  She was trying for a Phainopepla hiding in the branches.  Give her credit for hauling the tripod around as she was told to do by a photographic instructor.  Guess I'm too lazy.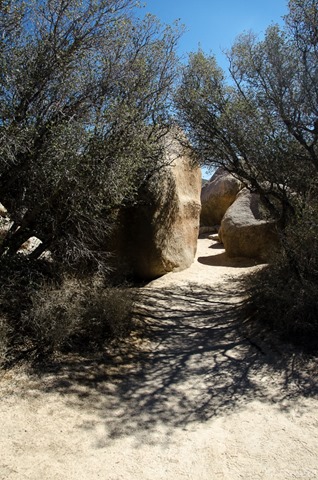 Towering walls of imposing boulders seem to make the other side inaccessible.  Yet story has it that in 1936, only months before Joshua Tree National Monument was established by President Franklin Roosevelt, long time rancher Bill Keys blasted the opening that is used today to access excellent untouched pasture land.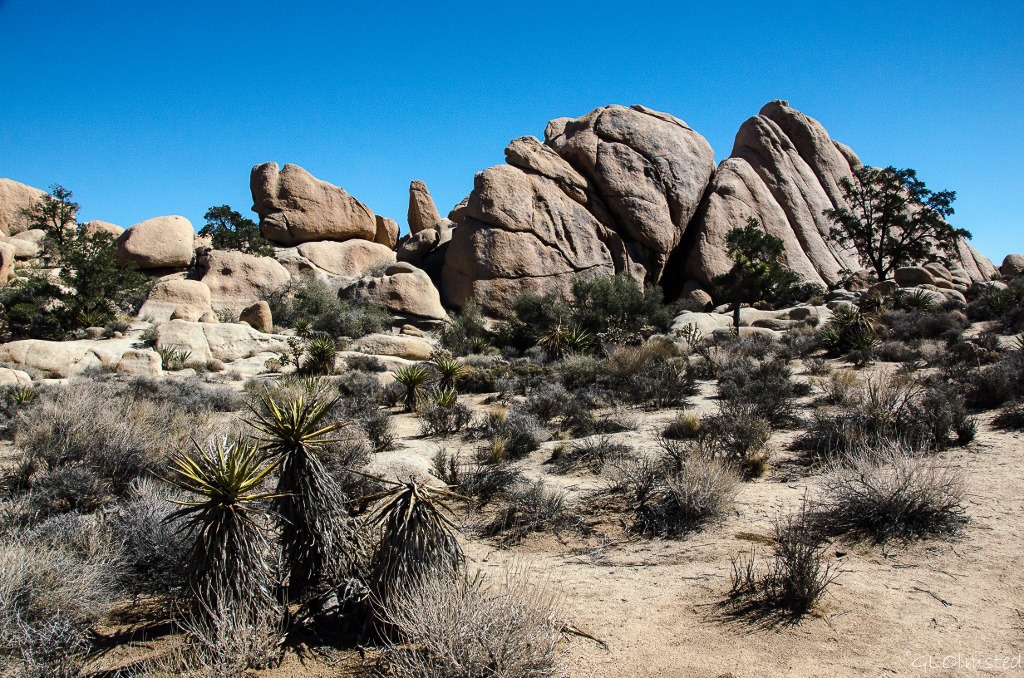 Sure glad the landscape is protected now, yet I still appreciate slipping into this boulder protected valley to explore out of the wind.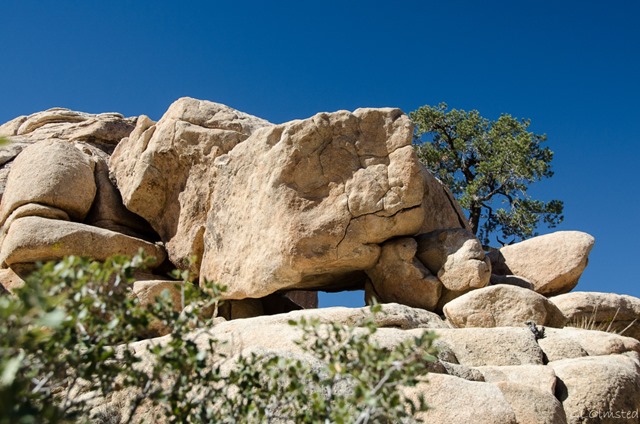 I took the loop trail counter clockwise, unlike most everyone else.  Seemed I'd have the sun to my back more of the walk this way which makes it easier to take photos under the high noon sun.  Not the best time for photography but definitely the better time for warmth.  I find it really hard to pick out just a few photos because everything was fascinating, the shape of the rock, piling of boulders, plants, and the crazy climbers.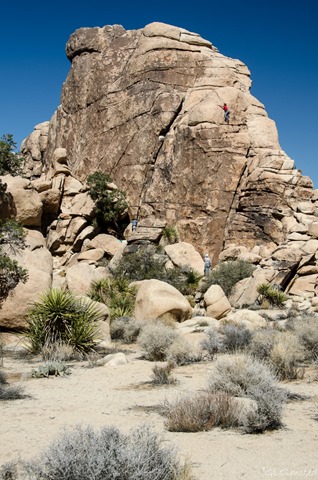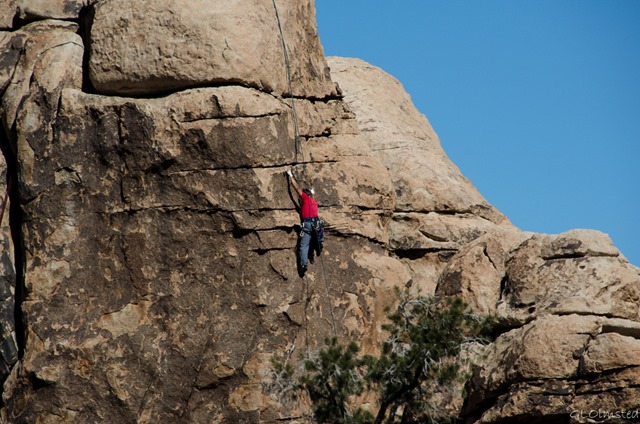 Joshua Tree has become a world-class rock climbing location yet problems have arisen.  People create their own trails trampling on vegetation, and nesting birds and archeological sites can be disturbed.  Climber groups are working with the park to reduce this impact.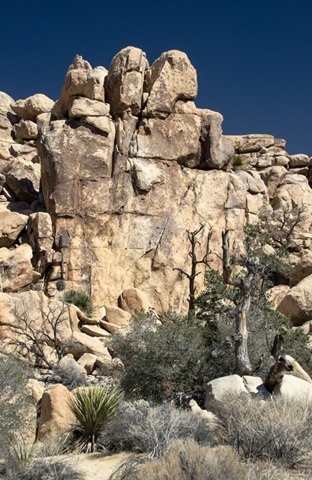 Hidden Valley is like a miniature world, a micro-climate of it's own.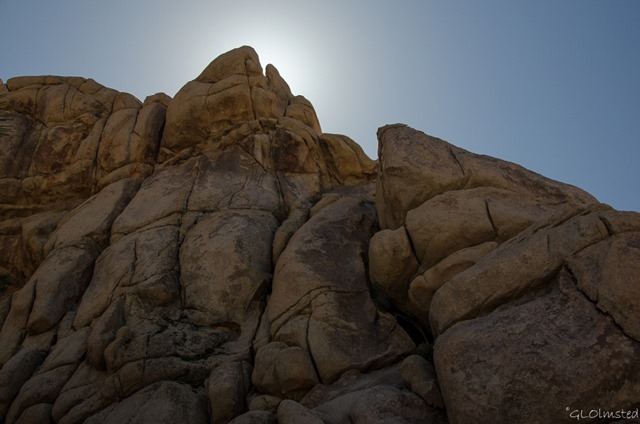 Even at high noon boulders provide much needed shade which during summer temperatures of at least 100F (38C) could mean the difference between life and death.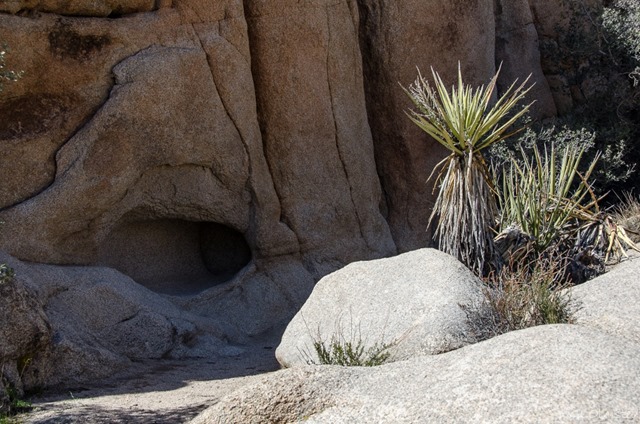 The smallest of holes and crevices collect and hold moisture that supports many plant and animal species.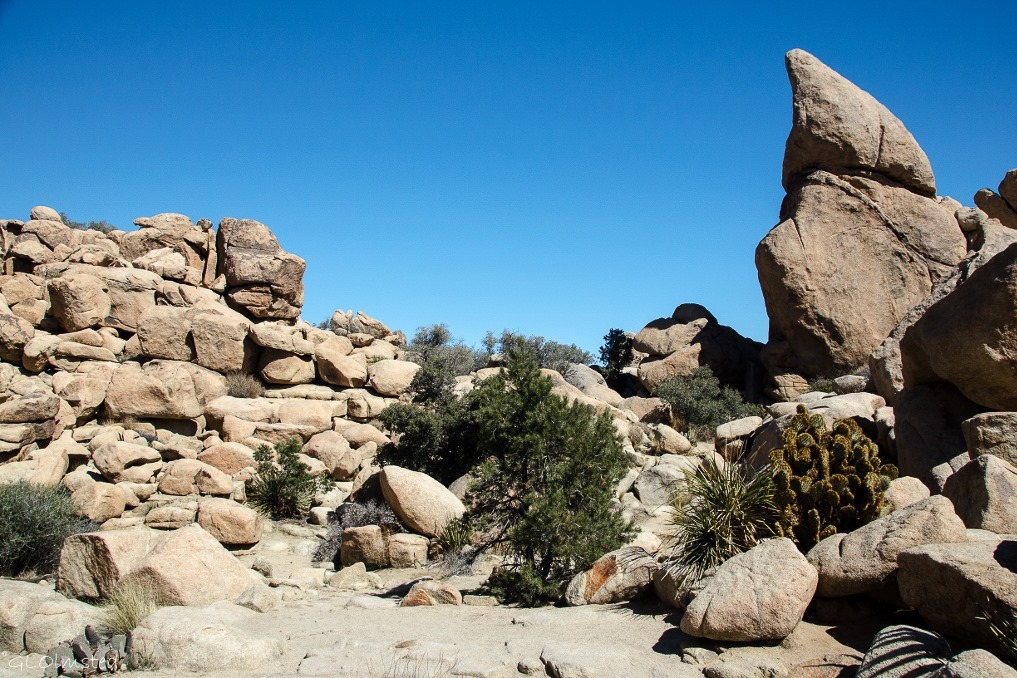 The valley is a transition zone with pines, junipers and oaks living amongst the boulders while Joshua Trees and cactus occupy the desert valley floor.  Food abounds here for wildlife like acorns which the Mountain Quail and chipmunks feast on in the fall.  And the Pinyon Jay who helps perpetuate the Pinyon Pine by carrying seeds off miles away where it may be forgotten and germinate.  The junipers are considered 'relics' surviving from a less arid climate of the past now confined to higher elevations and areas such as Hidden Valley.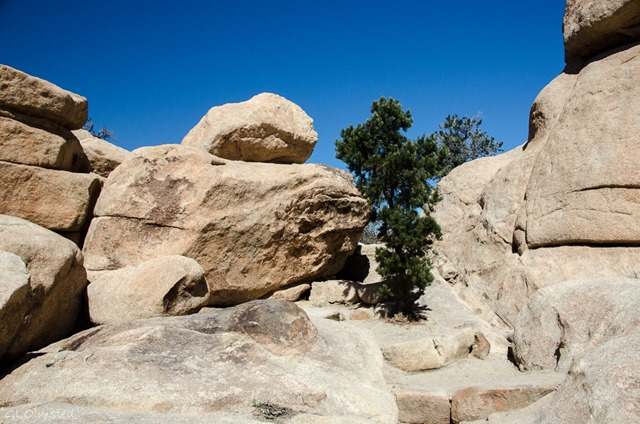 Native human desert dwellers from the past also harvested acorns and pine nuts, the later being a most important food source.  After knocking the green cones off branches they placed the cones in fire causing them to open and expose the seeds while roasting them in the process.  Plus pine pitch made a good glue for waterproofing baskets and repairing clay pots.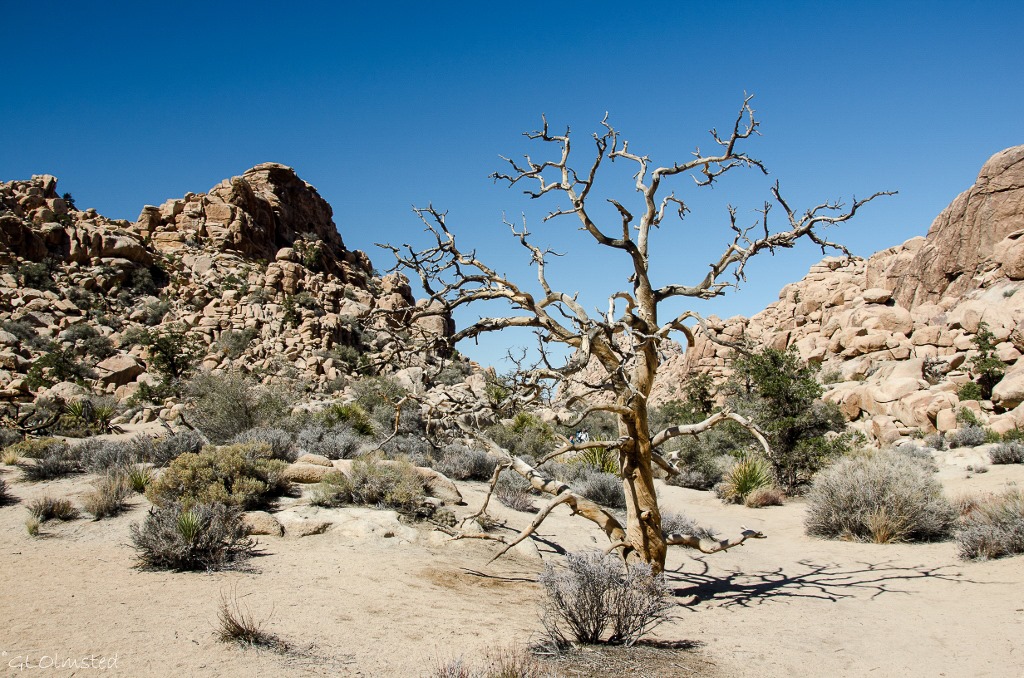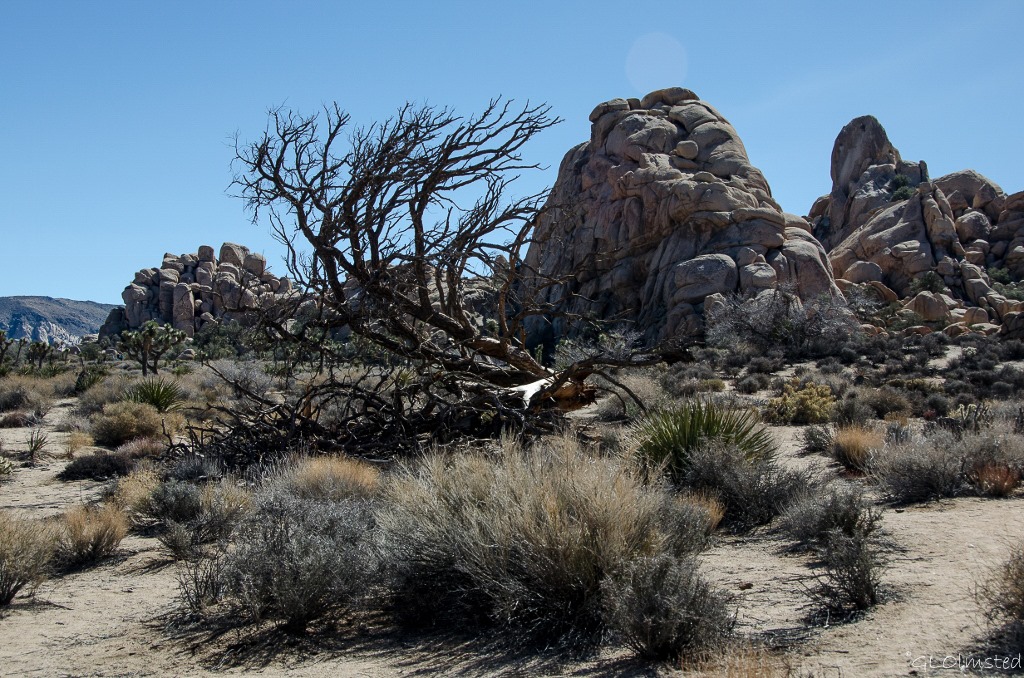 Even the twisted and contorted skeletal shapes of the dead trees, and their shadow, add to the intricacy of this diverse landscape.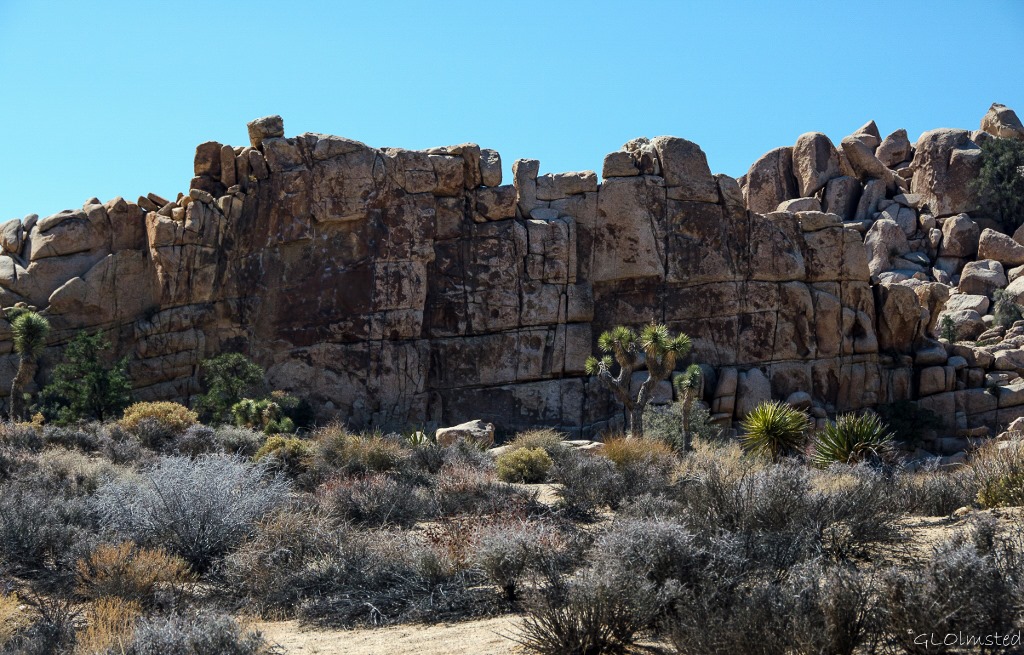 And don't ask me why, but the combination of boulders and Joshua Trees remind me of Cartoon Town.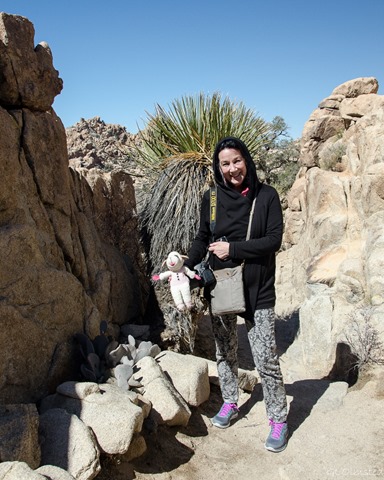 I was very surprised to see this lady carry Lambchop and just had to take a picture.  She told me to check out instagram and sure enough it's all over the place.  I didn't realize there's a Lambchop following but guess it's like 'a collector for everything'.  Does anybody remember Sherry Lewis with Lambchop?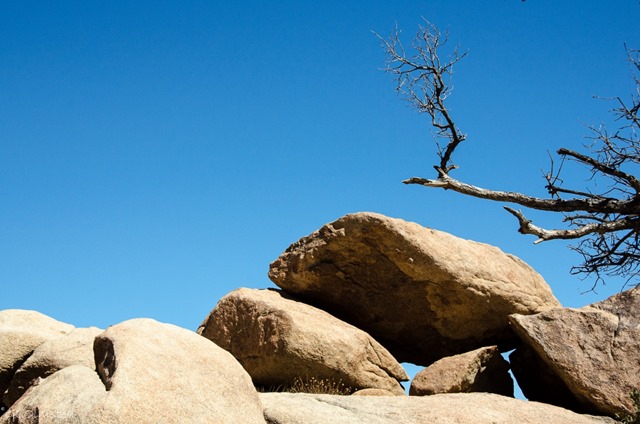 The about one mile (1.6km) loop trail took lollygag me two hours.  It's mostly an easy level walk with only a few places to climb step-like boulders.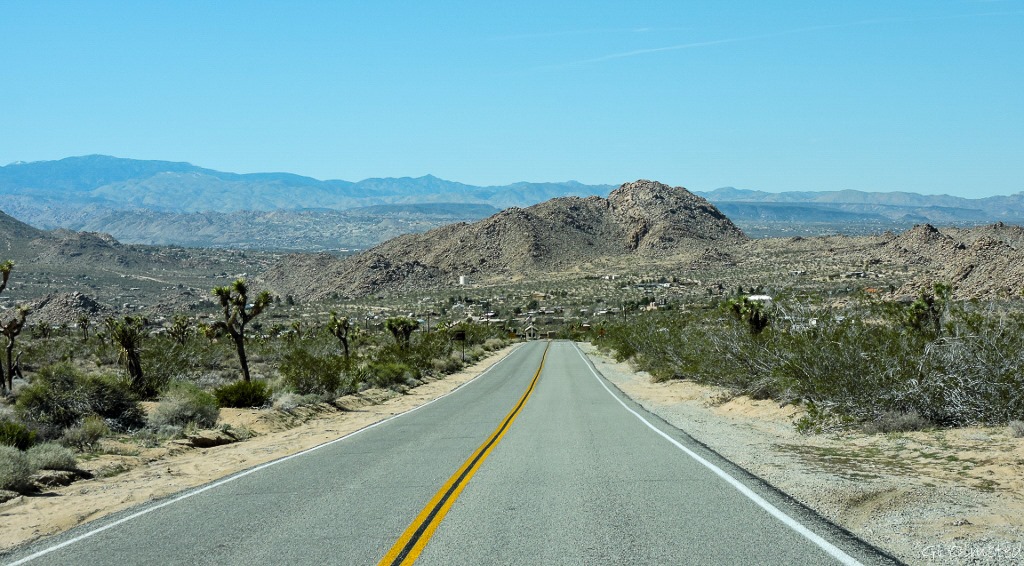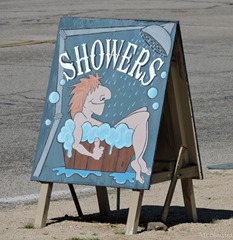 From Hidden Valley I headed to the town of Joshua Tree for lunch, shower at Coyote Corner, and internet.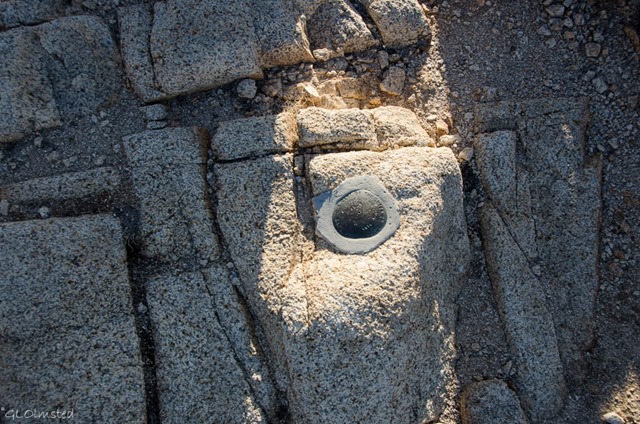 Then drove the 23 miles (37km) back to Jumbo Rocks campground and went for a late afternoon boulder hop along a similar path as before but this time discovering yet another benchmark which seem to draw me in like a magnet.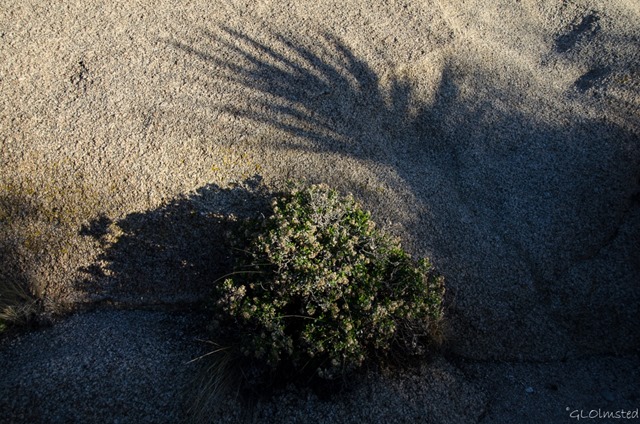 Then as the shadows grew long temperatures quickly dropped 10-15 degrees and I happily ended the day in my warm camper only venturing out once more for a not so great, hand held shot of the almost full moon.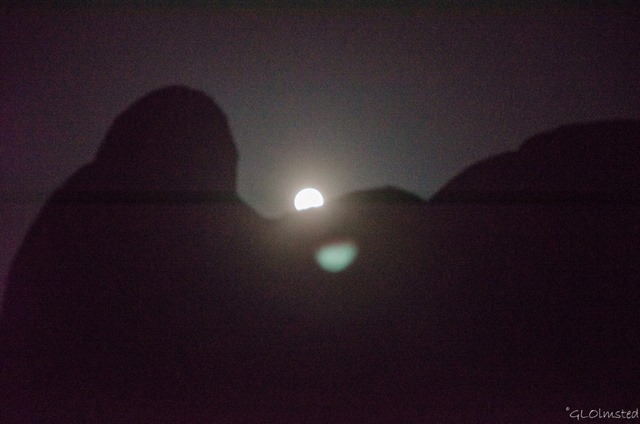 For the pareidolias out there, what shapes do you see in the rocks?  I saw Grumpy—one of the 7 dwarves—and a dog wearing a baseball hat backwards, heads only for both.
If you shop at Amazon please consider clicking below for the Amazon website. As an Amazon Associate I'll make a few cents on your purchase(s) at no extra cost to you. Put a few pennies in the winter travel kitty. Thanks for helping out.

Geogypsy is a participant in the Amazon Services LLC Associates Program, an affiliate advertising program designed to provide a means for sites to earn advertising fees by advertising and linking to amazon.com