This week's Foto Friday Fun features 11 images chosen by readers from my photo archives.  Our meme number for this week is 6349.  Please link in any day this week by digging into your archives and sharing a photo and story on your blog.  Plus check out the other posts linked to the Foto Friday Fun meme.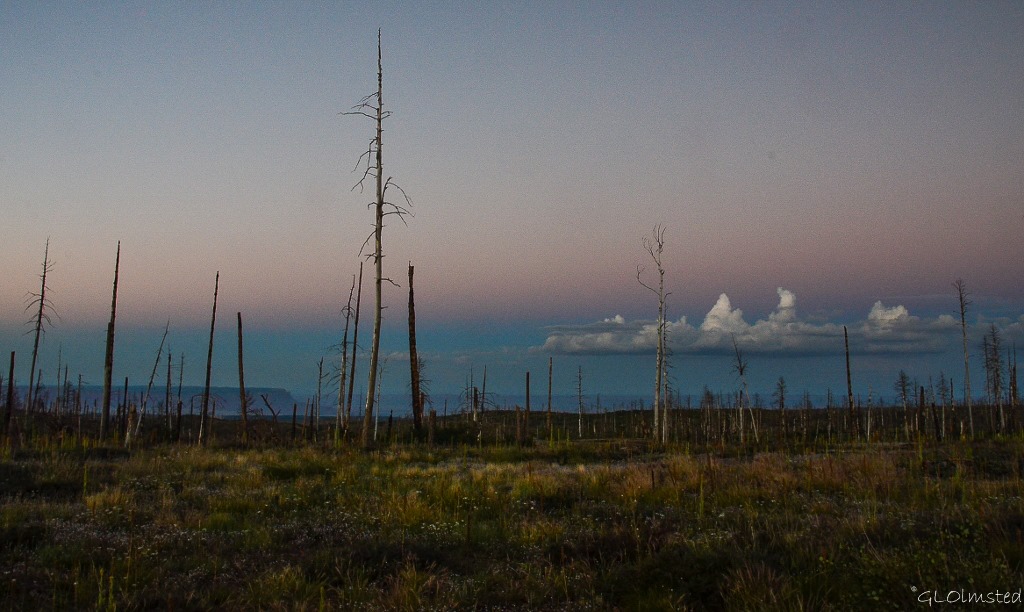 Shane chose #6349, a favorite view of mine seen through the burnt forest from the 2006 Warm Fire on the Kaibab National Forest.  Although I'm not often driving this route after dark sometimes it happens when I've been shopping 2-4 hours away from the North Rim.  The Vermilion Cliffs (left) and Echo Cliffs can barely be seen at least 35-60 miles away in the last light of the day.  Taken 8/15/14.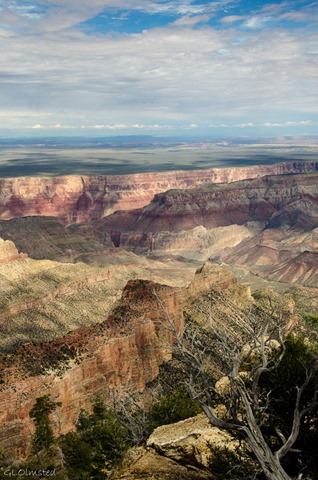 Sherry chose #6938, one of ten photos from a panorama of Grand Canyon and beyond from Point Imperial overlook on the North Rim.  I love the play of light and shadow from the receding monsoon storm clouds.  And once again the Vermilion Cliffs off to the left.  Taken 9/4/14.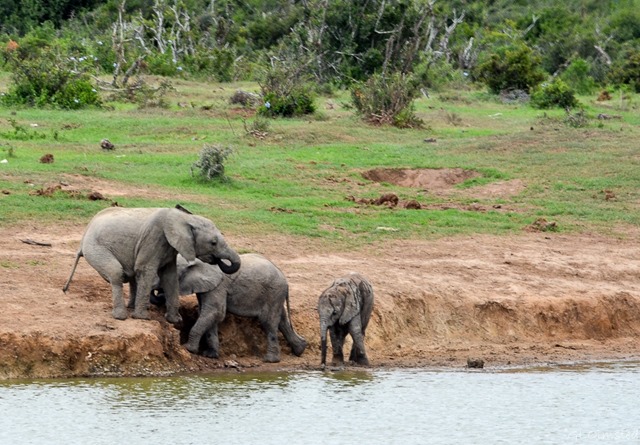 Diane chose #8007 and she will soon be out of variations on her James Bond numbers.  But I'll never be out of variations of elephants at the waterhole, called a dam, at Addo Elephant National Park, South Africa because I took 100s of photos there.  It is especially fun to watch the youngsters as they socialize and play.  Taken 3/8/14.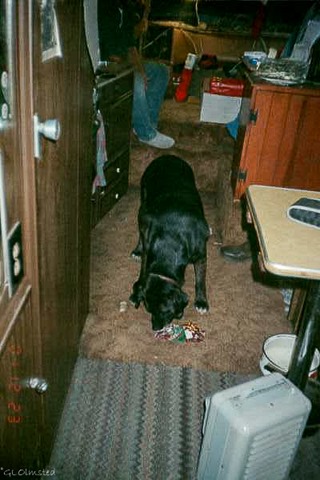 Barb chose #12, "the twin Grands age."  My long-time travel companion Carson lived to almost 12 and here he is opening his Christmas gift of a bear, bone or ball when he was only four and we were living in the motorhome at the Yucca Valley flea market.  I miss him every day.  Taken 12/25/01.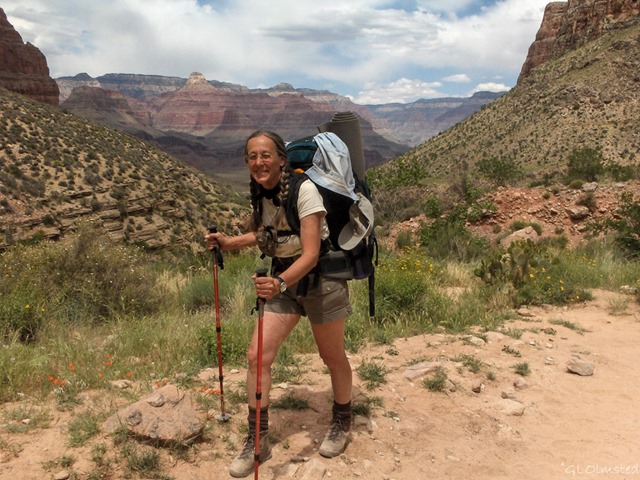 Yogi forgot a number this week and being he accepts cheating I chose #228 for how many characters were in his comment.  And believe me, he is a character.  So here's another character, me hiking on the Bright Angel trail and headed for the South Rim.  You can see where I came from off the North Rim which is beyond sight up that far canyon towards the right.  This was my first rim to rim and I was very happy to have made it across the big ditch.  Taken 5/5/08.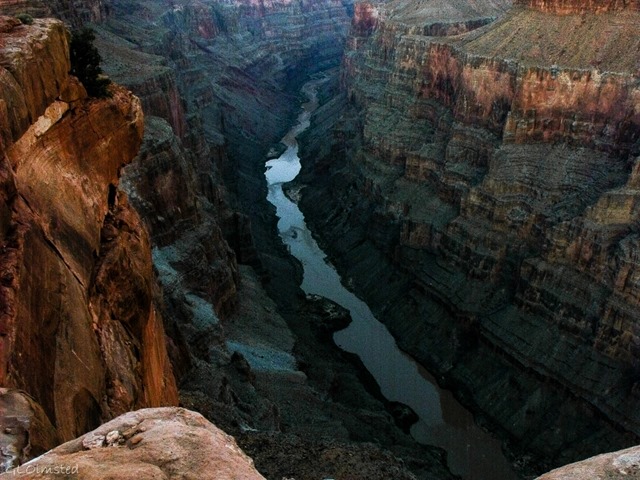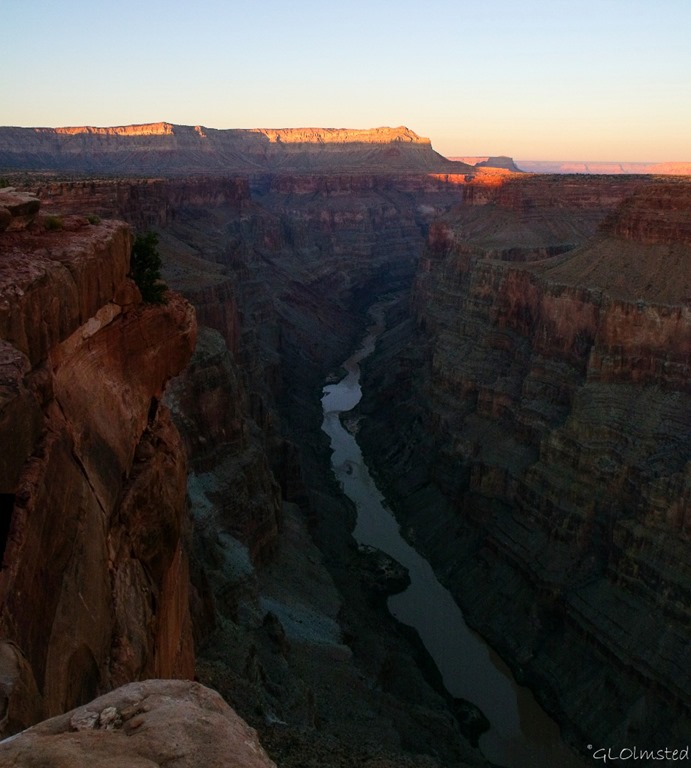 Elaine chose #2374, one of two from a panorama of my first visit to Toroweap overlook.  Late light put the river in shadow 3000 feet down into Grand Canyon while the high plateau received a last glow.  Taken 9/27/10.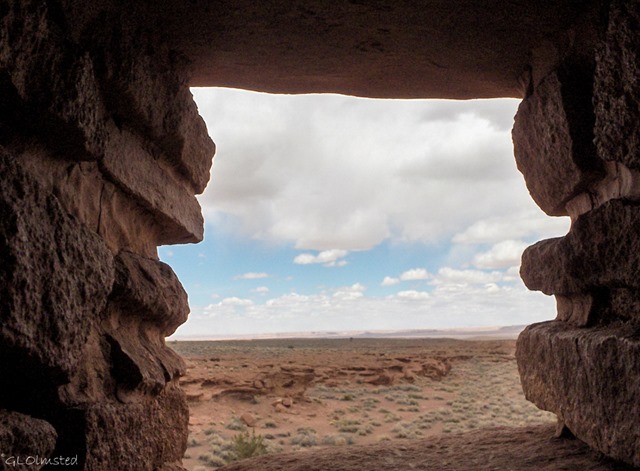 Cindy chose #478, a window view from Wukoki Pueblo at Wupatki National Monument, Arizona.  This is just one of the many ruins to tour and is located just north of Flagstaff.  Being Cindy is from southern Utah she's probably visited here.  Taken 4/16/09.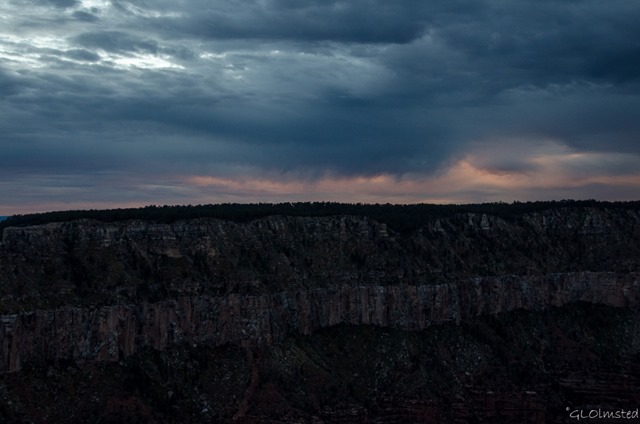 Sallie chose #8999, one of five from yet another panorama.  (I take a lot of those.)  Giving an evening program at the North Rim Grand Lodge offers a chance to see sunset over Widforss Plateau.  Taken 10/7/14.

My choice this week is the last sunset I saw in the southern Arizona desert just north of Quartzsite Tuesday night.  It may be a while before I'm back that way but I'm sure there will be many more sunsets to come.
Please join in by:
1) Sharing a #6349 photo index number from your photo archives in a post on your blog with a story that goes with the photo.  Then add the URL from that post to Mr. Linky below along with your name (Gaelyn, AZ), and link back to Foto Friday Fun 102 in your post so others may read and join in.
2) You can also leave a number between 01 and 9999 in a comment for next week's Foto Friday Fun.
3) One or both of the above.
First commenter will chose next week's photo index number.
Do you have a favorite from this week?
If you shop at Amazon please consider clicking below for the Amazon website. As an Amazon Associate I'll make a few cents on your purchase(s) at no extra cost to you. Put a few pennies in the winter travel kitty. Thanks for helping out.

Geogypsy is a participant in the Amazon Services LLC Associates Program, an affiliate advertising program designed to provide a means for sites to earn advertising fees by advertising and linking to amazon.com